AL East Notes: Sale, Swihart, Yankees, Chang, Blue Jays
Some items from around the AL East… Chris Sale is only under contract through the 2019 season, and his potential future in Boston "could be the key to the entire offseason" for the Red Sox, Jason Mastrodonato of the Boston Herald writes.  The Sox are sure to discuss an extension with Sale this winter, though…


International Transactions: 11/18/18
Here's the roundup of some familiar North American names heading to play ball overseas… The KT Wiz of the Korean Baseball Organization has announced the signing of right-hander Raul Alcantara, according to San Kang of Sports Dong-A (hat tip to MyKBO.net's Dan Kurtz).  The contract will pay Alcantara $650K for the coming KBO season.  The…


Here's the last week's worth of original content from the MLB Trade Rumors writing team… A 10-9 win-loss record didn't prevent Jacob deGrom from winning the NL Cy Young Award, though that record could impact what the Mets ace will earn in arbitration this winter.  Matt Swartz, creator of MLBTR's arbitration model, profiles deGrom's unique…


Baseball Blogs Weigh In: FAs, Yanks' SP Pursuit, Giants, D-backs, Mets
This week in baseball blogs… The Fro Zone ranks the top 50 free agents and predicts landing spots for each of those players. The 3rd Man In proposes a Yankees-Indians trade centering on Corey Kluber; The Runner Sports regards James Paxton as a more realistic target than Kluber for New York; and Pinstriped Prospects ponders…


Quick Hits: Astros, Red Sox, Robertson, Girardi, Reds, Snell
The Astros are more focused on the trade market than free agency in their search for starting pitching, per Jon Morosi of MLB.com. Houston's "inquiring on nearly every available starter via trade," Morosi hears. The Astros are already known to have interest in Mariners left-hander James Paxton, who's one of several front-end starters who could…


Poll: Bryce Harper, Manny Machado And The Phillies
On several occasions over the past decade, the Phillies have shown a willingness to spend among the league's elite. However, because the Phillies were recently amid a full-fledged rebuild, the big-market club took major steps backward in the spending department. Last year, with Philadelphia aiming to make a sizable leap in the standings, the team…


Jeff Wilpon On deGrom, Syndergaard, Payroll, Front Office
The Mets aren't yet prioritizing a contract extension for National League Cy Young Award-winning right-hander Jacob deGrom, COO Jeff Wilpon informed Kristie Ackert of the New York Daily News and other reporters Friday. However, the two sides could could begin discussions on a new deal next month. "We'll talk with the new agent here at…


Rosenthal's Latest: Mets, Syndergaard, Rangers, Minor, Orioles
Star right-hander Noah Syndergaard has drawn trade interest this offseason, but if the Mets do deal him, it's not going to be for a package of prospects, Ken Rosenthal of The Athletic reports (subscription required). Rather, because the Mets aim to contend in 2019, they'd need to make a trade that improves their roster both…


Nathan Eovaldi Drawing Widespread Interest
Free-agent starter Nathan Eovaldi has drawn considerable interest on the open market, according to the Boston Globe's Nick Cafardo, who writes that the Brewers, Phillies, Braves, Angels, White Sox, Blue Jays and Giants join the previously reported Red Sox and Padres as early suitors for the right-hander. More teams may join the fray, Cafardo adds.…


NL Notes: Braves, Kimbrel, Dodgers, Jansen, Reds
A few items from the National League… Atlanta's a speculative landing spot for closer Craig Kimbrel, who starred with the Braves from 2010-14 and is now the most proven reliever available in free agency. However, barring a drop in Kimbrel's asking price, it's "highly unlikely" he'll rejoin the Braves this offseason, Mark Bowman of MLB.com…


Yankees Notes: Gray, A's, Machado, Relievers, Extensions
Although the Athletics contacted the Yankees about right-hander Sonny Gray at least a week ago, "there is no present momentum in talks" between the teams, Jon Morosi of MLB.com tweets. A return to Oakland would represent a homecoming of sorts for Gray, a 2011 first-round pick of the A's who mostly thrived with the club…


Heyman's Latest: Mets, Machado, Red Sox, Dodgers, Marlins
After the Mets hired Brodie Van Wagenen as their new general manager last month, he declared the team expected to be "in on every free agent" this offseason. Van Wagenen's comment led some to wonder whether the Mets, who could stand to upgrade the left side of their infield, would pursue Manny Machado. However, considering…


Poll: Which Team Will Sign Patrick Corbin?
Free agent lefty Patrick Corbin is arguably the top hurler on the market this offseason.  The former Diamondback timed his ascension to dominance perfectly last season, posting career bests in strikeout rate (11.07 K/9), HR/9 (0.68), FIP (2.47), xFIP (2.61), ERA (3.15), fWAR (6.3) and games started (33) in a pivotal walk year for the…


Quick Hits: Stroman, Goldschmidt, Orioles, Mariners
The Toronto Blue Jays have not had any serious trade discussions regarding staff ace Marcus Stroman, per the MLB Network's Jon Morosi (via Twitter). That does not mean, however, that teams haven't asked. The Reds, in particular, are one team with noted interest in the Jays' right-hander. This shouldn't surprise anyone, as the Reds have…


Blue Jays Trade Aledmys Diaz To Astros For Trent Thornton
The Houston Astros acquired infielder Aledmys Diaz from the Toronto Blue Jays today. In return, they have sent Triple-A right-hander Trent Thornton to Toronto, per Chandler Rome of the Houston Chronicle (via Twitter). After spending parts of two seasons with the St. Louis Cardinals, the Blue Jays acquired Diaz for minor-league outfielder J.B. Woodman prior to 2018. He…


Coaching Notes: Rangers, Twins, Rockies, Jays, Phillies
Many teams are putting the finishing touches on their coaching staffs, though there are still some openings. Here are the latest moves: The Rangers announced that they have hired Julio Rangel as their new pitching coach. He'll come over from the Giants organization, where he had served as the minor-league pitching coordinator. The 43-year-old Rangel also…


Offseason Outlook: San Diego Padres
MLBTR is publishing Offseason Outlooks for all 30 teams.  Click here to read the other entries in this series. The Padres' were in full rebuild mode by mid-2016, having dealt away any veteran players with value by that year's trade deadline. Immediate help was not on the way. In fact, it was nowhere close if it…


Phillies Anticipate Major Spending, Says Owner John Middleton
The Phillies entered the winter widely tabbed as the most obvious aggressor on the free-agent market. It has been known for years, after all, that the organization was stripping its payroll and building its prospect base in hopes of launching back into a powerhouse. Perhaps, then, it shouldn't be too surprising that Philadelphia owner John…


The Angels have struck a deal to bring outfielder Peter Bourjos back to the organization, MLBTR's Steve Adams reports on Twitter. It'll be a minor-league pact for the 31-year-old, who is a client of the Dishman Sports Group. Bourjos has seen action in each of the past nine MLB campaigns, the first four of those…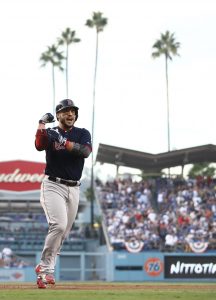 The Red Sox have announced a deal to keep sluggeer Steve Pearce in Boston, as Jeff Passan of Yahoo Sports reported (via Twitter). It's said to be a one-year, $6.25MM pact for the Excel Sports Management client. Pearce, 35, was picked up in a relatively unheralded late-June swap with the Blue Jays. He more or less…


Offseason Outlook: New York Yankees
It's rare that a 100-win season can feel like a let-down, but when one's chief division rival wins 108 games and captures a World Series title, the sentiment is more understandable. That's the situation in which the Yankees find themselves, and they'll likely act aggressively in an effort to close that gap this winter. Guaranteed…


Mariners Select Contract Of Braden Bishop
The Mariners announced that they've selected the contract of outfield prospect Braden Bishop, meaning he's now been added to the 40-man roster and protected from December's Rule 5 Draft. Major League teams have until Tuesday of next week to add players to the 40-man in advance of the Rule 5. Bishop, 25, certainly would've been…


Pitching Market Rumors: Gray, Corbin, Anibal, Keuchel, Parker
The Yankees have received multiple offers for right-hander Sonny Gray and are currently in the process of evaluating them, per SNY's Andy Martino. GM Brian Cashman has been unusually candid about his plan to move the obvious change-of-scenery candidate, and interest in buying low on the talented righty has reportedly been robust. Gray, projected by…


Twins Agree To Minor League Deal With Preston Guilmet
The Twins have made their first batch of minor league signings this winter, Rhett Bollinger of MLB.com reports (on Twitter), with right-hander Preston Guilmet the most experienced among them. Minnesota also added righty Zack Weiss and infielder Randy Cesar on a minor league pacts and re-signed right-hander Ryne Harper and catcher Wynston Sawyer. Guilmet, 31,…


Latest On Trade Interest In Marlins' J.T. Realmuto
12:36pm: ESPN's Buster Olney writes that the Marlins' asking price on Realmuto is viewed by other clubs as "staggering." Though Realmuto has less control remaining than he did last offseason, he's coming off a better year and the asking price on him has actually risen from last winter, per Olney. 9:54am: There are as many…


Padres Showing Interest In Noah Syndergaard
After a failed pursuit of Noah Syndergaard this past July, the Padres remain interested in acquiring the right-hander from the Mets, Ken Rosenthal of The Athletic reports (subscription link). SNY's Andy Martino writes that Friars "are expected" to be more aggressive in their pursuit this time around. To be clear, there's not yet any indication…


Minor MLB Transactions: 11/16/18
Here are today's minor moves from around the league… The Mets announced yesterday that they've signed left-handed reliever Ryan O'Rourke to a minor league contract and invited him to Major League Spring Training. The 30-year-old spent parts of the 2015-16 seasons with the Twins, pitching to a combined 4.98 ERA with 48 strikeouts and 25…


Market Chatter: Greinke, Suzuki, Eovaldi, Reds, Nats, Phils
The Diamondbacks are "aggressively shopping" righty Zack Greinke, according to Bob Nightengale of USA Today (via Twitter). With $95.5MM of salary still due over the next three years, he's an expensive option. But the deal is at least cabined in length, and the Snakes have a good shot at getting out from under most of it.…


Arbitration Breakdown: Jacob deGrom
Over the next couple weeks, I will be discussing some of the higher profile upcoming arbitration cases. I rely partly on my arbitration model developed exclusively for MLB Trade Rumors, but will also break out some interesting comparables and determine where the model might be wrong. 2019 projections are available right here. The most interesting arbitration…


The Rangers have agreed to a contract (pending physical) with free agent catcher Jeff Mathis, according to Ken Rosenthal of The Athletic (via Twitter). It's said to be a two-year deal for the veteran receiver, with financial details not yet known. Let's get the obvious out of the way up front: Mathis is already 35…


Christian Yelich, Mookie Betts Win MVP Awards
The Baseball Writers' Association of America announced tonight that Brewers outfielder Christian Yelich was voted the Most Valuable Player of the National League. Meanwhile, fellow outfielder Mookie Betts took the prize in the American League. Yelich nearly pulled off a unanimous win after helping lead the Brew Crew to a stirring NL Central title. Only…


Twins To Name Wes Johnson Pitching Coach
The Twins will dip into the college ranks to find their next pitching coach, as Dan Hayes of The Athletic reports (subscription link) that Minnesota is set to hire University of Arkansas pitching coach Wes Johnson to hold that same role in Minneapolis. Additionally, the club will name Jeremy Hefner as its bullpen coach, Derek Wetmore of…


The Mariners announced today that they have inked a MLB pact with right-handed hurler Ruben Alaniz. He'll take the 33rd spot on the club's 40-man roster, leaving plenty of room still to work with. Alaniz, 27, has not yet received a shot at the majors. The nine-year minor-league veteran has mostly toiled without fanfare. Originally…


Jacob deGrom To Remain With CAA
As recently as last night, Mets ace Jacob deGrom told reporters that he'd yet to settle on who his new agent will be in the wake of Brodie Van Wagenen's appointment as the Mets' general manager. That decision now looks to have been made, as SNY's Andy Martino reports that deGrom will remain with CAA…


Which Draft Picks Each Team Would Lose By Signing A Qualified Free Agent
Bryce Harper, Patrick Corbin, Dallas Keuchel, Craig Kimbrel, Yasmani Grandal, and A.J. Pollock were the six free agents this year to receive and turn down a one-year, $17.9MM qualifying offer from their teams this month.  If those players sign elsewhere, here's a look at the draft picks the signing team would lose. Competitive Balance Tax Payors:…


MLB, Fox Sports Reach Reported $5.1 Billion Rights Agreement
Major League Baseball announced today that it has reached a new seven-year, multiplatform agreement with FOX Sports spanning the 2022-28 seasons. Eric Fisher of Sports Business Journal reports (via Twitter) that the contract's rough value is a staggering $5.1 billion — a near-50 percent increase over the total value of the existing agreement between MLB…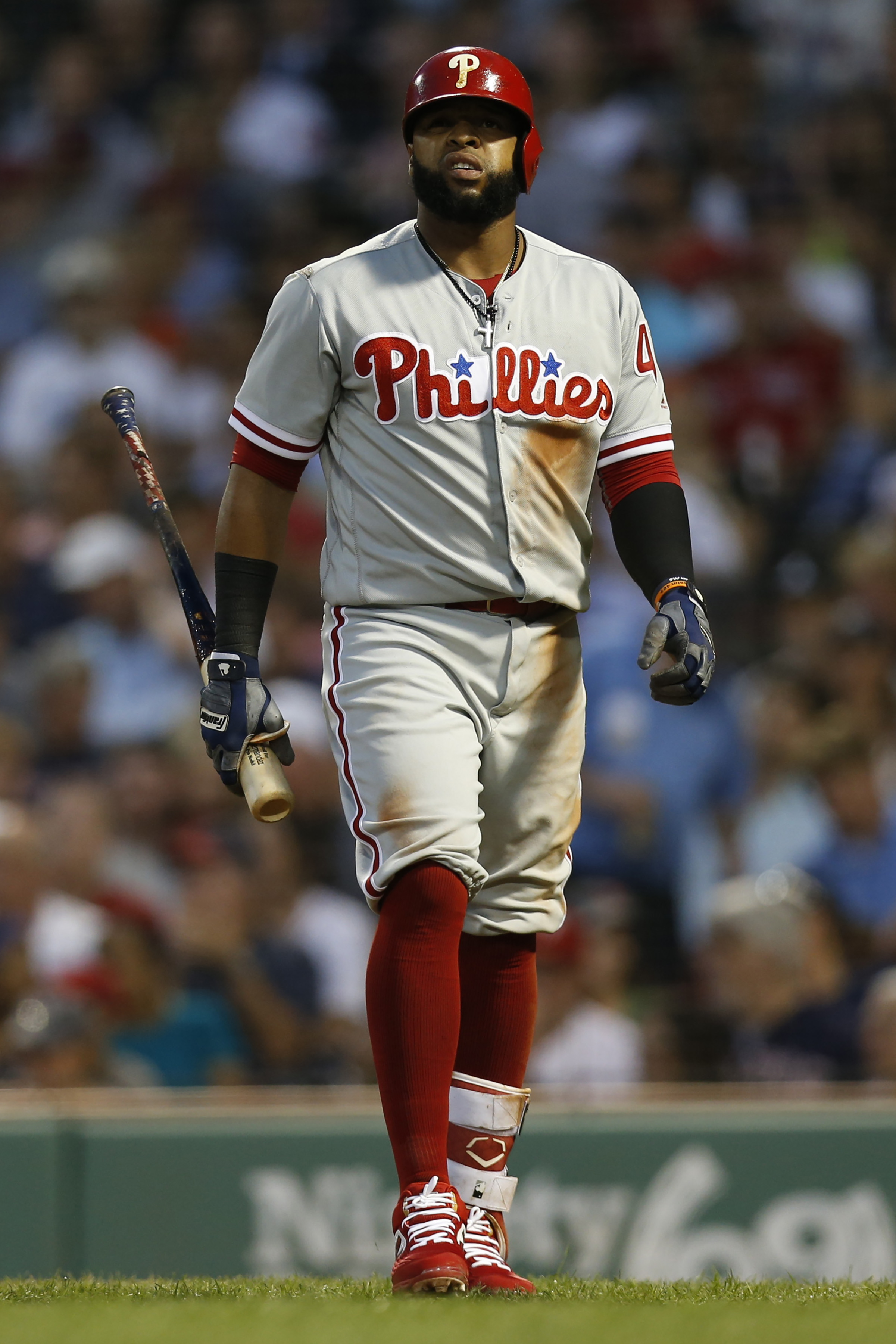 Looking For A Match In A Carlos Santana Trade
Earlier this week, Ken Rosenthal of The Athletic reported via a rival executive that the Phillies are "shopping the hell" out of first baseman Carlos Santana.  The Rhys Hoskins left field experiment went poorly this year, so it's logical for GM Matt Klentak to attempt to trade the veteran Santana to allow Hoskins to move…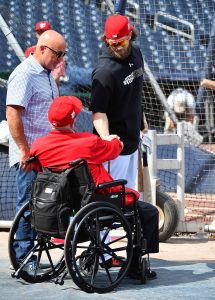 Offseason Outlook: Washington Nationals
The Nationals will again look to bounce back from a bitterly disappointing season, but they'll again do so with significant resources and reason for optimism. Guaranteed Contracts Max Scherzer, SP: $105MM through 2021 (with assorted deferments) Stephen Strasburg, SP: $135MM through 2023 (with assorted deferments; includes opt-outs after 2019, 2020) Ryan Zimmerman, 1B: $20MM through…


Latest On Manny Machado's Market
Manny Machado's now-infamous "Johnny Hustle" comments and the incident in which appeared to deliberately clip Jesus Aguilar's foot on a play at first base have made him more of a lightning rod than ever, and there'll be no shortage of speculation on the degree to which he damaged his free-agent stock (if at all) as…


Warwick Saupold, Chad Bell Sign With KBO's Hanwha Eagles
The Hanwha Eagles of the Korea Baseball Organization announced that they've signed right-hander Warwick Saupold and left-hander Chad Bell to one-year contracts (hat tip: Dan Kurtz of MyKBO.net, on Twitter). Saupold will earn a total of $1MM — $300K signing bonus and $700K salary — while Bell will receive a $200K signing bonus and a $400K…


Rangers Announce Five Members Of Coaching Staff
The Rangers announced five members of their 2019 coaching staff Wednesday, including the hiring of Dodgers assistant hitting coach Luis Ortiz as their new hitting coach. In addition, Texas announced that bench coach Don Wakamatsu and third base coach Tony Beasley are returning to the staff in those roles next season. Bullpen coach Hector Ortiz…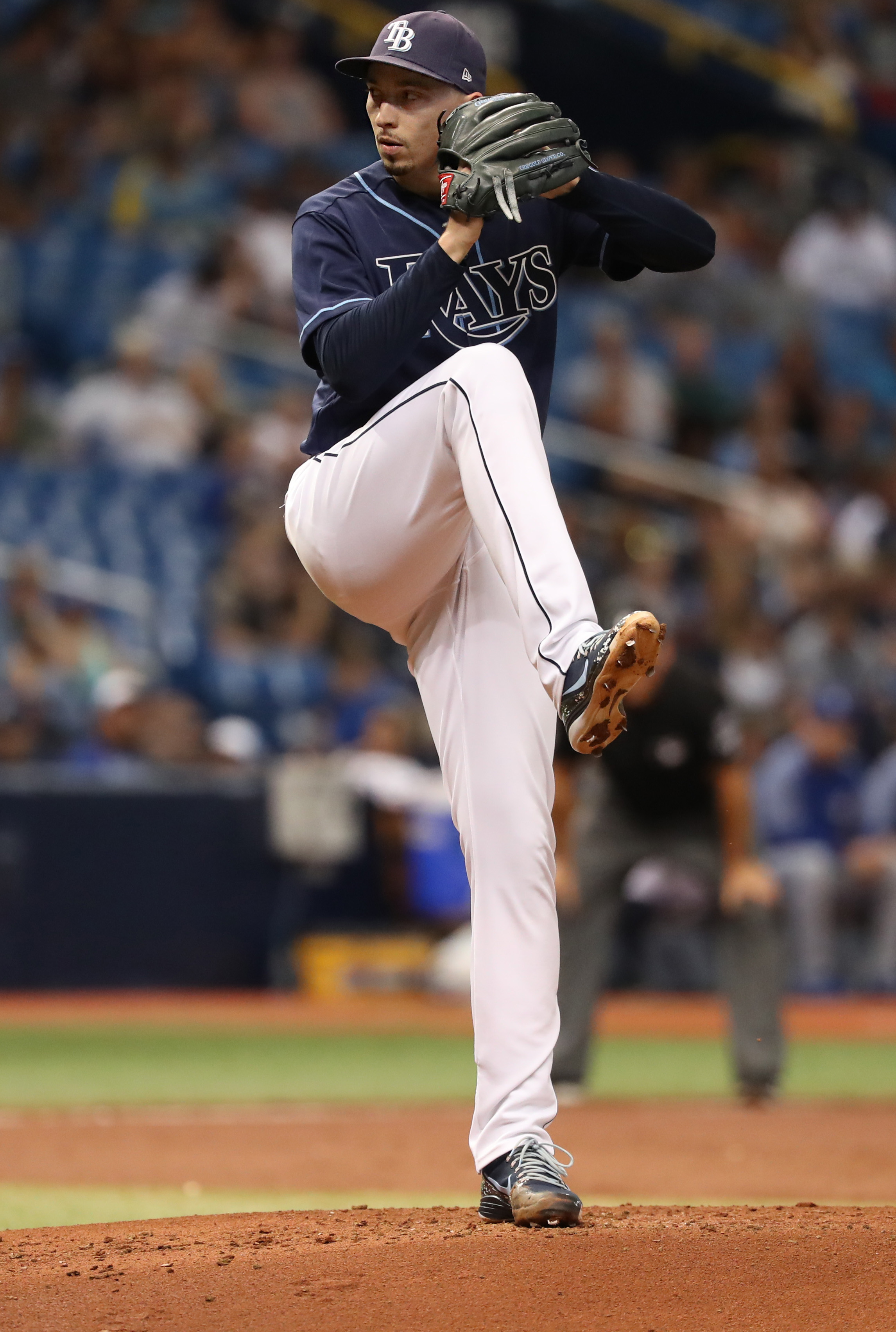 Blake Snell, Jacob deGrom Win Cy Young Awards
Rays left-hander Blake Snell and Mets right-hander Jacob deGrom have won the Cy Young Awards in their respective leagues, the Baseball Writers Association of America announced on Wednesday night. Snell received 17 of the 30 first-place votes, with the other 13 first-place nods going to Astros ace Justin Verlander. In the end, Snell narrowly edged out…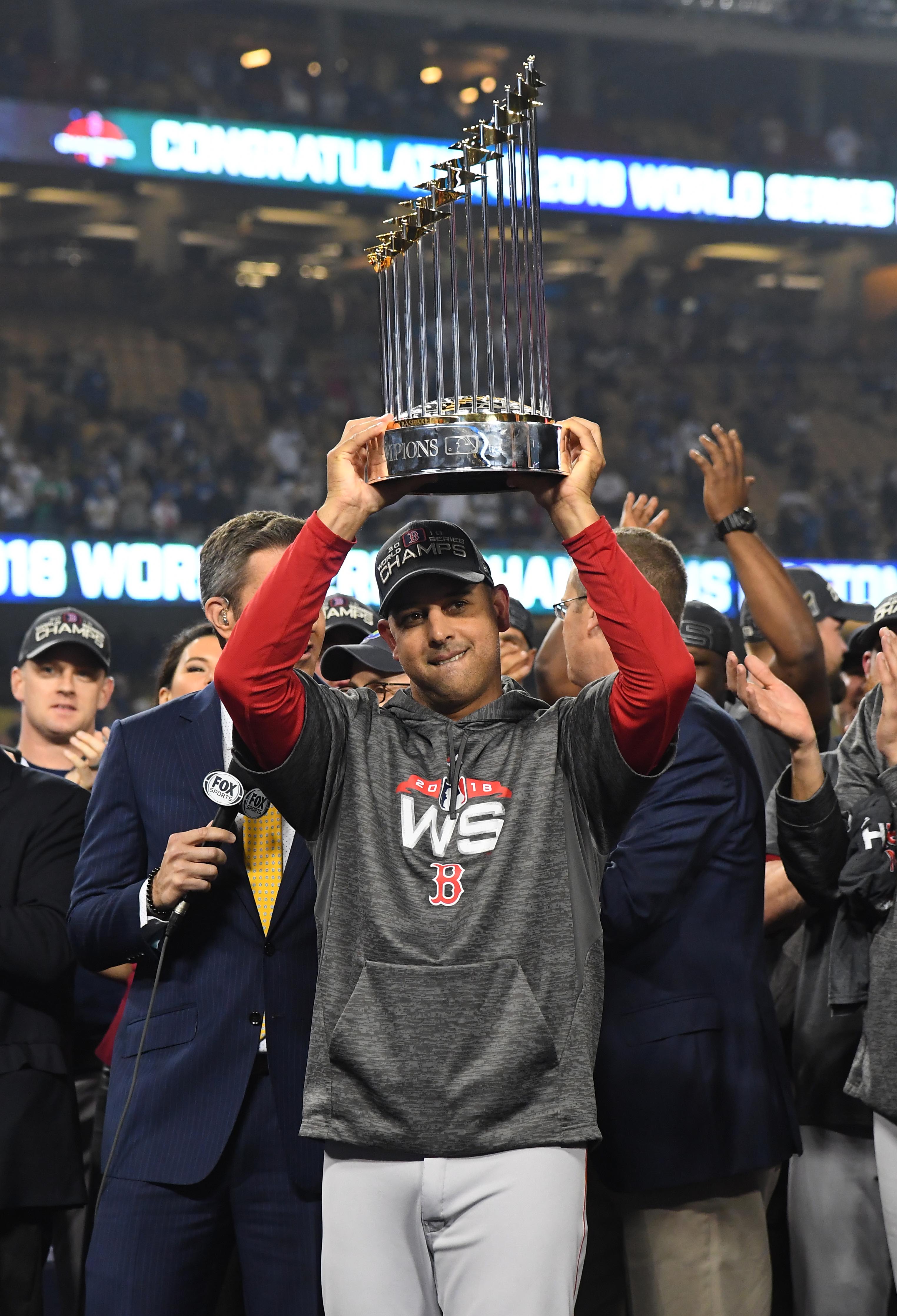 Red Sox Announce Extension With Alex Cora
5:12pm: WEEI's Rob Bradford tweets that Cora is indeed receiving a raise on the deal as well. 4:57pm: The Red Sox announced Wednesday that they're agreed to a new contract with manager Alex Cora on the heels of 2018's World Series title. Cora's original contract with the Sox spanned the 2018-20 seasons and included a…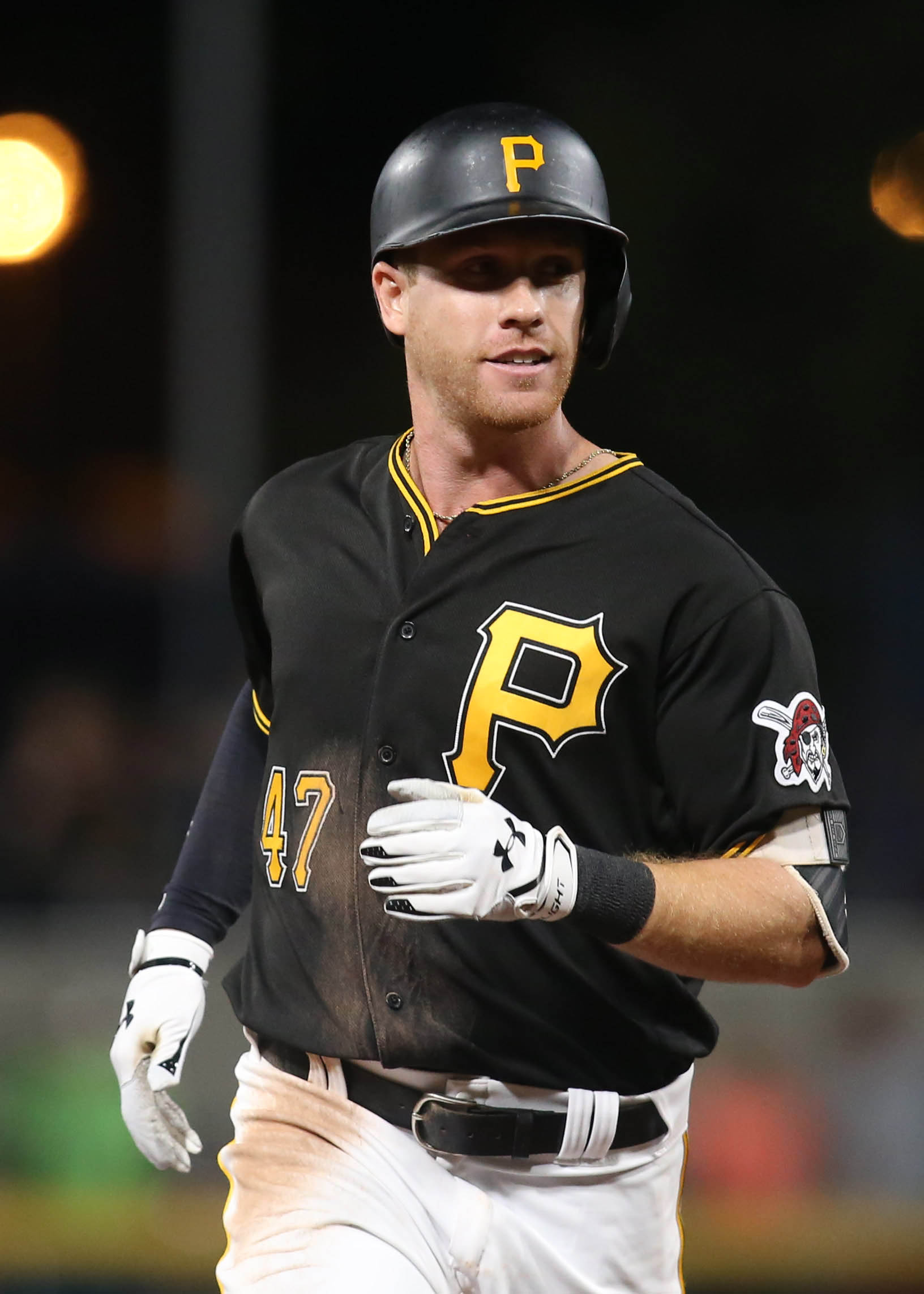 Indians Acquire Jordan Luplow, Max Moroff In Five-Player Trade With Pirates
The Indians announced Wednesday that they've acquired outfielder Jordan Luplow and infielder Max Moroff from the Pirates in exchange for utility man Erik Gonzalez and minor league right-handers Tahnaj Thomas and Dante Mendoza. The Pirates, too, have issued a press release announcing the move. In Luplow, Cleveland adds an outfield option to a perilously thin…


Phillies Place Justin Bour On Waivers
The Phillies have placed first baseman Justin Bour on waivers, tweets Jim Salisbury of NBC Sports Philadelphia. The move comes in advance of a fairly notable deadline, as teams have until Tuesday of next week to protect players from the Rule 5 Draft by adding them to the 40-man roster. The decision to place Bour…


Mariners Expected To Hire Tim Laker As Hitting Coach
The Mariners are working to finalize a contract with Tim Laker to make him the organization's new hitting coach, per MLB.com's Greg Johns. He'll take over for Edgar Martinez, who moved into a different role with the club. Laker had been the assistant hitting coach for the Diamondbacks, a position he has held for two…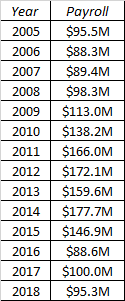 Projecting Payrolls: Philadelphia Phillies
I'm ecstatic to join the MLBTR team to offer insight on an essential topic in the baseball world, especially this time of year: team payrolls. We'll be combing through the league this winter, focusing first on the teams that figure to be the biggest players in the free agent marketplace. There's no better place to…


Phillies To Promote Chris Young To Pitching Coach
The Phillies are set to promote Chris Young to their primary pitching coach position, per Ken Rosenthal of The Athletic (via Twitter). He had been the assistant to Rick Kranitz, who'll now be allowed to speak with other organizations about their openings. Young — not to be confused with this Chris Young … or that…


Minor-League Pitching Signings: 11/14/18
We'll use this quiet morning to catch up on a few recently reported minor-league signings of veteran pitchers that we haven't yet covered (with a hat tip to Chris Cotillo of MassLive.com for noting them) … The Dodgers inked righty Kevin Quackenbush to a minors deal, his representatives at Full Circle Sports Management announced. Quackenbush broke…


Industry Notes: MASN, Wright, Mariners, Amateur
Over at The Athletic, Meghan Montemurro takes a fascinating look at how monster free agent contracts are negotiated. Subscribers will certainly want to read the entire piece for themselves, but there are a few notable takeaways that are worth discussing here. Notably, Montemurro's efforts at canvassing prior signings reveals that heavy and early ownership involvement…


Astros' Mike Elias Reportedly The Favorite To Be Named Orioles' GM
11:45pm: MLB.com's Mark Feinsand tweets that "it is expected that Mejdal would join Elias in Baltimore" if Elias is indeed named general manager. 11:08pm: The Orioles long-running search for a new baseball operations leader could be winding to a close. Bob Nightengale of USA Today tweets that "barring a sudden change of heart," Astros assistant…


AL Notes: Red Sox, Indians, Merrifield, ChiSox
As the Red Sox gear up to defend their 2018 World Series championship, MLBTR's Tim Dierkes joined WEEI's Rob Bradford on this week's episode of the Bradfo Sho. Tim and Rob discuss the recent Top 50 free agent list published here at MLBTR, with a specific focus on a number of Red Sox free agents…


Red Sox, Juan Centeno Agree To Minor League Contract
The Red Sox are in agreement with catcher Juan Centeno on a minor league contract, tweets MassLive.com's Chris Cotillo. The Magnus Sports client figures to receive an invite to Major League Spring Training. Centeno, 28, appeared in 10 games for the Rangers this past season and joins the Boston organization with 111 games of MLB…


Diamondbacks Sign Abraham Almonte To Minor League Deal
The Diamondbacks have signed veteran outfielder Abraham Almonte to a minor league pact with an invitation to Major League Spring Training. He's represented by ISE Baseball. The actual signing took place last week, it seems, though the D-backs didn't formally announce the move themselves, so it flew largely under the radar. The only acknowledgment of…


Scott Brosius Won't Return To Mariners' Coaching Staff; Perry Hill Likely To Be Hired
Mariners third base coach Scott Brosius won't be returning to the organization in 2019, reports Ryan Divish of the Seattle Times. The organization had hoped to renew Brosius' contract and had formally invited him back, per the report, but Brosius decided weeks ago that he'd be pursuing other opportunities, it seems. The departure of Brosius…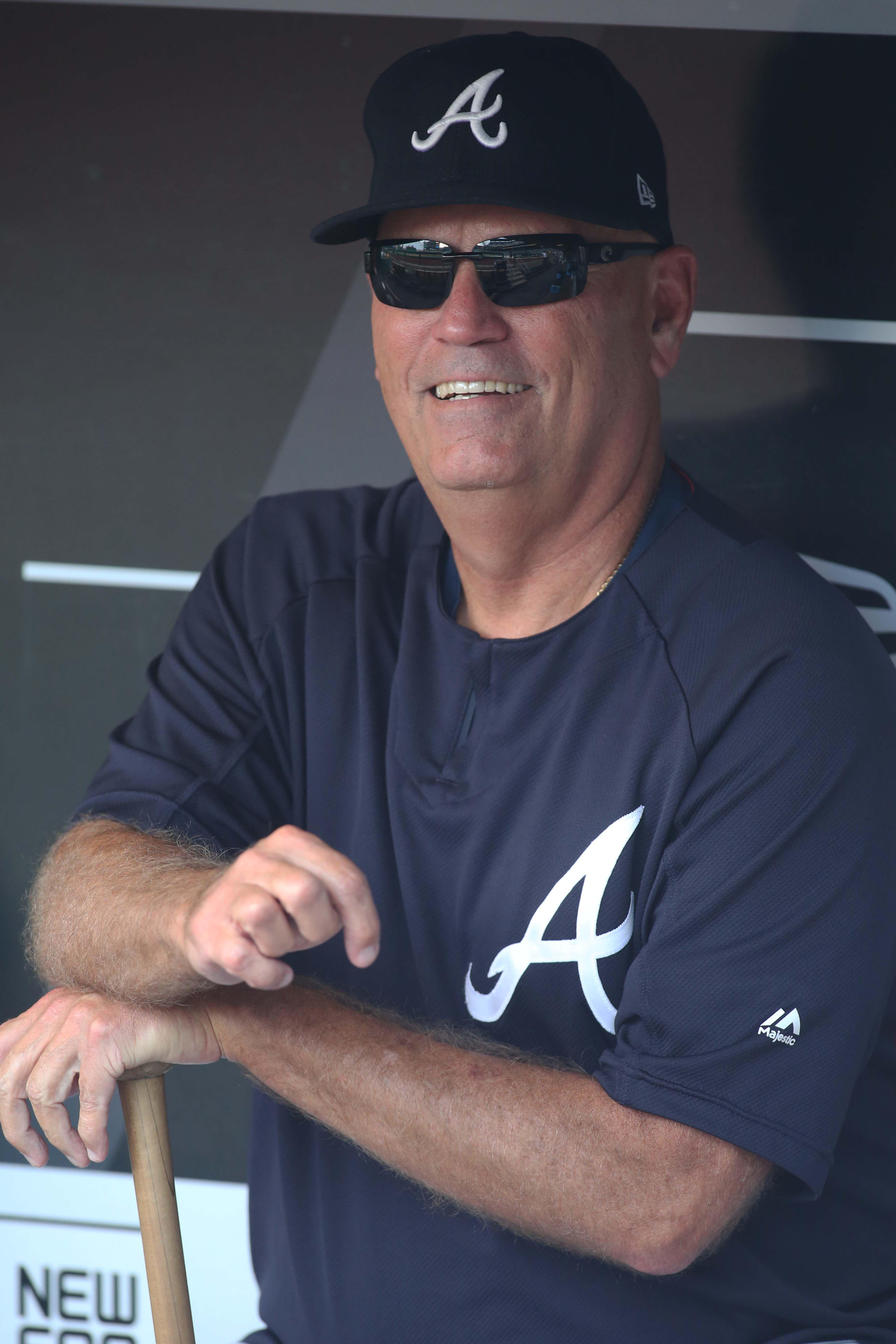 Brian Snitker, Bob Melvin Win Manager Of The Year Awards
Braves manager Brian Snitker and Athletics skipper Bob Melvin were named Manager of the Year in their respective leagues, the Baseball Writers Association Of America announced Tuesday. As a reminder, votes were submitted prior to the beginning of postseason play. Snitker received 17 first-place votes and edged out Milwaukee's Craig Counsell 116 to 99 on…


More than 200 players are eligible for salary arbitration this offseason, and the deadline to tender each of these players a contract for the 2019 season is November 30th. That also represents the deadline to inform arbitration eligible players whether they will receive a (non-guaranteed) contract, or else become free agents. The two parties will…


Click here to read a transcript of Tuesday's chat with MLBTR's Steve Adams.


Veteran reliever Mark Lowe is plotting a comeback effort, according to Jerry Crasnick of ESPN.com (via Twitter). He's said to be seeking a minors pact (preferably with an MLB camp invite) or an opportunity abroad. Lowe, now 35, did not pitch in 2018 and has not appeared in the majors since 2016. He received a…


Offseason Outlook: Pittsburgh Pirates
The Bucs' bid to compete in 2018 fell flat, but the team's mid-season acquisitions were also designed to keep the window open for the two ensuing seasons. As ever, building out the roster will likely mean a search for cost-efficiency for the Pittsburgh front office. Guaranteed Contracts Gregory Polanco, OF: $28.5MM through 2021 (includes buyouts on…


MLBTR's Free Agent Prediction Contest
Back by popular demand, it's the MLB Trade Rumors Free Agent Prediction Contest!  Click here to enter your picks for the destinations for our top 50 free agents.  The deadline for entry is Sunday, November 18th at 11pm central time.  You can edit your picks until then.  Further contest info: This is something we've done…


White Sox Reportedly Shopping Avisail Garcia
The White Sox are dangling outfielder Avisail Garcia in trade talks, according to MLB.com's Mark Feinsand (via Twitter). If a taker isn't found, says Feinsand, the club may end up simply non-tendering the 27-year-old. A key factor here is Garcia's contract status. He's projected by MLBTR and contributor Matt Swartz to earn a hefty $8.0MM…


Minor MLB Transactions: 11/13/18
We'll use this post to track the latest minor moves from around the game … The Athletics have reached a deal to bring back catcher Beau Taylor, per Susan Slusser of the San Francisco Chronicle (via Twitter). Thus ends a brief foray onto the open market for the 28-year-old, who was outrighted and became a minor-league…


Rangers Part Ways With Pitching Coach Doug Brocail
The Rangers have decided not to bring back pitching coach Doug Brocail, per TR Sullivan of MLB.com (via Twitter). The Texas organization has been evaluating its staff to serve with new manager Chris Woodward. Brocail had been in his post for three seasons. The long-time MLB hurler took over for Mike Maddux after the 2015…


Offseason Outlook: Boston Red Sox
MLBTR is publishing Offseason Outlooks for all 30 teams.  Click here to read the other entries in this series. After celebrating their fourth World Series in 15 years, the Red Sox now have some significant holes to fill in the starting rotation and bullpen. They'll also need to think about whether and how to keep their…


Steven Wright Undergoes Knee Surgery
The Red Sox announced today that right-hander Steven Wright has undergone surgery on his left knee. Specifically, he received an arthroscopy and debridement on the joint. At this point, a timeline isn't known. The club says that Wright "will continue to rehab and prepare for a return to pitching in the 2019 season." It's not…


Ronald Acuna, Shohei Ohtani Win Rookie Of The Year Awards
Precocious Braves outfielder Ronald Acuna has slugged his way to a National League Rookie of the Year Award, while two-way Angels star Shohei Ohtani took the top honors in the American League. While there were strong alternatives in both cases, these two players were the runaway favorites of the Baseball Writers' Association of America voters.…


Six Players Decline Qualifying Offers
The seven free agents who were issued qualifying offers by their former teams must decide by 4pm CT today whether or not to accept.  You can get the full rundown of how the qualifying offer system works here, but in brief — if a player takes the offer, they will return to their team on…


Quick Hits: Castellanos, Astros, deGrom, Riggleman, Free Agents
The Astros made an offer to the Tigers for right fielder Nick Castellanos prior to last July's trade deadline, according to Anthony Fenech of the Detroit Free Press (via Twitter).  Houston was known to be aggressively pursuing a big outfield bat last summer, even to the point of almost completing a trade with the Nationals…


Minor MLB Transactions: 11/12/18
The latest minor league transactions from around baseball… The Brewers announced (Twitter link) the signing of left-hander Angel Perdomo to a minor league deal with an invitation to their big league Spring Training camp.  Baseball America ranked Perdomo as the 18th-best prospect in the Blue Jays' minor league system prior to the 2017 season, though…


Hyun-Jin Ryu "Most Likely" To Accept Dodgers' Qualifying Offer
Left-hander Hyun-Jin Ryu is "most likely" going to accept the one-year, $17.9MM qualifying offer issued to him by the Dodgers, MLB.com's Mark Feinsand (Twitter link) hears from a source, though nothing has been finalized as of yet.  The seven free agents who have qualifying offers pending have until 4pm CT today to accept or decline…


Quick Hits: Montoyo, Farm System Values, Mets
While awaiting movement on the free agent front, enjoy some lighter fare from around the league… New Blue Jays manager Charlie Montoyo followed a relatively straight path to his first managerial gig, but that doesn't mean it was easy – or quick. The straight-shootin', bongo-playin' skipper was a career minor-leaguer as a player, a Triple-A…


Rosenthal's Latest: Greinke, Santana, Angels, Harper, Orioles, Machado
The Athletic's Ken Rosenthal suggests teams in need of pitching should take a second look at Diamondbacks ace Zack Greinke. With Arizona set to lose Patrick Corbin and A.J. Pollock to free agency, the Dbacks are, unwittingly maybe, staring down a period of transition. The $34.8MM the 35-year-old Greinke is owed yearly might seem like…


AL Notes: Altuve, Merrifield, Brantley, Gray
Jose Altuve provided an update on his rehabilitation from knee surgery, telling MLB.com's Brian McTaggart and other reporters that he's "not doing a lot" in the early stages of his recovery process, though "the only thing they told me is we're going to be 120 percent for the first day of Spring Training, and that's…


Poll: The Rookie Of The Year Awards
The results of the AL and NL Rookie Of The Year Award balloting will be announced tomorrow, capping off a season that saw one of the more distinguished rookie classes in recent history make some immediate impacts in the big leagues. Put it this way — Walker Buehler, Brad Keller, Jaime Barria, Dereck Rodriguez, Ramon…


Braves Notes: Brantley, Ramos, Inciarte, Revenues
The latest out of the ATL…. Michael Brantley and Wilson Ramos are near the top of the Braves' list of potential free agent targets, a source told MLB.com's Mark Bowman this week.  Given the two players' age and injury histories, however, Bowman feels Brantley and Ramos are "nothing more than secondary options" for Atlanta at…


Offseason Outlook: Seattle Mariners
MLBTR is publishing Offseason Outlooks for all 30 teams. Click here to read the other entries in this series. The Mariners posted their highest win total (89) since 2003, yet still didn't come close to earning a playoff berth in the American League, which featured five teams with at least 97 victories.  No North American…


Minor MLB Transactions: 11/11/18
Sunday's minor moves from around baseball… The Rockies have agreed to a minor league contract with catcher Brett Nicholas, per Thomas Harding of MLB.com. The 30-year-old Nicholas spent all of last season at the Triple-A level with the Padres, who acquired him from the Rangers in April, and slashed .291/.353/.485 with 16 home runs in…


Baseball Blogs Weigh In: Harper, Manny, New York, Kimbrel, M's, Zunino
This week in baseball blogs… The 3rd Man In predicts landing spots for five top free agents. StatsSwipe projects the average annual value of five free-agent starting pitchers. Call to the Pen (links: 1, 2, 3) ranks the game's 30 best free agents, opines that the Yankees don't need Manny Machado, and runs down the…


AL Notes: Twins, McCullers, Rays, Zunino, Orioles
Center fielder Byron Buxton and third baseman Miguel Sano were among the Twins' best performers during their 2017 playoff season, but both players took massive steps backward during the team's disappointing 2018 campaign. Now, the down seasons the pair endured are affecting the Twins' offseason plans, Dan Hayes of The Athletic explains (subscription required). Had…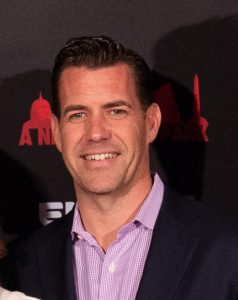 Offseason Outlook: New York Mets
MLBTR is publishing Offseason Outlooks for all 30 teams.  Click here to read the other entries in this series. The Mets suffered through their second straight disastrous season in 2018, leading to major changes atop their baseball department. General manager Sandy Alderson stepped away in June to battle a recurrence of cancer, which proved to be…


Astros Interested In James Paxton
The Mariners are set to retool this offseason, leaving few to no untouchables on their roster. Left-hander James Paxton has emerged as arguably their highest-profile trade candidate early this offseason, and he's drawing interest from an array of teams, per Ken Rosenthal of The Athletic. The Astros are part of that group, Rosenthal reports. As…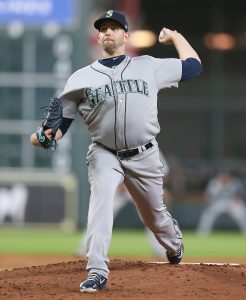 Looking For A Match In A James Paxton Trade
Earlier this week, the Mariners and Rays made the offseason's first major trade, a five-player swap in which catcher Mike Zunino and outfielder Mallex Smith changed teams. That may prove to be the first of multiple noteworthy deals Mariners trade-happy GM Jerry Dipoto orchestrates this winter, especially considering his intention to "re-imagine" his team's roster.…


Offseason Outlook: Houston Astros
MLBTR is publishing Offseason Outlooks for all 30 teams.  Click here to read the other entries in this series. The Astros fell just shy of their second straight World Series berth in 2018. Now, with the offseason underway, they're facing multiple key departures in free agency. Guaranteed Contracts Jose Altuve, 2B: $136.5MM through 2024 Justin Verlander,…


West Notes: Rox, Realmuto, Padres, Rangers, Mariners
Despite the struggles of the Rockies' catchers in 2018, it doesn't appear they'll be among the most ardent suitors for Marlins backstop J.T. Realmuto, Thomas Harding of MLB.com hears. It's unclear, though, whether Colorado will make a less splashy attempt to upgrade over its current trio of Chris Iannetta, Tony Wolters and Tom Murphy, a…


Trade Deadline Retrospective: Harper, Astros, Garcia, Nats, Puig
Baseball fans everywhere were stripped of high-level trade deadline intrigue last season, as Ken Rosenthal details in a stunning report for The Athletic, when a trade that would have sent Bryce Harper to the Astros in exchange for a trio of prospects was nixed by Washington's ownership group.  The trade, said to have been agreed…


AL West Notes: Correa, A's, Beltre
Astros shortstop Carlos Correa announced today at a team benefit that he underwent surgery to repair a deviated septum last Monday.  The nasal affliction, said the 24-year-old, was inhibiting his ability to breathe normally, especially when running the bases.  Arguably the centerpiece of the team's 2017 championship run, the former #1 overall pick slumped to a…


NL East Notes: Mike Fast, Braves, Nationals,
Analytics guru Mike Fast joined the Atlanta Braves organization this Wednesday, he announced via Twitter. Fast was formerly the director of research and development in Houston before leaving the organization in late September. The former semiconductor engineer will serve as a special assistant to GM Alex Anthopoulous, who has made it a priority to improve…


Quintin Berry Retires, Joins Brewers Coaching Staff
After thirteen seasons in professional baseball, outfielder Quintin Berry has officially hung up his cleats. Berry announces his retirement via Twitter, but adds that he will be joining the Milwaukee Brewers for the 2019 season as an outfield and baserunning coordinating (Twitter links). The Brewers have not yet announced the hire. Berry's most significant playing time…


Market Notes: Yankees, Padres, Gray, Athletics, Cards
With the GM Meetings now wrapped up, the stage is set for the offseason action to get underway. Of course, we're still waiting for some significant dominoes to fall … and everyone involved is no doubt curious to see how this year's market will develop after the 2017-18 dud. Jeff Passan of Yahoo Sports cites…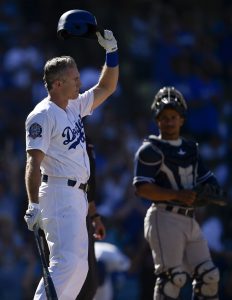 Longtime MLB star Chase Utley was released today by the Dodgers, clearing the way for his formal retirement. He announced in a press conference earlier this summer that he would retire at the end of the 2018 season. Utley, 39, turned in a compelling 16-year run at the major-league level. In addition to possessing high-end all-around talent,…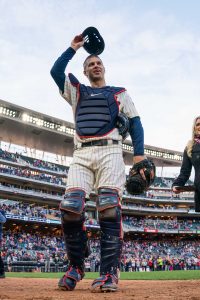 Joe Mauer Announces Retirement
Joe Mauer will officially retire from Major League Baseball, as La Velle E. Neal III and Phil Miller of the Minneapolis Star-Tribune report. Mauer's future was in doubt throughout the 2018 season, but he has ultimately chosen to call it a career after 15 major league seasons, all of them spent with the Twins. Born…


The Mariners have reached agreement on a deal with free agent infielder Dylan Moore, according to Ken Rosenthal of The Athletic (via Twitter). It's a big-league contract for the 26-year-old, a client of Rep 1, though the financial component is not yet known. Moore will receive a 40-man spot after reaching minor-league free agency. That's a…


Cubs Open-Minded On Trade Proposals
Amid fairly consistent reports on the Cubs' limited payroll capacity this offseason, ESPN's Buster Olney writes that the team is taking an open-minded approach to the trade market. Per the report, the team is willing to listen to offers on virtually anyone on the roster — even star third baseman Kris Bryant. Needless to say,…


J.P. Ricciardi Leaves Mets Front Office
The Mets announced today that special assistant to the GM J.P. Ricciardi is leaving the organization. He had served in that capacity under Sandy Alderson and remained in his role, albeit briefly, after the club hired Brodie Van Wagenen to run the baseball operations department. Per the announcement, it was a "mutually" arrived-upon decision. COO…


Minor MLB Transactions: 11/9/18
Here are the day's minor moves from around the league — all courtesy of Baseball America's Matt Eddy unless otherwise noted… The Yankees re-signed infielder Gio Urshela to a minor league contract. The 27-year-old was traded from the Jays to the Yankees in early August and never appeared with New York in the Majors. Urshela…