Emily Ratajkowski's Holiday Look Is a $70 Dress You'd Never Think to Add to Your Cart
It's not like Emily Ratajkowski's red, spaghetti-strap gown isn't fabulous. It is - that's why I stopped to stare as I was scrolling through my Instagram feed. But when I'm browsing for a holiday look, I usually skip over simple red sheaths like these in search of something with sequins or fringe. That's how I'll steal the spotlight, right? Err . . . wrong, clearly, if you're seeing what I'm seeing. Emily's ensemble - complete with small, chunky

2017-12-16 15:06:04
`
3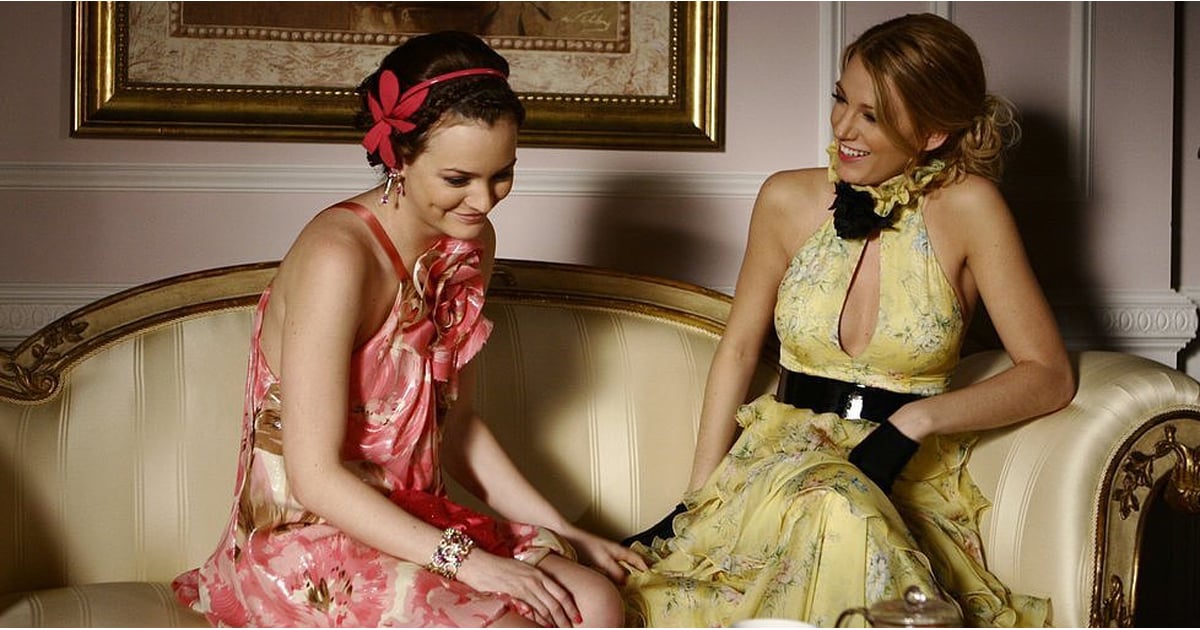 13 Holiday Party Outfits Inspired by the Most Stylish TV Characters of All Time
When you're watching your favorite TV show characters on Netflix, chances are you're cozied up in PJs, and the last thing on your mind is a night out. But admit it - the reason you got so hooked on series like Sex and the City, Scream Queens, and Gossip Girl has a lot to do with the amazing outfits you're inspired by in each episode. So, for the occasions you're in need of a standout look - like all those holiday parties you've got coming up - why not look to the ladies

2017-12-16 14:58:03
`
3
Gigi Hadid's $176 Winter Coat Is a Single Ray of Sunshine in the Snow
Gigi Hadid stomped her way through a snowstorm in New York City in a pair of belted mom jeans, an oatmeal turtleneck, and Off-White x Timberland boots ($770). But it was obviously her furry yellow coat that caught our eye: a $176 piece from DRA that'd keep anybody warm in cold weather. Just in case you missed it, Gigi drew attention back up to her jacket by letting a pair of printed golden socks peek out from her shoes. It might have been flurrying, but Gigi's look gave off cozy vibes

2017-12-16 14:55:38
`
3
Gwyneth Paltrow's Magical Sandals Will Make You Feel Like You're Walking on Air
Gwyneth Paltrow made an appearance at her Goop pop-up store in Miami wearing labels you can shop on the site from head to toe. Makes sense, right? We were particularly struck by her wiry ankle-wrap sandals, which looked noticeably delicate. Gwyneth paired the Emme Parsons shoes ($395) with a shirred one-shoulder LBD from Bassike ($495). The outfit was chic and sensible for the warm weather and still somehow spoke to the Winter season, perhaps thanks to the monotone palette. If you're heade

2017-12-16 14:06:03
`
3
Congratulations to Candice Swanepoel - Now Where Did She Get That Dress?
Supermodel Candice Swanepoel announced she's pregnant with baby number two on Instagram, and while her post was a sweet surprise, it was also a reminder that Candice has the best boho maternity style in all the land. She tends to wear free-flowing silhouettes from her go-to label, Jen's Pirate Booty. That's exactly how she presented her growing belly to her 11.6 million followers ahead of the holidays: covered in a gorgeous emerald-tone number with a crochet hem. We couldn't

2017-12-16 13:40:36
`
3
Queen Letizia Finished Off Her Look With an Unexpected Pair of Shoes, and We Love It!
Queen Letizia is currently in Senegal on a four-day trip in support of the Spanish cooperation projects, and she has been wowing left and right with her wardrobe. For her arrival, the Spanish royal repeated an outfit, caught everyone's eyes in an all-white look, stunned in a green Carolina Herrera dress, went for a more casual look with a pop of color and continued that streak in Hugo Boss. Letizia has stepped out five times so far, and we are already drooling over her style. While you wait

2017-12-16 13:38:03
`
3
22 Affordable Gifts From All Your Favorite Designers - Yes, Really
If your best friend, mother-in-law, grandma (whoever!) is obsessed with designer goods, get her what she came for this holiday season. From wallets to bracelets, jewelry to sunglasses, there are numerous high-end picks that are within your budget. We took care of the hard part and shopped for you, so all you have to do is gift. These stylish selects are all under $250, so you can pamper her with exactly what she wants this year without breaking the bank. And it's not too late because if yo

2017-12-16 08:40:36
`
3
17 Chic Winter Jackets That Are Perfect For Your 2018 Wardrobe
Step up your style game in the new year by investing in a chic jacket. These versatile picks make for great layering pieces because you can mix and match them with all your favorite outfits. If you live in a cold climate, just throw a stylish coat on top for extra warmth. We rounded up a list of cozy and cute choices you'll want to get your hands on. From plaid blazers to warm puffers and even a few sporty picks, check out our favorites. Related100 Outfits You'll Be So Excited to Try

2017-12-15 15:30:16
`
2
Victoria Beckham's Red Dress Is All the Holiday Outfit Inspiration You'll Ever Need
Victoria Beckham is known to occasionally dress up in her own designs before releasing them to her customers and, quite frankly, who could blame her? Just last week, the British designer showed off a flattering green printed midi that we instantly fell in love with, but it's her latest outfit that we can't stop thinking about. Victoria showed off yet another one of her creations when she stepped out for a Christmas party that was hosted at her London store. For the occasion, Victoria c

2017-12-15 15:18:03
`
2
Iskra Lawrence's Hot Pink Bikini Might Have a Bow, but It's Way More Cool Than Cute
Iskra Lawrence hit home when it came to showing off her swimwear in Miami. After sporting a flattering Aerie two-piece that made us do a double take, she went sun bathing in a hot pink, bow-adorned halter top and hipster bottom with ruching at the sides. Iskra called attention to her look on Instagram, sharing a paparazzi photo of herself munching on some food. She even went as far as to swap her profile picture, so she probably thinks she looks just as good in this bikini as we do. If you like

2017-12-15 11:28:03
`
3
Meghan Markle's Bridesmaid Dress Is Glamorous Enough For Her Own Walk Down the Aisle
In August 2016, Meghan Markle attended her friend Lindsay Roth's wedding (Lindsay's a TV producer and author), and she had the honor of being a bridesmaid. But the ladies in the bridal party didn't have to match - and that's where the fun started. It appeared as though the dress memo only comprised one rule: choose something in pale pink. We won't try to convince you that Meghan's Lela Rose look was the obvious standout. When she turned around to reveal the intrica

2017-12-15 10:45:50
`
5
12 Ultraluxurious Gifts For the Girl Who Was Extra Good This Year
We believe in gifting generously during the holiday season - especially if a loved one manages to make it to the top of the "nice list." Whether she maintained a positive attitude through a challenging time or went above and beyond to give back to others, there are plenty of reasons she deserves an extra luxurious surprise to close out the year. From a dreamy designer handbag to a must-have beauty tool, we've got a dozen gift ideas across a wide range of price points that are a worthy rewar

2017-12-15 10:41:37
`
2
When Emma Roberts Turned Around in This Denim Shirt, We Forgot All About Her Swimsuit
One of the first things we would do in Miami is slip into a swimsuit, and that is precisely what Emma Roberts did. The star checked out the beach scene in a peach-colored one-piece and wore a pair of Converse sneakers instead of flip-flops. Though the Mikoh bathing suit was revealing - it plunged low in the front - Emma brought along a cover-up: the Mother x Jacquie Aiche denim shirt. From the front, the button-down looked just like any chambray top, but once Emma turned around, you could clear

2017-12-15 10:15:11
`
2
I'm 8 Months Pregnant . . . and Haven't Bought Maternity Clothes
I was standing over my suitcase, wondering if I could get away with an elastic waistband at the Chanel show; thankfully, comfortable shoes like sneakers and block heels were still a fashion thing, not just a "me thing" for my increasingly uncoordinated body and shifting center of gravity. I was five months pregnant, figuring out how to pack for my first Paris Fashion Week and, simultaneously, how to clothe a sprouting bump for the first time. I thought about my options, what I'd seen out th

2017-12-15 09:55:00
`
3
Meghan Markle's Bikinis Confirm She's Not the Matchy-Matchy Royal You Might Expect
A glimpse at Meghan Markle's street style through the years confirms she's got the fashion eye. More often than not, that can make for an eccentric look here or there. We like that the soon-to-be-princess has a taste for the extraordinary - and that's not limited to her outfits. We browsed through plenty of her swimsuit shots, starting with this mismatched bikini that she wore in Positano in 2016 and found that Meghan prefers a quirky sushi print over a simple black one-piece (tho

2017-12-15 09:48:03
`
2
If You Think Sequins Aren't Work Appropriate, Check Out These Smart Outfit Ideas
As long as you're abiding by the office dress code and you feel confident and comfortable, you can absolutely wear sequins during the day. The last time we checked, there was no rule in our handbook that said "no sequins," how about in yours? As far as we're concerned, the shimmery embellishment doesn't make any outfit less modest or flattering, it just adds a dose of fun. Especially during the holiday season, your 9-to-5 look deserves a fancy twist. Read on for a few ideas that i

2017-12-15 09:36:04
`
2
How Women of Hollywood Are Standing Up to Sexual Harassment at the Golden Globes
It looks like the Golden Globes red carpet is going to be a whole lot darker in 2018. Various women of Hollywood are reportedly banding together and planning to wear all-black looks to the Jan. 7 show as a symbol of protest against sexual harassment in the industry, Jackie and Claudia Oshry confirmed on their talk show, "The Morning Breath." And it may even continue throughout the rest of award season, People reports. The powerful, statement-making move comes after The New York Times released a

2017-12-15 09:15:00
`
3
Bella Hadid Couldn't Decide on an Outfit For a Basketball Game, So She Brought Them All
It doesn't really matter what you wear to a basketball game as long as you're comfy. But if you want some outfit inspiration, well, we suggest checking out Bella Hadid. The model caught a game between the Knicks and the Los Angeles Lakers on Dec. 12 and wore not one but three different outfits. She showed up first in a low-cut white crop top, blue jeans, and a sporty pair of sneakers. Once the game got started, Bella changed into a white jersey that read "New York" on the front, lettin

2017-12-15 08:53:03
`
2
We Can't Tell Whether Beyoncé Is Wearing Jeans or Sweats - Either Way, We Love It
Beyonce is constantly one-upping herself with all of her amazing outfits. First she wore a feathered Nina Ricci dress that's perfect for a holiday party, then a pair of sparkly Saint Laurent boots, and now she's worn just about the coolest jeans we've ever seen. Bey posed for pictures on her website in a look she called "Label Whore." The singer styled a Dior bra with a plaid top and a pair of white boots that were both from Gucci. She finished off her look with a pair of baggy F...

2017-12-15 08:48:07
`
3
Royal Engagement Outfits Through the Years and What They Say About the Bride-to-Be
What outfit goes with diamonds? The correct answer is, of course, "any outfit," but when you're a newly engaged princess or princess-to-be and the first pictures of you and your engagement ring are going to be beamed around the world, the choice of outfit is key. Royal women have opted for all sorts of style choices over the years - and all give an insight into the character of the wearer. Let's break it down . . .

2017-12-15 01:15:09
`
5
Melania Trump Got in the Holiday Spirit With Her Festive Green Coat
Melania Trump attended the Marine Corps Reserve Toys for Tots campaign at the Joint Base Anacostia-Bolling in Washington DC on Wednesday. The first lady certainly looked like she was in a festive mood wearing a holiday-inspired ensemble. Melania opted for a bright green Prada coat with khaki pants and leather knee-high boots. Her double-breasted coat featured a waist-cinching belt and came in a wool-felt material. If you're looking to buy the exact coat Melania wore, you're in luck. Sh

2017-12-14 17:36:03
`
3
19 Reasons Beanies Should Be Your Favorite Winter Accessory
Hats are a gift from the fashion gods when your hair will just not cooperate. Thankfully, they can make you look all types of trendy! One Winter must have is a beanie - it can put a new spin on an old outfit and, of course, it keeps your head and ears warm. It's really a win-win. You might think that beanies only work with more casual outfits, but as you'll see, you can slip one on when you're in jeans, a sweater dress, and even pajamas! Get some beanie inspiration from our favori

2017-12-14 17:20:07
`
3
Serious Question: What Finger Do You Wear a Promise Ring On?
A promise ring is just what it sounds like: a promise of devotion to your beloved that often serves as a precursor to an engagement ring. For some, the ring may symbolize a future engagement, while others wear the ring simply to signify devotion to each other. "The idea of giving a ring as a promise of commitment, loyalty, and love dates back several hundred years, and various forms of promise rings have been popular over the centuries, particularly in the Georgian and Victorian eras, but datin

2017-12-14 17:10:00
`
3
Yes, Tights, Leggings, and Stockings Are All Different
Everyone has an opinion when they see someone wearing leggings as pants, or tights with a formal dress. And while sometimes it's just a fashion decision - be it comfort or a sense of personal style - sometimes people just don't know the difference. However, these products, for all their seeming similarities, serve very different purposes, and each should play a specific role in our wardrobes.

2017-12-14 16:55:08
`
4
15 Statement Shoes That Are Bound to Steal Your Heart This Year
It's time to ditch those old shoes you've worn out and trade them in for a pair that will turn heads. Investing in a statement shoe is a smart choice because you can rewear them again and again with all your favorite outfits. These standout pieces don't need to be outrageous, either; you can dip your toe into the trend with an embellishment like pompoms or by rocking a fun color. We rounded up a list of chic and Instagram-worthy picks you're going to fall in love with. So whe

2017-12-14 16:21:38
`
3
All These Zara Pieces Are Under $100 and They're, Like, Beyond Great
When we tell you all of the Zara pieces here are below $100, you'll probably be a little blown away. That's because we found the items that aren't only on trend for the new year, but well made and splashed with standout details. You can't turn down these glitzy skirts and dresses for party season, and there are tees, boots, and jackets here you'll wear way beyond Winter. We searched for the most intricate earrings and bags, and even found shoes with a round heel that re

2017-12-14 16:12:03
`
3
Treat Yourself! The 13 Coolest Statement Earrings to Complete Your Look in 2018
We're dubbing 2018 the year of the statement earring. Extraordinary jewelry is making a comeback, and we're obsessed with the trend. There are so many bold options that it's actually hard to choose. Whether you want something with tassels, pom-poms, or bling, we chose our favorite new styles. Shop through them and treat yourself to a pair or seven. RelatedI Found the Perfect $10 Statement Earrings - You'll Never Guess Where They're From

2017-12-14 15:45:04
`
3
Saoirse Ronan's Dazzling Style Is Just as Captivating as Her Character in Lady Bird
In case you haven't realized, Saoirse Ronan has been winning everyone's hearts with her role in the coming-of-age movie Lady Bird. Just like how Saorise's alt-cool wardrobe captivated us in the movie, her style in real life has caught our eye as well. The actress has worn everything from a feathered Christopher Kane gown to a chic plaid ensemble. Since the movie has garnered a ton of award season buzz, prepare to see a lot more of her amazing style in 2018. Keep reading to have a

2017-12-14 14:31:41
`
3
Kate Middleton Wore an Elegant Navy Coat For the Grenfell Tower Memorial Service
Kate Middleton attended a memorial service for victims of the Grenfell Tower tragedy that took place in London. For the somber event, Kate wore an elegant navy coat with silver buttons from Carolina Herrera. She accessorized with a matching wide brim hat and her sapphire and diamond earrings. Kate finished her monochrome ensemble off with a pair of suede Jimmy Choo heels and a suede L.K. Bennett clutch. Keep reading to have a closer look at her ensemble. RelatedRoyal Engagement Outfits Through t

2017-12-14 14:19:02
`
5
Bella Hadid Wore a Pair of Nike Air Force 1s You Don't See Often
Every model has her favorite pair of sneakers, and Bella Hadid's most definitely a Nike girl. Aside from landing a campaign deal with the brand, she regularly sports Nike sneakers as part of her off-duty style. Case in point: the model was spotted in NYC rocking a bright yellow pair of Air Force 1s. A closer look revealed the footwear was actually made of velvet - not surprising, given the material's popularity these past few seasons. It seems Bella took a break from repping her Nike C

2017-12-14 10:36:03
`
4
Meghan Markle's Christmas Outfit Is About to Consume Your Thoughts and Sell Out Instantly
It's been confirmed: Meghan Markle's spending Christmas with Prince Harry. But not just alone in their cottage - they'll be joining in on the royal family's traditions at Sandringham Estate. After Kate Middleton got engaged to Prince William, she spent the holidays with her own family. But times are changing, and it appears Meghan marches to the beat of her own drum, and we're not just referring to routines and rituals. In fashion, Meghan manages to mix in some popular

2017-12-14 09:45:58
`
4
Mary-Kate and Ashley Olsen Are Your Unlikely Source of Holiday Outfit Inspiration
Mary-Kate and Ashley Olsen have been offering endless outfit inspiration for decades now. Particularly festive and cheery, however, their style is not. That's why we were so surprised to see the fashion designers wearing color-coordinated holiday coats on a recent outing. While stepping outside for a smoking break, the 31-year-old twins wore red and green coats, respectively. While Ashley's forest green blanket coat was slightly more muted, Mary-Kate's bright red outerwear caugh

2017-12-14 09:15:09
`
6
Any True Beyoncé Fan Will Catch the Reference Behind Her "I Love Gooooold" Outfit
When it comes to her latest looks, Beyonce has not been keeping things muted by any means. She jumped on the glitter boot bandwagon in buzzy Saint Laurent footwear, then slipped into this Fall 2017 Michael Kors Collection runway look for JAY-Z's concert, deeming it her "I love gooooold" outfit. Any true fan will catch that reference - remember when she played Foxxy Cleopatra in Austin Powers Goldmember back in 2002? Fifteen years later, Bey looks just as good in the shimmering shade, don&...

2017-12-13 17:40:05
`
3
11 F*cking Cool T-Shirts For Women Who Love to Swear
In case you didn't hear, intelligent people tend to use more curse words. We have to say we really f*cking agree. If you're a woman who likes to drop a couple of colorful words into your vocabulary, we want you to know that we are so here for it. We found some cool-as-hell t-shirts that any cussing lady should have. Take a look for yourself. Related9 Desk Accessories For Working Moms Who Love to F*cking Swear (and Get Sh*t Done)

2017-12-13 16:50:44
`
1
Kaia Gerber Looks Like Her Mom Cindy Crawford's Mini Me - Especially in Those Boots
For most people, wearing matching outfits with your mother is something that's reserved for when you're a toddler, but there's one famous family that's making us think twice. Kaia Gerber was spotted hanging out with her supermodel mom Cindy Crawford wearing similar leather boots. Kaia opted for a blue top with high-waisted jeans and black combat boots, while her mother styled her monochrome ensemble with a pair of edgy knee-high boots. This actually isn't the first time

2017-12-13 15:25:30
`
1
Meghan Markle Should Give Every Royal a Lesson on Travel Style
Meghan Markle is a fashion girl who knows how to pack. She's often seen toting only a modest carry-on bag, and given her trips back and forth to London (prior to moving in with Prince Harry), you know she must have a wealth of travel hacks to share. That's why we took a look through her Instagram, which is the equivalent of a travel diary where she documented all the places she has visited and what she wore along the way. Meghan's been to Italy, Madrid, and London (to name a few),

2017-12-13 14:35:18
`
3
14 Stunning Curve Models Who'll Have You Clapping Your Damn Hands in 2018
Body diversity is finally being celebrated in the modeling industry, and we're all for it. Designers are giving people what they want by including more curve models in their shows and campaigns. From OG curve models like Ashley Graham and Candice Huffine to newbies like Iskra Lawrence and Emma Sanders, here are 14 curve models who will shine in 2018. RelatedThis Plus-Size Model Re-created Kim Kardashian's Swimsuit Shoot - and It's Empowering AF

2017-12-13 14:10:37
`
5
How to Pull Off All Red - Not Just Because It's the Holidays, but Because You Like It
We're not just suggesting you wear all red because it's the holiday season or we think it looks better than head-to-toe black or white. As we admired the street style at Spring 2018 Fashion Week, we noticed the monochrome outfit popping up more than usual - and we really liked what we saw. Red seems to be a hit this season, with boots in particular. But with the tips and tricks we've gathered, there's no better time to go all out and dress up in varying tones of cherry, scar

2017-12-13 14:04:02
`
3
How to Wear Leather Pants Like a Total Boss Babe - No Questions Asked
Styling a leather jacket is one thing, but when it comes to pants, it can be difficult to find the most flattering cut in the best possible finish for your shape and your taste. Depending on whether your bottoms are glossy, tapered at the bottom, waxed, colored, or patent, you can dream up completely different outfits. We're here to help you decide on the right look and offer up some tips, like whether you should finish your ensemble with sneakers, mules, or boots. Once you've come to

2017-12-13 11:26:50
`
4
Beyoncé Found the Ultimate Boss Boots to Wear to Your Holiday Party
Beyonce is fully embracing the sparkly boot trend. The songstress, who recently wore a pair of sparkly Stuart Weitzman heels with a Nina Ricci dress, served up an array of fierce poses wearing another pair of shiny shoes. Bey rocked a gray graphic-print tee from Balenciaga with itsy-bitsy shorts from Y/Project and a superlong belt from Off-White. She finished her look off with an MCM bag and a pair of sequined Saint Laurent boots that shined so bright, they didn't even need the KiraKira ap...

2017-12-13 11:15:36
`
4
These 8 Stylish Gifts From Old Navy Put the Fun Back In Holiday Shopping
Unwrapping your long-awaited gifts is undeniably one of the most exciting parts of the holidays, but purchasing gifts for your loved ones just got a lot more fun too, thanks to Old Navy. The retailer has some incredibly stylish items, perfect for everyone on your shopping list. In fact, some are so good, we won't judge if you pick up a thing (or two) for yourself. We got a taste of Old Navy's holiday gems during its Deck the Hauls event in partnership with POPSUGAR. There, we got up cl

2017-12-13 11:01:18
`
6
Just When You Thought You'd Seen It All, Bella Hadid Is Making Corset Jeans a Thing
Wide-leg jeans would be cool, but Bella Hadid took the trend one step further and chose a pair with a corseted waist while out in London. Her pooling Sarah Battaglia denim ($456, originally $760) felt less bohemian and way more Victorian inspired with edge, and Bella's lace-up Liudmila boots ($1,118) and long houndstooth vest spoke to that same story. Of course, the supermodel added touches of her own signature - a sheer, tight top that put her breasts on display, a newsboy cap, '90s-

2017-12-13 10:36:03
`
2
22 Winter Outfits With UGG Boots That We'd Copy in an Instant
You wore them until they were tattered and discolored years ago, but then, your UGG boots sort of retired to the back of your closet. It's not that our trusty Winter shoes got less cozy, it's just that it was time to switch up our look. But UGG is refreshing its label every season, rolling out brand-new styles, including short silhouettes in fresh colorways that look luxe paired with cropped jeans. In fact, bloggers and It girls, like Zendaya, are working their UGG shoes at all height

2017-12-13 10:05:48
`
3
Has Meghan Markle Already Shown Us What Her Wedding Bouquet Will Look Like? An Investigation
We're still reeling over Meghan Markle's one-of-a-kind engagement ring from Prince Harry. With everyone trying to find out as much as they can about the upcoming wedding, we figured we'd do a little digging to find out the answer to one of our burning questions: what will Meghan's wedding bouquet look like? As it turns out, we actually have a pretty good idea about which type of flower Meghan might choose because she's been hinting at it for years. Meghan has posted ton

2017-12-13 09:50:14
`
3
Whoa, These 11 Velvet Tops Are Ridiculously Pretty - All on Amazon and Less Than $19
OK, so we have to admit that we have a serious velvet obsession. The pretty fabric automatically elevates any look, making it appear undeniably luxe. If you're on the hunt for a cute top this Winter, we rounded up our favorite velvet options from Amazon. Not only are they insanely affordable, they're also stylish and pretty - it's the best of both worlds. Shop through these shockingly chic designs and treat yourself to a few picks. RelatedHide Your Wallet! These 19 Long-Sleeved

2017-12-12 17:14:03
`
8
14 Long and Stylish Sweaters That Are Beyond Easy to Layer - and Perfect For 2018
Layering is the easiest way to get the most of your Winter wardrobe. One versatile piece that can help you master layering this season is a long sweater. These cozy picks are better than your average knits because their length gives you the advantage to mix and match your bottoms. If the sweater is long enough, you can wear it as a dress with tights and boots. Or you can alternate between jeans, leather pants, and even leggings. We rounded up a list of our favorites that will make getting dresse

2017-12-12 16:50:54
`
7
28 Fashionable Turtlenecks That Are Unlike Anything You've Ever Worn
Once upon a time, we politely passed on the whole turtleneck trend, writing them off as sweaty, stuffy, and just plain boring. But then, something unexpected happened: the piece saw new life, as bloggers and It girls began working them into their wardrobes, giving us a dose of chic styling inspiration. The staple once again became a Winter must have, but it turns out, the turtleneck wasn't done evolving. This season, ruffles, cutouts, and other eye-catching details have been added to the cl

2017-12-12 15:23:41
`
8
Right Now Is the Perfect Time to Buy Swimwear on Sale - Shop These 15 Chic Picks
There's no better feeling than scoring a killer deal, especially when it comes to finding your favorite brands and items on sale. This season, while everyone else is busy shopping for warm layers and Winter clothes, you should invest in a new swimsuit because so many of them go on sale. We rounded up a list of stylish and impressive finds; from metallics to rainbow prints, you'll be excited to get your hands on these picks. RelatedThe 20 Hottest Swimsuits For 2018

2017-12-12 15:20:07
`
6
If Any Expecting Moms Need a New Year's Eve Look, Kate Middleton Just Found It
Kate Middleton has owned this metallic woven Seraphine coat dress ($495) since 2014, when she was expecting Princess Charlotte. The design is actually made for expecting moms, "to wear before, during, and after pregnancy," according to the website. It's no surprise the duchess pulled out the glitzy piece for a holiday party - it's dotted with sparkles and perfectly festive in its maroon shade. At a Christmas celebration for the Rugby Portobello Trust in North Kensington, she completed

2017-12-12 14:35:45
`
7
Holy Knit! These 19 Sweaters For Winter 2018 Are Cozy and Cute
Cozy season is upon us, which means it's time to fill your drawers with cute sweaters. If you're looking for some fresh new options to kick off the new year right, we curated a collection of our favorite releases. These cuddly designs come in an array of styles and price points, so there's plenty of variety to choose from. Treat yourself to some knits before you freeze! RelatedClear Out Your Closet: These Are the 13 Hottest Shoes of 2018

2017-12-12 14:00:52
`
6
20 Affordable Zara Coats That'll Get You Through the Winter in Style
In case you haven't realized, we have a slight obsession with all things Zara. While the colder temperatures have kind of put a damper on our mood, Zara has once again come to the rescue with an array of stylish coats that are also warm. Whether you're looking for a classic wool style or a fun metallic choice, we've got all of the bases covered. Keep reading to have a look at 20 styles that you'll want to live in this Winter. Related19 Fascinating Facts You Never Knew About Z

2017-12-12 13:16:15
`
5
Clear Out Your Closet: These Are the 13 Hottest Shoes of 2018
If you're anything like us, you strongly believe that you can never have enough shoes. That's why we get ridiculously excited when trends begin to emerge for the new year. 2018 will be filled with saturated colors, luxe fabrics, delicate embellishments, and more. It's going to be a big year for shoes! Whether you prefer comfortable flats, cool sneakers, or statement heels, you're bound to find something you adore. Stock up on all the hot designs now so you'll be ahead o

2017-12-12 11:05:35
`
6
Forget Teddy Bears - We Just Want to Cuddle Rosie Cozy Coat
Rosie Huntington-Whiteley doesn't bend to trends. The 30-year-old model, actress, and budding entrepreneur stays true to her classic style, consisting of flattering cuts, timeless prints, and a sizable amount of seemingly effortless sex appeal - even when wrapped up in a massive coat that looks not unlike your childhood teddy bear. Rosie recently stepped out in New York City wearing Max Mara's Teddy Bear Icon Coat, which she paired with leather pants, ankle boots, and a Saint Laurent c

2017-12-12 09:55:52
`
7
Zendaya Dressed Like Her Own Damn Golden Globe Award, and We're All For It
Zendaya's press tour looks for her movie The Greatest Showman are quickly cementing the young starlet's place as a fashion icon. Zendaya promoted the Golden Globe-nominated film wearing a gold trench coat by Giuseppe di Morabito. Her amazing belted coat came in a gold foil material that made her look like a Golden Globe award IRL. She accessorized with a matching Bienen-Davis handbag, gold hoops, and Paul Andrew heels. We're not the only ones who noticed the resemblance, as Zenday

2017-12-12 09:10:09
`
11
Sofia Vergara's Husband Has a Secret Love Note on His Blazer, and Dammit, That's Just Too Cute
Sofia Vergara and Joe Manganiello have been married since 2015, and the couple's love has only grown fiercer. They aren't shy about showing PDA on the red carpet or sharing cute couple moments on the 'gram. So when the two showed up to the premiere of Star Wars: The Last Jedi, we knew something was up. While Sofia stunned in a strapless striped gown for the red carpet, Joe looked dashing in a gray Peyman Umay suit. Joe was also wearing a secret message for his wife on his outfit.

2017-12-12 09:08:14
`
13
Look Back at Rihanna's Best Outfits From 2017, Because We Promise, They'll Give You Life
If there's one celebrity who doesn't seem to be affected by fashion critics or style rules, it's Rihanna. The singer wears whatever the heck she wants (have you seen her Met Gala looks?) and with 100 percent confidence too. Whether she's posting a streetwear outfit on the 'gram or walking the red carpet in extravagant dresses from Giambattista Valli and Molly Goddard, Rihanna's always a winner in our eyes. It's hard to argue with someone who has that much swag,

2017-12-12 02:45:06
`
9
Fashion Girls, Prepare For 13 Shockingly Cute Holiday Designs From Kohl's
We'll let you in on a secret: the K/lab collection at Kohl's has some of the most awe-inspiring pieces at affordable prices. Honestly, we're obsessed with the line and check back for new arrivals frequently. If you're on the hunt for unique designs that would be great for holiday parties, family gatherings, or New Year's Eve, we rounded up our favorite options. Everything is on sale, which makes it even more tempting. Shop through some of these lovely pieces and see all

2017-12-11 17:46:48
`
10
Angelina Jolie Tried to Stay Hidden in the Crowd, but With Shoes This Good, It's Hard
We probably wouldn't have noticed Angelina Jolie shopping with her kids if it weren't for her shoes. The star covered up with a big, floppy black hat and sunglasses - the trademark incognito attire for celebs - and wore a simple long cardigan over a black slip dress. She seemed like any other flea-market shopper, until our eyes landed on her shoes. They were a pair of black mules by Salvatore Ferragamo with a tiny gold heel. This detail captured our attention immediately, as it's

2017-12-11 16:21:03
`
5
19 Fashionable Last-Minute Gifts That'll Have Everyone Believing You're Santa Claus
So you waited until the last minute to buy someone a holiday gift? Not to worry - we've got you covered. With a bunch of our favorite sites offering expedited shipping and printable gift cards, you'll no longer have to pretend you accidentally forgot someone's present at home/at work/on the train. Keep scrolling to see where you can purchase and receive great gifts in a snap, but you'd better hurry: these stores are good, but none of them is Santa Claus. - Additional reportin

2017-12-11 15:45:20
`
6
15 Effortless Ways to Style a Blanket Scarf
Winter, with its harsh weather and freezing temps, can be a little rough. Regardless of where you live, Winter is the perfect time to cuddle under a comfortable blanket and watch a movie. Of course, there are days where we have to leave the house and no one wants to look unkempt. Blanket scarves have been the trendy way for years to perfect the mix of comfortable and stylized. Get inspired by these 15 effortless ways to wear a blanket scarf this Winter!

2017-12-11 15:25:10
`
9
30 Stylish Last-Minute Gifts That Will Arrive in Time - All From Nordstrom
If you're feeling stressed that you haven't finished your holiday shopping yet, not to worry. Convenient retailers like Nordstrom make it easy to get last-minute presents online. You can order from the department store until 12 p.m. ET on Dec. 22, and your items will arrive just in time for Christmas. We made it even easier for you and rounded up a list of stylish gifts any fashion girl would be excited to receive. From sneakers to jackets, handbags to pretty jewelry, you might end up

2017-12-11 15:05:23
`
7
25 Ways to Maximize Your Wardrobe by Mastering the Art of Layering
Winter weather can be unpredictable, making it a challenge to get dressed for those cold-weather days. The trick? Dress in layers so you're prepared for any temperature and occasion. It also adds some dimension and is a great opportunity to mix and match patterns, colors, and textures to achieve those put-together, Instagram-worthy looks. So pull out your favorite Winter staples and get ready to see them in a whole new light after seeing our favorite layered cold-weather outfit inspirations

2017-12-11 15:05:14
`
5
The Famous Headband Blair Waldorf Wears on Gossip Girl Can Be Yours - For a Price!
Spotted: Jennifer Behr is rereleasing one of the iconic headbands Leighton Meester wore as Blair Waldorf on Gossip Girl. The designer announced the return of the beautiful crystal headband in honor of the show's 10th anniversary. The $325 double crystal scallop headband is handmade with Swarovski crystals and is finished in the back with an elastic for the perfect fit. "Your all-time favorite headband Blair wore on Gossip Girl is BACK on our site for a limited, time to celebrate 10 years si

2017-12-11 14:10:09
`
5
These Are the Best Holiday Gifts For Every Zodiac Sign
Stumped on what to get someone special for the holidays this year? Let the stars do the deciding. Instead of getting overwhelmed by all the gifts this season has to offer, turn to her horoscope to find exactly what gifts match her signature style. From chic handbags to the shoes she's been craving, consider this style breakdown your mystic guide. So, whether she's a classic-loving Cancer or a sophisticated Virgo, just know that there's something she'll love a short scroll awa

2017-12-11 13:45:06
`
9
Olivia Munn's One-Piece Swimsuit Plunges Further Than You Thought Possible
When it comes to one-piece swimsuits, Olivia Munn seems to have a type. She's worn a bright maillot like this one before, and she's also made a statement with an eye-catching plunging neckline. While vacationing in Hawaii with friends, Olivia showed off her cheeky, tomato red Gooseberry design ($99) from all angles, and we give her major props for pulling off the fitted piece with such a sexy cut. Olivia eventually covered up her bathing suit with a sheer white maxi skirt, but read on

2017-12-11 13:30:11
`
8
Don't You Dare Throw Out These 17 Items - You'll Need Them For 2018
Chances are, you already own a handful of the 17 fashion items we listed below. And if you don't, it's about time you read up on the trends, take a glance at the 2018 runways, and ask yourself why you're still missing out. If it's because some of these looks seem too challenging to pull off - like over-the-knee boots or checked print - we have styling advice. And if you were just about to chuck some of these clothes, hold the damn phone. Basket bags, sequins, puffer coats . .

2017-12-11 13:01:28
`
6
Kim Kardashian's Ex-Assistant Is Winning Us Over With Her Amazing Style
If you don't know Stephanie Shepherd, allow us to introduce you. Stephanie worked closely with Kim Kardashian as her personal assistant before she was eventually promoted to COO of Kardashian West Brands. (Chances are you've probably seen her in multiple episodes of Keeping Up With the Kardashians.) Even though the duo no longer works together, Stephanie is quickly gaining fans with her amazing sense of style - and, she's even picked up a couple of styling tricks from Kim K along

2017-12-11 12:25:06
`
7
The Icing on Top of Jessica Alba's Baby Shower Cake Was Honestly Her Headband
Jessica Alba threw her baby shower at Laduree in Beverly Hills to celebrate the new baby boy she and Cash Warren are about to welcome into the family. While we'd obviously expect her to look cute - there are photos abound at these things - the mom-to-be really pulled out all the stops, proving she considers every little detail when constructing a maternity look. Jessica completed a bow-sleeved midi dress with pearls, Mary Jane block-heel pumps, a jacquard Dior bag, and a crystal embellish...

2017-12-11 12:05:07
`
9
Take a Peek Inside One Editor's Wish List This Holiday Season
This year it has been harder than ever to decide what I want for the holiday season. Because I spend my days browsing the internet for the hottest deals, I'm always finding new things to obsess over. I finally narrowed in on a few items I hope to receive. From a lightweight coat to glitter boots, and even a chic jumpsuit, you might be inspired by some of these picks for your own wish list. Take a look at my favorites right now. Related10 Chic Items That Are at the Top of One Editor's

2017-12-11 11:25:00
`
7
Wear Your Jeans to Work With These 6 Simple Hacks
Jeans probably aren't your first choice when getting ready for work, but that doesn't mean they should be overlooked. We aren't suggesting that you pull on your ripped skinnies for tomorrow's meeting, but substituting your worn-to-death tailored pants for black denim flares will give you major boardroom babe status. If you're worried about looking too casual, it's simple - stick to flared, skinny, or straight-leg styles in a black or dark wash, then polish them off

2017-12-11 10:55:53
`
8
These Coffee-Table Books Are So Full of Style, She'll Never Put Them Down
Buying a gift for a fashion-lover can be a bit nerve-racking. With such specific taste and an eye on current trends, there's the possibility of them loving your stylish pick . . . or immediately shoving it to the back of the closet. Rather than risk a gift card this year, we're snagging a last-minute pick we know will always go over well: a coffee-table book. A large, gorgeous hardcover - whether it's about a well-known designer or a collection of sketches - can be put on display

2017-12-11 09:30:26
`
8
Adriana Lima Declares She Won't Take Off Her Clothes Anymore For an "Empty Cause"
Adriana Lima has been a Victoria's Secret model since she was 19 years old, and now, at 36, it seems she's rethinking her career. On Sunday, the supermodel declared she was going to be pickier with the jobs she takes, which has us wondering if this is her way of confirming she's done being a Victoria's Secret Angel. (Her friend and fellow model Alessandra Ambrosio recently took her last walk for the brand.) "I had received a call for the possibility of filming a sexy video o

2017-12-11 09:25:21
`
7
Did Beyoncé Just Find the Sexiest Holiday Party Dress? We Certainly Think So
Beyonce has been serving up many eye-catching looks over the past couple of months. But it's her most recent outfit that has us awestruck. The songstress attended a party for Tidal wearing a silver Nina Ricci minidress that is perfect for the holidays. Bey's dress was covered in feathers, and she finished off her look with a pair of sparkly silver heels. Keep reading to have a look at her ensemble and buy similar versions for the holidays too. RelatedBeyonce's Skintight Green Dr...

2017-12-10 15:40:20
`
8
49 Winter Outfits to Try Inspired by Your Favorite Models
When Winter calls for puffers and parkas that cover up your outfit, it's easy to write off what you'll wear underneath. "Eh, no one will see the outfit anyways," you might think. Even though this is partially true, as we kick off December, we're challenging ourselves, and you, to dress smarter and feel even better. Aside from reading up on what's in and out and the top trends to expect for 2018, you'll need a little bit of #OOTD inspiration. Luckily, your favorite model

2017-12-10 11:30:27
`
6
This 1 Streetwear Brand Is Creating So Much Hype, It's Hard to Keep Up
Recently, it seems like we can't look anywhere without seeing Virgil Abloh's brand Off-White. Before he launched his streetwear brand Off-White c/o Virgil Abloh in 2013, the designer served as Kanye West's Creative Director and right-hand man. Since then, Virgil has managed to completely reinvent how most of us view streetwear and has made it red carpet appropriate. Virgil's designs include everything from a pair of chic biker shorts inspired by Princess Diana to hoodies and

2017-12-10 02:30:05
`
22
Taylor Swift's Studded Combat Boots Will Have You Saying, "Baby, Let the Games Begin"
Taylor Swift's recent street style has proven that the "Old Taylor" really is dead. The singer was seen holding hands with her boyfriend Joe Alwyn in New York. Taylor styled a yellow and black tartan coat by Public School with a pair of combat boots that featured studs and gold zippers. Keep reading to have a look at her full ensemble, and shop similar versions of her boots for your closet, too. RelatedTaylor Swift's Ready For Battle in These Metallic Combat Boots - and They're on

2017-12-09 20:50:42
`
18
We Can't Help but Think Meghan Markle's First Wedding Dress Was Inspired by Kate Middleton
With the news of Prince Harry and Meghan Markle's engagement, people are trying to find out as much about his stylish bride-to-be as they possibly can. One question that's been at the top of our list is what will Meghan's wedding dress look like? While the Suits actress has revealed that her favorite celebrity wedding dress belonged to Carolyn Bessette-Kennedy, we hunted down her first wedding dress to use as a clue for what she might choose for her upcoming nuptials. Meghan'

2017-12-09 13:00:25
`
15
Even Santa Claus Can't Keep His Eyes Off of Melania Trump's Snakeskin Heels
You probably need all your fingers and toes to keep track of Melania Trump's shoes. The First Lady attended a Christmas book reading at the Children's National Medical Center in Washington wearing a pair of eye-catching holiday heels. Melania opted for a monochrome look of a white long-sleeved shirt tucked into a tailored skirt. She finished her look off with a white coat draped over her shoulders and a pair of snakeskin heels by Manolo Blahnik. Keep reading to have a closer look at h

2017-12-09 12:30:31
`
13
I'm Lucky Enough to Be a Shopping Editor, and These Are 11 Items I'm Loving This Week
Though this is the season to shop for others, I can't help but pick out a few things for myself as well. As an assistant shopping editor, my job is to hunt down the hottest items on the internet that readers should know about. I scour the web for the best of fashion, beauty, home, and many more categories that are on everyone's minds. Naturally, it's hard not to discover products to add to my own mental shopping cart. With the holiday season in full swing, I'm digging cuddle-

2017-12-09 10:20:18
`
8
There's Something About Meghan Markle's Street Style That Will Remind You of Your Own
The secret sauce behind Meghan Markle's street style is really quite classic. Much like us, the American actress-turned-royal turns to two flattering silhouettes - at least, most of the time. While out in New York, Meghan's been pictured in fit-and-flare dresses (most of them with cap sleeves) and a couple of short suit sets that are modest but get a sexy touch with heels and a hint of leg. We'd call these looks, which date back to 2013, Meghan's uniform. But then again, we&

2017-12-09 10:20:10
`
12
Jennifer Aniston Pulled Out the Most Classic Bag to Wear With Her Blue Jeans
Jennifer Aniston's closet is full of basics she can pull out season after season. Take her boyfriend jeans or cozy sweaters - the star never deviates from her classic aesthetic. She stayed true to this style while attending a jewelry launch hosted by friends Jenna Dewan Tatum and Jennifer Meyer. Jennifer showed up to the party in a structured black blazer and blue jeans. The outfit is easy to replicate for all fashion girls, and it set the tone for Jennifer's accessories. She wore a ha

2017-12-09 09:22:03
`
9
In Case You Didn't Notice Rihanna's Crystal Gucci Socks, She Provided a Close-Up
As the ancient proverb goes, "It's ugly until Rihanna decides it's not." The latest proof of that comes in the form of the crystal Gucci socks the 29-year-old pop star and makeup mogul recently paired with white stilettos. On Instagram, Rihanna shared a posed picture wearing the monochromatic sock-heel pairing, then provided a close-up of the socks in another post. Along with the extravagant accessory, Rihanna wore a black minidress and a retro-looking Gucci windbreaker. Since $1,340

2017-12-08 18:08:17
`
6
33 Stylish Last-Minute Gifts Under $100 - All on Shopbop
As the holidays quickly approach, your window for online shopping is getting shorter. But not to worry, because you can pick up all your last-minute gifts from Shopbop. The online retailer ships items in just two days for free if you have an Amazon prime account. So if you're still browsing for the stylish girl in your life, we made it easy and rounded up a list of cute choices under $100. From jackets and boots to books and accessories, shop these favorites. Related40 Gifts From Shopbop T

2017-12-08 16:05:00
`
8
The 19 Hottest Heels of 2018 Will Get You in the Mood to Shop
2018 is pulling out all the stops when it comes to statement-making shoes. Designers have really stepped up their game creating unique, head-turning heels. There are so many bold, beautiful options that it's hard to choose. We're seeing plenty of vibrant colors, groundbreaking shapes, and whimsical embellishments. Whether you need a new pair for a night out or to wear every day with jeans, we've got you covered. It doesn't matter if you want to splurge on an investment shoe

2017-12-08 15:16:03
`
5
Almost at Your Budget For Gifts? Scoop Up These Under-$100 Earrings
You probably already started buying holiday gifts for friends and family. (If not, we have this ultimate fashion guide that will take care of everything!) As you're checking off your list of things to buy, you might find yourself reaching your budget, but instead of feeling worried about leaving someone gift-less, we have a simple solution. Give them a cute, stylish pair of earrings that speaks to their soul - and to your budget. This one accessory can easily dress up a fashion girl's

2017-12-08 14:20:03
`
3
Bella Hadid Is Wearing the Sexy, Body-Con Dress Version of Santa's Suit
Bella Hadid was just rocking corset jeans one second, and that was an intriguing statement all on its own. But look again, and the supermodel stepped out in London wearing a formfitting sequined gown with a slick black contrast strap and a white furry coat. Being that it's the holiday season, the color palette instantly reminded us of Santa's suit, but this look was far more sexy than cozy. Bella wasn't wearing chunky boots (no, sir!), but lace-up Liudmila stilettos ($1,118) in a

2017-12-08 13:45:33
`
8
Fashion Girls! These Are the 17 Chic Flats Everyone Will Want in 2018
As fashion experts, the new year gets us beyond excited for up-and-coming trends - especially when it comes to shoes. We're predicting that flats will be even bigger this year. There are so many stylish options that work with dresses as well as jeans and trousers. The opulent fabrics, glitzy embellishments, and unique shapes will be just as relevant in several months as they are right now. If you're looking for the perfect flat, we found 17 options that will be huge in 2018. We chose

2017-12-08 13:06:08
`
5
30 Outfits You've Never Thought to Pair With a Hat - But Should
If you're one of those girls who only adds a hat to her outfit as a second thought, that's about to change. You see, we've got a theory: when you work your ensemble around a fedora, beanie, or baseball cap, it just turns out to be more stylish. Yes, just because a hat qualifies as an accessory doesn't mean you can only wear it "if it goes" with the rest of your look. We browsed through the feeds of some of our favorite bloggers to bring you all the hat-spiration you could pos

2017-12-08 13:01:50
`
5
Stranger Things 2's Sadie Sink Is the Next Big Fashion Girl in the Making
She may be the new skater girl in town, Max, in Stranger Things 2 - often clad in blue jeans and a hoodie - but IRL, Sadie Sink couldn't be more different from her onscreen alter ego. Like her co-star Dacre Montgomery, the 15-year-old's star power is climbing fast since the show dropped, and so too, it seems, is her red carpet style cred. Just as Millie Bobby Brown is now widely a fashion darling as she is an Emmy-nominated actress, Sadie's already had many luxury brands such as

2017-12-08 11:30:28
`
6
Pippa Middleton's Mom Showed Her the Proper Winter Boots to Wear With Tights
We can't be sure who slipped into her suede wedge booties first for a night on the town - Pippa Middleton or her mom, Carole - but we think it was certainly the proper way to elevate a Winter outfit. The duo was headed to the Henry Van Straubenzee Memorial Fund carol concert in London, and they bundled up in chic coats. Carole let a pair of black tights peek out from under her outerwear, while Pippa worked skinny jeans. Both women were able to put their footwear on display, which wasn'

2017-12-08 11:17:02
`
4
Gigi Hadid Wore So Many Good Outfits in 2017, We're Thankful They Were All Captured on Camera
Gigi Hadid had a fashion transformation in 2017. The model not only got a new stylist (her name's Mimi Cuttrell), but also shot several high-profile magazine covers (in cute outfits obviously), and released new pieces for her collabs with Tommy Hilfiger and Stuart Weitzman. The designs spoke to her updated style and gave a glimpse at what the model is loving at the moment. Though Gigi naturally also dominated the red carpet in outfits by Zuhair Murad and Ralph Lauren, she had countless str

2017-12-08 11:15:20
`
9
How to Wear a Poppy, the Royal Family Way
We know quite a few things about the royal family's dress code, including how many times they have to change on Christmas day (Hint: it's a lot), why Prince William doesn't wear a wedding ring, or why Kate always wears a clutch. While the members of the family all have their own style, there's one thing that they do all have in common: poppies. Every year, Harry, William, Kate, the Queen, and every other royal are seen wearing a red flower on their clothes around Remembrance

2017-12-08 10:45:00
`
9
17 Ultracute Gifts For the Person in Your Life Who Loves Kitsch
If you have a friend who is obsessed with kitsch, whose style is reminiscent of Katy Perry in her "Teenage Dream" age, and who can't get enough of items with cartoons, animals, and glitter on them, we have a guide for you. The following items are over-the-top cute and are sure to make your friend cry tears of "you get me!" joy. From patch-covered sneakers to backpacks shaped like butterflies, these gifts are uniquely quirky and will complement anyone's style. These statement pieces wil

2017-12-08 10:05:09
`
6
Christian Louboutin Just Unveiled a Star Wars Shoe Line That's Totally Out of This Galaxy
Just when we didn't think it was humanly possible to get even more hyped for the premiere of Star Wars: The Last Jedi, Christian Louboutin went ahead and casually released a stunning shoe collection that's sending our geeky fangirling into overdrive. The French designer teamed up with Disney and Lucasfilm (the production company that owns the Star Wars franchise) to debut an out-of-this-galaxy line of custom heels inspired by four of the movie's badass heroines: Rey (Daisy Ridley

2017-12-08 10:05:07
`
7
The Only Thing That Can Distract Us From Rihanna's Badass Coat Is That Massive Diamond Ring
Over the past couple of months, Rihanna has been keeping her relationship with Saudi billionaire Hassan Jameel on the DL . . . until now. The singer was seen leaving Chris Rock's stand-up comedy show at Madison Square Garden wearing a head-turning ensemble. The songstress styled an embroidered Dolce & Gabbana jacket with a Celine tee, black pants, and hoop earrings. More importantly, Rihanna accessorized with a very special piece of jewelry on her ring finger: a massive diamond ring. ...

2017-12-08 09:23:03
`
3
Ladies, It's Tights Season - and We've Got 33 Bold Ways to Wear Them
No matter what you do, you just can't seem to add variety to your tights drawer. We've been there, too. But then we looked to our favorite style bloggers and found countless styling tricks on their feeds. These bold ladies are breaking out their fishnets and sheer stockings, and colorblocking with vibrant opaque styles - some of which are so bright, they could stop traffic. All it takes is a little push to become a tights fan. One day you'll pair them with your espadrille sandals

2017-12-08 09:12:11
`
6
Chrissy Teigen's Maternity Style Is Major Goals - Especially This Sexy Velvet Gown
Chrissy Teigen is relatable for many reasons: her sense of humor, the way she tells it like it is, and, of course, her style. The model is expecting baby number two with crooner John Legend, and we can't wait to see how her style will evolve. So far, Chrissy's maternity looks have ranged from a body-hugging black dress to a comfy long hoodie. Read on to have a look at all of Chrissy's pregnancy ensembles. RelatedChrissy Teigen's Airport Shoes Are Impractical but Stylish as

2017-12-08 09:10:20
`
3
You Can Thank Hillary Clinton For Making Ultra Violet Pantone's Color of the Year
Pantone just released its color of the year for 2018: Ultra Violet. We've seen the color on the runways during Fashion Week with an array of designers including the bold hue in their Spring 2018 collections. But perhaps the most interesting theory behind the popularity of the color, recognized by WWD, has to do with Hillary Clinton. The former Democratic presidential nominee gave her 2016 concession speech in a gray and purple Ralph Lauren Collection pantsuit and styled it with a matching

2017-12-08 08:40:33
`
8
I Bought This $9 Bra on Amazon, and I'm Never Wearing Anything Else Again
I have a bust on the smaller side, and I don't need much support. I often find underwire bras are too uncomfortable and thin camis just aren't enough. I saw this Hanes Convertible Wire Free Bra ($9) bubbling up on Amazon recently and became curious. It had over 1,400 reviews and a 4.5-star rating, so I gave it a try. This bra looks small and thin but it offers me so much support. The smooth straps are adjustable and don't cut into my skin, and the material is so silky-soft, I f

2017-12-08 08:30:00
`
6
22 Sale Items That Are Too Good to Be True This Winter
Just because Black Friday and Cyber Monday are over doesn't mean the deals have stopped. This Winter is the ideal time to treat yourself to a few new things, because while everyone else is shopping for presents, you can secretly snag those slashed prices for your own closet. We saved you time and sorted through some of the best brands and found a few unbelievable picks you won't want to miss out on. From Gucci to Nike, Topshop, and Rebecca Minkoff, get excited to see what we found. Sho

2017-12-07 16:50:34
`
3