These Bloggers Could Teach Us a Thing or 2 About Specs Appeal
Damn, we're glad these bloggers skipped their contacts and reached for the glasses, because they look spec-tacular (sorry). Whether they're styling cat-eye frames with kitten heels or throwing them on with Sunday morning silk pajamas, once you see how they've styled them, Chiara Ferragni and Shini Park will have you canceling your contact lens order ASAP. Read on for 25 reasons to be a four-eyes. Still not convinced? We'll let the supermodels sway you. RelatedEmily Ratajkowsk

2017-08-18 18:55:15
`
5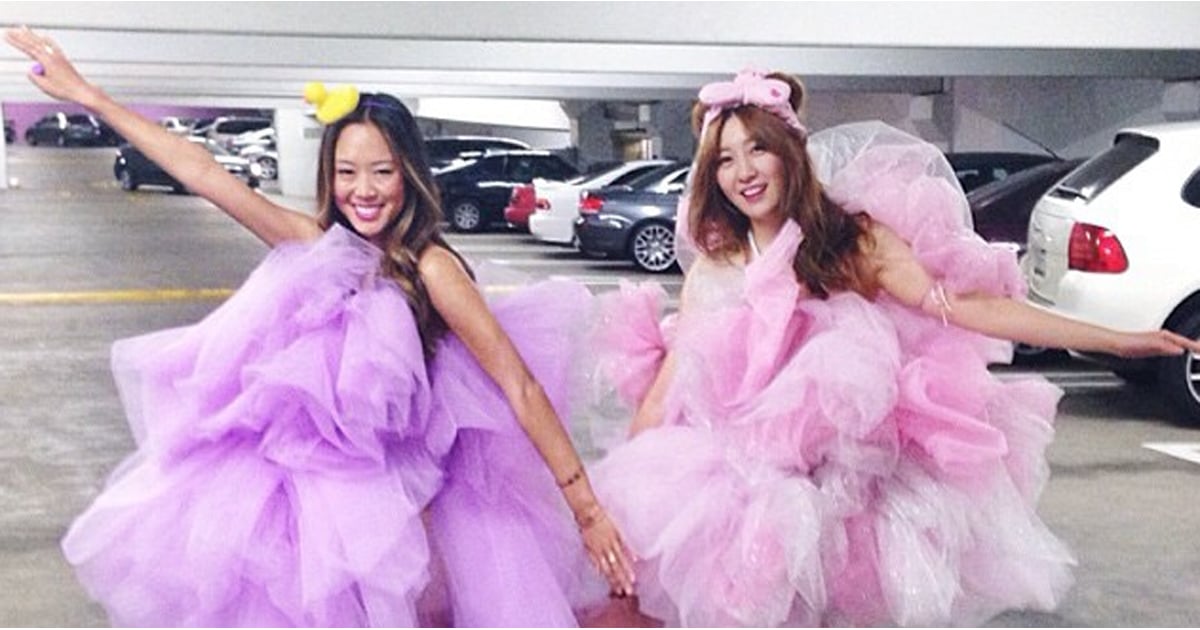 Your Favorite Bloggers' Halloween Costumes Are Their Best #OOTDs
cWe look to bloggers for a lot of things: vacation outfits, wedding dress ideas, and even a crash course on how to update our Instagram feeds to make them blogger-worthy (life goals, right?). They set the trends and do it bigger, so when it comes to Halloween, it's no surprise their costumes are just as sexy and phenomenal. Halloween is the one night where any fashion girl can be extrabold - unicorn onesie - totally stylish, or skip the fuss completely and simply wear cat ears. Regardless o

2017-08-18 16:48:55
`
2
You Might Not Think You Need a Pink Suit, but These Photos Will Change Your Minddf
There is no escaping the cult of pink right now. From trainers to home decor, it has become the color of choice for the millennial generation, and there is no better way to wear it than full-on, head to toe, in a trouser suit. This is a look that mixes business with pleasure: you're opting for classic tailoring, but throwing in a bold shade and a touch of irreverence. A pink suit, be it bubblegum or fuchsia, looks just as good with a t-shirt and trainers as it does with heels and a camisol

2017-08-18 14:47:08
`
2
We're Saying Yes, Yes, and Yes to These 50 Fall Essentials From Forever 21
Forever 21 - the kingdom of trendy, affordable pieces that feeds our fashion obsession. The retailer is stepping up its game for Fall, and we are so here for it. There are a lot of clothes, shoes, and accessories to look through, so we rounded up an ultimate guide to the very best items you need this season. If you need new dresses, coats, jeans, jewelry, hats, and more, you've come to the right place. Prepare to swoon. RelatedWe Found 64 Fall Essentials Every Fashion Girl Will Lust After

2017-08-18 13:08:03
`
4
18 Simple Yet Stylish Ways to Wear Your Ankle Boots This Fall
Ankle boots are a wardrobe staple for a reason. They're comfortable enough to wear for hours, and you can easily take a pair of black booties from day to night - what's not to love about that? If you've already snagged a pair of ankle boots this season (because, hey, you can honestly never own too many) but don't know how to style them, we've got you covered. We turned to some of our favorite street style stars to gather some much-needed outfit inspo. From a bomber jac

2017-08-18 12:57:19
`
3
Zendaya Is Bringing Back Ugg Slippers, and We Don't Mind 1 Bit
Let's be real, who didn't own a pair of Uggs in the early 2000s? Back then, you couldn't look anywhere without seeing a girl wearing a denim skirt with a pair of Ugg boots. Well, thanks to one stylish celebrity, you can expect to see a lot more of these shearling-lined shoes. The Australian brand, which recently announced a limited-edition collection with Moschino's Jeremy Scott, has Zendaya to thank for bringing back its classic tan slippers. The singer/actress, who loves t

2017-08-18 12:37:31
`
1
Kate Middleton's Favorite Blazer Is Coming in the Most Unexpected Color For Fall
We know the pieces Kate Middleton loves to wear, and one of the items is a blazer (appropriately named the "Duchess") from Canadian label Smythe. Kate has worn her navy blue blazer on several occasions throughout the years and even has a second one in army green. It's the one piece that continues to pop up in her wardrobe given its sophisticated qualities. While the colors Kate owns so far are subdued, Smythe is releasing a brand new hue in October. The brand partnered with Rethink Breast

2017-08-18 12:12:32
`
2
Target's Removing Your Favorite Affordable Fashion Lines - and We're in Shock
My pit stops to Target in search of a toothbrush and snacks usually lead me to stop by and browse through the fashion racks too. The retailer offers a dizzying array of trendy yet affordable pieces and is a hidden gem for cool designer collabs (remember Victoria Beckham?). But soon, your favorite original labels will disappear completely off the shelves. Target plans to remove some customer favorites like Mossimo and Merona and replace them with 12 new clothing, accessory, and decor lines. Thou

2017-08-18 11:33:24
`
2
Victoria Beckham's Leather Pants Are Branded Where You'd Least Expect It
Victoria Beckham recently stepped out with her family for dinner at Nobu in Malibu, California. It was definitely going to be a good night - she was toting a bottle of wine, wearing a comfy white t-shirt and a really great pair of leather pants. It's not the first time the designer's slipped into these red colorblock skinnies. In fact, she's been wearing them on repeat all Summer, and we think we know why. As Victoria walked into the restaurant, we noticed a tiny emblem at the bac

2017-08-18 11:15:03
`
3
Kendall Jenner and Gigi Hadid Are Bringing Back the 1 Belt You All Had in Middle School
While plenty of girls stocked up on Gucci logo belts ahead of the Summer season, Kendall Jenner decided to go a different route. She shopped Gucci, but for a snakeskin style. The supermodel stepped out for dinner with her sister Kylie at Pace in LA, cinching her high-waisted denim with the design and balancing the look with a ribbed tank and white patent booties. The neutral combination immediately reminded us of an outfit Gigi Hadid wore a couple of months back. Gigi's own snakeskin belt

2017-08-18 10:19:36
`
1
Amal Clooney's Sporty Sock Trick Will Take You Straight Back to the '90s
Amal and George Clooney held hands after playing a game of tennis in Laglio, Italy, and Amal was dressed perfectly for the occasion. The stylish but practical lawyer and activist slipped into a frilly skirt and capped off her ensemble with a visor. While you might be excited about the $39 price tag on her sporty Sundek tank top, we were more focused on her footwear: a pair of crisp white trainers paired with ankle-rise socks. The taller socks were a subtle draw to her sneakers as well as a nod

2017-08-18 09:54:37
`
5
Princess Mary Found an Easy Yet Elegant Styling Hack For Dealing With Rainy Weather
Princess Mary was spotted at Denmark's annual flower festival. The royal, whose style gives Kate Middleton a run for her money, perfectly matched the event's theme by wearing a black and white floral dress from Ralph Lauren. To shield her hair from the rainy weather, Princess Mary accessorized her look with a stunning wide-brim straw hat. If you zoom in closely, you'll see that the side accent on the elegant hat actually looks like a bouquet of flowers. Have a closer look ahead, a

2017-08-18 09:06:37
`
1
Hands Down, These Are the Most Stylish Celebrity Bikinigrams of the Summer
When it comes to bikinis, celebrities have a way of choosing the most Instagram-worthy styles. And this Summer, A-listers really stepped up their game by choosing some of the most stylish swimsuits we've ever seen. From Julianne Hough's honeymoon bikini (which made it really hard for us to focus on the picturesque backdrop) to Hailey Baldwin's flattering Solid + Striped number, have a look at the best swimsuits celebs wore this Summer. Then, shop similar versions of their bikinis

2017-08-18 08:26:10
`
3
Olivia Munn's Bikinigram Might Be a #TBT, but the Style Is Still Very Much on Trend
Whether she's wearing a sexy one-piece or a sporty bikini, Olivia Munn's swimsuit game is on point. As a #TBT, the actress posted a bikinigram from a girls' trip she took with two of her best friends. Olivia wore a green high-waisted bikini that featured a tropical floral print. While her retro bottoms were extremely flattering, we couldn't get enough of her off-the-shoulder bikini top. Have a look at her swimsuit ahead and buy similar ones for your collection if you're

2017-08-18 06:08:28
`
2
Angelina Jolie's Summer Shoes Are Barely There, but That's What's So Great About Them
If there's one thing we've noticed about Angelina Jolie's street style through the years, it's that she thrives in the Summer. It's during the warmer months that she can slip into lightweight dresses or kimonos, add a pair of sandals, and move effortlessly. Angelina's already proven her love for strappy open-toed flats in both camel and black, but her latest footwear, a pair of Ancient Greek Eleftheria braided sandals, is the most shoppable yet. Not only are the s

2017-08-18 05:45:47
`
1
Princess Diana's Swimsuits Were So Timeless, You Can Still Wear Them Today
Melissa Odabash has been designing swimsuits for close to two decades, so when it comes to the topic, she's a knowledgeable guru. She'll tell you how to take your one-piece swimsuit from day to night in a hot second (just throw it on a pair of jeans and a blazer) and she knows exactly what her customers across 59 countries want. She counts Kate Moss and Gwyneth Paltrow as some of her celebrity fans - no big deal. With an industry reach that wide, it was only natural that Melissa was

2017-08-18 01:24:59
`
1
8 Fall Trends to Buy Into For 2017
It's so hard to say goodbye to Summer, but more difficult than parting with the long days and our ice cream diet is leaving behind our warm-weather wardrobes. Whether you were wearing breezy striped dresses or comfy furry slides, it's time to pack them up until next year and part ways as you would your beach-house friends. But the news isn't all bad, because we've been saying "see you in September" to a few exciting new trends that will seamlessly fill the void. These eight

2017-08-17 21:42:43
`
2
You'll See This Two-Piece Outfit in Every Color, Print, and Cut For Fall
If runway trends were any indication, pantsuits will be big for Fall. As someone who has never bought one (or tried one on), I was intrigued by all the tailored pieces I saw during Fashion Week. The pantsuit is effortless to style (you can wear a t-shirt underneath and be done) and it will lend anyone the cool-girl factor. While I've seen plenty of people rock the two-piece set in various colors and designs, searching for the right one is rather difficult. You want something tailored, but

2017-08-17 21:29:39
`
3
Mary-Kate and Ashley Olsen Could've Bought Their Summer Dresses at Bed Bath & Beyond
If you ask Mary-Kate and Ashley Olsen, the chicest Summer evening look might just be one of your bedtime essentials: a long black robe. The designer duo behind The Row and Elizabeth and James attended a launch party in matching looks. Mary-Kate wore a thick ribbed maxi while Ashley's silhouette came with bishop sleeves, and both ladies slipped into the functional, flat sandals they designed, which seemed to be the only style note to confirm the season. You see, Mary-Kate and Ashley stick

2017-08-17 14:33:47
`
2
11 Ultraflattering Poses to Break Out For Your Next #Bikinigram
Unless you're a model or friends with the Jenners, it's perfectly normal to feel intimidated by the inevitable Summer swimsuit pic. But what if we told you it didn't have to be this way? That there are a handful of flattering poses anyone can break out beach or poolside? And that they're blogger-approved? Ahead we've rounded up a few great ones we've found on the feeds of these fashion pros, from hands on hips to leg-lengthening options. Try them out before your nex

2017-08-17 13:48:26
`
3
We Did the Shopping For You - This Is Everything You Need From H&M Right Now
Shopping is always made easier when you choose a retailer that has it all. H&M is constantly releasing cool new pieces that bloggers and sometimes even celebrities are splashing all over their Instagram accounts. So whether you're looking for a new going-out jacket or over-the-knee boots, we know exactly where to shop for this season's biggest and most affordable trends. We searched and found the brand's hottest items that you can get your hands on.

2017-08-17 13:32:03
`
1
These Easy Fall Clothes Will Last You All Season Long - No Questions Asked
We know that Fall shopping can feel like a drag - you have to think about which layers you might be missing and how to style them. Why can't updating your wardrobe for the new season just be easy? Like, Summer-slip-dress-easy? Your wish has been granted. Let us take you under our wing and show you the one-and-done pieces that will go for miles and miles - maybe even beyond Winter. Think of the clothes ahead as armor you can work in with so many different things you already own. Trust us, th

2017-08-17 11:49:43
`
2
Emily Ratajkowski Styled Her Cold Shoulder Top With the Ultimate Summer Wedges
While Emily Ratajkowski certainly knows how to choose an Instagram-worthy bikini, she also has a way of picking amazing street style outfits. Recently, the model was spotted wearing a menswear-inspired blouse by Faithfull the Brand with a pair of jeans. Emily's cropped jeans were the perfect length to show off her lace-up Castañer espadrille wedges. She finished her look off with another Summer staple: an adorable straw bag. The model's Carolina Santo Domingo tote featured a chain-me...

2017-08-17 11:32:30
`
2
The Ultimate Guide to a Leather Jacket and All of Its Parts
When you're finally ready to invest in a quality leather jacket, there are many questions to ask yourself. Do you prefer genuine leather or faux? (There are plenty of well-crafted, vegan options that will bring just as much edge to your outfits.) Is it essential you buy classic black, or do you prefer a vibrant pop of color? While a quick browse on your favorite retailer sites can get you some answers, consider this your quick sheet. We're breaking down the various details of a standar

2017-08-17 11:23:36
`
0
27 Dresses For Every Fall Wedding
When you hear the phrase "27 dresses," a montage from the 2008 Katherine Heigl rom-com might pop into your mind. But allow us to provide another, more palatable visual. Fall's fresh offerings for wedding-guest dresses feature trendy ruffles, rich hues, and eye-catching silhouettes. We've narrowed down the list to our favorite 27 (OK, two of them are jumpsuits, but who's counting?). Read through to shop our picks for everything from cocktail to black tie, demure to sultry, elegant

2017-08-17 11:07:03
`
1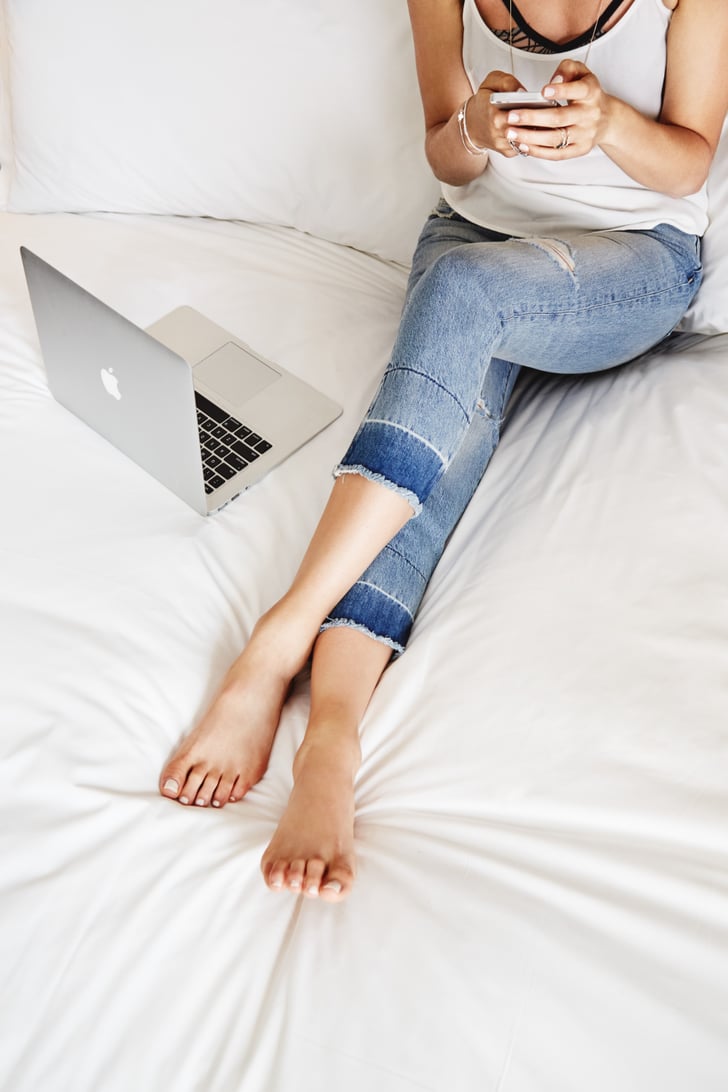 18 Instagram Hashtags Every Fashion Girl Should Know
We can't all be famous fashion bloggers, sitting front row at fashion shows, jet-setting around the world, and racking up those double taps with a simple Instagram selfie. But by adding the right tags to your post, it's possible to get a few more likes than you're used to, making that cute #OOTD a hit among the style crowd - and possibly giving your own site or feed a major follower boost. But rather than turn to the typical #OOTD, there are a handful of newer, more effective hash

2017-08-17 11:04:58
`
1
Emily Ratajkowski Made the World's Most Uncomfortable Pair of Pants Look Comfy
Before you doubt the wearability of paperbag trousers, take a look at Emily Ratajkowski. She wore the trend with a teeny-tiny navy crop top, which showed a peek of her bra. The top was the perfect choice to pair with her high-waisted slouchy beige pants. The two-piece outfit was simple (call it the one-and-done look), and with a glass of wine in hand, Emily looked chic enough for dinner or a casual party with friends. Though she's not the first star to rock this style - both Gigi and Kendal

2017-08-17 10:06:21
`
2
Last year was so . . . 2016. With 2017 comes a chance to put a fresh spin on your old Fall wardrobe. And when it comes to moving into a new season, there's only good news and better news. The good news: you're going to love this year's hottest trends. The better news: they don't require a fashion lobotomy. That's because for every pair of leather leggings and frayed jeans in your closet, there's an equally (and we might argue, superior!) fabulous style waiting in t

2017-08-17 09:20:29
`
2
We Are Living in the Twilight Zone, and Every Woman Is Wearing This Blue Dress
In the Summer of 2016, a chambray dress with a distinct ruffled off-the-shoulder element began popping up in several major retailers. Though its origins are unclear - Is Reformation to blame? Was it H&M? - Zara's affordable iteration seemed to be the one worn most frequently. Much like everyone else with eyes, comedian Lulu Krause picked up on the dress's ubiquity and has been documenting its appearances ever since. On Tumblr, Lulu uploads sightings of the blue dress on her blog s

2017-08-17 08:04:40
`
2
We Don't Know What's Happening, but We're in Love With the New Uggs
Whether you're a fan of Uggs or haven't yet gotten into them, it's no secret that these cozy shoes can become addictive. The brand uses premium materials and wools that absorb foot sweat, so you can go so sockless and the shoes will still last you throughout the years without getting old and stinky. And there's a wide variety of styles to choose from. From insanely fluffy house slippers to glitter sneakers and even hiking boots, this brand has you covered. Check out some of t

2017-08-17 05:28:40
`
2
These 13 Chic Wool Skirts Will Keep You Cozy This Fall
Fall isn't a time to leave skirts behind; it's actually the perfect season to wear them. If you're worried about the chilly weather, consider buying a wool skirt. The fabric is thick and insulates heat, so you won't freeze when you wear it. Whether you want something simple and gray or plaid and playful, there's an option out there that's worth a try. Take a look at our favorites, because it's never too early to get excited for Autumn. RelatedWe Found 64 Fall

2017-08-17 04:30:07
`
1
15 Bad Fashion Habits to Break
This is it: We're vowing to drop all of our bad fashion habits and adopt new ones. "Easier said than done," you're probably thinking - and we have to agree. Habits by definition are hard to break, but that doesn't mean we'll stop trying. Whether your goal is to invest in "quality over quantity" pieces or prep ahead your outfits for the week, the little changes you make to your new routine will make all the difference. To get everyone started, we rounded up some bad style habi

2017-08-17 01:52:04
`
2
We Found 64 Fall Essentials Every Fashion Girl Will Lust After
We bet your Fall fashion arsenal is looking pretty sparse since sundresses and sandals were most recently on your mind. That's where we come in. We scoured both the runways and the internet for the hottest clothes, shoes, and accessories you'll be yearning for this Autumn. We're talking patterned blazers, statement skirts, over-the-knee boots, berets, jeans, and more. If you're looking for the ultimate seasonal guide, you've certainly come to the right place. Take a mome

2017-08-16 22:55:46
`
3
This Dress Trend Is Unexpected - but It's Bound to Last All Fall
One would think that when it comes to Fall fashion, it's time to play the layering game. But the 2017 season trend report says otherwise. Dresses in particular are being sliced every which way - at the shoulders, across the midriff, and even along the knee. Of course, you can still throw a coat over your look when you head out the door, but whether you're dressing for an event or casual brunch on the weekend, we beg you to consider any of the eye-catching numbers ahead. It might be the

2017-08-16 21:55:48
`
3
6 Easy Ways to Layer For Fall That You Can Master Right Now
As someone who hates to layer, it's hard to pull off this look as effortlessly as some fashion girls do in the Fall. I always run into several problems, namely what colors to pair together or how to mix prints so it doesn't look like my closet threw up on me. I needed someone to break down easy ways to achieve this look, one that wouldn't involve shopping for entirely new pieces. So I decided to do the research myself and came up with six possible looks street style stars have b

2017-08-16 19:37:32
`
4
Let Victoria Beckham Serve as Your Date-Night Outfit Inspiration This Fall
There are a lot of style lessons we can learn from Victoria Beckham this Fall. While her most iconic look might be the LBD she wore back in her Spice Girls days, the designer has also served up plenty of other date-night-appropriate outfits. Whether she's wearing a chunky sweater over a skirt or a sleek tweed dress, here are 20 Victoria Beckham-approved ensembles you can rock on your next date night. RelatedVictoria Beckham's Go-To Summer Styling Trick Is Straight-Up Genius

2017-08-16 19:30:02
`
3
2017's Most Extravagant Wedding Dresses Look Like They're Right Out of a Fairy Tale
When it comes to over-the-top weddings, 2017 has definitely delivered. From the decor to the wedding location, these brides spared no expense for their fairy-tale moment - especially when it came to choosing their wedding dresses. So far this year, we've seen a Russian bride wearing a gorgeous Zuhair Murad gown to her $10 million wedding and another bride's Cinderella gown that earned her the title of the most "liked" wedding dress ever. Keep reading to see some of the most extravagant

2017-08-16 15:37:06
`
2
From Bold to Beautiful to Downright Ridiculous, Here Are the Best Hats Worn by the Royal Family
One of the best things about being a member of the Royal Family? The chance to wear fabulous hats all year-round! Whether it's a cocktail hat at Easter, a wide-brimmed wow-piece at the races, or a cloche at Christmas, there has been some truly stunning regal headgear on display over the decades. From the retro heyday of Diana, Princess Margaret, and the Queen Mother, to the contemporary twists added by Kate, Sophie, and Zara, we take a look at some of the most beautiful, bold, and bonkers r

2017-08-16 14:26:18
`
6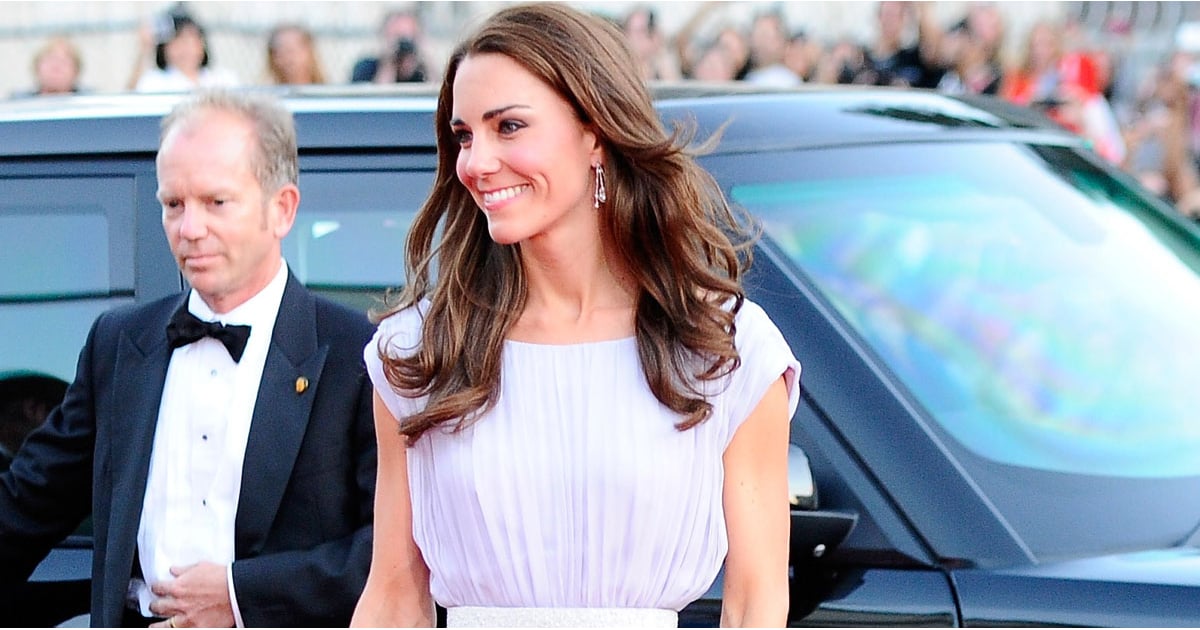 The Most Glamorous Dresses Kate Middleton's Ever Worn
Despite her regal title, there's something pretty down to earth about Kate Middleton - we've tracked enough of her "unroyal" moments to know. The duchess knows her way around a basic striped shirt and a great pair of jeans. On the other hand, when she takes the red carpet in a Jenny Packham gown, she leaves the crowd breathless. And while there's truly nothing she can't wear, we're partial to her most glamorous moments. From a few film premieres to royal gatherings and n

2017-08-16 13:41:41
`
2
These 11 Trends Wouldn't Have Gone Viral Without Supermodels
There will always be little one-off trends the models try - chain-link denim, hip cleavage, and the like - but a lot of them have serious staying power. In 2017 alone, the supermodels rallied behind a handful of notable looks that went viral. Can you remember a time when corsets weren't a thing? And how about the little white bootie that the supermodels are working with everything from miniskirts to track pants? If it weren't for these young women with huge social media followings, i

2017-08-16 12:36:37
`
3
F*ck Diamond Rings - We Just Want Nike's New Swarovski Sneakers
Exactly two decades after the initial release of the Air Max 97, Nike debuted revamped versions of the classic sneaker. Now, Nike is at it again with a little help from Swarovski. The two brands recently collaborated to create a silver Air Max 97 sneaker in Swarovski's unique Crystal Fabric. The blinged-out sneakers are made with material that is embedded with over 50,000 miniscule crystals in a very specific pattern. This isn't the first time Swarovski and Nike have collaborated: in

2017-08-16 12:14:36
`
1
6 Crazy Denim Trends That Made You Say "WTF" This Year
We love jeans. We found a hundred ways to wear them, we know what styles will be big for Fall, and we know where to find the best pairs. But sometimes even we're unprepared for the strange denim trends that arise. Think clear-knee plastic mom jeans or the mud-splattered blue jeans that went viral this year. The internet had a field day questioning the wearability of these creations, and we had to agree. On top of that, the unbelievably bizarre pieces sold out quick, which was the strangest

2017-08-16 12:05:49
`
1
Behold! Our 61 Favorite (Seriously Stylish) Boots For Fall 2017
We're clearing out a massive portion of our closet, because boot season has arrived and we need all the space we can get. Whether you're looking for casual booties or over-the-knee head-turners, there's something for everyone in this ultimate guide. We found all sorts of colors, too, including black, brown, white, and even red. Get in on these gorgeous options now, because they're going to be gone before Fall even begins. Shop our favorites and score a couple pairs so you

2017-08-16 11:02:39
`
1
This Portuguese Bride's Caped Wedding Dress Took 135 Hours to Create - and It Came Out a Masterpiece
Perhaps you've heard of London label Sophia Kah, but if you haven't, let us introduce you to Ana Teixeria de Sousa, the Portuguese designer behind the famous eveningwear looks. Of course, when it came time for her own nuptials, Ana made it her duty to stitch her own gown from start to finish (she confirmed to Vogue this took 135 hours) and then dress her bridesmaids too. But that's not all - Ana spent an extra 100 hours embroidering her lovely veil that swept the floor behind her

2017-08-16 10:48:57
`
4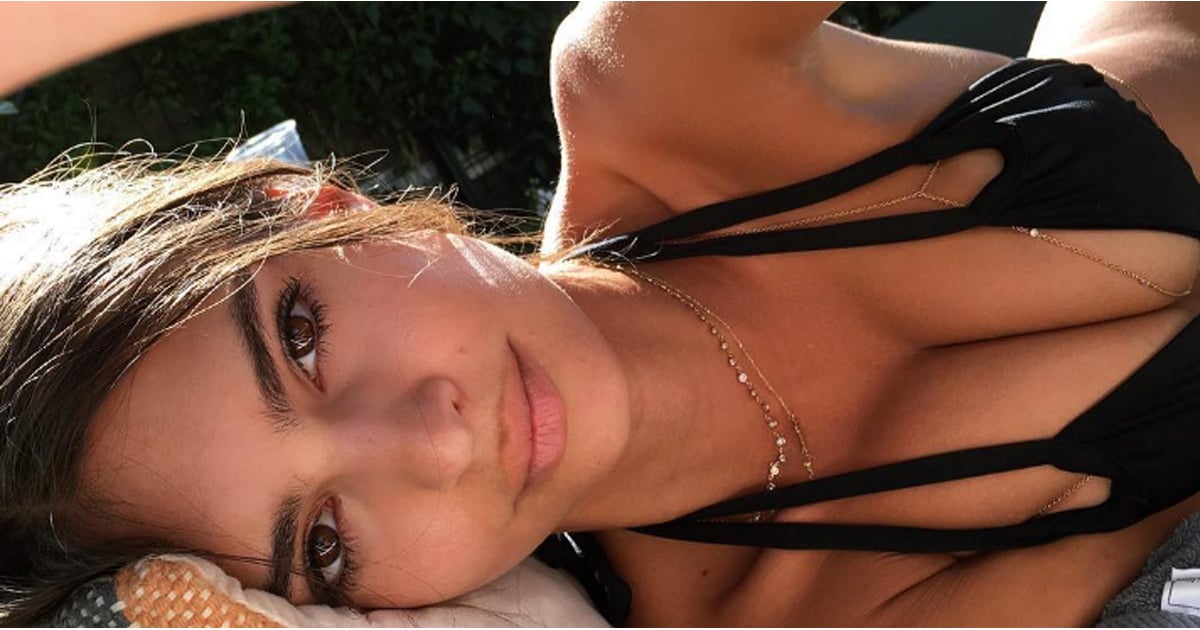 Emily Ratajkowski's Sexiest Swimsuit Pics All Include This Little Detail
We're never too surprised when Emily Ratajkowski shares a sexy swimsuit pic. At this point, it's pretty much become her "thing," and the star's Instagram is full of revealing one-pieces and teeny (sometimes mismatched) bikinis. But something we've never truly noticed before? That Emily piles on jewelry with all her suits - a fact she admitted in an interview with Elle magazine. "I basically stay in jewelry all the time," she told the publication, responding to whether or not

2017-08-16 09:51:29
`
4
Stop What You're Doing and Shop These 101 Swimsuits Before They're Gone
This Summer has been all about splashing your favorite bikinis all over Instagram, and it's never too late to add a few more to the bunch. Right now is the perfect time to shop swimwear because it's starting to go on sale but hasn't all sold out yet. So whip out your credit card and shop all these picks; from one-pieces to bow-ties and colorblocking, we have you covered all the way through next year. RelatedThe 1 Thing I Do to Feel Confident in a Swimsuit (and It Doesn't Inv

2017-08-16 06:46:10
`
1
The 31 Most Memorable Looks Celebrities Have Worn to Fashion Week
Whether they're making their way to the front row or about to walk the runway, the celebrities at Fashion Week rarely step out in leggings and a t-shirt. Their street style looks make for some of the most memorable moments - ones that stay imprinted in our minds for seasons, like when Kim Kardashian and North West modeled these mommy-and-me Vetements dresses. These are the outfits everyone got hung up on, and we're not about to let them go, not even when we have a whole new round of sh

2017-08-16 05:58:20
`
2
This Lebanese Bride Wore the Most Enchanting Gown to Her Forest Fairy-Tale Wedding
When we saw Jessica Feghali's wedding on Instagram, we were instantly transported into the pages of a fairy-tale book. The Lebanese bride married longtime love Marc Aoun in a gorgeous forest themed wedding. There was a flower wall at the altar that rivaled Kim Kardashian and Kanye West's, and the ceremony took place with the sun setting in the background. Inside, the ballroom was transformed to look like a forest with trees - there was a hanging flower ceiling and even a waterfall. Th

2017-08-16 04:24:10
`
2
You'll Think You Time Traveled Back to 2005 Once You See Spring's Hottest Pants Trend
The only way to go is up. Isn't that how the saying goes? It's been said to us after bad days, even used as career advice, but never as a way to describe pants - until now. From the runway to the street, pants seem to be getting shorter and shorter. So much so that they no longer qualify as "cropped" or "culottes," we'll just straight-up call them capris. If you lived through the late '90s and aughts (or even during the '50s), you likely had a drawer full of these in-bet

2017-08-16 03:51:58
`
1
Your Ultimate Guide to Fall's Biggest Bag Trends - at Every Price
If the thought of shelving your beach bags is enough to send you into an end-of-Summer-induced depression, let Fall bag shopping be the silver lining. With the runway's luxe iterations finally making their way to the shelves, you'll be happy to find new updates on seasonal favorites, like rich textured carryalls and sleek shoulder bags with a contemporary twist. There's even an upgraded "fanny pack" (though we don't call it that anymore) that's way more chic fashion-girl

2017-08-16 02:06:14
`
0
Kaia Gerber Confirms That Mom Cindy Crawford Is Basically a Real-Life Disney Princess
As the daughter of Cindy Crawford, Kaia Gerber knows she has a lot to live up to. That said, the 15-year-old model seems to be handling that pressure just fine as she eases into her budding career. In a new interview with Teen Vogue for the magazine's third Icons Issue, Kaia speaks about social media, her industry inspiration, and how her mom is basically a Disney princess. On fully realizing her mom's iconic status, Kaia said her aha moment happened on a trip to Disney with her family

2017-08-16 01:44:39
`
3
We're Willing to Go Into Debt For All 22 of These Cool Fall Skirts
I think of Fall as the time when I get break out my favorite skirts in sturdy fabrics and rich textures. I love wearing them with tights and boots. Whether you prefer minis that show off your legs or midis that will keep you warm, there are some stylish options for everyone right now. We rounded up our favorite picks - prepare to see lots of plaid, satin, denim, and more. Your wallet is about to get a little lighter. RelatedThese 15 Midi Skirts Are What Every Fashion-Obsessed Girl Will Be Weari

2017-08-15 19:10:14
`
3
11 Leather Jackets So Stylish, You'll Be Shocked They're Vegan
Even though I'm not a vegan myself, I'm a big fan of vegan leather when it comes to fashion. There are so many new vegan-friendly brands and retailers popping up, and it's becoming so easy to shop animal-friendly products while staying on trend. Here's exactly how to make sure you're picking up a vegan-friendly leather. Instead of being made from animal leather, it can be made from several different kinds of material like cork, barkcloth, glazed cotton, waxed cotton, p

2017-08-15 19:05:53
`
3
Nike Just Reinvented Its Cortez Sneaker, and We Think We Might Be in Love
Nike's Cortez sneakers have been on every fashion girl's must-have list for a while, and now, the company has announced that it's revamped the classic style with the help of LA-based brand A.L.C. The brands have reimagined the '70s sneaker in three new luxe colorways: Oil Grey, Light Orewood Brown, and Terra Blush. These stylish kicks, which will retail for $100, feature a suede upper, a snakeskin heel patch, and an empowering message written on the insole of each sneaker. H

2017-08-15 15:42:29
`
3
The look was one of the sexiest when it debuted on the catwalK - but just how do you actually wear a slipdress IRL? The answer is simple: rarely by itself. Instead, fashion insiders rely on cool layers and easy footwear to temper the lingerie-by-day look. Read on to see how adding a t-shirt underneath, a jean jacket over top, and a pair of sneakers or slides can change the whole vibe. And, if by chance, you're on the hunt for something that says date night, well, we've got that too.

2017-08-15 13:41:49
`
8
Step Up Your Sweater Game With These 18 Outfit Ideas
Everyone gets stuck in a style rut sometimes, whether it's wearing the same pair of boots all season or wearing the same black skinny jeans week after week. As we dig into all those cozy sweaters, one question comes to mind: what the heck do we wear them with? The obvious answer would be jeans (black high-waisted skinnies if you're like me). That, however, seems a little like the easy way out, and with so many inspirations from the Fall 2017 runways, we want to challenge ourselves to

2017-08-15 11:55:12
`
7
Kendall Jenner's Favorite Shoes Date 5 Years Back - and They'll Shock You Big Time
Of course we want to see inside Kendall Jenner's closet, and when Vogue and Conde Nast Entertainment are offering a 360-degree view, we're definitely all eyes. Kendall gave the full tour, detailing her favorite shoes, which were a gift from Kanye West (but surprisingly not Yeezys), what it's like to wear Vetements x Manolo Blahnik thigh-highs, and the secrets behind some of her most famous looks. That includes her vintage Louis Vuitton fanny pack and her memorable 21st birthday o...

2017-08-15 09:37:13
`
7
37 Iconic Costumes to Inspire Your Halloween Plans
Put away your fairy wings and witches' brooms, and get in the spirit of Halloween season with a costume that's a little bit more, well, stylish. Whether you would rather channel Elle Woods or Wednesday Addams, if you're looking to cast a spell on someone, these buzzed-about looks will really capture their attention. From the red carpet to the silver screen, these famous (and infamous) outfits are classic, creative, and, at times, straight-up hilarious. Sure, you could go the more

2017-08-15 09:12:48
`
3
Emily Ratajkowski Let the Sun Shine on the 1 Detail That Makes Her Bikini Different
The biggest section of Emily Ratajkowski's wardrobe just might be her bikini drawer. The supermodel rarely repeats a beach look, and lest you thought she'd run out of ideas for catching everyone's attention, she just uploaded snaps from a sunlit photo shoot in another brand-new swimsuit. This particular L*Space two-piece appears classic at first - it's all-black with a high leg cut, which has become a pretty standard silhouette this season. But zoom in close, and you'll

2017-08-15 08:27:17
`
2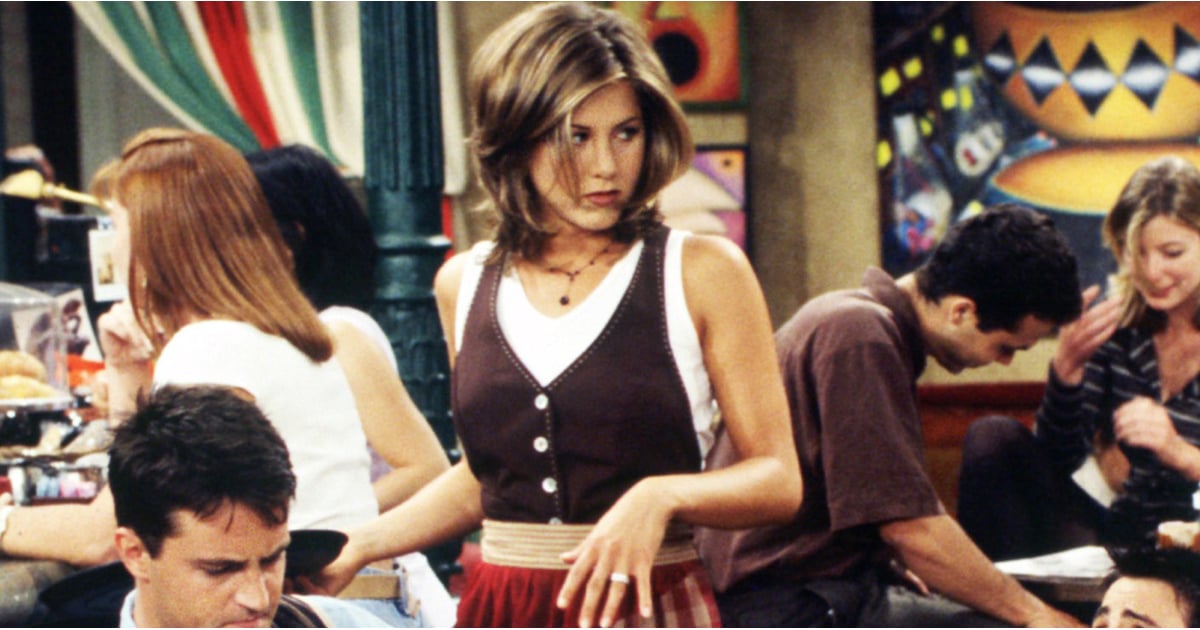 If Friends Were Still On, Rachel Green Would Ditch Bloomingdale's For This 1 Store
Rachel Green was nothing if not the most stylish working woman in New York, at least in the 1990s. The Friends character gave rise to what's still one of the most iconic haircuts in history, and she mastered every trend in the book. When she was off-duty, Rachel made romantic maxi skirts look cool with simple tees, and she paired tights with smart boots for the office. Though Rachel maintained a job at Bloomingdale's for many seasons, nowadays she would get her fashion fix at Zara. W

2017-08-15 07:02:15
`
5
Take a Seat - We Found 13 Incredible Shoes From Zappos on Big-Time Sale
If you're not shoe shopping on Zappos, you're not doing life right. The massive online retailer is especially known for its incredible variety of footwear - whatever size, color, or style you're looking for is likely on the site. We're currently obsessing over the sale section; there are tons of heels, sneakers, and flats we're dying to get our hands on. If you're in the market for a new pair of shoes (let's be honest, we all always are), check out our favorite

2017-08-15 05:50:35
`
3
10 Trends That Didn't Make the Cut This Year - and What You Should Wear Instead
As Heidi Klum would say, "One day you're in, and the next day you're out." This could not ring more true for clothes we've worn and trends we've tried in 2016. So what exactly are we saying bye to? At the top of the list are black shoelace-style chokers and Stan Smiths - items every fashion girl, including us, sported in one Instagram snap or another. Our reasons for saying bye to the 10 items ahead are quite simple: we're inspired us to switch things up. Based on our o

2017-08-15 05:40:37
`
6
Princess Mary Wore Summer's Most Practical Heels With Her Breezy Dress
Princess Mary of Denmark's style easily rivals Kate Middleton's, and her latest outfit proves just that. For her children's first day of school, Princess Mary showed up wearing a breezy, printed dress that was perfect for Summer. She styled the belted dress with gold hoops and an amazing pair of heels. While her brown shoes might look simple, they're also superpractical thanks to the support of a sturdy block heel. Have a look at her full ensemble ahead, and buy similar vers

2017-08-15 05:25:08
`
5
I Found the Perfect $10 Statement Earrings - You'll Never Guess Where They're From
As soon as I learned that tassel earrings were going to be a huge trend this year, I knew that I had to try them out. I love bold, colorful accessories, so I was obviously all about the look. Designers started doling out expensive versions, but I wanted to test the waters with a more affordable pair first. After lots of digging around the internet, I finally found the perfect earrings, and they were only $10. They're from an Etsy shop called SiamHillTribes. To say I was pleased with my or

2017-08-15 04:40:50
`
2
6 Stylish Retro Sneakers For Fashion Girls Who Love Flats
Whether you're dedicated to heels or faithful to flats, every fashion girl knows that the perfect pair of retro trainers can add a lot of cool to an outfit. Set your Stan Smiths aside for a moment and shop the six retro trainer styles that deserve a place in your shoe wardrobe.

2017-08-15 04:09:11
`
3
Kim Kardashian's Bodysuit Is Like the Solar Eclipse - Don't Look Directly at It
It should come as no surprise that Kim Kardashian is working on something secretive yet again. After teasing her upcoming KKW Beauty launch, the multi-hyphenate shared some behind-the-scenes footage from an undisclosed photo shoot. In the videos shared with her followers, Kim is wearing a head-to-toe bedazzled bodysuit. Kim snapped various videos of herself getting ready for the shoot. Before slipping into the crystallized bodysuit, Kim shared a video of herself wearing shapewear and said, "Set

2017-08-15 03:45:14
`
6
These Fall Outfits Look Incredibly Chic, But They're So Far From Complicated
Fall can be an awfully difficult season to dress for. You have to start thinking about layers, and that means considering outfit proportions: can you wear these boots with that dress? Would a mid-length blazer look frumpy or just right with this midi skirt? We understand the struggle, which often results in that throw-up-the-hands "I have nothing to wear!" freak out. We want you to avoid that at all costs this season, so we've provided you with a handful of looks so simple, you probably co

2017-08-15 03:17:52
`
6
Katie Holmes's Summer Sneakers Are So Old-School Fabulous, You'll Need a Pair Too
We're always excited by a Katie Holmes spotting on the street, because really, you never know what she might wear. While she's good friends with designer Zac Posen and habitually slips into his eveningwear, her Summer style is way more casual - but it can be bold. Take her latest look, for example: a gingham button-down, dark denim cutoffs, and old-school Reebok sneakers. Katie didn't just wear her white high-tops with pride, she drew even more attention to them with a pair of s

2017-08-15 02:27:03
`
1
If You Think This Russian Bride's $7-Million Engagement Ring Is Extravagant, Just Wait Till You See Her Dress
Russian oligarch Aleksey Shapovalov married his longtime girlfriend Ksenia Tsaritsina in one of the most lavish weddings we've ever seen. The extravagant wedding took place at Barvikha Luxury Village Hotel in Moscow. Ksenia, who's a model, wore not one but two stunning wedding dresses. Her first dress featured a sweetheart neckline, intricate beading, and a poofy skirt that would make even Cinderella jealous. She styled the off-the-shoulder design with a bejeweled headband. Later, the

2017-08-15 01:29:26
`
11
2017's Most Empowering Fashion Stories Will Have You Screaming "Hell Yeah!"
For many, 2017 has been a bag of mixed emotions because of the current political climate. But there were also some very important wins in the fashion community with many designers uniting for women's rights and equality during NYFW's Fall season. Sports Illustrated featured stretch marks for the first time and Halima Aden modeled American Eagle's amazing denim hijab, proving that this year has had its share of inspiring moments too. Keep reading to have a look at this year's

2017-08-14 22:46:56
`
12
The 1 Hat Every Fashion Girl Will Be Wearing This Autumn
You know a trend is going to take off when you see Rihanna or Bella Hadid stepping out in it, so it's time to pay attention, fashion girls. Berets are back. This hat is the perfect Fall accessory to top off your look because it's classic and chic. We're loving the assortment of colors and fabrics - you can go edgy in black leather or vibrant in red wool. It's a hat that works for every style. Besides being a statement piece, it also keeps your head warm as the temperatures co

2017-08-14 22:22:53
`
13
This Blogger Wore 1 Completely Sheer Wedding Dress and Another With a Thigh-High Slit
Leave it to California-based blogger and Are You Am I Creative Director Rumi Neely to start a brand-new bridal trend. Not only did the influencer walk down the aisle at San Ysidro Ranch in a gown with a thigh-high slit, but she also organized a photo shoot of sorts, where she posed in a handful of white looks leading up to her special day. That included one entirely sheer ruffled mini, and Rumi's barely there bridal bikini fit the bill too. Meanwhile, the slash in her off-the-shoulder, fl

2017-08-14 20:58:19
`
11
Take Note: These 16 Chic Blazers Will Be Your Autumn Obsession
It's time to put that denim jacket in the back of your closet and get ready for Fall fashion. This season, you'll be seeing blazers as the go-to layering staple for fashion girls. Whether you wear one with matching trousers to make a suit or you casually throw one on with jeans, it's going to be the statement piece you need. They come in all shapes and sizes - we're particularly loving the double-breasted silhouettes and old-school patterns. Take a look at our top picks for A

2017-08-14 20:35:16
`
10
19 On-Trend Fall Flats That Every Fashion Girl Needs in Her Wardrobe
Even though it's still warm outside, that hasn't stopped us from getting excited about all the upcoming Fall fashion. All of the season's collections are slowly starting to pop up at our favorite brands and retailers. I'm personally obsessing over all the new and flashy flats I've been seeing everywhere. From pearl embellishments to crushed velvet and even faux-fur pom-poms, there is a flat for every aesthetic. Take a look at these top picks and snatch them up before the

2017-08-14 15:17:29
`
5
January Jones Just Wore the Sweetest Pink Bikini of the Summer
January Jones posted a bikinigram in perhaps the cutest swimsuit we've seen all season. The actress, who's a fan of wearing retro high-waisted bikinis, opted for a pink Lisa Marie Fernandez number that featured button accents. The designer is a favorite among celebrities like Kendall Jenner, who wore a similar pink style while in Cannes. Have a look at January's swimsuit ahead and buy similar versions for your collection too. RelatedThis Little Bikini Is So Hot, A Princess and K

2017-08-14 14:11:05
`
4
Here's What Our Shopping Editor Is Scooping Up This Week
As a Shopping editor, when you spend all day either scouring through Instagram hunting for new releases or deep in a corner of the internet in search of budding subtrends, you end up spotting a lot of stuff you want yourself. It's only natural. If you've ever been curious about what POPSUGAR's Shopping team is adding to their own carts, we are giving you a sneak peek. From throwback vintage sneakers to sequined dog pillows (yes, really), here's what our Shopping editor has he

2017-08-14 13:03:32
`
17
Jennifer Aniston Started This Sexy Trend on Friends That's Still Going Strong
From "The Rachel" hairstyle to slinky slip dresses and miniskirts with knee-high boots, Jennifer Aniston championed so many popular '90s looks on Friends. There was one little faux pas, however, that was widely discussed throughout the 10-season series: Jen's nipples and how visible they were on screen. It's really no big deal - even if the actress had been going braless, that's her prerogative (or perhaps an idea of the costume designer's). By now there are plenty of

2017-08-14 13:03:26
`
12
This Swedish Bride Styled Her Gorgeous Sheer Wedding Dress With the Most Unexpected Shoes
When a fashion editor like Giovanna Engelbert shows up to a wedding, you better believe the bride's gown will be one for the books. Matilda Fredell got married by the Baltic Sea in Stockholm wearing the most stunning sheer dress we've ever seen. The bride's ruffle tiered gown was made out of delicate net and featured a high neckline. Rather than wearing heels, Matilda opted for a pair of sparkly silver mules. Have a look at pictures from the gorgeous wedding ahead. RelatedThis Br

2017-08-14 12:47:36
`
9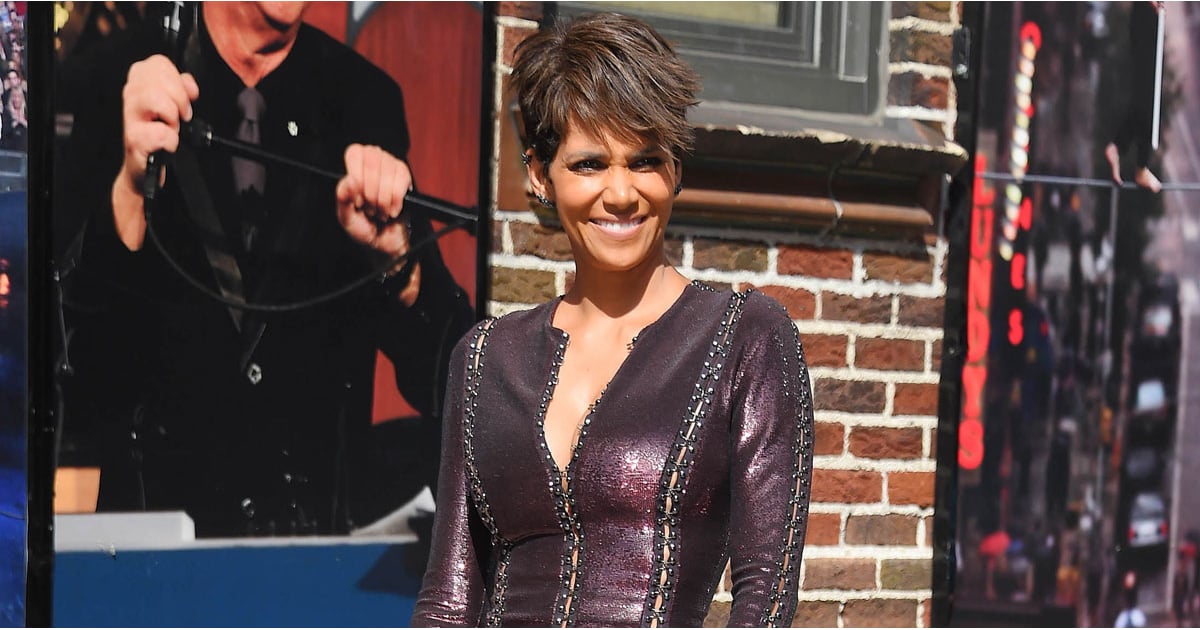 20 Reasons Halle Berry Is the Hottest 51-Year-Old We Know
Are you thinking what we're thinking? Halle Berry has discovered the Fountain of Youth, right? Today, the bombshell actress celebrates her 51st birthday, and honestly, she doesn't look like she's a day over 25. She knows how to highlight her enviable frame, opting for formfitting Dolce & Gabbana sheaths and Roberto Cavalli pantsuits on the red carpet, but she also knows that the key to styling success is to never overdo a good thing. Thus, Halle consistently sticks to a "less

2017-08-14 10:39:13
`
4
When You See the Flip-Flops Lily-Rose Depp Wore With Her Bikini, You'll Think "Hell, Yes!"
Eighteen-year-old model and Chanel muse Lily-Rose Depp has a rather relaxed everyday style. Even when she's showing off a cool It item, like a Chanel backpack, the rest of her ensemble is muted. Usually, Lily-Rose just sticks to jeans and a t-shirt. So we weren't really surprised to find that she chose such a classic bikini for a trip to Re Island in France. While she accessorized the olive string two-piece with luxurious essentials - a woven sun hat, teal scarf, and oversize tortois...

2017-08-14 10:28:21
`
5
How to Be the Best Dressed Lady on Your Next Weekend Getaway
Packing for a vacation is exciting, but we'd venture to say that packing for a quick weekend trip is even more of a thrill. You only have a few days to style outfits, so you'll probably pay attention to every little detail. While your classic denim pencil skirt might get worn twice, you might think to bring a silk scarf to tie in your hair to make all the difference. And though you might only need one bikini, you can work the embroidered tunic you wore for the road trip as a cover-up.

2017-08-14 09:15:05
`
4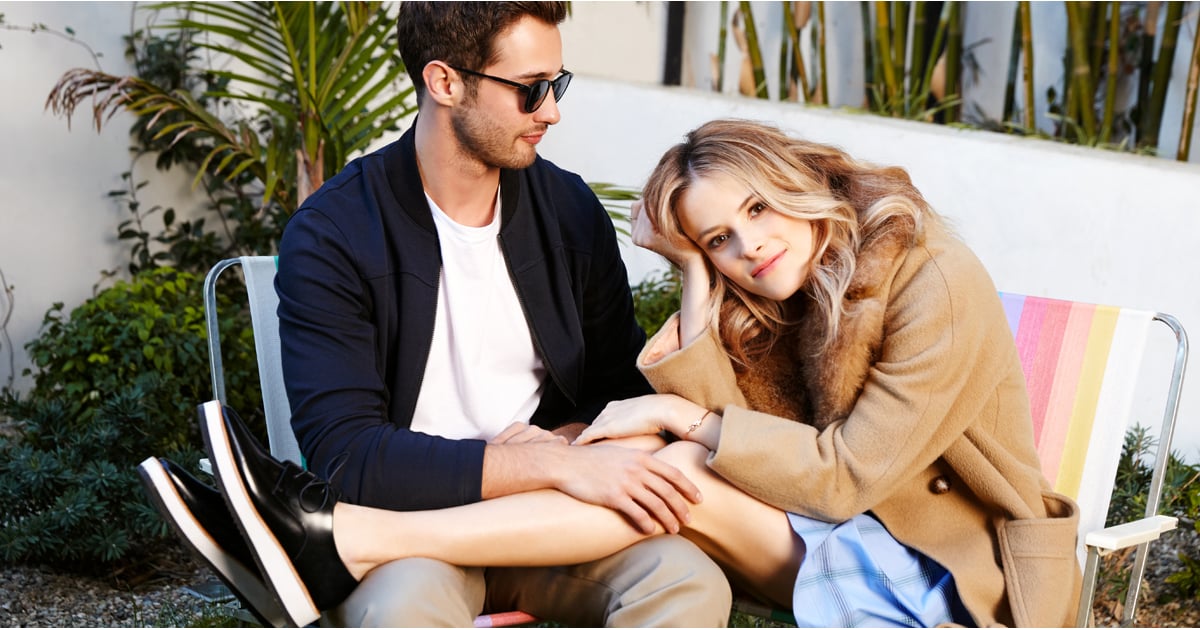 53 Looks That Couldn't Be More Special For Your First Date
Once your first date is planned, you'll likely start to think about your outfit. Just picture yourself in any scenario, be it the movie theater or a fancy restaurant - you're wearing a fabulous look, aren't you? It flatters your figure and highlights your best assets, but it's still sophisticated with a modest touch. That's why we're serving up inspiration for any event you choose. Whether you're meeting up after work for a casual bite or you and your new muse

2017-08-14 07:56:15
`
8
This Is Cindy Crawford's Go-To Weekend Outfit, and It's One We've Been Wearing For Years
Supermodel Cindy Crawford is the latest celebrity to sit down with Vogue for its 73 Questions segment. Wearing a simple white blouse tucked into jeans, the iconic supermodel gave a tour of her gorgeous Malibu home while answering questions about her long-standing career. During the interview, Cindy revealed that she would never wear a crop top and described her style as "California casual." She also went on to say that her go-to weekend look is a classic outfit we've all been wearing for y

2017-08-14 07:23:38
`
4
4 Trends You Should Try This Season, According to Sarah Hyland


2017-08-14 06:33:13
`
6
The 3 Wardrobe Essentials of a Celebrity Stylist
Who really knows the ins and outs of celebrities' wardrobes? Their stylists, of course. These individuals are the gatekeepers of celebrity wardrobe secrets - and stylist Chloe Bartoli (who styles Miranda Kerr and Sofia Richie) is full of tips and tricks. To find out exactly how the stylist puts together a fabulous wardrobe, Coveteur boiled it down to three essential items Chloe stocks in her closet. Head over to Coveteur to get all the details.

2017-08-14 05:36:09
`
4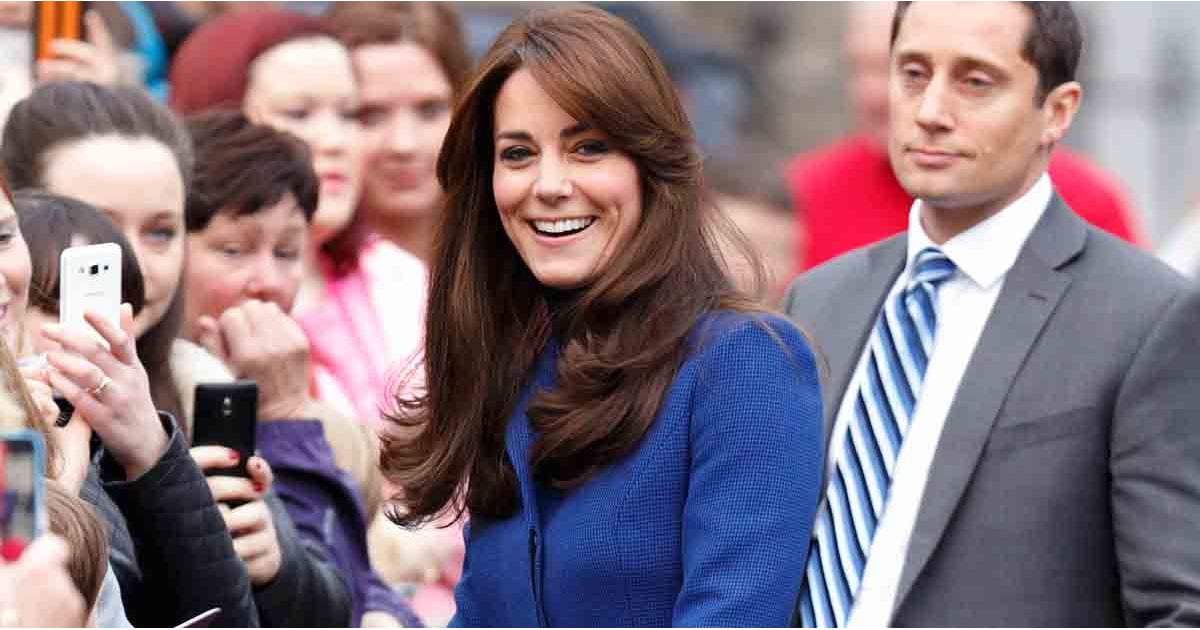 Kate Middleton Makes These 12 Royal Updates to Her Wardrobe Every Fall
There's a reason Kate Middleton's Fall outfits always look familiar. First of all, she repeats plenty of pieces at the same time each year. There's nothing wrong with that - she knows what feels comfortable and, of course, what actually looks good. But of course, there are little tricks and tips she picked up at Kensington Palace that she'll never forget. The duchess knows just when to pull out her tights and what season it's appropriate to work tweed and plaid into he

2017-08-14 04:32:02
`
4
14 Easy and Stylish Ways to Dress Up Your Jeans
Ah, jeans. Probably the most worn item of clothing in most people's wardrobes. Always fashionable, they are comfortable enough to be worn on a daily basis and stylish enough to even dress up the most basic white t-shirts. However, there are still a few occasions for which they can be seen as inappropriate. Growing up, my mom always told me that jeans weren't good enough for nights out, and although I never truly understood why, I simply decided to do as I was told and grew a collection

2017-08-14 04:19:52
`
5
When You See the Color of This Asian Bride's Fifth Wedding Dress, You'll Do a Double Take
When lifestyle writer Melissa C. Koh married James Chen at the Ritz Carlton in Millenia, Singapore, she brought along five wedding dresses for the occasion. But these weren't your standard gowns - they were all full-on princess looks, each design more dazzling than the one before. While Melissa walked the aisle in a special Amanda Lee number with a folded tier skirt and veil (complete with some very special Tiffany & Co. jewels and Gianvito Rossi pumps, mind you), she coordinated her s

2017-08-14 01:47:55
`
4
14 Lessons in Power Dressing to Learn From Amal Clooney
Amal Clooney's street style is always impeccable. Time after time, she puts together looks that are perfectly demure but with a twist of personality. The human rights lawyer has been busy at work all over the world, and while she always keeps her style fairly refined - no edgy ensembles here - each of these 14 outfits offers some major inspiration in the art of power dressing. Whether she's in a pink skirt-and-jacket set or an elegant red Dolce & Gabbana dress, Amal is proving tha

2017-08-14 01:18:19
`
8
Cara Delevingne's Birthday Bikini Bottoms Come With an Amazing Side Detail
Cara Delevingne rang in her 25th birthday while vacationing in Mexico. The model, who's known for taking fashion risks, was surrounded by some of her closest friends, including Suki Waterhouse and Georgia May Jagger. While the stylish group provided plenty of amazing bikinigrams, we were busy zooming in on Cara's embellished swimsuit bottoms. Cara posed topless, wearing nothing but a pair of white bikini bottoms that featured black stitching on the side. Have a look at her swimsuit ahe

2017-08-13 22:15:16
`
9
The Most Stylish Red Carpet Looks From 2017's Teen Choice Awards
Hollywood's youngest and brightest stars showed up for the 2017 Teen Choice Awards. The event, which took place in Los Angeles, delivered when it came to showstopping looks. Zendaya walked the red carpet in a sequined pajama look, while Peyton List rocked a bold red silk top and matching trousers. Keep reading to see what all of your favorite stars wore at this year's TCAs.

2017-08-13 19:20:06
`
8
There's Nothing Cooler on the Red Carpet Than Millie Bobby Brown's Dress - Except Her Sunglasses
Millie Bobby Brown, 13-year-old breakout star from Stranger Things and quickly rising fashion superstar, hit the blue carpet at the Teen Choice Awards in a truly genius look. The mini icon chose a romantic yellow Kenzo dress with ruffled chiffon overlay, pleating, and ruching at the sides. Though the details were aplenty, Millie pulled off the design with ease, even adding a round of popping, look-at-me accessories. Her Pierre Hardy colorblock heels were fun and playful, and her Judith Leiber c

2017-08-13 18:48:39
`
8
Yara Shahidi Threw On a Sequined Top With Her Track Pants and Hit the Red Carpet
The sartorial theme of the 2017 Teen Choice Awards seemed to be "next-level comfort." But if you thought Zendaya's loose menswear look should be praised for its relaxed vibe, check out Yara Shahidi. The 17-year-old actress and model - who's been rising in the ranks on best-dressed lists everywhere - slipped on a pair of track pants with a sequined and beaded crop top, then threw her millennial pink Fear of God bomber on top. She wore caged Giuseppe Zanotti sandals, Tiffany & Co. dr

2017-08-13 15:56:43
`
4
There's No Doubt These Are the Best Dressed Bridesmaids of the Year
Last year, we saw an abundance of unique wedding dress trends. Some brides brought a whole wardrobe full of gowns to wear throughout their special weekend. But not to be forgotten were the bridesmaids. It seems like lately, women about to tie the knot are just as devoted to dressing their gang of girls. From silk slips to bright floral maxis, sequined skirts, and even jet-black gowns, 2016 gave way to some very chic bridesmaids outfits. You might consider some of the ideas below over the top, b

2017-08-13 12:29:54
`
4
You Want to See a Comfortable, Natural Red Carpet Outfit? Just Look at Zendaya
It's a Sunday night; Zendaya is a busy, working woman; and sometimes a girl just wants to be comfy. So when she walked the blue carpet at the Teen Choice Awards, Zendaya chose to wear a striped button-down with matching loose pants, both of which were actually menswear. She left her hair natural, swiped on a rosy pink lip, and slipped into sparkling Le Silla heels, which actually played up the subtle glimmer of her Ashish separates. Yep, if you zoom in closely, you can see that Zendaya was

2017-08-13 10:51:54
`
8
The 1 Wardrobe Staple That Has Outlasted All Trends


2017-08-13 05:22:50
`
16
Kaia Gerber and Cindy Crawford Make This Simple Summer Outfit Look Like Couture
By now, you're fully aware that Kaia Gerber gets her genes from her mom, Cindy Crawford. But it doesn't just come down to their looks - the supermodels both have a knack for making the most simple outfits appear elevated. Take Kaia Gerber's latest spotting in Malibu, for example. Kaia was only wearing a pair of mom jeans, a slashed tank, and some high-rise Converse, but she looked as though she had just walked off a photo shoot. Not so - Kaia was just hanging with friends. Nevert

2017-08-12 11:24:44
`
26
Kate Middleton and Princess Diana Received This 1 Piece of Jewelry More Precious Than Diamonds
Just like the late Princess of Wales, Kate Middleton owns plenty of precious diamond jewels and tiaras. While many of them have been physically passed down from Queen Elizabeth II or Princess Diana, who wore her fair share of bling, there were times Kate and Diana forwent gemstones and pearls for a simple engraved pendant. Diana's circle plate was etched with "William" and was a gift from Prince Charles after the birth of their son in 1982. Meanwhile, it's reported that Pippa bought K

2017-08-12 08:15:34
`
12
Kate Middleton and Princess Diana's Twinning Style Moments Might Just Blow Your Mind
When Prince William and Kate Middleton announced their engagement back in October 2010, it was inevitable that the newest member of the royal family would be compared to her mother-in-law, the late Princess Diana. Not only did the two women share the same sapphire engagement ring but also good genes, with their catwalk measurements and photogenic good looks. Over the following six years, Kate's fashion choices have also often been compared to those of Diana - many times because they might s

2017-08-12 05:44:02
`
6
23 Times Cara Delevingne Changed the Rules of Fashion
Cara Delevingne may be young, but there is no denying her influence on fashion. She's the darling of designers, walking the runways for brands like Burberry and Chanel while her face graces the campaigns of Topshop and DKNY. She also launched a capsule collection with Mulberry and is friends with the hottest actors, models, and musicians. Moreover, she has turned her hand to acting, starring in movies like Paper Towns, Suicide Squad, and Valerian and the City of a Thousand Planets. But what

2017-08-12 04:29:35
`
11