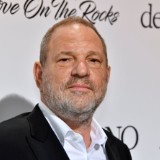 Weinstein Co. Fires President After Suit Alleges Inaction
The movie studio co-founded by Harvey Weinstein has fired its president, whose continued presence at the company was a source of controversy. The Weinstein Co. board said Friday it voted unanimously to dismiss David Glasser. A statement announcing the firing was released to the Los Angeles Times and the New York Times. New York…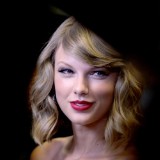 Taylor Swift's "Shake It Off" Copyright Lawsuit Dismissed By Court
Last year, Taylor Swift was sued on accusations of stealing lyrics for her 2014 song "Shake It Off." Now, the case has been thrown out by the court, with the judge ruling that the lyrics in question "not sufficiently original to merit copyright protection." The plaintiffs (songwriting duo Sean Hall and Nathan Butler)…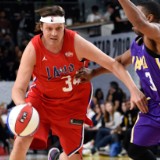 Watch Win Butler, Justin Bieber, & Quavo Play In The NBA All-Star Celebrity Game
The combined power of Quavo and Win Butler led Team Clippers to victory at the NBA All-Star Celebrity Game last night, triumphing over Justin Bieber's Team Lakers. Common, Flea, Jamie Foxx, Anthony Anderson, Michael B. Jordan, and Caleb McLaughlin also participated. Quavo was named MVP, an honor that Butler received in 2016 and Bieber claimed in 2011.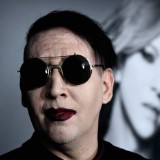 Charlyne Yi Accuses Marilyn Manson of Harassment, Racist Comments
Actor and comedian Charlyne Yi has accused Marilyn Manson of harassment and making racist comments. In a series of recent tweets, Yi writes about an instance that occurred while filming the medical dram "House," which she was a part of for the show's final season. "On the last season of 'House,' [Manson] came on set…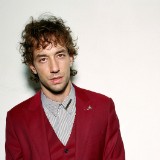 Albert Hammond Jr. – "Far Away Truth"
The second single from Albert Hammond Jr.'s upcoming solo album Francis Trouble is about the slippery nature of the truth: "Everything you hide between the lines is just another giveaway," Hammond Jr. sings on "Far Away Truth," over a sharp, noisy riff that will feel instantly familiar to Strokes fans. Francis Trouble, named in memory…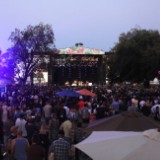 Report: AEG Plans to Continue FYF Fest in 2018
AEG and subsidiary Goldenvoice plan to continue Los Angeles' FYF Festival in 2018 after buying out founder Sean Carlson's 50 percent stake in the event, Billboard reports. The live entertainment conglomerate parted ways with Carlson last fall, shortly before accusations of sexual assault and harassment against him were made public. Last year, four women told Spin about alleged sexual misconduct by…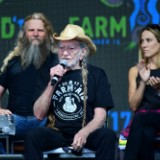 Willie Nelson Announces New Album Last Man Standing, Releases Title Track
Although Willie Nelson was recently sidelined with the flu, the country legend is coming back with a vengeance. Nelson's new album Last Man Standing is scheduled to drop on April 27, two days before he turns 85. This is a bit of pattern for the Texas native as he released 2017's God's Problem Child LP…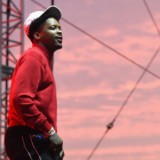 YG is back, this time with one-off single "Suu Whoop." The DJ Mustard-produced track is yet another non-album, non-mixtape single from the rapper, who has kept listeners waiting for a full-length project since 2016's Red Friday and Still Brazy. YG most recently featured on Nipsey Hussle's "Last Time I Checc'd," now available on Nipsey's album Victory Lap. According to Uproxx, YG says he's "back…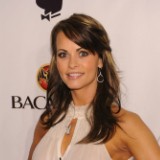 Here's How Trump's Allies Paid Off His Alleged Lovers
The New Yorker published a story Friday detailing how Donald Trump allegedly carries on and hides his extra-marital relationships. The report features an eight-page handwritten diary entry by former Playmate Karen McDougal, submitted to the magazine by a friend, detailing an alleged 2006 affair that overlapped with Trump's reported relationship with Stormy Daniels, the methods he…


That One Celebrity Golf Tournament Made Donald Trump Insanely Horny
Ronan Farrow has a new story in the New Yorker today that further confirms what we all intuitively knew to be true, which is that before becoming president Donald Trump fucked around wantonly as a married man. (He barely tried to hide this when it seemed like it didn't matter.) Farrow's story focuses on Karen…


Lord Huron – "Wait by the River"
Lord Huron have released "Wait by the River," the second (technically third) new song we've heard from the forthcoming album Vide Noir. Where two-part first single "Ancient Names" found the folk-inspired band flirting with garage rock, "River" offers a refined, waltz-like sound that can't quite cover for the sins of a fatalistically obsessed narrator. Vide Noir is out…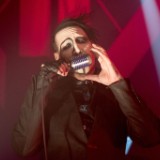 Marilyn Manson Melts Down Onstage in Weird Freestyle Blues Jam
Marilyn Manson cut short last night's concert at the Paramount in Huntington, New York after displaying "bizarre" onstage behavior, including a rambling freestyle jam and repeated demands for applause, according to multiple reports. Fan-shot videos show the 49-year-old shock rocker with his back to the crowd, delivered a half-mumbled, half-sung monologue as his band plays an aimless extended blues jam. By the…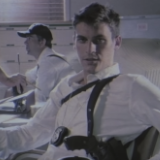 Video: Swimsuit Issue – "Look Now"
Trash Talk's Dave Gagliardi and male model Miles Garber are in a band cheekily dubbed Swimsuit Issue, and after creating one demo they ended up opening for Cat Power as their first gig. The duo have worked together since 2014, but are just now gearing up to release their debut EP later this year. After teasing their first single, "Look Now"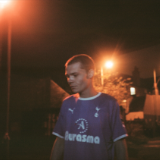 Westerman's Is a Modern Sophisti-pop Miracle
26-year-old London-based singer-songwriter Westerman has released several well-crafted art-pop singles over the past couple of years. Normally anchored by delicate, lightly phased-out guitar, his previous recordings channel rigorous craftsmen of his homeland—guys like John Martyn and Richard Thompson—at their smoothest and most melancholic. Unlike those guys, however, Westerman is no unabashed shredder, and his voice is a different, undamaged,…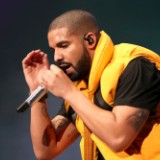 Drake is racking up good karma points in his latest music video for the Scary Hours track "God's Plan." "The budget for this video was $996,631.90," a caption reads at the video's start. "We gave it all away. Don't tell the label." The budget went to paying for everyone's groceries in a Miami supermarket, surprising a U of Miami student with…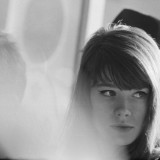 Françoise Hardy Announces New Album Personne D'autre
Françoise Hardy has announced a new album Personne D'autre. Her 24th release overall, the album marks her first since 2012's L'Amour Fou and features a cover of Michael Berger's song "Seras-tu La," as well as an adaption of Poet of the Fall's single "Sleep." "The album practically made itself," the songwriter shared in a press…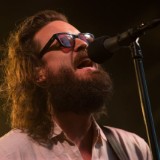 Watch Father John Misty Play New Song "Mr. Tillman" in Tokyo
It's been less than a year since Josh Tillman released his third album as Father John Misty — the ambitious and gorgeous Pure Comedy, one of the best albums of 2017 — but Tillman always seems to be working on something, and there's been talk of new material already. And now, there's a fan-recorded video…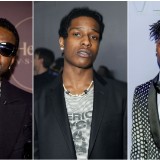 A$AP Rocky, Gucci Mane, 21 Savage – "Cocky"
It's been 10 years since Gucci Mane released "We Cocky" from his So Icey Boy mixtape, and five since he loosed the Young-Chop-produced "Supa Cocky" on I'm Up. Now the Atlanta rapper is taking charge on "Cocky," a collaboration with A$AP Rocky and 21 Savage devised specifically for the new basketball comedy Uncle Drew, starring Kyrie…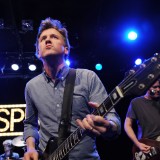 Listen to Superchunk's New Album What a Time to Be Alive
Superchunk's new album What a Time to Be Alive is now available in full. Following singles "Erasure" and "What a Time to Be Alive," the album looks to be their most political statement yet, with songs like "Bad Choices" and "Reagan Youth" channelling the punk and hardcore of their youth into something biting and roaring…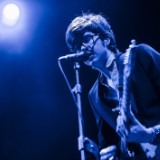 Listen to Car Seat Headrest's New Rerecording of Their 2011 Album Twin Fantasy
Car Seat Headrest's reworked album Twin Fantasy is now available in full. Originally released on Bandcamp in 2011, the album represents the culmination of the band's early years in Virginia, where songwriter Will Toledo cultivated much of the project's internet acclaim. So far, songs like "Beach Life-In-Death" and "Nervous Young Inhumans" have seen a bigger,…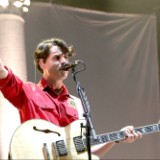 Last week, we heard "I Promise You," a song Ezra Koenig cowrote for the animated children's film Peter Rabbit as performed by James Corden who voices the leading bunny. Today, Koenig shared a new version of the song which he sings on. It's a delightful ditty about love and loss and irreplaceable companionship. Listen below.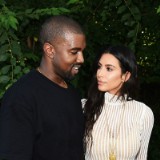 Kanye West's return to Instagram was predictably short-lived, and last night, the official @kanyewest account was wiped and deleted once more. For Valentine's Day, West returned to the platform to share a gallery of iconic celebrity couples past and present: Sonny and Cher, Faith Evans and the Notorious B.I.G., Jennifer Aniston and Brad Pitt, Paris Hilton and Deryck Whibley. All but…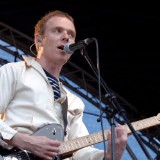 Listen to Belle & Sebastian's Third How to Solve Our Human Problems EP
Belle and Sebastian have finally shared their third How to Solve Our Human Problems EP in full. The release follows two previous EPs from the band last year and includes songs like "Poor Boy" and an updated version of their earlier track "Everything is Now." Like their last two releases, the new EP features portraits of the band's…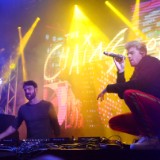 The Chainsmokers – "You Owe Me"
The Chainsmokers have shared their new single "You Owe Me." The track follows their 21 Pilots-sounding single "Sick Boy" from last month, now as part of a 2-sided single cleverly titled Sick Boy...You Owe Me. As another new single from the band, "You Owe Me" trades EDM bombast for palm-muted, pop-punk guitars and an occasional synth line, as the duo continues…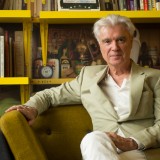 David Byrne has shared another single from American Utopia, his first full-length album in 14 years. Titled "This Is That," the track follows last month's "Everybody's Coming To My House" with a newfound energy, as Byrne trades starry-eyed saxophones for panned drums and sparse, barren vocals. Check it out below. …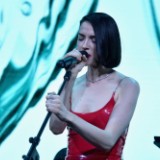 Watch St. Vincent Cover Pearl Jam
Pre-show acoustic covers are now routine for St. Vincent, who has posted short covers of everything from Sleater-Kinney's "Modern Girl" to a mash-up of Steve Miller Band's "The Joker" and Meredith Brooks' "Bitch" to Instagram. Yesterday, before her Asheville, NC show, St. Vincent posted a short acoustic cover of the Pearl Jam deep cut "Tremor Christ," honoring…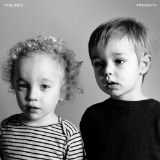 Stream Tanlines' New Children's EP, Presents
All of us are asking, all of us are thinking... What's up with Tanlines, the Brooklyn lo-fi disco duo whose 2012 debut Mixed Emotions remains a contemporary electro-pop touchstone? Jesse Cohen and Eric Emm are stay-at-home dads now, and it's inspired them to release a new EP of children's music. Presents features five classics you may remember from preschool ("If You're…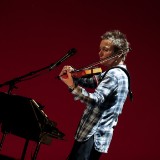 Stream Laurie Anderson & Kronos Quartet's New Album Landfall
Laurie Anderson has shared her new album with Kronos Quartet in full. Titled Landfall, the album pairs Anderson's vocal acrobatics with percussive, dissonant strings. The release follows singles "The Water Rises/Our Street Is a Black River" and "We Learn to Speak Yet Another Language" and was inspired by the musician's experience with Hurricane Sandy. Check…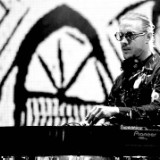 Video: Diplo – "Look Back" (ft. DRAM)
Diplo has released a music video for "Look Back," a new song featuring DRAM from the producer's upcoming California EP. The lush video is filled with, in Diplo's own words, "radical melancholy vibes." The creation of "Look Back" began in Post Malone's studio years ago, DRAM told Beats 1, and features production from Skrillex and additional vocals from…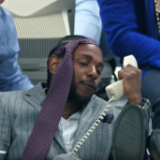 Video: Jay Rock, Kendrick Lamar, Future, James Blake — "King's Dead"
Jay Rock has released a video for his star-studded posse cut for the Black Panther soundtrack, "King's Dead." It is centered around Kendrick Lamar, Future, and Jay Rock partying on a crowded trading floor, in the barber shop, and on top of skyscrapers. There's some grainy footage of back alley sparring, and eventually, Kendrick ends up dodging…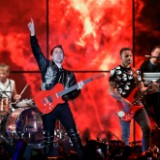 Three years after their latest album Drones, Muse have released a new single with the very Muse-y title "Thought Contagion." It's a three-minute song with a big chorus that's very much in their proggy alt-rock wheelhouse, and comes with an '80s-indebted video about sexy vampires and riot police. Watch it below. …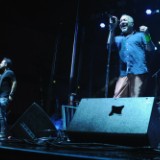 Smash Mouth – "Something Soon" (Car Seat Headrest Cover)
On Tuesday, mutual admirers Smash Mouth and Car Seat Headrest threatened to release covers of each other's songs, and on Thursday, Smash Mouth made good on that promise. On Jenny Eliscu's SiriusXMU show Thursday, Smash Mouth debuted its interpretation of Car Seat Headrest's "Something Soon" and Car Seat Headrest dropped what we assume is a restrained…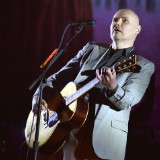 Smashing Pumpkins Announce Reunion Tour
As the Smashing Pumpkins' official countdown timer expired at noon Eastern time today, the band announced an extensive reunion tour with stops in 34 U.S. cities, plus Montreal and Toronto. (They first teased a few of the dates in an Instagram post yesterday.) The reunion lineup features original members Billy Corgan, James Iha, and Jimmy Chamberlin, plus Jeff Schroeder; notably, it does not…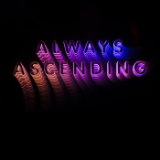 Review: Franz Ferdinand Still Have New Things to Say on Always Ascending
When Franz Ferdinand teamed up with Sparks for the 2015 collaborative project FFS, the only surprise was that it took so long. The former was the smartest band to emerge from England's mid-'00s post-punk revival and, like the Mael brothers, excelled at smarm-free cleverness. For example, people were too busy dancing to the strutting "Take Me…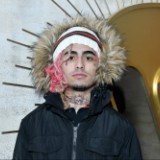 TMZ: Lil Pump Arrested After Shooting a Gun While Home Alone
"Gucci Gang" rapper Lil Pump is being held in a juvenile detention center after firing a gun while alone in his San Fernando Valley apartment, TMZ reports. According to the 17-year-old rapper's manager, his client said that three intruders were trying to break in to the apartment around four p.m. on Thursday and fired a gun through…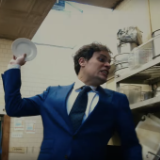 Video: Jeff Rosenstock – "Melba"
Jeff Rosenstock, the Brooklyn-based punk outsider behind Bomb the Music Industry!, has released the first video from his latest solo effort POST-. The visual for "Melba," directed by Ben Epstein and David Combs, stars Rosenstock as a restaurant manager who violently loses his temper after dealing with the pent up anger of a disgruntled patron. The cycle of aggression, which ends…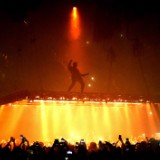 Kanye West Settles Lawsuit Over Canceled Saint Pablo Tour
Kanye West has settled a lawsuit over the 2016 cancelation of his Saint Pablo Tour, TMZ is reporting. West's touring company Very Good Touring previously sued the insurance company Lloyd's of London for $10 million for refusing to make payouts on a policy when the tour was canceled. According to TMZ, Lloyd's has agreed out of…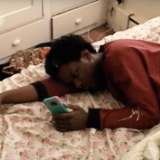 Following the release of two new albums in 2017, Hope and Revelations, Shamir is gearing up to release a 7" "double A-side" featuring two new singles. Today, he's released a video for the first track, "Room" (the other song is called "Caballero"). "Room" is about "feeling trapped even when there's an opening presented to you, those times you feel…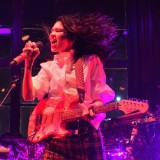 Grimes: "No Music Any Time Soon After All … Music Industry Is Trash"
The rollout for Grimes LP5 seemed to be going pretty smoothly there for a little bit. After some vague updates over the last year, just a few weeks ago she said that a new album would be due out this year ("spring but realistically, fall," to be specific). But all does not seem to be…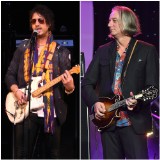 Joseph Arthur and Peter Buck Partied in Mexico and Then Started a Band Called Arthur Buck
Alt-folk singer-songwriter Joseph Arthur--remember Joe?--was apparently vacationing in Mexico when he ran into Peter Buck, of R.E.M. (and recently, Filthy Friends) fame. "I was like, 'Come swimming!" Buck recalled, speaking to Rolling Stone, and Arthur came to visit Buck and his wife's Baja home. Out of the seeds of this encounter--you better believe there was some jamming!--a new…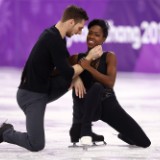 French Figure Skaters Used Disturbed for Their Olympic Routine
Not content to let the Meek Mill-loving Slovenian snowboarder Tit Stante steal all the music blog Olympic headlines, French figure skating duo Vanessa James and Morgan Cipres soundtracked their routine last night with a track from early-aughts nu-metal goons Disturbed. Sadly, they weren't performing gnarly triple axels precisely timed to the "OO WAH AH AH AH" part…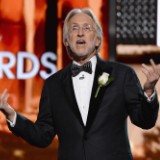 Grammys Defends Its Representation: 17 Percent of Our Nominees Are Women
The Recording Academy has come under criticism recently for its lack of representation of women among Grammy nominees. A widely shared University of California study claimed that over 90 percent of nominees since 2013 were men, and CEO Neil Portnow was rightly criticized when, on Grammys night, he said that women need to "step up" to help…


of Montreal – "Plateau Phase/No Careerism No Corruption"
Increasingly deep niche dance artist Kevin Barnes of of Montreal has followed first White Is Relic/Irrealis Mood single "Paranoiac Intervals/Body Dysmorphia" with (ahem) "Plateau Phase/No Careerism No Corruption." As Barnes elucidated in his album prologue, the new music is intended "to feel like the extended 'club edit' of album tracks" from the '80s. Each carries two titles "because so often the songs are about so many…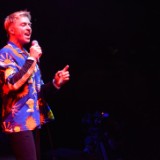 The Drums – "Meet Me in Mexico"
The Drums are offering up a zingy new love song, "Meet Me in Mexico," as a pay-what-you-will fundraiser to support ongoing recovery from last fall's earthquakes in Mexico. In a statement, Drums leader Jonny Pierce shouted out Mexican fans: I am grateful beyond measure for the love poured out to me from my Mexican and Mexican-American fans. I…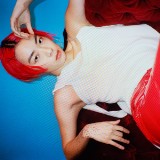 Rina Sawayama — "Valentine (What's It Gonna Be)"
For the Valentine's Day cynics in need of anything but a saccharine love song, Rina Sawayama is a hero. "Valentine (What's It Gonna Be)" is her debut release on 88rising, and pulls from the same bag of tricks Clarence Clarity used while producing her debut album RINA. The song features bombastic electric guitars, sleek, high-sheen 90's influenced…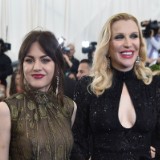 Frances Bean Cobain Celebrates Two Years Sober in Instagram Post
In an Instagram post Tuesday (February 13), Frances Bean Cobain opened up about a personal topic she hasn't discussed publicly in the past: sobriety. She decided to share now, she said, to mark her second year of sober living and in hopes of being "informative, even helpful" to others. Cobain, 25, is a model and artist and the only…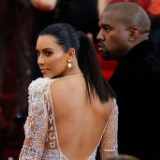 For Valentine's Day, Kanye Is Posting Photos of Iconic Couples Who've Broken Up
Happy Valentine's Day from Kanye West, who's reactivated his intermittently dormant Instagram account to share a snapshot of a handwritten Valentine's card ("Happy Valentine's Day babe"), followed by a stream of candid photos of iconic celebrity couples. Anyone who's followed entertainment news in recent decades won't hesitate to notice something less romantic: Almost every couple in…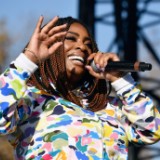 Kamaiyah — "Hennessy on Ice" ft. Bookie T
Kamaiyah has dropped "Hennessy on Ice" featuring Bookie T, a bouncing ode to the rapper's liquor of choice. Kamaiyah gave the drink a similar shout out on "Ain't Goin Home" from her debut mixtape A Good Night in the Ghetto. Since landing on XXL's Freshman Class list in 2017, she's released a mixtape, Before I Wake, and has…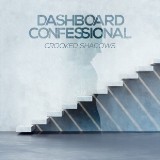 Review: Dashboard Confessional's Crooked Shadows Is a Hesitant Embrace of Contemporary Prop
Give Dashboard Confessional this: they presaged the therapeutic indulgences of today's pop charts by over a decade. When Julia Michaels informs us that she's got issues or Sam Smith bemoans how every time he opens up it hurts, consider 2004's "Vindicated," Dashboard's contribution to the Spider-Man 2 soundtrack. Recall the enthusiasm with which Chris Carrabba,…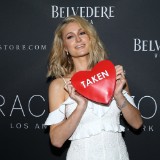 Paris Hilton's New Song "I Need You" Is Actually 8 Years Old
Paris Hilton released a new song today called "I Need You"—ostensibly at least. If you've followed her bizarrely compelling post-Simple Life path as a Cash Money Records signee and resident DJ in Ibiza, the tune might feel familiar, and not just because of its retro doo-woppish arrangement. "I Need You" has been floating around the internet in some…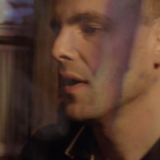 Amen Dunes has released a new video for "Blue Rose," the heady opening track of the upcoming album Freedom. Directed by Alex Goldberg, the clip finds Amen Dunes' Damon McMahon engaged in unstable self-narration, occasionally trading places with his younger self (played by skateboarder Alberto Olivier). Where the excellent lead single "Miki Dora" explored masculinity in the figure of a famously troubled…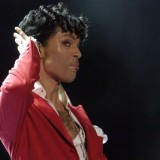 You Can Buy a Co-Writing Credit on a Prince Song for Just $490,000
"Soft and Wet," Prince's first-ever solo single, isn't his most recognizable or celebrated record. As of this week, though, it's the only Prince song for which you, an ordinary mortal, might be able to purchase rights to a co-writing credit. Chris Moon, a record producer and former owner of the Minneapolis studio where a teenage Prince recorded his first demo tape, is offering up his…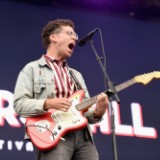 Parquet Courts' New Album Is Produced by Danger Mouse
Through all their success, Parquet Courts have kept pretty tight control of their music. Andrew Savage, one of the post-punk band's two singer-guitarists, does all the album art; Austin Brown, the other, produced and mixed their great fifth album Human Performance. For their as-yet-untitled sixth, they've enlisted a big-name outside producer for the first time: Danger Mouse, whose…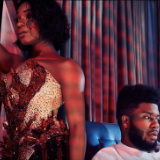 Khalid & Normani – "Love Lies"
Khalid and Fifth Harmony's Normani Kordei have teamed up for a new single, "Love Lies," which appears on the Jack Antonoff-curated soundtrack for the upcoming teen romantic comedy Love, Simon. The song, a slow, sensual ode to falling for someone, also marks Kordei's debut as a solo performer. Listen below.


Video: Eminem – "River" ft. Ed Sheeran
"River," Eminem's melodramatic Ed now has an equally over-the-top video. The video is seven minutes long (compared to 3:41 for the album version), so you know what you're in for: lots of dialogue heavy cut scenes and shots of Em and Ed standing in the rain and brooding in various dimly lit rooms. The narrative essentially follows…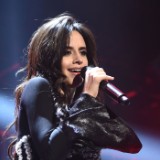 Camila Cabello Announces First Solo Tour
Camila Cabello has announced her first solo headlining tour, following the release of her debut album Camila last month. The "Never Be the Same" tour, named after the opening track from Camila, kicks off in Vancouver in April and closes in Amsterdam in June, with a spate of North American dates and a handful of European shows in…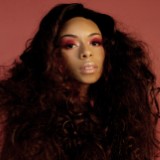 Ravyn Lenae Is Feeling Lovey Dovey
Chicago R&B singer Ravyn Lenae first established herself a few years ago with intimate, romantic confessions that floated gently over local hip-hop producer Monte Booker's jittery brand of neo-soul, constructed out of sensual synth pads and quirky found percussion sounds. But Lenae's latest project, Crush EP—released Feb. 9, two weeks after her 19th birthday—is something of…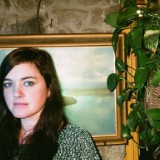 Electronic composer and vocalist Julianna Barwick hasn't released a studio project since her 2016 album Will, but her latest offering for Adult Swim's Singles series makes up for some of that lost time. The hypnotizing, unearthly "Garland" is more of what fans have come to expect from the musician, with lush, layered vocal loops building gently towards the track's crescendo. Other artists featured…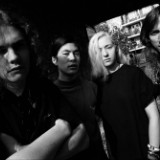 The Billy Show: Our September 2007 Story on a Possible Smashing Pumpkins' Reunion
If anyone felt the inevitability of the Smashing Pumpkins' resuscitation, it was Victoria Cecilia of Los Angeles electro-rockers Gliss. In 2005, Gliss opened for Billy Corgan on a tour promoting his solo album, TheFutureEmbrace. Outside clubs around the globe, Cecilia encountered a recurring sight: young fans in vintage Pumpkins T-shirts, tackling Siamese Dream-era material on…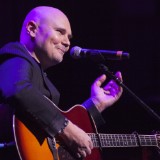 Smashing Pumpkins Tease Tour Announcement
If the countdown clock on their website is to be believed, the Smashing Pumpkins are due for a big announcement tomorrow; recent updates on social media and from disgruntled ex-bassist D'arcy Wretzky have hinted heavily at a potential reunion. Now, the band has shared yet another cryptic message on their official Instagram: lyrics from "Today," off…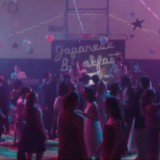 Japanese Breakfast's "Boyish" Video Takes You Back to a School Dance
Michelle Zauner put out one of 2017's best albums with Japanese Breakfast's Soft Sounds From Another Planet, and she's also amassed a collection of some of the best music videos out there right now, including ones for "Machinist," "Road Head," and "The Body Is A Blade." Today, she's released a new video for "Boyish," which…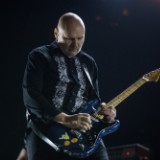 A Timeline of Billy Corgan and D'arcy Wretzky's Feud Over the Smashing Pumpkins Reunion
Billy Corgan has feuded with everyone from Deerhunter's Bradford Cox to Pavement to Anderson Cooper. To Smashing Pumpkins fans, however, his most notable public spat is his ongoing one with bassist D'Arcy Wretzky, which has called into question the potential of a rumored reunion tour featuring the band's original lineup. The drama between Corgan and Wretzky dates back to…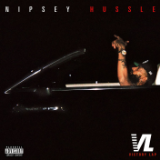 Nipsey Hussle – "Dedication" (ft. Kendrick Lamar)
In the wake of his third full-length masterwork DAMN., Kendrick Lamar has not disappeared. On the contrary he has felt as omnipresent as ever thanks to well-curated guest appearances, including Rich the Kid's "New Freezer" (a current Billboard hit) and Jay Rock's "King's Dead," off the TDE-helmed Black Panther soundtrack on which he stars across a host of…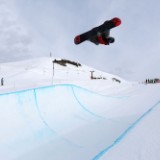 Tit the Meek Mill-Supporting Snowboarder Is Your New Olympics Hero
Are you watching the Olympics? Finding it difficult, in these tumultuous times, to muster up the required nationalism, to care about the outcome of silly competitions in ice dancing and ski jump? Worry not. Last night, a new hero emerged on fresh powder, with a triangular tongue, a funny name, and a message that all upstanding…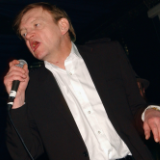 Mark E. Smith's Cause of Death Announced by Family
A new statement from Mark E. Smith's sisters (Barbara, Suzanne, and Caroline) reveals The Fall leader's cause of death. Posted to the band's website, their note explains that Smith had been struggling with "a long and hard battle" with terminal lung and kidney cancer. "He took every treatment going, which could be brutal at times and…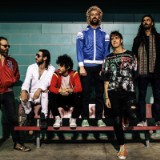 Julian Casablancas and the Voidz—who've lately decided they want to be known as just the Voidz—have released "Pointlessness," the third advance track from their upcoming album Virtue and a brooding, five-minute synthesizer dirge that finds an even-more-fried-than-usual Casablancas asking, "What does it matter? What does it matter?" "Pointlessness" follows lead single "Leave It in My Dreams" and the bizarre, shapeshifting…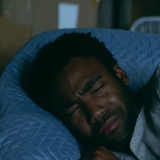 Watch a Full Trailer for Atlanta Season 2, "Robbin' Season"
The first season of the Donald Glover-helmed FX series Atlanta won Emmys for acting and directing, as well as a Golden Globe for Best Television Series, Musical or Comedy. The acclaimed show is back for its second chapter, entitled "Robbin' Season," on March 1. Today, FX posted a full-length official trailer, following a teaser premiered early last month. The…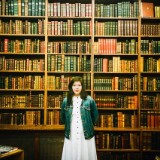 Virginia singer-songwriter Lucy Dacus has released "Next of Kin," a personal reflection on grief that's also the third advance track from her forthcoming sophomore album Historian. "'Next of Kin' is the thesis statement of the album," Dacus said in a statement, alluding to heavy themes including the loss of her grandmother. "It's a breaking point after a build…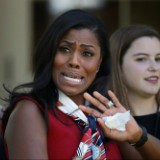 Report: Omarosa Was Fired for Abusing White House Car Service
Despite the official story that reality show mainstay Omarosa Manigault resigned from her White House post of her own volition "to pursue other opportunities," details of a reportedly acrimonious dismissal keep leaking months after the fact. Following the Apprentice villain's dramatic exit in early December, American Urban Radio Networks reporter April Ryan reported that Omarosa…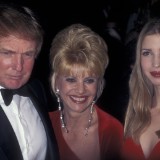 Read Our March 1998 Interview With a 16-Year-Old Ivanka Trump
Back in March 1998, when she was 16, Ivanka Trump was not yet a senior advisor to the president—she was just an aspiring model with a familiar last name. Spin profiled her that month for a piece that now stands as an odd document of its time. The biggest question about Ivanka's future raised by the…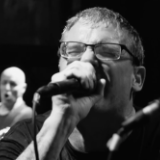 Descendents Announce 2018 Tour Dates
California punk legends Descendents have announced a 2018 spring headlining tour in support of their 2016 full-length Hypercaffium Spazzinate. The tour kicks off on April 12 in St. Petersburg, Florida, but the band is playing two conventions prior to that - the MUSINK Tattoo & Music Convention in Costa Mesa, California and the Atlantic City Beer &…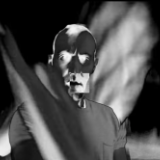 After announcing their forthcoming third album New Material last month, the Calgary post-punk quartet Preoccupations has released another song and video from the record. This one's called "Antidote," a looping industrial stomper in a similar vein to first single "Espionage." Watch it below. New Material arrives March 23 via Jagjaguwar. …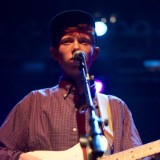 Mount Kimbie – "Turtle Neck Man" (ft. King Krule)
British electronic duo Mount Kimbie have once again paired up with fellow Londoner Archy Marshall, a.k.a. King Krule, for a collaborative single, "Turtle Neck Man." The track is just shy of 90 seconds long, and it contrasts Mount Kimbie's buoyant synths with Marshall's deadpan, stream-of-consciousness flow. The musicians have had a long collaborative history: Marshall contributed vocals to…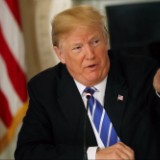 Trump's Budget Once Again Proposes Eliminating National Endowment for the Arts Funding
For the second consecutive year, President Trump's proposed budget seeks to eliminate funding for the National Endowment for the Arts and the National Endowment for the Humanities so that they "begin shutting down" permanently. As of now, both agencies have budgets of around $150 million, but if Trump's proposal passes, the NEA's funding will be reduced to…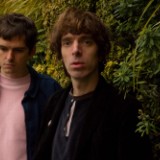 British Duo Ultimate Painting Are Leaving a Pretty Great Album Behind in Their Breakup
Up!, the fourth album from Ultimate Painting, seems prematurely destined for lost classic status. On Twitter Monday morning, co-frontman Jack Cooper announced that the acclaimed UK indie rock duo suffered an "irreconcilable breakdown" and "will no longer be working with each other." Bands break up all the time, of course, but what made Cooper's statement remarkable…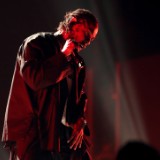 Kendrick Lamar Is Banning Professional Photographers From His Tour, Not Cell Phones
Recent reports that Kendrick Lamar would be banning cell phones at upcoming concerts are untrue, according to a statement his representative sent to Pitchfork. Kendrick is, in fact, not even banning cell phone photography. Kendrick Lamar is simply banning professional photogs at shows. Therefore, ticketholders' Instagram stories will be fine and just as envy-inducing as they hoped they…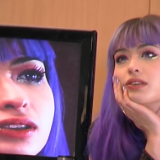 Video: Kero Kero Bonito – "Only Acting"
London trio Kero Kero Bonito are back with a new single, "Only Acting," and they've traded their usual bouncy synthesizers for something new: overdriven pop-punk guitar and live bass and drums. Underneath the distortion is a quintessentially earnest and positive KKB story, as singer Sarah Perry narrates the internal monologue of an aspiring actor. It all leads up to an appropriately theatric feedback breakdown with faux…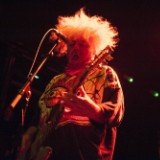 The Melvins Announce New Album and North American Tour
Sludge-rock veterans the Melvins have apparently borrowed a page from the Ned's Atomic Dustbin playbook and added a second bassist to their forthcoming album Pinkus Abortion Technician. Jeff Pinkus of the Butthole Surfers fame is joining current Melvins bassist Steven McDonald on the low end. "We've never had two bass players. We've had…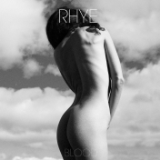 Review: Rhye's Blood Barely Boils
You'd probably never guess it on a cold listen, but Rhye's sophomore full-length, Blood, is a breakup album—an album about two breakups, really. It's the product of frontman Mike Milosh's dogged touring—almost 500 shows in about five years--to buy himself out of his nearly million-dollar deal with Polydor, which he claims lost interest in his once…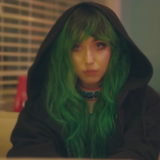 Video: Marshmello and Lil Peep – "Spotlight"
"Spotlight," rapper/singer Lil Peep's posthumous collaboration with EDM producer Marshmello, just got a new video starring a young woman with green hair and a future-retro late-nite diner called Crybaby's. "Spotlight" was directed by Nick Koenig, who previously co-direced Lil Peep's video for "Awful Things."  In a statement, Koenig connected the video's themes of memory and mementos to those of Peep's friends…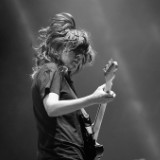 Courtney Barnett Releases Teaser Video for Possible New Album
It appears as if Courtney Barnett fans may have information about her next project very soon. A new video trailer posted to Milk! Records' YouTube channel captures the Melbourne singer-songwriter in a cluttered studio, tapping on kettle drums, banging out chords on a piano and strumming guitars while singing snippets of presumable new songs. The video…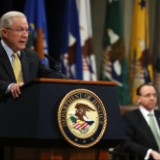 Jeff Sessions Makes Unsettling Comment Praising "Anglo-American Heritage of Law Enforcement"
Attorney General Jeff Sessions raised eyebrows while praising the "Anglo-American heritage of law enforcement" during a speech to the National Sheriffs' Association on Monday. "I want to thank every sheriff in America. Since our founding, the independently elected sheriff has been the people's protector, who keeps law enforcement close to and accountable to people…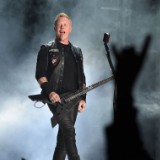 Metallica's James Hetfield Will Play a Cop in New Zac Efron Ted Bundy Biopic
Last year, news of an unlikely new film project surfaced: Zac Efron had signed onto star in a new biopic about notorious serial killer Ted Bundy, from a Black List-ed script. Details of the film, titled Extremely Wicked, Shockingly Evil and Vile, trickled out over time, including news of its definitively strange cast featuring, among many others, John…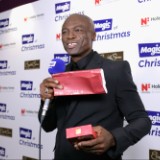 Report: Seal Sexual Battery Case Rejected by D.A.
The L.A. County District Attorney's Office has tossed out a sexual battery case against Seal, TMZ reports. In January, TMZ was the first to report that the "Kiss from a Rose" singer was under investigation for sexual battery after being accused of forcible kissing and groping by actress and former neighbor  Tracey Birdsall. She…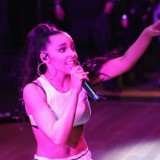 Tinashe – "Faded Love" ft. Future
Tinashe has released "Faded Love," featuring Future, the second of three singles that she announced in January. Last month, Tinashe shared the first single from the series, "No Drama" featuring Offset. Still to come is "Me So Bad," which will feature Ty Dolla $ign and French Montana. The three singles are off of her upcoming full-length Joyride, her…