Williamson, Coach K downplay NCAA concerns
Zion Williamson led the White over the Blue in Duke's Friday night scrimmage and afterward downplayed any NCAA concerns: "I'm just a college kid, out here having fun."


Butler on Wolves fans' jeers: 'Makes me smile'
Jimmy Butler received a mixture of boos and MVP chants during the Wolves' 131-123 win in their home opener Friday and said afterward, "I think people kind of love to hate me sometimes."


Kendrick Lamar hits on positive topics with Lakers
Rap star Kendrick Lamar visited the Lakers on Friday as part of their "Genius Series," something GM Rob Pelinka started last year by hosting some of the most successful people in different industries.


Crowder out, Richardson doubtful for Redskins
The Redskins will be thin on offense for Sunday's matchup with the Cowboys. Among the receivers, Jamison Crowder is out and Paul Richardson is doubtful. Running backs Chris Thompson and Adrian Peterson are questionable.


OBJ: 'Respect, value' Mara's opinion for less talk
Odell Beckham Jr. says his focus is on winning, starting Monday night against the Falcons, and that he values the opinion of Giants co-owner John Mara that he should do "more playing and ... less talking."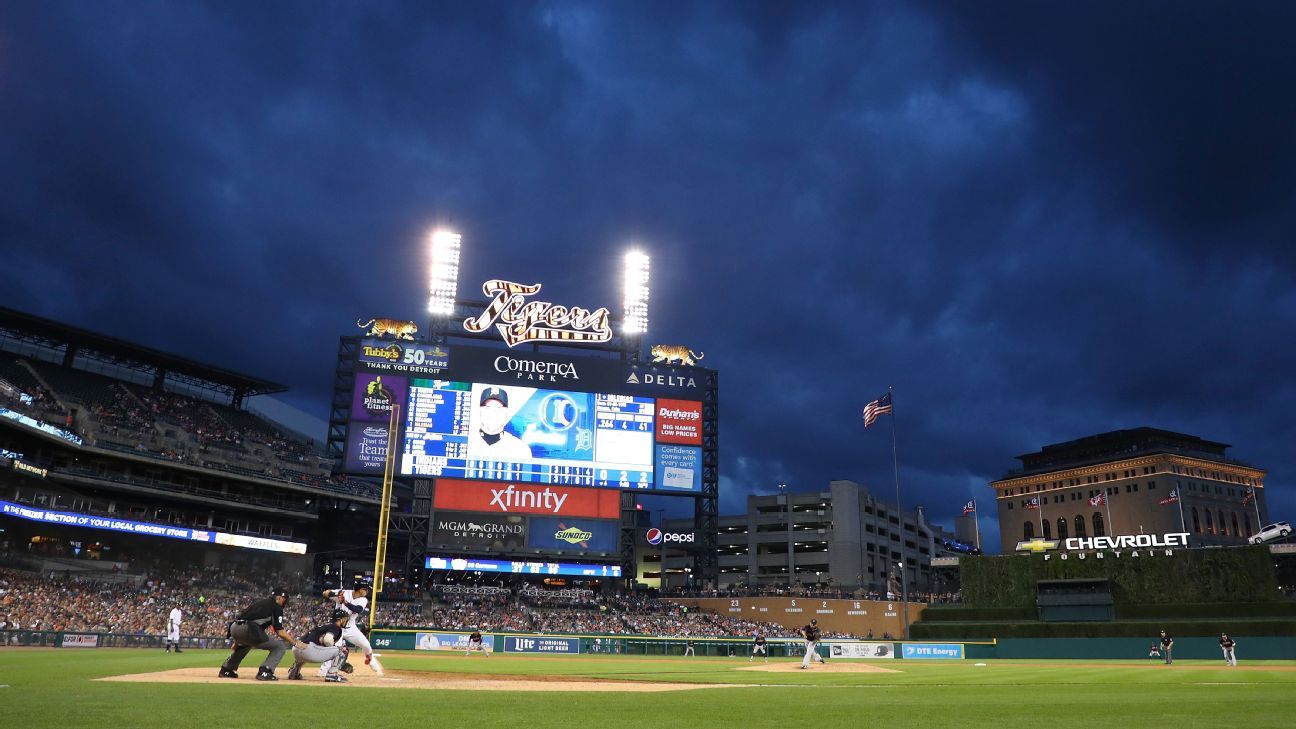 Rung up: Comerica pizza spitter pleads guilty
Former food vendor Jaylon Kerley, 21, pleaded guilty to a felony count and a misdemeanor count for spitting on a pizza apparently intended for a customer at Comerica Park during a Tigers game.


LeBron scores 26, but Blazers spoil Lakers debut
In his much-anticipated debut with the Lakers, LeBron James scored his first two baskets on thunderous jams and finished with 26 points, but the Blazers spoiled his night with a 128-119 win at the Moda Center.


Cards QB Rosen says toe 'fine,' awaits evaluation
Cardinals coach Steve Wilks acknowledged that rookie quarterback Josh Rosen probably shouldn't have been in the game late in the fourth quarter of Thursday's blowout loss to the Broncos, when he suffered a left toe injury.


Source: Cowboys WR Williams banned 3 games
Cowboys wide receiver Terrance Williams has been suspended three games, stemming from a summer intoxication arrest, a source tells ESPN's Field Yates. Williams is on injured reserve and can serve the suspension while sidelined.


Matthew Berry's Love/Hate for Week 7
Bad beats are part of fantasy football, but Matthew's latest one hit him hard. See for yourself, then enjoy the usual advice for setting your Week 7 lineups.


Ex-USAG head arrested for evidence tampering
Former USA Gymnastics president Steve Penny was arrested Wednesday after a Texas grand jury indicted him, alleging he tampered with evidence in the sexual assault investigation of now-imprisoned gymnastics doctor Larry Nassar.


Kawhi nets 24, salutes fans after Raptors' victory
Kawhi Leonard had 24 points and 12 rebounds in his Toronto debut, Kyle Lowry scored 27 points and the Raptors beat the Cleveland Cavaliers 116-104 on Wednesday night in the season opener for both teams.


Source: Machado fined for running into Aguilar
Dodgers shortstop Manny Machado was fined an undisclosed amount by Major League Baseball for the way he ran into Brewers first baseman Jesus Aguilar in Game 4 of the NLCS on Tuesday night, ESPN has confirmed. The Athletic first reported the fine.


Belichick: Mack not in same class as LT
Bill Belichick won his first two Super Bowls as defensive coordinator of the Giants, led by Hall of Fame linebacker Lawrence Taylor, who the Patriots' head coach says has no equals at his position.