Student makes 100-mile trek to IU to honor Trent
Purdue student Aaron Lai walked nearly 100 miles from West Lafayette to Bloomington in honor of Purdue superfan Tyler Trent, who died in early January from a rare form of bone cancer. The walk raised more than $20,000 for cancer research.


Lomachenko to defend title vs. Crolla on April 12
Pound-for-pound king Vasiliy Lomachenko will defend his unified lightweight world title against mandatory challenger Anthony Crolla on April 12 at Los Angeles' Staples Center after their camps reached a deal Tuesday night.


UNC-Duke tickets approaching Super Bowl prices
The cheapest ticket to Wednesday's UNC-Duke game is approaching Super Bowl prices, thanks to Zion Williamson. If you're interested in squeezing into Cameron Indoor Stadium to watch the legendary rivalry, it'll cost you at least $2,500.


How former ref Tim Donaghy conspired to fix NBA games
In 2007, NBA ref Tim Donaghy pleaded guilty to betting on games he officiated. But it was never proved that he fixed them -- until now. Our two-year investigation reveals how he did it, whom he did it with and the millions that flowed from the conspiracy.


Adesanya-Gastelum for interim title at UFC 236
Israel Adesanya will face Kelvin Gastelum at UFC 236 for the interim middleweight title while champion Robert Whittaker continues to recover from emergency surgery earlier this month.


Sources: Machado, Padres reach $300M deal
Manny Machado, a four-time All-Star who had a .297 batting average with 37 home runs, 107 RBIs and a career-high .905 OPS last season, has reached a deal with the Padres, sources told ESPN.


Ryan Day takes over for Urban Meyer, with Georgia QB transfer Justin Fields getting a chance to lead the offense.


Brown, Rooney meet, agree 'time to move on'
Embattled receiver Antonio Brown tweeted he had a "great meeting" with Steelers president Art Rooney II on Tuesday, but that both sides "agreed that it is time to move on."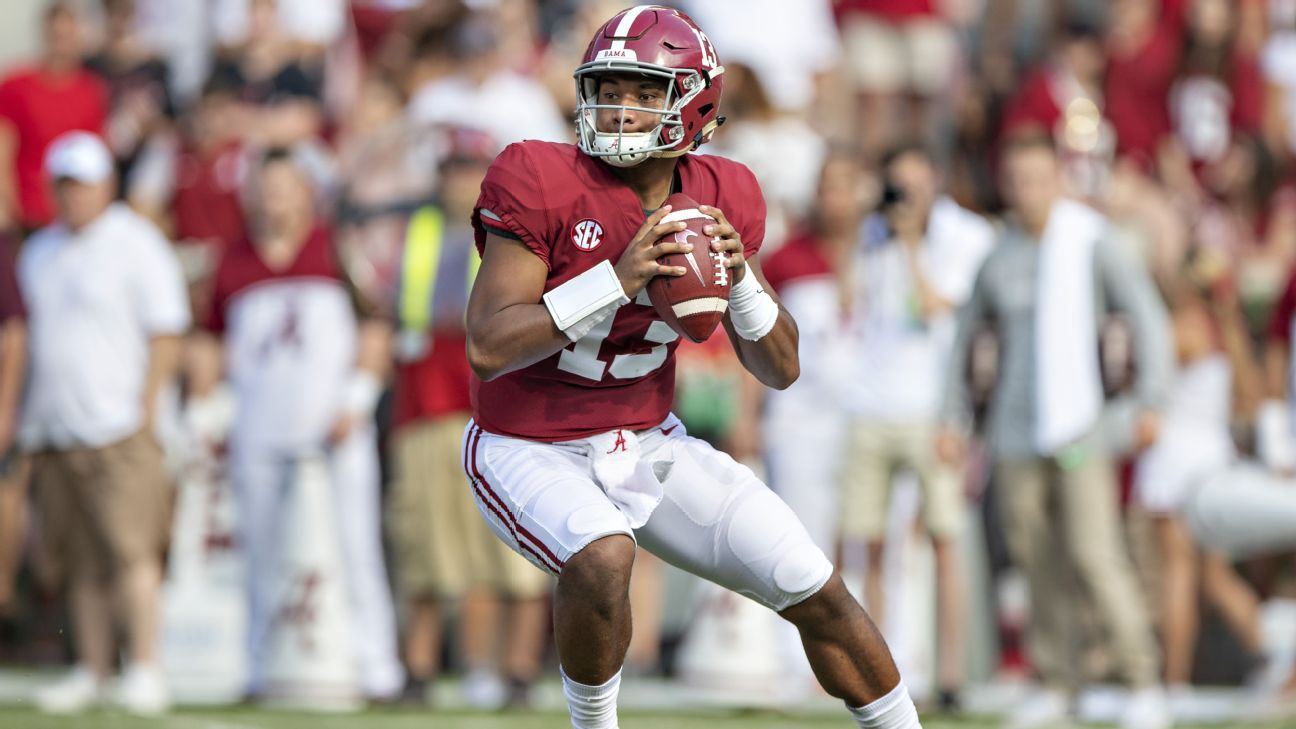 Alabama looks to regroup off title loss
The expectations -- winning a national title -- remain the same in Tuscaloosa, despite serious player and coaching turnover. What's next for the Tide this spring?


Harden says streak reflects necessity of situation
James Harden, who has scored 30 points in 31 consecutive games to tie Wilt Chamberlain's second-longest streak, stressed in a sit-down interview with ESPN's Rachel Nichols that the Rockets needed him to go on the run.


How Patrick Corbin won the winter
With a stagnant market turning free agents into freeze agents, the lefty's six-year, $140 million pact with the Nats sticks out like a sore thumb.


PGA Tour OKs shorts in practice, pro-am rounds
The PGA Tour has relaxed its player attire guidelines and will allow players to wear shorts during practice and pro-am rounds at its events, starting with this week's WGC-Mexico Championship and Puerto Rico Open.


Sources: WR Brown out for combine, OU pro day
Oklahoma WR Marquise Brown, a projected top-15 pick, underwent surgery for a Lisfranc injury last month that will prevent him from participating in the combine and his pro day, but he should be ready for summer training camp, per sources.


Ngannou KO's Velasquez in just 26 seconds
Cain Velasquez's highly anticipated return proved to be short-lived, as Francis Ngannou knocked out the former two-time heavyweight champion in just 26 seconds Sunday at UFC Fight Night in Phoenix.


NBA 'in good hands,' Wade says after final ASG
Future Hall of Famers Dirk Nowitzki and Dwyane Wade went out in style in their All-Star swan song, and Wade said he was more than content with it. "The game is in good hands," Wade said. "So it's easy to walk away right now."


KD grabs second ASG MVP, Team LeBron wins
Kevin Durant won his second career All-Star MVP, after helping lead Team LeBron back from a 20-point deficit in a 178-164 win over Team Giannis. Durant finished the game with a team-high 31 points.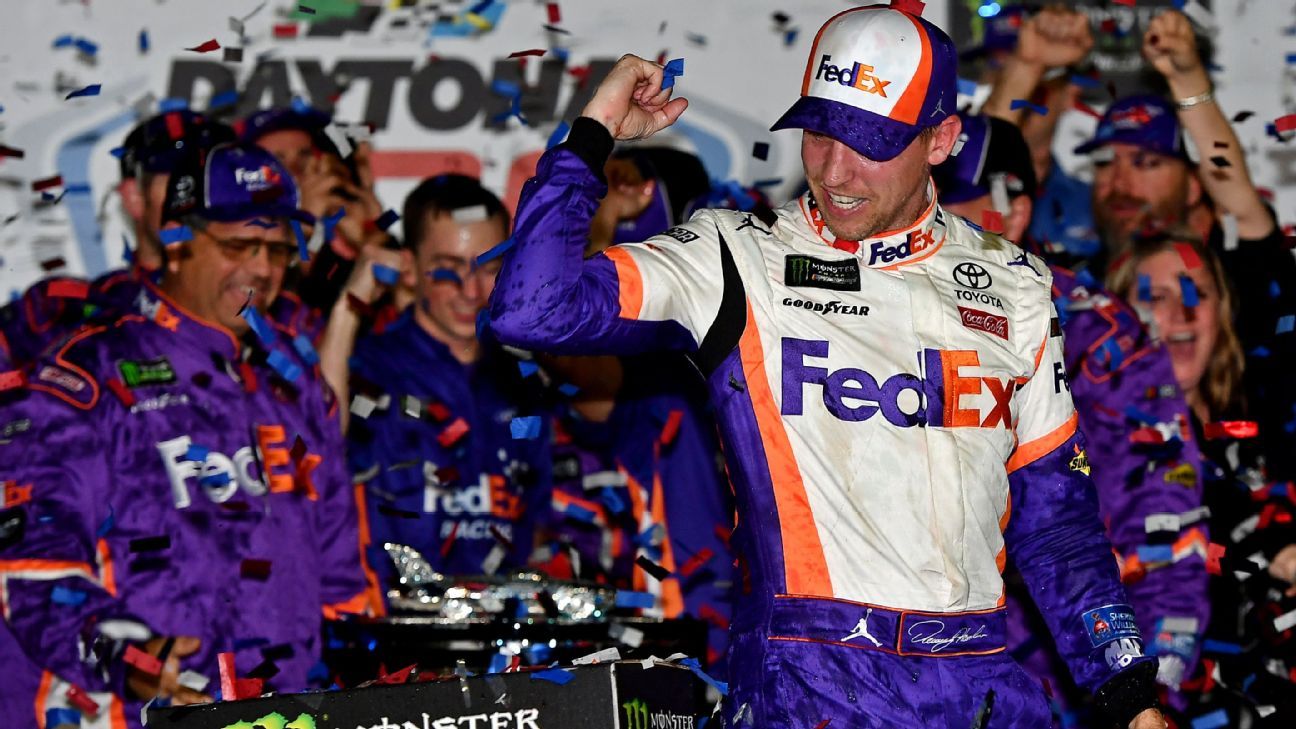 Hamlin wins second Daytona 500 in 4 years
Denny Hamlin won his second Daytona 500 in four years on Sunday, taking the checkered flag for Joe Gibbs Racing a month after Joe Gibbs' oldest son, J.D., died following a long battle with a degenerative neurological disease.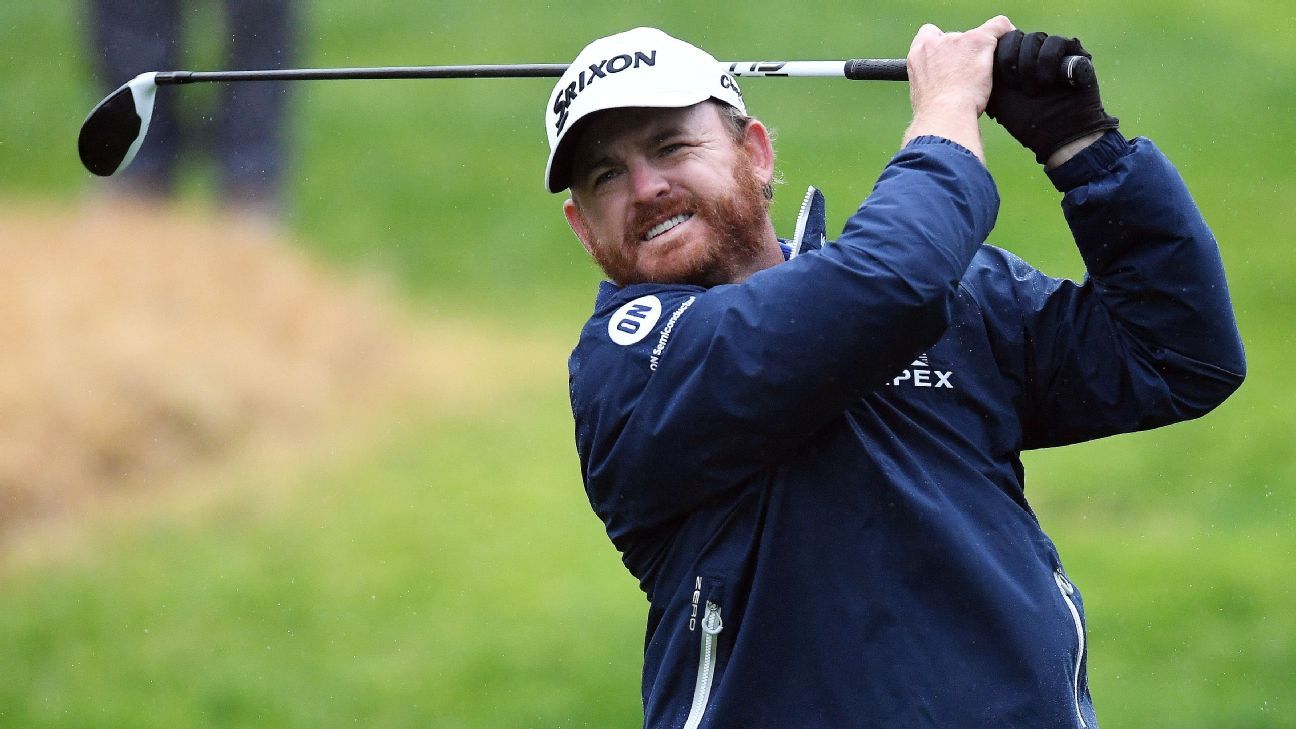 J.B. Holmes rallies to win marathon at Riviera
J.B. Holmes rallied from a four-shot deficit in the final round and won a marathon finish Sunday in the Genesis Open for his first victory in three years and a trip back to the Masters.


WWE Elimination Chamber results and analysis
WWE Elimination Chamber 2019 continued to set the course for several key stories on the way to WrestleMania 35. Three new champions were crowned, including Bayley and Sasha Banks winning the new WWE women's tag team titles.


G2 Esports look to keep the crown at Six Invitational
In a city where the Flag of Europe flies freely in the chilled winter winds, it feels almost poetic that the finals of the Rainbow Six Siege world championship will be contested by two teams residing from Europe.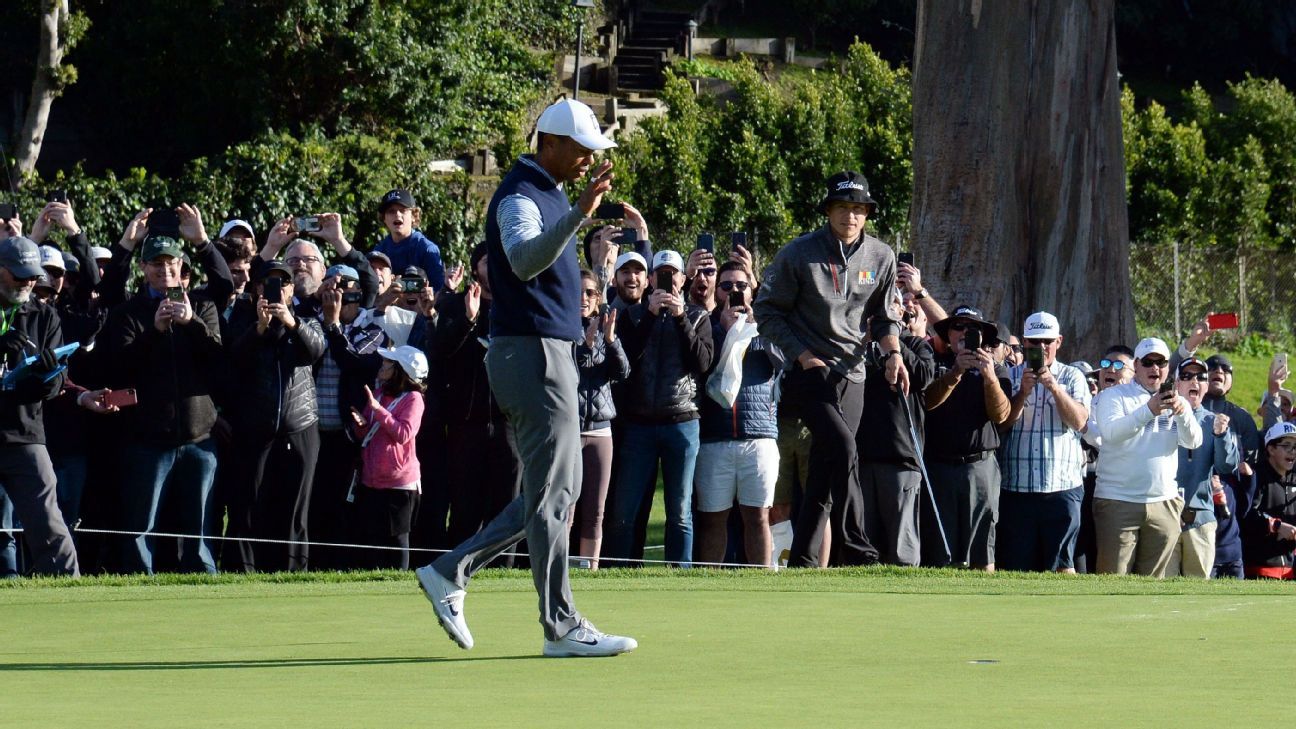 Tiger heats up at Riviera, vaults into top 15
After almost missing the cut at the Genesis Open, Tiger Woods has vaulted into the top 15 after a red-hot start late Saturday. He finished 6 under through seven holes before play was halted due to darkness.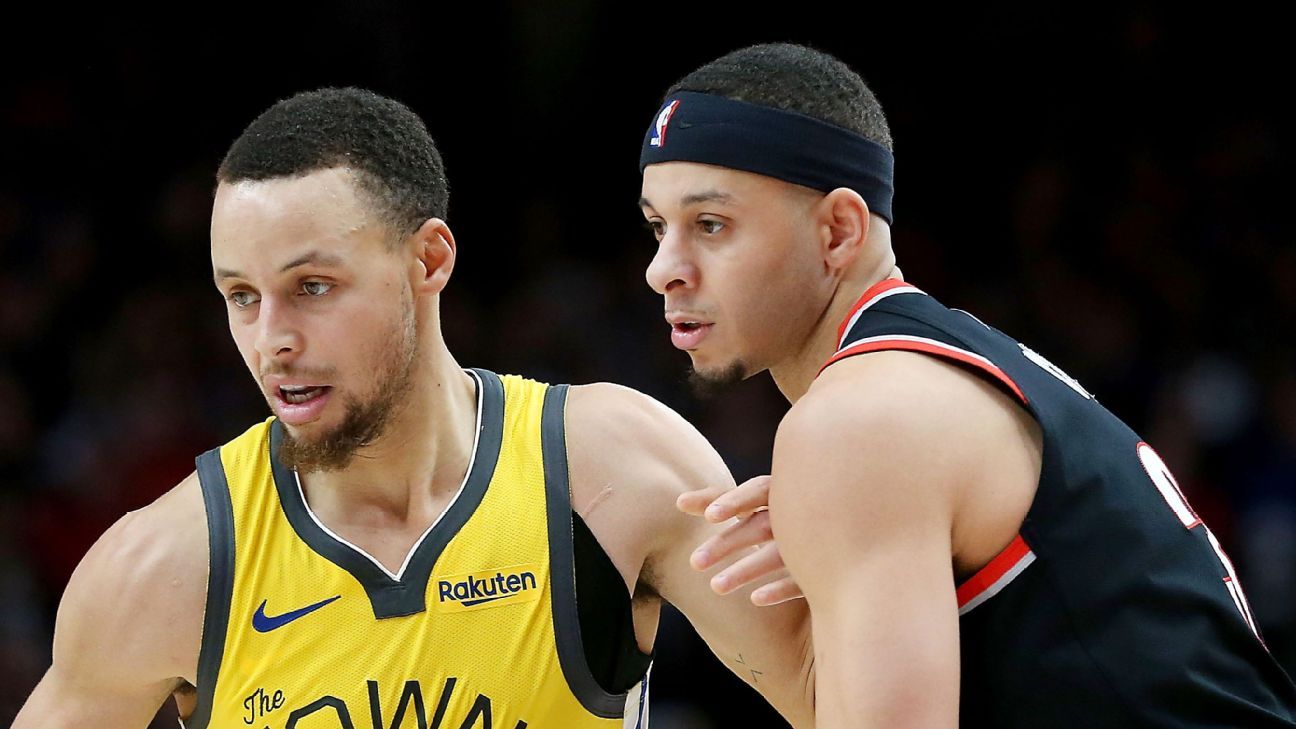 Curry brothers place wager on 3-point contest
The Curry brothers have levied a wager for their head-to-head competition in Saturday night's NBA 3-point contest: Whoever loses must buy tickets for the entire Curry family anytime they play against each other for the remainder of their NBA careers.


Tebow advised Murray to follow his heart, passion
Tim Tebow advised Kyler Murray to follow his heart when deciding whether to play in the NFL. Said Tebow: "Don't do it for your agents, or your friends and sometimes necessarily even your family. Do it for what's on your heart."


Kuchar: 'Stubborn, hard-headed' on caddie pay
Matt Kuchar again expressed regret for the way he handled payment of a fill-in caddie at the Mayakoba Classic in November, a controversy that has enveloped him for the past several days.


Pels' Davis opens up, says Celtics on trade list
A candid Anthony Davis touched on a number of topics at All-Star Game media day, including the possibility of playing for the Celtics, why he would be interested in joining the Knicks and why he asked for a trade out of New Orleans in the first place.