C-Webb to appear at U-M after Harbaugh invite
With the NCAA's 10-year ban on Chris Webber having recently been lifted, the former Wolverines basketball star accepted Jim Harbaugh's invitation Friday to attend a football game at The Big House this season.


Friend: Winston was alone with Uber driver
A friend of Jameis Winston's who was with him the night the Buccaneers quarterback allegedly sexually abused an Uber driver says Winston left as the only passenger in the car.


Manning: Brees 'deserves' to break yardage mark
Peyton Manning knows Saints quarterback Drew Brees will break his NFL record for career passing yards, and he told NOLA.com on Friday that Brees is deserving of the record. "He's been a great player for a long time," Manning said.


Bruce Bowen on Kawhi: 'Are you kidding me?'
Bruce Bowen has issues with Kawhi Leonard. "You got $18 million this year, and you think that they're trying to rush you? You didn't play for the most part a full season this year ... and you want to say that they didn't have your best interest at heart?"


Sources: Mavs' Doncic unlikely for summer league
The Mavericks are leaning toward holding first-round draft pick Luka Doncic, who played competitively for most of the past 10 months, out of summer league, team sources tell ESPN's Tim MacMahon.


Trevor Bayne returns from 'benching'
The 27-year-old driver will be back in the driver's seat at Sonoma, and all eyes will be on Roush Fenway as the team works through its performance issues.


For Neymar, relief replaces frustration
It looked like VAR's penalty reversal would cap a difficult day for Neymar. But Brazil found a way to see off Costa Rica and he found a goal, all of which explained his reaction at full-time.


Celtics' 1st-rounder Williams oversleeps call
Robert Williams, who fell to the Celtics at No. 27 in Thursday's draft, admitted to sleeping through the team's introductory conference call Friday morning due to a "good night's sleep after a busy two days."


GM Altman: Cavs, LeBron have 'a good dialogue'
Cavs GM Koby Altman said he and LeBron James' camp "continue to have good dialogue" with about a week to go before James has to inform the Cavs whether he intends to pick up the option on his contract.


Spurs' Buford: Keeping Kawhi our first option
Spurs general manager R.C. Buford expressed San Antonio's willingness to bridge the gap with disgruntled All-Star Kawhi Leonard but refuted the notion that time might be working against the team.


Ainge unaware he revealed C's pick on webcast
Celtics president Danny Ainge unknowingly tipped the team's first-round selection of Texas A&M big man Robert Williams when point guard Terry Rozier called him during a live webcast.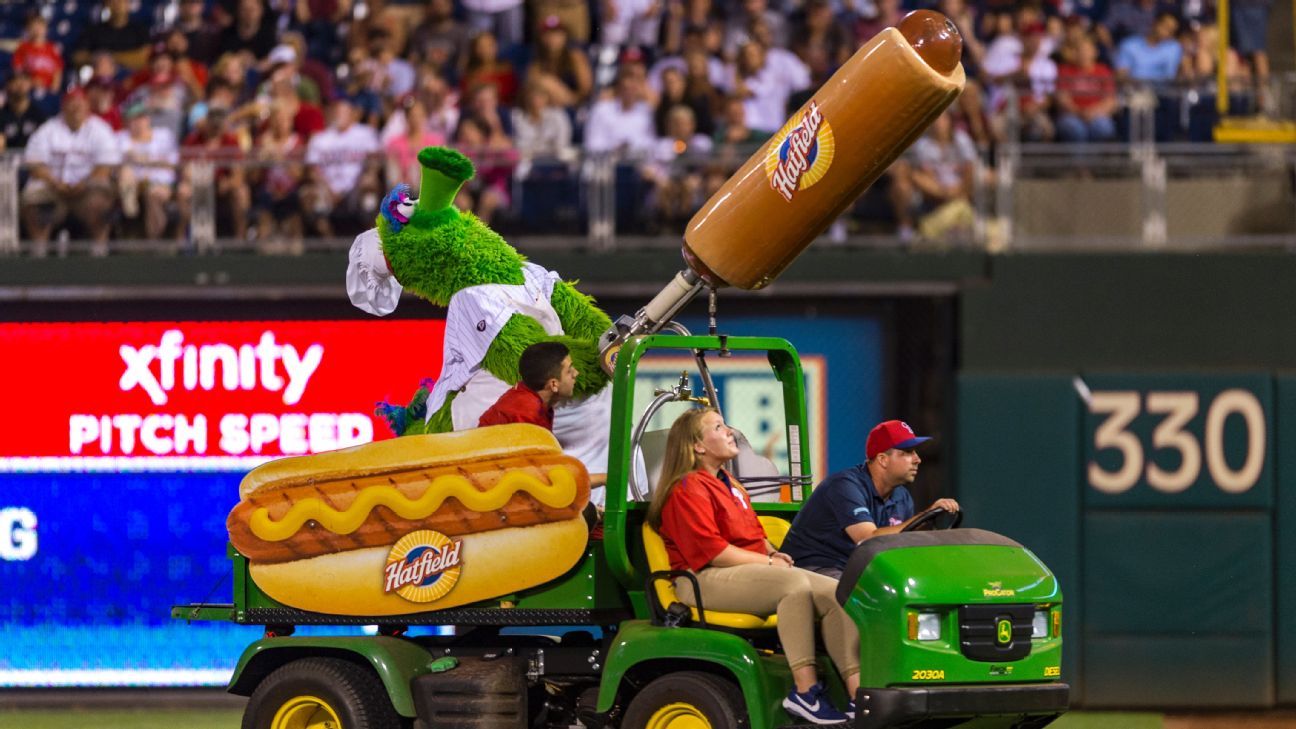 Phanatic-launched hot dog injures Phillies fan
A hot dog launched into the stands at Citizens Bank Park by the Phillie Phanatic injured a fan who was struck in the face. The hot dog was wrapped in duct tape so it wouldn't disintegrate upon launch.


Sources: Cavs want Love with or without LeBron
The Cavaliers have not made Kevin Love available for trades entering Thursday's draft, and regardless of what decision LeBron James makes about his future, they have interest in keeping Love, sources said.


Don't blame us! Here are the top five on each award from PHWA members Emily Kaplan and Greg Wyshynski, along with their explanations.


Stanton walk-off HR caps Yankees' comeback win
Giancarlo Stanton, who has been struggling at the plate in home games, blasted a walk-off home run to give the Yankees a major league-leading 23rd win when trailing at any point in a game this season.


The true madness of Max Scherzer
The Nats' ace swears he's normal. The evidence -- three Cy Youngs, 152 strikeouts in 2018 and a near obsession with minor tweaks -- proves otherwise.


Brady, Shiffrin, LeBron to vie for ESPY awards
Tom Brady, Jose Altuve, Alex Ovechkin and James Harden will vie for the best male athlete award at the ESPYS, while Mikaela Shiffrin, Sylvia Fowles, Chloe Kim and Julie Ertz are nominated for the women's award.