Bold WWE WrestleMania 35 predictions
With the tremendous amount of fallout from Sunday night's WWE SummerSlam pay-per-view, the contributors of WWE on ESPN have each worked to extrapolate one key match on the WrestleMania 35 card, ranging from clearly foreseeable to intensely optimistic.


OSU board to meet Wednesday on Meyer future
Ohio State's board of trustees will meet Wednesday morning to discuss "personnel matters" related to the recently concluded investigation involving football coach Urban Meyer.


DA: Davis accuser hasn't recanted allegation
LSU wide receiver Drake Davis remains charged with felony second-degree battery against a former girlfriend, District Attorney Hillar Moore said Monday after Davis' bond hearing.


The WNBA playoffs begin Tuesday. Seattle and Atlanta earned double-byes into the semifinals. Who will capture this year's crown?


Biles pays tribute to survivors in nationals sweep
Olympic champion Simone Biles easily won her fifth U.S. women's gymnastics title on Sunday, winning all four events as well as the all-around in a dominant performance that showcased the ever-widening chasm between Biles and the rest of her sport.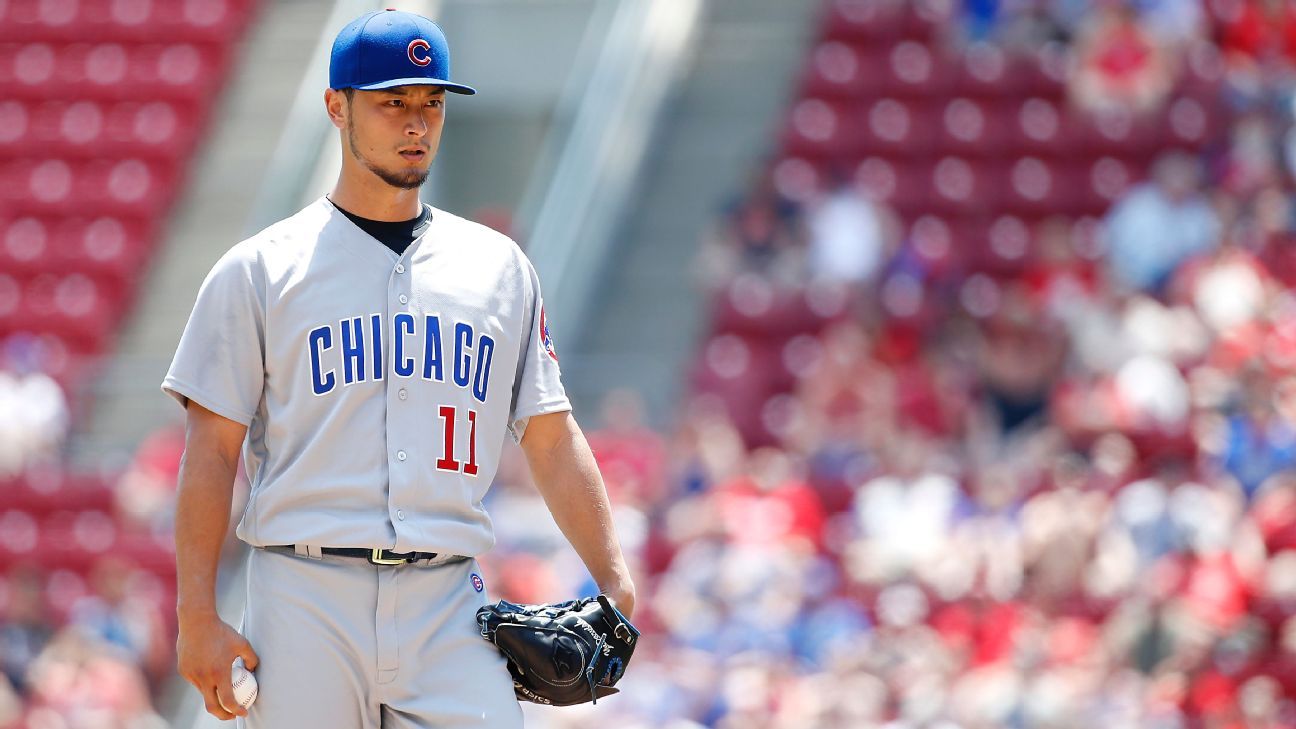 Cubs' Darvish lasts just one inning in rehab start
Cubs right-hander Yu Darvish, making his first rehab start, lasted just one inning in Sunday's game with Class A South Bend. After throwing six warm-up pitches, he left with a trainer prior to the start of the second inning.


Demoted QB Lynch booed by Broncos fans
Broncos QB Paxton Lynch was lustily booed by the team's fans in Denver on Saturday night when the quarterback entered Saturday night's preseason game against the Bears late in the third quarter.


Yanks' Gregorius (heel) in hospital, could hit DL
While running to first base on Sunday, Yankees shortstop Didi Gregorius suffered a heel injury in a collision with Blue Jays first baseman Kendrys Morales, and it could send him to the disabled list.


Bills call out Landry for 'dirty' block on rookie CB
Veteran Bills defensive players spoke out Sunday regarding a block Browns receiver Jarvis Landry made against rookie cornerback Taron Johnson in Friday's preseason game, with linebacker Lorenzo Alexander calling it a "dirty" play.


'Orthopedic injuries' hospitalize IndyCar's Wickens
IndyCar Series rookie Robert Wickens was hospitalized and being evaluated for "orthopedic injuries" Sunday night after his car went airborne and into the Pocono Raceway catch fence after a crash on the seventh lap.


Badgers WR Cephus takes leave as charges loom
Quintez Cephus, a starting wide receiver who finished second on the team with 501 receiving yards in 2017, announced Saturday that he's taking a leave of absence in anticipation of being charged for an incident that took place in April.


Source: Cowboys OG Martin hyperextends knee
Cowboys Pro Bowl right guard Zack Martin suffered a hyperextended left knee during Saturday's preseason game, a source told ESPN, but he will undergo an MRI on Sunday to confirm.


Sources: Wentz set to resume 11-on-11 work
Eagles quarterback Carson Wentz will resume 11-on-11 team work when the defending Super Bowl champions return to practice Sunday, team sources told ESPN's Chris Mortensen.


Curry: 'For sure' I want to be Warrior for life
Stephen Curry, during an appearance on The Bill Simmons Podcast this week, said he wants to be a Warrior for life. "For sure I do," Curry said. "This is home. This is where I want to be, for obvious reasons."


Biles electrifies on opening night of nationals
Simone Biles put on a show during the opening night of the U.S. Championships on Friday, stringing together one electric performance after the other to give herself a commanding lead over world champion Morgan Hurd.


Report alleges risky behavior by Smith at OSU
Zach Smith had sex toys delivered to him at Ohio State's football offices in 2015, according to an online report Friday, raising more questions about the former assistant coach's conduct while employed there under Urban Meyer.


Man City's De Bruyne (knee) out 3 months
Manchester City have confirmed that Kevin De Bruyne has suffered a lateral collateral ligament lesion in his right knee and will be out for around three months.


Missed connection: Brady, Foles finally meet up
Tom Brady and Nick Foles connected after Thursday night's preseason game between the Patriots and Eagles, and both shot down the notion that the Pats' QB had snubbed the Super Bowl MVP back in February.


Serena: Learned sister's killer out before match
Serena Williams revealed to Time that she learned about 10 minutes before her July match against Johanna Konta, which ended in the most lopsided defeat of her career, that the man who killed her sister Yetunde Price had been paroled.


Elway: Kap had chance to be Bronco, 'passed'
If the Broncos decide to sign a veteran backup to quarterback Case Keenum, it won't be Colin Kaepernick. "He's had his chance to be here. He passed it," John Elway said Thursday.