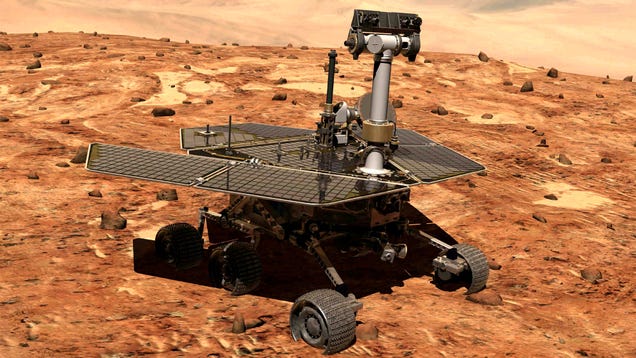 Today Was the NASA Opportunity Rover's 5,000th Martian Dawn
Saturday, February 17th marks the 5,000th local day (sol) of operations for NASA's Mars Opportunity rover, which was originally designed to last for just 90 sols after its January 2004 landing date, but has instead continued to set milestones like completing a marathon-length tour of its surroundings and taking huge…Read more...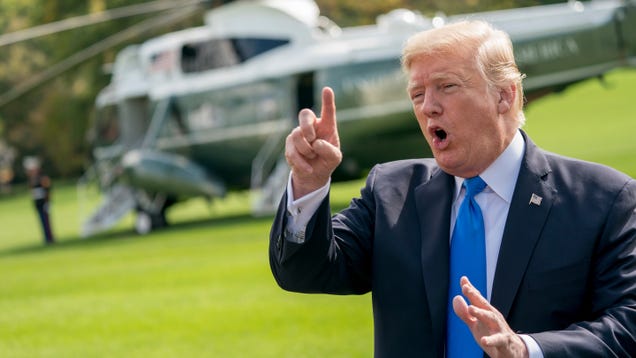 Trump Eagerly Jumps on Facebook Ad VP's Tweet Downplaying Russian Troll Operation
Facebook and Donald Trump, two large, terrible sons of our broken society that truly deserve each other, slow-motion collided on Saturday when the president decided to lift wholesale a new line of defense over the ongoing Russian election scandal from the social media giant's vice president of advertising Rob Goldman.Read more...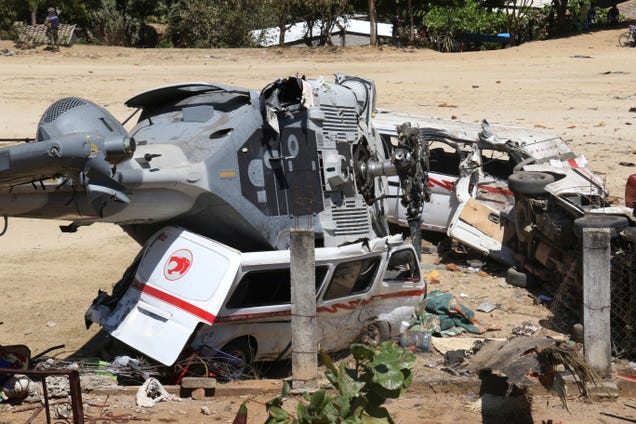 Helicopter Crashes Into Field Killing 13 People On The Ground
A freak helicopter crash in Mexico killed 13 people Friday after they sought safety in a field following a 7.2 earthquake. The Associated Press reports a military helicopter surveying the damage from the earthquake crashed into a field of people who set up camp to avoid being inside should the shaking restart. Overall…Read more...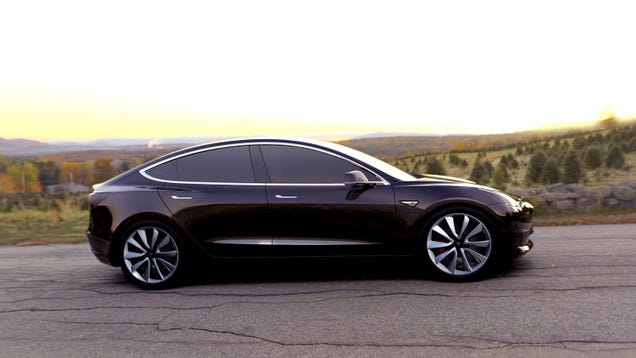 Redditor's Tesla Model 3 Crash Prompts Safety Changes From Elon Musk
Within days of picking up a Tesla Model 3, a Reddit user was involved in a wreck that promoted the unfortunate user name Model_3_Crash_Dummy. Fortunately, the driver and the passenger weren't seriously injured, but the Model 3 is toast. But after the owner of the Tesla noticed a few strange things about the crash,…Read more...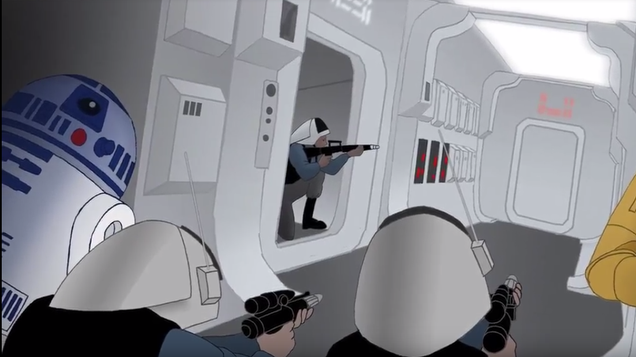 A Half-Remembered Retelling Makes This Star Wars Fan Film Special
There isn't a lot of writing in the Star Wars universe. Stories seem to mostly be passed along via oral culture—one person telling a story to another, with all the foibles and forgetfulness personal retellings entail. This Star Wars fan film captures all the fun, and all the forgetfulness, of a good retelling. Read more...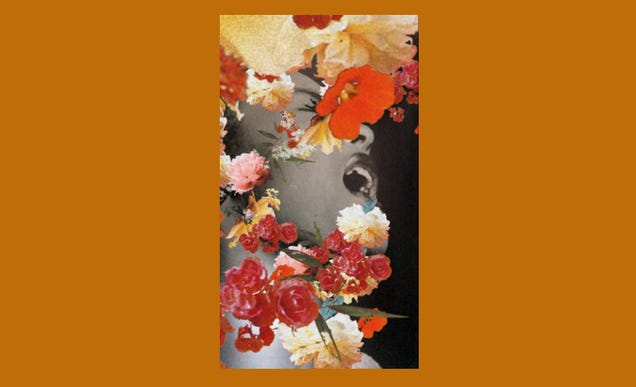 Holy Crap an AR App I Actually Like
Kids today want more from social technology than seeing something new—they want a new way of seeing themselves. Snap and Instagram's augmented reality lenses transform users into puppies, fairies, monsters, Wonder Woman, storied Jamaican singer-songwriters, and the like. It's as if there's a vibrant but invisible…Read more...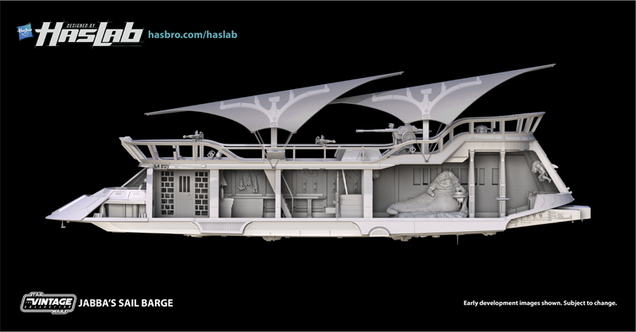 Hasbro Is Getting Into Crowdfunding With an Insane Star Wars Toy
Today, Hasbro unveiled Haslab, which promises to basically be the toymaker's answer to Kickstarter, for diehard fans of its toys. The new crowdsourcing program is kicking off with one hell of a project: a 4-foot long, 14lbs intricate recreation of Jabba's Sail Barge from Return of the Jedi.Read more...


Crayola's New Pen Writes On Any Surface Using Melted Crayons as Ink
Working in a similar fashion to 3D-printing pens, but without the futile exasperation of actually trying to make 3D objects, Crayola's new Crayon Melter turns colorful sticks of wax into a thick, goopy, ink that lets kids write on almost any surface imaginable. Can you hear the sound of parents crying in the distance?Read more...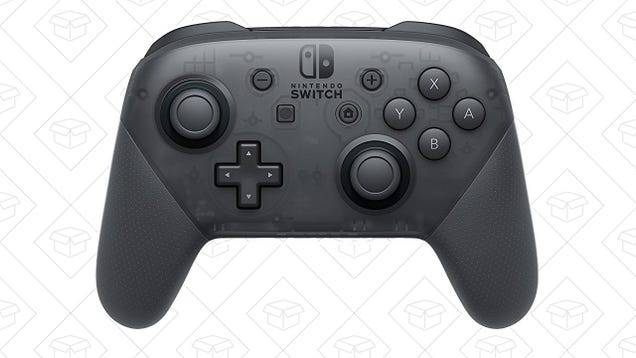 Amazon's Running the Best Switch Pro Controller Deal We've Ever Seen
The Switch Pro controller isn't just one of the best ways to control your Nintendo Switch, it might be one of the best gamepads ever made, period. If you have a Switch and still haven't picked one up, $50 is by far the best deal we've ever seen on it, and we don't expect it to last long. Read more...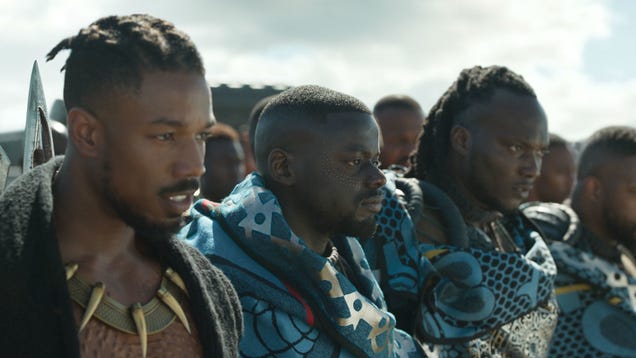 Here's Why Black Panther Didn't Include a Certain Major Marvel Connection
Black Panther is now in theaters and it's great. Like, really great. And one of the best things about it is you don't need to be super familiar with Marvel's 17 previous movies to enjoy it. It totally works on its own. However, if you are familiar with those movies, maybe you walked out of the theater with a question.Read more...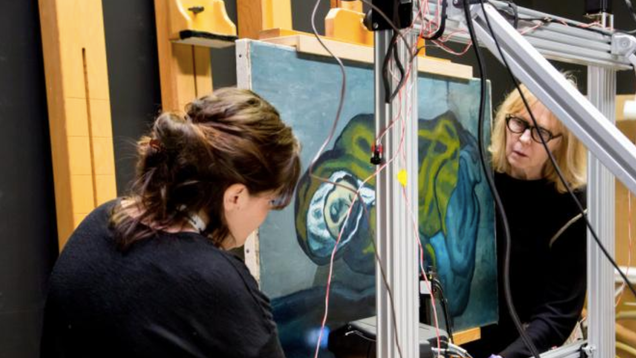 Science Reveals Hidden Secrets in Picasso Works
AUSTIN—Looking at a Pablo Picasso painting could be confusing itself. But scientists using x-rays have revealed secrets behind both paintings and sculptures of the famed artist.Read more...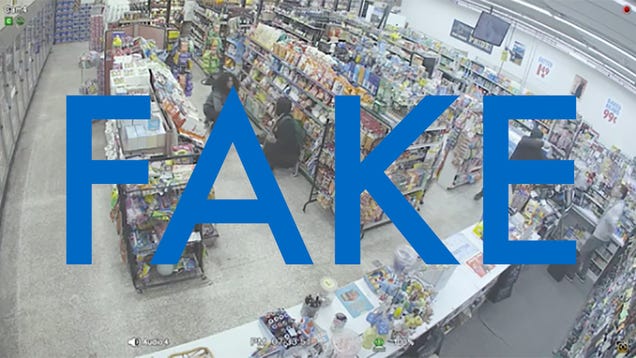 That Viral Video of a Convenience Store Robbery Is Worse Than Fake
An extremely compelling video has racked up over 2 million views on Twitter in less than 24 hours. It appears to show security footage of two young skateboarders stealing chips from a convenience store when a dude with a shotgun enters and attempts to rob the place. And then the skateboarders totally stop him and then…Read more...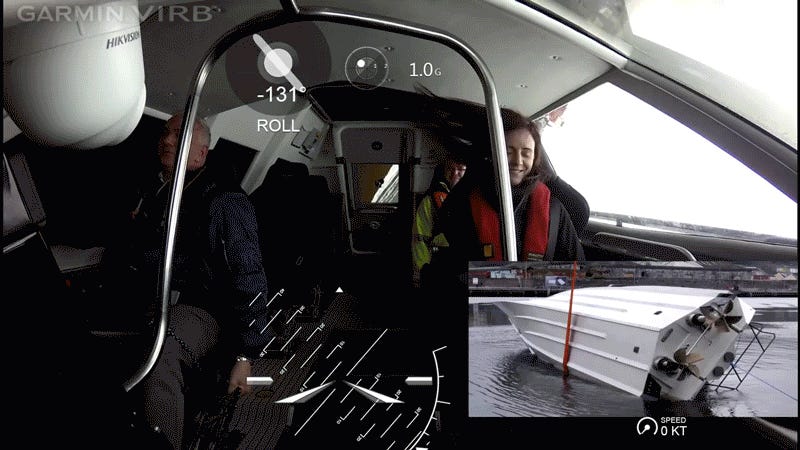 Here's How You Test An Unsinkable Boat
The Thunder Child, built by a company called Safehaven Marine, is meant to be nearly unsinkable. That means it's not supposed to go down, even if it completely capsizes. And there's only one real way to test that. You gotta flip it and see what happens.Read more...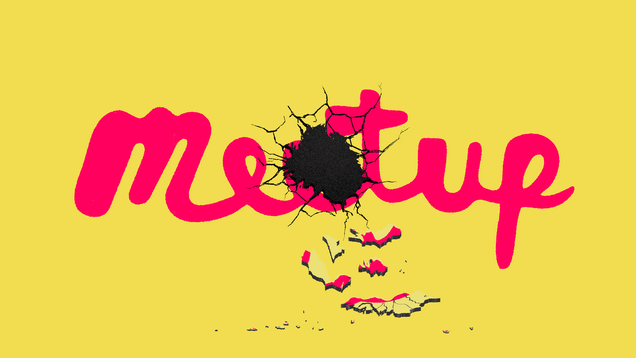 Meetup was supposed to be different.Read more...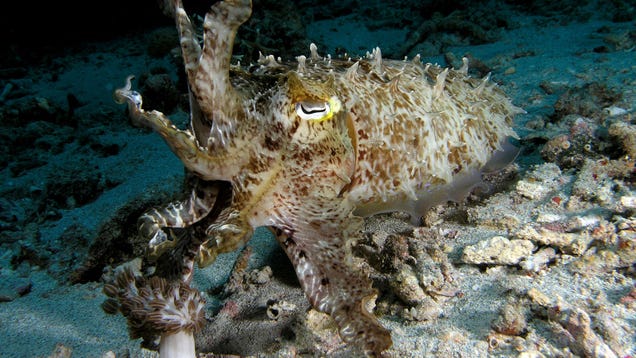 Secrets of the Cuttlefish's Uncanny Camouflage Abilities Revealed
Octopus, squid, and cuttlefish can change their skin's colors, patterns, and textures in ways not seen anywhere else in the animal kingdom. You see what looks to be a clump of seaweed, and then it suddenly springs to life in the form of a retreating cephalopod. The changing of skin texture is a particularly impressive…Read more...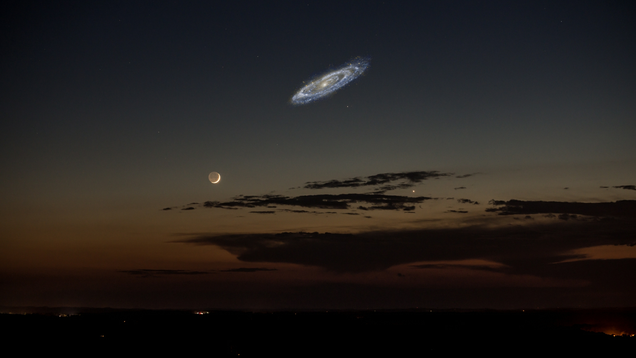 The Andromeda Galaxy Is Not Nearly as Big as We Thought
The closest galaxy to our own is the majestic Andromeda galaxy, a collection of a trillion stars located a "mere" 2 million light years away. New research suggests that, contrary to previous estimates, this galaxy isn't much bigger than the Milky Way, and is practically our twin. This means our galaxy won't be…Read more...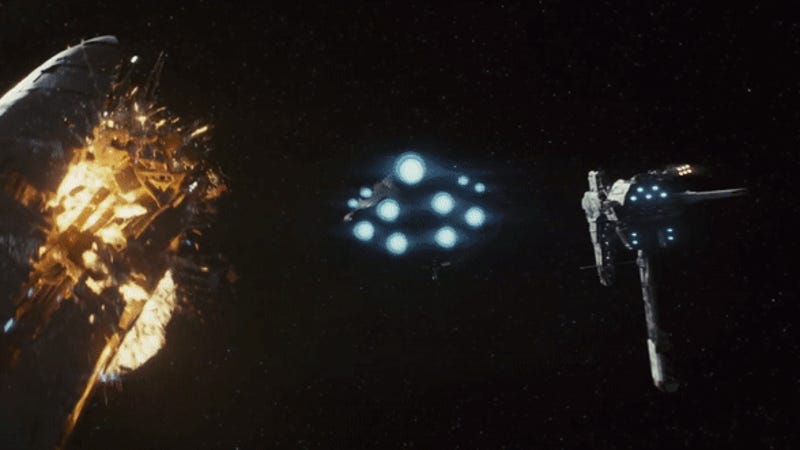 A Toy Design Actually Forced a Change to Star Wars: The Last Jedi
Star Wars and toys have gone hand in hand ever since the franchise kicked off four decades ago. But usually, it's the movies dictating what we see on store shelves—not the other way around. But in one particularly odd case, it ended up being that way for The Last Jedi.Read more...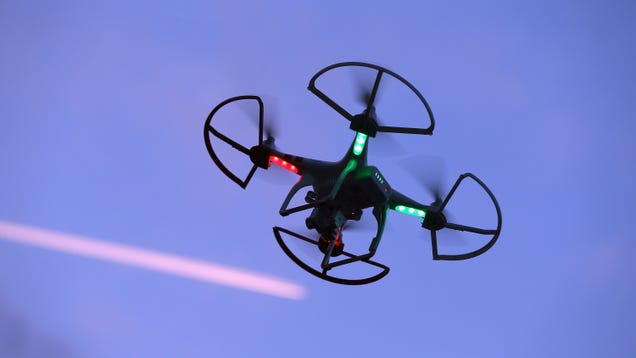 This Could Be the First Drone-Caused Aircraft Crash In the US
For years, there's been a growing concern from federal agencies and aviophobics over the effect of millions of remote-controlled flying machines populating airspaces. A recent crash might be the first US case that proves that drones are in fact hazards for larger flying machines that carry people.Read more...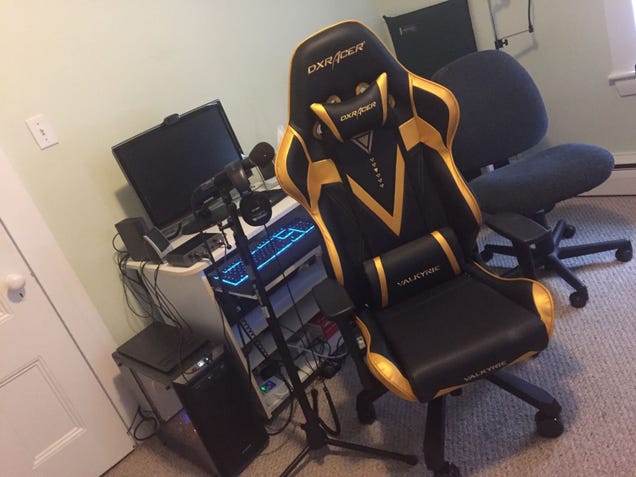 My Hideous, Comfortable Gamer Chair Fills Me With Existential Dread
For nearly 20 years, I've been sitting in the same piece of shit: a gray swivel chair that I got at Target as a teenager. It creaks if you look at it; it's covered in enormous amounts of my hair. It does not do my body any favors. Very possibly it has been exacerbating my depression. This is stupid—my job is almost…Read more...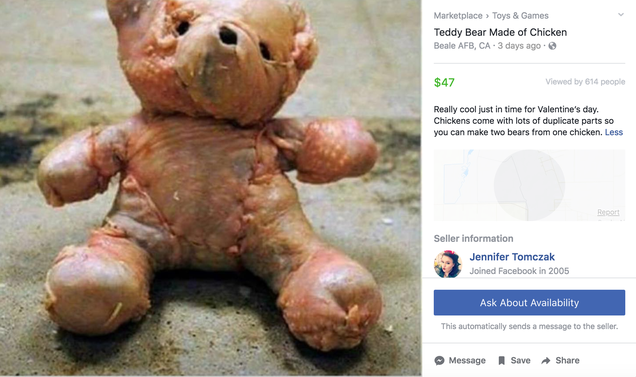 Teddy bear sewn from chicken "duplicate parts." Hand-made. Perishable. $47.Read more...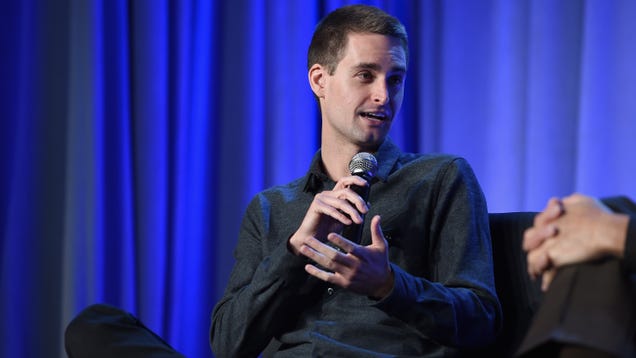 Snapchat CEO Is Totally Chill About How You Hate the Redesign
Hell hath no fury like a litany of teens shitting on an app redesign. And it seems that's exactly what happened with Snapchat's latest update, prompting over a million users to take some mild action in protest of the changes. But CEO Evan Spiegel is spinning this fury, somehow, as a sign of success.Read more...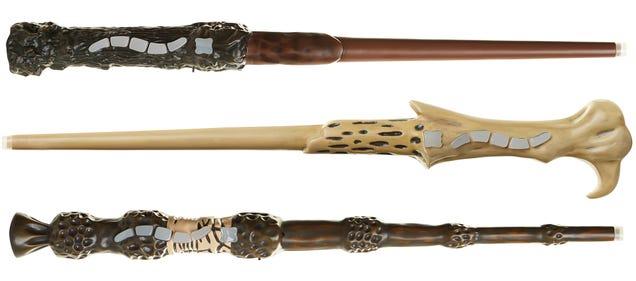 These New Harry Potter Wands Let You Play a Magic Version of Laser Tag
It's all but impossible to reach the end of the Harry Potter books or movies without secretly pining for a wand of your own, but it's probably best for humanity that we're not all flailing magical sticks around. The next best thing would be JAKKS Pacific's new interactive Wizard Training Wands that make it feel like…Read more...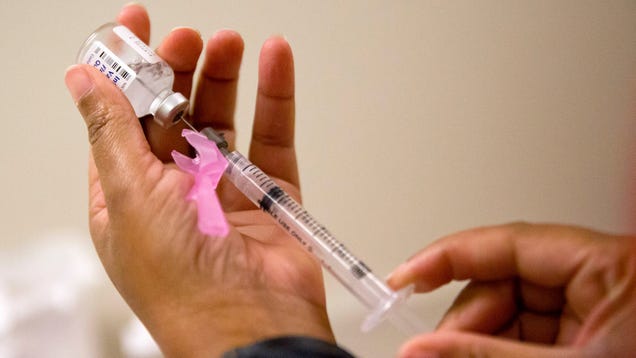 This Season's Flu Vaccine Isn't as Ineffective as We Feared
By the time everything's said and done, this winter's flu season may very well be the worst in several years, and by some metrics it may even surpass the 2009 pandemic. Some experts have blamed the intensity of this year's flu in part on a particularly poor vaccine, which was mainly based on research in Australia,…Read more...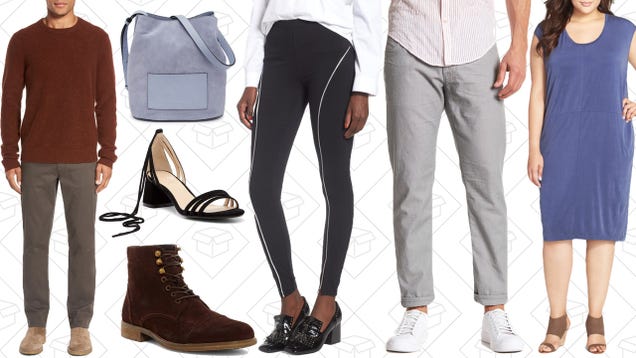 The First Clear the Rack of 2018 is Here - Extra Savings On Thousands of Items
Yes, it's already happening again. Nordstrom Rack has brought back their Clear the Rack sale and it's full (and I mean FULL) of really incredible deals. Designer clothing, brands you've never heard of, everything in clearance an extra 20% off. This lasts through Monday, so you have a good amount of time to pick up…Read more...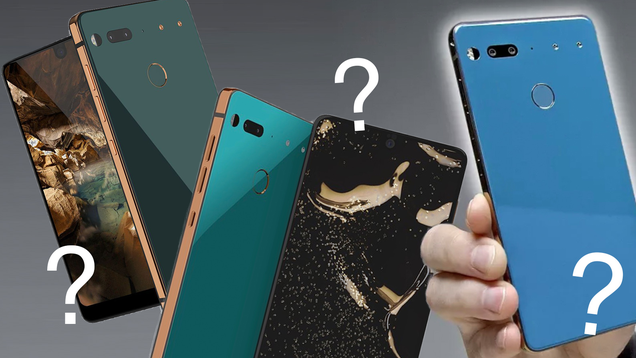 I Can't Tell What Color This Phone Is and Honestly It's Driving Me Nuts
This week, we finally got our first hands-on look at the long-promised "Ocean Depths" color scheme of the Essential phone. Despite looking very much green in promotional photos, however, the device now appears quite blue. So which is it? And why has this question driven me to the brink of madness?Read more...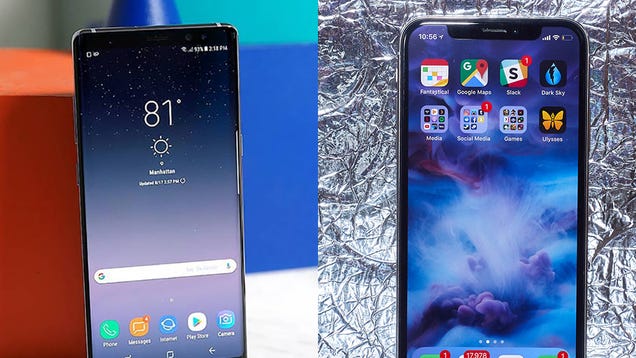 Why Choosing Between Android and iOS Still Matters
Fire up an iPhone X alongside a Galaxy Note 8 and you might not think there's all that much to choose between Android and iOS any more. They offer the same apps, in the same sorts of grids, with similar approaches to notifications and quick settings, and at this stage in the game you're probably happy with your choice…Read more...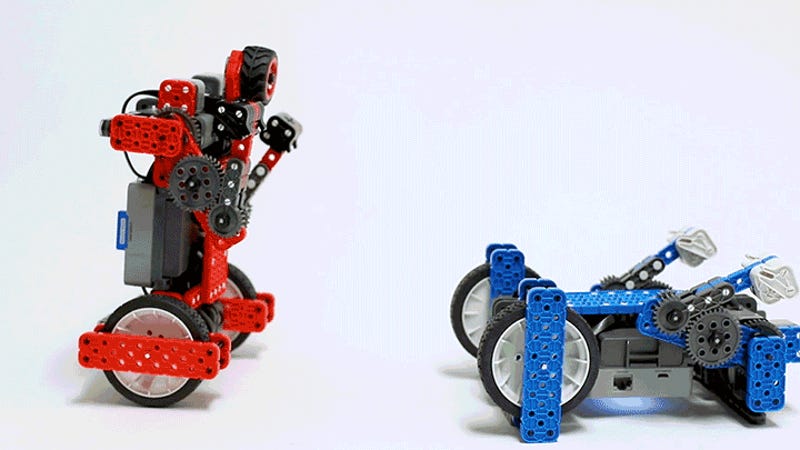 I Love Watching These Self-Balancing Boxing Robots Beat Each Other Into Submission
The self-balancing technology that powered the overhyped disappointment that was the Segway is finally living up to its full potential with Hexbug's new VEX Battling Boxing Robots line. You can not only build a pair of robo-pugilists that ride around on hoverboards, you can also fight them using motion controls to…Read more...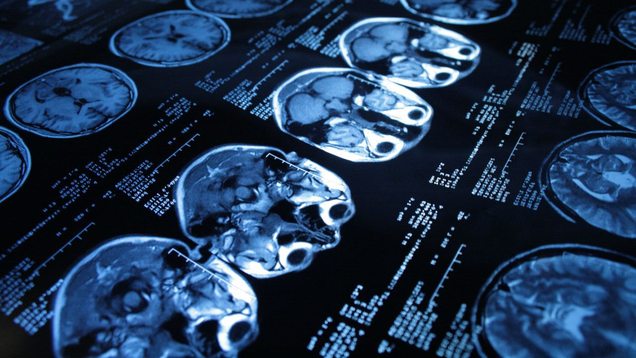 The FDA Has Approved the First Blood Test for Concussions
Researchers are only now starting to unravel the potential long-term ramifications of a seemingly minor traumatic brain injury (mTBI), or concussion, to our health. Part of the difficulty has been in even figuring out when someone has a concussion in the first place, leading to lots of unnecessary and not entirely…Read more...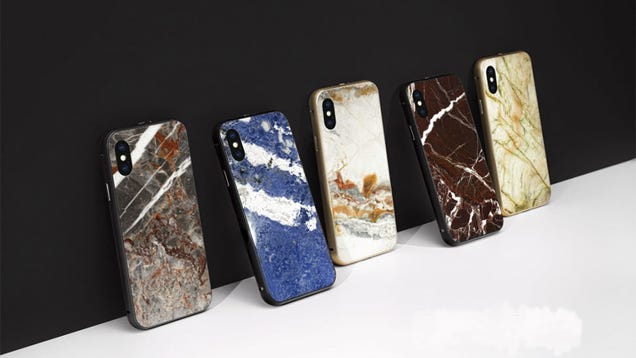 Protect Your $1,000 Phone with Actual Rocks
So you just bought a $1,000 iPhone X. It's fast, gorgeous, and everything you could ask for in an absurdly priced consumer device. There's just one problem. As good as it looks, it's way too precious for life without some kind of protection. You're going to need a case, but what kind should you get? Plastic is for…Read more...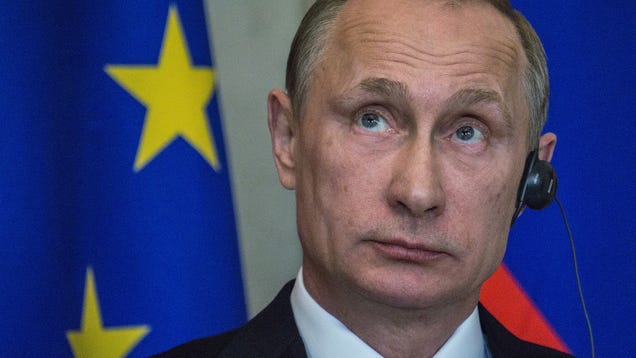 Instagram Bows to Russian Censor's Pressure, Will YouTube Be Next?
With fears of government crackdowns looming from every corner of the globe, tech giants have to decide who they're willing to piss off. Following a demand from Russia's internet censor, Instagram has removed videos relating to bribery allegations made by the country's most prominent activist. So far, YouTube hasn't…Read more...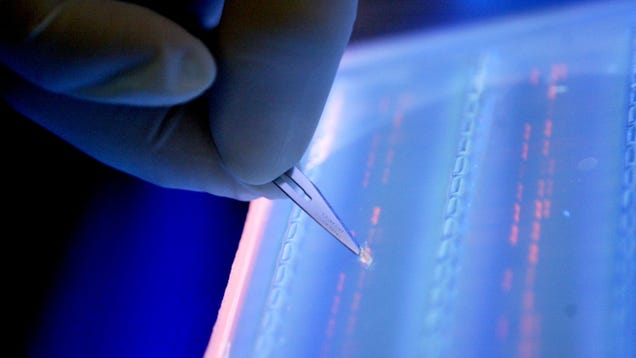 CRISPR Isn't Just for Gene Editing Anymore
Five years ago, when researchers first discovered that bacterial immune systems could be hijacked to edit DNA in living creatures, it was big news. The technology, called CRISPR, allowed scientists to more easily than ever cut and paste all those As, Cs, Ts, and Gs that make up the base pairs of DNA and encode the…Read more...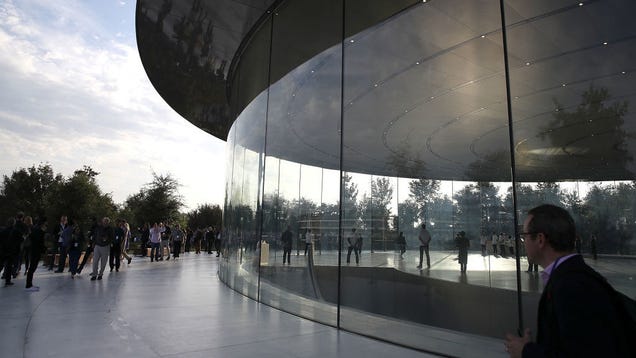 Apple's Excellence in Design Leads to Employees Smacking Into Glass Walls
Apple's freshly completed spaceship campus was the final project of Steve Jobs, and its construction came with the exacting demands that he was known for. Jobs wanted Apple's employees to smoothly move through the headquarters without having to take a minute away from thinking about their work. The execution has…Read more...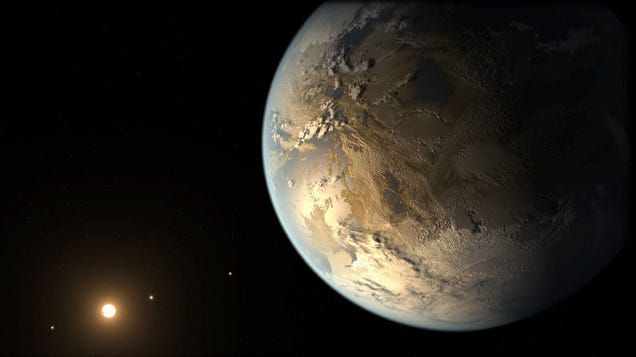 When Will We Finally Find a Truly Earth-Like Exoplanet?
There are many definitions of an Earth-like exoplanet. Some say it's a planet that orbits a star at just the right distance for liquid water to exist on its surface. Some say it's a rocky planet, like ours. But determining if an exoplanet is truly habitable requires actually figuring out what's on the planet.Read more...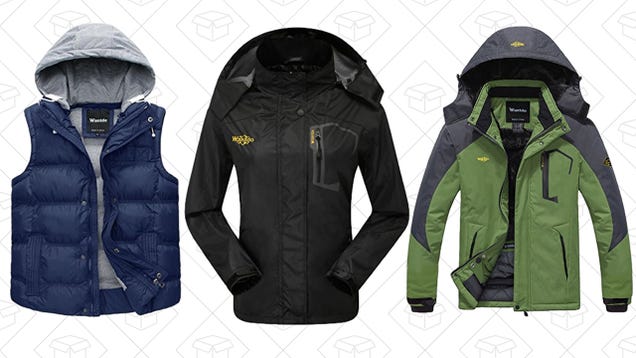 Finish Out the Season With New Outerwear From This One-Day Amazon Sale
It's no surprise that Amazon stocks a ton of coats, but right now, they're discounted to prices you don't want to miss. Pick up outerwear for the whole family from Wantdo, with everything under $75. Grab a rain coat, a ski jacket, a down vest, and more, and suffer through the last few weeks of winter with the…Read more...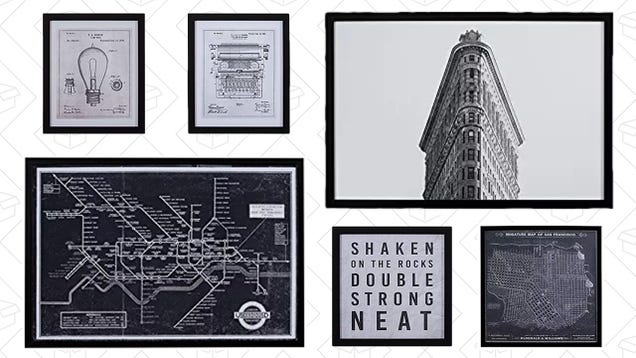 Save Some Green On This Black & White Wall Art From Amazon
Add a little black and white drama to your walls with 20% off Stone & Beam black and white wall art today. The coolest piece is this minimalist photo of the Flatiron building, and there are some interesting patent prints, London subway map, and more, so go check it out for yourself if your walls are looking empty.Read more...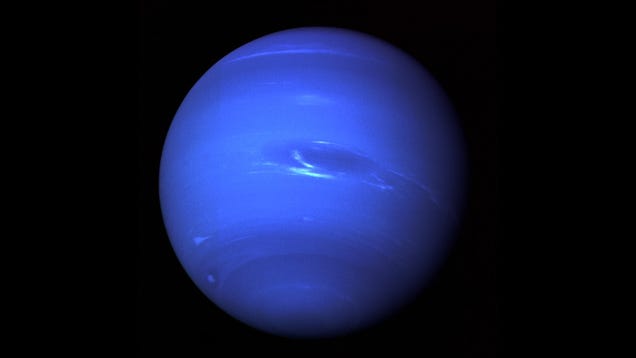 Neptune's Stinky Dark Vortex Is Fading Away Like a Bad Fart
In 2015, the Hubble Space Telescope detected a strange feature in the skies over Neptune—a swirling dark vortex the size of China. Packing copious amounts of hydrogen sulfide—the chemical ingredient that gives farts their awful smell—this storm is not behaving as astronomers predicted, with the latest results…Read more...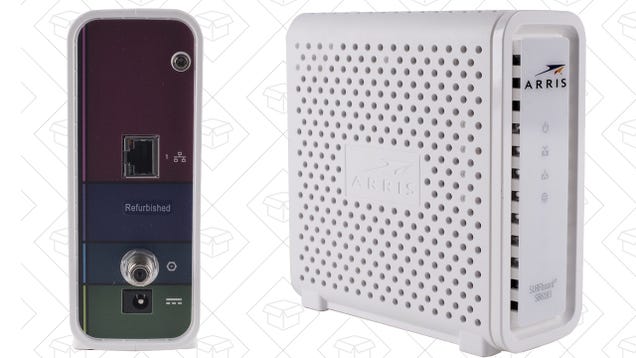 Stick It To Your ISP By Buying Your Own Modem
Every modem rental fee you pay to your ISP is padding for their bottom line, and a total rip-off for you. Fortunately, you can buy your own modem for a relatively small upfront cost, and knock a few bucks off your monthly bill.Read more...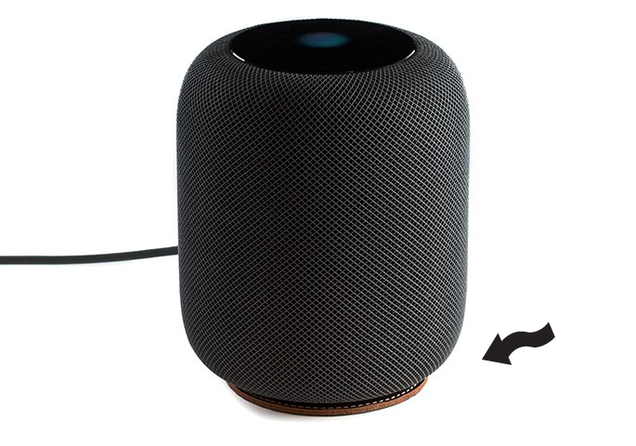 There's Already a Leather Coaster to Protect Your Furniture From the HomePod
It only took one day—one freaking day!!—for someone to capitalize on the bizarre news that Apple's $350 HomePod, the speaker that isn't so smart but sounds pretty great, might wreck your wood furniture. That someone is gadget accessories maker Pad and Quill and we are just as blown away/totally unsurprised as you are. Read more...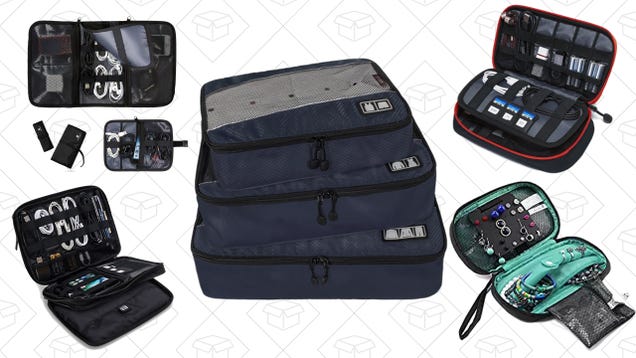 Pack Smarter, Not Lighter, With These Discounted Carry-On Bags and Organizers
Packing for a trip is almost always a recipe for disaster and contemplating every mistake you've ever made in your life. Pick up one (or more) of these organizers and bags during Amazon's one-day sale and save yourself the headache of trying to fit a trip's worth of clothing and tech accessories into one bag. No more…Read more...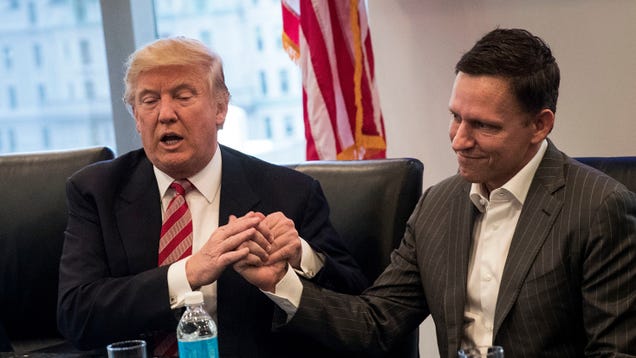 Report: Peter Thiel Seeks a Safe Space
Peter Thiel is reportedly leaving Silicon Valley. According to the Wall Street Journal, the venture capitalist and embattled Trump supporter is moving from San Francisco to Los Angeles and taking some of his businesses with him. He's even reportedly mused about resigning from the Facebook board. Why? Peter Thiel…Read more...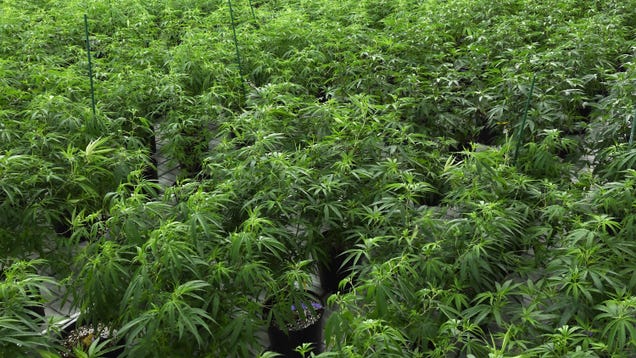 Canadian Doctors Warn Medical Pot Is Overhyped
More and more people, young and old, are fast becoming fans of legalized weed, Jeff Sessions notwithstanding. That popularity has been greatly aided by the proliferation of laws that allow it to be used as a medical treatment, not just in the U.S., but in other countries such as Canada, which legalized medical pot in…Read more...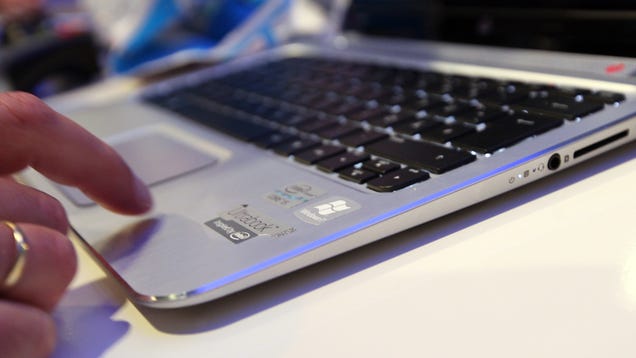 Why This AI Chatbot Is a Risky Way to Document Workplace Harassment
If you experience inappropriate behavior in the workplace, you have a number of different avenues you can consider. You can report the incident to human resources, hire an attorney, or, now, tell an unblinking machine. Spot, an AI-powered, browser-based chatbot for reporting workplace misconduct, launched out of beta…Read more...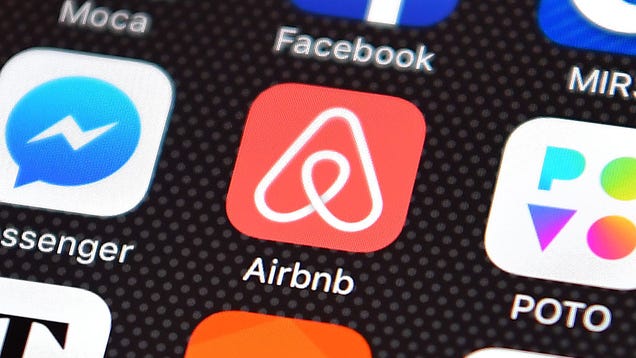 Food Service Workers at Airbnb Have Unionized
Workers in the tech industry are often split into two categories—the engineers who create a company's products, and the staff of cafeteria workers, shuttle drivers, and security guards who help keep tech campuses running. Members of the latter group are often categorized as contractors rather than employees and miss…Read more...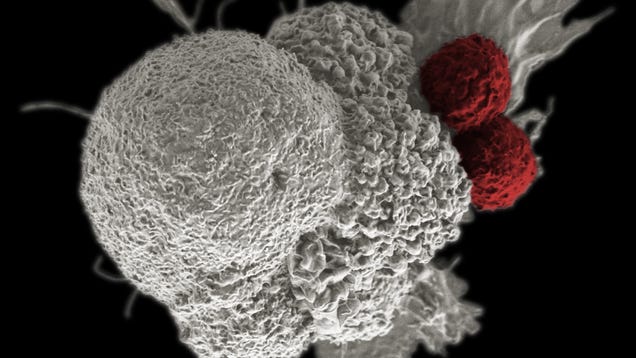 Scientists Successfully Test a Vaccine in Mice That Could Prevent Many Cancers
Even under the best of circumstances, cancer treatment can be an excruciating, costly ordeal that tragically doesn't even work sometimes. In light of that reality, scientists and doctors have long searched for a way to proactively head off the problem using a vaccine. One potential approach to a cancer vaccine,…Read more...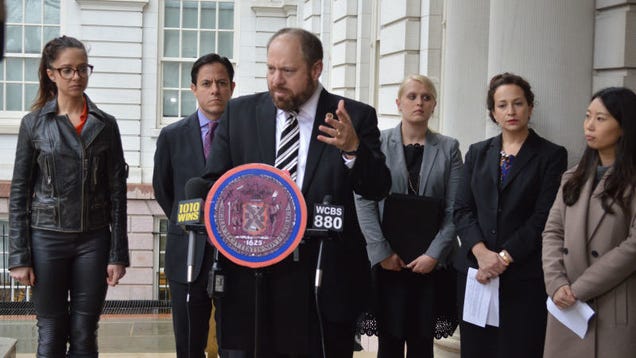 Revenge Porn Is Officially Punishable by Law in New York City
In November, the New York City Council unanimously voted to criminalize revenge porn. The criminal component of the law went into effect today, making it a misdemeanor offense in the city to share someone's intimate photos or videos online without their consent. Perpetrators can face up to one year in jail and a…Read more...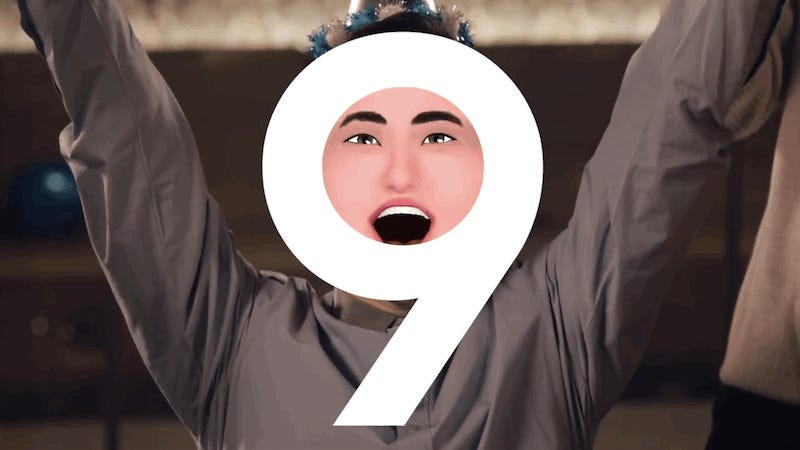 Samsung's Answer to Animoji Could Make You Look Like a Nintendo Mii
When Apple unveiled Animojis alongside the iPhone X, it was only a matter of time until other smartphone makers pushed out their own versions. Some look like straight-up clones of Apple's tech, like the kind you get on the mid-range Honor View 10. However, Samsung appears to be going for something a little different…Read more...


The A.V. Club Jerry Seinfeld is being sued for allegedly stealing the idea for Comedians In Cars Getting Coffee | Earther The Trump Administration Is Taking a Hatchet to Obama's Methane Rule | The Takeout Ginger-scallion magic sauce is 100 percent boss |Read more...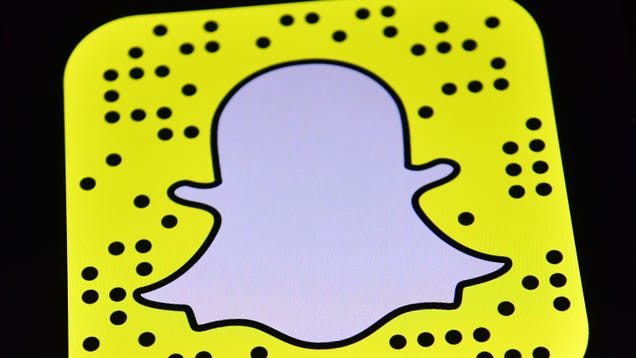 1 Million People Take Mild Action in Protest of Snapchat Update
People love to complain about app updates before eventually accepting the change and forgetting what the previous iteration was like altogether. But so far that is not the case with the latest Snapchat update. Some users are furious over the app's "disruptive" redesign—and rightfully so, it's a goddamn mess—and the…Read more...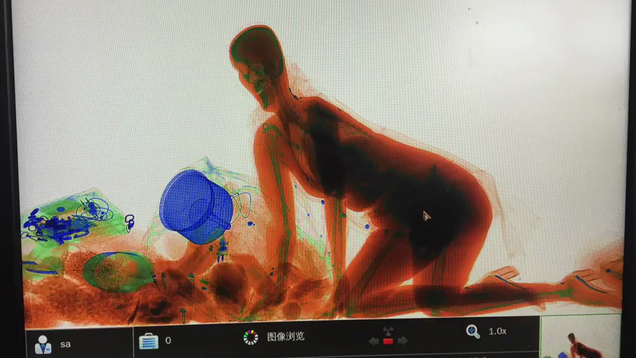 Don't Ride Through X-Ray Machines
X-ray radiation can mutate cells and cause cancer, but that was a small risk for a commuter who didn't want to part with her handbag at a southern China train station during the Lunar New Year.Read more...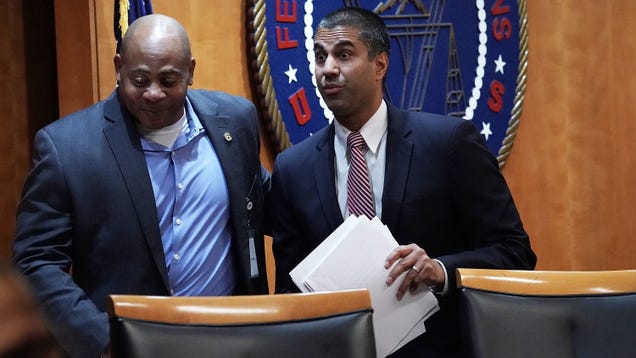 Ajit Pai Is Reportedly Being Investigated by the FCC's Inspector General
During his short tenure as chairman of the Federal Communications Commission, Ajit Pai has made so many destructive and controversial decisions it's hard to keep up. However, his decision to change broadcast TV ownership rules, clearing the way for a massive acquisition by the Sinclair Broadcast Group, has always been…Read more...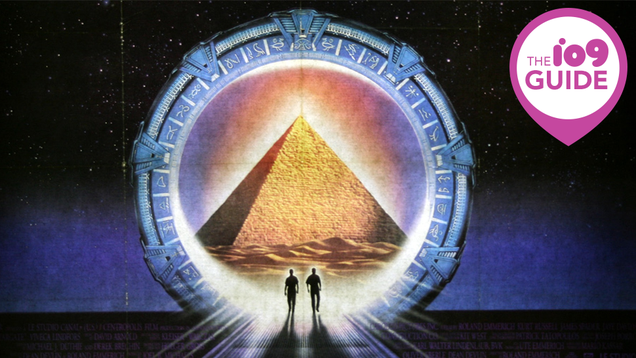 The Stargate franchise is… intimidating. There are three movies, three TV series (two of them exceedingly long-running), an animated series, and tonight, a new web series begins, titled Stargate: Origins. There's so much Stargate that even if you wanted to check out its epic saga of soldiers, interstellar travel, and…Read more...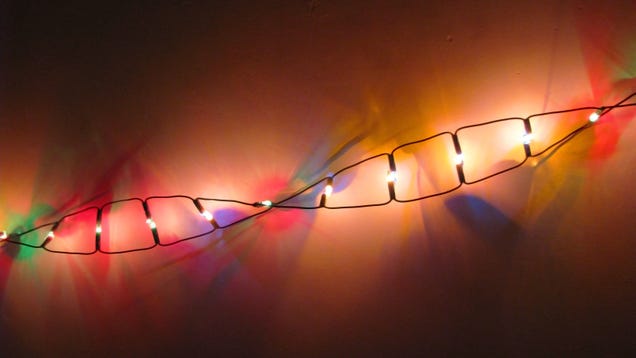 Scientists Made a 'Black Box' for Recording Data From Human Cells
The human body is made up of trillions and trillions cells. And of those trillions of cells, there are hundreds of different types, each with its own specific function, from forming your tissue and organs to reproduction and fighting off infections. They provide structure for the body, take in nutrients, and create…Read more...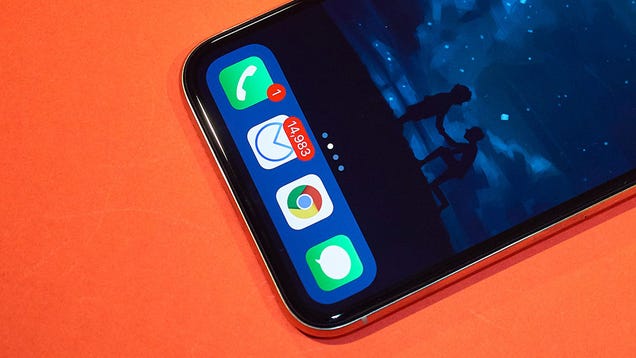 Another Weird iOS Bug Can Totally Screw Up Your Messaging Apps
The seemingly endless string of iOS bugs is a sickness that just won't go away. Just a month ago, people discovered that a strange hyperlink could cause Messages to crash. And while that issue has been patched, a new bug has appeared that can wreck Messages, along with a number of other major apps. Read more...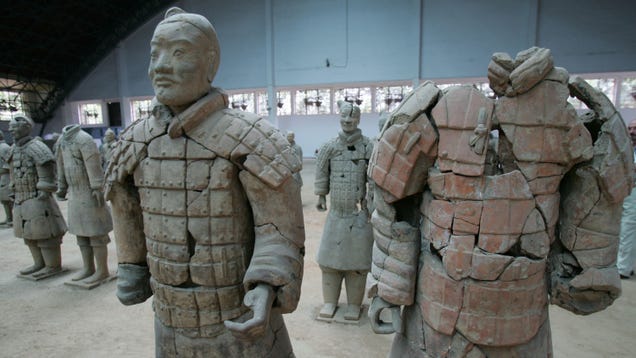 FBI Says Museum Party Attendee Took Selfie With Terracotta Warrior, Stole Thumb
If a museum hosts a tacky holiday party, it should be aware that it could bring in the type of people that will vandalize and steal historic art. Case in point: Authorities say an attendee at an ugly sweater party at The Franklin Institute snuck into the museum's Terracotta Army exhibit last December, cracked off a…Read more...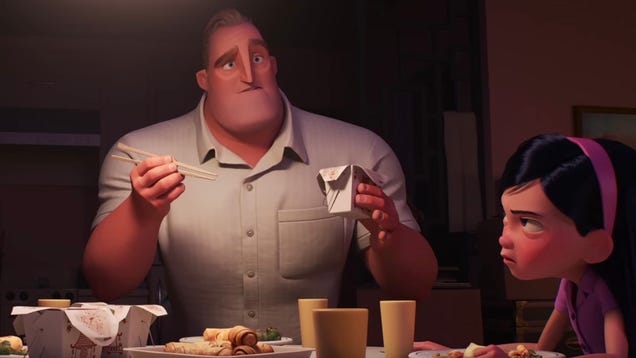 Our Best Look Yet at Incredibles 2 Has Lots of Superhero Parenting
The first teaser for Pixar's Incredibles 2 was just that. A tease. There was little to no indication of what, exactly, the highly anticipated sequel would be about. Well, during the Winter Olympics Wednesday, we finally got a good look at the movie. And it looks wonderful.Read more...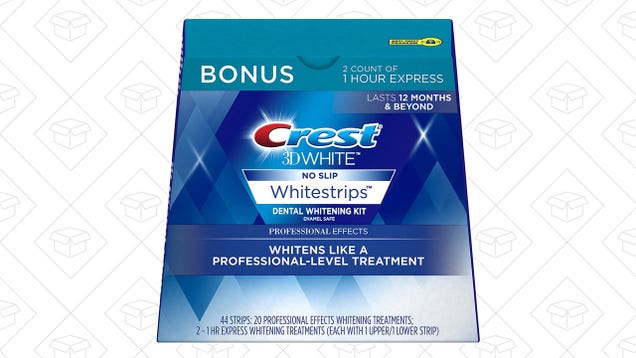 Stack Two Coupons For One of the Best Whitestrip Deals We've Seen
It's too late to brighten your smile for Valentine's Day photos, but it's never a bad time to whiten your teeth, and Amazon's running one of the best Crest 3D Whitestrips we've ever seen. Clip the $5 coupon on the product page, then use promo code 10CRESTPE22 at checkout to save an extra $10, bringing the 22-piece set…Read more...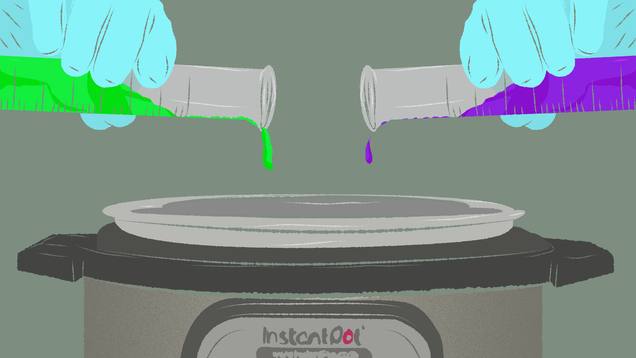 I Learned the Nerdy Cooking Secrets of Modernist Chefs—And You Can Too
You can cook food worthy of five-star restaurants, even if you're the most inexperienced cook. You just need to throw a bit of money at your kitchen. It will be wasteful. It will be expensive as hell. But it will taste incredible. I know this because I tried it. I lived the Modernist Cuisine lifestyle. Read more...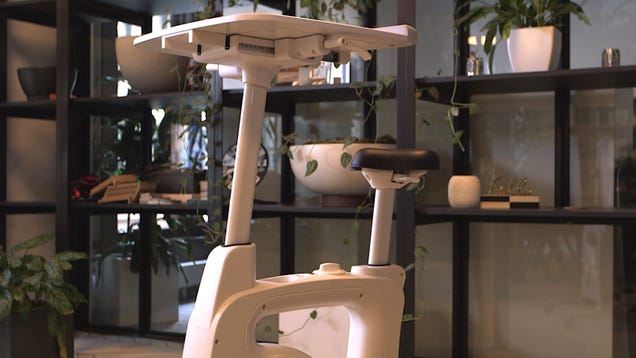 Working at This Desk Bike Didn't Make Me Any Fitter
I'm sitting, peddling, shaking, typing - all at my desk - in search of the "zone." The zone, you see, is an ellipsis. It's when you're deep in a project, busily ignorant of your surroundings, centered and focused on the task at hand. Read more...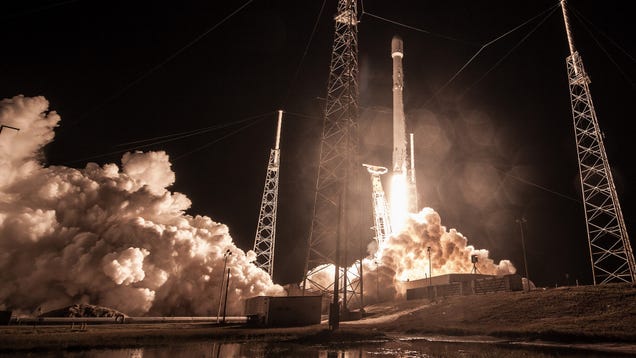 SpaceX's Ambitious Internet Satellite Project Is Set to Launch This Weekend
With the inaugural launch of the super-powerful Falcon Heavy rocket now in the books, SpaceX CEO Elon Musk is ready to set his sights on an ambitious project known as Starlink. On Saturday, SpaceX will launch two experimental mini-satellites—the first batch of what Musk hopes will eventually comprise a 4,000-satellite…Read more...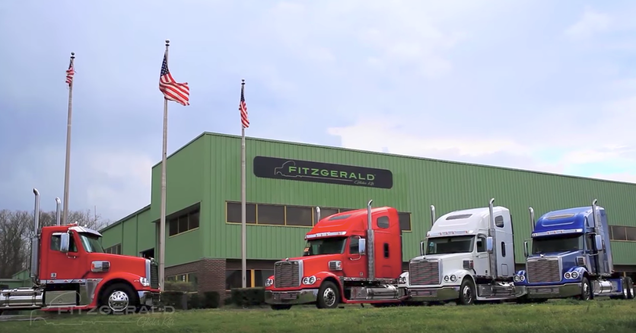 Trump Keeps Loophole That Allows Trucks To Vastly Exceed Emission Standards
Here's a familiar tale if you've followed the current administration in the White House. Former President Barack Obama tried to close an absurd loophole in federal law that would allow certain trucks to vastly (and we mean vastly) exceed emission standards. Current President Donald Trump—thanks to political…Read more...


Over 130 Top White House Officials Didn't Have Full Security Clearance
Over 130 people working in the executive branch didn't have full security clearances as of last November, NBC reported Wednesday evening, including senior advisers like Ivanka Trump, Jared Kushner, White House press secretary Sarah Huckabee Sanders, and White House counsel Don McGahn. A whopping 34 of those people…Read more...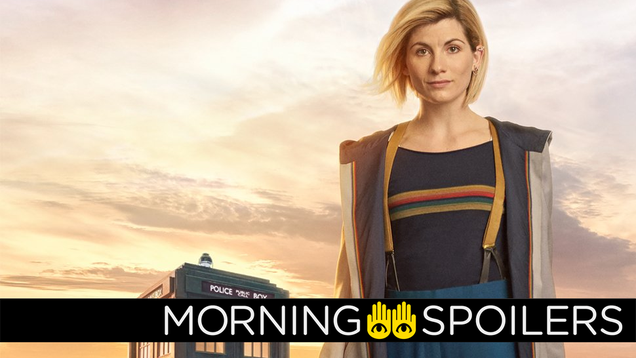 Doctor Who Could Be Visiting A Major Moment In the Civil Rights Movement
Solo: A Star Wars Story casts a surprising addition. Tessa Thompson still has hopes for an all-female Marvel teamup movie. The Lego Movie spinoff has lost its director. Plus, a familiar face is returning to Legends of Tomorrow, The Flash takes on a golden age comics villain, and a new look at The X-Files' return.…Read more...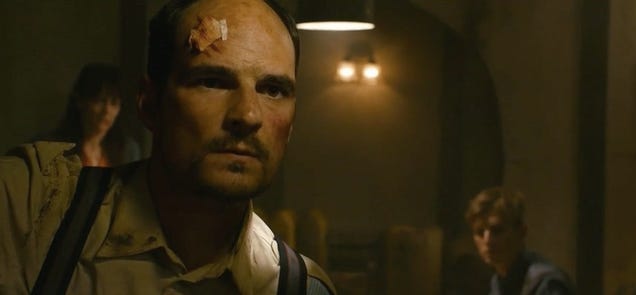 The Future of Farming Has Never Looked Scarier Than in This Eerie Short Film
A family of farmers sits around the dinner table, but something's wrong with the youngest son: He's started to feel terribly guilty about eating the animals they raise. But this is no ordinary family, and this act of adolescent rebellion is not at all what you expect... and neither is what happens next.Read more...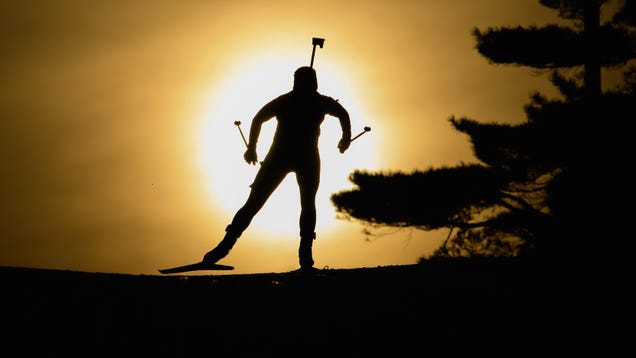 Why the Winter Olympics Has Less Doping Than the Summer Olympics
Russia was banned from competing in the Winter Olympics in Pyeongchang, a sweeping punishment for its brazen state-sponsored doping program, exposed in 2016. But even with the added scrutiny of athletes in 2018, the percentage of athletes using banned substances in Pyeongchang is probably lower than it was in Rio in…Read more...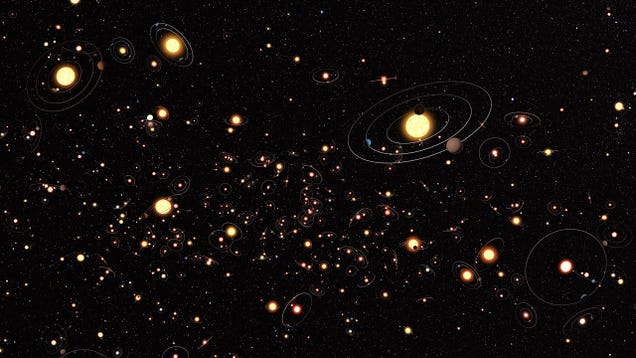 Kepler Astronomers Discover Treasure Trove of New Exoplanets
Kepler is the gift that keeps on giving. After suffering a major malfunction five years ago, the rejiggered space-based telescope continues to churn away, scanning the heavens for signs of distant worlds. An international team of astronomers has now released the results of its latest survey, confirming the existence…Read more...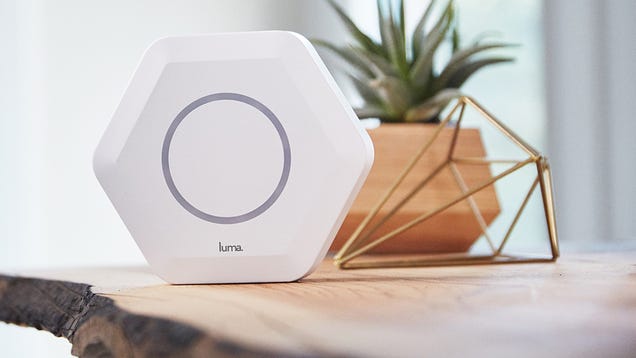 How to Build a Smart Home That's Actually Secure
The number of smart connected devices in our homes is growing at a rapid rate, and that means more opportunities for unwelcome visitors to access your devices and your network. Whether you've got one smart home device or one hundred, here's what to do to make sure your setup is as safe and secure as it can be.Read more...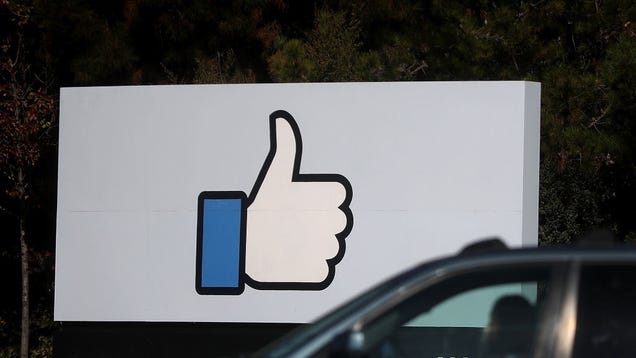 Facebook Turned Its Two-Factor Security 'Feature' Into the Worst Kind of Spam
Facebook is bleeding users, with external researchers estimating that the social network lost 2.8 million US users under 25 last year. Those losses have prompted Facebook to get more aggressive in its efforts to win users back—and the company has started using security prompts to encourage users to log into their…Read more...