Mail backup software MailStore Home 10.2 released
MailStore Home 10.2 is a new version of the popular mail backup software for the Microsoft Windows operating system. MailStore Home can back up local email accounts as well as POP3 and IMAP mailbox backups so that most online email services are covered by the application. As far as local programs are concerned, it supports Microsoft Outlook, Mozilla Thunderbird, Windows Mail and Windows Live Mail, and any email that is in a supported format such as PST or EML. It furthermore supports Microsoft E

2017-10-20 13:34:33
`
0
Remove the 3D Objects folder from This PC in Windows 10
Microsoft's Creators Update pushed 3D applications to the operating system, and the follow up update Fall Creators Update seems to have pushed even more 3D related content. While this may appeal to some users, I cannot see this as being a feature that is attractive to most desktop PC users. If you open File Explorer on Windows 10 after the installation of the Fall Creators Update, or new installation of that version, you will notice a new 3D Objects entry when you open This PC in Explorer. The f

2017-10-20 12:03:15
`
0
F-Droid 1.0 for Android is out
F-Droid 1.0 has been released today. It is an Android application that provides users with a catalog of free and open source software that users can install on their Android devices. Note: The last version is offered is on the main F-Droid homepage at the time of writing. You need to visit this page on the website to download version 1.0 of the application. Also, note that you need to enable the installation of apps from unknown sources in the settings to install the application. F-Droid is an a

2017-10-20 09:33:12
`
0
How to fix Memory Management Bluescreens on Windows 10
When I tried to install the Fall Creators Update for Windows 10 on my Surface Pro 4 device using Windows Update, I was greeted with a "Your PC ran into a problem" bluescreen message highlighting the stop code Memory Management. The error happened during the installation of a feature update, but reports on the Internet suggest that it may also happen on boot, installation of minor updates, or while the PC is in use. The full message on the bluescreen read: Your PC ran into a problem and needs to

2017-10-20 05:30:33
`
0
Ghacks Deals: Python Network Programming Bundle (98% off)
Python Network Programming is a three course bundle that you get currently for $24 instead of $697 on Ghacks Deals. The courses are designed for users of all experience levels covering all Python key concepts and focusing on networking. The three courses that are included in the bundle are: Python Network Programming: Build 7 Python Apps -- Learn to Write Powerful Code by Building Apps from Scratch Python Network Programming: Multivendor Environment -- Automate Network Tasks Fast & Easy Using

2017-10-19 18:07:18
`
0
Windows 10: Your phone linking is broken (for some)
One of the new features of Microsoft's Fall Creators Update for Windows 10 is the ability to link your phone and your Windows 10 PC. The main idea behind the feature is to send information from your smartphone, Android and iOS devices are supported, to the Windows 10 PC so that you can continue the activity on the system. You may send websites from your phone to your PC in this very first iteration of the feature. Setup is pretty straightforward: open the Settings application with the shortcut W

2017-10-19 16:55:20
`
1
How to analyze Windows 10 upgrade errors
Whenever updates for Windows are released, reports about issues with these updates are usually posted soon thereafter to forums and social media sites. This is true more so for big updates or upgrades, but even a small update can cause all kinds of issues. Microsoft released the Fall Creators Update this week, and reports are getting in that users run into the usual assortment of issues. I tried to upgrade two machines, one Surface Pro 4 device with light changes only to the default system, and

2017-10-19 14:18:41
`
1
uBlock Origin criticized for blocking CSP
The popular content blocking extension uBlock Origin blocks CSP reporting on websites that make use of it if it injects neutered scripts. CSP, Content Security Policy, can be used by web developers to whitelist code that is allowed to run on web properties. The idea behind the feature is to prevent attackers from injecting JavaScript on websites protected by CSP. CSP reports any attempt of interfering with the site's policies in regards to scripts to the webmaster. This happens when users connec

2017-10-19 07:44:32
`
2
More useful terminal commands for GNU/Linux
In a previous article we talked about some simple commands for people to learn to do in a Linux terminal like changing directories, or copying files. Today, I'll be showing you some more useful things the terminal newbie may or may not know how to do, like renaming files, shutting down and rebooting your machine, or scheduling a shutdown/reboot at a specific time. How to rename files Simply put, renaming files isn't done like it is in other systems, we aren't really renaming the file, we ...

2017-10-19 04:04:44
`
1
Microsoft releases .NET Framework 4.7.1
Microsoft released the .NET Framework 4.7.1 earlier today for all supported Windows operating systems. The company notes that the .NET Framework 4.7.1 is included in the Fall Creators Update for Windows 10, and that it is available as a web installer and offline installer for other versions of Windows. As far as the supported versions of Windows are concerned, Microsoft did not make any blunders this time as it released the framework for all supported client and server operating systems. Client

2017-10-18 13:20:46
`
6
Google Chrome 62 Stable is out
Google announced the availability of Google Chrome 62 Stable today for all supported operating systems on the Chrome Releases blog. The new version of Chrome brings the version of the web browser to 62.0.3202.62 on the stable channel. Chrome 62 comes with security fixes and other improvements. Google released the full change log on the Google Source website; beware, the log is very long and it may take hours for you to go through it. The following guide lists the most important changes of Chrome

2017-10-18 11:12:02
`
1
Ghacks Deals: The Complete Ethereum Blockchain Mastery Bundle (95% off)
The Complete Ethereum Blockchain Mastery Bundle includes four Ethereum development courses that take you from beginner to experienced developer. All four courses are designed for users of all experience levels. It helps you understand the blockchain ecosystem and technology, build decentralized applications, and other real-world projects. Ethereum Blockchain Developer: Build Projects Using Solidity --Discover One of the Largest, Most In-Depth Ethereum Blockchain Development Courses on the Web

2017-10-18 09:25:13
`
2
KB4043961 update for Windows 10 Fall Creators Update released
Microsoft released the update KB4043961 for the Windows 10 Fall Creators Update yesterday to address issues in the new version of Windows 10. The new Windows 10 version 1709 has been released yesterday, and while the roll out will take months, a first update for the operating system has been released already. Tip: read this if you want to install the Fall Creators Update for Windows 10 right now. KB4043961 KB4043961, or October 17, 2017—KB4043961 (OS Build 16299.19), addresses two issues, and...

2017-10-18 06:56:46
`
6
DoNotSpy10 3.0 for the Windows 10 Fall Creators Update
DoNotspy10 3.0.0.0 is a new version of the privacy software for Windows 10 that has been released today with support for the Fall Creators Update. Note: The developer website and/or DoNotSpy10 may be flagged or blocked by security software. The reason for that is the use of potentially unwanted software in the installer. It goes by the name FusionCore or InstallCore. If you want a privacy tool for the Fall Creators Update that is adware free, try O&O ShutUp 10 which was released yesterday, or ch

2017-10-18 05:29:30
`
1
How to skip the queue and install the Windows 10 Fall Creators Update today
Microsoft will release the Fall Creators Update for Windows 10 later today in a staged roll out. If past roll outs are an indicator, it may take months before the update is offered to all devices running the Windows 10 operating system. Microsoft will make the update available to newer devices running Windows 10 that pass compatibility checks. It will lower the bar gradually over the course of weeks and months to offer it to older devices as well. Luckily, there are ways to skip the queue to dow

2017-10-17 15:25:29
`
6
O&O ShutUp10 update arrives in time for the Fall Creators Update
The most recent version of the privacy tool for Windows 10 O&O ShutUp10 is fully compatible with Microsoft's Windows 10 Fall Creators Update that the company will release later today. It is a good idea usually to verify that preferences, installed applications and programs, and files, were not changed or removed during updates, and especially feature updates. While you can go through the list of privacy options manually to find obvious changes, you may use a privacy tool instead which simplifies

2017-10-17 11:42:34
`
7
My "The Complete Windows 10 Privacy Guide" book is out
I like to challenge myself when it comes to things I like, and one of the things that I always wanted to do in that regard was to write a book. Now, writing a book is a daunting task and I was never sure if I had the willpower to do so. I began writing a privacy guide for Windows 10 months ago; first by creating a structure for the book, and then filling that structure with content, and revisiting everything to add, edit and remove content in the process. Since I wanted it to be ready for Micros

2017-10-17 08:45:11
`
3
My personal take on the Windows 10 Fall Creators Update
Microsoft released the Creators Update for Windows 10 six months ago, and will release the Fall Creators Update for the operating system today (on October 17, 2017). The name implies that it is a follow up update of the Creators Update, and likely a scheme that Microsoft will make use of in the coming years to deliver feature updates for Windows 10 devices; a big update in March, and a smaller, refining update in September of the same year. Yes, the months don't necessarily mean that the feature

2017-10-17 04:58:53
`
4
Google rolls out new security features in Chrome for Windows
Google announced today that it is in the process of rolling out an update for Chrome for Windows that improves the security of the web browser. Chrome news have hit a rough patch in recent months thanks to malicious extensions doing all sorts of negative things when they are installed on user systems. The new safety features that Google announced today don't remedy that situation, but they may help Chrome users on Windows in other ways. Philippe Rivard, Chrome Cleanup product manager at Google l

2017-10-16 16:31:58
`
4
WiFi Key Reinstallation Attack breaks WPA2 encryption
Researchers have discovered a flaw in the Wi-Fi standard that attackers may use to eavesdrop on wireless network traffic even if WPA2 is used for protection. Key Reinstallation Attacks, or Krack Attacks, work against all Wi-Fi networks protected by WPA2, and may in some cases be used to inject and manipulate data as well. The attack works against WPA and WPA2 standards, and against personal and Enterprise networks that implement Wi-Fi. The attack method works against the 4-way handshake of the W

2017-10-16 10:52:58
`
2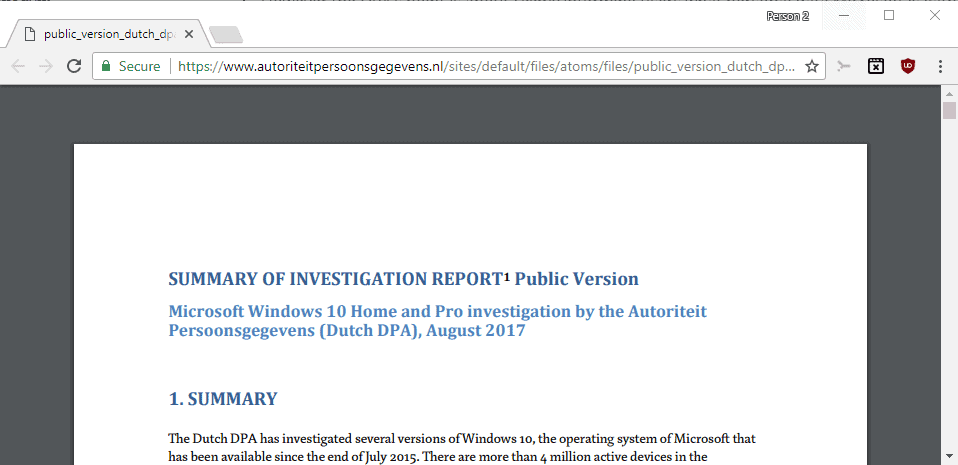 Microsoft butts heads with Dutch DPA over Windows 10 Privacy
The Dutch Data Protection Authority (Autoriteit Persoonsgegevens) released a report on October 13, 2017 in which it claimed that Microsoft breaches Dutch data protection laws with the company's Windows 10 operating system. The Dutch DPA states in the report that it found multiple privacy violations in regards to Microsoft's Windows 10 operating system. Key concerns expressed in the report are the creation of "intrusive" user profiles, a lack of transparency in regards to what data is collected,

2017-10-16 07:44:35
`
3
Winsat, or Windows System Assessment Tool, is a Windows program that benchmarks various components of machines when run. The main file that is run to benchmark the device is winsat.exe, and you find the executable file in the system32 folder of the Windows installation. Microsoft introduced Winsat back with Windows Vista, and shipped any new version of Windows (up to Windows 10) with the tool as well. The company used Winsat in Vista and Windows 7 to compute the Windows Experience Index (WEI), w

2017-10-16 06:31:07
`
3
Another Chrome extension horror story: coinhive and domain registration
I'm not sure if things get worse by the day when it comes to the Chrome extensions system and Store, or if things have been bad all along and are publicized more frequently in these days. Several popular Chrome extensions were hijacked back in July and August 2017, and then updated to push ads and spam to user devices. The first Chrome extension with an integrated Crypto Miner was launched in September 2017, and the popular Chrome extension Steam Inventory Helper started to monitor user activity

2017-10-15 16:04:15
`
8
File Copy tool TeraCopy 3.27 with PowerShell support
TeraCopy 3.27, the most recent version of the popular file copy tool for Windows, comes with support for running Powershell scripts. TeraCopy is a popular copy handler which can take over the default copy and move functions of Windows Explorer. Users who don't want to go as far may use it independently as well, for instance to run larger copy or move operations on Windows machines. The program supports a set of features that Windows' default copy and move functions don't support. This includes a

2017-10-15 06:10:14
`
13
Windows 10 Settings get Startup management option
While Microsoft is preparing to release the Windows 10 Fall Creators Update to Windows 10 devices worldwide next week, work on the coming version of Windows 10 began some time ago already. The new Windows 10 Insider Preview Build 17017 comes with some new features already that will likely make it in the first feature update of Windows 10 in 2018 (like version 1803 as Microsoft plans to release feature updates in March and September of each year for the operating system). Most of the new features

2017-10-14 09:20:31
`
39
What is pingsender.exe on Windows?
If you monitor the connections your computer makes, you may have noticed that a program called pingsender.exe is making regular connections to the Internet. Depending on the program or service that you use to monitor connections, you may get additional information right away. Windows Firewall Control for instance displays the remove IP address of the connection attempt, and the organization that signed the executable files. That organization is Mozilla Corporation, and the IP address belongs to

2017-10-14 04:05:42
`
11
Create Windows recovery media with AOMEI Windows PE Builder
AOMEI Windows PE Builder is a free program for Microsoft Windows devices that you may use to create bootable recovery media. Basically, what the program does is create a bootable Windows environment that is based Microsoft's Windows 10 operating system. It adds a couple of extra tools to it, and you may burn the solution to disc or USB Flash drive. The program needs to be installed on the system before you can start using it. It lists what it does on the first screen when you run it afterwards.

2017-10-13 11:55:08
`
23
LastPass Beta for Firefox 57+ released
LastPass, creators of the password management service of the same name, have released a beta version of LastPass for Firefox that is compatible with Firefox 57 and newer versions of the web browse. Mozilla plans to end support for legacy add-ons with the release of Firefox 57 on November 14th, 2017.  While users may switch to Firefox ESR or use the Nightly version to extend support for legacy add-ons, it is likely that most Firefox users won't go down that route. Companies and developers need t...

2017-10-13 09:29:18
`
21
Fix "jumping icons" on the Windows 10 desktop
The most recent versions of Windows 10 -- including the upcoming Fall Creators Update version -- have a bug that impacts the moving of icons on the desktop. When you try to move an icon to the very left side of the desktop, you may notice that it jumps right back to its original location when you try to do so. This does not happen all the time but it is annoying when it happens.  This means effectively that it is difficult to reorder icons on the Windows 10 desktop, and to place individual icon...

2017-10-13 07:58:21
`
9
KeePass 2.37 Password Manager is out
KeePass 2.37, the latest version of the popular password manager for Windows (and other operating systems), was released today to the public. The new version comes with new features and improvements, for instance an option to print an emergency sheet, or a similar passwords search option. KeePass 2.37 is available on the official website. You can download it and install it over an existing installation of the password manager, or use the portable version instead as it is offered as well. You may

2017-10-13 03:47:37
`
9
Google tests autoplaying videos on YouTube for Android
If you use the official YouTube application on an Android device, you may have noticed that videos start to play automatically when you open the application or browse the video selection on the Home screen. Android Central reports that Google runs an autoplaying videos test currently in the YouTube application for Android. Videos play without sound, but they do play to the end if you don't pause them or move on. This can be problematic right now as the default autoplay setting makes no distincti

2017-10-12 17:35:41
`
110
First look at Microsoft Edge Preview for Android
Microsoft has just released a beta version of the company's first Android web browser; Microsoft Edge Preview is the name of the browser, and while it shares the name with Windows 10's default browser, it is not based on Edge code for the most part but uses Google's Blink engine instead for the browser. Microsoft Edge Preview is available for Android 4.4. While listed as a beta version that is unlisted right now, it is available to all Google Play users, and not only users who participate in the

2017-10-12 16:24:56
`
36
Ghacks Deals: OSTraining Developer Courses: Lifetime Subscription (97% off)
Today's deal is special. It gives you lifetime access to all current and new OSTraining courses 97% off the regular price ($2000) so that you pay once $59.99 and that is it. The site is a leading resource when it comes to web development. It offers courses on WordPress, Joomla and Drupal, languages such as HTML, PHP or JavaScript, development tools, design frameworks and a lot more. You can watch more than 3000 videos currently on the site, and new courses are added regularly. Access is granted

2017-10-12 14:35:39
`
35
CompactGUI use Windows' Compact tool with a GUI
Compact is a handy tool that ships with Windows that you may use to compress files or directories on NTFS partitions. The difference to compressing files or folders using archive software like 7-Zip, WinRAR or Bandizip is that files remain accessible as they are. Windows decompresses then on demand. While you may notice a performance dip on old systems with weak processors, there is little in terms of performance loss when you work with compressed folders and files on machines with modern CPUs.

2017-10-12 11:49:35
`
10
How to delay the Windows 10 Fall Creators Update
Microsoft will release the Fall Creators Update for the company's Windows 10 operating system on October 17, 2017. The rollout of the update begins on that date but it may take months before the update is offered to all devices running a previous version of Windows 10. Admins may download the update manually, either through Windows Update, by downloading an update tool from Microsoft, or by downloading ISO images. While some users may want to download and install the Fall Creators Update immedia

2017-10-12 08:43:48
`
29
A Look at PyCharm Python IDE for Linux
Python is one of the most amazing languages one can learn to code. Python is very simple to learn when compared to some other languages out there, but yet, it's still very powerful, and is one of the most widely used languages for some programs and websites you may not even know used it, such as: Dropbox Vampire the Masquerade: Bloodlines Civilization IV MusicBrainz Picard Quod Libet Portage (from Gentoo) Developing with Python can be done simply with a text editor such as Nano if you really...

2017-10-12 04:02:49
`
16
Chrome has a massive copycat extensions problem
You have probably read about the fake Adblock Plus extension that 37000 Chrome users installed before it was removed by Google after it was reported to the company. The verification system of the Chrome Web Store is automated which means that any extension that passes automatic validation will be published in the store. Google won't do anything about it unless it is reported by users, developers, or security researchers. There have been plenty of incidents in the past where Chrome extensions wou

2017-10-11 11:57:14
`
44
Mozilla might offer Freemium services in the future
Mozilla is best known for the Firefox web browser but also for its active stance on privacy, net neutrality and openness. Mozilla products are available free of charge at the moment. Firefox is available for free for desktop and mobile systems, the email client Thunderbird, which was a Mozilla product until recently, is available for free, accounts are free on Mozilla sites, and there is no product to my best of knowledge that Mozilla offers that is not free. Mozilla CEO Chris Beard revealed in

2017-10-11 09:20:04
`
53
How to remove comments and other data from Word documents
Microsoft Word's commenting system is quite the useful addition to the program. You can use it to keep track of things that need to be done, add reference or additional information, or prepare the document before it gets passed on to another editor or team member. While comments are useful during the editing process, they should not be included when you distribute the Word document. Clients or book publishers for instance don't require these comments usually, and leaving them in the document may

2017-10-11 07:38:38
`
22
Microsoft improves Windows Update log formatting in Windows 10 version 1709
Microsoft switched the Windows Update log file from a plain text document to a binary file with the release of Windows 10. This meant, among other things, that you could not just open the log in a plain text editor to go through it, or use text editing tools to process it directly. Microsoft released a PowerShell cmdlet called Get-WindowsUpdateLog that Home users and administrators may use to convert the binary log file to a formatted plain text document. The cmdlet accepts several parameters, b

2017-10-11 05:00:21
`
26
Microsoft Security Updates October 2017 release
Microsoft released security updates for the company's Windows operating system, and other company products on the October 2017 Patch Tuesday. Our monthly series provides you with information on Microsoft's Patch Day. It features an overview of all security and non-security updates that Microsoft released since the last Patch day in September 2017. The monthly guide lists how different versions of Windows -- client and server -- and Microsoft's browsers Edge and Internet Explorer are affected. It

2017-10-10 17:24:22
`
80
Image Viewer IrfanView 4.50 is out
IrfanView 4.50 is the most recent version of the popular image viewer Irfanview that is available for Microsoft's Windows operating system. IrfanView is a long-standing image viewer for all supported versions of Microsoft Windows, and for many versions that are no longer supported. The viewer is free for personal use, and was uploaded by its developer to the Windows Store as well recently. The new version of IrfanView is already listed at the developer website. Windows users can download it as a

2017-10-10 16:04:31
`
66
Ghacks Deals: Ultimate DIY Arduino Robotics Bundle (90% off)
Save $271 and pay just $29 on this do it yourself Arduino Robotics bundle. The bundle includes the following three Arduino courses: Make an Arduino Robot -- For Arduino Makers Who Want to Learn the Hard (But Right) Way Arduino Robotics with the mBot -- An Introduction to Robotics with the World's Friendliest Learning Robot Advanced Arduino Boards and Tools -- Discover Some of the Tools That the Pros Use & Learn About Their Powers All three courses are designed for users of all experience leve

2017-10-10 14:10:12
`
20
Chrome to get tab-under blocker soon
Google plans to add tab-under blocking functionality to the company's Chrome web browser in a future version of the web browser. Tab-under refers to sites opening new tabs in the browser, for instance to display advertisement or get users to open third-party sites (often also to generate revenue from redirecting users). The browser's popup blocking functionality does not prevent sites from spawning these tabs. It can happen that you encounter sites that take this to the extreme by launching lots

2017-10-10 11:45:50
`
64
Windows 10 to support Ogg, Vorbis and Theora
Future versions of Microsoft's Windows 10 operating system and Microsoft Edge will support the open formats Ogg, Vorbis and Theora. The news comes from the Microsoft Edge development platform status page which lists all three formats as in development in Edge and the desktop, and other platforms Microsoft supports with Windows 10. Microsoft Edge is the default browser on Windows 10, even though the operating system ships with Internet Explorer 11 mainly for backwards compatibility reasons as wel

2017-10-10 08:08:18
`
22
How to deal with Firefox extensions that require cookies
Some Firefox extensions require access to local storage and/or indexedDB, for instance to store data on the user device Firefox runs on. These extensions may break if cookies are blocked. Extensions like uBlock Origin, uMatrix, or Stylus use the storage and thus require cookie permissions even if they don't set cookies to work correctly. While some come with fallbacks built-in to overcome this limitation, it is best to address this head on instead as indexedDB usage is usually the better option

2017-10-10 04:36:43
`
22
You can add custom ROMs to your SNES Classic Mini
The SNES Classic Edition, or Super Nintendo Entertainment System Nintendo Classic Mini, comes with 21 games that you can play. The device is not extensible, which means that you cannot play your original SNES game cartridges on it, nor purchase additional games online or in stores. While the selection is quite good for the price, especially when compared to how much an original SNES would cost with all the games included, you may at one time have a thirst for more games, apps or demos. The most

2017-10-09 16:25:29
`
27
Beware: Update KB4046355 removes Windows Media Player
The Windows 10 update KB4046355 for the Fall Creators Update -- listed as FeatureOnDemandMediaPlayer - Windows 10 for x64-based Systems (KB4046355) removes Windows Media Player from the operating system. The update has been released for the Insider version of Windows 10 version 1709, but not to all devices that run the beta version of the upcoming Fall Creators Update version of Windows 10. Note: A knowledgebase support page does not exist currently. It is unclear at this point in time whether t

2017-10-09 11:47:00
`
85
How to edit timestamps with Windows PowerShell
The following tutorial demonstrates how you can edit file timestamps -- create, last access and last write -- using Windows PowerShell. PowerShell is part of any modern version of Microsoft's Windows operating system. Microsoft shifted to PowerShell away from the Command Prompt on Windows 10, but did not remove the command prompt doing so. Windows 10 users and administrators have access to both, but the development focus lies clearly on PowerShell. Each file on Windows, and other operating syste

2017-10-09 08:31:00
`
32
Timestamp Clamper: fix out-of-range file time
Timestamp Clamper is a free portable program for Microsoft Windows devices to fix out-of-range timestamp issues of files. Incorrect file timestamps can be a bit problem on computer systems. Most file systems support a specific time range only, and files that have timestamps outside of that range may cause all kinds of issues. The author of Timestamp Clamper wrote the Windows program to address issues when replication, e.g. copying, files from one directory to another between storage that uses di

2017-10-09 04:42:51
`
27
This is Google Chrome's redesigned chrome://flags page
Google is working on a redesign of the Chrome's browser's chrome://flags page as part of the company's effort to modernize the web browser. The chrome://flags page of Google Chrome list experimental features for the most part. These features may not be ready yet for direct enabling for all Chrome browsers, or they may modify features of Chrome that are either on their way in, or on their way out. The current redesign version improves some things on the page, but it the changes may not be to ever

2017-10-08 14:38:06
`
10
The most important Firefox command line options
The Firefox web browser supports a number of command line options that it can be run with to customize startup of the web browser. You may have come upon some of them in the past, for instance the command -P "profile name" to start the browser with the specified profile, or -private to start a new private browsing session. The following guide lists important command line options for Firefox. It is not a complete list of all available options, as many are used only for specific purposes that have

2017-10-08 04:50:32
`
67
AIM Shutdown: AOL Instant Messenger alternatives
AOL announced yesterday that it will shut down the company's messaging service AOL Instant Messenger (AIM) on December 15th, 2017. AOL Instant Messenger was initially part of AOL Desktop before it was released as a standalone software program for Windows in 1997. It became a popular messaging client in a crowded market, as it competed with programs like Yahoo Messenger, ICQ or MSN Messenger for market share. The popularity of messaging client waned with the rise of new services and smartphones.

2017-10-07 07:37:36
`
47
Google: Microsoft's focus on Windows 10 puts Windows 7 and 8 users at risk
Microsoft's focus on Windows 10 in regards to security puts users who run devices with older but still supported versions of Windows at risk according to Google Project Zero researcher Mateusz Jurczyk. The researcher noticed that previous versions of Windows -- Windows 7 and 8.1 to be precise -- were affected by the vulnerability described as Windows Kernel pool memory disclosure in win32k!NtGdiGetGlyphOutline whereas Windows 10 was not. Microsoft fixed the issue on Windows 10, while it did not

2017-10-07 03:26:59
`
37
Mozilla to launch Firefox Cliqz Experiment with data collecting
Mozilla plans to launch a new Firefox experiment for Cliqz next week for German Firefox users who download the browser from the organization's website. Mozilla has a business relationship with Cliqz GMBH. The German company acquired Ghostery recently, and maintains its own web browser as well as browser extensions. Mozilla's relationship with Cliqz began when the company added Cliqz as a social provider in Firefox. Cliqz was launched in early 2017 as a Firefox Test Pilot experiment. Cliqz adds r

2017-10-06 11:53:21
`
49
Nuke Anything Enhanced for Firefox 57
Nuke Anything Enhanced is the WebExtensions based version of the popular web page element remover for the Firefox web browser. We reviewed Nuke Anything Enhanced back in 2007 for the first time; back then, as a tool to prepare web pages for printing. The main feature of the browser extension for Firefox is to remove page elements such as menus, advertisement, media, and practically anything else that is visible on the screen from websites. This process is temporary online, and ideal for preparin

2017-10-06 10:40:31
`
105
Windows 10 Initial Setup Script review
Windows 10 Initial Setup Script is a PowerShell script that you may run on Windows 10 devices to make all kinds of post-setup changes to the operating system. While it is designed for post-setup operation, it can also be useful after bigger operating system updates that sometimes make changes to the configuration. The script itself is not designed to be run right away. The developer recommends that users and administrators go through it to enable or disable modifications that it makes. Since it

2017-10-06 03:56:59
`
35
Ghacks Deals: Zero to Hero Cyber Security Hacker Bundle (91% off)
Zero to Hero Cyber Security Hacker Bundle is an eLearning bundle that teaches you the fundamentals of hacking, information gathering, and web, network and system hacking. Some courses are designed for users of all experience levels, other for beginning, intermediate or even advanced users. The regular price of the package is $360, but you can get it 91% for just $29 currently on Ghacks Deals. Here is the list of all courses included in the bundle: Fundamentals of Computer Hacking -- Have you e

2017-10-05 18:11:20
`
128
Microsoft plans to release Edge for iOS and Android
Microsoft announced plans today to release a version of the company's Microsoft Edge web browser for Apple's iOS and Google's Android operating system. The release for Apple's iOS operating system seems to be available already, the Android release is still under development. Both releases are currently only available to Windows Insiders who run a copy of the Windows 10 Fall Creators Update on their machine. All users may open the promotional page for Microsoft Edge for iOS and Android however. M

2017-10-05 15:53:22
`
132
Windows Firewall Control 5 is out
Windows Firewall Control 5 is the latest version of the popular Windows program that gives you better firewall management options and control. The program is available as a free, somewhat limited, version, and a version that is unlocked when you make a donation. Windows Firewall Control free comes with lots of interesting features that improve Windows Firewall in one way or another. It may block other programs from adding rules to Windows Firewall, makes it easier to add new rules itself, may di

2017-10-05 13:24:45
`
73
Mozilla to end Firefox support for Windows XP and Vista in June 2018
Mozilla, maker of the Firefox web browser, announced today that Firefox support for Windows XP and Windows Vista will be ended in June 2018. Mozilla moved Windows XP and Windows Vista users of Firefox to the web browser's ESR channel during the release of Firefox 53. This meant basically that Firefox 52.x was the last stable channel version of Firefox for those operating systems, and that XP and Vista users could not run Firefox 53 on their devices. Firefox ESR is the Extended Support Release of

2017-10-05 06:54:33
`
8
Firefox 56: new preferences and Ghacks user.js changes
Mozilla released Firefox 56 to the release channel a couple of days ago, and this overview provides you with information on new, updated, and removed changes made to the Ghacks user.js file. The Ghacks user.js file for Firefox is a configuration file for Firefox that you use to control settings of Firefox. Its focus is on privacy and security, and it is without doubt the most comprehensive configuration file and source of information that is out there. You may head over to the official project w

2017-10-05 03:39:55
`
76
Waterfox 55.2 update and roadmap released
A new version of the Waterfox web browser, Waterfox 55.2 was released today paving the way for keeping legacy add-on support in the web browser. The web browser uses its own profile directory in that version. It used the same location that Firefox uses up until that version. Existing users will have most of their settings and data migrated to the new user profile location. The lead developer Alex Kontos notes that the process may reset some settings and add-ons however. NOTE: SOME SETTINGS (INCL

2017-10-04 16:49:48
`
80
Analyze files with Payload Security
Payload Security is an online service that analyzes files in virtual environments to determine whether they are potentially malicious in nature. It can best be describes as a free analysis environment on the Internet that runs the selected file through a series of tests that include, among other options, running the file in a virtual environment, testing it with multiple antivirus engines, and observing behavior when run on a system. What is particularly interesting about this is that it display

2017-10-04 12:50:23
`
60
Microsoft Office October 2017 Patch Day
Microsoft released a batch of non-security patches for Microsoft Office 2013 and Microsoft Office 2016 on the October 2017 Office Patch day. The following guide provides a list of all patches that Microsoft released for supported Office versions. Each listing includes a description of the changes of the patch, as well as links to Microsoft support pages and direct downloads if available. Check out Günter Born's coverage as well on his English blog. Office 2013 updates October 2017 All updates ...

2017-10-04 07:53:04
`
87
Installing Timeshift into Linux Mint 18.2 non-BTRFS
In a previous article it was stated that the next version of Linux Mint would include a piece of software called Timeshift, a very popular and powerful backup utility. However, currently Timeshift is not included with Linux Mint, and so an article about how to install it, and use it, is in order. What is Timeshift? Timeshift is a system backup and restore utility similar to Windows System Restore, or Mac OSX Time Machine. Essentially, Timeshift will allow you to make routine backups of your sys

2017-10-04 03:26:37
`
65
Mozilla needs to adjust new review process for Firefox add-ons
Mozilla switched to a new Firefox add-ons review system recently which reduces the time it takes before extensions are listed on Mozilla AMO (the official Firefox add-ons store). Firefox add-ons are scanned automatically when developers upload them, and when the add-ons pass the checks, are published on the website. Mozilla employees and volunteers will continue to review all add-ons and add-on updates manually, but that happens after the publication of the add-on. This means that there is a per

2017-10-03 13:34:35
`
117
Detect Outlook Ransomware emails with RansomSaver
RansomSaver is an add-in for Microsoft's Outlook messaging software that detects and protects against ransomware emails. Email is one of the main attack vectors of ransomware attacks. While there are other means of distribution, email is still a lucrative option considering that attackers may send emails to millions of users in a short period of time. It does not help either that a lot of computer users are still undiscerning when it comes to email security. If all users would be very careful in

2017-10-03 13:06:35
`
114
Ghacks Deals: AWS Solution Architect Certification Training Bundle (92% off)
The AWS Solution Architect Certification Training Bundle introduces you to AWS cloud computing.  It teaches you the fundamentals and covers services such as EC2 or S3, and using the AWS management console. The course is designed for users of all experience levels, and includes a certification of completion. The regular price is $649, but it is available for just $49 for a limited period of time. Make sure you check out the description, specs and information on the instructor on the Ghacks Deal...

2017-10-03 09:55:31
`
98
Textify text copying tool update brings web integration
Textify is a free program for Microsoft Windows devices to copy pretty much any text from any dialog box or element that you see on the screen. This includes text that cannot be copied by normal means. Note: The release version of Textify, version 1.6.1 at the time of writing, is flagged as malicious by many antivirus engines. A check on Virustotal returned 17 hits out of 65 engines with major players such as Avast, Avira, Kaspersky and Symantec all flagging the program. Most flag it as generic

2017-10-03 08:56:17
`
128
Mozilla changes review process for Firefox WebExtensions
Mozilla will switch the manual review process to an automated process for WebExtension submissions to the official Mozilla Add-ons website (Mozilla AMO). Developers who submitted a browser add-on for Firefox up until now had to go through a sometimes lengthy review process before their new add-ons or add-on updates would become available on Mozilla AMO. Mozilla reviewed any add-on manually that developers submitted to the store. This meant better vetting of browser extensions, and a lower risk t

2017-10-03 03:57:54
`
56
Microsoft will discontinue Groove Music Pass and music purchase
Microsoft announced plans today to discontinue the company's Groove Music Pass music streaming service, and music purchases in the Windows Store. The company partnered up with the music streaming service Spotify to give users of its services an option to migrate to the service beginning as early as this week. Microsoft plans to shut down the functionality to stream, purchase and download music in Groove Music after December 31, 2017. Groove Music itself won't be shut down, but it can only be use

2017-10-02 19:54:26
`
134
Block mining scripts with Anti-WebMiner for Windows
Anti-WebMiner is a free portable program for Microsoft Windows devices that will add protection to the system against various web mining scripts when used. Web mining refers to the mining of cryptographic currencies in the web browser, usually in form of JavaScript that is run on sites that are visited in the browser. I talked about ways to block miners that run on websites, and saw first instances of Chrome extensions with integrated miners. While I'm not against mining in the browser, it has t

2017-10-02 18:36:38
`
94
Commercial Password Manager Test: 4 out of 9 recommendable
German testing authority Stiftung Warentest looked closely at nine commercial password managers in its most recent print issue. The password managers that it reviewed and looked were: Dashlane Premium, McAfee True Key Premium, Keeper Security, LastPass Premium, 1Password, SafeInCloud, F-Secure Key Premium, Kaspersky Password Manager, and Enpass. Only the first four mentioned password managers received a recommendation by the testers. All password managers were graded based on security, usability

2017-10-02 12:22:03
`
119
Mozilla launches Firefox Rocket browser in Indonesia
First traces of a new web browser by Mozilla, makers of Firefox, appeared today on the company's official support website. Firefox Rocket is the name of the new browser, and it is only available in Indonesia currently. The description on Mozilla's support web page reveals some information: Firefox Rocket is a light but feature-packed browser that lets you save data and phone storage, capture and share content, and browse quickly even on slow connections. The very same page highlights some of the

2017-10-02 07:01:22
`
68
VLC 2.5 for Android is a major update
Videolan released a new version of the media player VLC for Android yesterday. VLC 2.5 for Android is a major update to the media player for Google's Android operating system that introduces lots of new features and improvements. The new version of VLC for Android introduces support for 360° video, Android Auto, picture in picture mode, and many more features. VLC for Android 2.5 is available on Google Play already. Interested users can open the Google Play application on their Android device t...

2017-10-02 06:41:54
`
80
Microsoft explains Edge's low extensions count
Microsoft launched extension support in Windows 10's default system browser Microsoft Edge back in 2016 with the release of the Anniversary Update of Windows 10. The new version of Edge launched with support for just a handful of extensions, and things did not speed up at all over the course of the year. It was not clear why there were so few extensions available for Microsoft Edge. Was it because of a lack of developer interest? Because of Microsoft limiting what is released for the browser? We

2017-10-02 04:26:51
`
58
Paint.net lands in Windows Store (but is not free)
A version of the popular image editor Paint.net was published to Windows Store as a Universal Windows Platform application recently. It is not that uncommon for Windows programs to be published as Windows apps to the Store thanks to Microsoft releasing tools like the Desktop Bridge converter which help developers port their software programs to the store with minimal effort. The converter does all the hard lifting in best case. While developers may add UWP specific features to it or change some

2017-10-01 09:07:42
`
193
Atari to release new gaming console that runs Linux
Atari has recently announces that they are coming back into the console market, and are releasing a console dubbed the "AtariBox" and the kicker is; it runs Linux! On Sept. 26, Atari released a new photo of the Ataribox, made of real wood, and I must say that it looks absolutely gorgeous! A video of the device can be found on the Ataribox homepage. Spec wise, the Ataribox is going to be running some form of custom AMD processor with Radeon graphics, which was a little bit of a surprise to me...

2017-10-01 05:21:21
`
145
SUSE Studio Merges Open Build Service to create SUSE Studio Express
If you've never heard of SUSE Studio, it's a service offered by SUSE that allows users to create their own respins of their GNU/Linux Operating System; OBS, is a tool designed for easing package distribution. Both tools use the same engine, and so SUSE has decided to merge the two into one product and rebrand the system, "SUSE Studio Express" Andreas Jaeger, an author for the SUSE blog published an article the merger. In it, Jaeger writes, "Reviewing these offerings and the way the ima...

2017-09-30 07:04:28
`
170
The C64 Mini Retro system with games announced
The C64 Mini is a new all-in-one retro system that the company Retro Games Limited plans to release in 2018 to the market. Retro consoles and systems seem to be in high demand in this time and age. Nintendo's two retro consoles, the NES Mini and the SNES Mini, are in high demand and sold out nearly anywhere. But Nintendo is not the only company that is releasing retro consoles. A new Atari console will come out later (Mike will publish an article about that soon as it runs Linux), and now there

2017-09-30 05:59:11
`
50
How to enable Developer Options on Xiaomi Redmi Android devices
I bought a Xiaomi Redmi 4 Android device recently, my second Xiaomi device after the Xiaomi Mi4c that I bought some time ago. Both devices come with Xiaomi's MIUI system that customizes quite a few things on the device. One of the things that I like to do on Android devices is to enable Developer Mode as it gives me access to a number of important features and options that are not available otherwise. One of the features that Developer Mode gives you access to is USB Debugging Mode for instance

2017-09-29 13:32:31
`
85
Firefox: Adblock Plus lost millions of users in the past year
Adblock Plus is the most popular content blocking add-on for the Mozilla Firefox web browser. In fact, it is the most popular add-on for Firefox by a large margin. Its more than 14 million users beat second placed uBlock Origin by more than 10 million users right now. But things are not super great if you take a look at how Adblock Plus' user count developed over the past year. A quick check reveals that the add-ons daily average user count and daily downloads are down. An average of 21.4 millio

2017-09-29 11:51:02
`
73
Ubuntu to drop 32bit Desktop ISO images from 17.10 release
Unsurprisingly, Ubuntu has planned to follow the same path that other major distributions have, and drop 32bit ISO images for upcoming releases. Dimitri John Ledkov from Canonical, sent out a message through their mailing list to the release team, instructing them to not release a 32bit ISO for the upcoming Ubuntu release. Ledkov says, "Dear Release team, Please action the below and remove Ubuntu Desktop i386 daily-live images from the release manifest for Beta and Final milestones of 17.10 an...

2017-09-29 09:00:59
`
47
Backup tool Macrium Reflect 7 Free Edition released
Macrium Reflect 7 Free Edition is the latest version of the data backup program for Microsoft Windows devices. The new version of the application can be downloaded from the developer website. It is offered as a web installer that requires Internet access to download all program components to the local system. Note that the download may exceed 800 Megabytes if you select to download the program with PE (Preinstallation environment) components. Macrium Reflect checks for new versions automatically

2017-09-29 05:13:17
`
57
Bootice: manipulate the MBR or PBR of hard disks
Bootice is a free portable program for Microsoft Windows devices to manipulate the Master Boot Record (MBR) or the Partition Boot Record (PBR) of hard disks. While most Windows users probably never come in contact with boot records, there are situations where it is necessary to do so. This may be the case if you want to create dual-boot environments, return from a multi-boot system to a single operating system, or address corruption or other issues that affect boot records. It is always a good i

2017-09-28 17:11:37
`
152
Ghacks Deals: The Complete C Programming Bonus Bundle (95% off)
The Complete C Programming Bonus Bundle is a big eLearning package that is all about the C programming language. It includes ten courses in total that that cover beginner, intermediate and advanced topics. It includes several C programming tutorials designed to teach you the language, and also courses that touch advanced subjects such as pointers, algorithms or puzzles that are often used in job interviews. The following ten courses are included: Advanced C Programming: Pointers --Master Point

2017-09-28 13:58:18
`
119
Internet Explorer bug leaks what you type to sites
If you are using Microsoft's Internet Explorer currently, all what you type in the browser's address bar may be leaked to sites. The issue was disclosed by security researcher Manuel Caballero on Tuesday on the Broken Browser website. When a script is executed inside an object-html tag, the location object will get confused and return the main location instead of its own. To be precise, it will return the text written in the address bar so whatever the user types there will be accessible by the

2017-09-28 07:24:55
`
138
Chrome's Get To Chrome Faster Campaign on Windows 10
Google runs a campaign currently for its web browser Google Chrome on Windows 10 that informs users on how to make Chrome the default browser on the system. It is unclear how large the campaign is, but it seems to target Chrome installations on Windows 10 if the web browser is not set as the default system browser. Windows 10 devices ship with Microsoft Edge as the default web browser, and it is not as easy to change the default browser anymore. Most applications ask users to visit the Settings

2017-09-28 06:43:06
`
127
Firefox 56.0: find out what is new
Mozilla will release Firefox 56.0 to the Stable channel on September 29th, 2017. The new Firefox version will be made available to all users of the Stable channel. The new version of the browser can best be described as a minor release in anticipation of the biggest Firefox release in history: Firefox 57. All Firefox channels are or have been updated to a new release version. Firefox Stable to version 56, Firefox Beta and Developer to version 57, and Firefox Nightly to version 58. The Firefox ES

2017-09-28 04:05:24
`
74
Blizzard Battle.net app for Android
Blizzard Entertainment published Blizzard Battle.net, a new application for Google's Android operating system recently. The new application focuses on communication more than anything else. You may use it to chat with your Battle.net friends, to manage friends, invite new friends and do other friend and chat related things using the application. One of the shortcoming of Blizzard's Battle.net service up until now was that it did not support a mobile application to chat with friends while on the

2017-09-27 13:16:00
`
135
Opera 48.0 Stable released: find out what is new
Opera Software released a new stable version of the Opera web browser, Opera 48.0 Stable, today for all supported operating systems. The new version of the web browser introduces a whole range of new features and improvements. Opera 48 ships with an updated conversion tool to convert units, currencies and time zones, an improved pop up search tool, and a new snapshot tool to capture web pages. Existing Opera users may use the browser's built-in automatic update functionality to upgrade to the ne

2017-09-27 11:08:23
`
150
Ignite 2017: big list of OneDrive changes announced
Microsoft announced a big list of changes that it plans to launch to the company's file synchronization and storage service OneDrive. The upcoming improvements were revealed during the 2017 Microsoft Ignite conference. The changes can be divided into Enterprise and business changes, and changes for users who are using OneDrive on their devices or online. One of the bigger changes is still the return of placeholder files in OneDrive. Microsoft will launch the feature that it calls Files On-Demand

2017-09-27 10:28:56
`
115
Tree Style Tab is a WebExtension now
The developer of the popular Tree Style Tab add-on for Firefox has published a new version of the add-on to Mozilla AMO that is a WebExtension. Tree Style Tab is a long standing add-on for the Firefox web browser that moves tabs to a sidebar to display them there. The sidebar holds more tabs in the visual area of the browser window than the Firefox tab bar, and it frees up vertical space as well by hiding the tab bar automatically. Also, it makes it a lot easier to reorder tabs using drag and dr

2017-09-27 05:19:23
`
76
Ghacks Deals: Linux Academy: 1-Year Subscription (57% off)
Linux Academy is an eLearning service that offers courses on Linux, cloud computing, DevOps, and other development related topics. If you check out the Linux category, you find introductory courses that teach you Linux from the ground up, that teach you the use of Linux tools, how to get starting with programming languages on Linux, and more. The other categories offer equally excellent content. AWS includes introductions, certification, and more. Linux Academy features eLearning courses, prep

2017-09-26 16:36:00
`
102
Mozilla: Firefox Quantum twice as fast as Firefox six months ago
Firefox 57 is twice as fast as Firefox versions that were released six months ago according to Mozilla, the organization behind the web browser. Mozilla decided to give Firefox 57 a special name, Firefox Quantum, to highlight the speed gains of that version. The organization plans to release Firefox 57 on November 14th, 2017 to the Firefox release channel. Mozilla used the web benchmark Speedometer 2.0 to benchmark Firefox 52, a version of Firefox released in March 2017, with Firefox 57 -- Firef

2017-09-26 14:49:26
`
35
Bitdefender Ransomware Recognition Tool
Bitdefender Ransomware Recognition Tool is a new program for Windows by security company Bitdefender to identify ransomware. One of the things that can be quite difficult when a system has been hit with a successful ransomware attack is the identification of the ransomware itself. Identifying the ransomware is the first step in finding out more about it. It may tell you if there is a way to decrypt the data that the ransomware encrypted for free for instance. Tip: You may use the online service

2017-09-26 12:40:15
`
95
Pale Moon 27.5 is out featuring lots of changes
Pale Moon 27.5.0, released on September 26th, 2017, is the latest version of the popular cross-platform web browser. The new version is a major update according to the release notes. Pale Moon users can run checks for updates in the browser to have the new version picked up and installed directly; anyone else may head over to the official Pale Moon website to download Pale Moon 27.5.0 directly from the website. You can run checks for updates with clicks on Pale Moon > Help > About Pale Moon in t

2017-09-26 11:58:38
`
80
Google Finance: portfolio feature will be retired in November 2017
Google announced today that it will retire the portfolio feature of Google Finance in mid-November 2017. The company creates an updated version of Google Finance currently, and will remove the portfolio feature as part of that process. Google states on a support page that highlights the deprecation of the feature that it wants to make the site more accessible and user-friendly, and as part of that restructuring, the portfolios feature has to go. In an ongoing effort to make Google Finance more a

2017-09-26 07:46:23
`
25
Would you pay for a Windows subscription?
The Windows operating system is offered as a standalone buy-once version and as a subscription-based version right now. The standalone version of Windows 10 is available as a full retail version, as a system builder version, as an upgrade, and as something that is already on a machine that you buy. The subscription-based version is called Microsoft 365, and it too is available in different service plans. Microsoft 365 Business is the only plan currently that is available to anyone even though it

2017-09-26 04:39:13
`
51