WriteWay Pro: free book-writing software
WriteWay Pro is a free book-writing software for Microsoft Windows that assists authors in writing novels and other types of books. While you can start writing books in plain Notepad, Microsoft Word, and pretty much any other text editor out there, you may find the extra functionality that specialized book writing software offers useful. While you can use Notepad or Word to keep track of information, e.g. characters or the storyboard, you will have to jump around in a single document or use mult

2017-12-15 08:42:08
`
1
GlassWire 2 launches with Virustotal support, Evil Twin detection
GlassWire released version 2.0 of the personal firewall and security program for Microsoft's Windows operating system. The new major version of the application includes improvements and new features including support for Virustotal scanning, Evil Twin detection, high DPI support. We reviewed GlassWire back in 2014 when the application was first released, and published a feature comparison of all paid GlassWire versions of the application a year later. GlassWire 2.0 is a free upgrade from version

2017-12-15 07:55:24
`
0
AutoplayStopper stops autoplaying videos everywhere
Autoplaying videos are surely one of the biggest annoyances that you may run into on the Internet. They suck up bandwidth, may use CPU, and are distracting. If you add sound to the mix, they are one of the most annoying types of content that you encounter on the Internet. Sites love them; they generate a lot of revenue for these sites if they are monetized. Users hate them, for the reasons mentioned above. Google, the world's largest advertising company, announced this year that it will do somet

2017-12-15 06:33:35
`
1
You can steal Chrome data (if you have local access)
Whenever someone reports a vulnerability that requires local access to a system, a discussion erupts about whether that is really a vulnerability that needs fixing. One side argues that it is, considering that there are numerous ways that someone could gain local access to a device. The other side argues that it is not, as an attacker can do anything on the machine anyway with local access (at the user's level). A issue in Chrome was revealed recently by Lior Margalit on Medium that allows anyon

2017-12-14 16:11:50
`
1
Ghacks Deals: Voice, Chat and Vision Automation Bundle (96% off)
Voice, Chat and Vision Automation Bundle is an eLearning bundle that includes five courses in total. The courses are all about building voice, chat and vision applications using Amazon Alexa, Sikuli, Google DialogFlow, or Amazon Lex. The following courses are included in the bundle: Building Voice Apps Using Amazon Alexa -- Alexa Skills for Echo & Other Amazon Devices Building Vision Apps Using Sikuli -- Explore the Power of Machine Learning for Automating Unusual Stuff Using Elasticsearch and

2017-12-14 14:15:22
`
1
Windows 10 Fall Creators Update includes (optional) OpenSSH Client and Server
Microsoft added support for the OpenSSH protocol in the Fall Creators Update version of Windows 10. The feature is not installed by default, and listed as beta right now. That, and the fact that it is far from feature complete when compared to third-party OpenSSH clients makes it unusable in most work environments right now. Windows admins and users who needed support for OpenSSH, for instance to communicate with Linux servers or machines, had to use third-party clients on Windows up until now t

2017-12-14 11:51:16
`
1
Firefox 59: mark HTTP as insecure
The Web migrates from using HTTP predominantly to HTTPS. More than 66% of all Firefox page loads are now secured by HTTPS, an increase of 20% when compared to the January figure of this year. HTTPS encrypts the connection to protect it against tampering or spying. The rise of Lets Encrypt, a service that offers certificates for free, and the push to HTTPS by Google Search, and companies that create browsers, surely played a role in the big year over year increase. Most web browsers will mark non

2017-12-14 08:29:16
`
1
Station: desktop workstation for Google Apps, Twitter, hundreds more
Station is a free desktop program for Microsoft Windows and Apple Mac OS X devices (Linux coming) that can best be described as a desktop workstation for web apps. The application integrates hundreds of web services (apps) that you can all run from within the interface. While you are asked to get started by adding a Google Work account, you may then later on add apps from more than a dozen categories that include admin & back-office, marketing and analytics, and user support & survey. You can bu

2017-12-14 06:23:39
`
1
Adobe retires Storify but lets it live on as Storify 2 (sort of)
Remember Storify? Storify was a web service to use content from various social media sites and resources in what the service called stories. An author could pull data from various sources, tweets from various Twitter users, videos, web links and other resources, and use them in a story. Livefyre, which started out as a commenting platform but branched out since then to enter content marketing as well, acquired Storify back in 2013. Livefyre itself was acquired by Adobe in 2016, and shut down its

2017-12-13 17:46:51
`
4
Splashify desktop wallpaper browser for Windows
Splashify is a free software program for Microsoft's Windows operating system to browse desktop wallpapers, download them and set them as the background image. There are so many wallpaper programs out there that it is hard to keep an overview. All support browsing images locally, and to download and set selected ones as the desktop background image. This pretty much sums up what Splashify is all about. You can run it without installation, and browse lists of images from Unsplash that are divided

2017-12-13 14:20:12
`
1
The Gog Winter 2017 Sale is on
Gog.com launched its Winter 2017 Sale yesterday with huge discounts, a freebie for everyone, and new deals every day. The freebie is Grim Fandango Remastered. You can add it to your account free of charge the next 27 hours. It is a remake of the classic LucasArts adventure game Grim Fandango which many believe is one of the best adventure games ever released. You can get another game for free if you spend at least $15 during the sale, and another if you spend at least $40. Hard West is the rewar

2017-12-13 11:43:45
`
0
Mozilla's AMO Extensions store has a spam infestation problem
If you visit the official Mozilla AMO -- Addons Mozilla Org -- site right now you may notice an increase in extensions that are pure spam. The site is abused by spammers currently who flood it with extension listings designed to get users to click on links in the description. The method that these spammers use is simple: they have copied the Chrome extension Hide My IP and use it as the extension that they upload. They then add a descriptive title, e.g. Movie or TV Show Watch Online, and add lin

2017-12-13 05:29:15
`
6
Microsoft Security Updates December 2017 release
This overview offers information on security updates and non-security updates that Microsoft released for Windows, Office and other company products in December 2017. The guide is divided into different parts: it starts with an executive summary that highlights the most important bits. This is followed by the operating system distribution which highlights how different versions of Windows are affected this month. The list of security updates, known issues, security advisories and non-security up

2017-12-12 18:27:26
`
3
Ghacks Deals: CrossOver 17 for Linux and Mac (52% off)
CrossOver 17 for Linux and Mac is a paid application for Mac and Linux that users of these systems may use to run Windows software on the system without requiring a Windows license or installation. CrossOver is a commercial version of Wine that adds functionality that Wine does not offer. Some of the features that it offers include installing Windows programs with a single click and by using graphical installers, integrating better in the operating system, and comes with a feature the developer

2017-12-12 14:32:50
`
5
Proxy Toggle for Firefox with Socks5 authentication support
Proxy Toggle is a new browser extension for the Firefox web browser that adds HTTP and Socks proxy support with authentication to Firefox. You may run the Firefox web browser with and without a proxy. Firefox supports HTTP, SSL, FTP and Socks proxies by default which you may all set using the Connection Settings which you find on about:preferences#general. Firefox supports automatic proxy configurations and proxy DNS when using Socks v5 on top of all that. Setting a proxy may be mandatory or opt

2017-12-12 12:45:26
`
5
How to fix Google Chrome black screen issues
Google Chrome started to act up weirdly on one of my machines recently. I noticed display issues at first; Chrome would not show the content of sites I opened unless I changed the window size of the browser first. Yesterday, things got even weirder as the browser showed a black screen only when I started it. I could use the right-click context menu and access Chrome menus, but did not see any page content regardless of what I did. Fix Google Chrome black screen issues Below is a screenshot of th

2017-12-12 09:12:31
`
8
Totally awesome Cinnamon 'Spices' you need, now
I've touched on Cinnamon quite a few times now, as it has become my personal choice of desktop environment, but I thought I'd share some of Cinnamons own tweaks that are system independent, you should check out. All of these can be installed from their respective section of the System Settings application in the Cinnamon environment, such as "Applets" and "Extensions" and "Themes." Tip: You can browse the official addons repository on the Linux Mint website. What are Spices? Some...

2017-12-12 05:24:49
`
10
Outlook.com Beta with tabs, improved search, and more
Microsoft runs a beta right now on Outlook.com that users may participate in to gain access to upcoming features early. The company runs betas regularly on Outlook.com to test new features; usually, all of the features that are part of the beta will also be in the updated version once it launches. All Outlook.com customers may enable the beta. All that needs to be done for that is to locate the "try the beta" toggle at the top right of the Outlook.com website, and flip it so that it is enabled.

2017-12-11 09:31:31
`
9
Bypass paywalls with Anti-Paywall for Firefox and Chrome
Anti-Paywall is a new browser extension for Firefox and Chrome designed to bypass website paywalls automatically when pages of supported sites are visited. Paywall systems are designed to keep anyone but subscribers from accessing certain content on the Internet. Especially newspaper sites use the feature to limit access to content, and to entice visitors to subscribe so that they may access content during the subscription period. Non-subscribers run into issues with these sites however. If an a

2017-12-11 08:38:36
`
5
Microsoft Garage releases Outings travel discovery app
Microsoft Garage released Outings a new travel discovery application for Google Android and Apple iOS devices recently. Outings: Discover Beautiful Places serves two main purposes: first, as a travel discovery app to explore destinations, and second, as a companion app when you are traveling to get suggestions on what to do or visit at a specific location you are visiting. You can use the application as a guest, or sign in with a Facebook or Google account to save stories and places. It is inter

2017-12-11 07:55:41
`
8
SiteDelta Watch and SiteDelta Highlight are two WebExtensions for Firefox and Chrome that add website monitoring functionality to the browser. Both check a site for changes and notify you about them, and the core difference between the two is that Watch does so automatically and Highlight only on connect. Monitoring web pages can improve workflows. I'm monitoring a specific page on a shopping site for instance -- Lego -- to get notifications when a product that I'm interested in becomes availabl

2017-12-11 06:54:30
`
7
HP releases Synaptics driver update that removes disabled keylogger
HP released updates for Synaptics touchpad drivers recently for HP notebooks that removes a disabled keylogger from the driver. Again, HP? A security researcher disclosed on GitHub that he discovered a keylogger in the keyboard driver of HP notebooks. While deactivated by default, anyone with elevated access to the machine could enable the logging of keyboard input by setting Registry values. The discovery happened by accident according to the researcher as he was analyzing the keyboard driver t

2017-12-10 14:41:29
`
16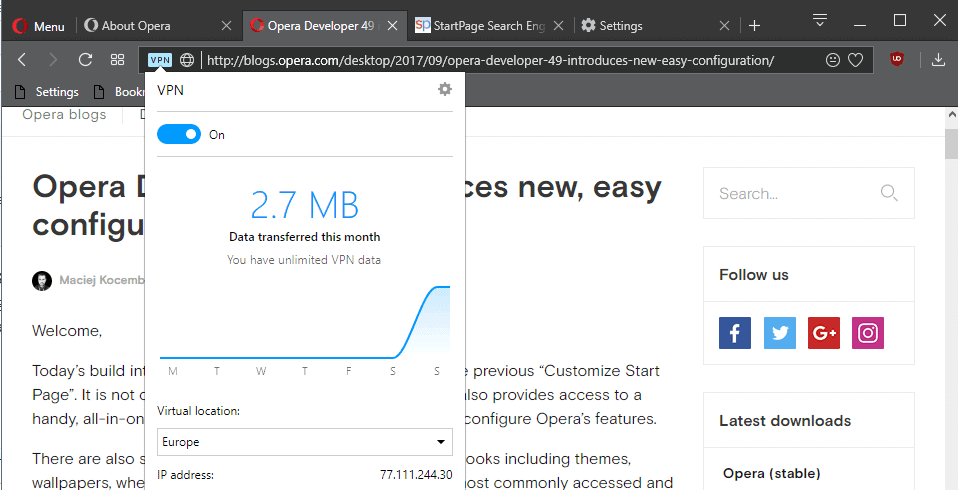 Changes to Opera's VPN service
The Opera browser is the only major web browser that comes with a built-in VPN service / browser proxy that users may activate to improve the privacy while they are using the browser. While limited to the Opera browser, as opposed to standalone VPN solutions which cover all programs that connect to the Internet, it is free and easy to use. The company launched Opera VPN for iOS and Android as well, and introduced a paid subscription option called Opera VPN Gold some time later. The VPN service t

2017-12-10 06:30:11
`
10
Install and use Teamviewer 13 for GNU/Linux remote access and support
I have a friend who is about as skilled with computers as I am with nano-technological engineering. That's a thing, right? Anyway, every month or two, he asks me to 'fix his computer' which usually means cleaning junk, malware, and uninstalling anything he shouldn't have installed. Often, I do this from my computer at home, sometimes from within my GNU/Linux partition. Teamviewer is a program that essentially lets the user remote control another PC. Teamviewer is also available for mobil...

2017-12-09 16:53:51
`
34
A solution to ETAg tracking in Firefox
The ETAg -- entity tag -- is a web cache validation method that web servers use for identifying resources. The core idea behind the feature is to use it to compare resources to determine whether they are identical or not. As is the case with many Web features nowadays, they can be used for good and bad. ETAgs are used in the HTTP header which means that they can be used even if the browser rejects JavaScript, cookies or local storage. Tip: We talked about ETAg tracking back in 2014, and mentione

2017-12-09 08:27:26
`
18
Microsoft releases ProcDump tool for Linux
Microsoft released a version of the company's ProdDump application for Linux. ProcDump is a long standing command line utility by Sysinternals, maker of widely used applications such as AutoRuns, ProcessExplorer or Process Monitor. ProcDump allows you to monitor processes for CPU spikes, and have it generate crash dumps during spikes for analysis. The application supports other types of monitoring including monitoring of windows that hang, and unhandled exception monitoring, The program provides

2017-12-08 12:58:16
`
15
Add a scrolling minimap to Firefox
Minimap Scroller is a new browser extension for the Firefox web browser that adds a minimap that you can scroll to the web browser. Minimaps are best known from computer games; they are used to provide orientation in games, and also often for navigating to certain locations using the map. The browser extension adds a minimap of the active page as a sidebar to Firefox. This gives users some flexibility when it comes to the functionality, as you may display the sidebar in different locations and h

2017-12-08 10:59:03
`
13
How to enable Strict site isolation mode in Google Chrome
Strict site isolation is a new experimental feature of Google's Chrome web browser that ensures that processes are limited to pages from one site. Chrome's multi-process architecture was introduced with the release of the browse. It improves security and stability of the browser at the expense of computer memory. Security is improved as it becomes much harder for attackers to interact with content that is in other processes, and stability is improved as a crashing tab won't usually take the whol

2017-12-08 06:34:51
`
12
Should you delete online accounts?
If you stop using an online account, should you delete that account or keep it? The question has no simple answer, as several factors play a role in the decision making process. If you decide to delete the account, it may or may not be removed from the server of the company or individual operating the service. This is bad from a privacy perspective, as companies may still use the data associated with the account. What's clear is that you won't be able to sign in to the account anymore and that y

2017-12-07 18:14:06
`
4
Ghacks Deals: Ultimate Windows File Management Suite (90% off)
Ultimate Windows File Management Suite is a bundle of four software programs by German company O&O. The company is known for its high quality programs, and the four programs that are included in the bundle make no exception to that. Included are O&O DiskRecovery 12, O&O AutoBackup 6, O&O SafeErase 11 and O&O DiskImage 11. All but DiskImage are offered in the most recent version. Here is a short description of each program: O&O DiskImage -- A backup program that you may use to back up files or

2017-12-07 16:35:52
`
13
ProtonMail Bridge: encrypted email for Outlook, Thunderbird, and other email clients
ProtonMail Bridge is a new desktop program for Windows, Mac and Linux devices that integrates ProtonMail email accounts in desktop email clients such as Thunderbird, Outlook or Apple Mail. We reviewed ProtonMail twice in past years. First in 2014 when the service was announced, and then just a month ago when we published our getting started guide. ProtonMail was available as a web-based version and in form of applications only back then. While you could download your keys to integrate them in ot

2017-12-07 13:07:41
`
11
Why is Google rolling out Chrome updates over time?
Whenever the Chrome team releases a new version of the web browser to the stable channel, it highlights that the release will be rolled over time. Yesterday's release of Chrome 63 Stable for the desktop for instance does so in the first paragraph on the Chrome Releases blog. The Chrome team is delighted to announce the promotion of Chrome 63 to the stable channel for Windows, Mac and Linux. This will roll out over the coming days/weeks. I asked myself for a long time why Google decides to roll o

2017-12-07 09:10:38
`
9
Ghostery 8 improves anti-tracking and ad-blocking functions
A new version of Ghostery, Ghostery 8, was released yesterday featuring new AI-powered anti-tracking capabilities and enhanced ad-blocking. Ghostery, which was acquired by German company Cliqz some time ago, is a cross-browser privacy extension that started out as an extension to block tracking predominantly but has since then transformed into a content blocking solution with strong anti-tracking functionality. The extension is available for all major browsers and can be downloaded from the offi

2017-12-07 05:47:00
`
12
Microsoft removes HEVC codec in Windows 10 Fall Creators Update, adds it to Store
New installations of Microsoft's most recent version of Windows 10, the Fall Creators Update version or version 1709, come without support for the HEVC codec. Users who install the system anew or for the first time may notice that the codec is missing, and may install the HEVC Video Extension from the Microsoft Store to restore the functionality. Microsoft removed support for the HEVC codec from Windows 10 Fall Creators Update for new installations. Systems that are upgraded to the Fall Creators

2017-12-06 15:24:24
`
13
Microsoft Office December 2017 Patch Day
Microsoft released updates for Microsoft Office 2010, 2013 and 2016 on the December 2017 Microsoft Office Patch Day. The company releases non-security updates for supported versions of Office on the first Tuesday of each month, similarly to how it releases security updates for Windows and Office on the second Tuesday of every month. Updates have been released for Office 2010, 2013 and 2016 that address issues such as crashes or freezes in the Office applications. The list below links to all supp

2017-12-06 12:39:41
`
12
Google to block YouTube on Amazon Fire TV
Google will block access to YouTube on Amazon's Fire TV from January 1, 2018, and on Echo Show effective immediately. If you fire up the YouTube application on the Fire TV right now, you are greeted with a notification that tells you that YouTube will become unavailable on the device starting January 1st, 2018. Google pulled YouTube from Amazon Echo Show devices several months ago, but Amazon managed to get it back by redirecting users of its device to the web version of YouTube. While far from

2017-12-06 08:48:51
`
13
Disqus commenting platform sold to big data and analytics firm Zeta Global
Big data and analytics company Zeta Global announced that it has acquired the commenting platform Disqus. Disqus is best known for its commenting system that sites all over the Internet use. It is a third-party system that webmasters embed on sites. Disqus offers analytics, monetization and other services on top of the actual commenting system. Data is stored on Disqus servers, and the company has been criticized for its user tracking activities. The company suffered two major security breaches,

2017-12-06 08:12:35
`
12
Christmas Gift ideas for GNU/Linux Fans!
You cSo, every year we see commercials for just about every type of Christmas gift one can think of...The sports equipment, the cars, the romantic getaway... But what about the Linuxbeard guy behind the twelve monitors? What do you get him? Well, here are some awesome gift ideas for the techy we all know! Star Wars Linux T-shirt Okay, tell me that's not cool. Especially with Star Wars episode VIII just around the corner! I would totally wear that shirt when I went to see the movie, and any cha...

2017-12-06 05:02:45
`
17
Ghacks Deals: Pay What You Want: The Ultimate White Hat Hacker 2018 Bundle
Pay What You Want: The Ultimate White Hat Hacker 2018 Bundle is a big eLearning bundle that is all about ethical white hat hacking. You get one of the courses if you pay the minimum of $1, and all eight courses if you beat the average price which is $11.39 at the time of writing. The bundle includes the following courses: Ethical Hacking for Beginners -- Hack Your Way to a Secure & Threat-Free Environment Using Best-in-Class Tools & Techniques Learn Hacking Windows 10 Using Metasploit From Scra

2017-12-05 13:50:59
`
6
Automatically download and set Reddit wallpapers on Windows
Reddit Wallpaper Changer is a free program for Microsoft's Windows operating system that pulls wallpaper images from Reddit to set them as the desktop background on Windows PCs. Reddit is a treasure trove for all kinds of images including wallpapers. The site has hundreds of groups that focus on desktop wallpapers; many cater to different audiences that like space, nature or animal wallpapers, and some are general types of groups. While you can browse the various groups on Reddit, e.g. the wallp

2017-12-05 13:13:03
`
5
Vivaldi launches build for ARM-based Linux devices
Vivaldi Technologies AS, the company behind the Vivaldi web browser, released a first build of the browser for Raspberry Pi and other ARM-based Linux devices today. Vivaldi browser is currently available for the desktop operating systems Windows, Linux and Mac OS X. The new version, called Vivaldi for Linux ARM, adds ARM-based Linux devices such as the Raspberry PI 3 to the list of supported devices. Vivaldi Technologies mentions the following devices explicitly: Raspberry Pi Zero, Raspberry Pi

2017-12-05 11:06:21
`
9
Firefox 58: Off-Main-Thread painting promises performance improvements
Mozilla plans to introduce Off-Main-Thread painting in the next stable version of the Firefox browser to improve the browser's performance significantly. Basically, what Mozilla did was move rasterization to its own thread. When Firefox renders a web page, certain activities happen in the background. Three of the four, making a display list, assigning layers and rasterization, happen in the main thread, while compositing happens in a separate thread. Mozilla's solution to improve performance rec

2017-12-05 10:03:08
`
7
CyberSight RansomStopper anti-ransomware for Windows
CyberSight, a new computer security company based in California, released the first version of the anti-ransomware software RansomStopper yesterday. RansomStopper is available as a free version for non-commercial use, and a paid version for commercial and Enterprise use. The program is compatible with Windows 7 and newer versions of the Microsoft Windows operating system, and CyberSight promises that it will stop ransomware before encryption of data occurs. Installation of the program is straigh

2017-12-05 06:35:58
`
12
Getting Windows 7 Update error 80248015? You are not alone
If you run a device that is powered by Microsoft's Windows 7 operating system, you may have noticed already, or not, that the system's update functionality may be broken completely. A check for updates returns the error message "Windows Update cannot currently check for updates, because the service is not running. You may need to restart your computer".  The error 80248015 is displayed, but anything you try to resolve the issue on your end fails. A restart does not resolve the issue, and the er...

2017-12-04 17:07:22
`
7
Is Classic Shell dead? Developer quits
The developer of the popular Classic Shell application for Microsoft's Windows operating system released the last version of the program yesterday. Classic Shell is a free program for Windows that restores classic versions of the Windows Start Menu, Explorer, Internet Explorer and Shell on user request. It is used by many to restore the classic Windows 7 start menu on Windows 8.1 or 10 machines, and also to bring back the classic look to other core parts of the operating system. The developer o

2017-12-04 12:49:27
`
5
Script Safe for Firefox: better privacy and security controls
Script Safe, a popular extension for the Google Chrome web browser, has been ported to the Firefox web browser by its author. Tip: check out our review of Script Safe for Chrome if you use the browser, or another Chromium-based browser. Script Safe is a privacy and security extension that gives Firefox users better control over what gets loaded when web pages are opened in the browser, and what web pages may do or access. Script Safe for Firefox The extension is configured to block many element

2017-12-04 09:07:20
`
9
DNSTrails: find any domain someone owns
DNSTrails is a new Internet service that provides you with the tools to find any domain someone owns among other things. The service has more to offer than that, as you may use it to display IP neighborhoods, display DNS and Whois records of any domain, and historical DNS data. DNSTrails is available as a public version, and a subscription-based version. Anyone may use the search on the service's startpage to look up information on domains, IP addresses, keywords, or hostnames. DNSTrails displa

2017-12-04 05:52:27
`
20
Allow only manual updates on Windows 10
Microsoft removed updating controls when it released the Windows 10 operating systems so that it has become less trivial to set the updating process to manual or disable updates altogether. This is true especially when it comes to Windows 10 Home. One of the better solutions to regain controls over updates was to disable the Windows Update service, and enable it only when you wanted the system to find and install updates. Microsoft changed that workaround in the Fall Creators Update version of W

2017-12-03 17:01:13
`
23
I remember for a long time that Skype on GNU/Linux systems was a nightmare. The official application was terrible, and solutions like Pidgin were lacking in some crucial features such as video calling. Thankfully, finally, Microsoft seems to have stepped up their game when it comes to an official Skype for Linux. Installation Users can download .RPM or .DEB files from the official website, and skypeforlinux-bin is available for Arch/Antergos/Manjaro users from the AUR. I have Skype for Linux ins

2017-12-03 06:43:50
`
14
Microsoft releases KB4051963, KB4052342, KB4055237 and KB4054022 for Windows 10 version 1709
Busy Microsoft released a total of four updates for the Windows 10 Fall Creators Update; one cumulative update that addresses several issues, two dynamic updates and a servicing stack update. KB4051963 is the major update for Windows 10 version 1709. It brings the build of the operating system to 16299.98, and was released on November 30, 2017. The update is distributed via Windows Update but can be downloaded as a standalone update from Microsoft Update Catalog as well (where it was released a

2017-12-02 08:33:50
`
22
Mozilla's revenue increased significantly in 2016
Mozilla, makers of the Firefox web browser, released the State of Mozilla annual financial report for the year 2016, and things could not look better from a financial point of view. The Mozilla Foundation and subsidiaries saw revenue increase in 2016 by 99 million US Dollars from 421 million US Dollars in 2015 to 520 million US Dollars in 2016. Expenses on the other hand did not increase at the same rate. Expenses sat at 337 million US Dollars in 2015, and are reported as 360 million US Dollars

2017-12-02 06:05:43
`
27
NoScript's rating drops after Firefox Quantum release
The Firefox add-on NoScript was one of the best rated add-ons on Mozilla's Firefox Add-ons website. It had a solid five out of five star rating by about 1600 different users, and more than 1.7 million active users in total. If you check  the rating and users of the extension today, you will notice that its rating dropped to four out of five stars, and that the extension lost a good 100K users on top of that beginning at the time Mozilla released Firefox 57 Quantum. To be precise, the rating dro...

2017-12-01 14:00:09
`
30
Nvidia Driver 388.43 WHQL restores NV Tray
Nvidia released a new WHQL graphics driver 388.43 for Windows earlier today which brings back NV Tray and Game Ready support for Doom VFR. The new driver is already available on the official Nvidia download drivers web page for download. Tip: You can use TinyNvidiaUpdateChecker to check for driver updates and install them without using GeForce Experience. As usual, it is recommended that you remove the old Nvidia display driver fully before you install the new driver on the Windows PC. You may a

2017-12-01 11:53:07
`
23
How to change the language of Microsoft Office
Microsoft Office uses the language of the system to display interface elements usually. That's usually what users of the program want, but some users may want it to use a different language instead. I for instance prefer to run the English version of Microsoft Office. The reason is simple: whenever I write an article about Office, I need to use the English terms for menus and options as I write these articles in English. It would not do anyone good if I would reference these in German, as users

2017-12-01 09:54:16
`
37
Google to block third-party code injections in Chrome
Google published a schedule for blocking third-party code injections in the company's Chrome web browser yesterday. Code injections by third-party software affect about two-thirds of all Chrome users on Windows operating system devices so Chris Hamilton, a member of Chrome's Stability Team. Chrome installations with code injections are 15% more likely to crash according to Google's statistics, and that is the main reason why Google decided to block third-party code injections in the browser. Two

2017-12-01 05:57:02
`
25
Ghacks Deals: Microsoft Certified Engineer 27-Course Super Bundle: Lifetime Access (98% off)
The Microsoft Certified Engineer 27-Course Super Bundle is a big eLearning bundle that includes 27 different courses and nearly 300 hours worth of content. The bundle is discounted by 98% to $49 already, but you can use discount code CYBER70 to get 70% off of it on top of that. Here is the list of courses that you get access to: Microsoft 70-410: Installing And Configuring Windows Server 2012 R2 Microsoft 70-411: Administering Windows Server 2012 R2 Microsoft 70-412: Configuring Advanced Windo

2017-11-30 18:05:39
`
18
Opera 44 for Android with UI refresh and fast news access
Opera Software announced the general availability of Opera 44 for the Android operating system earlier today. The new version focuses on delivering news faster to users of the mobile browser, and refreshes the browser's user interface as part of that. All major browser makers, Google, Microsoft, Mozilla and Opera, have added or are in the process of adding news and other content to web browsers. Microsoft Edge displays news on the New Tab page for instance, and Opera Software added a personal ne

2017-11-30 16:17:45
`
30
Fix Excel 2016 opening a blank document
For about a week now, I experienced an issue when double-clicking on Excel spreadsheets to load them in Microsoft Excel 2016. Excel would open as expected, but instead of loading the selected spreadsheet, the application opened a blank document instead. More precisely, it did not open a spreadsheet at all, not even a blank one, but displayed no document in its interface. I tried different documents stored in different locations, and opening a document after loading one manually, but all efforts

2017-11-30 14:04:03
`
15
Google launches Datally data saving app for Android
Google launched its new data saving app Datally: mobile data-saving & WiFi app for the Android operating system today. Datally requires a device running Android 5.0 or higher, and is available globally. While Google hopes that Datally will help Android users save data when using mobile data connections, it is not a compression or proxy type of solution. Datally is an analytics application that supports some features -- blocking of data use by certain applications in real-time and connecting to s

2017-11-30 11:32:43
`
22
Microsoft reaches 3/5 of its 1 billion Windows devices goal
Microsoft's Windows 10 operating system has reached a new milestone recently; the operating system is installed on more than 600 million devices as of November 2017 according to Microsoft CEO Satya Nadella who revealed the figure at the company's annual shareholder's meeting. When Microsoft launched Windows 10 back in 2015, it set a very ambitious goal of getting the operating system on 1 billion devices over the course of two or three years. Microsoft managed to get a lot of devices to upgrade

2017-11-30 06:29:19
`
20
Windows Sets is more than a tabbed interface for programs
Windows Sets is a new feature that Microsoft is working on currently. It is designed to bring a tabbed interface to any program window on any Windows 10 machine. Think of how web browsers like Microsoft Edge handle tabs, but for any window and with the option to open any program in tabs. Microsoft gave a basic example earlier today when the company published a new video about Sets in Windows 10. It walked you through a theoretical scenario where a student opened Word to start work on a new assig

2017-11-29 20:36:34
`
33
Microsoft releases Web Media Extensions for Windows 10
Web Media Extensions is a new application for Microsoft's Windows 10 operating system that adds support for OGG, Vorbis and Theora. The Windows 10 operating system supports more media formats than previous versions of Windows out of the box, mkv is to be named here specifically for instance, but there are plenty of formats that Windows does not support out of the box. Windows 10 users who want support for additional formats need to install codecs to add support system-wide, or use programs that

2017-11-29 17:24:04
`
30
Vivaldi lands Sync functionality in latest browser snapshot
The most recent snapshot of the Vivaldi web browser comes with integrated Sync functionality to sync data across devices. The much awaited functionality makes it easier to keep data such as settings, passwords or extensions in sync automatically. While Sync landed in the Vivaldi 1.14 snapshot, it is not yet a given that the functionality will land in the next stable version of the web browser as well. Vivaldi staff will monitor the feature closely and base the decision on how it performs both on

2017-11-29 13:26:10
`
29
AV Test's October 2017 ranking: surprise at the top
German independent IT security institute AV Test released its Windows home user antivirus ranking for October 2017 recently. The institute tests antivirus solutions regularly, and tests the protective capabilities, performance, and usability of each program. A few programs share the top spot usually, and some more get the "top product" award. Kaspersky Internet Security is usually the top placed program in the test. Other antivirus solutions that get recommendations regularly are BitDefender Int

2017-11-29 10:08:10
`
21
TLDR summarizes Linux commands
TLDR is a free command line utility for various Linux distributions that provides you with summaries of Linux commands on request. Linux commands can be quite intimidating, especially if you are a new user. While you may use the man command to get information on a particular command, man descriptions are often not the easiest to go through. That's where TLDR comes into play. It is a free tool that summarizes Linux commands for you so that you understand core functionality immediately and without

2017-11-29 04:59:18
`
28
TeamViewer 13: iOS screen sharing and more
TeamViewer 13, the latest version of the secure remote desktop access and support application, comes with iOS screen sharing functionality and usability improvements. TeamViewer GMBH launched a public beta of TeamViewer 13 on October 30, 2017. That version has now been promoted to final, and users from around the world can download the new version of the remote desktop software. Users and customers may download the new version from the official company website, or select Help > Check for new ver

2017-11-28 13:05:25
`
25
Firefox 58 to block top-level data URL navigation
Mozilla plans to block web pages from navigating the top-level window to a data URL in the upcoming Firefox 58 Stable version. The new stable version of the web browser will be released on January 23, 2018 according to the Firefox release schedule. The change has found its way in development versions of the Firefox web browser such as Firefox Nightly already. Christoph Kerschbaume, Content Security Tech Lead at Mozilla, notes on the official Mozilla Security blog that data URLs are used by malic

2017-11-28 12:00:46
`
26
Ghacks Deals: Windscribe VPN: Lifetime Pro Subscription for $49
Windscribe VPN is a popular virtual private network solution that is available as a free, limited, version, and a subscription-based version. Today's deal is for a lifetime subscription; means, you pay once and can use the service forever without having to pay again. The deal includes all updates to the service and its software, unlimited data, and use on unlimited devices. Windscribe maintains clients or supports desktop versions of Windows (starting with Windows XP), OS X, Linux, iOS and Andr

2017-11-28 10:01:02
`
27
Simple Sticky Notes for Windows
Simple Sticky Notes is a free note taking application for Windows that puts sticky notes on your desktop so that they are in reach all the time. While new versions of Windows do come with a Sticky Notes application, its functionality is pretty basic. You can use it to write down notes, and link the notes to Cortana so that Cortana may remind you about them. If you want more control over notes on your system, or run an older version of Windows that does not include Sticky Notes, you may like what

2017-11-28 09:30:07
`
56
The Firefox extension uMatrix (it is also available for Chrome and other browsers), gives users control over a website's connections, and data that is loaded when the site is loaded in the browser. The extension is developed and maintained by Raymond Hill (Gorhill), the developer of uBlock Origin, a popular content blocker that is also available for various browsers including Firefox. Why two extensions and not just one? While both extensions can be used for the same purpose -- blocking content

2017-11-28 06:15:23
`
64
Skype: no more Facebook sign-ins
Microsoft announced today on a Skype support web page that it plans to disable the use of Facebook accounts to sign in to Skype in January 2018. Skype customers who sign in with Facebook credentials currently won't be able to do so anymore from January 10, 2018 onward. Some Skype versions don't support Facebook accounts already. This is true for the new Skype for Android, iPhone and the desktop operating systems Windows, Mac and Linux, and Skype for Windows 10. Microsoft provides no explanation

2017-11-27 19:09:41
`
69
Linux Mint 18.3 MATE and Cinnamon released
The Linux Mint team has released version 18.3 of the popular Linux distribution as MATE and Cinnamon versions to the public. Linux Mint 18.3 is a long term support released; this means that the development team will support it with updates until 2021. The new version of the Linux distribution comes with improvements to existing features such as the software manager, but also new features that are introduced in the new release. Tip: Check out our guide on upgrading to a new Linux Mint version. Li

2017-11-27 14:06:18
`
65
YouTube Video Text Search extension for Chrome
Invideo for YouTube is a browser extension for Google Chrome that adds video text search options to the video streaming website. While you can use the search on YouTube to find videos, search results are limited to matching video titles, descriptions and other data that is entered when a video is uploaded to the site. The search does not take into account any audio that is part of the video, even if subtitles or closed captions are provided. The ability to search inside YouTube videos can be qui

2017-11-27 12:31:48
`
27
HP installing HP Touchpoint Analytics Client Telemetry service
HP customers from around the world report that HP started to install the HP Touchpoint Manager software on their devices, and with it a new Windows Telemetry service called HP Touchpoint Analytics Client. According to these reports, this is done without user interaction, and in the background. The first report of the installation of HP Touchpoint Analytics dates back to November 15, 2017. A user on the Bleeping Computer forum reported that the program was installed on his Windows machine on that

2017-11-27 07:50:10
`
77
How to convert JPG and PNG images to SVG
Traditional image formats such as JPG, PNG or GIF are very popular, but they have disadvantages that makes their use less than ideal for certain applications. If you create a responsive website for instance, you want images that look good regardless of the width and height they are displayed in. Traditional images look bad when you enlarge them too much for instance. You may need to display the image in different sizes as well, for instance as a thumbnail on a blog's index page, and as a full re

2017-11-27 06:24:03
`
92
Disable the transparent Terminal background in Linux Mint
If you use the terminal on a system running Linux Mint, you will have noticed that the Terminal window is transparent on the system. While some Linux Mint users may not use the Terminal at all or rarely only, others may use it frequently. Whenever I use the Terminal on Linux Mint, I find its default design, and here specifically the use of transparency, irritating. You may feel the same, especially if you use a  wallpaper that is not all black and gray, but uses other colors. The default level ...

2017-11-26 16:37:05
`
45
Windows 10 version 1709 blocking security updates?
Windows 10 users and administrators who set a policy on machines running Windows 10 to delay the deployment of feature updates, may notice that cumulative security updates are not installed on PC systems with these configurations either. Microsoft moved policies around a bit in the Fall Creators Update for Windows 10. Administrators and users have two options when it comes to delaying the installation of updates. One delays the installation of quality updates -- read cumulative updates that Micr

2017-11-26 07:06:36
`
107
SuperDelete: remove files with paths that are too long on Windows
Microsoft's Windows operating system has had a 260 character limit for paths for a long time. While most users may not run into issues with folder names and file names that exceed the limit, some may. If a path is too long, for instance when a USB Flash Drive is connected to the system that was used on a Linux distribution before, Windows won't run operations such as remove or edit on files if the path is exceeded. Microsoft did add a new option to Windows 10 and Windows Server 2016 to enable NT

2017-11-25 06:22:17
`
33
Run userchrome.js scripts in Firefox 57 or newer
If you have used a browser extension such as userChrome.js in the past to run JavaScript code in the browser context; handy to manipulate functionality of the browser directly. A huge list of scripts was created that Firefox users could load using the extension. These scripts changed elements of the Firefox user interface, dialogs, and other features of the browser. The release of Firefox 57 blocks extensions like userChrome.js. Someone figured out how to restore the functionality in Firefox 57

2017-11-24 13:25:42
`
178
How to protect yourself from Session Replay tracking
As if Internet advertising was not already in deep enough trouble, companies continue to research and use new invasive tracking capabilities on a regular basis. Session Replay is one of the most recent that came to light. This is an advanced type of analytics software which doesn't only track basic parameters such as the time spend on sites or site visits, but records any keystroke, mouse movement and other activity on pages the scripts are loaded on. Basically, these scripts record anything tha

2017-11-24 11:10:52
`
78
Getting started with ProtonMail
ProtonMail is a secure email service based in Switzerland featuring end-to-end encryption, and a strong focus on privacy and security. The service is available as a web version, and as applications for Android and iOS devices. The three core pillars of ProtonMail from a security and privacy point of view are support for end to end encryption, the service's zero access architecture, and use of open source cryptography. Tip: Read our initial ProtonMail review which we published in 2014 as well. En

2017-11-24 06:45:36
`
55
Ghacks Deals: Black Friday offers
Ghacks Deals has a little Black Friday sale of it all with price drops of already discounted eLearning course bundles, VPN services and other items. Below is a selection of offers that you may find interesting. First, some eLearning bundles and courses: Complete Java Programming Bootcamp ($39, use code BFRIDAY75 for 75% off) -- 10 courses that teach you the Java programming language. Ethical Hacking A to Z Bundle (price drop to $25, original price $1273) -- A bundle of 8 eLearning courses about

2017-11-24 05:53:32
`
68
How to handle failed downloads "virus detected" on Windows 10
I tried to download a file recently on a Windows 10 Fall Creators Update system using Google Chrome, Microsoft Edge and Mozilla Firefox, and could not because all blocked the file download because of a virus that was detected during the security scan. Chrome displayed "Failed - Virus detected", Microsoft Edge "[filename] contained a virus and was deleted", and Firefox simply "failed" in the user interface. Windows Defender was the security program on the machine, and a quick check revealed that

2017-11-23 18:35:05
`
143
TunnelBear makers launch password manager RememBear
The makers of the popular VPN solution TunnelBear, available as a free and paid version, have released a beta version of the company's upcoming RememBear password management service. Password managers and services are a dime a dozen nowadays. Computer users can select between native browser solutions, browser extensions, desktop applications, online services, and whether they want syncing, additional features, and pay for the password manager. While I use KeePass, a desktop password manager, oth

2017-11-23 14:33:23
`
174
NoScript 10.1.2 update fixes major issues
The first WebExtensions version of NoScript arrived Sunday night, five days after the release of Firefox 57, the first WebExtensions exclusive version of the web browser. The initial reception was not the greatest, with users criticizing the new user interface of the extension, and the lack of functionality. While NoScript 10.x supports the blocking of connections, some features did not make it in the initial WebExtensions release because of missing APIs. The new version of NoScript had some iss

2017-11-23 07:55:42
`
139
Mozilla plans to add breach warnings to Firefox
Mozilla plans to add warning notifications to the Firefox browser when users visit websites that were hacked in the past. Hacked web services and sites are a common occurrence on the Internet, and while hackers may have different goals when it comes to hacks, one lucrative target is a site's user database. The Yahoo hack for instance put 3 billion user records in the hand of the hackers. In 2017, hacks managed to dump Equifax's database with 143 million customer records, and an Uber database wit

2017-11-23 06:04:05
`
154
Most video players that you run on desktop PCs and even many mobile media players support zooming. You can zoom any video that you play in these players using built-in controls. In VLC Media Player for instance, a popular cross-platform media player, you can zoom using the Z-key, and do then reverse with Shift-Z instead. YouTube, and most online video services, don't support zooming at all. While you can zoom the pages, doing will leave the video untouched usually. Zooming can be useful in certa

2017-11-22 17:15:49
`
136
Find out if your Intel system is vulnerable to Intel Manageability Engine vulnerabilities
Intel published a security advisory yesterday detailing security vulnerabilities in the firmware of the company's Management Engine, Server Platform Services, and Trusted Execution Engine. A wide range of Intel processor families and products are affected by these issues, including 6th, 7th and 8th generation Intel Core processors, Intel Xeon processors, Intel Atom processors, Apollo Lake processors and Intel Celeron processors. Basically, systems using Management Engine firmware versions 11.0,

2017-11-22 09:28:42
`
62
Vivaldi Browser 1.13 update released
Vivaldi Technologies AS released a new version of the company's Vivaldi web browser today; Vivaldi 1.13 comes with a new Window panel and download improvements, but the main focus of the release was stability and the fixing of browser regressions and issues. Installed copies of Vivaldi should pick up the update automatically thanks to the browser's built-in automatic update system. You may run a manual check for updates by selecting Vivaldi > Help > Check for Updates. The new version of the brow

2017-11-22 08:05:33
`
74
How to enable First-Party Isolation in Firefox
First-Party Isolation is a new privacy feature of the Firefox web browser that Mozilla implemented in Firefox 55 for the first time. The feature restricts cookies, cache and other data access to the domain level so that only the domain that dropped the cookie or file on the user system can access it. This is a stark contrast to how cookies work normally, as marketing companies tend to drop cookies with their ads on sites, so that they may track users across all properties that the ads or scripts

2017-11-22 05:45:52
`
76
Load cached website copies in Chrome when loading fails
Google Chrome displays an error message when it cannot load a requested resources. The error message depends on the type of error the browser encountered while trying to load the resource; if a page is not found for instance, it displays a 404 not found error, and if a page cannot be looked up, a "this site can't be reached" error is displayed instead. If you know that the page existed in the past because you visited it already, you have some options to revive it even if it has been deleted perm

2017-11-21 13:30:07
`
16
Ghacks Deals: The Complete Computer Science Bundle (Price Drop)
The Complete Computer Science Bundle includes eight programming related courses for languages such as C++, Java and Python that has just been dropped in price. The bundle is available for $29 now, down from $39, which means you get even a better discount from the original price of $367. The bundle includes the following courses: From 0 to 1: C Programming - Drill Deep -- Dive into This Foundational Language to Build a Solid Programming Skill Set Byte Size Chunks: Java Object-Oriented Programmi

2017-11-21 12:31:05
`
69
Alex Kontos, the developer of the Firefox fork Waterfox has released a test build of version 56 of the web browser to the public. Waterfox 56.0 is a major new release as it paves the way for future versions of the web browser. The release marks the beginning of a transition period that moves Waterfox to the Firefox ESR branch. Firefox ESR, Extended Support Release, is a special version of Firefox designed for organizations and users that can't or don't want to upgrade to a new version every six

2017-11-21 10:27:28
`
61
Add some window drag space to Firefox
Mozilla modified the interface and design of Firefox 57 significantly; a lot for the better, some things not, or at least not right away. One of the things that you may have noticed is that it is quite difficult to move the Firefox window around using drag and drop. While you can use spaces designed for that, the top left location, and the location between tabs and the window status buttons, most of the window's UI cannot be used for that anymore. The following screenshot highlights the location

2017-11-21 09:17:55
`
94
NoScript 10 WebExtension is out
Giorgio Maone, the developer behind the popular Firefox security add-on NoScript, released NoScript 10, the first "pure" WebExtensions version today. NoScript 10 did not make it in time for the release of Firefox 57, the first version of the web browser that supports only WebExtensions and no longer the legacy add-on system of Firefox 56 and earlier versions. But, the extension that is compatible with Firefox 57 and newer is out now, and users can finally install it on their devices if they have

2017-11-21 06:05:08
`
54
Tor Browser 7.5a8 update released
The Tor team has released an update for Tor Browser, a modified version of the Firefox web browser with Tor functionality built-in. The developers release new versions of Tor browser regularly, usually shortly after Mozilla pushes out an update for the organization's Firefox Extended Support Release (ESR) as it is based no that version. Firefox ESR is designed for long-term support scenarios. It gets the same security updates as regular Firefox editions (if applicable), but major updates are onl

2017-11-20 18:31:47
`
58
Microsoft Security Faux Pas: ASLR implementation issue on Windows 8 and 10
If you use Microsoft EMET on Windows 8.x or Windows 10 machines, or the new Windows Defender Exploit Guard on Windows 10 version 1709, your system may not have been protected properly by a protective feature called Address Space Layout Randomization (ASLR). Security researcher Will Dormann of the CERT/CC discovered an ASLR implementation issue on Windows 8 and Windows 10 machines. Microsoft introduced ASLR in Windows Vista to prevent code-reuse attacks by randomizing the addresses that executabl

2017-11-20 14:05:58
`
36
qBittorrent 4.0 Bittorrent client is out
The developers of the popular open source cross-platform Bittorrent client qBittorrent have released version 4.0 of the client today. Users who run the client are informed about the update, and downloads are provided already on the official project website for all supported operating systems. QBittorrent 4.0 is a major new release, as indicated by the jump to version 4.0 from the previous 3.3.x version. New features include support for environmental variables, custom save locations for configura

2017-11-20 08:09:41
`
42
Word, Excel and PowerPoint Viewers are being retired
Microsoft maintains a list of viewer applications for some of its Microsoft Office applications that Windows users may run to read documents without having Office or a compatible third-party Office solution installed on a Windows machine. The viewer applications were released at a time when Microsoft switched the default format of its Office applications, so that users without the most recent version of Office could view those. Today, there is an abundance of options to read Office documents, ma

2017-11-20 05:43:10
`
66
Quad9 DNS promises better privacy and security
Quad9 is a new endpoint DNS service by IBM, Packet Clearing House (PCH) and Global Cyber Alliance (GCA) that improves privacy and data protection. While there are quite a few public DNS services out there, most Internet users probably don't use any of those but rely on the Internet Provider for all things DNS. That's comfortable as it works out of the box, but neither really secure nor beneficial to data privacy. The provider knows any domain name to IP look up on the computer, and knows exactly

2017-11-19 14:03:42
`
78