Back to basics Part 2 – Managing Users on a Debian base system
In part 1 of this little series we did some updating via CLI. Now, we will once again take a look at how to manage things via the terminal; like how to create and delete users, as well as set/change user passwords. With that said, I'm focusing this article on users who are running a distribution that is based on Debian, such as Ubuntu, Linux Mint (Based on Ubuntu, but still applicable), etc. The reason for this, is that most users who are brand new to the GNU/Linux world will likely be running o


Ghacks Deals: VPNSecure: Lifetime Subscription (91% off)
Today's featured deal is a lifetime subscription for the VPN service VPNSecure. It is available for $39.99 instead of the regular price of $450 for a limited time only and gives you lifetime access to the service. That's about $3 per month for the first year and then free from then on out. VPNSecure promises that it does not log activity and does not limit the bandwidth of users. It supports torrents, and maintains servers in more than 46 different countries. The software is available for Windo


XTR Toolbox is an open source program for Windows to tweak, clean and optimize the operating system. You can download and run the tool without installation but need to know that it requires the Microsoft .NET Framework 4.6.2 or higher. XTR Toolbox is compatible with 32-bit and 64-bit versions of all supported versions of Windows. Those are, at the time of writing, Windows 7, Windows 8.1, and Windows 10. XTR Toolbox The interface divides the available modules in the groups "quick tools", "other


Firefox 60 with new preference to disable FTP
Mozilla plans to release Firefox 60 with a new preference to disable support for the FTP protocol. The preference is disabled by default so that FTP sites can still be accessed in Firefox 60. FTP, just like HTTP, is on its way out. Browser makers, site operators and hosting companies move to newer protocols that support encryption among other things to better protect user data against spying and manipulation. The next step in the migration from HTTP to HTTPS is the flagging of HTTP sites as inse


CopyQ is an advanced Clipboard Manager
CopyQ is a cross-platform open-source clipboard manager for Linux, Windows and Mac OS X that is easy to use and quite powerful thanks to the advanced features that it offers. Clipboard managers extend the functionality of the built-in clipboard function of the operating system. The clipboard on Windows is limited to a single entry which means that it erases the previously stored entry whenever a new one os copied. Most clipboard managers remember multiple copied items and many offer additional f


Encrypt your DNS traffic with Simple DNSCrypt for Windows
Simple DNSCrypt is a free open source program for Microsoft's Windows operating system to configure dnscrypt-proxy on Windows-based PCs and devices. DNS Crypt is a technology that encrypts DNS look ups so that third-parties cannot spy on those. While some programs or services, VPN Services for instance, protect your look-ups automatically, most DNS traffic is not encrypted. OpenDNS introduced DNSCrypt support back in 2012 but DNSCrypt was pioneered by the OpenBSD operating system years before t...


Patch My PC Updater 4.0 review
Patch My PC Updater is a free program for Microsoft Windows PCs to run update checks on all installed software programs. We reviewed the program back in 2011 for the first time, and the release of version 4.0 was incentive enough to publish a new review. As is the case with update-related programs, it is limited by the supported software programs that it has in its database. You can, however, download and install updates that are available using Patch My PC Updater. Patch My PC Updater 4.0 You


Microsoft removing Windows Apps with "Windows" in name is a mistake
Some Windows application publishers who use "Windows" in the name of published apps received legal notifications from Microsoft in February 2018 to either change the name and branding of applications or have them removed from store instead. Two German Windows sites, Dr. Windows and Windows Area, revealed that a law firm acting on behalf of Microsoft contacted them about their infringing apps Dr. Windows and Windows Area. Martin Geuss, the publisher of the Dr. Windows application, was asked to co


View Image for Google Images extension for Firefox and Chrome
View Image is a browser extension for Google Chrome and Mozilla Firefox that adds a "view image" button to Google Images so that users can click on it to display the image directly in the browser. Google removed the view image button from its image search engine Google Images recently after the company came to an agreement with Getty Images. The button loads the image that is displayed directly. This gives users options to look at it more closely and to download it to the local device that they


Game Saturday: Dark Power (HTML5, Strategy)
Dark Power is a free browser strategy game that can best be described as a tower defense game. While you defend only your main castle against attacks, you do so by hiring troops and casting spells on the onrushing enemy hordes. One interesting twist of the game is that you control an undead army and fight against humans, elves and dwarfs that attack the castle. You switch between battles and upgrades in the game. Battles become increasingly difficult as the game progresses but your forces do get


Back to Basics Part 3. Installing Third-Party Software in Linux Mint Cinnamon
Linux Mint 18.3 "Sylvia" is the latest iteration of the hugely popular distribution, featuring a few different desktop environments. I've really grown to enjoy the Cinnamon environment, regardless of what distro I'm using at the time, but obviously when using it within Linux Mint, you're getting the intended experience since Cinnamon was made for Mint. That said, Cinnamon is the most popularly used environment, so this quick tutorial is based around that, but its pretty easily translatable ...


The developer's of the Internet application suite SeaMonkey have released version 2.49.2 of the application for all supported operating systems. They note that the release won't be offered via the integrated updating feature for most configurations because of changes that it introduces. Users who want to upgrade to the new version may need to download it from the project website to install it manually because of that. It is highly recommended that you back up the profile folder before you run th


How to change the Netflix video quality on your computer
As a Netflix customer, you may know that the stream quality on Netflix depends on a number of factors. Your subscription plan may give you access to HD or Ultra HD streams, but the Internet Connection and device you watch Netflix on may influence the video quality as well. We talked about this previously already. If you watch Netflix on a computer, you get 4K playback only in Microsoft Edge on Windows 10 or the Netflix app on Windows 10. If you don't use these applications or Windows 10, you get


uBlock Origin Development Add-on for Firefox
Raymond Hill (Gorhill), the developer of uBlock Origin, released the Firefox add-on uBlock Origin dev build to Mozilla's Firefox Add-ons website recently. Active uBlock Origin Beta users on Firefox may wonder why the development build version was released as a new add-on and not on the beta channel of the primary uBlock Origin add-on listing. The release notes on the project's Github page provide an explanation for that. According to the posted information, Mozilla will disable the option to pub


Ubuntu wants to collect more diagnostic data
Canonical's Will Cooke revealed in an email to the Ubuntu development list that the company plans to collect more diagnostic data from desktop. Many programs and operating systems collect diagnostic data. While the degree varies from program to program, it is fair to say that diagnostic data may provide developers with insights into issues and feature popularity. Canonical wants to collect data such as the Ubuntu version, hardware information and selected location during installation to "focus o


Missing Google Images' "View Image" button? Use Startpage Image Search instead
So, Google pulled the "view image" button on the company's Google Images search engine recently leaving many users puzzled. Google removed the button after the company entered an agreement with Getty Images. Back then it was not clear if the agreement would make Google remove the "view image" button from all images or only those by Getty Images. Today we know that the change affects all images regardless of who owns the copyright. The view image button loaded the full size image directly on Goog


How to install optional updates on Windows 10
Microsoft moved the update functionality from the Control Panel to the Settings application in Windows 10. If you compare the functionality, you may notice that Windows 10 lacks options to display or install optional updates. Optional updates can be Microsoft updates, products or third-party products or updates. A check on a Windows 10 Professional system returned various Intel driver updates as well as Microsoft Silverlight as optional updates or installations. While you may be able to install


Ghacks Deals: DevOps with Cloud Computing Bundle (92% off)
DevOps with Cloud Computing Bundle is a big eLearning bundle that is priced at $32 currently instead of $429. The courses are for users of all experience levels, and access is granted for lifetime. The bundle includes six eLearning courses that teach you DevOps skills. The following courses are included: DevOps on AWS -- Learn How to Setup Your infrastructure on The Cloud Microsoft Azure: Complete Guide to Solution Architect Exam -- Get Prepared for Your Microsoft Azure Solutions Certification


O&O Syspectr remote administration software
O&O Syspectr is a free remote administration and management software for Windows client PCs and servers that administrators may use to monitor and manage Windows devices. Note: O&O Syspectr uses a client and server approach. It requires that you create an account on the official website which you use to manage all devices, and to install the client software on Windows PCs that you want to manage. These PCs need to be linked to the management account then. Installation of the software should not


How to get 8 tiles back on the new tab page in Chrome 64
Google rolled out a change recently in Chrome 64 that uses the size of the browser window to determine the number of tiles displayed on the browser's new tab page. Users who run the browser in low resolutions may have had the websites tiles on Chrome's new tab page reduced from 8 tiles to 6 or 4 tiles depending on the resolution. Some users rolled back version 63 of the web browser as a consequence but that is not really a permanent option considering that new Chrome versions introduced security


A look at Linux Mint 18.3 KDE – The Last KDE Linux Mint
I wrote an article a while ago about how KDE was being removed as an official flavour of Linux Mint past 18.3, and so I thought perhaps a quick review of 18.3 KDE was in order. Linux Mint 18.3 KDE is based on Ubuntu 16.06 LTS. My specs for this review: Intel i5-4210U 8GB DDR3 SSD Linux Mint 18.3 KDE 64bit Intel HD4400 Graphics USB to Ethernet Adapter 4 port generic USB 3.0 HUB Dual monitor Laptop / TV via HDMI Installation If you've ever installed Linux Mint, Ubuntu, Manjaro, OpenSUSE or ...


Latest Intel Graphics driver supports automatic game optimization
Intel's latest graphics driver for Windows supports the automatic configuration of game settings to improve the gaming experience on machines with integrated Intel graphics adapters. The new feature is available as a beta version right now with limited game support. You do need the Intel Graphics Driver for Windows version 15.68.3.4944 or later, and also supported hardware. The automated configuration of games is supported on Intel Graphics on 6th generation Core processors or higher including I


Firefox 60: new "not secure" indicator preferences
Mozilla Firefox 60 and newer versions of the web browser support two new browser preferences that highlight HTTP websites as "not secure" in the browser's address bar. HTTPS is pushed throughout the Web and many sites and services migrated to HTTPS already. Browser makers like Google or Mozilla prepare to mark HTTP sites and services as not secure which will give HTTPS adoption another push as sites may lose users if they are marked as not secure. Google announced this week that it plans to mark


GhostBuster: remove ghosted devices on Windows
GhostBuster is a free portable open source program for Microsoft Windows devices to enumerate and remove so-called ghosted devices on the operating system. We reviewed GhostBuster back in 2012 for the first time. A ghost device refers to a device that was connected to a Windows machine in the past but is no longer connected to it. Whenever you connect a new device to a Windows PC, Windows stores records of it in the Registry. This can be a mouse or keyboard, a hard drive, computer monitor, or an


Video Background Play Fix for Firefox Mobile
Some video hosting sites like YouTube block playback the moment you switch to another tab in the browser that you are using. This may not be desirable, for example, when you play a music playlist on YouTube or want to listen to a discussion or presentation while doing something else in the browser, on the device, or elsewhere. This happens even when the device's screen enters power saving mode or gets locked which in turn means that you cannot play a video unless you stay active. Video Backgroun


Microsoft Security Updates February 2018 release
Microsoft released updates for the company's Windows operating system, Microsoft Office, and other company products on today's February 2018 Patch Day. Our overview lists all important information to make it as easy as possible to keep an overview, download updates, look up additional information, and make better decisions in regards to the installation of updates. It is recommended that you back up your system before you install any patches. The past has shown over and over again that updates m


Ghacks Deals: Password Boss Premium: Lifetime Subscriptions (86% off)
If you are looking for a password manager with sync functionality built-in, Password Boss Premium may be a suitable candidate for that. Password Boss is available as a free, feature-limited version, and a Premium version that includes the full feature set. The password manager is compatible with Windows, Mac, iOS and Android. It supports all the major features of modern password managers such as strong encryption, client-side encryption and decryption, 2-step verification support, password gene


Using LibreOffice as a PDF Editor
LibreOffice is a powerful open source cross-platform Office suite that works in many regards just like Microsoft Office. While you can use LibreOffice apps to edit spreadsheets or Word documents, you may use it as well to create, edit and save PDF documents. LibreOffice PDF Editing LibreOffice supports the editing of PDF documents by default and opens them in the LibreOffice Draw application. You can open Draw directly and use the File menu to load PDF documents, or use the startup wizard inste


Windows Defender ATP support in Windows 7 and 8.1
Rob Lefferts, Microsoft Partner Director, Windows & Devices Group, Security & Enterprise, announced yesterday on the official Windows Business blog that Windows Defender Advanced Threat Protection (ATP) will come to Windows 7 and 8.1 this summer. Before Windows 7 and 8.1 (home) customers get their hopes up: support appears to be limited to Enterprise customers who can add Windows Defender ATP Detection & Response functionality to devices running Windows 7 or Windows 8.1. Windows Defender ATP is


Google may remove View Image button on Google Images
Getty Images announced today that it has come to an agreement with Google that includes a global licensing partnership between the two companies and accompanying changes to Google Images. If you search for images on Google Images right now, you may click on the "view image" button on the results page to load (an often) larger version of the linked image directly. Getty Images lodged anti-competitive complaints against Google in the European Union and the United States for including functionality


Disable the touchpad of your Windows 10 device when you connect a mouse
Most laptops come with touchpads that let users control the mouse cursor and buttons on the device. Newer versions support even more features, usually in the form of taps, drags or other gestures. While that is handy in situations where no mouse is connected to the device, it may not be required or even desirable when a mouse is connected to the laptop. Touchpads have come a long way, but they may still interfere with specific activity on a machine. You may move the cursor accidentally for insta


Watch Netflix in 1080p on Linux and unsupported browsers
The Netflix video quality that streams are delivered in depends on a number of factors. There is the customer's Internet line which may affect it but also the device, operating system and program used to stream Netflix videos. On Windows PCs, for instance, 4K playback is only available if you use Microsoft Edge or the Netflix Windows Store app. If you use Chrome, Firefox, or any other browser, all you get is 720p streams by default with seemingly no option to improve the quality of the stream. I


Play audio only on YouTube to save bandwidth
Audio Only YouTube is a browser extension for Google Chrome to play the audio stream of YouTube videos only. The video hosting site YouTube offers no option to play only the audio track of videos. While that is probably not desirable in many cases, it is beneficial in a few cases. Playback of the audio stream of a video on YouTube uses less bandwidth than playback of the entire video. This may improve the stream quality, especially on low-end devices or devices with limited Internet bandwidth, f


Installing Kodi using Ubuntu based systems
Kodi has become probably the largest media center application in use today across a broad range of devices. I remember first using Kodi when it was called XBMC for Xbox Media Center. An old friend of mine about a decade ago installed it onto his original Xbox with a new Hard Drive, and loaded it with Emulators for Playstation, N64 etc. Nowadays, Kodi is used mostly for streaming, as a way to access your favourite internet TV stations and streaming sites all in one place (besides a browser.) Gran


Disable "What do you want to do with" in Microsoft Edge
Microsoft's Edge web browser displays a "what do you want to do with" prompt when you download files in the browser by default. The prompt lists options to open, save or cancel the download, and another option to save the download to another location. You may also get options to run the download if it is an executable file. While that is certainly useful in some situations, say you download a new program that you want to install on your system, it may be inconvenient at other times. The prompt s


Tools for GNU/Linux: Third party screenshot utilities
I take screenshots more than I do real photos, and I'm a reporter for my college newspaper, as well as have my portfolio etc. That said, I've had my share of ups and downs with different software, and have come to find two programs that adore, when using a GNU/Linux system; Shutter and Gyazo. Both of these programs take screenshots, and do various things with them, but they are drastically different and therefore serve quite different purpose in why I use them. Shutter, I tend to use when wr...


Apply custom colors to your Windows Explorer folders with Folder Colorizer 2
Folder Colorizer 2 is a free program for Microsoft Windows devices that adds options to Windows Explorer to apply custom colors to any folder on any hard drive. The default folder color is yellow in Windows Explorer and there is no obvious option to customize it to distinguish one folder from the other based on looks or make important folders stick out. Windows Explorer supports assigning other icons to folders but that is not the same as changing the folder color and the operating itself is not


How to disable the Microsoft Office Upload Center
If you install a recent copy of Microsoft Office on your Windows PC, you may notice that something that the Microsoft Office Upload Center gets installed with that copy. You may notice it in the system tray area of the operating system as it displays its own icon there. The Upload Center may also display there after you set up OneDrive on a Windows 10 machine (maybe on older versions as well but I did not test that). First question that may come to your mind is why it is there and what it is use


3P Request Blocker blocks all third-party requests in Firefox
3P Request Blocker is a new add-on for the Firefox web browser designed to block all third-party requests by default in the browser. The description sounds a lot like NoScript, and while the core functionality is the same, both extensions offer features that the other does not provide. Third-party requests are all requests that a site makes that load content from third-party domains. The connection can be a subdomain of the domain or an unrelated domain name. While some third-party requests are


Chrome 68 marks all HTTP websites as Not Secure
Google announced yesterday that the company's web browser Google Chrome will mark HTTP sites as insecure in Chrome 68 Stable. The current stable version of Chrome displays an i-icon next to the website address if the site uses HTTP and not HTTPS. HTTPS sites are marked as "secure" in the web browser currently. Chrome users who click on the icon receive the message "your connection to this site is not secure" and that they should not enter any sensitive data because it can be stolen by attackers.


How to enable extensions in Microsoft Edge's InPrivate Browsing mode
Microsoft introduced support for extensions in Microsoft Edge in the Windows 10 Creators Update. Less than 100 extensions are available officially at the time for Microsoft Edge and that is likely not going to change anytime soon. While you can download and install several content blockers or password managers, you won't find most smaller helper extensions that Chrome or Firefox users have access to. Extensions run only in regular browsing mode by default in Edge. If you use the InPrivate Browsi


Ghacks Deals: Software Engineering Mastery Bundle (88% off)
The Software Engineering Mastery Bundle teaches you new programming languages and software engineering skills. The bundle includes seven different eLearning courses designed for users of all experience levels. Learn C++ and Ruby on Rails, test driven development or get a primer on algorithms and software engineering. The bundle is available for $35 instead of the regular price of $310. Access is granted for lifetime. The following courses are included: Data Structures in JavaScript -- Learn to


Winamp2-js is a web-based version of audio player Winamp
Winamp2-js is a web-based version of audio player Winamp which you can access directly or host locally or on your own web space to play audio files using it. Winamp is still a popular audio player even though its development stopped a long time ago. While Winamp fans hope for a revival of the player, the player has changed companies more frequently than it has been released in an updated version. AOL sold Winamp to Radionomy back in 2014, and Vivendi became a major Radionomy stakeholder at the e


Tech Support Scammers may freeze your browser
Tech support scams come in many forms; from basic popup messages or fake screenshots posted on websites to sophisticated operations that try to block users from leaving a site or closing a popup. Malwarebytes discovered a new sophisticated tech support scam operation recently that affects Chrome, Firefox, Brave and probably other web browsers as well. The scam uses a public API that browser's support to overload it with file downloads to increase CPU and memory usage so that the browser freezes


Find out why you can't access a website or service on the Internet
Even the most prominent websites or services may go down. While the downtime of sites like Facebook, YouTube or Twitter is measured in seconds usually, other sites may be down for hours or even days at a time. But downtime is not the only reason why you may not be able to access a website. Maybe it is blocked in your country, blocked by security software, or you cannot access it because of ISP routing issues. The following guide offers a list of suggestions on analyzing connection issues. It lis


Here is what is new and changed in Firefox 58.0.2
Mozilla plans to release Firefox 58.0.2 to the stable channel in the next 24-hour period. The new version of the browser fixes two crash issues, a signature issue on Mac OS X devices, and issues on Microsoft's Hotmail and Outlook web mail service. The new version of Firefox updates the release channel of the web browser. It is the second minor update following the release of Firefox 58.0 which was released on January 22, 2018. Firefox 58.0.1 patched a critical security issue in version 58.0 and


A new version of Opera browser, Opera 51.0 Stable, is out. The new version features performance and usability improvements such as the handy "back to top" action or an automated backup of all browser preferences. Opera 51 is available through the browser's automatic update functionality and as a direct download option on the Opera website. You can run a check for updates at any time in Opera by opening opera://about. The browser runs a manual check when the page opens to download and install upd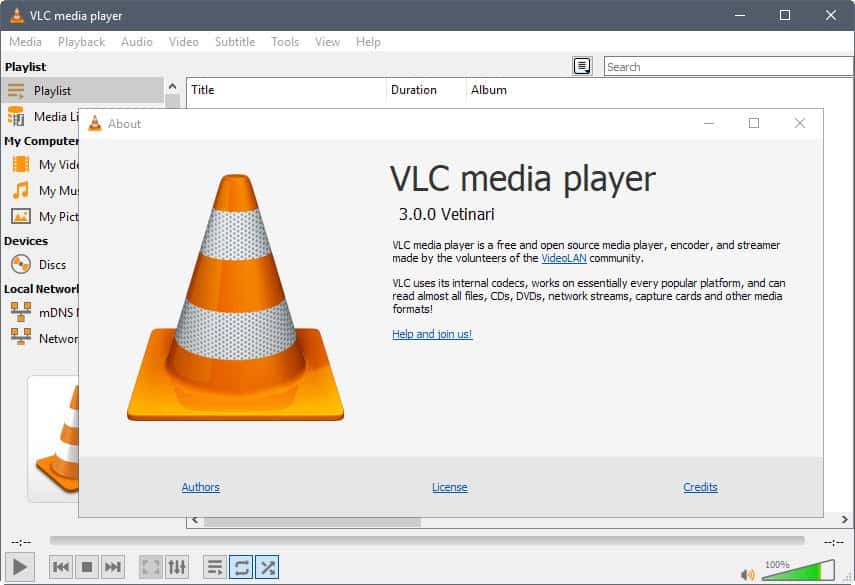 VideoLAN, maker of the popular VLC Media Player for various desktop and mobile operating systems, plan to release VLC 3.0 final to the public soon. The new version of the multimedia player is already on the official FTP server. The company released a total of nine release candidate builds before that and used these builds to fix various issues before the final release. VLC 3.0.0 features under-the-hood changes mostly. The player supports Chromecast, new audio and video formats including HDR, HTT


Microsoft Office February 2018 Patch Day
Microsoft released non-security updates for the Office suites Microsoft Office 2010, Microsoft Office 2013, and Microsoft Office 2016 on the February 2018 Office Patch Day. The first Tuesday of each month is Office Patch Day at Microsoft but the company limits the releases to non-security updates. Security updates follow on the second Tuesday of each month. Please note that the updates apply not to click-to-run installations of Microsoft Office, for instance Office 365 Home, but only to msi-inst


How to fix broken USB install damaging your Linux dual boot
Rather than a very straightforward tutorial type article, I thought I would tell you a true story of what happened to me immediately before writing this, and how I solved it. Tonight before I started working on some articles for Ghacks, I decided to wipe my current setup and install the latest version of Linux Mint Cinnamon edition, and see how she runs. This laptop currently has Windows 7 and Antergos dual-booted. I couldn't find the usual flash drive I keep handy for firing LiveUSB's up, s...


Windows 10 upgrade log files list
A lot happens in the background when you upgrade Windows 10 to a new version. All of it is automated and of little interest to the user or admin unless something goes wrong. If the worst case scenario happens, you end up with an unusable version of Windows 10 or the previous version of Windows if the rollback was successful. Error codes may point you in the right direction, but more often than not it is essential to analyze log files that Windows creates during the upgrade process. Windows would


Ghacks Deals: The Complete 2018 CompTIA Certification Training Bundle: Lifetime Access (98% off)
The Complete 2018 CompTIA Certification Training Bundle: Lifetime Access is a big eLearning bundle that preps you for 14 different CompTIA certification exams. While that is the main purpose of the bundle, you may also use it to improve your skills without taking exams. The bundle is available for $59 instead of the regular price of $4927, a discount of 98%.  Access is for life, and the courses are designed for users of all experience levels. The following courses are included: CompTIA A+ 220...


How to control audio and video autoplay in Google Chrome
While there are plenty of things online that can break your concentration or focus on a task, autoplaying video or audio surely is at the top of "don't like" list for many Internet users. One has to distinguish between autoplaying media with and without sound, as that makes a difference. While you can ignore videos that play automatically if they are silent for the most part, it is impossible to do so if sound is enabled by default. Autoplay is beneficial on some sites. Say, you are on YouTube a


After launching YouTube Go in India about a year ago, Google is in the process of rolling out YouTube Go to more than 130 countries. While the app may not yet be available in your country, the chance is good that it will become available eventually. YouTube Go is a lightweight application especially when you compare it to the regular YouTube application for Android. But there is more to YouTube Go than that. Designed for limited or slow data connections, YouTube Go allows users to watch or downl


Firefox's upcoming bookmark sync improvements address long-standing issues
Mozilla introduced Sync functionality in Firefox a long time ago. Sync came in the form of the add-on Mozilla Weave first but was integrated into the Firefox web browser later on to provide all users of the browser with sync functionality. Mozilla changed how Sync works in Firefox with the release of Firefox 29 by switching over to a new account system that allowed authentication using an email address and password opposed to keys that the previous version of Sync required. While the current ver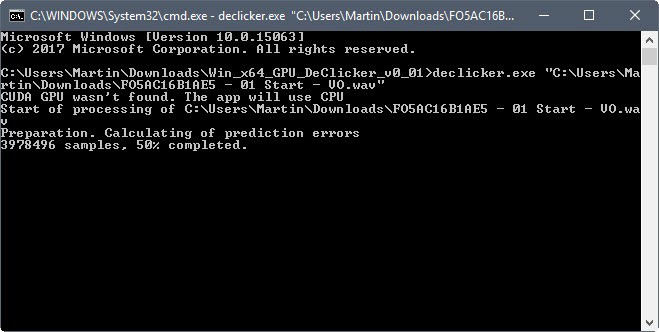 Remove "clicks" from audio files with GPU DeClicker
GPU DeClicker is a free program for Microsoft Windows systems to remove "clicks", "pops", "bit rots" and other types of noise from audio files. Designed primarily for audio files recorded from vinyl disks, GPU DeClicker removes noise from any supported audio file you throw at it. The current version of the program is listed as beta. While it works fine as it is, it comes without graphical user interface as this is still on the developer's to-do list. Note: The application supports a GPU-mode whi


How to fix Boot BCD startup errors on Windows PCs
I was greeted by a Recovery error message the other day when I powered up a PC running Microsoft's Windows 10 operating system. The recovery screen stated that "Your PC/Device needs to be repaired. The Boot Configuration Data for your PC is missing or contains errors". The PC shut down properly the day before and the whole thing was mysterious. The Recovery screen suggested to use recovery tools or contact a PC administrator or the PC/Device manufacturer for assistance. Read on to find out how I


Malicious Chrome extensions with Session Replay appear in Chrome Store
Trend Micro security researchers identified 89 different malicious extensions for Google Chrome that use Session Replay functionality to log user activity while using the browser. Session Replay scripts are analytics scripts that record user activity on websites. Companies use it to understand what users do on their sites by recording mouse movement, keyboard input and other interactions with the page in question. Research suggests that nearly 1% of the top 50,000 Alexa websites use Session Repl


Tab Mix Plus WebExtension Development Build is out
The author of the popular Firefox add-on Tab Mix Plus released the first version of the upcoming WebExtensions-based version of Tab Mix Plus yesterday. The extension is available under a new URL on the Mozilla Add-ons Store to separate the classic add-on from the new. The extension is a complete rewrite of the legacy add-on using the new WebExtensions system that Firefox supports. Mozilla dropped support for the classic add-on system in Firefox 57 Stable. Tab Mix Plus WebExtension first look Th


Windows 10 S and S Mode rumors
When Microsoft revealed Windows 10 S in mid-2017, some believed that it was a return of the dead-before-it-shipped operating system Windows RT. It was a low-cost version of Windows 10 designed for low-end hardware and "light-use" environments, and it only supported Windows Store apps. Microsoft advertised it as more secure, as Windows 10 S was designed to run only Windows Store apps and not legacy Windows programs. While this is beneficial from a security point of view, it is also very limiting...


Game Saturday: Blocksum (PC, Puzzle)
Blocksum is a puzzle game for Windows PCs that mixes elements from Tetris, 2020 (if that game existed back in 2007), and Dr. Mario. Whereas you try to fill lines completely in Tetris to remove them and move blocks of the same number next to each other in 2020, you use basic math in Blocksum to create adjacent blocks of the same sum to have them all removed at once. Blocksum is a Japanese game that supports English. The official website of the game is this one but I made the decision to link to A


Redhat aquires Kubernetes and Containers company CoreOS
On Jan. 30., Redhat announced that it has signed an agreement to acquire CoreOS, Inc, for $250 million. CoreOS, is a major player in the containers and virtualization area of the corporate server / development world. According to the announcement, "Red Hat's acquisition of CoreOS will further its vision of enabling customers to build any application and deploy them in any environment with the flexibility afforded by open source. By combining CoreOS's complementary capabilities with Red Hat...


Adobe Flash 0-Day Vulnerability APSA18-01
Adobe released the security advisory APSA18-01 for Flash Player that confirms a critical security vulnerability in Flash Player 28.0.0.137 and earlier. Flash Player 28.0.0.137 is the most recent version of the program which means that all installed versions of Flash are affected by it. Affected products: Adobe Flash Player Desktop Runtime on Windows, Linux and Mac platforms. Adobe Flash Player for Google Chrome on Windows, Mac, Linux and Chrome OS platforms. Adobe Flash Player for Microsoft Ed...


Details about Google's ad-blocking integration in Chrome
Google announced plans some time ago to integrate a native ad-blocking mechanism into the company's Chrome web browser. The announcement may have come as a surprise to many as Google makes the bulk of its revenue through advertising. I assumed back when I wrote about it for the first time that Google's primary intention was to stop or slow down the use of third-party ad-blocking. I still think that this is Google's main intention, as it seems unlikely that Google will convince many ad-blocking u


Ghacks Deals: Amazon Web Services Certification Training Mega Bundle (94% off)
Amazon Web Services Certification Training Mega Bundle is a huge training bundle. It includes eight different training courses that cover a broad range of Amazon products including S3, Route 53, EC2, or Lambda. The bundle is available for $69 instead of the regular price of $1299. Courses are designed for users of all experience levels and access is granted for a year. The following courses are included: AWS Technical Essentials Certification Training --Get an Introduction to the Fundamentals


Skype released as Snap for Linux
Snaps are a type of container created by Canonical Inc., to serve as a universal installation package across distributions, so that developers and users alike, know that the software can run on any system, anytime. The idea, is that all dependencies are packaged, snaps auto-update and can easily be rolled back in the case of issues, so long as you use a distro that supports snaps, you're good to go (in theory.) Currently, the supported Distributions are: Ubuntu Linux Mint Manjaro Debian Arch ...


Office 2019 will be Windows 10 exclusive
Microsoft's General Manager for Windows, Bernardo Caldas, and General Manager for Office, Jared Spataro announced changes to Office and Windows servicing and support today. Microsoft revealed that Office 2019, the next version of Microsoft Office, will ship in the second half of 2018 and that previews will be available in the second quarter of 2018. While that is good news for users and customers waiting to upgrade to the next official release of Microsoft Office, some information revealed today


Firefox 59: Referer Path Stripping in Private Browsing
Mozilla plans to strip path information from the referer when visiting third-party sites starting in Firefox 59 Stable. The new feature applies to the browser's private browsing mode only. Web browsers provide sites with information when connections are initiated. Part of this is the referer value which holds the path of the referring site. When you click on a link, the URL  the link was clicked on is sent as the referrer by default. The data reveals information to sites. While that is usually ...


eBay wants to intermediate payments
Online marketplace eBay announced today that it plans to intermediate payments on all eBay marketplaces in the coming years. The company signed an agreement with global payments processor Adyen which makes Adyen the primary payments processing partner on the eBay platform. Adyen is a Dutch-based global payment processor. The company processes payments for Internet heavyweights such as Netflix, Uber, Etsy, Groupon, LinkedIn or Booking.com already. eBay's main goal is to manage payments directly.


The Document Foundation released LibreOffice 6.0 Final, a new version of the free and open source Office suite, for all supported operating systems yesterday. The new version of the application is available for all supported desktop operating system -- Linux, Mac OS and Windows -- and as a cloud version. The new version of the Office program does not support Windows Vista,  Windows XP, or Mac OS 10.8 anymore. LibreOffice 6.0 requires at least Windows 7 Service Pack 1 on Windows machines and Ma...


Back to basics Part 1 – Updating your GNU/Linux system
So, it's been suggested to me that I start a "Linux basics" series, and I think it's a wonderful suggestion! That said, to me the most logical starting point after an installation (which there will be more in-depth articles to come about!) would be learning how to update your system; as most distributions are not up-to-date when freshly installed. Most distributions are relatively similar in their updating methods, consisting of either a GUI tool and or terminal commands. Typically, how ...


Mozilla creates Shield study rules to avoid another Mr.Robot disaster
Mozilla created a set of guiding principles for Shield studies after it launched an analysis of the Looking Glass Shield study which went wrong on several levels. Looking Glass was released as a system add-on to Firefox which meant that users saw the add-on appear in the browser's add-on manager without them initiating the installation. This appearance out of thin air was arguably the biggest complaint that users had and something that got them alarmed because it shared the characteristics of ma


Microsoft announces harder stance against programs with coercive messaging
Quick, our trustworthy program found issues that you need to address right now. Look, you have malware on your system which you need to remove asap. All you have to do is buy the premium version of our program or this add-on service to address these issues. Maybe you encountered programs of the kind before, or helped friends, family or colleagues remove these programs after the fact from their systems. Fake programs use coercive messaging to get users to purchase premium versions or additional s


Vivaldi Browser 1.14 update released
Vivaldi 1.14 is out. The new version of the web browser features a vertical reader view and usability improvements for various built-in features. Vivaldi Technologies AS launched the first preview version of the Vivaldi Browser three years ago in January 2015, and the first stable version in April 2016. Vivaldi released a total of 14 stable versions of the web browser at that time introducing features such as theme scheduling, native screenshot capturing, animation controls, and a lot more. Viva


DriverStore Explorer: manage the Windows Driver Store
DriverStore Explorer is a free open source program for Microsoft Windows devices to view the content of the Windows Driver Store and to manipulate it. Microsoft introduced the DriverStore in Windows Vista and used it in all newer versions of Windows since. It is a collection of first and third-party driver packages that Windows trusts and stores on the local hard drive. The entire driver package, including the inf file, is copied to the Driver Store and the inf file must be set up to reference a


WebAPI Manager: limit website access to Web APIs
WebAPI Manager is an open source extension for the Firefox and Google Chrome web browser that you may use to limit website access to Web APIs. Support for new features and technologies exploded in recent years. Browser makers like Mozilla or Google integrate APIs into their web browsers that websites may use. While there is no doubt that many of the features are beneficial as it gives sites new capabilities, some features may also get abused or are not really used by a lot of sites out there. So


Ghacks Deals: The Complete Web Developer Course 2.0 (just $9)
The Complete Web Developer Course 2.0 is on sale for just $9 right now instead of the regular price of $149. It is designed for users who want to get started with web development and also for users who want to refresh their skills or put their theoretical skills to good use by creating 25 websites and mobile apps. The course covers a lot of ground. You learn HTML5 and CSS3, JavaScript, PHP, MySQL and Python, and put these skills to use. The Complete Web Developer Course 2.0 teaches you JQuery,


Vivaldi Technologies AS was accused recently of incorporating spyware in the browser. A user claimed that Vivaldi Technologies incorporated spyware in the browser because the browser connects to regularly. Piwik is a self-hosted analytics software that companies and individuals like to install if they don't want to use third-party hosted services such as Google Analytics. The main advantage of Piwik and other self-hosted solutions is that no one but the


Should you get a Cat6 or Cat7 Ethernet cable for your network?
When you search on Amazon, Newegg or any other shopping site for ethernet cables, you will soon encounter terms you may not be familiar with. The shops carry Cat5, Cat5e, Cat6, Cat6a and Cat7 ethernet cables, but how do these differ from each other? More precisely, which cable should you pick for your home network and are there other things that you need to take into consideration? Cat, which stands for category, defines a cable's specifications. Categories are backward compatible. A Category 7


Print Conductor 6.0 review: large volume printing on Windows
Print Conductor 6.0 is the latest version of the large volume printing solution for Microsoft Windows devices which we reviewed back in 2007 the last time. A lot has changed in the last ten years since our initial review and the release of Print Conductor 6.0 gave me an opportunity to look at the program and review it again. Print Conductor is available as a free for non-commercial use version and a paid version. The program runs on all client and server versions of Microsoft's Windows operating


Mozilla Firefox 58.0.1: fix for Windows page-load issue
Mozilla will release Firefox 58.0.1 in the coming 24-hour period to address a critical issue on Windows machines that causes page load failures in the browser. The update is not out yet at the time of writing but it will soon be released via the web browser's automatic update functionality. You can run manual checks for updates in Firefox by clicking on the menu icon and selecting Help > About Firefox from the menu that opens. Users who prefer to download new versions instead can do so on the Mo


Google's Location History tracking is creepier than thought
Research by online magazine Quartz suggests that Android's Location History feature tracks more data than initially thought. Location History "helps you get better results and recommendations on Google products" according to Google. It may be used to locate a missing phone, get traffic predictions, or recommendations based on places you have visited in the past. It is an opt-in feature of Android devices that Google integrated into apps like Google Maps, Google Photos, Google Assistant or Google


Windows Update KB4078130 deactivates Spectre Patch
Microsoft released the Windows Update KB4078130 yesterday. It disables the mitigation against Spectre, Variant 2 on all supported versions of the company's Windows operating system when installed. Microsoft released updates for Windows on the January 2018 Patch Day to mitigate Spectre and Meltdown vulnerabilities disclosed earlier. The company stopped the distribution of these updates to select AMD devices shortly after initial deployment because it caused blue screen of death crashes on Windows


Acronis Ransomware Protection review
Acronis Ransomware Protection is a new security program for Windows designed to protect the system against ransomware attacks. Users of Acronis True Image 2018 may notice that it looks similar to the built-in anti-ransomware protection of Acronis' backup solution. Acronis Ransomware Protection is a standalone version of the True Image 2018 component that is available for free. Note: You need to sign in to an Acronis account or create a new one before you can start using the security program afte


Broken Malwarebytes update causes high RAM and CPU usage
Users of Malwarebytes, a popular security solution for Windows, reported on Saturday that the software's RAM usage and CPU utilization was going through the roof. One user published a screenshot that showed the Malwarebytes Service process using more than 19 Gigabytes of RAM, and others soon chimed in and revealed that Malwarebytes used a lot of RAM and CPU on their devices as well. Some users reported even that some protective modules, Web Protection and Real-Time Protection would not turn on a


Mozilla study analyzed privacy improving features
"Can we improve privacy without breaking the Web", that was the question that Mozilla tried to find answers for in a recent study. The organization ran an opt-in study to learn how privacy protections "affect users on websites". Mozilla wanted to know whether the enabling of Tracking Protection breaks websites, if some privacy protections caused lower breakage than others, and if broken websites made users leave Firefox. Mozilla Privacy Study More than 19000 Firefox users joined the study and M


Game Saturday: Stellar Squad (online, Flash, strategy)
Stellar Squad is a free online strategy game in which you command a squad of futuristic soldiers and fight off wave after wave of robot attacks. The game plays similarly to Tower Defense games but with the difference that the positions of your soldiers are set. Stellar Squad Stellar Squad is a tactical game that features squad-based combat, different unit types, upgrades, and an army of robots of all shapes and sizes. Combat works automatically but you get control over certain things while it p


Thunderbird 52.6.0 with security fixes released
Thunderbird 52.6.0 is a security update for the popular desktop email client. The release is available via the email client's automatic update feature and also on the official project website. Thunderbird users can run a manual check for updates with a click on Help > About Thunderbird. If the menu bar is missing, tap on the Alt-key to display it. Thunderbird will pick up the new update and download and install it automatically. Thunderbird 52.6.0 Thunderbird 52.6.0 is a security and maintenanc


How to mute groups or friends on WhatsApp
WhatsApp is a popular messaging service that is available for all major mobile platforms, the Web and even for desktop operating systems. The service supports two main chat types: one-on-one and group. The main difference between the two types is that groups may have more than two chat participants. I used WhatsApp group chats in the past to organize fitness and sports training sessions, and have seen it used by entire school classes, parents, and friends to communicate with each other. While th


Resonic Player is a free for personal use audio player for Microsoft Windows devices. Designed for audio and music playback, Resonic Player plays all popular audio formats as well as midi and music module formats. Music players are a dime a dozen on Windows and pretty much any operating system out there. A handful of crowd favorites, such as Foobar 2000, AIMP or the more dead than alive Winamp are available and hundreds of audio players that are not nearly as popular. Resonic Player Windows use


Google gives users greater control over reminder ads, but is it enough?
Google product manager Jon Krafcik announced changes to the company's handling of reminder ads, an advertisement that follows users around, yesterday. Reminder ads are those ads that follow you around when and can appear to be nearly anywhere you go. If you ever placed an item of interest in a shopping cart but did not buy it outright then and there, or have shown interest in a product, you may have noticed that ads for the product or item frequently appear days and weeks afterward. Companies ma


Firefox Temporary Containers extension
Temporary Containers is a WebExtensions add-on for the Firefox web browser that you may use to open sites automatically or manually in containers that get removed when the last open tab of the container gets closed. Containers is a relatively new feature of the Firefox web browser. Mozilla revealed the feature  -- then called Contextual Identities -- in late 2015 and added it to Firefox Nightly in mid-2016 under the new name Container Tab. Mozilla launched a Test Pilot experiment in March 2017 ...


Ghacks Deals: Become a Professional Python Programmer (Price Drop)
Python is a popular programming language that is used for a variety of tasks and services including web and game development, and data analytics. Become a Professional Python Programmer is a big eLearning course that is on sale right now. Initially priced at $185, it is available right now for $9 for a short period. The course is designed for users of all experience levels. It teaches you the fundamentals of the Python programming language in theory and practice. You create a Flappy Bird clone


Firefox's Pocket integration may show sponsored stories soon
Mozilla started to integrate the read-it-later service Pocket in 2015 in the Firefox web browser. First as an option for users to save articles they encounter on the web for reading it at a later time and some sort of bookmarking alternative, and then later on to power recommendations from around the Web on Firefox's New Tab page in the US, Canada and Germany. Part of Firefox's userbase criticized Mozilla for integrating Pocket natively in the browser (as opposed to offering an add-on), others l


Linus Torvalds calls Intel's Spectre/Meltdown patches utter garbage
Linus Torvalds is the mastermind behind Linux, and well known for his very colourful opinions on things, like the time he flipped NVIDIA the finger. Yeah, he did that. This time, Torvalds is getting rather vocal about his views on the patches released by Intel to deal with Spectre and Meltdown. I'm going to have to sensor some of the quotes in this article, but you can read the full flavoured ones for yourself. "You seem to have bought into the cool-aid. Please add a healthy dose of critical...


Iris a cross-platform eye protection software
When it comes to working long hours staring at computer screens, you may experience downsides such as eye strain or sleep issues. Eye protection software like F.Lux, Lightbulb or Iris adjusts the brightness of the screen to counter the harmful effects of being exposed to bright light during the workday or while using a computer at home. Iris is available for Windows, Linux and Mac devices. You can download a free version or buy the pro version for $10 which supports additional functionality and...


View the Telemetry Data that Microsoft collects on Windows 10
Microsoft plans to launch the Windows Diagnostic Data Viewer app in the next feature update for Windows 10. The company added placeholders for the new feature in previous Windows 10 version 1803 Insider Builds but today's build enables the functionality as a preview. Microsoft announced its commitment to "be fully transparent on the diagnostic data collected" from Windows devices today and the release of the application adds options to Windows 10 to view collected Telemetry data. Microsoft says


Chrome 64 for Android with abusive ad experiences protection
Google announced the availability of Chrome 64 for Android yesterday. The new version features protections against abuse ad experiences according to Google among other improvements. Google notes on the official Chrome Releases blog that Chrome 64 for Android" prevents sites with abusive ad experiences from opening new windows or tabs" without user permission. The new functionality is not the built-in adblocker that Google plans to enable on February 15, 2017, but a different kind of blocking mec


Tor Browser 7.5 out with security updates
Tor Browser 7.5 is an update to the popular web browser that utilizes the Tor network that helps users remain anonymous while accessing sites and services on the Internet. The new version of the Tor Browser includes important security updates. It is based on Firefox ESR 52.6 and includes the same security vulnerability fixes as that Firefox version. Firefox ESR is the Extended Support Release version of the Firefox browser that receives security updates regularly but other updates less frequentl