Fight Night Sao Paulo: The Scorecard
Saturday's UFC Sao Paulo event is in the books, and now that the dust has settled in Brazil, it's time to go to the scorecard to see who the big winners were at Ginasio do Ibirapuera. 1 – Thiago Santos Ah, to have options. After a hard road to his first UFC main event, Thiago Santos is not just a dangerous light heavyweight, but a dangerous middleweight as well. So which direction will "Marreta" go after his Saturday stoppage of Eryk Anders? Light heavyweight



Miesha Tate to commentate on Quintet 3
Submission grappling promotion QUINTET continues to stack its debut event in the United States, confirming that Miesha Tate has been added to the commentary team for the October 5, Las Vegas QUINTET 3 supershow.The former UFC and Strikeforce bantamweight champion said: "I'm exciting to be commentating for QUINTET 3. I really feel submission grappling is on the rise right now and Quintet's format of five vs five action is one of the most entertaining formats out there." Ta



Santos earns finish in main event spotlight
SANTOS vs ANDERSA grueling light heavyweight clash between middleweight standouts Thiago Santos and Eryk Anders ended suddenly at Ginásio do Ibirapuera in Sao Paulo on Saturday night, as "Marreta" made his 205-pound debut a successful one, halting late notice replacement Anders at the end of the third round in their UFC Fight Night main event. Santos gets it done! What a fight!! @TMarretaMMA #UFCSP pic.twitter.com/NXYf9m3z7E — UFC (@ufc) Septemb



Alex Oliveira, Little Nog highlight Sao Paulo victories
fights. finishes.#UFCSP has DELIVERED! pic.twitter.com/AIS3rDhuEL — UFC (@ufc) September 23, 2018 OLIVEIRA vs PEDERSOLI JR.Surging welterweight contender Alex "Cowboy" Oliveira made quick work of Italy's Carlo Pedersoli Jr. in Saturday's UFC Sao Paulo co-main event at Ginásio do Ibirapuera, stopping him in the first round.A brief feeling out process to start the bout ended when Rio de Janeiro's Oliveira caught a right kick from Pedersoli and proc



Charles Oliveira makes UFC history in Sao Paulo
Most submission wins in UFC history!!@CharlesDoBronxs makes HISTORY in Sao Paulo!! #UFCSP pic.twitter.com/5bLtlaPQjy — UFC (@ufc) September 23, 2018 OLIVEIRA vs GIAGOSLightweight standout Charles Oliveira set the record for most submission wins in UFC history on Saturday in his home city of Sao Paulo, breaking Royce Gracie's mark with his 11th tap out victory, this one coming against the returning Christos Giagos in the second round at Ginásio do Ibirapuera.



Fight Night Sao Paulo Official Weigh-In Results
The UFC returns Saturday to Sao Paulo, Brazil. Fight Night Sao Paulo features 14 bouts headlined by the five-round light heavyweight showdown between Thiago Santos and Eryk Anders. Alex Oliveira and Carlo Pedersoli will handle the co-main duties. Five exclusive UFC FIGHT PASS prelims get the evening underway at 6:30pm ET before moving over to FS2 at 8:30pm ET for the four additional prelim fights. FS1 takes over at 10:30pm ET with a five-bout main card.Here are your official weigh-in result



Unfiltered Episode 231: Eryk Anders & Chase Sherman
Eryk Anders joins the show ahead of his short-notice, UFC Light Heavyweight debut, filling in for the injured Jimi Manuwa against Thiago Santos at UFC Sao Paulo, and talks about Thiago as an opponent, the difference between fighting at Middleweight vs. Light Heavyweight, feeling comfortable in Brazil, playing football for the Alabama Crimson Tide, and more. Before that, UFC Heavyweight Chase Sherman calls in and talks about his "do or die" fight against Augusto Sakai, training with Alan Belcher,



No Love Lost Between Khabib & Conor At UFC 229 Presser
NEW YORK – The combatants in the main event of UFC 229 have kept a fairly low profile in the lead-up to their October 6 showdown in Las Vegas. But across the country in the Big Apple on Thursday, UFC lightweight champion Khabib Nurmagomedov and former two-time titleholder Conor McGregor made up for lost time during a raucous press conference at Radio City Music Hall.Well, at least "The Notorious" one did, as he took every opportunity and every angle to rip into his rival, with



Santos' Fear Gives Him Confidence Heading Into His First Main Event
You would think that the idea of having a highly-trained mixed martial artist about to unleash bombs on you for 15 minutes or less would inject a healthy amount of fear into your system. But Thiago Santos isn't one to get easily rattled, and if he does feel any of those emotions, he knows how to control them. How? Well, he's been in worse situations."Fear brings us confidence," said Santos, who spent seven years as a paratrooper in the Brazilian Army. "We've l



TUF Blog: Marciea Allen Part 4
That look that you give your opponent when your ready to bang. pic.twitter.com/XItlVyH61A — Marciea Allen (@MarcieaAllen) September 18, 2018 Watching my episode brings back old feelings, both good and bad. I have no excuses or regrets in my preparation leading up to my fight or during the fight. If there was one thing I would have done differently, it would have been to control the tempo during my ground-and-pound. I had such an adrenaline dump after I stood up from the



Shevchenko to battle Jedrzejczyk for flyweight crown in Toronto
OFFICIAL! @JoannaMMA meets @BulletValentina for the flyweight strap at #UFC231 in Toronto Dec. 8! pic.twitter.com/wZ6geXV6OL — UFC (@ufc) September 21, 2018 A new UFC women's flyweight champion will be crowned on December 8, as former strawweight queen Joanna Jedrzejczyk faces off with Valentina Shevchenko for the vacant title at UFC 231 in Toronto, Ontario, Canada.UFC 231 airs live on Pay-Per-View from the Scotiabank Arena.No strangers to each other, having fought three



Vendramini Ready To Make The Most Of His UFC Debut
Luigi Vendramini of Brazil poses for a portrait during a UFC photo session on September 19, 2018 in Sao Paulo, Brazil. (Photo by Buda Mendes/Zuffa LLC via Getty Images)" align="center" />As a Brazilian of Italian descent, the potential was there for Luigi Vendramini to pack on the pounds in the aftermath of his September 7 knockout of Lucas Eurico. But there wouldn't be time for that, considering that the 22-year-old's life was about to change."I was relaxing a bit, but I was d



As A Fighter, Alvey Still Growing, Smiling
Sam Alvey has become known for his wide, toothy smile, and heading into this weekend's UFC return to Sao Paulo, the 32-year-old veteran has plenty of reasons to show off his pearly whites.After a 2-0 start to his time competing at light heavyweight, Alvey got the call to venture to Brazil's most populous city to take on one of the nation's legendary fighting figures, Antonio Rogerio Nogueira, this weekend at Ginasio do Ibirapuera."It's the same thing any time a figh



TUF Blog: Josh Parisian Part 4
View this post on Instagram A post shared by Josh Parisian (@parisianmma) on Sep 10, 2018 at 10:47am PDT Our team's (Team Gastelum) win streak unfortunately ended this week. Julija took an absolute beating from Marciea, but managed to score a takedown and slap on an armbar to get the submission finish.We knew Julija's strengths and weaknesses going into the fight, and I was under the impression that



Chambers Excited To Shutdown Souza's Hype Train
Fighting in your own backyard is always a great feeling. That hometown vibe creates a wholly different intensity, not just for the fighter but for the fans as well. Then there is the other side of the coin: an opponent attempting to steal the show.For 39-year-old Alex Chambers, a fight over 8,000 miles away from her native Australia against a surging opponent like Livinha Souza--who has impressed the UFC ranks with her combination of striking and Jiu Jitsu skills--sounds like a golden opportunit



Leites and Dunham to say farewell with no regrets at Sao Paulo
While seven athletes are set to make their UFC debut this Saturday in Sao Paulo, two others will be saying farewell to the Octagon.One of them is middleweight Thales Leites, who will make the last fight of his career against Hector Lombard at Ginasio do Ibirapuera, and he has no doubt in his mind that this is the right call at the right time."I'm already 37 years old. I'm not a kid anymore. Besides that, I'm making my 37th professional fight," he said. "Training is


Last night's episode made it pretty clear that I'm dissatisfied with the training on Team Whittaker. As time went on, the language barrier became less of an issue during training. At first it was pretty difficult, but it got better as we all made adjustments to the situation. The biggest issue, however, was the lack of intensity during training. Aside from those fun little "warm-ups," we were really only doing BJJ technique and shadow boxing. We weren't hitting pads, we definitely weren't sparri



Anders Likes 'Everything About' His Fight With Santos
When Jimi Manuwa was forced out of this Saturday's UFC Sao Paulo card due to injury, one of the usual suspects threw his name into the hat to step in and face Thiago Santos on less than a week's notice. The only thing is, this usual suspect – Eryk Anders – is always ready to put his money where his mouth is. And though that may surprise some, it's no shocker to the Alabama middleweight. "I'll be completely honest, I love this sport, I love fi



Nogueira Focused On His UFC Return, Not His Age
There is only one figure in mixed martial arts who remains undefeated and that is Father Time. Try as they might, no fighter is able to escape his clutches and fend off his attacks, and while he catches up to everyone at different points, he eventually catches up with everyone.Antonio Rogerio Nogueira can see the unbeaten specter standing on the horizon, studying him, but the venerable Brazilian believes that showdown is still a couple more years away."I think maybe one or two more years,&



TUF Blog: Maurice Greene Part 4
On this week's episode we started to see a little drama coming from the other side of the house. By the looks of it, Team Whittaker didn't take too active of a role in coaching their fighters. They seemed to just want to keep them sharp but not do too much to help them evolve. The intensity of the training sessions on that side left a lot to be desired.Team Gastelum, on the other hand, took our strengths and used their knowledge and insight to help them become even more advantageous to us. Every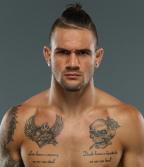 Fight with Oliveira not short notice for Giagos
Christos Giagos didn't get a full training camp for his return to the UFC against Charles Oliveira this weekend, but that's not an issue for "The Spartan.""I stay in shape and I'm always ready," he said. "So this is not short notice for me."Giagos' confidence is evident, even if he is going into the lion's den to face Sao Paulo's Oliveira in Sao Paulo, but this isn't bravado from the Californian. It comes from a place



UFC Sao Paulo Fighters Santos And Henrique Discuss Changing Divisions
Same decisions, different processes. Thiago "Marreta" Santos and Luis Henrique "KLB", are teammates at Tata Fight Team in Rio de Janeiro. Both fighters will be making their debuts at new weight classes at Saturday's UFC Sao Paulo. Santos will be moving up to face Eryk Anders in the main event and Henrique will be moving down from heavyweight to take Ryan Spann at 205 pounds. "I didn't have such a restricted diet and I'm in a better mood



Contender Series Brazil's signees reflect on their UFC debut in Sao Paulo 
The first season of Dana White's Contender Series Brazil was another success, particularly in terms of finding talent. 11 out of the season's 15 winners impressed the UFC's president enough to get a signed a contract with the world's biggest MMA organization. Less than a month after the season's final three episodes aired, a trio of prospects are already set to make their Octagon debuts this Saturday at UFC Sao Paulo. One of those fighter



Hardy, back in action Sept 29, promises 'even faster finish'
Undefeated heavyweight prospect Greg Hardy, the breakout star from the recently wrapped Dana White's Tuesday Night Contender Series – returns to action Saturday, September 29. It will be the former NFL star's third professional fight, and the third to be streamed exclusively live on UFC FIGHT PASS.The former NFL defensive end, 2-0 (2 KOs) will look to continue his march towards the UFC heavyweight division when he takes on Ray Jones, 1-1, at Xtreme Fight Night 352 in Tulsa, Okl



TUF Heavy Hitters - Episode 4 Recap
The Ultimate Fighter: Heavy Hitters on JULY 19, 2018 in Las Vegas, Nevada. (Photo by Chris Unger/Zuffa LLC via Getty Images)" align="center" />The fourth fight of The Ultimate Fighter: Heavy Hitters was definitely the most action packed, back and forth affair of the season. The women's featherweights were up to bat again this week as Team Whittaker's No. 1 overall pick from the division - Julija Stoliarenko - took on Team Gastelum's last pick, Marciea Allen. Last week, middleweight c



Oliveira's game plan for Sao Paulo: "Make people happy & put on a show"
As it turns out, Alex Oliveira shares more than just a nickname with Donald Cerrone.In addition to sporting the same "Cowboy" moniker, the Brazilian welterweight also has the same mindset when it comes to competing as his American colleague, who got the better of him in a "Battle of the Cowboys" a couple years back in Pittsburgh.Over the three years and change since Oliveira made his short-notice promotional debut against Gilbert Burns in his hometown of Rio de Janeiro, t



TUF Heavy Hitters: Episode 4 Preview
It's been a rough start to the TUF Heavy Hitters competition for Team Whittaker after losing the first three fights of the season, including bouts in both the men's heavyweight division and the women's featherweight division.The latest setback may have been one of the most painful to experience, as middleweight champion Robert Whittaker put his No. 1 pick Anderson da Silva against Justin Frazier in a fight that was supposed to showcase his top heavyweight against arguably one of the weaker links



THIAGO SANTOS VS. ERYK ANDERS There have been several changes to the main event headed to Brazil, but the final result is a showdown between two of the heaviest hitters on the entire UFC roster. Thiago Santos will meet Eryk Anders in a light heavyweight matchup that should bring plenty of action to Sao Paulo on Saturday night. Santos is best known for his jaw-dropping power, which he's used to level eight of his past opponents inside the Octagon. Meanwhile, Anders is fresh off a stun



Livinha Souza at beginning of a promising journey in the UFC
As a former Invicta FC strawweight champion who has won 11 of her 12 pro bouts, Livinha Souza is expected to be in the running for a world title in the UFC as soon as she steps foot in the Octagon to face Alex Chambers this Saturday in Sao Paulo. But Souza is not making such bold proclamations. Not yet."I think that you only can be considered a future world champion after I beat a top five (contender) and win well," said Souza through a translator. "Until then, I keep my mental



More than wins, Pedersoli Jr wants domination
View this post on Instagram A post shared by Carlo "Semento" Pedersoli Jr (@carlopedersolijr) on Aug 18, 2018 at 6:09am PDT After taking a short notice UFC bout and winning a decision over Octagon vet Brad Scott in May, you might assume that Carlo Pedersoli Jr. would be content to get the victory in whatever way he could, be happy with that, get out of England and gear up for the next fight.Not so f



Unfiltered: Tyron Woodley, Shaun Cooper, Mark O'Connell, Nicky Knuckles & Moscow Recap
UFC Welterweight champion Tyron Woodley joins the show and talks about his dominant UFC 228 title defense against Darren Till, who he thinks his next opponent will be, his new single "I'll Beat Yo Ass!" and much more. Before that, Jim and Matt are joined in-studio by Shaun Cooper and Mark O'Connell of Taking Back Sunday and Matt Serra BJJ brown belt, Nicky Knuckles. Plus, the guys break down the action from Moscow, including Merab Dvalishvili's first win inside the Octagon. Full Episode



Norifumi "Kid" Yamamoto 1977-2018
Fighting courageously until the end, one of Japan's greatest and most exciting mixed martial artists, Norifumi "Kid" Yamamoto, passed away Tuesday after a battle with cancer.He was 41.A decorated wrestler, Yamamoto may have earned a Bachelor's degree in Law, but there was always the feeling that fighting would be the path for the Kanagawa native."I've always been a fighter," he said in 2011. "I thought about becoming a lawyer, but didn't have



Marlon Moraes: the next great Brazilian MMA star?
"In the next few years Marlon Moraes is gonna mean what Anderson Silva and what Vitor Belfort meant to Brazil. Thanks to all his hard work and effort, he will become a reference to Brazlian mixed martial arts.Moraes' jiu-jitsu coach, Ricardo Almeida, has high expectations for the 21-5-1 fighter. Almeida views the Brazilian bantamweight as one of the top fighters in a talent-rich division.Almeida isn't the only person who sees this type of potential in Moraes. Nearly all of thos



Fight Night Moscow: The Scorecard
Sunday's UFC Moscow event is in the books, and now that the dust has settled in Russia, it's time to go to the scorecard to see who the big winners were at Olympic Stadium.1 – Aleksei OleinikI'm 50 years old. That means watching 44-year-old Mark Hunt face off with 41-year-old Aleksei Oleinik was one of those fights where I hoped for a draw because I didn't want to see any of my people lose. But it also meant that whoever won put another notch in the belt for us in t



On the Rise: Sao Paulo Edition
Last weekend's debut in Moscow, Russia was a rousing success, with the 12-fight card delivering several impressive performances, introducing the world to Jin Soo Son and culminating in Aleksei Oleinik finding Mark Hunt's neck to close out the night with back-to-back submission wins.Now this week, the Octagon shifts to Sao Paulo, Brazil for the seventh time as the Ginasio do Ibirapuera plays host to a massive 14-fight event on Saturday night.Though bitten by the injury bug, Saturday&r



UFC to host fan viewing party for Khabib vs. McGregor press conference in NYC
Las Vegas – The world will be watching on Thursday, Sept. 20 when UFC® lightweight champion Khabib Nurmagomedov (26-0, fighting out of Dagestan, Russia) and two-division UFC champion Conor McGregor (21-3, fighting out of Dublin, Ireland) come face to face for the first time at the UFC® 229: KHABIB vs. MCGREGOR press conference, presented by AutoZone®. While the press conference is closed to the public, UFC announces today an exclusive opportunity for fans to watch the eve


UFC Statement on Fight Night Sao Paulo
"UFC today announced that middleweight athlete Eryk Anders will replace Jimi Manuwa in the main event against Thiago Santos in Sao Paulo, Brazil this Saturday.After a performance-winning knockout against Tim Williams three weeks ago, Anders steps in due to an injury to Manuwa. Anders boasts a 11-1 professional record which includes eight finishes. In line for his second main event in Brazil, he takes on Santos, winner of five out of his last six fights. Both athletes will move



Who were the winners at UFC Fight Night: Hunt vs Oleinik? Click below to get the results for all the fights at Olimpiyskiy Arena in Moscow, Russia on Saturday, September 15th, 2018. Hunt vs Oleinik | Blachowicz vs Krylov | Arlovski vs Abdurakhimov | Kunchenko vs Alves | Murtazaliev vs Dollaway | Yan vs Soo Son | Khabilov vs Johnson | Taisumov vs Green | Ankalaev vs Prachnio | Yandiev vs Johnson | Emeev vs Sekulic| Dvalishvili vs Ware UFC Fight Night: Hunt vs Oleinik main card A



Ankalaev, Yan impress in Moscow prelims
MURTAZALIEV vs DOLLAWAY Welcome to the UFC, Murtazaliev. #UFCMoscow! pic.twitter.com/NrSgwkKus3 — UFC (@ufc) September 15, 2018 A late notice call to the Octagon didn't deter middleweight newcomer Khalid Murtazaliev from his mission on Saturday, as he stopped CB Dollaway in UFC Fight Night prelim action at Olympic Stadium in Moscow.Murtazaliev was the third opponent for Dollaway, who saw Omari Akhmedov and Artem Frolov both fall out due to injury befor



Blachowicz keeps win streak alive on Moscow main card
BLACHOWICZ vs KRYLOV GETS THE FINISH!@JanBlachowicz makes it four straight! #UFCMoscow pic.twitter.com/REZYEzJDou — UFC (@ufc) September 15, 2018 Polish light heavyweight contender Jan Blachowicz continued his surge to the top of the division in the UFC Fight Night co-main event, as he submitted the returning Nikita Krylov in the second round at Olympic Stadium in Moscow, extending his winning streak to four.According to custom, Krylov came out swinging hard



Another Oleinik submission highlights Moscow's main event
The Boa Constrictor strikes again!@OleynikUFC #UFCMoscow pic.twitter.com/31ZPEqVEL2 — UFC (@ufc) September 15, 2018 OLEINIK vs HUNTFighting at home in Moscow, heavyweight contender Aleksei Oleinik treated his fans to another display of his submission prowess on Saturday at Olympic Stadium, forcing veteran knockout artist Mark Hunt to tap out in the first round of their UFC Fight Night main event.Hunt opened with a leg kick, Oleinik taking it well as he moved forward in o


Hunt bridges being both a threat and a mentor
What a wild ride it has been for Mark Hunt – and that's just in regards to his UFC career.By now, as the former K-1 world champion and PRIDE favorite readies to make his 17th appearance in the Octagon this weekend in Moscow, Russia, where he takes on Aleksei Oleinik, everyone who follows the sport knows Hunt's story.The veteran powerhouse's contract was acquired by the UFC when it purchased the famed Japanese promotion, but with Hunt in the midst of a five-fight losing st



TUF Blog: Josh Parisian Part 3
View this post on Instagram A post shared by Josh Parisian (@parisianmma) on Sep 1, 2018 at 3:17pm PDT This week's episode had one of my favorite fights of the entire season. Not because I thought it was a phenomenal back and forth war or anything, but simply because of how completely polar opposite Justin and Anderson are. Anderson has carved a blood path through all of his competition in kickboxing. He&



UFC Moscow Aussie & Fancy Breakdown
Aussie UFC featherweight Megan Anderson alongside UFC reporter Laura 'Fancy' Sanko are back with the latest edition of their YouTube show Aussie & Fancy Breakdown. In this clip, the break down the fights of the UFC's first-ever visit to Russia: Fight Night Moscow, airing exclusively on FIGHT PASS September 15, 2018. Read the Full Article Here



TUF Blog: Marciea Allen Part 3
Life at times can be a lonely journey that must be traveled no matter how bad the roads may be. pic.twitter.com/DrX7xMtKaI — Marciea Allen (@MarcieaAllen) September 13, 2018 Our team is now on a three-fight win streak and the next fight pick ends up being me.Having being chosen last and being matched up against Team Whittaker's first pick didn't take me by surprise. In fact, I was prepared and I mentioned to Macy that I'll be next pick as we were walkin



Unfiltered: Mark Hunt and UFC Moscow Preview
#8 UFC Heavyweight Mark Hunt joins the show and discusses fighting Aleksei Oleinik in the main event of UFC Moscow, Fabricio Werdum's two-year USADA ban, Tai Tuivasa's fight with Junior Dos Santos, and more. Plus, Jim and guest cohost Phoenix Carnevale talk about the mystery UFC 230 main event, Jon Jones's potential Octagon return, Kevin Lee's Khabib vs. Conor prediction, a bunch of recently announced fights, and more. Full Episode Mark on dealing with Aleksei Oleinik's Ezekiel choke Mark does



Taisumov hopes UFC Moscow is the start of a new chapter
For someone who has blasted through his last five opponents by knockout, dating back to 2014, Mairbek Taisumov hasn't had the easiest road in his career over the last few years. But that hasn't stopped the Grozny native from continuing to march forward in search of a lightweight world title."I'm a fighter, I've been fighting my whole life, and before the UFC I fought strong fighters in other organizations and I'm doing this sport to be the best and therefore I need the ti



Russian Federation History of Sports Museum Inspires Flyweight Champ Henry Cejudo
Yesterday Director of Sports Science at the @UFCPI, Dr. Roman Fomin (@Fomin_UFC) took @UFC Flyweight champion @HenryCejudo to the Russian Federation History of Sports Museum in Moscow #UFCMoscowCheck out the video : pic.twitter.com/QjDyRskNOx — UFC News (@UFCNews) September 13, 2018 The future of Russian MMA is brighter than ever, as the UFC will host its first ever event in Moscow tomorrow. But it's the unique and impressive history of sports in Russia that truly



CB Dollaway's long, strange trip to Moscow
"The Doberman" sleeps in Moscow. CB Dollaway wasn't sure that would be the case this week, as he went through opponent after opponent in the lead-up to this Saturday's UFC Fight Night event.But after nearly 12 years as a pro, Dollaway learned that it's best to control what you can control, and let the rest figure itself out. So when he lost his original opponent, Omari Akhmedov, due to injury, and wasn't sure if he would get a replacement, he left his Arizona



UFC Fight Night Moscow Official Weigh In Results
Below are the official weigh-in results for UFC Fight Night Moscow, which takes place at Olimpiyskiy Arena Center in Moscow, Russia live Saturday on UFC Fight Pass. Mark Hunt takes on Aleksei Oleinik in a heavyweight showdown main event with the card starting at 10:30am/7:30am ETPT.Main EventUFC Heavyweight Bout, 5 Rounds Mark Hunt (265) vs Aleksei Oleinik (235)Main Card, 2pm/11am ETPTJan Blachowicz (205) vs Nikita Krylov (205)Andrei Arlovski (224) vs Shamil Abdurakhimov (256)Aleksei Kunche



At 39, Arlovski still has fire in his eyes
Andrei Arlovski already reached the top of the mountain in the UFC, having won the world heavyweight title in 2005. That doesn't mean he has abandoned the quest for another belt, not at 39, more than 13 years removed from the night when he submitted Tim Sylvia in 47 seconds at UFC 51."Since I came back to the UFC in 2014, I wanted to make a run for the title," Arlovski said. "At the end of 2016 into 2017, I had a couple losses and I knew there were other heavyweights in l



Reasons To Watch: Fight Night Moscow
The Octagon has finally made its way to Russia. On Saturday the UFC will host its first ever event in the city of Moscow when heavyweight legend Mark Hunt goes to battle with submission artist Aleskei Oleinik. The event will be broadcast exclusively over UFC Fight Pass, starting at 10:30 am EST. These are your reasons to watch UFC Fight Night: Hunt vs. Oleinik. Welcome to Russia The fans rolled deeeeep to open workouts #UFCMoscow pic.twitter.com/hiu1z4NjmE &m



View this post on Instagram A post shared by Oleg Taktarov Олег Тактаров (@olegtaktarov_official) on Jul 31, 2017 at 2:57am PDT Before there was Khabib, before there was Fedor, before there was any talk of a UFC event in Russia, there was Oleg Taktarov.Calm, cool, and collected, Russia's Taktarov wasn't one to engage in any trash talk, but if you were courageous enough to step into the O...



Blachowicz vs Krylov to have huge impact on light heavyweight division
Over the last several years, the light heavyweight division has ceded its position as the glamour division in the UFC.For quite some time, the 205-pound ranks played host to many of the biggest names in the sport and could be counted on to continually produce compelling, competitive entertaining matchups. But as Jon Jones ascended to the top of the division, several of those established, iconic figures who made the weight class what it was started to slow down and other weight classes began to g


BJ Penn returns on December 29 against Hall
A UFC Hall of Famer and MMA legend will return to the Octagon on December 29, as BJ Penn battles former Ultimate Fighter winner Ryan Hall in a UFC 232 bout at T-Mobile Arena in Las Vegas.Back in the Octagon for the first time since June 2017, Hawaii's Penn storied career has seen him defeat the likes of Matt Hughes, Jens Pulver, Diego Sanchez, Kenny Florian, Matt Serra and Caol Uno en route to a pair of UFC titles at lightweight and welterweight. This December, "The Prodigy" will attempt to hand



UFC partners with Hall of Famer Bas Rutten to launch UFC | BAS Body Action System
Las Vegas – UFC®, the world's premier mixed martial arts organization, today announced a new multi-year licensing agreement with UFC Hall of Famer Bas Rutten to launch the UFC | BAS Body Action System®. The agreement, negotiated by IMG, allows Rutten, a former UFC heavyweight champion and three-time King of Pancrase, to produce a UFC branded edition of his patented MMA training device to sell online and at select retailers globally.Developed by Rutten to maximize and revoluti


#NewProfilePic pic.twitter.com/uO2gRMmSYt — Leah Letson (@LeahNidasMMA) September 12, 2018 The cracks started to show in last night's episode. Initially, I was really excited to be a part of Team Whittaker. Even though I wasn't the first pick, like I had hoped for and expected, I was pretty proud of the team that we had assembled. Unfortunately, it didn't take too long for me to realize that I may not be in the best position possible to win this tournament and get my h



TUF Blog: Maurice Greene Part 3
I'd just like to start off by saying how proud I am of my teammate Justin Frazier for digging deep and getting the big win last night.Justin had a lot of doubters in that house, but I definitely wasn't one of them. From training with him -- and really just having even a basic understanding of MMA -- I knew exactly how that fight was going to play out. Just like that, Team Gastelum improves to 3-0 on the season, to the surprise of none of my teammates. Justin should be even more impressive the ne



TUF: Heavy Hitters - Episode 3 Recap
The third fight of the season is already in the books as heavyweights Justin Frazier and Anderson Da Silva clashed on the latest episode of The Ultimate Fighter: Heavy Hitters.It was an intriguing showdown between Team Whittaker's top overall pick in Da Silva as he went up against Team Gastelum's last heavyweight selection in Justin Frazier.Last week it appeared Kelvin Gastelum's reasons for rating Frazier so low were justified after he watched the Arkansas native struggle to get through one tra



Oleinik honored to headline Moscow with Hunt
Aleksei Oleinik punches Travis Browne in their heavyweight bout during the UFC 213 event at T-Mobile Arena on July 9, 2017 in Las Vegas, Nevada. (Photo by Rey Del Rio/Getty Images)" />Calling Aleksei Oleinik a "submission specialist" feels like it undersells the unique skill set the 41-year-old Russian carries into each fight; like calling prolific novelist James Patterson a "working writer."Both are true statements, but they don't exactly give you the full picture



Taisumov wants the Top 10 with a win in Moscow
Since making his UFC debut in 2014, Russian knockout artist Mairbek Taisumov has earned five knockout victories and three straight Performance of the Night honors.Despite losing a unanimous decision to Michel Prazeres, Taisumov's record hasn't had another blemish.Now 6-1 since his promotional debut (26-5 overall), Taisumov has a strong qualification on his UFC resume and his last five opponents to use as references: knockout power.In his last five fights, opponents have been lucky to



TUF Heavy Hitters: Episode 3 Preview
It's been all Team Gastelum thus far on The Ultimate Fighter: Heavy Hitters, as the middleweight contender's latest win took place in the women's featherweight division last week.Pannie Kianzad bested Team Whittaker fighter Katharina Lehner in the first women's fight at 145 pounds to punch her ticket to the next round of the women's featherweight tournament while putting her team up 2-0 in the competition. Tonight's episode will feature the second heavyweight fight of the season as selecte



Russia Rocks Its First Ever Open Workouts
If there was any doubt that the UFC would be well received in Russia it's surely gone now. On Wednesday evening, hundreds of fans packed the Cition Arena to get a first look at some of the fighters during UFC Fight Night Moscow: Hunt vs. Oleinik's open workouts.And they weren't disappointed.After a brief introduction from host Dan Hardy, greeting fans and taking pictures with the crowd the night kicked off with Alexei Kunchenko. His impressive 18-0 record has the attention of m



Alves Ready To Win A War At UFC Moscow
Over the last couple months, several veteran competitors stepped into the Octagon with questions about their future in the cage swirling overhead and came away with mixed results.Some were stopped by younger, ascendant foes, leaving them no choice but to continue to address the questions, while others, like Diego Sanchez and Jim Miller, made good on their pre-fight declarations to get back into the win column and prove that reports of their demise have been greatly exaggerated.This weekend, as t



Ware prepares to fight anyone, anywhere
There had to be a temptation for Terrion Ware to go all Rocky IV for his upcoming bout against Georgia's Merab Dvalishvili. Leave early for Moscow, train there, and approach the bout as the American fighting against the odds in Russia.No dice, said Mrs. Ware."My wife wasn't gonna let me," Terrion said. "She's not as forgiving as Adrian."Well, maybe it was for the best, considering that Adrian Balboa also told Rocky that he couldn't win against Ivan



Unfiltered Episode 228: Eddie Bravo & Urijah Faber
Jim, Matt, and Chris the Producer are all back in-studio together to break down the great night of fights at UFC 228. Plus, the great Eddie Bravo calls in and talks about the upcoming Quintet 3 grappling tournament, his own EBI combat jiu-jitsu tournaments, Tony Ferguson's Octagon return, Khabib vs. Conor, and much more. Later, UFC Hall of Famer Urijah Faber joins the show and discusses competing at Quintet 3, Sage Northcutt's contract situation, and a possible fight with Logan Paul, Cody Garbra



UFC Performance Institute Partners with Omegawave for Optimizing Athlete Performance
Las Vegas – The UFC Performance Institute®, the world's first mixed martial arts multi-disciplinary research, innovation and performance center, today announced a new partnership with Omegawave, the world's leading provider of training and performance management solutions, that calls for the use of Omegawave technology to monitor the training of UFC athletes to help produce maximum performance and minimize the risk of injuries due to overtraining. Omegawave provides leading



Fight Night Moscow: Fight By Fight Preview
MARK HUNT VS. ALEKSEI OLEINIKIn a classic matchup pitting striker against grappler, Mark Hunt will travel into enemy territory to take on submission specialist Aleksei Oleinik at the first ever UFC card in Russia. Hunt has built his reputation on being one of the most ferocious knockout artists the heavyweight division has ever known, but he also possesses arguably the greatest chin in the history of the sport. Hunt has the ability to put anybody's lights out with just one shot and he's definite



Saturday's UFC 228 event is in the books, and now that the dust has settled in Dallas, it's time to go to the scorecard to see who the big winners were at American Airlines Center.1 – Tyron WoodleyThe talking points from Tyron Woodley leading up to Saturday's main event against Darren Till focused a lot on his quest to become the greatest welterweight of all-time. Well, "The Chosen One" isn't there yet, as there are a couple of guys named Matt Hughes and



Saturday night in Dallas was special.Over the course of the evening, 13 sets of competitors filed into the Octagon and fight-by-fight, they delivered, turning UFC 228 into one of the most exciting and entertaining events of the year. Featuring breakthrough efforts from Geoff Neal, Tatiana Suarez and Abdul Razak Alhassan and capped by a dominant performance by welterweight champion Tyron Woodley, the organization's annual trip to "Big D" once again delivered.But with the dust fi



Be Dana White's VIP Guest at UFC 229 in Las Vegas
A once in a lifetime opportunity!Enter to win a trip to Las Vegas for #UFC229 and join @DanaWhite on stage at the weigh-ins! pic.twitter.com/eV4DPzjiY5 — UFC (@ufc) September 10, 2018 It's finally here! The long awaited and highly anticipated matchup between undefeated UFC lightweight champion Khabib Nurmagomedov and former two-division UFC champion Conor McGregor headlines UFC 229! Tickets sold out in a matter of



It's already in the conversation for fight card of the year. From top to bottom, UFC 228 delivered in the way the best events do: crazy finishes, delightful surprises, and world-class martial arts excellence. And like every Sunday that follows epic nights like that one, we reflect on what comes next in the Ultimate Fighting Championship.These are the UFC 228 talking points.Chosen Won THE PATH TO WW STILL goes through Missouri! #UFC228 pic.twitter.com/Xnz7bb8VUp — U



Who were the winners at UFC 228: Woodley vs. Till? Click below to get the results for all the fights at American Airlines Center in Dallas, Texas on Saturday, September 8th, 2018. Woodley vs Till | Andrade vs TKowalkiewicz | Magomedsharipov vs Davis | Rivera vs Dodson | Alhassan vs Price | Esparza vs Suarez | Sterling vs Stamann | Neal vs Camacho | Byrd vs Stewart | Sanchez vs White | Miller vs White| Aldana vs Pudilova| Sanchez vs Brooks UFC 228: Woodley vs Till main card Act


Magny vs Ponzinibbio headlines first Argentina event
Continuing to bring the best of mixed martial arts around the globe, the UFC will make its initial visit to Buenos Aires, Argentina on November 17, and the MMA leader will be bringing one of the nation's favorite sons back home. In the five-round main event, La Plata's Santiago Ponzinibbio will fight in Argentina for the first time since 2010 when he puts his six-fight winning streak on the line against fellow welterweight contender Neil Magny, who is coming off back to back wins over Carlos Con



Woodley cements welterweight legacy in Dallas
WOODLEY vs TILLDespite what some oddsmakers thought, there would be no changing of the guard in the welterweight division Saturday night in Dallas, as Tyron Woodley successfully defended his crown for the fourth time with a second-round submission of previously unbeaten challenger Darren Till in the UFC 228 main event.The submission was the first for "The Chosen One" since a 2009 victory over Rudy Bears.Woodley, who was coming off over a year on the sidelines due to injury, rushed Ti



Andrade, Zabit pick up crucial wins in Dallas
ONE PUNCH! @JessicaMMApro #UFC228 pic.twitter.com/CLsNFVFmgQ — UFC (@ufc) September 9, 2018 ANDRADE vs KOWALKIEWICZJessica Andrade impressively made her case for a second shot at the strawweight title, as she scored a one-punch knockout of Karolina Kowalkiewicz in the UFC 228 co-main event at American Airlines Center in Dallas.Andrade blitzed Kowalkiewicz with hooks as the fight began and hurt her immediately. It looked like the end was near, but Kowalkiewicz was able to



Suarez, Sterling dominate on the ground en route to victories
The Khabib of the female divison? #UFC228 pic.twitter.com/VY4TvrsRhq — UFC (@ufc) September 9, 2018 SUAREZ vs ESPARZAUnbeaten former Ultimate Fighter winner Tatiana Suarez continued her tear through the strawweight division in UFC 228 prelim action at Dallas' American Airlines Center, as she stopped former world champion Carla Esparza in the third round.Suarez wasted no time getting a takedown in the first 30 seconds, and she proceeded to deliver a ser



Fan Experience cancelled at UFC 228
Today's UFC Fan Experience scheduled to take place at American Airlines Center Victory Plaza has been cancelled due to severe weather and a high likelihood of lightning in the area. We sincerely apologize for any inconvenience this may cause and look forward to seeing you at our next event. Limited tickets are still available for UFC 228: Woodley vs. Till taking place at the American Airlines Center with the first bout starting at 5:15pm CT. The event is also available on PPV



TUF Heavy Hitters Blog: Maurice Greene Part 2
I'm still on Cloud 9 from winning my first fight on TUF. Even after weeks have passed and I watched it at home on the big screen with family and friends, it still really hasn't sunk in yet. I've worked so hard to get to this level, and it's starting to pay off.That being said, I think it's crucial to always be striving for more, and to never be totally satisfied with where you're at, so I'm just as hungry now as I've ever been. After taking a bit of time to celebrate -- in the TUF house and at h


Rockhold-Weidman 2 heads to MSG
The long-awaited rematch between Luke Rockhold and Chris Weidman will become a reality at Madison Square Garden in New York City, as the former middleweight champions collide in a UFC 230 bout on November 3.In December 2015, Rockhold scored the biggest win of his career when he halted Weidman in the fourth round to take the UFC middleweight title in the UFC 194 Fight of the Night. Since then, the two have been eager to throw hands again, and this fall, in Weidman's New York backyard, they will d



UFC 228 Official Weigh-In Results
Below are your official weigh-in results for UFC 228, which takes place at American Airlines Center in Dallas, TX on Saturday night live on Pay-Per-View at 10pm/7pm ETPT. Tyron Woodley takes on Darren Till with his welterweight championship on the line in the main event.Main Event UFC Welterweight Title Bout, 5 Rounds Tyron Woodley (170) vs Darren Till (169)Main Card, 10pm/7pm ETPTJessica Andrade (116) vs Karolina Kowalkiewicz (115)Zabit Magomedsharipov (146) vs Brandon Davis (14



Suarez feeling 'really fortunate' ahead of UFC 228
They are starting to call her the "female Khabib," and it's not entirely unwarranted. Running through each and every opponent with a wrestling prowess seldom seen, the former Olympian now finds herself in the Top 10 UFC strawweights, with few signs of slowing. Yet, if you're expecting cockiness or arrogance, you're not going to find it when you talk to Suarez. Instead there is a quiet confidence that's rooted in realism, and a measured approach when it c



Woodley digging deep for that "Old Tyron" pitbull mentality
No matter what happens in Saturday's UFC 228 main event against Darren Till, Dallas will always hold a special place in the heart of UFC welterweight champion Tyron Woodley.It was in this city in March 2014 that Woodley went from prospect to contender in the space of seven minutes against former interim champion Carlos Condit. "I was this young, hungry fighter," recalled Woodley. "I called (UFC President) Dana (White) and said, 'Man I want to fight Carlos.' An


P3 named official protein snack of UFC
LAS VEGAS and CHICAGO – UFC®, the world's premier mixed martial arts organization, today announced a new marketing partnership with Oscar Mayer®. The partnership names P3 Portable Protein Packs as "Official Protein Snack" of UFC, creating a new, exclusive sponsorship category for the MMA promotion. P3 Portable Protein Snacks deliver a tasty combination of meat, cheese, nuts, and fruits, all in one portable pack. They come in multiple varieties and sizes, all offe



UFC 228: Andrade vs. Kowalkiewicz Preview
Jessica Andrade of Brazil and Karolina Kowalkiewicz of Poland face off during the UFC 228 ultimate media day on September 6, 2018 in Dallas, Texas. (Photo by Josh Hedges/Zuffa LLC/Zuffa LLC via Getty Images)" align="center" />UFC 228 has a new co-main event, and while a championship belt doesn't hang in the balance, it does carry title implications.In the wake of the women's flyweight title fight between Nicco Montano and Valentina Shevchenko being cancelled on Friday morning, straww



TUF Heavy Hitters Blog: Marciea Allen Part 2
In preparation for Pannie's fight, we did an extensive amount of drills with coach T, and with Pannie being an extremely technical fighter, that also assisted me in preparation for my fight.We also had the opportunity of running wind sprints every Saturday in hot ass Las Vegas with 100+ degree weather. It really tested our well-being both physically and emotionally. But I must admit that sprints are right up my alley, having run track for many years. So I thoroughly enjoyed it and I led by



Rivera Determined to Bounce Back in Dallas
Jimmie Rivera didn't need to be dealing with the electric company, not on one of the hottest days of the summer, not in the middle of training camp for his Saturday bout against John Dodson. But as B.B. King once sang, he's paying the cost to be the boss, so he did what he had to do to make sure his Tiger Schulmann dojo in NYC had power.In other words, business as usual for Rivera, who doesn't sweat the small stuff."I don't stress over something like that," said the



Camacho returns with some more tools in the box
When describing his UFC career to this point, Frank Camacho couldn't be more accurate."I fought three times in eight months, so it was like boom, boom, boom," said the pride of the Northern Mariana Islands. It sure was, with each boom against Li Jingliang, Damien Brown and Drew Dober producing Fight of the Night wars that boosted Camacho's bank account, even if he only emerged with one win from those three bouts. Yet while Frank "The Crank" made an immediate i



Stamann used to the big fight atmosphere for his fourth PPV
Cody Stamann taunts Bryan Caraway in their bantamweight bout during the UFC 222 event inside T-Mobile Arena on March 3, 2018 in Las Vegas, Nevada. (Photo by Jeff Bottari/Zuffa LLC/Zuffa LLC via Getty Images)" align="center" />After three UFC fights, all on numbered Pay-Per-View cards, Cody Stamann could be getting used to this as he prepares for number four on Saturday's UFC 228 card in Dallas."I'm not complaining," laughed Stamann, who faces Aljamain Sterling in a pivota



As a precautionary measure, UFC flyweight Nicco Montaño was transported to a medical facility Friday morning due to health concerns. The scheduled flyweight championship bout between Montaño and Valentina Shevchenko at UFC 228 has been cancelled. UFC 228 takes place at American Airlines Center in Dallas, TX on Saturday night live on Pay-Per-View at 10pm/7pm ETPT. Tyron Woodley takes on Darren Till with his welterweight championship on the line in the main event. R



TUF Heavy Hitters Blog: Josh Parisian Part 2
On this week's episode, we had Pannie vs Katharina. Unfortunately, I've never seen either of these girls fight before, but from hearing a lot of talk about the fight in the house, it sounded like this matchup was a long time coming. I was a little worried about where Pannie's head was going to be at during the fight, as she had a lot of outside factors to deal with. Her cauliflower ear was swelling and causing her pain, and then she broke a tooth while adjusting her headgear wi



Darren Till of England talks with members of the media during the UFC 228 ultimate media day on September 6, 2018 in Dallas, Texas. (Photo by Josh Hedges/Zuffa LLC/Zuffa LLC via Getty Images)" align="center" />Transitioning from prospect to top contender usually takes some time, but for welterweight title challenger Darren Till, the rise to the top has been fast and furious. And the undefeated fighter wouldn't have it any other way. Saturday will be Till's fifth UFC fight



Brandon Davis thinks Zabit is "ideal opponent"
Brandon Davis wasn't exactly looking for a fight this weekend, but when he found out that Yair Rodriguez had to pull out of his UFC 228 bout against Zabit Magomedsharipov, he figured he might as well get into one. "Somebody said on Twitter, 'Get Brandon Davis, Jason Knight or Shane Burgos this fight; they all need one. And I said, 'You know I'm down,' and I retweeted it." That's all it took to get the ball rolling, but as Davis waited to find out whether



Esparza ready to run her game at UFC 228
View this post on Instagram A post shared by Carla (@carlaesparza1) on Sep 3, 2018 at 7:46am PDT Carla Esparza was the first women's strawweight champion in both the UFC and Invicta FC. Compiling an impressive 13-5 record since 2010, Esparza has faced and largely succeeded against the best of the best at 115 lbs. She faces her next test on the road to reclaiming her belt when she meets Tatiana Suarez, a f



UFC 228 Open Workouts: European Challengers Plant Their Flags Among American Champions
"It touches me right here," Darren Till explained, tapping on his heart. For a fighter so well known for bravado and confidence, the notable and unexpected support of the Dallas fans in attendance at the official UFC 228 open workouts clearly hit him in a soft spot. "I believed I have fans everywhere…I didn't think I had this many fans. It's overwhelming. It's good for me." It makes sense that Till would be shocked by the support



Montaño: 'I am who I am because of where I'm from'
View this post on Instagram A post shared by N I C C O R A E (@nrmontano) on Aug 24, 2018 at 4:19pm PDT With only one UFC fight on her record, Nicco Montaño's career is already teeming with history. In that one fight, she became not only the first UFC women's flyweight champion, but also the first Native American UFC champion. Most of the world was introduced to her during the 26th seas



Woodley: There Is Nothing Till Can Do In This Fight
Ahead of a huge bout, most fighters boast of being relaxed, excited or ready. Few (if any) admit to nerves or second thoughts. But when it comes to UFC welterweight champion Tyron Woodley, the man exudes a level of serenity that would make a monk blush. Crafted over a career that has stopped-cold some of the biggest names in the division, Woodley's reflective, unruffled confidence is perhaps as lethal a weapon as his wrestling. We sat down with him as he readies himself for his fourth titl



Suarez still humble despite dominant run to start UFC career
It would be easy for Tatiana Suarez to start getting a little cocky. She's unbeaten as a pro, an Ultimate Fighter winner and three UFC wins in which she's dominated her opposition. But if former strawweight world champion Carla Esparza hopes to catch Suarez napping in their UFC 228 bout this weekend, that's not happening. "I'm humble because I always feel like on any given day, it might not be your day," Suarez said. "I don't care that I ran through my last op



TUF Heavy Hitters Blog: Josh Parisian Introduction
My name is Josh Parisian, my record is 7-2, I'm 29 years old, and fighting out of Scorpion Fighting System in Brighton, Michigan. Although I fight out of Brighton, I'm from a small town in the Upper Peninsula of Michigan, called Escanaba. I moved there from Martinsburg, West Virginia right before 2nd grade, and then lived there for the better part of 16 years. I'm very proud of where I'm from, I absolutely love my hometown, and every fight I've ever had, I requested



It's fight week in Dallas, Texas and there is one heck of a card lined-up for fight fans this Saturday. In addition to the five top-15 ranked match-ups, belts will be on the line in both the women's flyweight division and the welterweight division. Here are your reasons to watch UFC 228: Woodley vs. Till Powerful Personalities and Fearless Fighters Has there been a fighter over the last year with a faster rise than Darren Till? The Scouser is und