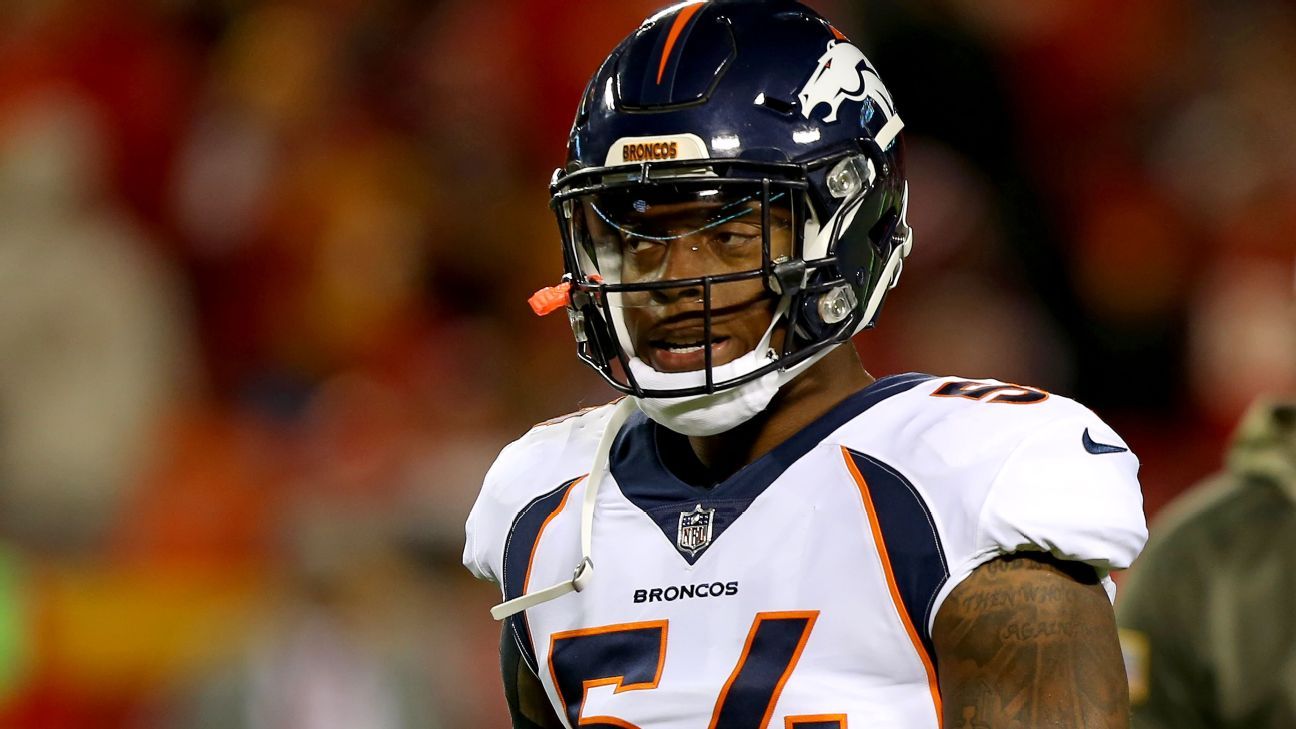 Broncos LB on Trump comments: 'Disgusting'
Broncos linebacker Brandon Marshall had a strong reaction to Donald Trump's interview with Fox News about the NFL's new anthem policy, calling the president's comments "disgusting."


LeBron, Harden unanimously named All-NBA
Cleveland's LeBron James and Houston's James Harden were unanimously voted All-NBA first-team, with James earning the nod for a record 12th time in his 15-year career.


Carmelo rejects IG post claiming Korver is better
Oklahoma City Thunder veteran Carmelo Anthony strongly disagreed with an Instagram post stating that Cleveland Cavaliers sharpshooter Kyle Korver is better than him at this point in their NBA careers.


Ovechkin on Cup Final: Waited long time for this
Alex Ovechkin admitted he was "emotional" after Washington's 4-0 Game 7 win over Tampa Bay on Wednesday night, when the Capitals captain reached the Stanley Cup Final for the first time in his 13-year career.


Trump: NFL 'doing the right thing' with anthem
President Donald Trump says the NFL is "doing the right thing" with a policy banning kneeling during the national anthem. The policy forbids players from sitting or taking a knee on the field during the anthem but allows them to stay in the locker room.


Cole gives up HR to brother-in-law, still gets win
Houston starter Gerrit Cole's only major miscue in an 11-2 win in San Francisco came on a pitch to Brandon Crawford that likely will give his brother-in-law bragging rights at family gatherings for years to come.


CP3, battling sore foot, keys Rockets' rally in 4th
Chris Paul acknowledged Tuesday night that he had undergone "a whole lot of treatment" on his sore foot in recent days. With his foot feeling better, he bounced back and played a major role in Houston's Game 4 win over the Warriors that evened the series.


Rangers hire BU's Quinn as next head coach
The Rangers have hired David Quinn of Boston University to be their new head coach, GM Jeff Gorton announced Wednesday. Quinn is the second college coach hired by an NHL team this month and third in four years.


Offensive juggernaut? Mental toughness secures Game 4
The Houston Rockets faced a double-digit deficit not once, but twice, in the most feared arena this postseason. But defense and composure were the key ingredients to a pivotal Game 4 win that tied the Western Conference finals.


Emery can improve Arsenal overnight
Pulses might not race at Arsenal's pending appointment of Unai Emery, but he possesses precisely what the Gunners lacked under Arsene Wenger.