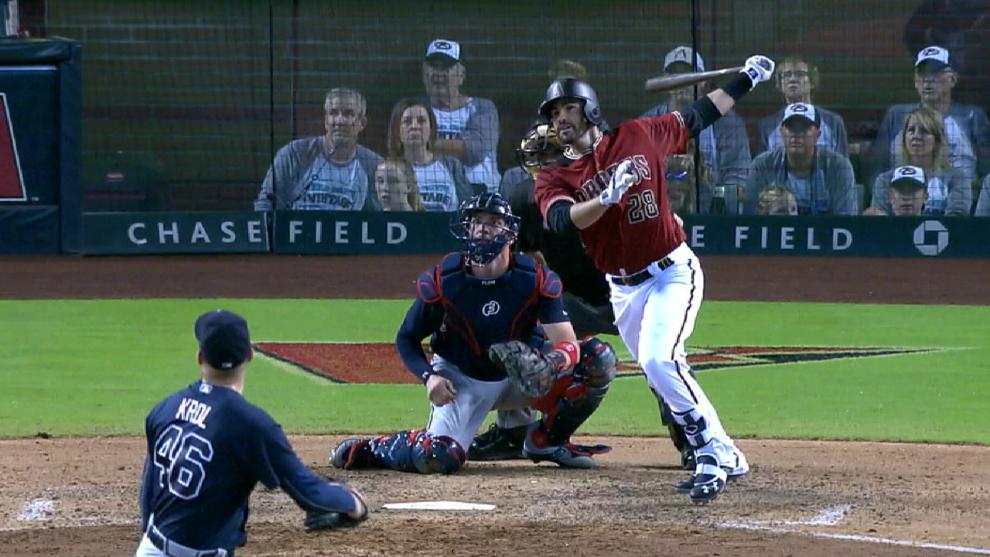 J.D. deal embraced at Red Sox camp
The official arrival of J.D. Martinez to the Red Sox could come Wednesday, once he passes his physical. The anticipation in the clubhouse for the arrival of this offseason's premier slugger was building by the end of Tuesday's team workout.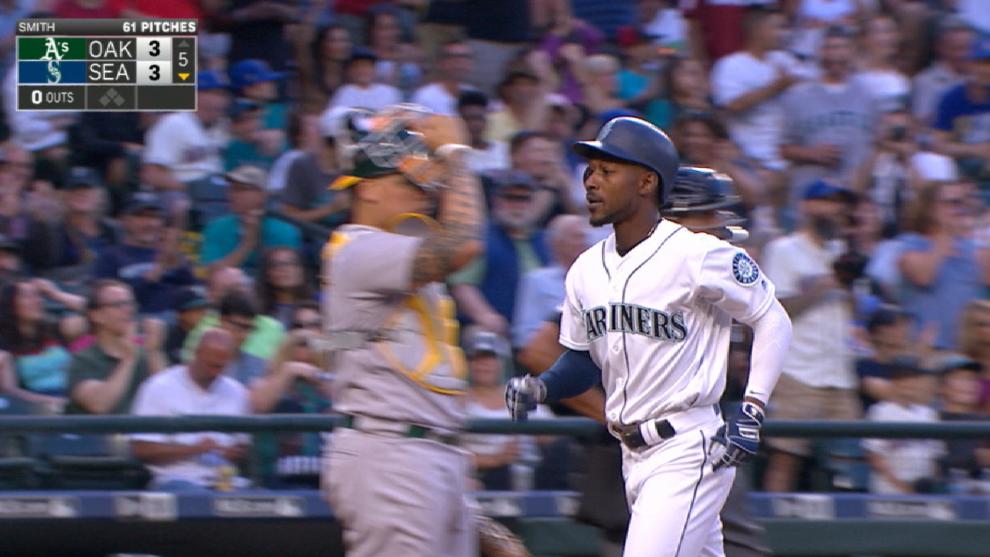 Elite speed sold D-backs on Dyson
The tangibles were the first things D-backs general manager Mike Hazen and manager Torey Lovullo mentioned Tuesday when discussing the club's latest acquisition, outfielder Jarrod Dyson.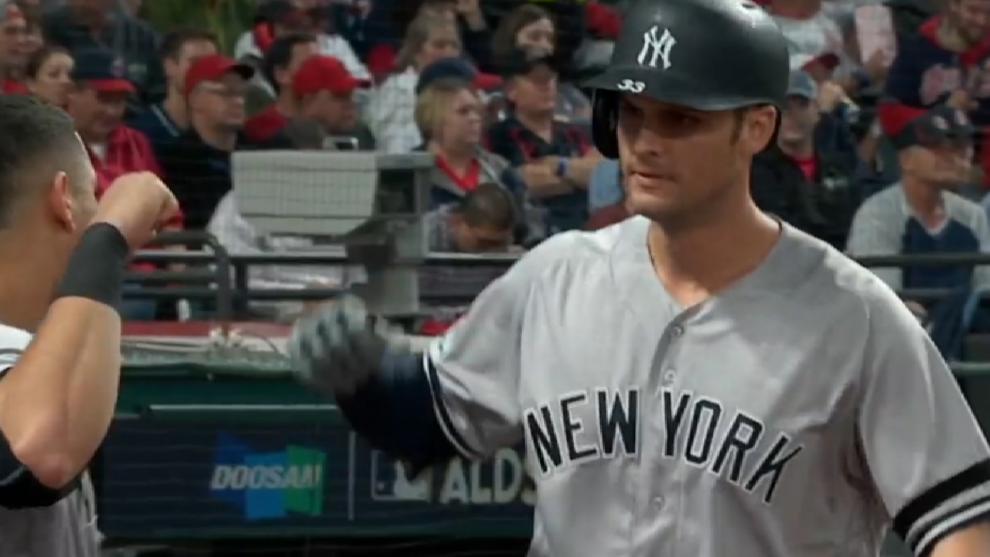 Bird eyes full season in middle of Yanks' order
There is confidence in Greg Bird's stride as he navigates the pathways between practice fields at the Yankees' spring complex, observes manager Aaron Boone, who believes that the 25-year-old is primed to enjoy a productive -- and full -- season ahead.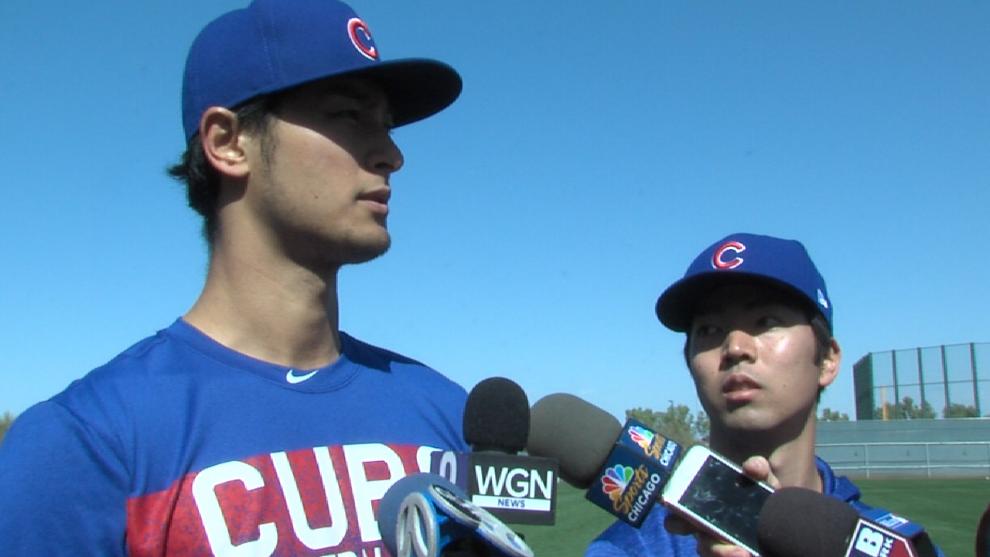 Darvish impresses teammates with first live BP
Yu Darvish and Kyle Schwarber squared off for the first time since the National League Championship Series during a live batting practice session on Tuesday. In October, Darvish was on the Dodgers, but now he and Schwarber are teammates.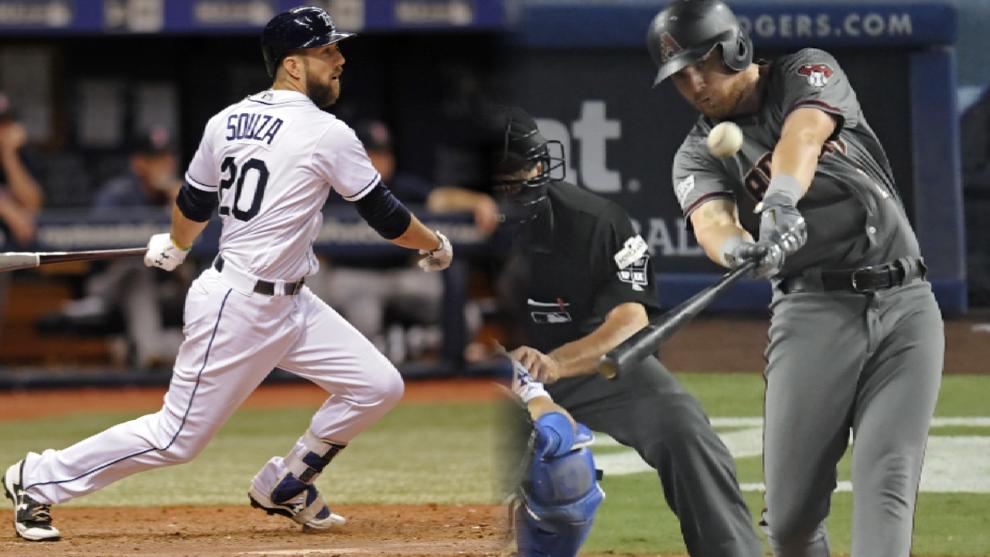 Souza to ARI, Drury to NYY in 3-team deal
The Yankees, Rays and D-backs swung a three-way deal on Tuesday, with Arizona infielder Brandon Drury heading to New York and Tampa Bay outfielder Steven Souza Jr. and right-hander Taylor Widener, New York's No. 14-ranked prospect, going to Arizona.


Albies' elbow issues a thing of the past in camp
A refreshed and confident Ozzie Albies has returned to Braves camp thankful that he is no longer dealing with the concerns that surrounded him last year, when he entered Spring Training with some doubts about the fractured right elbow he'd suffered the previous September.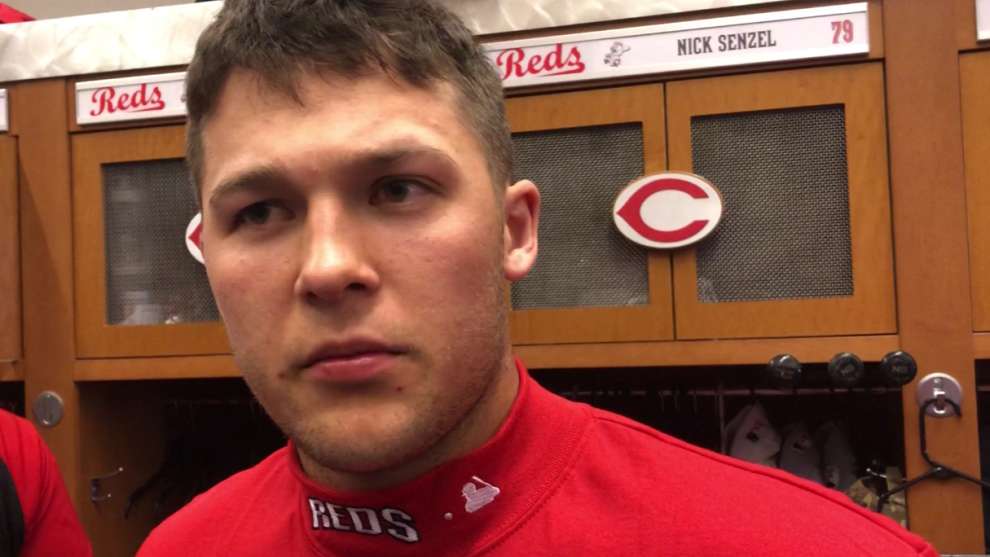 Larkin helping Senzel adjust to shortstop
The original idea was that Reds top prospect Nick Senzel would be exposed to several positions throughout the infield and outfield to get comfortable and more versatile.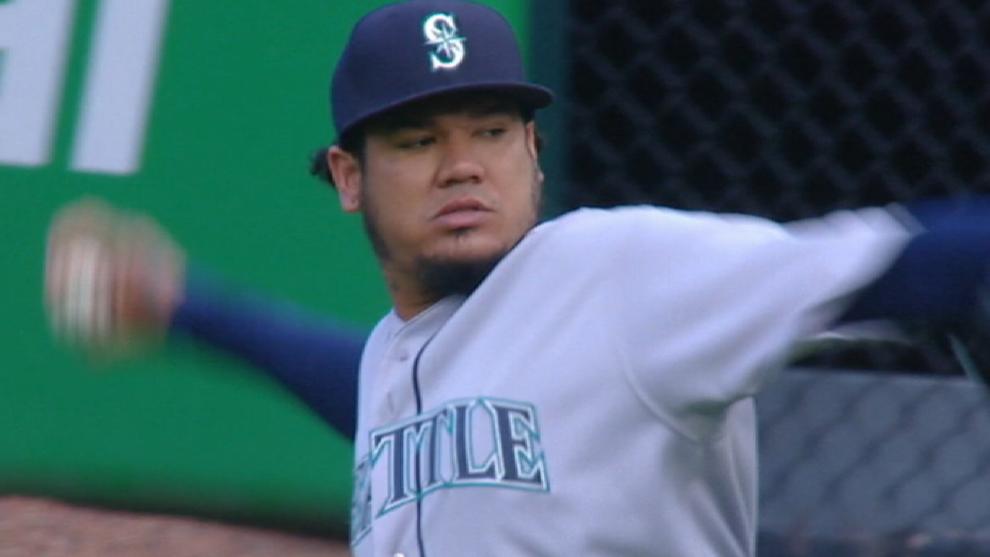 'Way better' Felix off to encouraging start
It's a long way until Opening Day, but the Mariners like what they've seen from Felix Hernandez in his first two mound sessions of Spring Training. Hernandez was among the final group of eight pitchers to throw their second bullpen sessions of the spring on Tuesday, and the 31-year-old was encouraged by the results as well.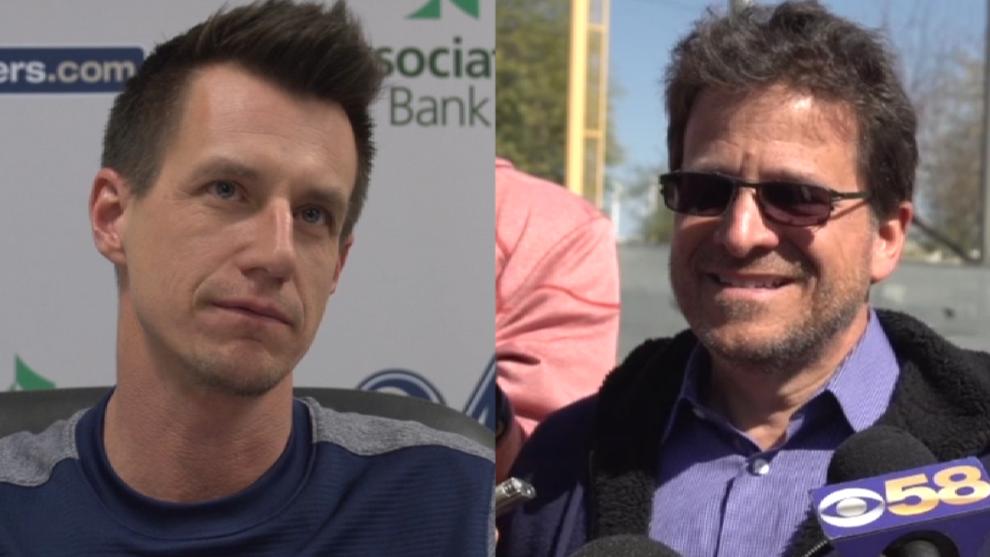 Attanasio tells Crew to seize opportunity in '18
Fourteen Spring Training speeches later, Brewers owner Mark Attanasio remains first a fan, which is why all these years later he was genuinely giddy Tuesday to stand and speak in front of a team of Major League ballplayers.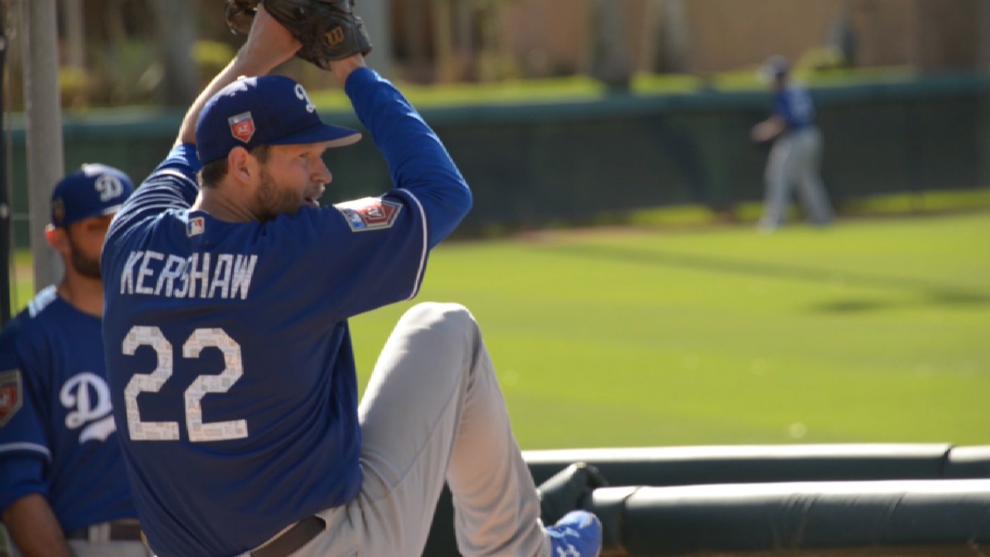 Kershaw's first live spring BP short but solid
Clayton Kershaw's least-favorite Spring Training assignment -- throwing live batting practice -- was rather routine, 22 pitches, most of them tracked and taken by Yasiel Puig, Chris Taylor and Andrew Toles.


Dodgers have 'open dialogue' with Kershaw
Dodgers general manager Farhan Zaidi would not say whether the Dodgers were having contract negotiations with Clayton Kershaw, who can opt out of his contract at the end of this season. But Zaidi, speaking at the annual Spring Training media day, acknowledged the team and pitcher have "open dialogue. He's our franchise player."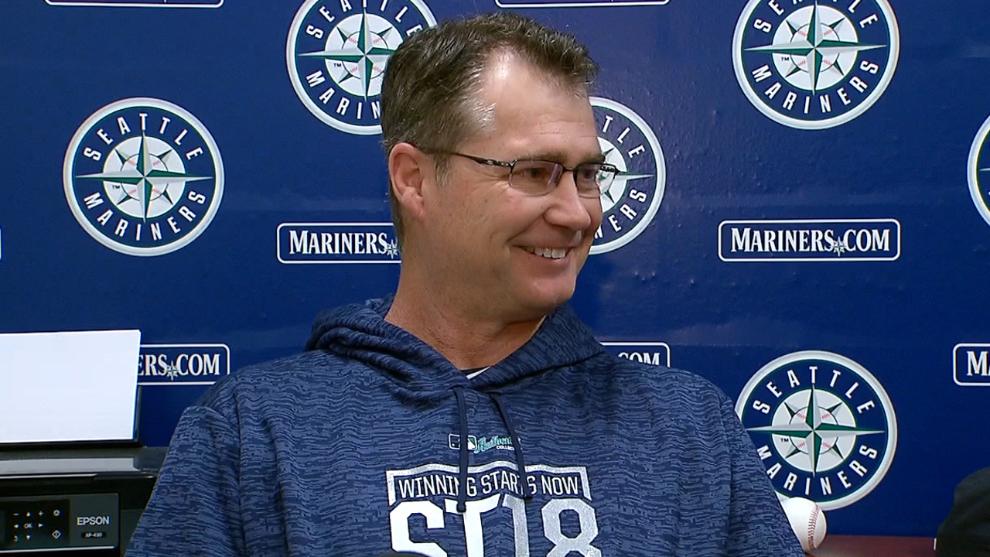 Mariners' goal is clear: End postseason drought
As Scott Servais opened his first full-squad workout on Tuesday, the third-year manager wasted no time acknowledging the biggest thing that has been missing for the Mariners. Seattle hasn't been in the playoffs since 2001, the longest dry spell in the Major Leagues. And yes, Servais said, it's time to change that.


Norris clears hurdle, ready to add to workload
Left-handed starter Daniel Norris threw a bullpen session Tuesday, a day after he traveled to Philadelphia for a follow-up visit with Dr. William Meyers, who examined Norris following his mid-season groin injury last year.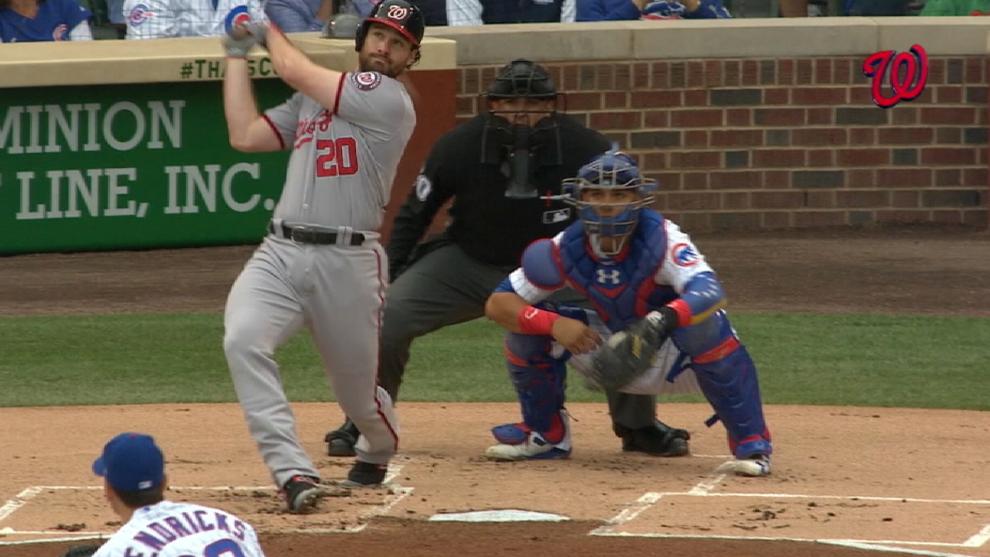 Murphy still limited but primed for Opening Day
It has been difficult for Daniel Murphy to spend the past few months not being able to hit, limited as he recovers from the debridement and microfracture right knee surgery he underwent at the end of the season. Nationals position players participated in their first full-squad workouts on Tuesday, and Murphy was not able to participate in live batting practice.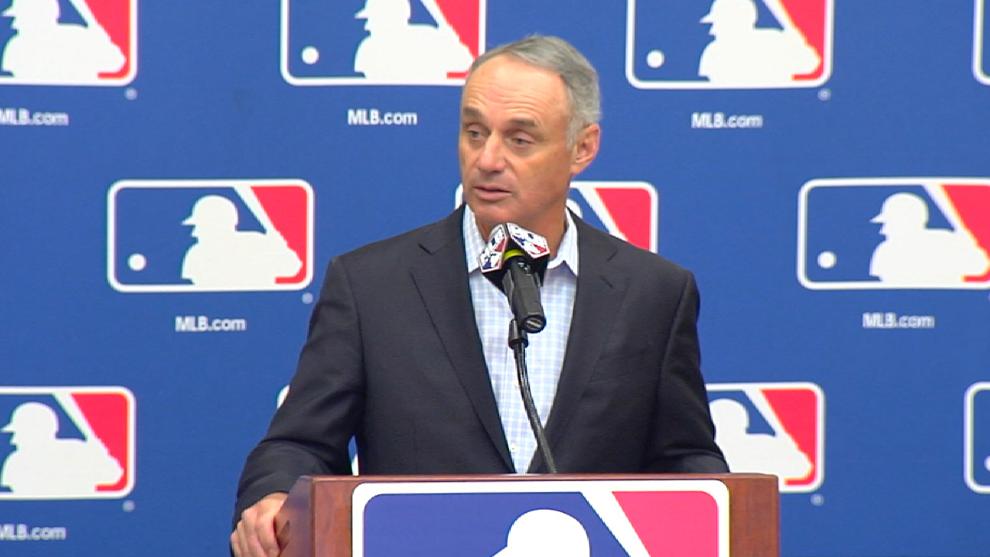 All clubs to don Stoneman caps for ST openers
All 30 Major League teams will wear Marjory Stoneman Douglas High School baseball caps before their Spring Training games this weekend to show support for the Parkland, Fla., community and the Stoneman Douglas student body after the tragic shooting at the school on Feb. 14.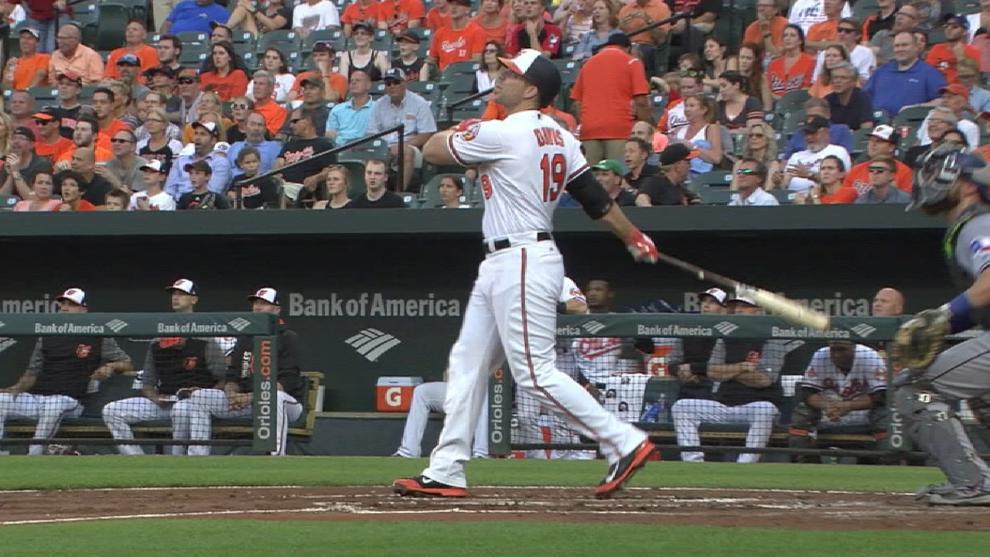 Davis vows to change approach at plate
Orioles first baseman Chris Davis admitted Monday his problems at the plate last season were "completely mental," and the slugger heads into this spring committed to changing that.


Red Sox trade Brentz to Pirates for cash
The Red Sox and Pirates have agreed to a deal that will send outfielder Bryce Brentz to Pittsburgh in exchange for cash considerations, the clubs announced Tuesday afternoon.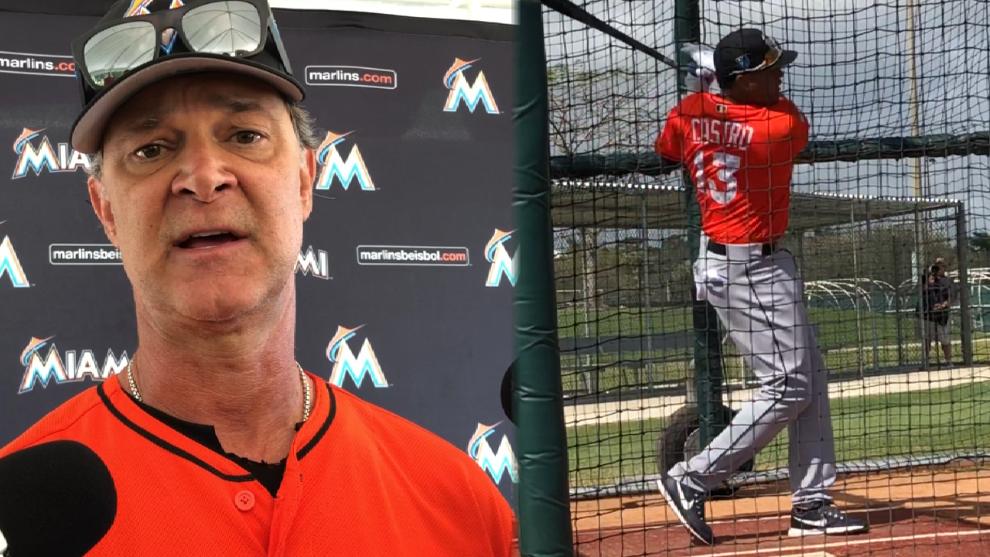 Castro warming up to new environment
The introductions will continue for at least a while longer as the collection of new Marlins players get acquainted with each other, their surroundings and the organizational system.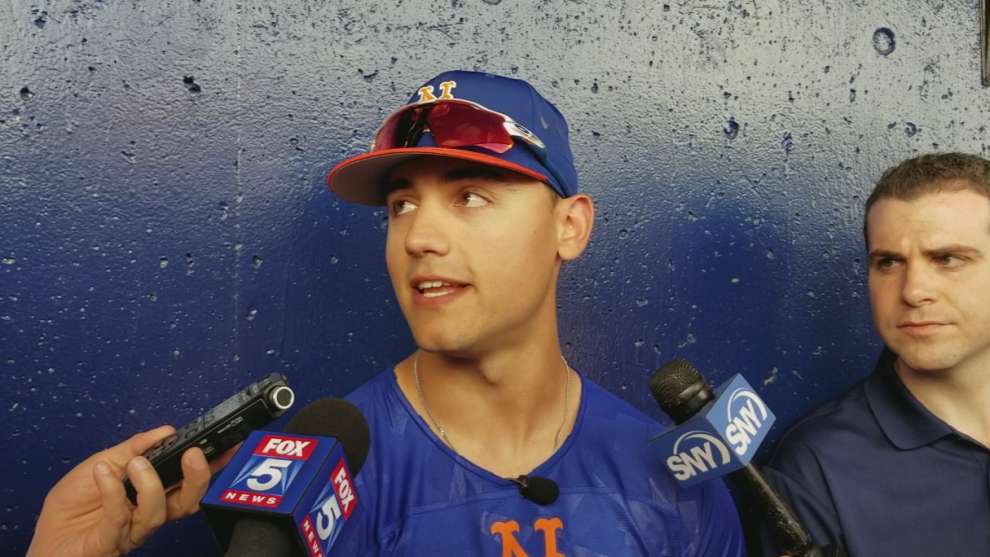 Waiting game: Mets won't rush eager Conforto
The box is circled on Michael Conforto's calendar: May 1, the date Mets general manager Sandy Alderson has targeted for his return from shoulder surgery. The competitor in Conforto wants to come back sooner. The realist knows it could be later.


Reds GM Williams wants 'step forward' in '18
When Reds first baseman Joey Votto arrived to Spring Training on Sunday underscoring his desire for the team to get better and start winning again, general manager Dick Williams was both paying attention and agreeing.


Opportunity for Reed to earn roster spot
The Astros still have confidence in first base prospect A.J. Reed, and the club's second round pick in the 2014 Draft remains a viable piece of the 2018 puzzle. Another left-handed bat with power is what Reed hopes to provide for the Astros this season.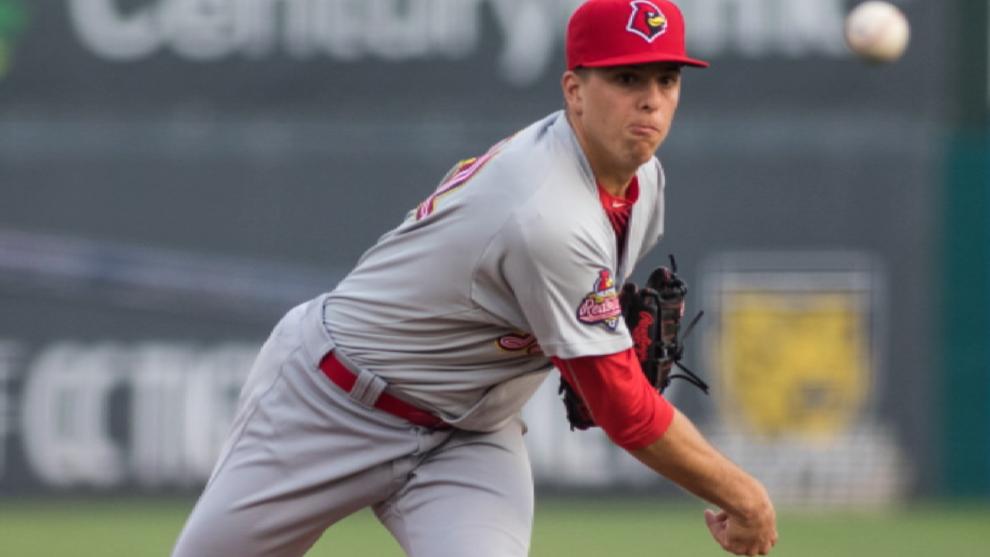 Triple-H's hit triple digits, wow Cards mates
The results on the back fields, the spring thinking goes, hardly matter. The impressions, though, the takeaways, could go a long way toward shaping a season. Take Tuesday, for example, when Cardinals pitchers faced hitters for the first time in live batting practice.


Wong takes yoga hoping to stay healthy in '18
Kolten Wong has played 150 games just once in his six big league seasons, but the Cardinals second baseman hopes the addition of yoga to his regimen will help him stay healthy in 2018.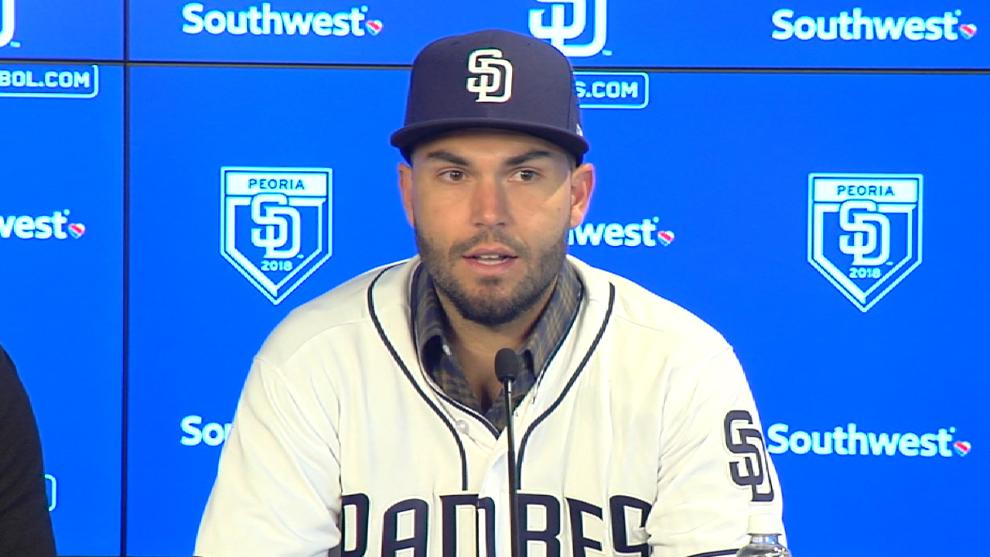 Padres' bright future attracted Hosmer
Eric Hosmer is officially the newest member of the Padres. One day after finalizing an eight-year, $144 million contract with Hosmer, San Diego introduced him as its cornerstone for the foreseeable future.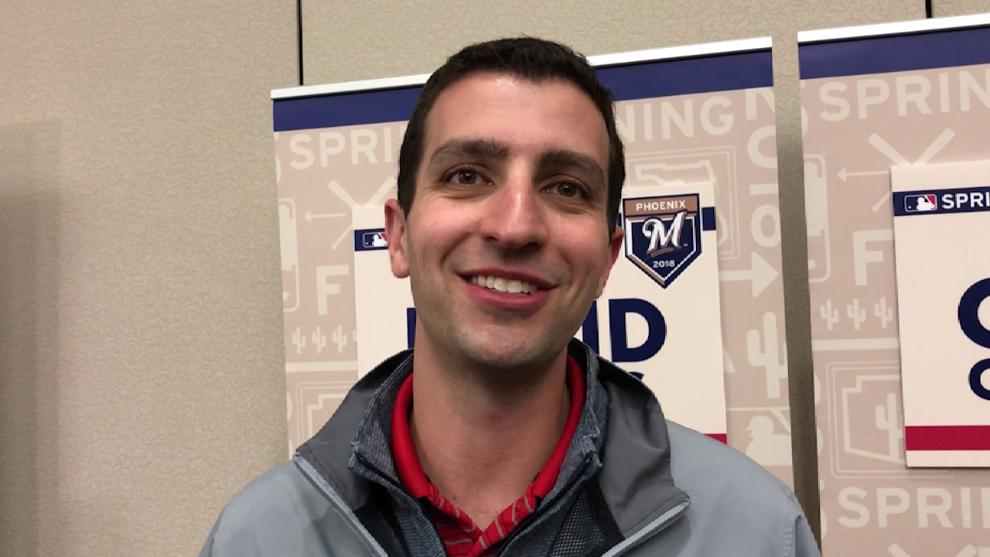 Stearns, Counsell preaching connectedness
Brewers manager Craig Counsell and general manager David Stearns each stressed the concept of connectedness during the Brewers' first full team meeting on Tuesday, albeit with different meanings.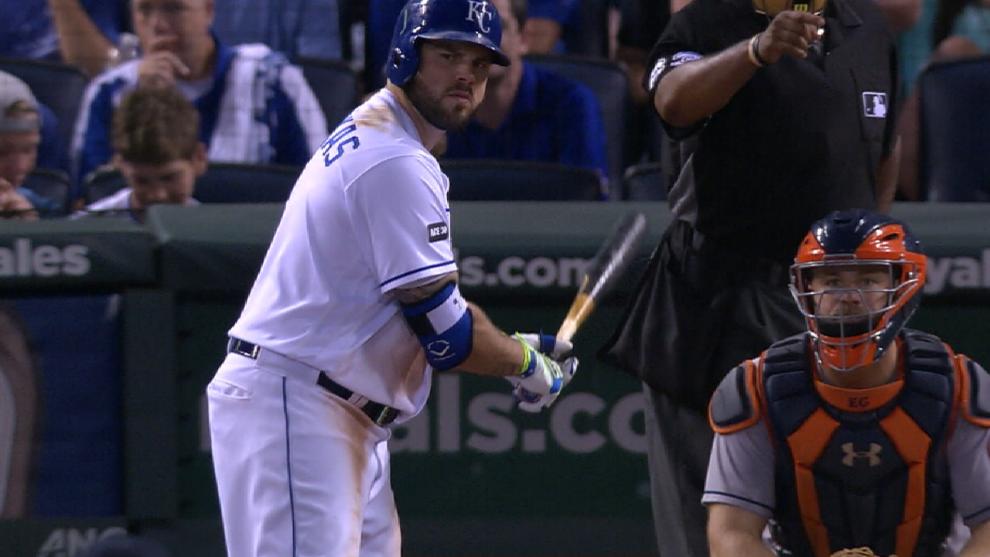 Yankees, White Sox top fits for Moustakas
One National League executive said Monday that the Yankees and White Sox have the best chances to land Moustakas, based on current market conditions. The Royals also could re-sign Moustakas, although their front office is prepared to start rebuilding with younger players. Some within the industry see the Cardinals as a fit.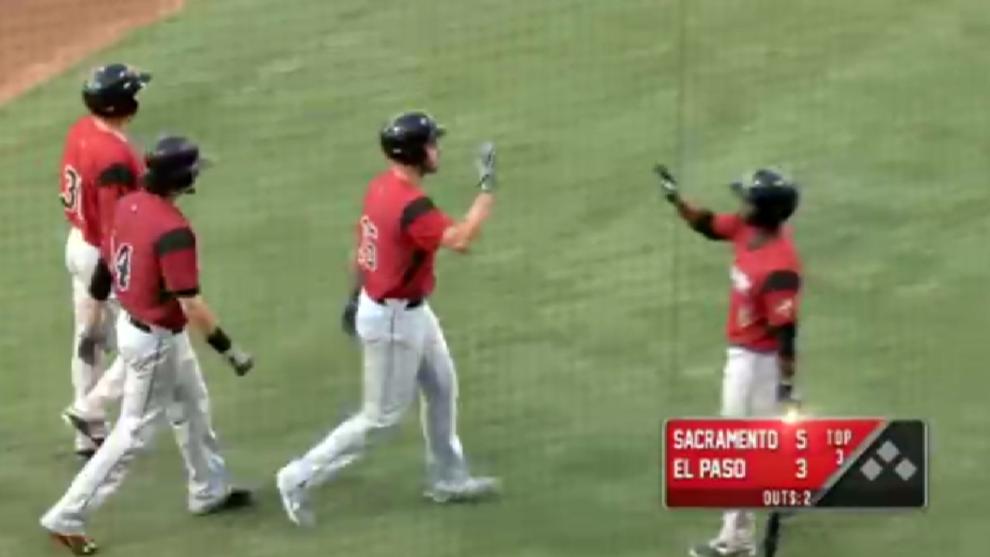 Giants prospect Shaw ready to showcase power
Chris Shaw ranks No. 1 on MLB Pipeline's 2017 list of Giants prospects, lending the impression that his ascent to the Majors is inevitable. It just might be, given his propensity for power hitting.


Tomas faces a battle in suddenly loaded outfield
After Yasmany Tomas lost position battles at both third base and left field in 2015, he entered the following two spring camps as a starter in the outfield. But he's back to fighting for a spot this spring after the D-backs added outfielders Jarrod Dyson and Steven Souza Jr.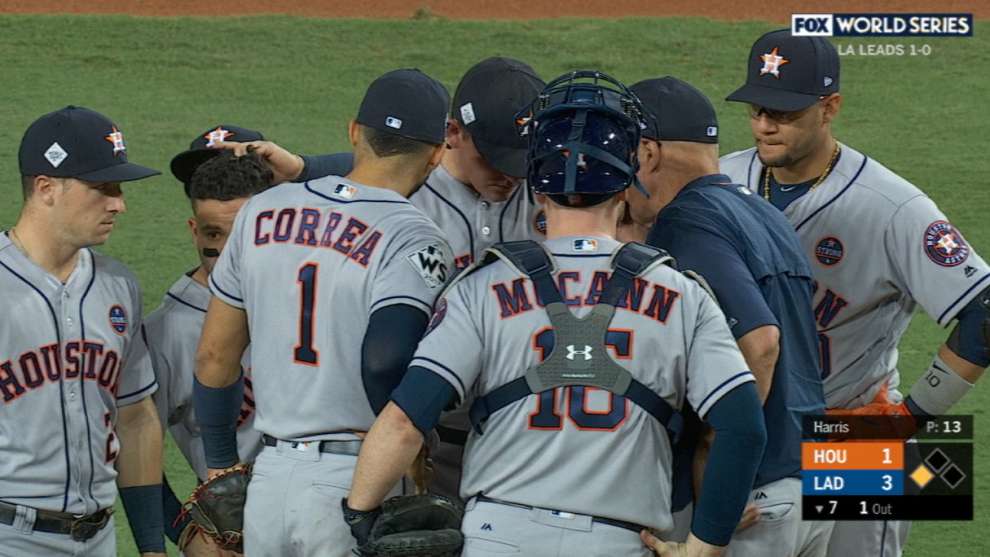 Players, managers react to pace of play rules
Major League Baseball announced its pace of play rules changes for the 2018 season on Monday, and they include some major implementations. With Monday's news, players and managers around baseball have voiced their thoughts on the new rules. MLB.com is keeping track of their reactions right here.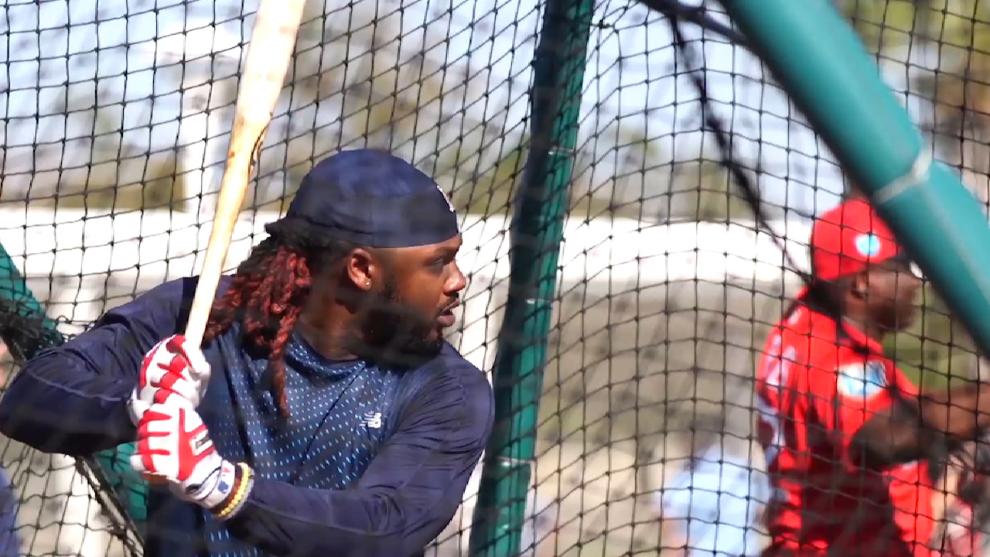 J.D. deal likely means a lot of 1st for Hanley
For months, a healthier Hanley Ramirez has been saying he's ready and able to play a lot of first base this season. That is a good thing, because the Red Sox are now going to need him to.


All signs 'positive' for Sanchez in live BP
Blue Jays starter Aaron Sanchez showed no signs of the lingering injuries that cost him most of the 2017 season after throwing his first session of live batting practice on Tuesday. The 25-year-old right-hander saw action against a group that included sluggers Kendrys Morales, Steve Pearce, Justin Smoak and Josh Donaldson at the Bobby Mattick Training Center practice fields.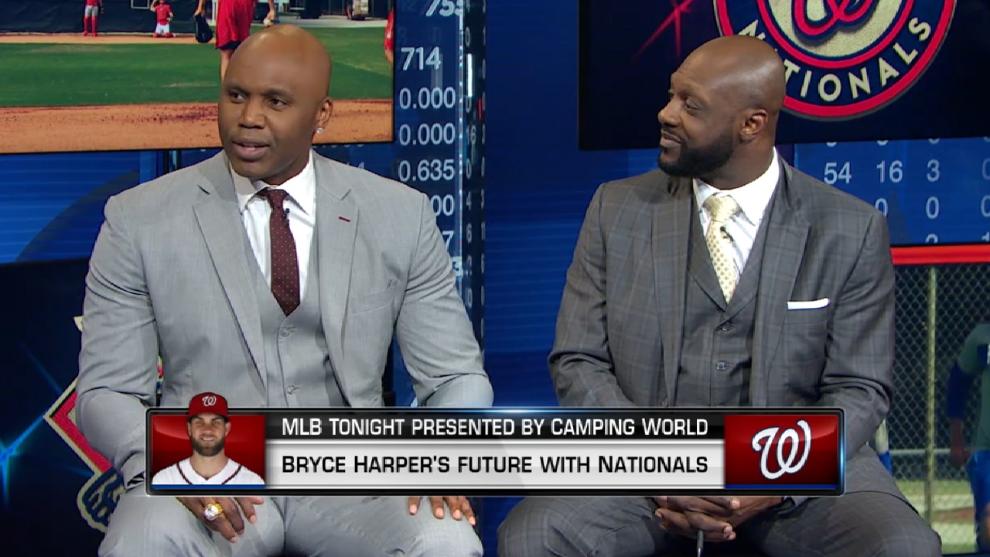 Buckle up: Harper set for fascinating year
Somehow, even in the Spring Training cluster of red jerseys on a back field on the Nationals side of The Ballpark of The Palm Beaches, with the sound of T.I. blasting out of a Sony speaker set in the green grass, the morning organizes itself around Bryce Harper, who is about to begin the most interesting potential walk year anyone has ever had in baseball.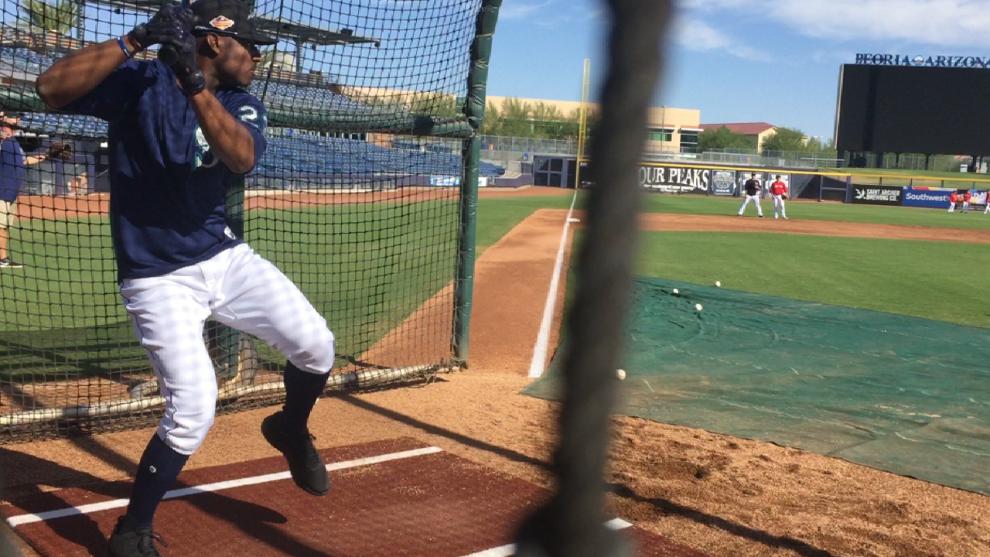 M's prospect Lewis out after minor knee surgery
Outfielder Kyle Lewis, the Mariners' top-ranked prospect according to MLB Pipeline, is not among the 40-plus players who began a Minor League mini-camp at the club's Peoria Sports Complex on Monday, as general manager Jerry Dipoto said he's recovering from arthroscopic surgery on his balky right knee.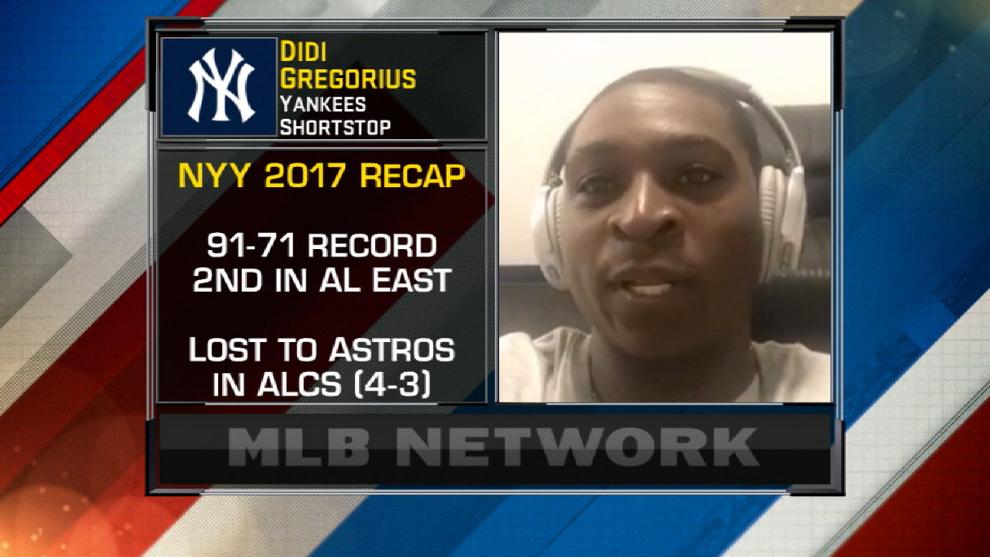 Didi cool with playing between pair of rookies
As touted prospects Miguel Andujar and Gleyber Torres pursue a place on the Yankees' Opening Day roster, shortstop Didi Gregorius has no concerns about the possibility of being sandwiched between a pair of rookies in the infield.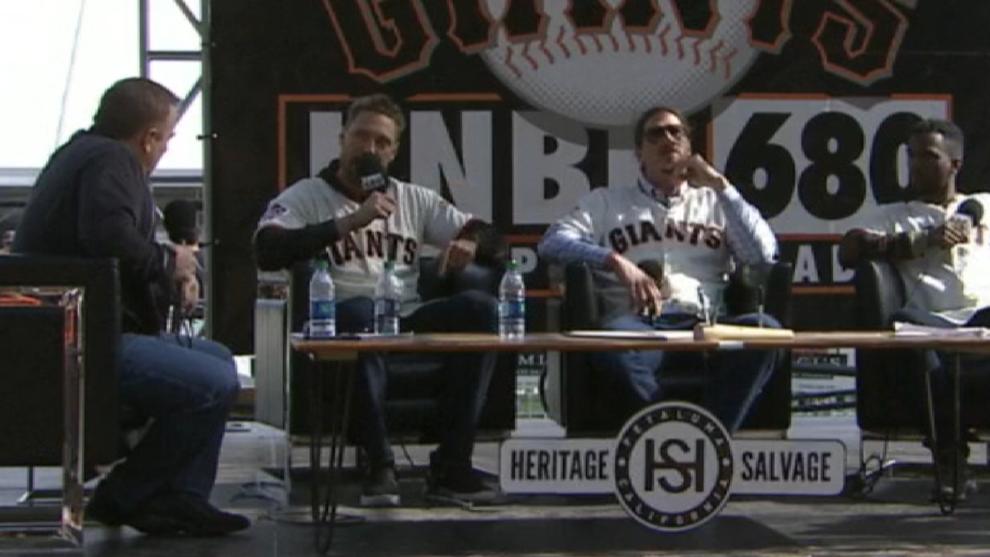 Giants in high spirits at first full workout
Almost midway through their calisthenics before Monday's opening full-squad workout, the Giants suddenly broke into rhythmic clapping. As left fielder Hunter Pence revealed, the moment was indeed planned. But the feeling behind it was spontaneous.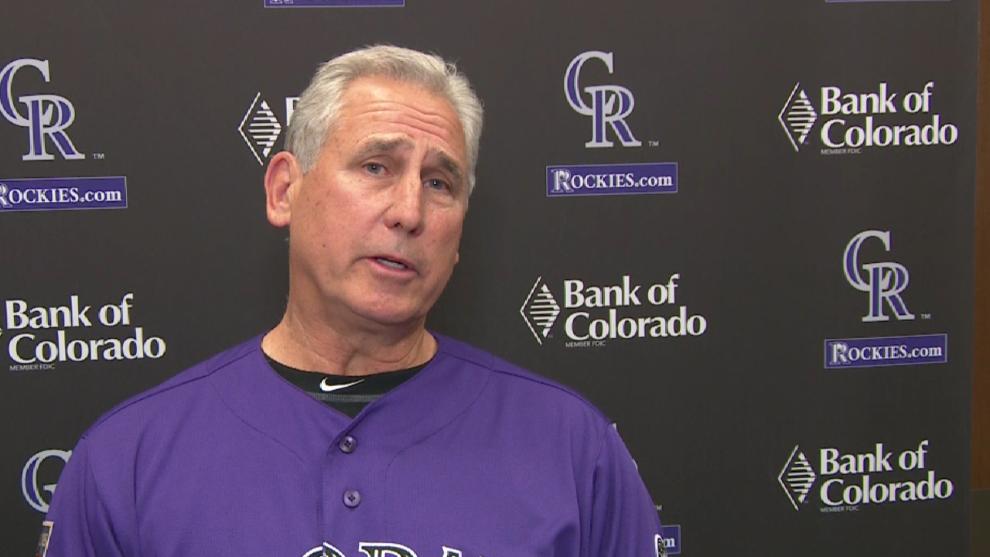 Rockies ready to sort out starting pitching depth
Rockies manager Bud Black believes a Major League team needs to go into a season knowing it can depend on at least eight pitchers capable of starting. His Spring Training squad has seven who have actually done so. That means opportunity is there for pitchers to prove they are ready if needed.


J-Up helps facilitate reunion with CY
Justin Upton has emerged as the chief recruiter of the Angels' offseason. Upton, who helped convince Ian Kinsler to waive his partial no-trade clause and accept a trade to Anaheim, also influenced outfielder Chris Young's decision to sign a one-year, $2 million deal with the Angels on Sunday.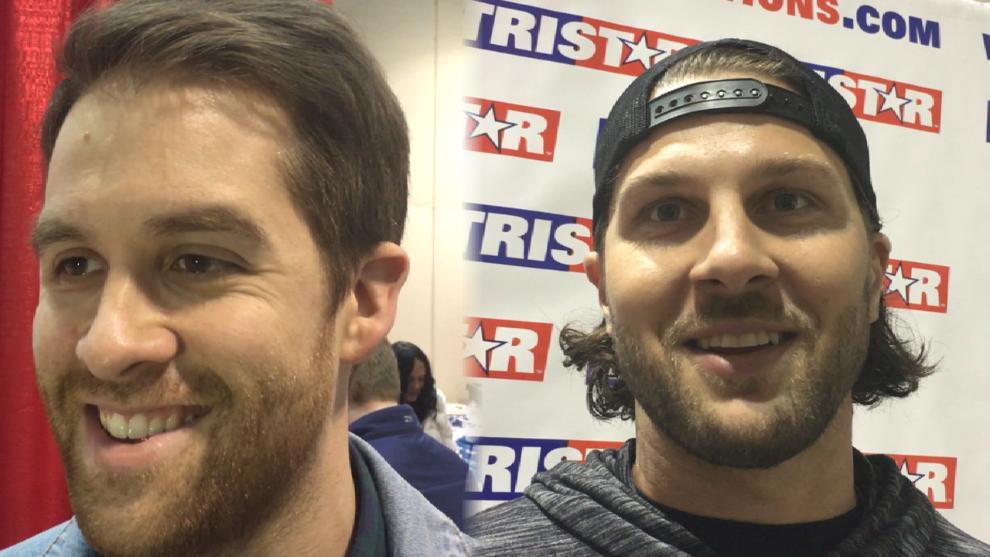 Back from thumb injury, Marisnick raring to go
After posting career highs during the regular season, then being relegated to watching from the sidelines with a fractured thumb as Houston won the World Series, center fielder Jake Marisnick might be the most anxious of all Astros to begin Spring Training.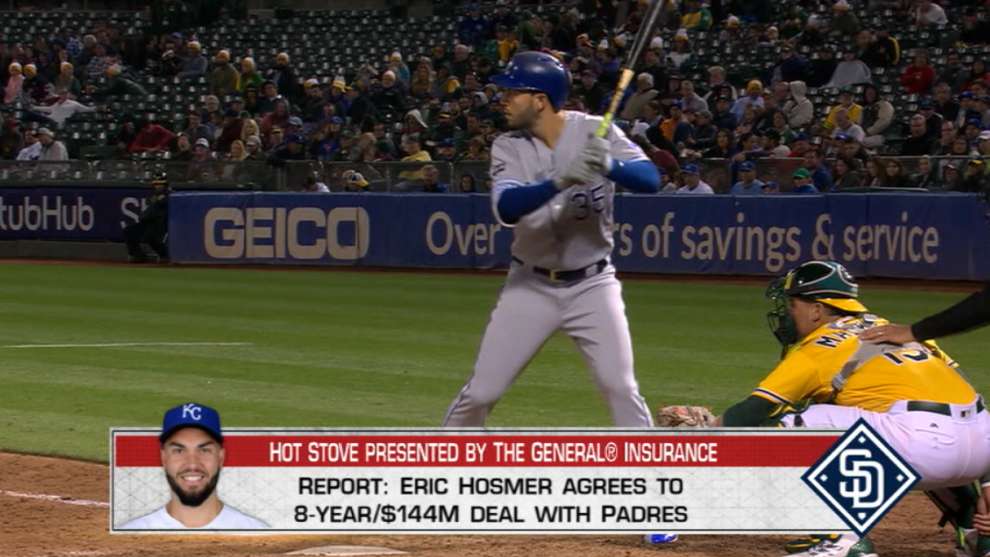 Hosmer to honor Yordano, wear No. 30 in SD
The memory of his close friend and fallen former teammate, Yordano Ventura, remains embedded in Eric Hosmer. When Ventura was killed in a car accident in his native Dominican Republic in February of last year, the tragedy shook Hosmer and the Royals organization.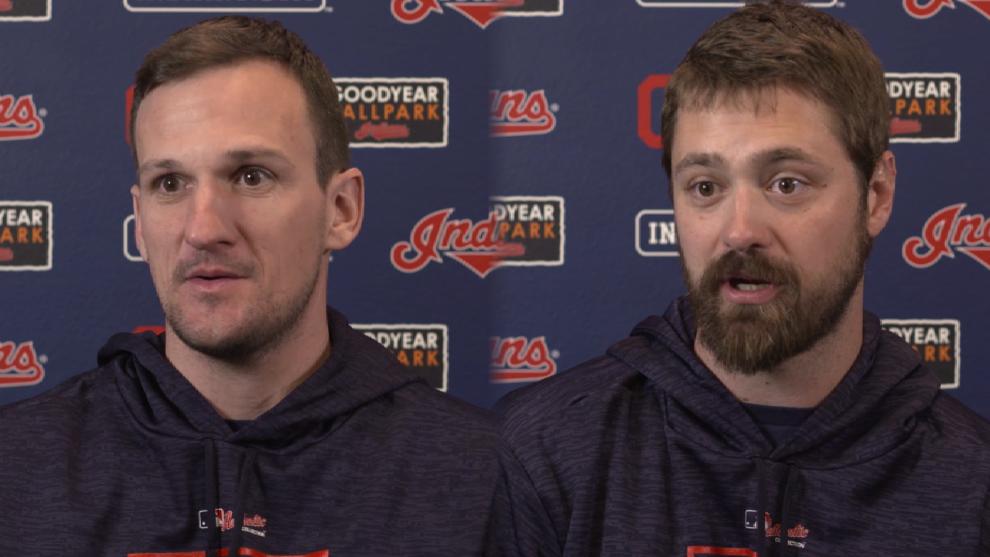 Otero finds happy place in Tribe's bullpen
It didn't take long for the Indians to wrap up contract negotiations with Dan Otero in the offseason. The club reached out to the reliever and asked him if he would be open to signing a two-year deal. That was all he needed to hear.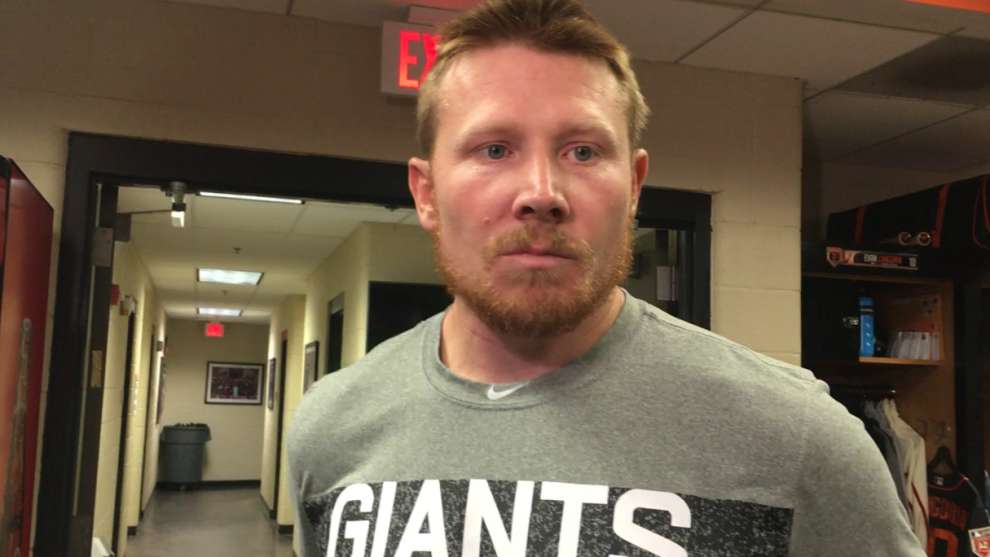 Watson open to any role in Giants bullpen
Giants reliever Tony Watson is ready for anything. "Whatever the game dictates," he said in the Giants' clubhouse at Scottsdale Stadium on Monday, when the team officially announced his two-year deal with an option for a third season.


Trout rides epic offseason into Angels camp
Mike Trout's offseason included marrying his high school sweetheart, Jessica Cox, helping the Angels land Japanese two-way phenom Shohei Ohtani and watching his beloved Eagles win the Super Bowl, but he didn't hesitate when asked to name the highlight of his winter.


Fowler feeling healthy as his A's chapter begins
All 59 players in A's camp took to the field for Monday's first full-squad workout injury-free, a group that included outfielder Dustin Fowler. The 23-year-old Fowler, who underwent surgery on an open rupture of his right patellar tendon just seven months ago, got through all of the day's activities without any issues.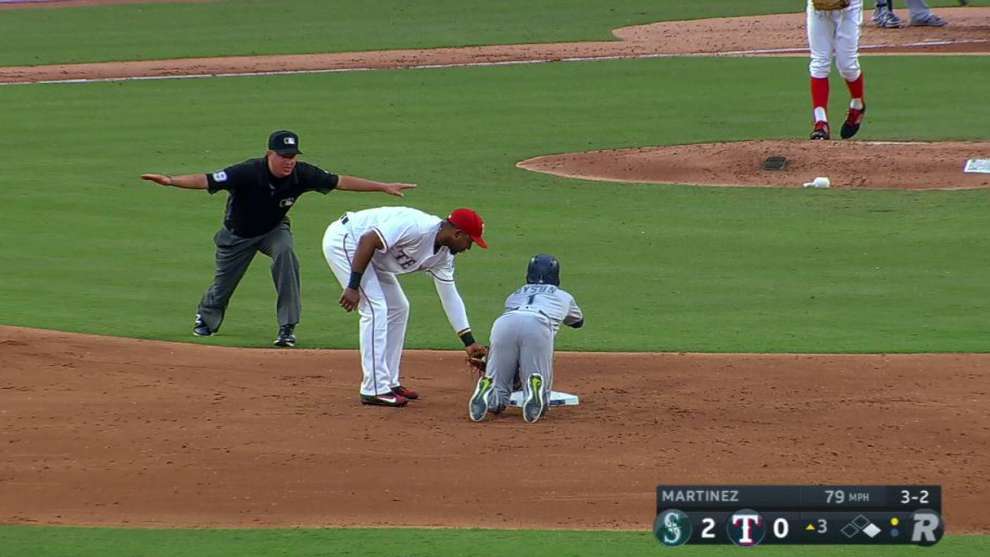 D-backs sign speedy Dyson to 2-year deal
Not long after word began coming out that J.D. Martinez had signed a five-year deal with the Red Sox, so too did the news that the D-backs had agreed to terms with Jarrod Dyson on a two-year contract.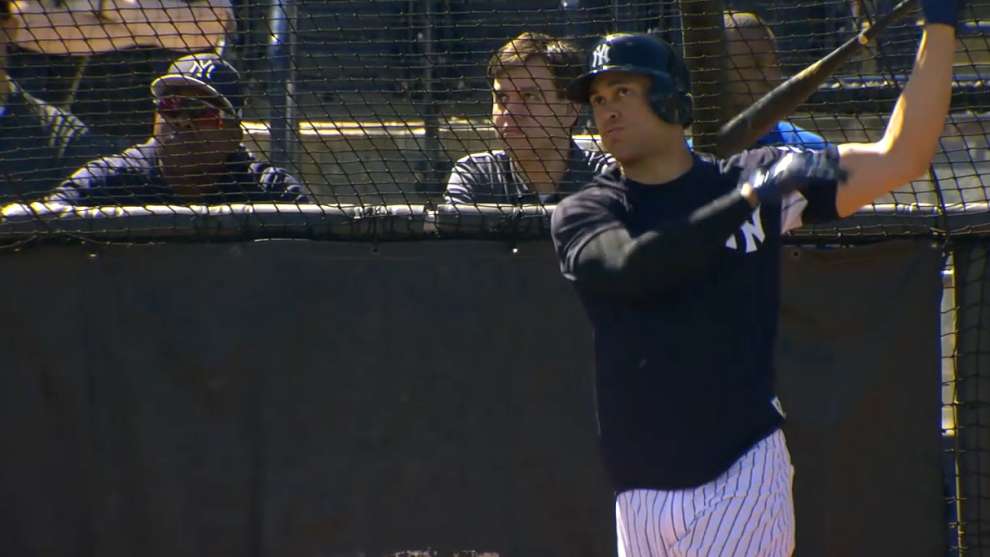 Judge, Stanton add ding, zing to first spring BP
Sixty players passed through the runway that leads from the home clubhouse to the dugout at George M. Steinbrenner Field on Monday morning, but all eyes seemed to be locked upon Aaron Judge and Giancarlo Stanton.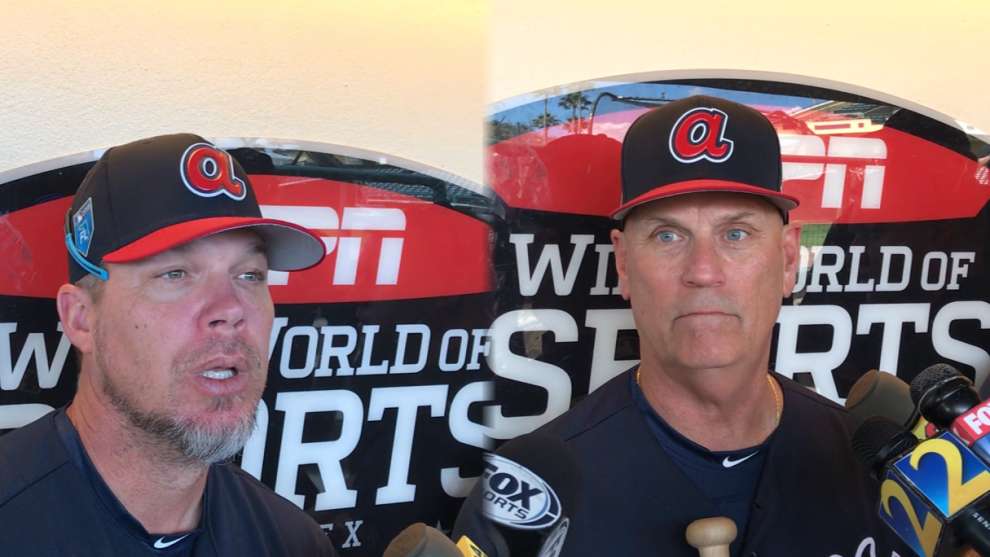 High praise: HOFer Chipper an Acuna fan
Chipper Jones grew up as a Major Leaguer with Andruw Jones and saw plenty of a young Vladimir Guerrero when the Braves shared a Spring Training complex with the Expos in the 1990s. But he's not sure he's ever seen anybody as impressive as Ronald Acuna, the Braves' 20-year-old five-tool outfielder who may be just a couple of months away from his Major League debut.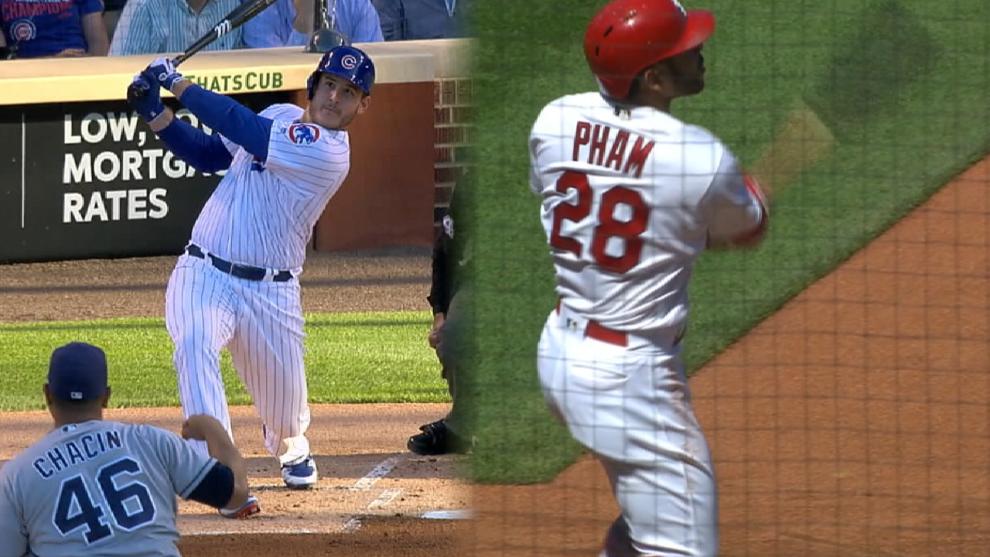 Tale of the fantasy tape: Cubs vs. Cardinals
Before the Cubs and Cardinals write the next chapter in their storied rivalry, we can get a head start on assessing them by comparing the fantasy value of their key players for the upcoming campaign.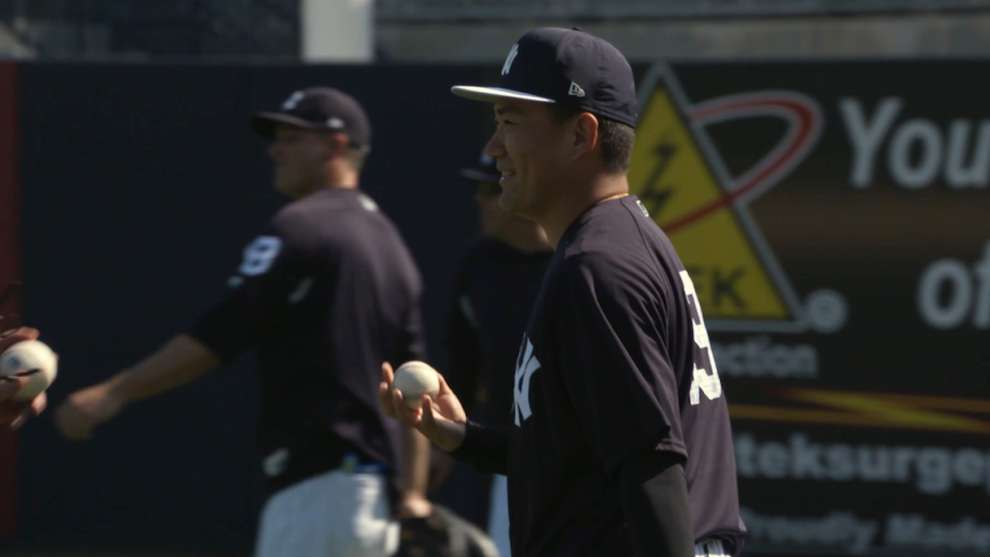 Yanks GM Cashman: 'I need another ring'
Out of respect for what the Astros, Indians and Red Sox accomplished last season, Brian Cashman refuses to classify his Yankees as World Series favorites, but the general manager is making his objective clear for the upcoming season.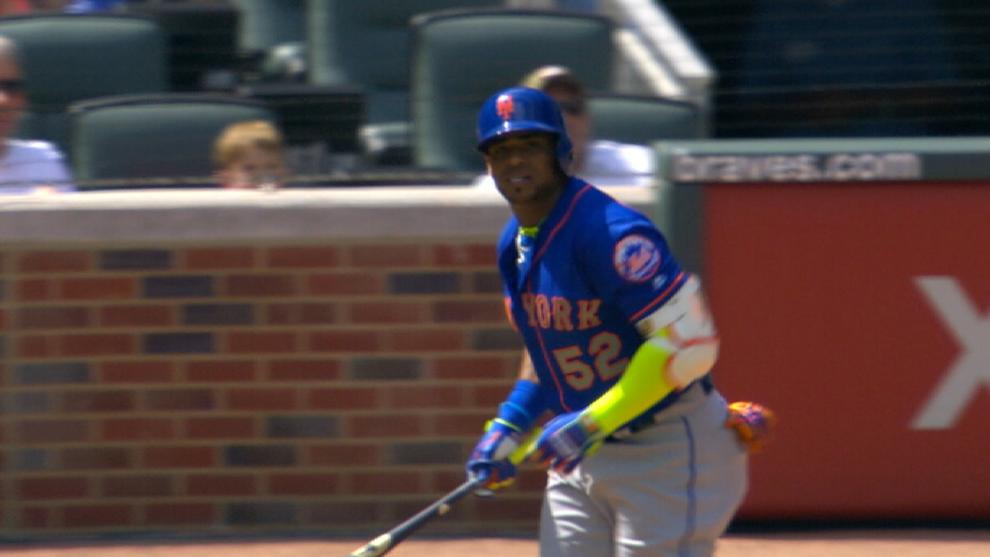 Yo-ga? Focused Cespedes more flexible
Following two consecutive seasons defined by leg injuries, Yoenis Cespedes knew he needed to make a change. But he perhaps did not realize how deep the problem ran until he stepped into a yoga system for the first time this winter. That day, Cespedes could not even finish the class.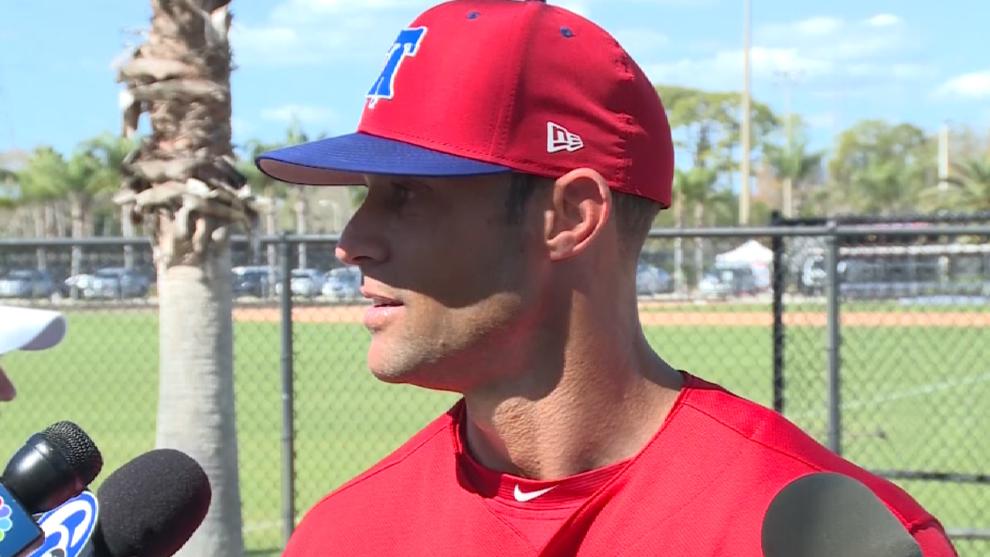 Phils emboldened by Kapler's spring message
Gabe Kapler's first camp with the Phillies has been anything but ordinary. Sure, the bullpen sessions, batting practices and baserunning and bunting drills are there. But Camp Kapler has a decidedly different vibe than springs past.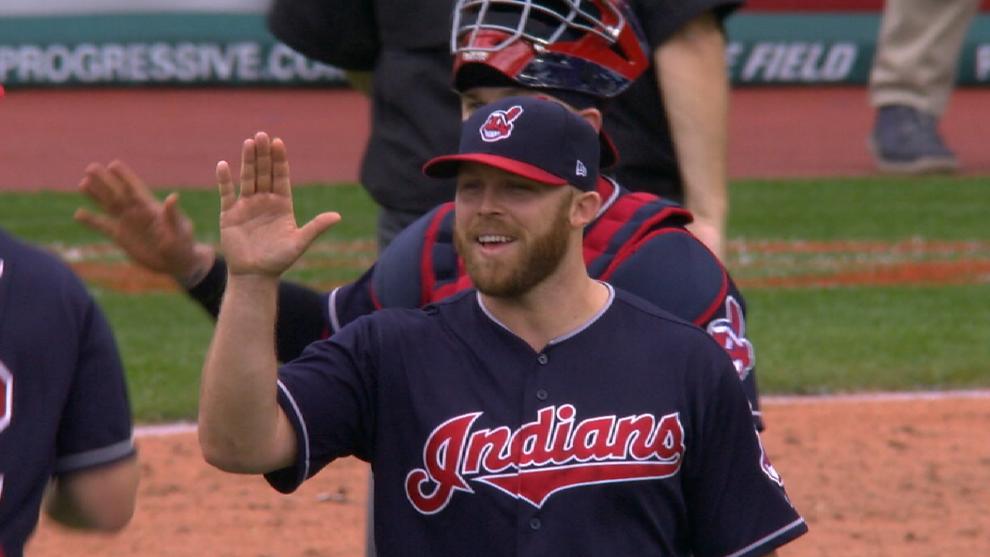 Allen, Tribe ready to fill Shaw's shoes in 'pen
For the past five years, reliever Bryan Shaw was a constant part of the Tribe's environment. The right-hander earned a reputation as one of the most durable setup men in the game and more than earned the trust of Francona. That, in turn, earned Shaw a lucrative free-agent contract this past offseason, leaving an empty locker that could be challenging for Cleveland to fill.


Cora hits right chords in message to Red Sox
Alex Cora remembers the tradition well from his time as a player with the Red Sox. Each year, on the morning of the first full-squad workout of Spring Training, there is a big meeting that includes ownership, the front office, the entire roster and uniformed coaching staff.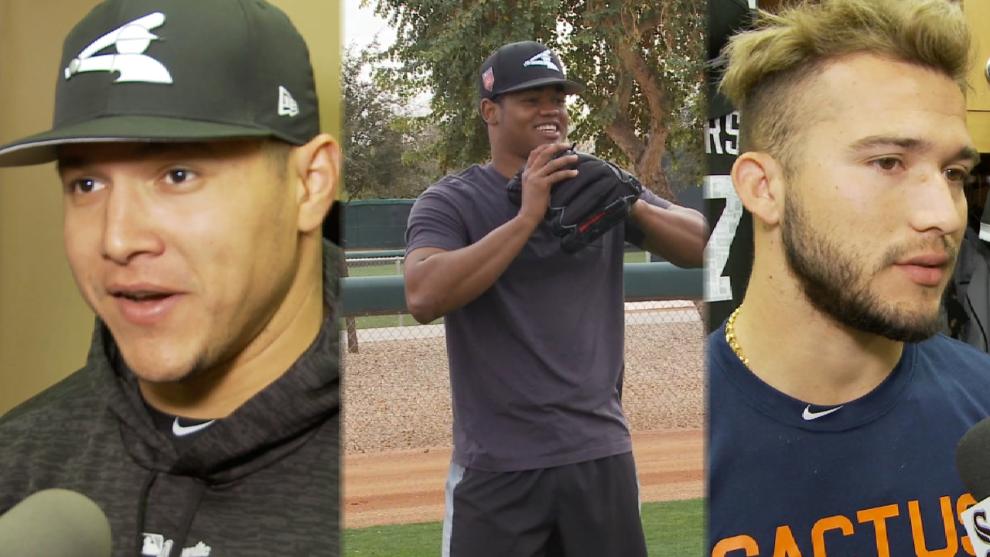 White Sox alight with possibilities on Day 1
The White Sox had their first full squad workout Monday on a blustery day that made the Windy City hopefuls feel right at home. It was a day to blow off the cobwebs, acclimate to live pitching and set the tone for a campaign manager Rick Renteria hopes will take his club to October.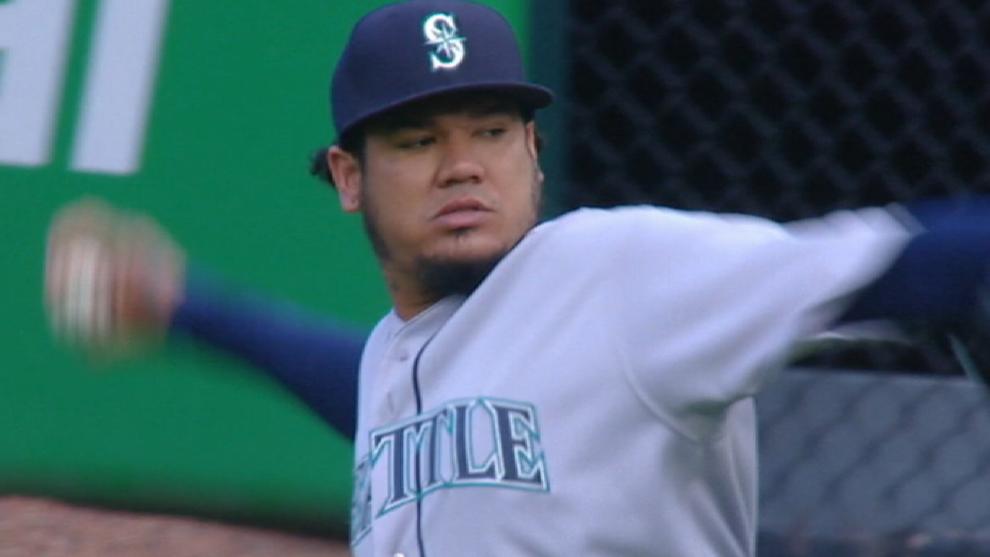 Opening Day starter for Mariners TBD
For the past nine years, choosing an Opening Day starter has generally been a foregone conclusion for the Mariners. Felix Hernandez has handled those duties every season since 2009, the longest active streak of any pitcher in the Major Leagues.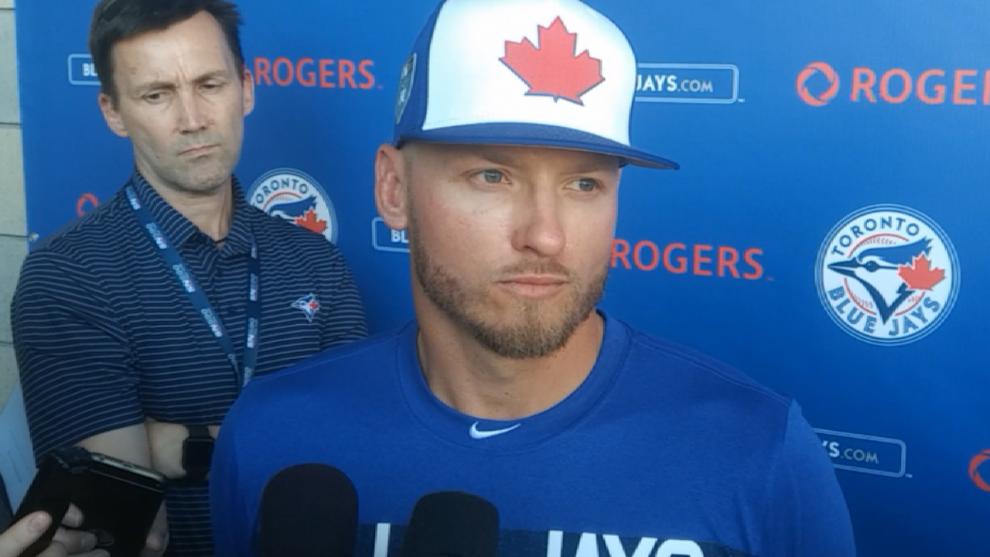 Donaldson done talking extension; focus on '18
Blue Jays third baseman Josh Donaldson fully expects to hit free agency at the end of the season because his representatives and Toronto's front office have not seen "eye to eye" on the framework of a long-term deal.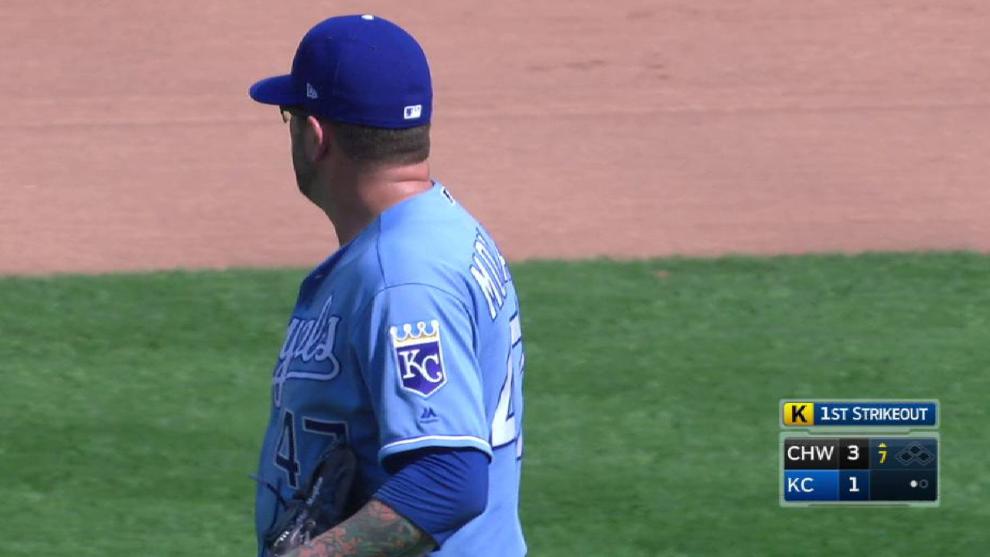 Source: Moylan, Braves agree to deal
Peter Moylan and the Braves have reached an agreement, pending a physical, but it is unclear whether the right-handed reliever will get a Major or Minor League deal, according to a source. The club has not confirmed.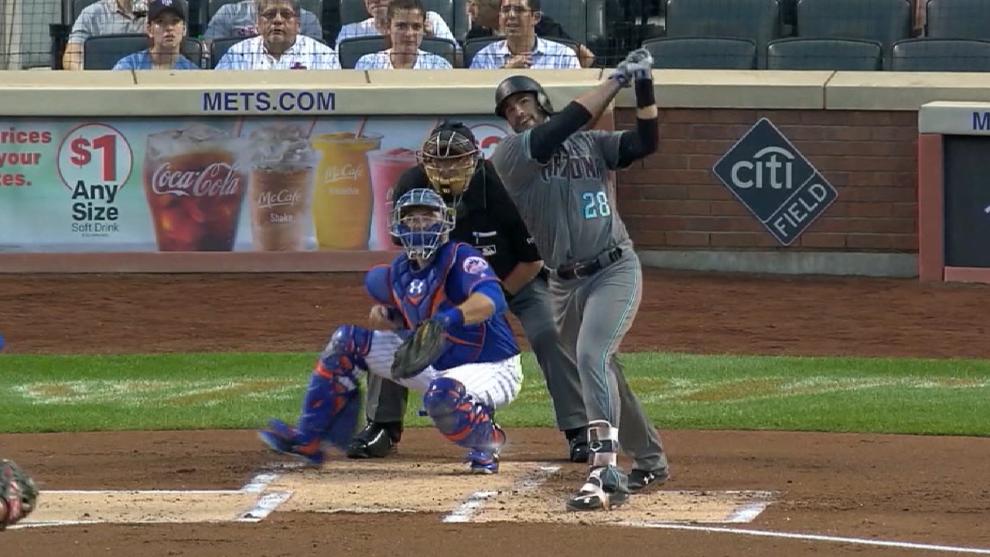 Sources: Red Sox have 5-year deal with J.D.
The prolonged courtship of slugger J.D. Martinez has paid off for the Red Sox, as MLB.com's Jon Paul Morosi reported via sources that the sides have reached agreement on a five-year, $110 million contract that includes opt-outs after the second and third years of the deal.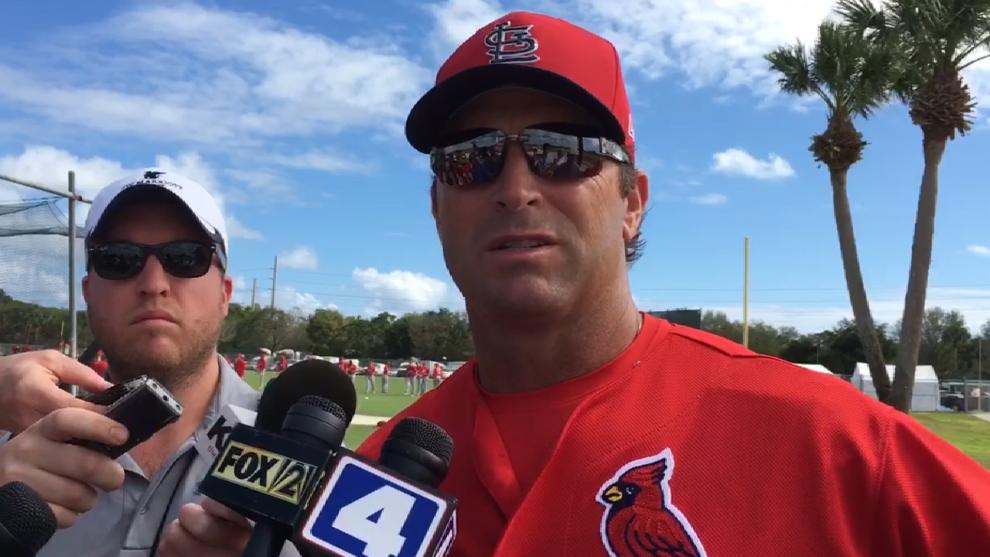 Matheny's address receives glowing reviews
Manager Mike Matheny rarely discloses details of his message, and few leaked out of the 45-minute closed-door session hosted Monday. But historically, Matheny tends to use his early-season edict to outline expectations and reinforce tradition.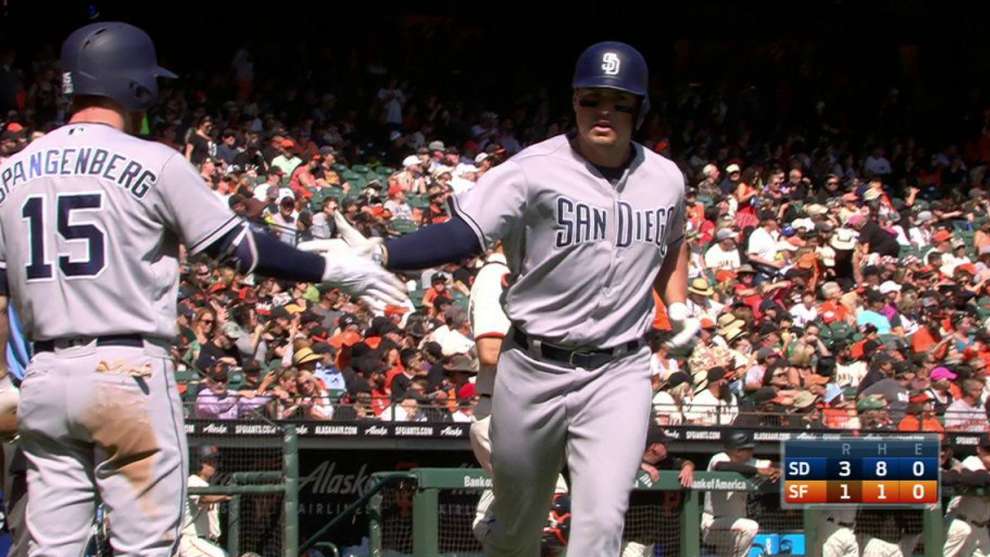 Renfroe's future clouded by Hosmer's arrival
Hunter Renfroe arrived in camp last week seemingly entrenched as the Padres' right fielder. Coming off a roller-coaster rookie campaign, there was always plenty for him to prove in Year 2. Except, suddenly, Renfroe finds himself squarely in a battle for his job with the pending arrival of Eric Hosmer.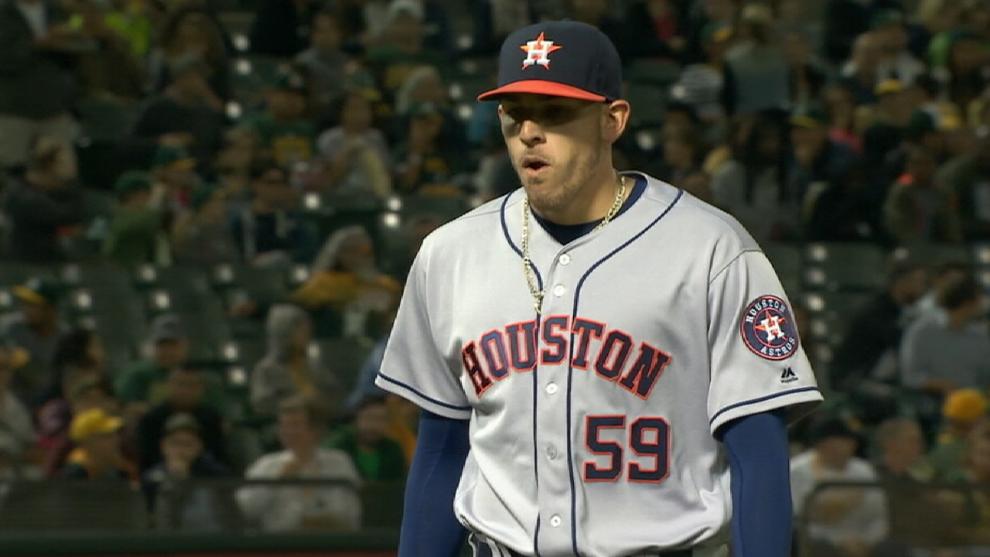 Musgrove says shoulder discomfort is minor
Pirates right-hander Joe Musgrove did not throw his scheduled live batting practice session Sunday due to right shoulder discomfort, but he believes it is only a minor issue.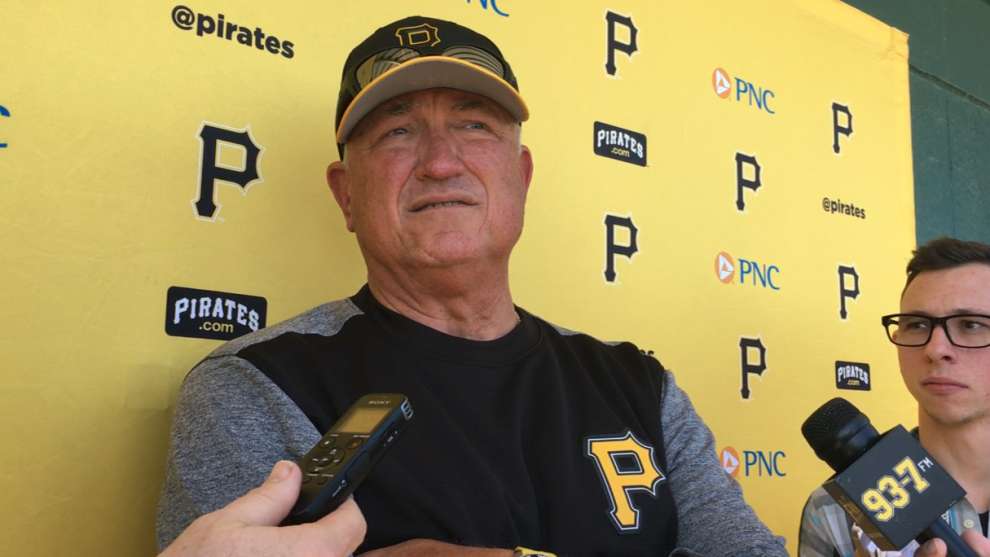 Bucs 'in this together with one vision, one goal'
After a few days dominated by discussion of the past two years and last month's trades, the Pirates officially moved forward with their first full-squad workout of Spring Training on a warm Monday morning at the Pirate City complex.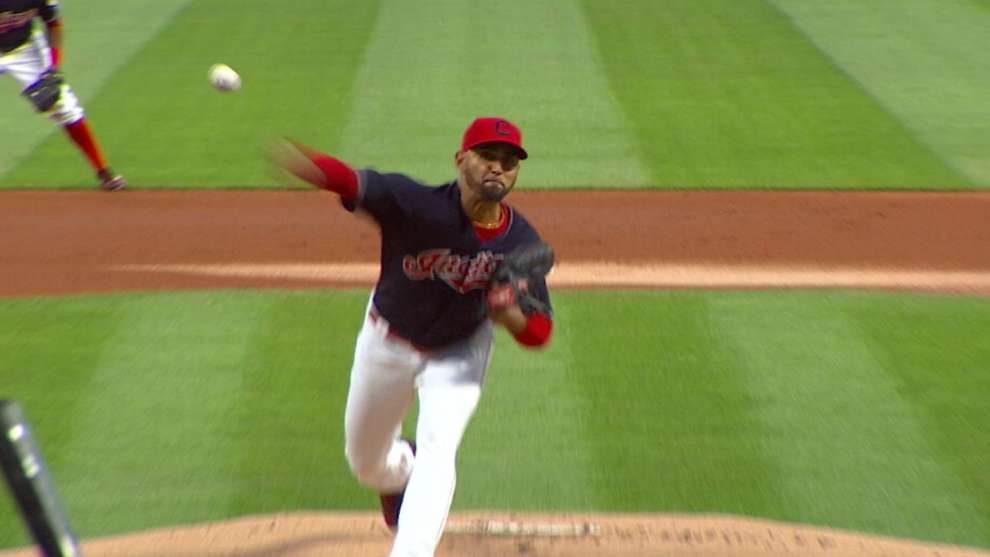 4 starters who could thrive in relief in '18
It was only a year ago that Chad Green was coming off posting a 4.73 ERA and fighting for the Yankees' fifth starting spot. Likewise, Archie Bradley was on the fringes of the rotation after struggling to a 5.02 ERA for the D-backs a year prior.


MLB announces pace of play initiatives for '18
Major League Baseball on Monday announced rule changes for the 2018 championship season designed to improve the pace of play. After receiving substantial input from the Major League Baseball Players Association and Club personnel, MLB's Competition and Playing Rules Committees recommended that Commissioner Rob Manfred proceed with a rule change limiting the number of mound visits in a game and a rule designed to reduce the time required for inning breaks and pitching changes.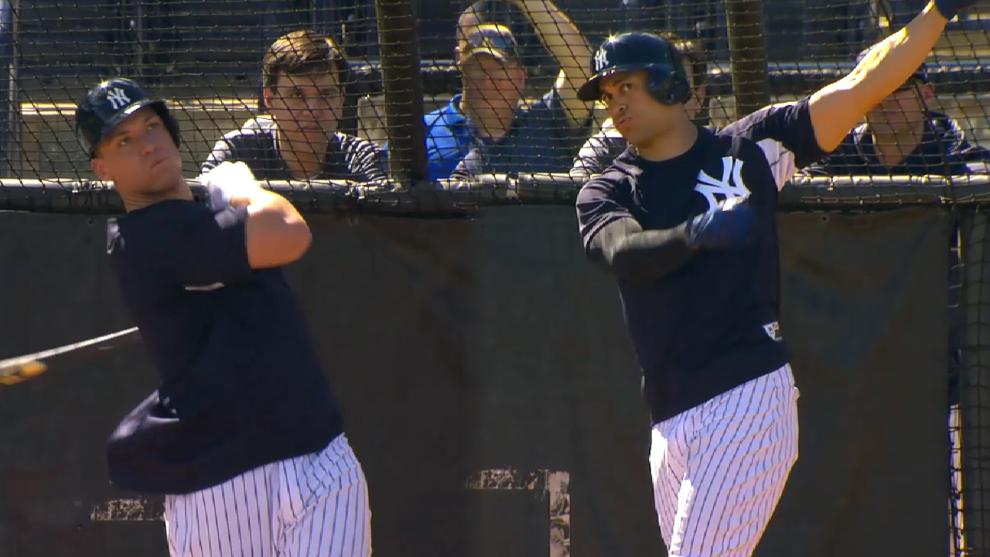 Boone relishes moment of first team address
As the Yankees gathered for their first full-squad workout of the spring on Monday morning, Aaron Boone stood in the center of the home clubhouse at George M. Steinbrenner Field, addressing his team for the first time as a big league manager.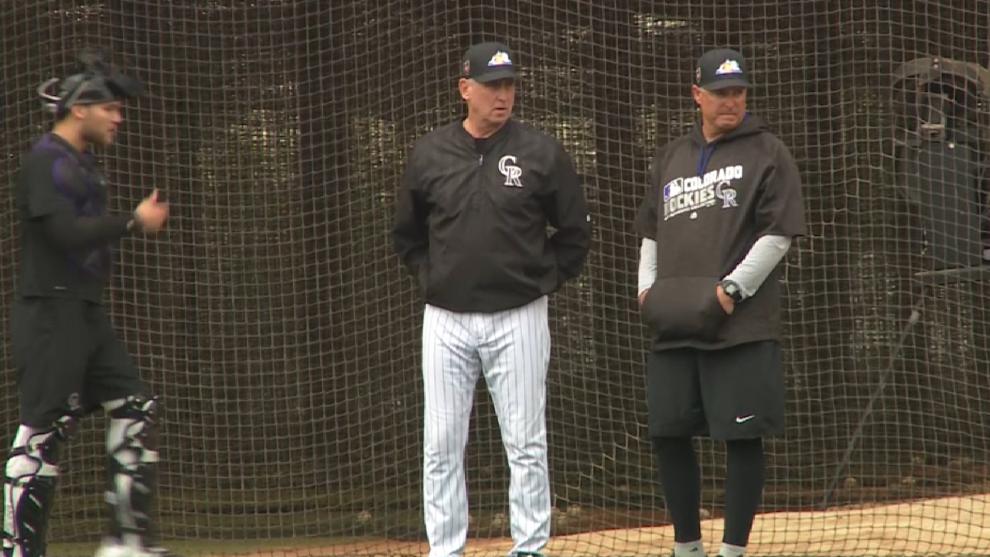 Rockies' many position battles get underway
Monday's first full-squad workout marked the beginning of a healthy amount of competition for roster spots and starting opportunities -- particularly among pitchers, outfielders, first basemen and catchers -- in Rockies camp.


5 under-the-radar breakout hitters for 2018
Breakout hitters can come from anywhere. They can be heralded youngsters like Cody Bellinger or Aaron Judge, or they can be late bloomers like Cardinals outfielder Jose Martinez.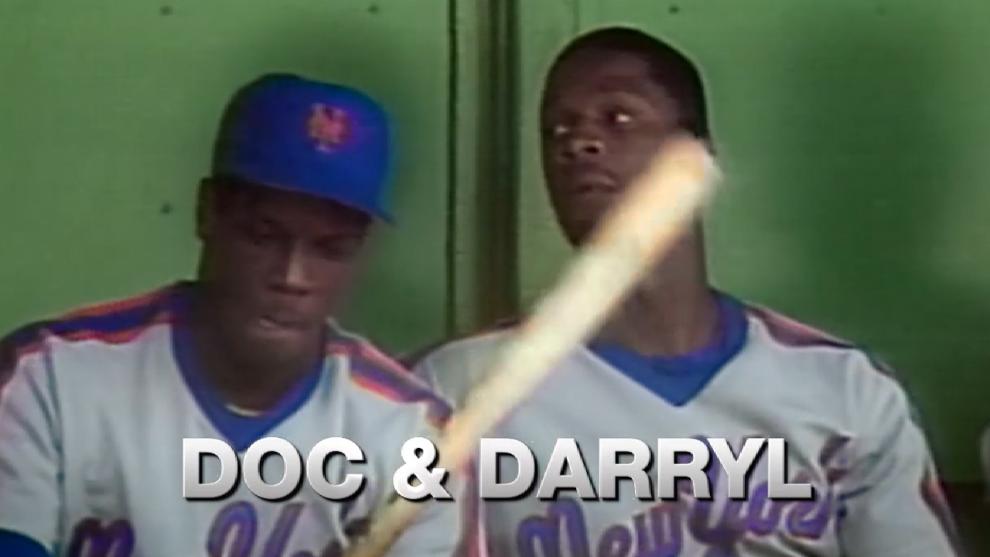 Darryl and Doc took NYC, MLB by storm
For much of the 1980s, the Mets featured one of the most feared hitters and most dominant pitchers in the game. Fresh off a run of seven consecutive losing seasons, New York returned to contention with the emergence of two young phenoms -- outfielder Darryl Strawberry and pitcher Dwight "Doc" Gooden, players whose careers will forever be intertwined.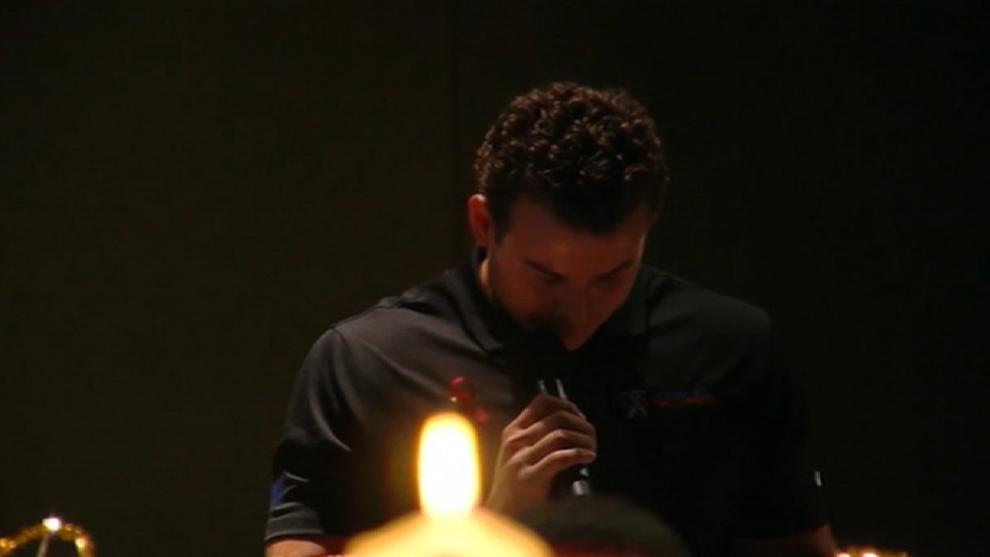 Rizzo returns, reflects on somber trip home
Cubs first baseman Anthony Rizzo said it was important for him to go home to Parkland, Fla., to be with family and neighbors after the horrific shooting at his high school last week in which 17 people were killed.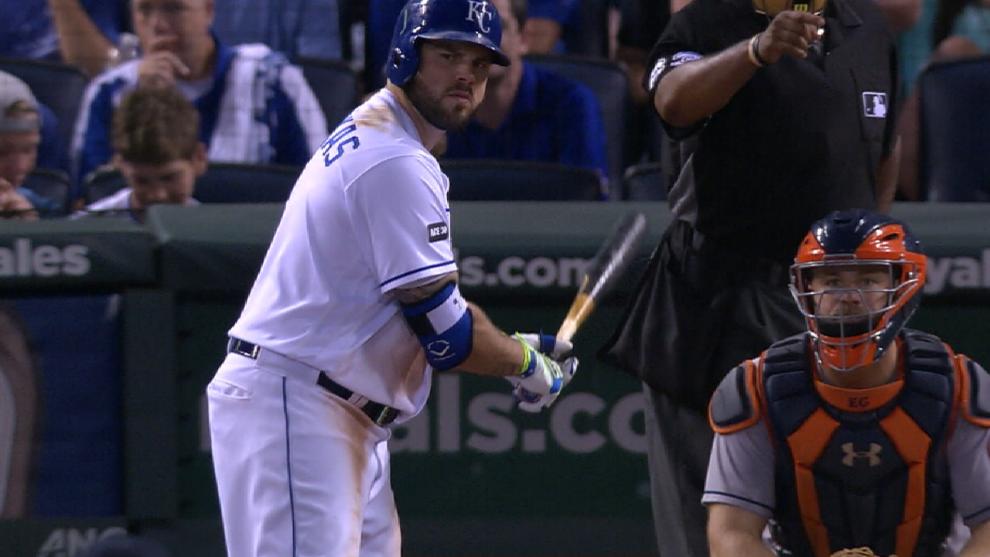 Evaluating best potential fits for Moustakas
Coming off a career year, and in a thin free-agent market at third base, Mike Moustakas appeared to be in line to land one of the more hefty contracts for a position player this winter.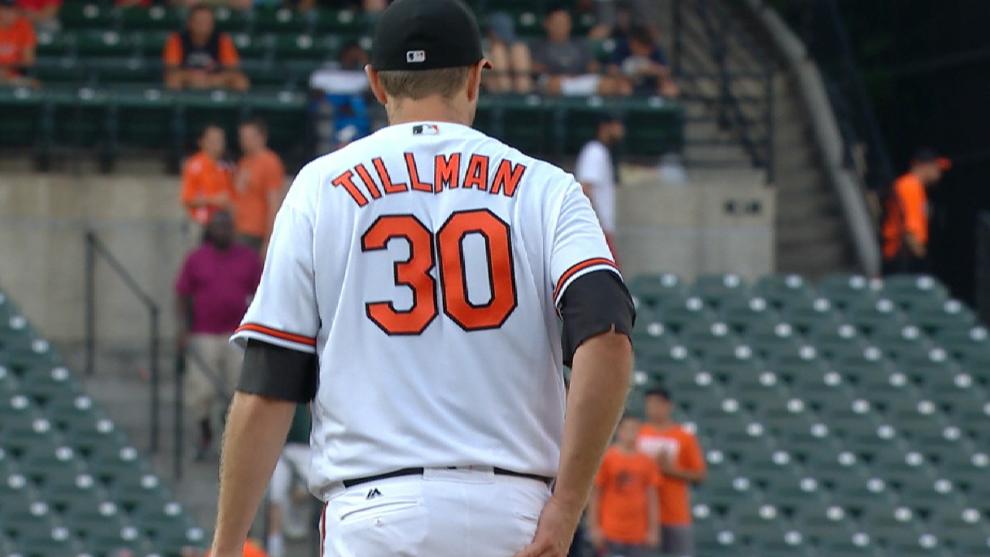 Sources: Tillman agrees to deal with Orioles
Free agent Chris Tillman is returning to the Orioles. The right-hander, who had been working out in Sarasota of late, has agreed to a Major League according to multiple MLB.com sources.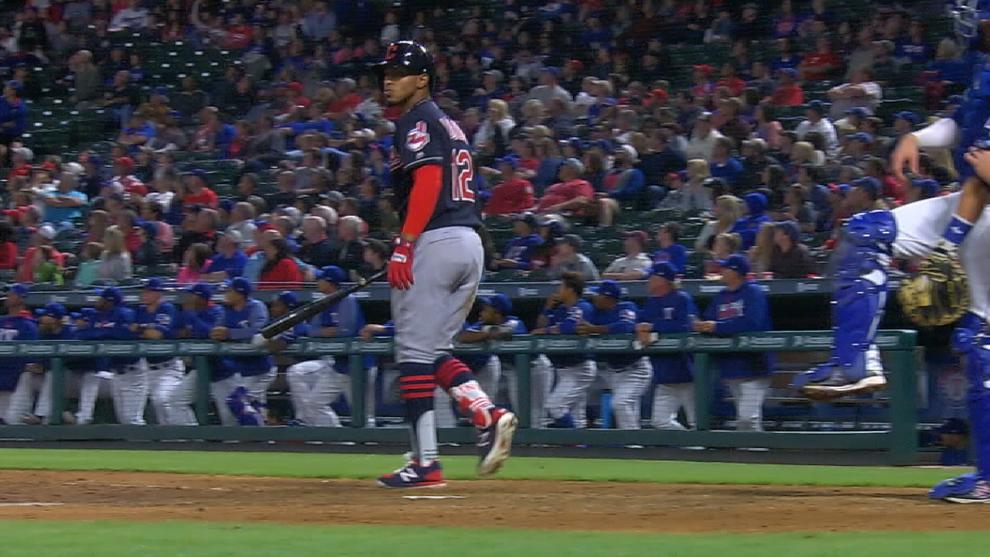 Muscle & flow: Bulked-up Lindor ready
Every February, Francisco Lindor cuts the sleeves off a team-issued hoodie and wears that during workouts around the Indians' Arizona complex. This year, the spring ritual revealed what appeared to be bulkier biceps on the high-energy shortstop.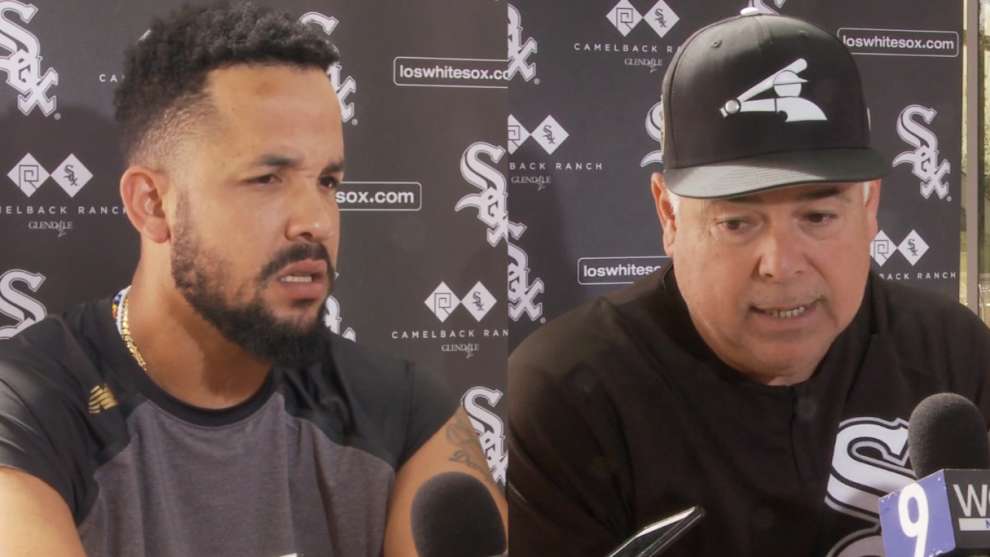 Abreu aims to be running man for White Sox
Jose Abreu wants the green light, a few of them, actually. He needs permission to steal more bases in 2018, he wants to keep his new beard, and in the long term, he's also open to finishing his career with the White Sox.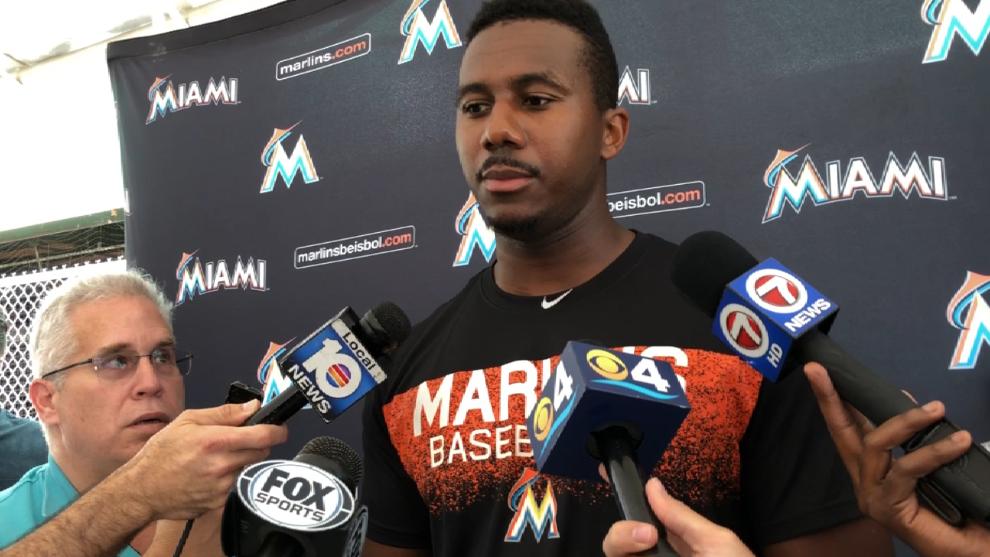 Brinson visits Parkland students in hospital
The day before the Marlins started full-squad workouts, outfielder Lewis Brinson had more than baseball on his mind. The 23-year-old made a trip to a local hospital to visit two students being treated for injuries sustained in last week's shootings at Marjory Stoneman Douglas High School in Parkland, Fla.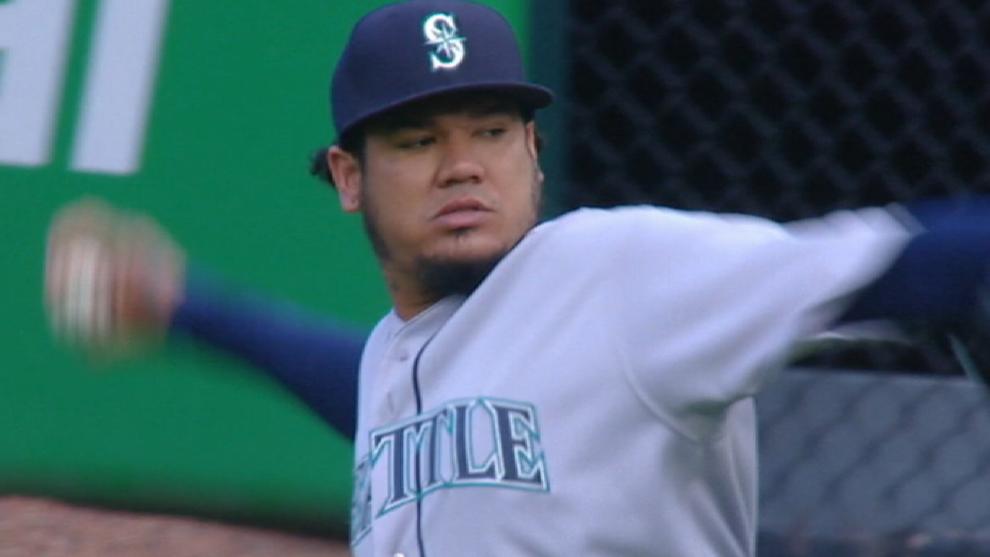 Felix, Yadi lead select group in it for long haul
Over the weekend, Eric Hosmer agreed to a big honking eight-year, $144 million contract with the Padres, a team eager to show it's ready to contend in the near future, for better or for worse. Hosmer is many things, a four-time Gold Glove Award winner, a one-time All-Star, a World Series champion, but more than anything else, he has been a Royal. Today we look at the longest-tenured active careers with one team, for both pitchers and hitters.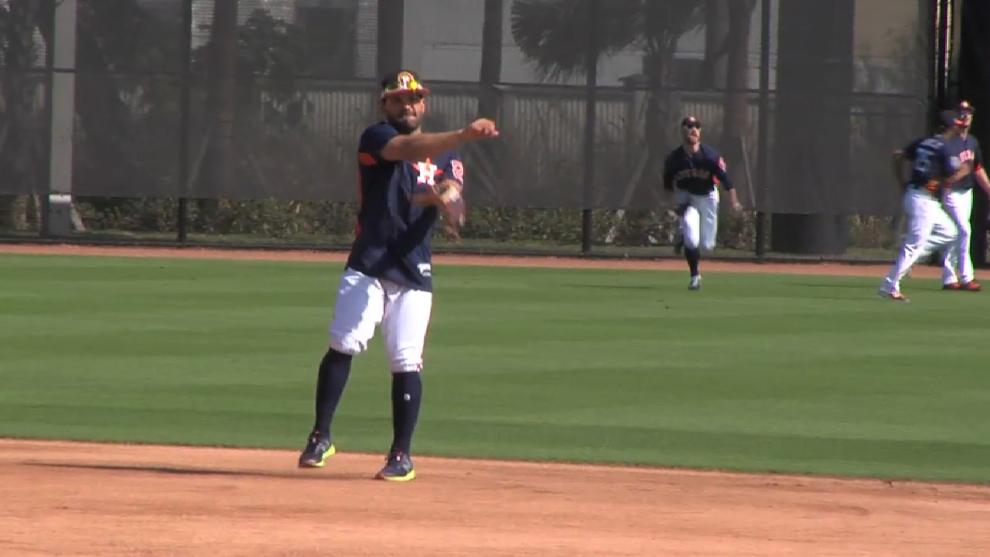 Altuve striving for perfection after MVP, WS
One by one, Jose Altuve's teammates were asked about his impact on the Astros, prompting glowing responses from every corner of the clubhouse. It's easy to measure Altuve's influence by looking at his gaudy numbers, but his importance is better defined by what his peers think about him.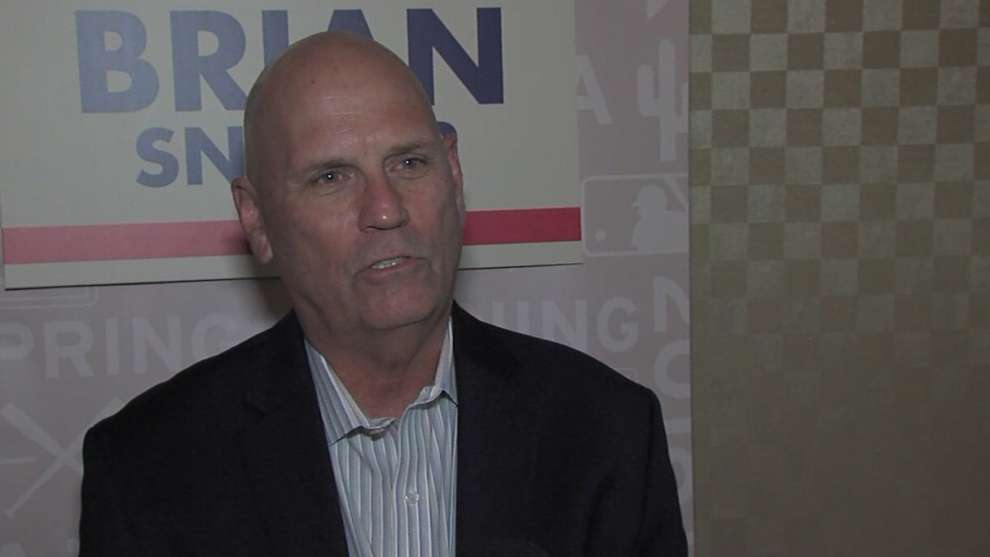 Snitker tells players to embrace analytics
As Braves manager Brian Snitker addressed his players before the team's first full-squad workout on Monday, he told them to embrace the change that occurred over the offseason when MLB's investigation led to the baseball operations department being overhauled.