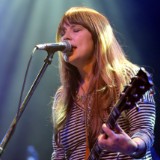 Veruca Salt's Louise Post Among Dozens Of Women Accusing Director James Toback Of Sexual Harassment
Following the very public outing of Harvey Weinstein as a sexual predator, more and more women have stepped forward to share their own stories of harassment and assault at the hands of other men in the film industry. One of those men is director James Toback, who was nominated for the Academy Award For Best…

2017-10-22 19:50:03
`
1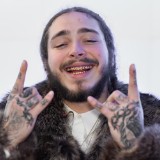 YouTube Plays to Count Less Than Subscription Streaming on the Billboard Charts in 2018
Billboard has announced that video views will soon count less than paid streams in their Hot 100 ranking. Three years since they started factoring YouTube plays into their Hot 100 system, the chartmakers have reevaluated the ways in which the chart accounts for "the advisement of our constituents (artists, labels, distributors, publishers, consumers, etc.)," as…

2017-10-22 16:42:02
`
4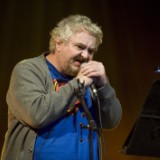 Watch Daniel Johnston and Jeff Tweedy Cover the Beatles' "You've Got to Hide Your Love Away" Live in Chicago
Daniel Johnston took the stage Friday night as part of his "final tour" in Chicago, joined by Chicago native Jeff Tweedy. Together, Tweedy, Johnston, and their bandmates covered the Beatles' "You've Got to Hide Your Love Away," from their 1965 album Help! The crowd erupts into a heartfelt sing-a-long, as Johnston booms through the microphone…

2017-10-22 15:53:11
`
4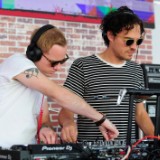 Classixx are Suing H&M for Copyright Infringement
LA house duo Classixx are suing H&M for copyright infringement. The international retailer has reportedly been selling sweaters with the word "Classixx" stitched across the front without the band's permission, as Stereogum recently pointed out. Operating on behalf their company Hush Hush Sound, Inc., the duo filed a copyright infringement complaint in the U.S. District Court…

2017-10-22 15:38:08
`
6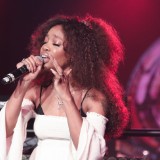 SZA is Working on an Album with Mark Ronson and Tame Impala's Kevin Parker
Over the summer, Mark Ronson and Tame Impala frontman Kevin Parker unveiled a new collaboration with SZA during their DJ set at Governors Ball and now, it seems that there's more new music from the trio on the way. As a new interview with the Los Angeles Times now points out, SZA has in fact…

2017-10-22 15:13:10
`
3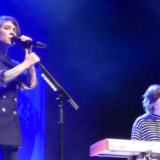 Watch Tegan And Sara Play The Con Deep Cut For The First Time In 9 Years
Tegan And Sara's The Con turned 10 years old over the summer, and in honor of that anniversary, the duo just released a star-studded tribute covers album and embarked on a tour celebrating the LP. They performed The Con in its entirety at the tour kickoff in San Diego last night, and that means that they played deep cuts like "Floorplan" and…

2017-10-22 14:49:41
`
3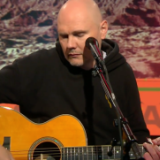 Watch William Patrick Corgan Talk New Solo Album, Play Three Songs On CBS This Morning
Smashing Pumpkins frontman Billy Corgan — sorry, William Patrick Corgan — just released his new Rick Rubin-produced solo album Ogilala. And today, he stopped by CBS This Morning to discuss the LP, the death of his mother, and his prodigious talent for irritating people. He also played a few songs, including "Aeronaut," "The Long Goodbye," and "To Sheila." Watch his…

2017-10-22 14:41:41
`
3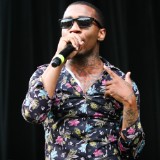 Lil B Cancels Festival Set, Says A Boogie Wit Da Hoodie "Beat Him Up" Backstage
Lil B was scheduled to perform at Rolling Loud in Miami this Saturday, but was forced to cancel his set on short notice. At the beginning of what would've been his performance, the rapper took the stage to announce that A Boogie Wit Da Hoodie had allegedly "beat him up in the back" and stolen…

2017-10-22 14:34:11
`
4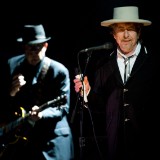 Watch Bob Dylan Cover Tom Petty's "Learning to Fly" at a Colorado Concert
Saturday night, Bob Dylan honored the late Tom Petty by covering his song "Learning to Fly" during the encore of his concert in Broomfield, Colorado. The performance followed what would've been Petty's 67th Birthday on October 20. Taken from his 1991 album Into the Great Wide Open with the Heartbreakers, "Learning to Fly" was written by Tom Petty…

2017-10-22 14:12:42
`
3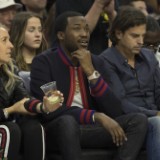 Watch Meek Mill Do a Front Flip Off a Trampoline at a 76ers Game
At last night's 76ers-Celtics game in Philadelphia, Meek Mill watched as members of the Sixers Dunk Squad performed a series of acrobatic maneuvers off a trampoline in the tunnels of the Well Fargo Center. Then, for reasons unknown, he followed suit, launching into and successfully landing a front flip. Alas, the rapper's impressive move wasn't…

2017-10-21 16:57:09
`
4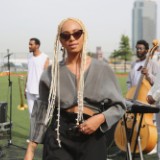 Evening Standard Magazine Apologizes to Solange for Touching Her Hair
The London Evening Standard Magazine has apologized to Solange for editing out part of her elaborately arranged braids for the print cover of their most recent issue, which includes a feature on the singer. "The decision to amend the photograph was taken for layout purposes, but plainly we made the wrong call and we have offered…

2017-10-21 15:06:43
`
8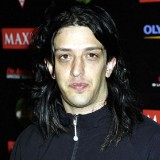 Marilyn Manson Bassist Twiggy Ramirez Accused of Rape
Jessicka Addams of the riot grrrl band Jack Off Jill has accused her former boyfriend, Twiggy Ramirez, of rape as well as physical and psychological abuse. Ramirez is best known for playing in Marilyn Manson's band, as well as touring with Nine Inch Nails and performing in A Perfect Circle, and his given name is…

2017-10-20 21:54:31
`
5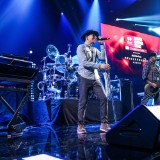 Linkin Park's Chester Bennington Tribute Will Be Live-Streamed
Linkin Park's sold out tribute to Chester Bennington next week will be livestreamed on YouTube. The star-studded event will feature performances from Blink-182, Machine Gun Kelly, and System Of A Down, as well as members of the bands Korn, Avenged Sevenfold, No Doubt, and Yellowcard, among others. Linkin Park themselves will also take the stage. It will be the…

2017-10-20 20:51:44
`
7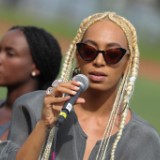 Solange to Evening Standard Magazine: "Don't Touch My Hair"
Solange appears on the cover of the latest issue of Evening Standard Magazine, part of the U.K. paper the London Evening Standard. The magazine's photoshoot features Solange with her hair bleached, braided, and arranged in a elegant, halo-like circle over her head. In an accompanying interview, Solange discussed the significance hair braiding holds for black women, calling it an "art form," and…

2017-10-20 20:44:51
`
8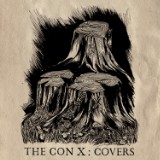 Review: The Con X Is a Worthy Tribute to Tegan and Sara
A decade ago, some critics wrote off Tegan and Sara's The Con for lacking queerness, "genuine" fragility, and material the White Stripes could potentially cover. But the album's unashamed vulnerability didn't alienate their younger fans, and now, the Children of The Con are all grown up. They've…

2017-10-20 20:42:51
`
10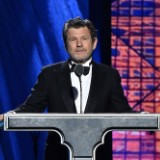 Jann Wenner's Complicated Relationships With Mick Jagger and the Beatles Detailed in New Biography
In the explosive Sticky Fingers, writer Joe Hagan attempts to dissect Rolling Stone founder and industry-influencer Jann Wenner through a series of interviews with artists, friends, Stone writers, and an excavation of Wenner's well-kept, neck-deep archives. The biography, which has been in the works for four years and is the publishing world's third attempt at a biography of the overparticular media figure,…

2017-10-20 20:00:48
`
6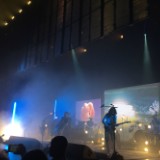 An Account of the First and Last Time I Saw Brand New
Brand New played Kings Theatre in Brooklyn last night. I went because I thought it was probably my final first chance ever to see them: Between some t-shirt designs and cryptic statements, most fans of the unassailable Long Island emo punks are convinced that next year will be their last. Given the way a lot of…

2017-10-20 19:32:51
`
10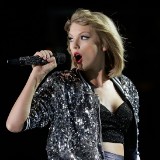 Here's Everything We Know About Taylor Swift's New Album Reputation
Taylor Swift's sixth studio album Reputation will drop on November 10. The months and weeks leading up to Swift's releases have become occasions to debate the meaning of cryptic lyrics, vague Instagram posts, and the sides of UPS trucks. Here's everything we know about this fall's most picked-apart album. It will have 15 tracks The recently released single "…Ready…

2017-10-20 19:23:18
`
5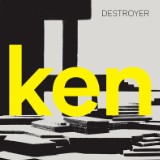 Review: Destroyer Changes Costumes Once Again on the Alluring ken
Every Destroyer album is defined by a melange of stylistic quirks that are distinctly bottled up in Dan Bejar's vocal takes, and amount to what makes every Destroyer record sound like a Destroyer record despite the contrasting musical scenery. The essence of Destroyer is his unmistakable, stinging vocal timbre—the poncey dropped R's, syllable-packed cadences, and close rhymes…

2017-10-20 18:17:50
`
7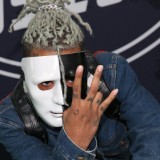 XXXTentacion's Reported $6 Million Deal Is a Test For the Music Industry
Throughout his rise into a fully blended mix of notoriety and fame, XXXTentacion remained independent, releasing his music through the distribution company EMPIRE as opposed to signing with a major label, such as Atlantic Records, with which EMPIRE has often partnered. This all will soon change, though: Yesterday, Billboard reported that X has signed a deal…

2017-10-20 18:03:39
`
8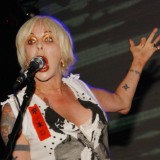 Genesis Breyer P-Orridge Diagnosed With Leukemia
Genesis Breyer P-Orridge, of industrial rock outfits Throbbing Gristle and Psychic TV, has been diagnosed with chronic myelomonocytic leukemia. In a Facebook post, the English musician said her treatments will begin October 23 and that Psychic TV's upcoming European tour has been postponed. Read our July feature with Genesis Breyer P-Orridge here and view her full statement below: …

2017-10-20 18:02:02
`
8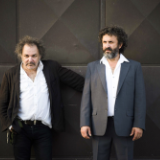 Xylouris White Announce New Album Mother, Release "Only Love"
Xylouris White is the unlikely-seeming duo of George Xylouris, a virtuoso lute player from a tiny village on the Greek isle of Crete, and Jim White, an equally masterly Australian drummer who began his career with the great post-rock band the Dirty Three and went on to back the likes of Cat Power and P.J.

2017-10-20 17:48:16
`
9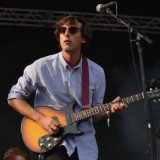 Matt Mondanile Responds to Allegations of Sexual Misconduct
In the wake of SPIN's report detailing allegations of sexual misconduct against former Real Estate guitarist Matt Mondanile from seven women, Mondanile has released a public statement, through his attorneys, regarding the allegations and his dismissal from the band in 2016. Via Pitchfork, it reads: Recently, there have been allegations and articles circulating regarding Musician…

2017-10-20 17:40:38
`
8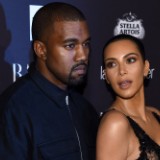 Kanye West and Kim Kardashian's Cars Burglarized in LA
TMZ reports that a burglar ran through three of Kanye West and Kim Kardashian's luxury cars at their Bel Air mansion at around 4 PM on Friday. The robber also reportedly hit up the residency of the Wests' next door neighbor, Kathy Griffin. The thief didn't make out with much, though. He reportedly only took…

2017-10-20 16:56:52
`
6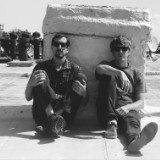 Hear "Seagull for Chuck Berry," a New Track From Steve Gunn's Gunn-Truscinski Duo
The Brooklyn-based musician Steve Gunn is a bit of a journeyman: he records loose and rangy solo albums as a singer-songwriter, he once played in Kurt Vile's backing band the Violators, and he's amassed a fascinating body of instrumental work as a guitarist. His Gunn-Truscinski Duo, with drummer John Truscinski, falls into the latter category. The…

2017-10-20 16:49:47
`
6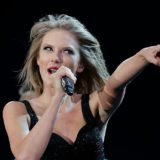 Taylor Swift's "Gorgeous" Still Isn't Convincing Anyone
A few year ago, I saw Taylor Swift perform on her 1989 tour, at Chicago's Soldier Field. My friend and I were in a state of non-sobriety, but a few details stick out: The men's bathroom line being nonexistent; the light-up wristbands we were given, so that we could wave along in synchronicity with the music; the…

2017-10-20 16:34:27
`
7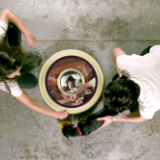 Video: Cut Copy – "Standing in The Middle of the Field"
A month after releasing Haiku From Zero, Cut Copy have dropped the video for "Standing in the Middle of the Field." Directed by Vincenzi Vandella, the psychedelic clip takes a look at a duo's daily ongoings as the camera pans out through a series of circles. The second half of the clip use the same technique for some outdoor…

2017-10-20 15:40:55
`
7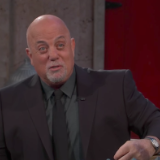 Watch Billy Joel Impersonate Bruce Springsteen, Perform "Miami 2017″ On Kimmel
Billy Joel was the guest on last night's episode of Jimmy Kimmel Live!, which is filming in Brooklyn this week. He talked talked about Bruce Springsteen's run on Broadway and joked about switching spots with Joel's historic monthly residency at Madison Square Garden, which he revealed will extend into 2018. Joel said that his favorite Springsteen song was…

2017-10-20 15:21:48
`
11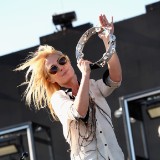 Emily Haines & The Soft Skeleton – "American Dream" (LCD Soundsystem Cover)
Emily Haines, of indie outfit Metric and sprawling super-group Broken Social Scene, released Choir of the Mind last month with her solo project Emily Haines & The Soft Skeleton, and today, she dropped a cover of LCD Soundsystem's track "American Dream" from their recent comeback album. Haines has turned the song into a piano ballad backed by propulsive single-beat drum. Listen…

2017-10-20 14:26:32
`
11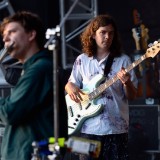 BADBADNOTGOOD – "I Don't Know" ft. Sam Herring of Future Islands
It might seem like an odd match, but BADBADNOTGOOD have teamed up with Future Islands' Sam Herring for a new track called "I Don't Know." Herring contributed vocals to the jazz four-piece's last album IV on the standout "Time Moves Slow," but here the quintet attempt something more soulful and subdued, with more of a…

2017-10-20 04:34:04
`
8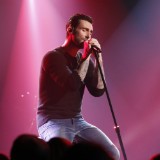 Maroon 5 – "Whiskey" ft. A$AP Rocky
After announcement of their new Matrix-inspired album Red Pill Blues, Maroon 5 have shared a new single. Titled "Whiskey," the track includes a guest verse from A$AP Rocky and offers a softer, somber alternative to previous singles "What Lovers Do" with SZA and "Cold" alongside Future. The band's single "Don't Wanna Know" featuring Kendrick Lamar…

2017-10-20 04:23:12
`
11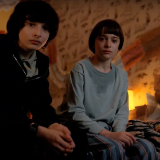 Stream the Soundtrack for Season 2 of Stranger Things
A week ahead of the show's second season debut on Netflix, the Stranger Things 2 Original Netflix Series Soundtrack can now be heard in full. Composed again by the Emmy award-winning and Grammy-nominated duo Kyle Dixon and Michael Stein (who are also half of Austin synth act S U R V I V E), the…

2017-10-20 04:09:48
`
9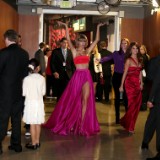 "Gorgeous," the third single from Taylor Swift's highly anticipated album Reputation, is out now. Will you like it more than "Look What You Made Me Do" or "…Ready for It?"? Will she deliver the whole thing in the wacky pitched-up baby voice from the Instagram teaser? Will it be better than the Kanye West classic by the same title? Only one way…

2017-10-20 04:01:05
`
12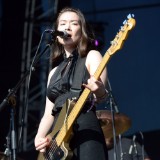 Hear Mitski Cover Billie Holiday for Planned Parenthood
Mitski has shared a new cover Billie Holiday's "I'm a Fool to Want You" as part of the 7-inches for Planned Parenthood Compilation. Announced this past April, the compilation has already seen releases from Foo Fighters, and is set to include tracks from Björk, Bon Iver, Sleater-Kinney, St. Vincent, and more.

2017-10-20 03:54:44
`
26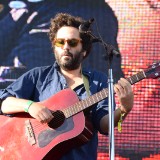 Stream Destroyer's New Album ken
Two years since his last LP, Dan Bejar is back with a new album as Destroyer. Titled ken, the album includes singles "Cover From the Sun," "Sky's Grey," and "Tinseltown Swimming in Blood" and embraces the more electronic side of the band, trading the sleazy soft rock of 2011's beloved Kaputt for something more Caribou or…

2017-10-20 03:44:49
`
7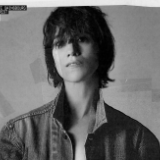 Charlotte Gainsbourg – "Ring-a-Ring O' Roses"
Charlotte Gainsbourg has released a third single and video from her upcoming album Rest. "Ring-a-Ring O' Roses" was produced by Gainsbourg's main collaborator on the album, French producer SebastiAn. The "Roses" video stars Gainsbourg's son, Ben Attal, and like her earlier video for "Deadly Valentine," it's explicitly concerned with the cycle of life and the meaning of familial love. Rest, Gainsbourg's…

2017-10-20 03:38:56
`
10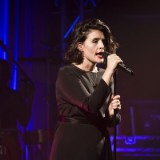 Stream Jessie Ware's New Album Glasshouse
Jessie Ware has finally shared her new album Glasshouse in full. Following its spacious singles "Alone," "Midnight," and "Selfish Love," the album delivers 12 tracks of woozy downtempo R&B that, though mixed with soft touches of electronics (perhaps courtesy of Cashmere Cat, who's listed in the production credits), never stray too far from her soulful…

2017-10-20 03:35:31
`
7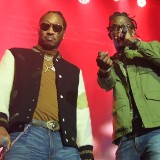 Stream Super Slimey, the New Collaborative Mixtape from Future and Young Thug
Young Thug has just shared Super Slimey, his new collaborative mixtape with Future. The tape follows the duo's appearance on a recent Chris Brown track, as well as the video for "Relationship"—a Future guest feature on Young Thug's most recent LP Beautiful Thugger Girls, which dropped this summer. The new release includes production work from London…

2017-10-20 03:30:02
`
9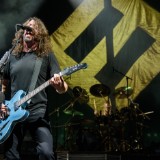 Hear "Soldier," a New Foo Fighters Song for Planned Parenthood
Foo Fighters have just shared a new song. Titled "Soldier," the track comes from a compilation called 7-inches for Planned Parenthood that was announced back in April with releases from Björk, Bon Iver, Sleater-Kinney, St. Vincent, and more, in addition to a handful of 7" contributions from comedians. It's the band's first track since their…

2017-10-20 03:20:06
`
9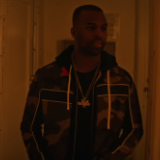 dvsn's latest video is for the Morning After cut "Mood." The sensual and deftly shot video shows a weed dealer trying to hit on a woman. He fails because her man, dvsn singer Daniel Daley, is going to pull up. Watch the LeSean Harris-directed flick below. Morning After dropped last week. …

2017-10-19 22:09:32
`
8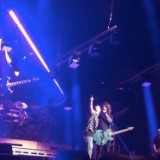 Watch a College Kid Join Foo Fighters on Stage to Play Drums on "Under Pressure"
At their show Tuesday night, the Foo Fighters invited University of South Carolina student Pierce Edge to play drums with the band. Edge had been holding a sign during the concert that read: "Drums on Under Pressure?" Dave Grohl brought Edge onstage, joking "don't shit the bed in front of your hometown, brother." The band then let him loose…

2017-10-19 20:52:31
`
13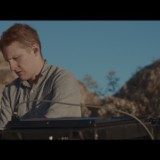 Hear "Ratio," a New 19-Minute Track From Floating Points
Earlier this year, Sam Shepherd aka Floating Points released Reflections - Mojave Desert, an album (with accompanying film) that took the exploratory electronic music on which he built his name into the realm of jammy full-band post-rock. Today, he's followed it with a standalone new track called "Ratio," which applies the expanded scope of that album to…

2017-10-19 20:34:59
`
28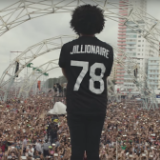 Watch Major Lazer Explore Cuba in the Trailer for New Doc Give Me Future
Last March, Major Lazer performed a massive, historic concert at the U.S. Embassy in Havana, Cuba. The group documented the process of such a politically and economically fraught endeavor for a new concert documentary, Give Me Future, which will be released on November 17 via Apple Music. The movie will be also be accompanied by a collection of…

2017-10-19 20:26:41
`
14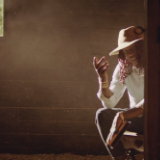 Video: Young Thug – "Family Don't Matter" ft. Millie Go Lightly
Young Thug has released the video for Beautiful Thugger Girls' "Family Don't Matter." The song's country flavor pervades through the Swinsky-directed flick, where Young Thug lives on a farm and horseback rides until he finds the love of his live. Watch the cowboy odyssey below. …

2017-10-19 20:14:21
`
8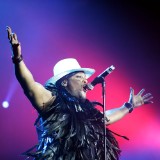 D'Angelo Announces Spring 2018 European Tour
D'Angelo has announced five European tour dates beginning in March 2018. The tour kicks off in London and will feature stops in Paris, Berlin, Hamburg, and Copenhagen. He recently released the reissue of his 1995 breakout debut, Brown Sugar. His last studio album, Black Messiah, was released in 2014 with his band the Vanguard. Check out D'Angelo's tour dates below: 3-06 London, England - Eventim Apollo 03-08…

2017-10-19 19:41:41
`
9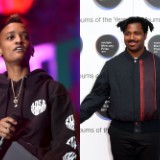 Everything Is Recorded – "Show Love" ft. Syd and Sampha
XL Recordings head Richard Russell is also record producer Everything Is Recorded. After releasing his debut EP Close but Not Quite earlier this year, he returns with the new song R&B cut "Show Love," which features label signee Sampha and Syd. Listen below. …

2017-10-19 18:40:23
`
6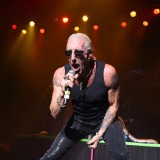 Dee Snider Does Not Like Your Ironic Metal T-Shirt
It's been a rough year for the Kardashians and band tees. In June, Kendall and Kylie Jenner faced immediate backlash upon the release of their faux-vintage "rock vs. rap" line of T-shirts. Now, older sister Kim and her husband Kanye West have found themselves entangled in the debate about the significance of metal band tees. This…

2017-10-19 18:27:49
`
7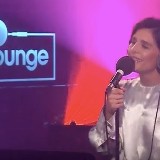 Watch Jessie Ware Cover Khalid's "Young Dumb & Broke"
During a BBC Radio 1 Live Lounge set, British songstress Jessie Ware performed an upbeat rendition of Khalid's hit "Young Dumb & Broke," from his debut American Teen. Ware also performed her song "Alone" from her album Glasshouse, which drops tomorrow. Watch her performances below and read our October cover story on Ware here.  

2017-10-19 18:19:15
`
6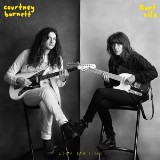 Review: Courtney Barnett and Kurt Vile Sound Like Soul Mates on the Charming Lotta Sea Lice
The transcontinental pairing of Courtney Barnett and Kurt Vile makes an immediate, intuitive kind of sense. Both are wry, casually thoughtful songwriters with immediately recognizable singing voices, hers arriving in clipped Aussie syllables and his a wispy Philly drawl. They exude an almost supernatural relaxation on record, coming off like the kind of characters who…

2017-10-19 18:04:12
`
16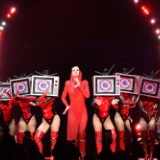 Katy Perry Got Stuck Mid-Air During Her Concert Last Night
Katy Perry's Witness tour rolled over to Nashville last night, where a glitch briefly left her stuck in mid-air. Because pop boisterousness is her brand, Perry's concerts feature a floating planet that functions as her stage. Unfortunately, the stage wouldn't come down, leaving Perry with the task of improvising during the awkward mishap. "I could be stuck…

2017-10-19 18:03:46
`
13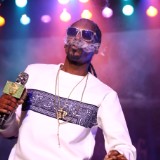 Snoop Dogg – "Make America Crip Again"
Snoop Dogg has released the title track from his upcoming EP Make America Crip Again. Snoop's trademark leisurely pace is on full display as he raps through lines that are unmistakably aimed at the tweeter-in-chief: "The president says he wants to make America great again/ Fuck that shit, we going to make America Crip again," and "Don't you look…

2017-10-19 17:43:30
`
12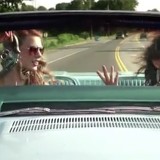 This 2011 Donald Trump, Taylor Swift, Shania Twain, & Kid Rock Comedy Video Is Really Something
Way back in 2011, the CMT Music Awards show opened with a gimmicky Thelma & Louise sketch featuring Taylor Swift and Shania Twain. In the video, Swift and Twain barrel down US highways in a convertible and cause mischief. They become lauded criminals and a WANTED poster of them ends up on the front page of "The…

2017-10-19 17:12:35
`
8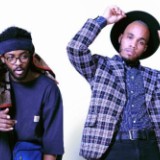 NxWorries Announce Yes Lawd! Remix Album, Release "Best One" Remix
NxWorries—Anderson .Paak and producer Knxwledge—are returning next month with a remix of their excellent 2016 project Yes Lawd! The release will also include the remix to "Best One," which originally popped up as a snippet at the end of their "Scared Money" video. Listen to the remix in full and see the project's tracklist below. Yes…

2017-10-19 16:58:55
`
7
Video: Dizzee Rascal – "Bop N Keep It Dippin"
British M.C. Dizzee Rascal has released a theatrical new video for "Bop N Keep It Dippin" off  his newest album Raskit, which he released back in July. The Romain Chassaing-directed visual gives the bass-heavy song new gravitas, imagining a world where Rascal is a boss of a major European gang. Taking the tropes of British mobster movies like Guy…

2017-10-19 16:55:15
`
5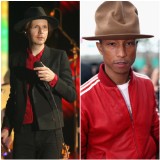 Beck Might Be Responsible for Pharrell's Gigantic Hat
A new Q&A with Beck in Billboard is a lot more action-packed than one might expect a 2017 interview with Beck to be. The discussion surrounding his new album Colors is particularly revelatory. The veteran alt-pop chameleon explains that the album, which is upbeat, party-oriented and co-helmed by pop producer Greg Kurstin, was actually largely recorded before his downbeat, country-folk-influenced album of 2014, Morning Phase. Reflecting on…

2017-10-19 16:48:56
`
7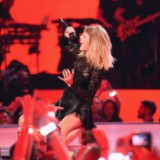 Taylor Swift's New Single "Gorgeous" Is Out Tonight
The letter of the day is G, the color of the day is mauve berry, and Taylor Swift's new single "Gorgeous" is out tonight at midnight Eastern time, according to her latest series of Instagram posts. It'll be the third track we've heard off Reputation, following "Look What You Made Me Do" and "...Ready for It?" The teaser…

2017-10-19 16:33:34
`
8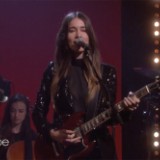 Watch Haim Perform "Little of Your Love" on Ellen
Haim took the stage at The Ellen Show on Thursday to play "Little of Your Love," a bright, glam-rock-tinged single from their newest release, Something to Tell You. The sisters are the latest indie icon to grace Ellen Degeneres' stage this week, following Beck on Tuesday and Arcade Fire on Wednesday. Watch the trio's performance, featuring a glittery stage…

2017-10-19 16:07:07
`
10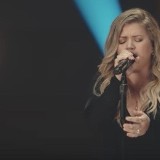 Kelly Clarkson – "Meaning Of Life"
Kelly Clarkson has released the title track from her upcoming album Meaning of Life. This is Clarkson's eighth album, following 2015's Piece by Piece. Last month, the American Idol star released a pair of singles, "Love So Soft"  and "Move You," which signaled a shift from pop-rock toward a more soulful sound. Meaning of Life drops on October 27 from Atlantic. Stream…

2017-10-19 15:59:17
`
6
TIDAL X Was an Absurd Marathon Run for the Greater Good
The TIDAL X benefit concert was a mess almost by design. Look at the billing: Tidal announced 30 artists for a benefit concert that started at 8 p.m. at Barclays Center in Brooklyn, a venue whose curfew is usually around 11. By the time Stevie Wonder closed the show with "Higher Ground" as the crowd streamed…

2017-10-18 22:25:30
`
10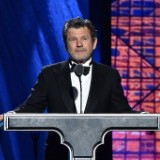 Rolling Stone Founder Jann Wenner Doesn't Sound Very Happy With His New Biography
A massive new biography of influential Rolling Stone founder Jann Wenner is out next Tuesday, and Wenner is none too happy about it, the New York Times reports. Writer Dan Hagan spent four years researching and writing Sticky Fingers: The Life and Times of Jann Wenner and Rolling Stone Magazine. Wenner, 71, cooperated in the book's creation, but after reading an early copy of…

2017-10-18 21:15:58
`
11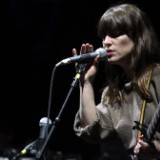 Feist – "The Stranger" (Gord Downie Cover)
Feist paid tribute to the late Gord Downie today with a cover of "The Stranger," the moving opener off his 2016 studio album Secret Path. "I send out this song with love, respect and gratitude in honour of Gord's generosity of spirit," Feist wrote on Twitter. "I admired so much his honest way of communicating what he saw and the…

2017-10-18 21:01:41
`
10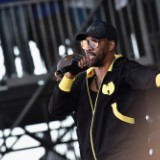 RZA Admits Russell Crowe Spat On Azealia Banks At His Infamous Hotel Party
Almost exactly one year ago the big entertainment gossip news was Russell Crowe physically removing Azealia Banks from a party he was hosting in a Los Angeles hotel room. Crowe and Banks had differing accounts of their conflict, with Crowe saying Banks was behaving erratically and Banks claiming Crowe spat on her, called her the…

2017-10-18 20:53:26
`
13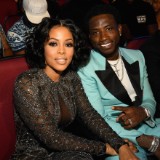 All the Rappers at Gucci Mane's Wedding Looked Great
Gucci Mane married his partner of 7 years, Keyshia Ka'oir, at a lavish ceremony appropriately held on 10/17 at The Four Seasons in Miami, Florida. The event apparently cost over $1.7 million, which was fully covered by BET as part of the couple's reality show contract with the network; the show will detail their life leading up…

2017-10-18 18:45:09
`
7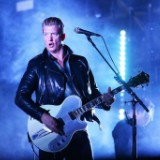 Queens of the Stone Age Announce New Tour Dates for North America
After posting numerous tweets with photos of venues captioned "MORE. TO. COME.," Queens of the Stone Age have announced they'll make another North American run on their Villains tour in January of 2018. The band is currently touring throughout the States and Europe, and, after selling out every show on their current North American leg, plan to return…

2017-10-18 18:39:47
`
13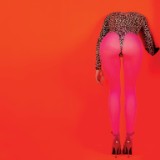 Review: St. Vincent Is Unabashedly Unrestrained on the Futuristic MASSEDUCTION
In the video for "New York," the first single from St. Vincent's new album MASSEDUCTION, Annie Clark meets us styled like a member of the Addams Family, standing between a portrait of a mouth painted wide open and a bouquet of flaming spinach. The aesthetic is gleefully bizarre, storyboarded to be made into a thousand GIFs. But…

2017-10-18 18:37:25
`
6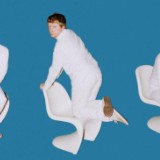 Alex Calder Responds to Sexual Assault Allegation
On Friday, label Captured Tracks announced it had dropped Canadian indie musician Alex Calder and would not release his album as scheduled following an allegation of sexual assault against him. This afternoon, Calder released a statement via Facebook addressing the allegation, which he says he does not dispute. "I have taken a step back from any creative pursuits…

2017-10-18 18:12:42
`
5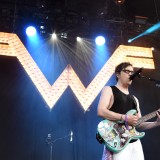 Weezer has released a new single, "Happy Hour" from their upcoming album Pacific Daydream. The song is a chilled-out, jazzy ode to islands, sucking on limes and coconuts, and looking forward to happy hour. Of course, being a Weezer song, the lyrics delve into the romantic anxieties that plague the mind of frontman Rivers Cuomo. But overall, the track is…

2017-10-18 17:20:26
`
10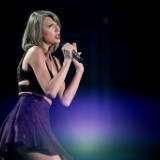 Would You Believe Taylor Swift Is Planning to Air Some Personal Grievances?
In the absence of more substantial Taylor Swift material, Us Weekly is speaking to some anonymous insiders who may or may not know anything you and I don't already. According to these people, Swift's upcoming album Reputation is stacked with songs that "chronicle" her many public disputes, including those with Kanye West, Kim Kardashian, Katy Perry, and Calvin Harris. How…

2017-10-18 17:19:22
`
10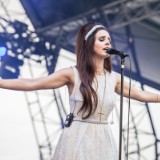 Did Lana Del Rey Write "Cola" About Harvey Weinstein?
A rumor for your consideration this morning: Anonymous sources tell Page 6 that Lana Del Rey wrote her great 2012 song "Cola" about disgraced Hollywood producer Harvey Weinstein, who numerous women have accused of sexual assault over the past two weeks. If you believe the story about "Cola," you'll point to a particular lyric, which allegedly goes, "Harvey's in the sky…

2017-10-18 16:06:54
`
17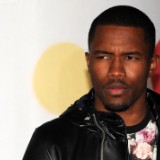 Frank Ocean Defeats Father's $14.5 Million Libel Lawsuit
Frank Ocean has won the libel lawsuit filed against him by his father, Calvin Cooksey, Law360 reports. The lawsuit, which sought $14.5 million in damages, claimed Cooksey lost "financial opportunities in film and music" after Ocean discussed his father's use of homophobic slurs in 2016 Tumblr post.  Judge Stephen V. Wilson stood by his claim that Ocean's statements did…

2017-10-18 16:02:04
`
11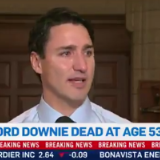 Watch Justin Trudeau's Tearful Tribute to Gord Downie
Gord Downie, the lead singer of the seminal Canadian alt-rock band The Tragically Hip, died last night following a long struggle with brain cancer. In an article written after Downie's illness was revealed last year, the BBC called The Tragically Hip "the most Canadian band in the world," and the assessment seems not unfair. The final stop on what…

2017-10-18 15:52:08
`
14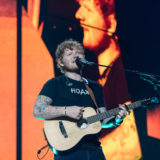 Ed Sheeran Cancels Tour Dates After Breaking Both Arms in Bike Accident
Earlier this week, it was reported that Ed Sheeran injured his arm in a bike accident. "Ive had a bit of a bicycle accident and I'm currently waiting on some medical advice, which may affect some of my upcoming shows," he wrote on Instagram. Today, Sheeran has canceled several of his current tour dates, and detailed the…

2017-10-18 15:42:47
`
9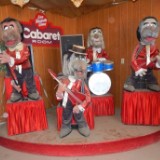 You Can Buy One of Chuck E. Cheese's Dearly Departed Animatronic Bands for $5,000 on Craigslist
In August, we brought you the sad news that Chuck E. Cheese will soon be phasing out the animatronic bands that have been delighting and terrifying young patrons at the birthday party emporium for decades. But if you're having a hard time imagining a life without the soulless gaze of creatures damned to eternally reenact the…

2017-10-18 15:12:05
`
10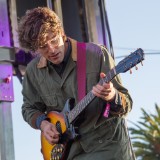 Ducktails Dropped by Japanese Label, Tour Canceled
Ducktails have been dropped by Plancha, their Japanese label. The news was announced on the label's website, and confirmed in a statement to SPIN. Previously, the label was selling copies of Jersey Devil, the band's new album. "We have already stopped shipping Japanese version CDs and we have taken down the album from all the digital platforms in…

2017-10-18 15:11:52
`
11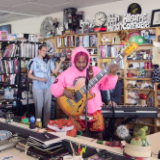 Watch Thundercat's NPR Tiny Desk Concert
Thundercat, who's been touring extensively this year, stopped by NPR to perform in its latest episode of Tiny Desk Concert. The premier bassist and his band did Drunk's "Lava Lamp," "Friend Zone," and "Them Changes." It's a tight set like most other Tiny Desk Concerts, but Thundercat leaves himself enough time for one of his slick solos. Watch the performance…

2017-10-18 15:01:57
`
9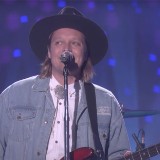 Watch Arcade Fire Perform "Everything Now" on Ellen
This has been an exciting week on Ellen for indie music fans. Beck performed "Up All Night" on the show yesterday, and Haim is scheduled as tomorrow's musical guest. Arcade Fire appeared on Wednesday's episode to perform a spirited rendition of the title track from their new album, Everything Now. Bolstered by an all-female chorus and a sparkling disco ball,…

2017-10-18 15:00:23
`
10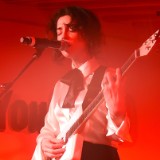 Listen to St. Vincent Cover the Clash's "London Calling"
Today, St. Vincent stopped by Annie Mac's BBC Radio 1 show, where she performed songs from her new album MASSEDUCTION. Amongst songs like "New York" and "Los Ageless," she also covered the Clash's "London Calling." Listen to the acoustic rendition below at the 18:20 mark. [Pitchfork] …

2017-10-17 21:48:27
`
17
William Patrick Corgan Says He Saw a Human Shapeshifter But "It's Hard to Explain"
William Patrick Corgan, f.k.a. Billy, is currently making the rounds in support of his new solo album Ogilala. Things took a turn for the weird on yesterday's Howard Stern Show, where Corgan played a couple of acoustic songs and also told the hosts about his paranormal experiences. One in particular, Corgan said, involved a person transforming into something non-human. Unfortunately,…

2017-10-17 20:16:57
`
14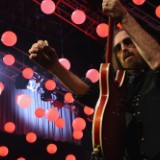 Tom Petty Laid to Rest During Private Ceremony at California Yoga Retreat
Tom Petty was laid to rest in a private ceremony that took place yesterday at Pacific Palisades, California's Self-Realization Fellowship Lake Shrine. The center is a known yoga retreat as well as where the funeral for shamanic Beatles great George Harrison, who died in 2001, was held. Harrison and Petty were bandmates in the short-lived Traveling Wilburys, a…

2017-10-17 19:40:36
`
13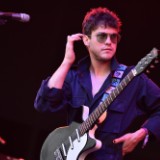 MGMT's Comeback Single "Little Dark Age" Is Grim And Playful
Was ever a modern band's debut record more immediately iconic for the college set than MGMT? A decade ago, Oracular Spectacular captured the yearning of white collegiate life, in which gloriously stoned co-eds aspired to return to a childish state and forego the dreariness of the middle class routine. Because the music was so melodically appealing, they…

2017-10-17 19:08:42
`
13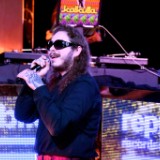 Post Malone's "rockstar" Probably Went to No. 1 Thanks to This Ridiculous Video
A month after its release, Post Malone's 21 Savage-featuring single "rockstar" has finally crept from No. 2 up to No. 1 on the Billboard Hot 100. The song has performed especially well on streaming, a category that includes data from YouTube as well as services like Spotify. But unlike most prominent singles, "rockstar" isn't available in full on YouTube: The official upload by…

2017-10-17 19:06:50
`
10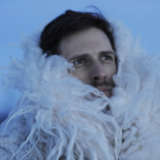 Lindstrøm – "Bungl (Like A Ghost)" ft. Jenny Hval
Norwegian producer Lindstrøm's fifth album, It's Alright Between Us As It Is, is out on Friday. We've already heard "Shinin," featuring Grace Hall, and his cathartic instrumental house track "Tensions" from the album. But the producer's latest release, "Bungl (Like A Ghost)," is a more sprawling, overtly experimental composition, featuring iconoclastic singer-songwriter Jenny Hval. Lindstrøm pits an insistent club beat…

2017-10-17 17:38:26
`
21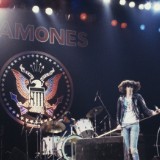 Ramones' Rocket To Russia to Get Deluxe Reissue
Rolling Stone reports that the Ramones' third album, Rocket to Russia, is getting a deluxe reissue for its 40th anniversary. Spanning three CDs, the reissue will feature two different mixes of the album as well as unreleased material, including "It's A Long Way Back To Germany" with Dee Dee on vocals, an original radio promo with Joey Ramone and alternate-lyric…

2017-10-17 17:12:07
`
21
MGMT are goth now. After months of teasers, the millennial electro act have released "Little Dark Age," their first new music in about four years. The song plays like a five-minute Halloween soundtrack, accompanied by a video filled with surreal, medieval-inspired imagery, spooky fruit, and the spectre of Death. "Little Dark Age" is the title track of…

2017-10-17 16:30:24
`
29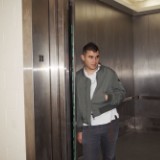 Rostam Will Tour North America in 2018
Rostam will follow up his November European tour with a North American trek. The former Vampire Weekend member will kick off 2018 with a run of dates that kick off in Atlanta on January 29. He'll be touring behind his debut solo album Half-Light, which dropped last month. See the dates below and read our interview…

2017-10-17 16:24:25
`
16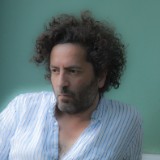 Destroyer's Dan Bejar Remains the Smartest and Possibly Drunkest Guest at the Party
Destroyer songs don't lend themselves to easy black-and-white interpretation. Over the last two decades, Dan Bejar has assembled a beguiling and occasionally maddening body of work under that name, uniting albums of glammed-up folk, melodramatic MIDI orchestrations, and louche soft rock under his oblique and archly grandiose poetic sensibility. His is…

2017-10-17 16:01:37
`
18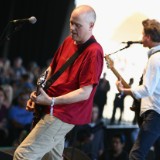 Superchunk – "Break the Glass" & "Mad World"
It's been four years since indie lifers Superchunk released their last album, the very good I Hate Music. It turns out, of course, that they don't. The band has steadily released new music this year, and today brings us a new single, "Break the Glass," as well as a cover of Corrosion of Conformity's "Mad World."

2017-10-17 15:55:47
`
14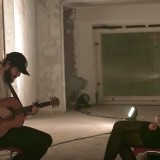 Watch Bon Iver Perform "8 (circle)" To a Single Fan
Music production company La Blogothèque has debuted a video series titled "One2One," which features a musician performing in an intimate space for one person. The inaugural video is with Bon Iver (aka Justin Vernon), who played for a hand-picked fan at last year's Michelberger Music show during Funkhaus in Berlin. Facing a seated young woman…

2017-10-17 15:51:44
`
16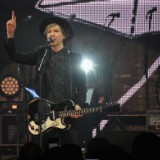 Watch Beck Play "Up All Night" on Ellen
Last week, Beck released Colors, his long-awaited uptempo pop album. He's now out on the promo circuit. Earlier today, he appeared as a musical guest on Ellen — the same episode, in fact, where his fellow early-'90s Los Angeles trailblazer Snoop Dogg showed up to talk about getting nominated for an Emmy. On Ellen, Beck wore a very big hat, pogoed…

2017-10-17 15:46:18
`
10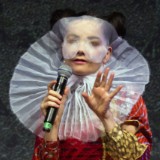 Björk Elaborates on Her Experience of Sexual Harassment by "Danish Director"
Björk has joined the #MeToo social media campaign, sharing additional details about her experience of sexual harassment by "a Danish director" on a movie set. Though Björk has not mentioned the director by name, she's only appeared in one film with a Danish director: 2000's Dancer in the Dark, directed by Lars von Trier. Von Trier has denied harassing or abusing Björk. In her second…

2017-10-17 14:09:51
`
17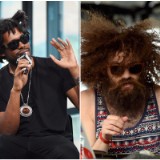 Flying Lotus Apologizes For Comments Defending the Gaslamp Killer
Flying Lotus has apologized after he made comments in support of DJ and producer the Gaslamp Killer, who has been accused of drugging and raping two women in 2013. At his Saturday night set at the Hollywood Forever Cemetery, FlyLo said, "The internet is a fuckin' liar. Ain't nobody judge and jury but the fuckin' law, okay?" He later said, "Thank…

2017-10-17 13:47:32
`
23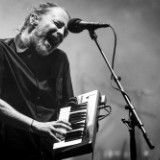 Radiohead are up for induction into the next year's Rock and Roll Hall of Fame class. They're almost a shoo-in for entrance, considering they fit the main criteria: they're popular, influential, good, and white. Recently, Fox News host Kat Timpf was asked on The Greg Gutfeld Show who she thought would get into the Hall, and…

2017-10-16 21:06:12
`
17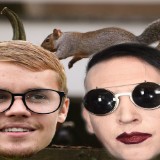 Marilyn Manson Revives Bieber Beef by Saying He Has the "Mind of a Squirrel"
Last Friday, Marilyn Manson called in to Cindy Scull's Scully Morning Show on Dallas/Fort Worth's 97.1 The Eagle and managed to reignite his feud with Justin Bieber. After discussing the dissolution of his feud with Trent Reznor, who Manson now calls "one of his best friends," he picked up right where he left off on the shock…

2017-10-16 20:36:00
`
15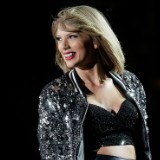 Taylor Swift's New Video Already Looks Like Carefully Calculated Relationship Spin
The last time Taylor Swift debuted a handsome British actor as her new love interest, reviews weren't great. America's introduction to Tom Hiddleston came via exclusive tabloid shots of he and Swift on a rocky beach in Rhode Island, and the only thing more stilted than the frolicking was the photography. All of it is blissfully irrelevant now, though: In 2017,…

2017-10-16 20:32:12
`
18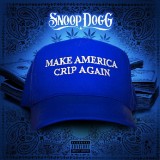 Snoop Dogg's New Project Is Called Make America Crip Again
On Sunday, Snoop Dogg took to Instagram to share the title and cover art for an upcoming project. The new release will be called Make America Crip Again, with cover art stylized to mimic the red hat worn by Trump and his supporters. The project will be released October 27. This isn't the first time Snoop…

2017-10-16 19:22:06
`
16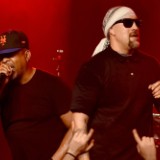 Prophets of Rage's New Video For "Strength In Numbers" Features Footage of NFL Protests
Supergroup Prophets of Rage have released the music video for their song "Strength in Numbers." Like their previous flicks, this video uses a collage of footage to convey a message of protest. This particular video is inspired by Colin Kaepernick and poses the question "is it the KNEE or is it The NEGRO?" Watch the…

2017-10-16 18:55:28
`
10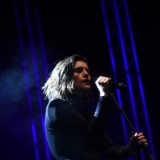 Jessie Ware has released a new song, "Sam," from her forthcoming album Glasshouse. The song, which is about motherhood and her husband Sam Burrows, was co-written with Ed Sheeran and features contributions from Chance the Rapper's trumpet player Nico Segal, Francis from Francis and the Lights, and legendary bassist Pino Palladino (Palladino's son, Rocco, has played bass…

2017-10-16 18:36:43
`
13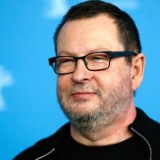 Lars Von Trier Denies Sexually Harassing Björk
bjork

2017-10-16 18:17:31
`
10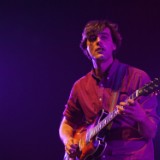 Allegations of Sexual Misconduct by Ex-Real Estate Guitarist Matt Mondanile Detailed by Seven Women
On Friday, SPIN and Pitchfork revealed that Matt Mondanile, the ex-Real Estate guitarist who also performs as a solo artist under the name Ducktails, was dismissed from the band amid allegations of "unacceptable treatment of women." Mondanile issued a blanket denial of wrongdoing to Pitchfork. When contacted by SPIN via email on Friday regarding…

2017-10-16 18:03:33
`
23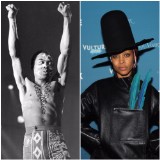 Erykah Badu Curates New Volume in Fela Kuti Box Set Series
Erykah Badu is compiling a box set of her favorite albums by pioneering Afrobeat saxophonist, keyboardist, and bandleader Fela Kuti. Badu's collection is the fourth in a series of celebrity-curated, limited-edition Fela Kuti reissues. Kuti was intensely prolific, and Badu's selections—1976's Yellow Fever, 1977's No Agreement, 1977's J.J.D. (Johnny Just Drop), 1979's V.I.P. (Vagabonds in Power), 1980's Coffin For Head of State , 1984's Army…

2017-10-16 18:01:49
`
25