The 18 best pocket and folding knives for everyday use...
There are plenty of good reasons to carry a pocket knife with you everywhere (except the airport), and there also plenty of quality knives to choose from. If you're looking for an everyday carry, we have some suggestions for you to consider. They run the gamut from the super-cheap to the somewhat pricey (but worth the investment)...


Leviticus 16:5 (5) And he shall take from the congregation of the children of Israel two kids of the goats as a sin offering, and one ram as a burnt offering. The two goats of the unique Day of Atonement ceremony are first mentioned in Leviticus 16:5, which contains an often-overlooked detail: "And he shall take from the congregation of the children of Israel two kids of the goats as a sin offering, and one ram as a burnt offering" (emphasis ours thr


7 of the world's wackiest interchanges and intersections...
Normally, the basic rules of the road are enough to keep traffic in order, but sometimes sheer volume means that things get a little messy. Other times, anarchy rules the day. Here are seven of the world's wackiest interchanges and intersections, all from the comfort and safety of your screen, where there's no risk of a fender bender...


Does Jesus forbid self-defense?
In daily Mass for Monday of the 11th Week of the Year, we read a passage from the Sermon on the Mount. It is a challenging text that raises many questions if read in a literal or absolute manner. It seems to preclude self-defense. What does it mean to "offer no resistance to one who is evil"? Jesus does not say that one should not defend oneself if attacked; He says that one should turn the other cheek...


Why this Baptist's favorite place to pray is his local Catholic parish church...
As a Baptist, I watch people in airports, in restaurants, in the mall... and in church. I wish I could focus on God in church, but I just can't when there are people around. So there have been times that I have needed to find a church with no people inside to pray. In today's world, that is not an easy task. I just Googled...


Let's double down on love — at the beginning of life and at the border...
There's long been what friends of mine have fairly called a "lazy slander" against pro-lifers, that we cease to care about a mother and her child after the baby is born. But that ceases to be a slander and becomes a challenge to meet when headlines talk about mothers being separated from their children at the border. Even when it's a slander...


Fathers' letters full of love and wisdom...
Father's Day is a great time to think about the remarkable gifts that fathers impart to their children. Some of their wisdom and love comes down to us through letters that have been written back and forth between fathers and sons, or fathers and daughters. Here are excerpts of famous letters that remind us of the beautiful and timeless bond between father and child...


Luke 1:26-30 (26) Now in the sixth month the angel Gabriel was sent by God to a city of Galilee named Nazareth, (27) to a virgin betrothed to a man whose name was Joseph, of the house of David. The virgin's name was Mary. (28) And having come in, the angel said to her, "Rejoice, highly favored one, the Lord is with you; blessed are you among women!" (29) But when she saw him, she was troubled at his saying, and considered what manner of greeting this was. (30) Then the a


The summery gift of 'The Snowman'...
Now that the thermometer has popped into the nineties a couple times, it's summer. Forget the calendar. There's sunshine and languid afternoons and a blessed freedom to do nothing, to expect nothing. It's an ideal moment for a tribute to Raymond Briggs's exquisite picture book, The Snowman (1978). And when I say picture book...


If you can use anything, Lord, you can use me...
The readings for this Sunday speak of God's providence, which is often displayed in humble, hidden, and mysterious ways. While it is true that God sometimes works in overpowering ways, His more common method seems to be using the humble and even unlikely things of the created order to accomplish His goals. For us who are disciples...


Liberal media's freaky Father's Day...
Don't dare think that this stuff doesn't matter. This is how what was once unacceptable becomes acceptable: by constant favorable media attention. The media have the fervor and righteousness of evangelists. You will recall my telling you of my experiences in professional journalism circles regarding LGBT issues: journalists openly saying there is no legitimate "other side to the story...


Archaeological evidence of Pontius Pilate and his station corroborates Gospel...
Of course we all know of Pontius Pilate and his sordid role in the Passion of Christ. However, very little of the man is known besides his arbitration of the trial of Christ. We know he was the Roman prefect who ruled over Judea during the reign of Emperor Tiberius (14-37 AD), but aside from his presence in the Gospels, a few brief references from Roman historians...


This supercomputer can calculate in 1 second what would take you 6 billion years...
It's shiny, fast and ultrapowerful. But it's not the latest Alpha Romeo. A physics laboratory in Tennessee just unveiled Summit, likely to be named the world's speediest and smartest supercomputer. Perhaps most exciting for the U.S.? It's faster than China's. The supercomputer — which fills a server room the size of two tennis courts — can spit out answers to 200 quadrillion (or 200 with 15 zeros) calculations per second...


Kate Spade, Anthony Bourdain, and the mysteries before us all...
When Kate Spade and Anthony Bourdain committed suicide within days of each other, it brought into sharp focus a troubling fact that had until then flown under most social radars: suicide has become the tenth most common cause of death in both the United States and Canada. In fact—and this is stunning to consider—the Center for Disease Control reports that while 2016 saw almost 19...


Archdiocese of New York to appeal court decision to move Archbishop Sheen's body...
The Archdiocese of New York announced on Friday that the Trustees of St. Patrick's Cathedral are appealing a court decision that would allow Venerable Archbishop Fulton Sheen's body to be moved to Peoria, Illinois, as his cause for beatification proceeds. The trustees, who oversee archdiocesan seminaries, "believe that the recent court case concerning the earthly remains of Venerable Archbishop Fulton J...


The real Tag brothers' story is better than the movie...
The movie Tag, in theaters June 15, may not be worth watching, but the story it is based on is well worth hearing. The movie is a raunchy take on a very sweet tale. It's about Father Sean Raftis and nine childhood friends who have played an elaborate, coast-to-coast game of tag for nearly 30 years, a game that has meant that...


Argentina, Pope Francis' homeland, moves closer to legalized abortion in pro-life Latin America...
Argentine lawmakers on Thursday took a giant step toward legalizing abortions in the homeland of Pope Francis, potentially setting a precedent for Latin America, where the procedure is widely outlawed. After almost 23 hours of nonstop, often contentious debate, the lower house of Congress voted 129-125 to let women end pregnancies up through the 14th week after conception with only minimal requirements...


Revelation 5:9-10 (9) And they sang a new song, saying: ' You are worthy to take the scroll, And to open its seals; For You were slain, And have redeemed us to God by Your blood Out of every tribe and tongue and people and nation, (10) And have made us kings and priests to our God; And we shall reign on the earth.' The issue in the vision of Revelation 5 is finding One who is qualified to open a certain scroll that contains a listing of events that will o


What Buzz Lightyear taught me about life...
There was a movie some years ago that most of you have probably seen called Toy Story. It had a profound impact on me, for it came out at a critical time in my life. It was my 33rd year of life and the 6th year of my priesthood. As I have related elsewhere, I had suffered a nervous breakdown that required a week in the hospital and a month off to recuperate...


Catholic bishops rebuke Trump's asylum changes, suggest 'canonical penalties'...
The U.S. Conference of Catholic Bishops opened its spring meeting this week with a stern reproach of the Trump administration's latest immigration policies, with the group's president suggesting the new rules on asylum are a "right to life" issue. Some bishops followed by urging protests, including "canonical penalties" for those who carry out the administration's new rules...


She found Jesus in a New Age temple...
Sitting lotus style, inhaling the cool lake air and listening to the serene sounds of a flowing waterfall, Jess Echeverry sought to calm her spirit. She was on a journey to healing at the Self-Realization Fellowship Temple in Pacific Palisades, California. By 2006, Jess had experienced a certain amount of healing, but there was still a hole that hungered to be filled...


Trauma forms the invisible ruins ISIS left behind on the Nineveh Plains...
In an environment in which governments have essentially cut entire communities loose, refusing to provide real security or even basic public services, and where those communities are an embattled minority surrounded on all sides by often-hostile forces, the priest is the only authority holding things together. Priests here build houses...


In annual message, Pope urges 'examination of conscience' on treatment of the poor...
In his message for this year's World Day of the Poor, Pope Francis challenged Catholics on their attitude toward the impoverished, asking whether they really listen to and love the needy, or engage in charity only to please themselves. "The condition of poverty cannot be expressed in a word, but becomes a cry which crosses the heavens and reaches God...


Irish PM says Catholic hospitals will be forced to abort children...
Just weeks after a lopsided, groundbreaking vote struck down Ireland's constitutional ban on legal abortion, the country's Taoiseach signaled the broader moral and legal implications of this sea change in a once deeply Catholic nation. "It will not ... be possible for publicly funded hospitals, no matter who their patron or owner is...


Luke 21:36 (36) Watch therefore, and pray always that you may be counted worthy to escape all these things that will come to pass, and to stand before the Son of Man." Coupled with watching and overcoming, the next subject that Jesus addresses in Luke 21:36 is prayer. To grasp just how important prayer is, notice the example of Daniel, one of the three most righteous men in the Bible, according to Ezekiel 14:14. Part of his story is in Daniel 6:7, 10: All the g


In post-ISIS Christian town, heroism and paradox both abound...
Over the centuries, the Middle East has always been a land where expectations tend to experience especially tough collisions with reality, so it probably should be no surprise that a massive effort to rebuild the Christian village which was the epicenter of a brutal ISIS onslaught in 2014 has, at its heart, three grand paradoxes...


Pope's Wednesday Audience: 'Through the Commandments, the Lord Jesus leads us to the true life'...
This morning's General Audience was held at 9:20 in St. Peter's Square, where the Holy Father Francis met with groups of pilgrims and faithful from Italy and from all over the world. Beginning a new series of catecheses on the Commandments, in his address in Italian the Pope focused his meditation on the desire of a full life (Biblical passage from the Gospel according to Mark 10:17-21)...


What ails us? The rise of the imperial, autonomous self...
A rather succinct and accurate summary of our current malaise is that we live in the age of "the imperial, autonomous self." In effect, many if not most people claim an authority, a right, to craft their own reality and live according to their own notions of it. Not so long ago, it was generally accepted that reality was something outside ourselves...


Here's what's so great about being 'old mom'...
I've been thinking a lot lately about being "old mom" versus "young mom." Back in the day, I used to be "young mom." I was only 22 when my oldest was born, I was 24 when my sons joined our family, and I was still just 25 when I had my fourth. I guess when you marry at 20, and add to your family via both adoption and birth...


After the Irish debacle...
I wasn't surprised by the result of Ireland's May 25 referendum, which opened a path to legal abortion in the Emerald Isle by striking down a pro-life amendment to the Irish Constitution. Nor was I all that surprised by the large margin of victory racked up by those for whom an unborn child isn't "one of us;" both the government and the virulently anti-Catholic Irish media put heavy thumbs onto the scales as the debate over the referendum unfolded...


The left's boycott of Chick-fil-A is misguided. Theirs isn't the only one.....
"If you really love LGBTQ people, you just can't keep eating Chick-fil-A." That's what a headline at Huffington Post stated Tuesday. Twitter CEO Jack Dorsey caused a stir Saturday when he tweeted about eating Chick-fil-A. He was immediately criticized for patronizing the company during June, which is Pride Month. Chick-fil-A makes no bones about its Christian roots and affiliation...


I've come to save Father's Day with this free, printable card!...
Because you know and I know that you didn't get a present, and here it is Wednesday. And no, he doesn't want a report on the cat's DNA for father's day. Yes, I saw it had free shipping. I even deliberately didn't put "happy father's day" anywhere on it, so you would have something to write on the inside. Print, fold...


Watch this amazing 5-minute (4K, tilt-shift) journey through Sudan...
See the amazing pyramids of Meroe and Karima. Drive through otherworldly desert sceneries. Take a boat ride with dolphins to the stunning lighthouse of Sanganeb. Explore the ruin island of Suakin and enjoy the the breathtaking views in Kassala. Discover the busy cites Port Sudan and Khartum.


Aleksandr Solzhenitsyn's prophecy, 40 years later...
On June 8, 1978, a man with a craggy face and a beard came to Harvard University, where I was then a graduate student, to give the annual commencement address. The man was not a Harvard graduate. He was not a professor. He was not an American. He did not speak English. His address, given in his native Russian with simultaneous English translation...


How to get your kids to do chores (without resenting it)...
Back in the early 1990s, psychologist Suzanne Gaskins was living in a small Maya village near Valladolid, Yucatan, when she struck up a conversation with two sisters, ages 7 and 9. The girls started telling her — with great pride — about all the chores they did after school. "I wash my own clothes," the 7-year-old said...


Fr. James Martin to speak at World Meeting of Families in Dublin...
The issue of same-sex families has dogged the ninth World Meeting of Families since it was revealed that an image of a gay couple was edited for a preparatory booklet, and Los Angeles Auxiliary Bishop David O'Connell's comments on gay families were deleted from a video. On June 11, the date the Vatican released Pope Francis's schedule for attendance at the World Meeting of Families...


We should all want to be neighbors with Mr. Rogers...
The younger of my two sons has expressed his concerns to me about Google and the internet in general. "When we were kids, and we wondered about something, we asked you and Dad. Now, kids don't ask their parents anything; if they're curious about something, they go to Google or You Tube. Or, even if they ask their parents a question...


What to expect when the U.S. bishops meet in Florida this week...
While the June meeting of the U.S. bishops is often considered to be the more lackluster of their two annual gatherings, at least in terms of news content, as they meet in Fort Lauderdale, Florida this week, major topics are on the agenda including healthcare, immigration, and religious liberty - all of which correspond to pressing issues on the national scene...


One of the deepest caves in the world is even bigger than we thought...
Katie Graham was trying to escape the cave she'd been trapped inside with her teammates for the past three days. She held her breath and cautiously swam underwater through the turbid flood that was all but completely filling an underground corridor, ominously dubbed Skeleton Canyon, in Sistema Huautla, the deepest cave in the Western Hemisphere...


Are these 4 creature comforts crowding out your Creator?
With the end of the school year upon us, our little babes are completing those notoriously funny questionnaires. You know the ones: How old is your mom? "Twenty-four." Close, 42. What is her job? "Watch Netflix all day." Yikes, not quite. What is her favorite drink? "Wine." Well, at least he got one right. Reading my son's questionnaire...


This is what a nuclear attack in New York would look like...
In our imaginations, fueled by apocalyptic fictions like The Road and The Day After, the scale and speed of nuclear annihilation seem too vast and horrific to contemplate. If nuclear war is considered "unthinkable," that is in no small part because of our refusal to think about it with any clarity or specificity. In the long run...


Embarrassing typo in St. Louis archdiocesan newspaper headline goes viral...
Hey, anyone can make a mistake! Including diocesan newspapers. Archbishop Robert James Carlson of St. Louis, Missouri, recently ordained 25 men as permanent deacons, the largest ordination class the archdiocese has had in 41 years. Given the shortage of ordained men, that's an amazing accomplishment and should be celebrated! The newspaper of the Archdiocese of St...


Third priest shot and killed in Philippines in six months...
A Catholic priest in the Philippines was shot and killed in a chapel as he prepared to celebrate Sunday Mass on June 10, local police said. Father Richmond Nilo is the third priest to be killed in the Philippines in the past six months. Another priest survived an assassination attempt in another part of the country on June 6.


Deuteronomy 32:15 (15) "But Jeshurun grew fat and kicked; You grew fat, you grew thick, You are obese! Then he forsook God who made him, And scornfully esteemed the Rock of his salvation. Jeshurun is a code name for Israel. It literally means "the upright one." The word may have been written with a certain measure of sarcasm. Or, it may have been written as a warning to this "upright one"—Jeshurun or Israel—about when he was most likely to fall to


Three insights of Pope Leo XIII that diagnose our cultural malaise...
Pope Leo XIII penned an insightful analysis of three trends that both alarmed him and pointed to future problems. He wrote of these three concerns in 1893 in the Encyclical on the Holy Rosary entitled Laetitiae Sanctae (Of Holy Joy). The Pope laid out these three areas of concern and then offered the Mysteries of the Rosary as a remedy...


The assault against civilization is a bare-knuckle brawl...
The recent pardon of the late world heavy weight champion Jack Johnson by our president was a gracious act long overdue. A previous motion had passed the House but died in the Senate in 2008. Johnson's racially motivated conviction for violating the Mann Act after he had married a white woman resulted in his beginning a year term in Leavenworth prison in 1920...


Massive genetic study reveals 90 percent of Earth's animals appeared at the same time...
Landmark new research that involves analyzing millions of DNA barcodes has debunked much about what we know today about the evolution of species. In a massive genetic study, senior research associate at the Program for the Human Environment at Rockefeller University Mark Stoeckle and University of Basel geneticist David Thaler discovered that virtually 90 percent of all animals on Earth appeared at right around the same time...


With the ouster of his prime target, the Pope's Chilean cleanout begins...
Three weeks since the bishops of Chile offered their joint resignation to the Pope in an unprecedented response to a deepening abuse crisis, Francis' concrete moves to right the ship have begun precisely as the victims would've hoped. At Roman Noon this Monday - all of five months since the pontiff's last public defense of Bishop Juan Barros - Francis' stunning turnabout came full circle as he accepted the 61 year-old prelate's resignation from the helm of the diocese of Osorno...


Traditional liturgy is the great unifier...
When I was a student at Oxford, my parents came to visit, and on her first venture onto the roads, my mom exclaimed, "They're driving on the wrong side of the road!" Being a young snob I corrected her by saying, "No, Mother. They're driving on the other side of the road." I ended up living in England for twenty-five years...


The suicide epidemic and a message for a hopeless world...
Right on the heels of the apparent suicide of fashion designer Kate Spade, America woke up Friday morning to the news of yet another suicide: CNN's Anthony Bourdain. They join a growing list of celebrities who have taken their own lives in recent years, including three talented musicians: Avicii, Chris Cornell of Soundgarden, and Chester Bennington of Linkin Park...


Anger can be a valuable emotion — if you learn how to discipline it...
It's no secret that there is a lot of anger in the world today. And the news on any given day tends not to help. "Anger can act as a useful emotion, one that supports our Christian lives. Unfortunately, for many of us anger doesn't serve us but enslaves us. It lures us into sin or plunges us into depression," Bert Ghezzi writes in his book...


Pope Francis accepts resignation of Bishop Barros over Chilean sex-abuse scandal...
The Vatican announced Monday that Pope Francis has accepted the resignation of Bishop Juan Barros Madrid from his post in the diocese of Osorno, after being accused of covering-up for Chile's most notorious abuser priest, Father Fernando Karadima. The announcement came in a June 11 communique from the Vatican, along with the resignation of two other Chilean bishops...


Matthew 18:28-35 (28) "But that servant went out and found one of his fellow servants who owed him a hundred denarii; and he laid hands on him and took him by the throat, saying, 'Pay me what you owe!' (29) So his fellow servant fell down at his feet and begged him, saying, 'Have patience with me, and I will pay you all.' (30) And he would not, but went and threw him into prison till he should pay the debt. (31) So when his fellow servants saw what had been don...


Do caffeine drinkers really fall into 3 groups?
A new report divides coffee lovers into three groups depending on how their bodies respond to caffeine. But as fun as it is for caffeine drinkers to figure out which group they fall into, not all experts are on board with the report's clear-cut conclusions. According to the report, which was published June 6 by the Institute for Scientific Information on Coffee (ISIC)...


An interview with the Catholic of the Daily Wire: Michael J. Knowles...
Mr. Michael J. Knowles is an author of a book without words, an accomplished actor, contributor at the Daily Wire and host of the Michael Knowles Show. Aside from his commendable taste in cigars (smoking a stogie at his recommendation as of this writing), Michael is a man of faith and in the richest sense of the phrase, he is one of those Catholic men...


If we want to restore marriage, we have to start using this technique...
"Framing" is the political term for formulating a clear message in the best way to persuade people about issues. Issues can be very complex, but framing helps people focus on the aspect of an issue that best corresponds with their values, attitudes and experiences. Framing is nothing new, but it is a technique not very well understood and used by defenders of marriage and the regular family...


4 errors you should avoid in the proclamation of the Faith...
On Trinity Sunday we recited the Athanasian Creed at the end of the homily. In case you are unfamiliar with it, you can read it by clicking on the link here: Quicumque vult. The Creed, written in the fourth century painstakingly sets forth the doctrine of the Trinity and the doctrine of the Incarnation. In several places there is a warning: Whosoever will be saved...


How special paint on the hood of World War II Jeeps protected soldiers' lives...
If you've ever seen a picture of a World War II Jeep with brown paint between the points of its "invasion star," you might have assumed it was just an aesthetic touch. But it was much more than that: the paint was there to keep soldiers safe. Here's how. The paint's purpose was to protect against chemical weapons attacks...


Sculpted head of mystery biblical king found in Israel...
An enigmatic sculpture of a king's head dating back nearly 3,000 years has set off a modern-day mystery caper as scholars try to figure out whose face it depicts. The 5-centimeter (2-inch) sculpture is an exceedingly rare example of figurative art from the Holy Land during the 9th century B.C. — a period associated with biblical kings...


Romans 8:7 (7) Because the carnal mind is enmity against God; for it is not subject to the law of God, nor indeed can be. The Greek word underlying "carnal" is sarx, which Strong's Concordance says refers literally to the meaty part of an animal or man. However, it has several figurative usages that commonly appear in the Bible. The Interpreter's Dictionary of the Bible adds that sarx "is either the equivalent of the English word 'm


How Julia Greeley's magnificent tomb came from Carrara, Italy, to Denver's cathedral...
The year was 1883 and Colorado was hit with an economic recession that left thousands of people jobless. Silver miners were hit particularly hard and Denver was flooded with people seeking help. It was during this time that a former slave, Julia Greeley, was moved to beg for medicine, food, clothes and other necessities to quietly deliver to the poor at night...


New York court rules Archbishop Sheen's body should go to Peoria...
On the evening of June 8, the Diocese of Peoria, Illinois, announced that earlier in the day the Supreme Court of New York had ruled for the second time in favor of Joan Sheen Cunningham and her petition to move Archbishop Fulton J. Sheen's body from St. Patrick's Cathedral in New York to the Cathedral of St. Mary in Peoria...


Three crucial questions, one crucial plan: A homily for the 10th Sunday of the Year...
In the first reading for Sunday (from Genesis) the Lord asks three important questions and sets into motion a "crucial" plan for our salvation. The word "crucial" is rooted in the Latin word for cross (crux or crucis). As such, it indicates something that is central by a coming together of the horizontal and vertical. It also points to a suffering that needs healing...


Dominion or domination? What you missed about fatherhood in Genesis.....
There are two competing images of fatherhood in Genesis, and this is related to the theme of dominion- who has it, what is the nature of it, and how it is exercised. For the two images of fatherhood we can use the word dominion to describe the first image of life-giving fatherhood and dominationto describe the tyrannical view of fatherhood and by extension masculinity in general...


God's solution to spiritually barren people and parishes...
In the times of the Bible, one of the worst disasters that could befall someone was to be barren (infertile) physically. In fact, it is a major theme of Scripture, to see how someone (or a couple) who was once infertile, has had their situation changed by God and has now gained their fertility. In each reference to infertility, in Scripture...


John 14:6 (6) Jesus said to him, "I am the way, the truth, and the life. No one comes to the Father except through Me. Not only does Jesus characterize Himself as truth in John 14:6, but He also adds in John 17:17 that "[God's] word is truth." In I Corinthians 15:45, 47, Paul refers to Jesus as "the last Adam" or "the second Man," the beginning of a new order, of an entire race or family of beings just like Him, just as all of mankind is in the image of our firs


Australian bishop protests law requiring priests to break seal of confession...
A new law in Australia will require Catholic priests in Canberra to break the seal of confession to report child abusers, drawing adamant opposition from Church officials. "Priests are bound by a sacred vow to maintain the seal of confession," said Archbishop Christopher Prowse of Canberra and Goulburn, adding "without that vow...


Lay rector a first at the 'Pope's university'...
For the first time in its 245-year history, a lay professor has been appointed rector of the Pontifical Lateran University, also known as the "Pope's university." Vincenzo Buonomo, a professor of international law and a consultant to the Holy See since the 1980s, was appointed rector of the Pontifical Lateran University by Pope Francis...


Those with roots will cling to the faith of their fathers...
Chesterton is seldom wrong. In fact, he is so seldom wrong that it is normally the height of folly to even contemplate contradicting him. And yet his ceaseless championing of the healthy "vulgarity" of the poor is sometimes hard to swallow. Although such praise of the "vulgar" was due in part to a healthy Dickensian (and Christian) love for the common man...


A review of the Mr. Rogers documentary, 'Won't You Be My Neighbor?'...
Morgan Neville's documentary Won't You Be My Neighbor? briefly debunks a silly, subversive urban legend about the seemingly preternaturally gentle host of Mr. Rogers' Neighborhood: a lurid fantasy about his imaginary military past and the many people he supposedly killed in Vietnam; the tattoos allegedly hidden by that cardigan sweater...


Matthew 5:43-48 (43) "You have heard that it was said, 'You shall love your neighbor and hate your enemy.' (44) But I say to you, love your enemies, bless those who curse you, do good to those who hate you, and pray for those who spitefully use you and persecute you, (45) that you may be sons of your Father in heaven; for He makes His sun rise on the evil and on the good, and sends rain on the just and on the unjust. (46) For if you love those who love you, what reward


Beware the 'soloists': Sola Fide, Sola Scriptura, Sola Gratia...
There are a lot of "solos" sung by our Protestant brethren: sola fide (saved by faith alone), sola Scriptura (Scripture alone is the rule of faith), and sola gratia (grace alone). Generally, one ought to be leery of claims that things work "alone." Typically, many things work together in harmony; things are interrelated...


The reality of Satan: 10th Sunday in Ordinary Time...
This Sunday we return to Ordinary Time for the first time since February 11. That was the Sixth Sunday in Ordinary Time, but the seventh, eighth, and ninth Sundays were overridden by Pentecost, Trinity, and Corpus Christi. So we pick up with the Tenth Sunday in Year B on this Lord's Day. We are still near the beginning of the Gospel of Mark...


Here's the strange in-between of NFP...
We started taking NFP classes a few months before our wedding. I had already been charting for a while. I took copious notes, because that's what I do. I have always been a rule follower and so I figured all my beloved and I would have to do was follow the rules. So there we went with tracking temperatures and mucus and having the conversations you can have before you're married...


Justice Kennedy's logic is a foretaste of life under pornographic Puritanism...
Readers who follow me know this. I oppose anyone who tries to set up an intolerant state religion. So I don't want the West admitting or harboring Muslims who wish to do that. I criticize misguided Catholics who look for loopholes in Vatican II to let them promote such a state. If I knew of any Protestants interested in such a project...


On seeing a firstborn graduate from college...
Finals were a wrap, the semester concluded, and the campus emptied out — all but the seniors, that is. For a short stretch in May, our son, Benedict, and his graduating class had the Notre Dame ecosystem to themselves. "Senior Week," they call it, though that name only highlights its limitations. As thousands of seniors (most recently...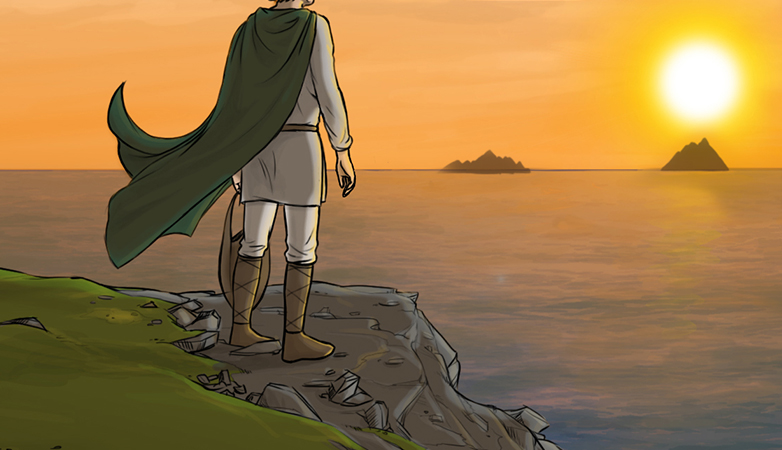 Why I wrote a comic book about a mysterious group of Irish monks...
uring the past few hundred years, countless legends and myths of the past have been shoved off to the side, "disproven" by modern historians and scientists. This has especially been the case in regards to the lives of saints and other legendary events in Catholic history. Simply put, Christian fairy tales and legends have been deemed "outdated...


Two climbers smash record, climb Yosemite's El Capitan in 1 hour 58 minutes...
On June 6, 2018, in California's Yosemite National Park, Alex Honnold and Tommy Caldwell accomplished the seemingly impossible—climbing the 3,000-foot Nose route of El Capitan in 1 hour 58 minutes and 7 seconds. "It's like breaking the two-hour marathon barrier, but vertically," says Hans Florine, who, with his climbing partner Yuji Hirayama in 2002...


Native Americans murdered for their Catholic faith: The Martyrs of La Florida...
Most Americans are at least tangentially aware of the persecution that Irish and Italian Catholics faced in mostly Protestant America during the late 19th Century. But few, if any, have heard about the horrific persecution of a group of Native Americans from northwestern Florida who were murdered because they had converted to Catholicism...


Scientists weighed all life on Earth. It's mind-boggling, and this chart is staggering.....
By weight, human beings are insignificant. If everyone on the planet were to step on one side of a giant balance scale, and all the bacteria on Earth were to be placed on the other side, we'd shoot violently upward. That's because all the bacteria on Earth combined are about 1,166 times more massive than all the humans. Comparisons to other categories of life similarly demonstrate how very...


These nuns are key to saving an endangered species from extinction...
Conservationists from Chester Zoo have formed an unlikely partnership with an order of nuns - in a project that could save a critically endangered amphibian from extinction. The axolotl - a salamander that is unique to Mexico - has almost been wiped out of its freshwater habitat by pollution and over-fishing. Now, scientists say that the nuns hold the key to bringing it back from the brink...


An unequivocal affirmation by Jesus that the dead will rise...
In the Gospel for Wednesday of the 9th week, the Church presents us with a strong reminder and teaching on the resurrection. Let's look at what we are taught: The Ridicule of the Resurrection - The Gospel opens as follows: Some Sadducees, who deny there is a resurrection, came forward and put [a] question to Jesus. They proposed a hypothetical situation in which a woman is married seven times...


Why are there UFOs in medieval Catholic art? Here's what's really going on.....
So maybe you were bored one night and decided to watch Ancient Aliens or another one of these documentaries about extra-terrestrials. A lot of their claims are just silly, but maybe you perked up when you saw them claim that medieval Catholic art - including paintings of Jesus and Mary - depict flying saucers with aliens inside flying around in the sky...


Bond between Benedict, Francis runs through Italy's 'Chicken Soup for the Soul'...
From the outside, Italy's often depicted as a bastion of Catholic culture and tradition, styled as "the pope's backyard." While practice of the faith is relatively healthy compared to most of the rest of Western Europe, there are also vast swaths of advanced secularism up and down il bel paese, and a young Italian growing up in that milieu often has no real contact with the Church at all...


What's so bad about three-parent babies?
Where do three-parent babies come from? First, they make two babies, both with the same male's sperm but from different eggs, then when they're a day old, they merge them into one. They then extract DNA from both and transfer the DNA from one to the other. The result is a baby with mitochondrial DNA from a donor egg alone and nuclear DNA of the two people paying for the procedure...


China's persecution of Christians at highest level since Mao...
Watchdog groups say the persecution of Christians and other religious minorities in China is at its most intense since the Cultural Revolution, as churches are shuttered, Bibles confiscated and believers arrested at rates not seen in decades. Evidence of the crackdown was in plain view this week, when police raided Early Rain Covenant Church...


Watch in real time as American Airlines 1897 tries to escape a monster hail storm...
American Airlines Flight 1897 met a storm from hell on Sunday. Strong updrafts tossed the aircraft and thick hail battered its body. The incredible pictures of the plane's destroyed nose captured the world's attention. Meanwhile, though, observers on the ground captured another wild visual: the flight's meandering real-time path as pilots tried to navigate around the worst of the monster storm...


Acts 24:16 (16) This being so, I myself always strive to have a conscience without offense toward God and men. Paul was a principled man guided by a strong conscience. His entire life displays a devotion to doing what he thought was in accordance with God's will, his conduct reflecting that sincerity. His actions as a Pharisee were governed by many of the same biblical principles extant after his conversion. In a sense, he became a Christian because God per


Craving approval isn't evangelization...
The bizarre comment and the weird gesture have not, until recently, been associated with high-ranking churchmen. Both, alas, were on vivid display last month when Cardinals Reinhard Marx and Gianfranco Ravasi had more than a few of us scratching our heads in wonderment. Cardinal Marx is the archbishop of Munich and Freising, a local church suffering from severe deficits in Sunday Mass attendance and vocations...


When C.S. Lewis befriended a living Catholic saint...
When Luigi Calabria, a shoemaker married to a housemaid, died in Verona, Italy in 1882, the youngest of his seven sons, Giovanni, nine years old, had to quit school and take a job as an apprentice. A local parish priest, Don Pietro Scapini, privately tutored him for the minor seminary, from which he took a leave to serve two years in the army...


Jordan Peterson confronts the problem of pain...
A Jewish ophthalmologist I know is a leading specialist on a rare condition that can cause blindness, and it was that expertise that led him to the Catholic faith. Over time, as scores of anxious patients came to him for final confirmation of their awful diagnosis, he saw that some responded to the news of their impending blindness in a distinctive and inspiring way...


Abuse scandal costs U.S. Catholics more than $3.3 billion since 2004...
The abuse scandal cost American dioceses and religious institutes $642,975,667 between 2014 and 2017, according to Table 6 (page 46) of the newly released report. In the previous decade, the scandal's total cost was $2,744,881,843. Between mid-2016 and mid-2017, there were 695 new allegations involving 654 alleged victims (over 80% of them male); the majority of new allegations involved incidents that reportedly took place before 1980...