First MOCK DRAFT of 2018! – The Fantasy Footballers
First MOCK DRAFT of 2018! – Ep. #533 Fantasy Football Podcast for March 22nd, 2018. On today's show, we dive into our first fantasy football mock draft of 2018! Andy, Jason, and Mike walk through each pick and the logic behind every decision while on the clock. All this plus the latest news, free agency updates, and a fun Quick Question of the Day. Prep your redraft, keeper, and dynasty fantasy football teams for 2018 with the #1 fantasy football podcast. 02:40- Quick Question of the D...


Proving Usain Bolt is the fastest in history
He's a six-time IAAF Athlete of the Year, eight-time Olympic gold medalist and world-record holder in the 100 and 200 meters. Not bad! ESPN's Anthony Olivieri runs some other numbers on the fastest man in history.


Here's who will make the Final Four
What happened in the first two rounds? It was crazy, but we're moving on because the Sweet 16 has arrived. The blue bloods are here, but so are the wild cards, including two (!) 11-seeds. Enjoy the games, but here's what's going to happen this weekend.


Power Rankings: The small-sample-size superstars edition
Predators goalie Juuse Saros, Lightning winger J.T. Miller and Bruins rookie Ryan Donato have seized the moment and the spotlight. Are they breaking through or just flashing some brief brilliance? This week's rankings highlight each team's hottest player.


Kyle Lowry blasts Raptors' 'trash' defense after loss to Cavs
Kyle Lowry is frustrated that the Toronto Raptors still can't seem to get over the Cleveland Cavaliers hump. After the Raptors fell to the Cavs on Wednesday by the final of 132-129, Lowry said that his team played a "trash game" and called their performance on defense "disgraceful," according to Josh Lewenberg of TSN Sports. Lowry: "It was a trash game by us. They shot 60% from the field. It was a disgraceful display of defence by us and we've got to be better


Washington congressman lays claim to Mike Hopkins amid Pitt rumors
The University of Pittsburgh's possible pursuit of Washington head coach Mike Hopkins is being hindered by a bit of government intervention. Jeff Goodman of ESPN reported on Wednesday that Hopkins' name is gaining some steam in connection with Pitt's head coaching vacancy. One name that has started to surface a little bit for Pittsburgh, if Dan Hurley chooses UConn, is Washington's Mike Hopkins. Strong northeast ties, especially in the prep school ranks. Was Pac-12 COY and ...


Joel Embiid rips Colin Cowherd after Sixers hit 40-win mark
The Philadelphia 76ers have officially proven Colin Cowherd wrong, and Joel Embiid, for one, is certainly basking in it. Before the season began, the well-known FOX Sports host declared on his radio show that Embiid and the Sixers would not win 40 or more games. Take the UNDER 40 wins for the Philadelphia 76ers this season pic.twitter.com/PK29Ayx9aM — Herd w/Colin Cowherd (@TheHerd) October 5, 2017 Well as Cowherd's luck had it, the Sixers hit the 40-win mark on Wednesday with a v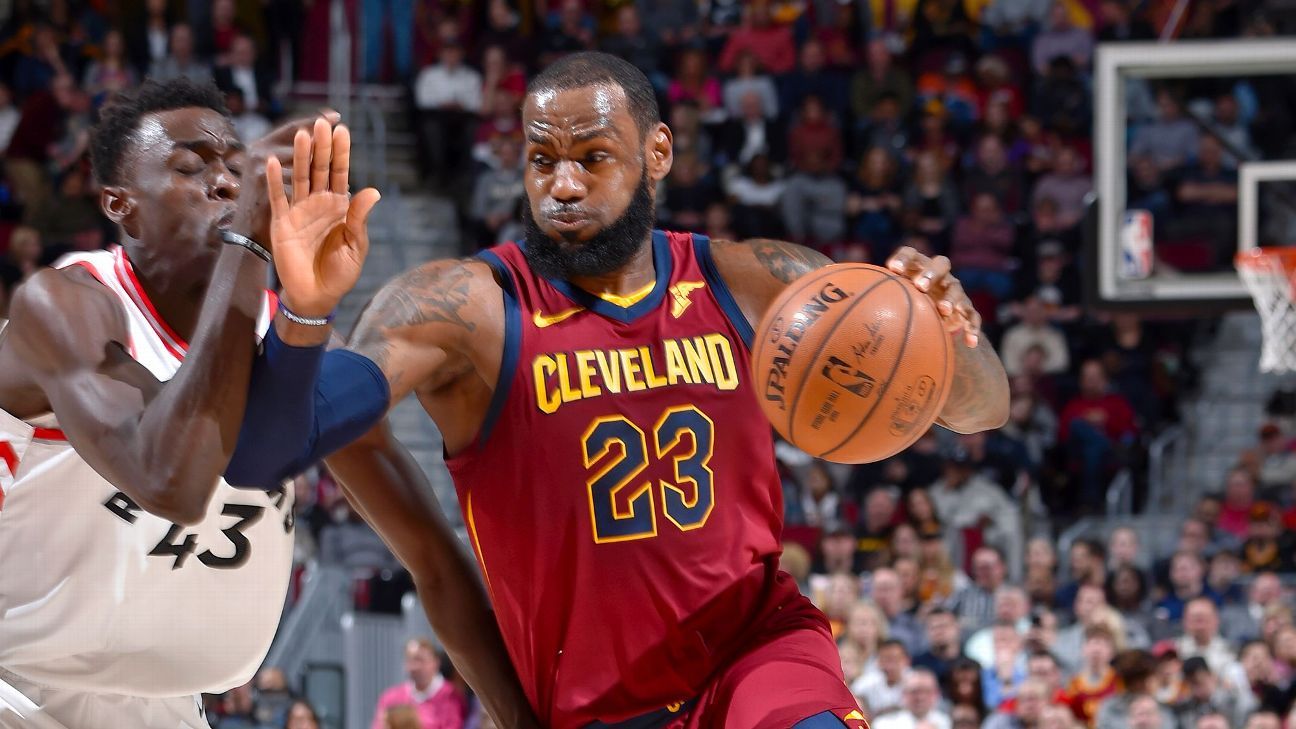 Drew: Comeback win a turning point for Cavs
Cavaliers acting coach Larry Drew said that Wednesday's comeback win over the Eastern Conference-leading Raptors might have been a breakthrough for the team. Meanwhile, LeBron James posted another historic stat line to lift Cleveland.


Power Rankings: How Cup teams stack up
Stewart-Haas Racing's Kurt Busch and Clint Bowyer are on the hottest Cup team of the young season so far. Which teams fall in line behind SHR? Ryan McGee presents our top 10.


Most important match-ups in the Sweet 16
The Sweet Sixteen is so perfectly timed in the college basketball world. We spent last weekend ingesting unhealthy amounts of hoops at all hours of the day, cutting back on sleep, healthy habits, and appropriate levels of emotion. We all need the three day break to catch our breath, let the dust clear, and figure out where we go from here. The Sweet Sixteen is not the sixteen best college basketball teams in America. Many of the best teams were bounced by buzzer-beaters or crazy comebacks. The


Big East: Replace 1-and-done with 2-or-none
The Big East has recommended replacing one-and-done with a two-or-none policy in college basketball, along with NCAA regulation of agents and the creation of an elite player unit to focus on "players with realistic aspirations of playing in the NBA."


Michigan has interesting strategy to try to keep Moritz Wagner out of foul trouble
Foul trouble has somewhat limited the effectiveness of Michigan big man Moritz Wagner so far in this year's tournament, but the team may have figured out a fix just in time for the Sweet Sixteen. On Wednesday, Wolverines head coach John Beilein revealed his interesting strategy to try and remedy Wagner's fouling issues: have Wagner play defense while holding tennis balls in his hands during practice. "So he is not putting his hands on people," said Beilein of the techniq


Bucks exec gets into spat with writer over 'fake news' Jabari Parker report
The Milwaukee Bucks are here to set the record straight about Jabari Parker. In an appearance Tuesday on 105.7 The FAN in Milwaukee, Gery Woelfel of the Racine Journal Times reported that the Bucks were very close to trading Parker at this year's deadline. Additionally, Woelfel believes that the 23-year-old forward is unlikely to return to the team next season. Bucks writer Paul Henning also added that Woelfel is supposedly close to Parker and his family. Take it for what it is. But, @Ger


Report: Terrelle Pryor will likely choose between Seahawks, Jets
Free agent wide receiver Terrelle Pryor looks to be deciding between two main suitors. According to Mary Kay Cabot of Cleveland.com, Pryor's choices are, at least for the moment, down to the Seattle Seahawks and New York Jets. Appears to be down to the #Jets and #Seahawks for Terrelle Pryor, at least for right now — Mary Kay Cabot (@MaryKayCabot) March 21, 2018 This rules out the Cleveland Browns, who have been tossed about in the last couple days but don't really seem to ha


John Calipari urges Kentucky players to ignore Final Four path chatter
The Kentucky Wildcats are suddenly the highest remaining seed in the NCAA Tournament's South regional, with the top four seeds in the region falling to early upsets. That means the young Wildcats may have a surprise Final Four bid in their future. John Calipari doesn't want his players to listen to any of that, warning his players "don't drink that poison." "The poison being we have an easy road," Calipari said, via Alex Scarborough of ESPN. "If th


Report: Panthers bidding has reached record price
The Carolina Panthers could be on their way to becoming the most expensive franchise of all time. According to Scott Soshnick of Bloomberg, bidding for the Panthers has reached $2.5 billion, which would eclipse the Houston Rockets' $2.2 billion sale price as the most expensive of all time. This price is leaving a few potential bidders behind. That includes Michael Rubin of Fanatics, whose group may have potentially involved Diddy and Stephen Curry. Rubin, however, won't meet the rep


Teddy Bridgewater 'not comfortable' talking about status of his injured knee
It has been well over a year since Teddy Bridgewater suffered a devastating knee injury that cost him the better part of the past two seasons, but the quarterback was cleared by doctors with the Minnesota Vikings and passed his physical with the New York Jets. Still, he is not willing to declare himself fully healthy. In a conference call with reporters on Wednesday, Bridgewater was asked if he envisions having any limitations when spring practices begin. He stopped short of saying his knee inj


Martellus Bennett still has not decided if he will play in 2018
Martellus Bennett had a season to forget in 2017 because of injuries and other circumstances, and the veteran tight end hinted back in October that he was planning to retire. However, that is apparently not a decision he has made just yet. In an appearance on "The Rich Eisen Show" on Wednesday, Bennett was asked if he will sign with a team for the 2018 season. "Right now I'm just living life and trying to figure out what I want to do next," Bennett said. "Is


Ndamukong Suh reportedly cancels visit with Raiders
Ndamukong Suh is inching closer to making a free agency decision, and it sounds like you can cross the Oakland Raiders off his list. Suh was scheduled to visit with the Raiders on Wednesday, but Ian Rapoport and Michael Silver of NFL Network report that the defensive tackle ended up cancelling the meeting. Free agent DT Ndamukong Suh's visit to the #Raiders is now off, sources tell me and @MikeSilver. He's back home and not likely to make a decision today. The #Rams made a strong impressio...


The Curious Case Of The bbq Olivers
"When we first started, our goal was to win just one game." ESC Ever coach Kim Ga-ram after the team's 2015 KeSPA Cup victory In late 2015, a South Korean challenger team captured the hearts of international fans. Equipped with peerless Bard player Kim "Key" Han-gi and a scrappy team-fighting style, ESC Ever had just failed to qualify for LoL Champions Korea when the team defeated CJ Entus to win the 2015 KeSPA Cup. The difference between their loss to SBENU Sonicb


Sam Darnold impresses scouts by throwing in rain (Video)
Sam Darnold chose not to throw at the NFL Scouting Combine earlier this month, and many thought the decision would come back to haunt him when rain was forecast for his pro day at USC. As it turns out, the weather may have helped. Darnold threw passes in front of scouts on Wednesday in a steady rain, and the conditions appeared to have very little impact. It was pouring rain, but that didn't stop Sam Darnold from throwing dimes at his Pro Day. pic.twitter.com/Ah1R8NLlmP #SportsGameApp &md


Stoneman Douglas hockey team playing with a purpose
The Eagles won a Florida state title to qualify for nationals. Along the way, they have received support from the NHL and the Florida Panthers -- and in turn sought to help lift the Parkland community devastated by a mass school shooting.


Sean Miller says he is not a candidate for Pitt head coaching job
The University of Pittsburgh may have interest in Sean Miller becoming the school's next men's basketball coach, but apparently that interest is not mutual. On Wednesday, Miller released a statement saying he is not a candidate for the Pitt job. Sean Miller to Pitt – NOT a thing pic.twitter.com/OcdaSZj00Y — Michael Lev (@MichaelJLev) March 21, 2018 A previous report claimed Miller had interest in the job and had discussed it with Pitt athletic director Heather Lyke, bu