Myles Garrett hosts free screenings to 'Jurassic World'
Myles Garrett hosted free, private screenings to "Jurassic World: The Fallen Kingdon" in two states to celebrate its release. Prior to being selected No. 1 overall by the Cleveland Browns, Garrett was a standout at Texas A&M. Last week, Garrett provided a heads up via his Twitter account that he would be hosting a free screening for the new Jurassic World movie on Friday in College Station, Texas, which is where his alma mater is located. Heads up pic.twitter.com/uFW2T735Sk &m


Watch: Phillies' Maikel Franco leaves game after slipping on first base
Maikel Franco left Sunday night's game after slipping on first base. The Philadelphia Phillies third baseman legged out an infield single in the top of the eighth inning against the Washington Nationals. As he stepped on the base, he slipped and fell to the ground. Franco slipped on first and it looked bad when his cleat caught, but he did stay in, Murphy's reaction says it pic.twitter.com/imCoRjrfc6 — CJ Fogler (@cjzer0) June 25, 2018 Franco was removed from the game and repl


Rays post perfect tweet about bizarre win over Yankees
The Tampa Bay Rays had some help from up above during their victory over the New York Yankees on Sunday … quite literally. The Rays won in a 12-inning thriller, but the game almost had a very different result. Tied 6-6 in the ninth inning, Yankees outfielder Clint Frazier launched a fly ball that seemed destined for the seats. Instead though, the ball caromed off a speaker hanging from the Tropicana Field roof and, being technically still in play, was caught by Rays shortstop Adeiny Hecha


Michigan Wolverines land big commitments for 2019 class
June may be part of the college football offseason, but that didn't stop the Wolverines from enjoying a big day on Sunday. Michigan received commitments from three players on Sunday. First was tight end Erick All, a three-star recruit from Ohio who had offers from most Big Ten schools, as well as Florida State and Notre Dame. I just want to thank god, my parents , all the coaches that coached me throughout my football career, and all the teams that recruited me but I decided to commit to


Joel Embiid trolls Lakers on Instagram
The Los Angeles Lakers will be competing with the Philadelphia 76ers on the free agent market this summer, and that is (somewhat unsurprisingly) making them a target of Joel Embiid's social media tomfoolery. The Sixers center took to Instagram on Sunday to post a picture of himself posing with a quartet of men, including Harry Styles of the British band One Direction. In his caption, Embiid wrote "The Lakers starting 5" and tagged a number of Lakers players (namely, Lonzo Ball


Report: Mississippi State baseball to hire Indiana's Chris Lemonis
One of the best head coaching jobs on the college baseball market appears to be getting filled. D1Baseball's Kendall Rogers reported on Sunday night that Indiana Hoosiers head coach Chris Lemonis will be the next head coach at Mississippi State. BREAKING: I'm hearing from sources that @IndianaBase head coach Chris Lemonis will be the next head coach at @HailStateBB, and that top #HailState assistant Jake Gautreau will stay on staff. If that doesn't change, I really like that duo. &md...


Hanley Ramirez addresses allegation, free agency in tweet
Hanley Ramirez on Sunday finally addressed the report tying him to drug allegations. Ramirez, who has been a free agent since being released by the Boston Red Sox on June 1, said in a tweet that being a free agent is his choice. He also said he was "grateful" for those who did not spread the report about him. I have been home enjoying my family. Not being on a team has been my choice. Grateful to those of you who resisted spreading the reckless, misleading reports #iSeeYou #loyal #


Cubs swept by Reds as bullpen falters again
Reliever Pedro Strop called the Cubs' fourth straight loss to the last-place Reds "a tough one to swallow" after a move to the bullpen once again backfired. Cincinnati's four-game sweep was its first against the Cubs since 1983.


Iranian fans won't let Cristiano Ronaldo sleep
Iran faces a huge test with a chance to get out of the group if they manage to beat Portugal on Monday, and their fans are doing everything they can to help their team. That includes trying to keep Cristiano Ronaldo awake with noise outside his hotel room. Judging by the fact that Ronaldo made a brief appearance and politely asked them to keep it down, it appears to be working. Ronaldo foi à janela pedir aos iranianos para o deixarem dormir em paz @RTP1 pic.twitter.com/UtYxZBbJF3 — B2...


Gary Sanchez likely headed to disabled list with groin injury
The New York Yankees are facing more injury problems. Yankee catcher Gary Sanchez suffered a groin injury in Sunday's game against the Tampa Bay Rays after grounding into a double play, and manager Aaron Boone said after the game that a disabled list stint was likely. Not good: Gary Sanchez reached for his groin after grounding into that DP, and Austin Romine has come on to catch the bottom of the 10th inning. — Lou DiPietro (@LouDiPietroYES) June 24, 2018 Boone said Sanchez will


Hanley Ramirez's agent slams 'reckless' reporting on investigation
Amid reports that Hanley Ramirez was falsely accused as part of a drug investigation, the player's agent blasted media reporting that initially linked him to a drug ring. The Boston Globe reported Sunday that Ramirez was not a target of any federal or state investigations into a drug ring, as a friend of Ramirez who was involved dropped his name in an attempt to avoid arrest before ultimately admitting Ramirez did nothing wrong. The friend told police that a box in his vehicle contained b


LeBron sends fans into frenzy by changing social media themes
LeBron James is preparing to make one of the biggest decisions of his NBA career, and he may be tipping his hand with some big changes he made to his social media pages. As for what it all means, that's anyone's guess. At some point on Sunday, LeBron changed his Twitter and Instagram profile pictures in addition to his Twitter cover photo. The theme was very clearly pro-Akron, which of course is the area of Cleveland in which LeBron grew up. @World_Wide_Wob LeBron's new avi and c...


Astros' Alex Bregman shaves off his mustache mid-game
Houston Astros third baseman Alex Bregman made a rather interesting grooming decision during Sunday's game against the Kansas City Royals. Bregman took his first at-bat of the day in the second inning with his usual mustache, but was quite obviously clean-shaven when he made his next plate appearance in the fourth, prompting amusement and intrigue. Bruh, did Alex Bregman really shave his 'stache during the game? pic.twitter.com/C8OByjXJB8 — Cut4 (@Cut4) June 24, 2018 Bregman p


Twitter reacts in delight to Carlos Valderrama's hair
Colombia defeated Poland with an emphatic 3-0 victory on Sunday at the FIFA World Cup, and Twitter was simply delighted to see one of the country's most iconic soccer players in attendance — with the same hairstyle he wore in the 1990s. The legendary midfielder, arguably Colombia's greatest ever player, was in attendance at Sunday's game alongside another former Colombian standout, goalkeeper Rene Higuita. Naturally, they both enjoyed the show — and so did Twitter,


Report: Multiple teams monitoring Enes Kanter situation
New York Knicks center Enes Kanter has a decision to make on his status for next season, and multiple teams are reportedly watching with vested interest. According to Ian Begley of ESPN, opposing teams expect Kanter to excercise his $18.6 million player option for 2018-19, but if he doesn't, the Milwaukee Bucks are one of several teams who would be interested in signing him. Enes Kanter hasn't yet made a decision on his $18.6 million player option. Opposing teams expect him to opt in. ...


Padres had legendary team bus mishap on way to face Giants
The San Diego Padres arrived to AT&T Park for their game against the San Francisco Giants on Sunday in a form of transportation that is very familiar to people in the Bay Area, but let's just say the memorable entrance was not planned. For whatever reason, the bus that was supposed to pick the Padres up at their hotel on Sunday morning never showed. That forced the team into a situation where they had to make other arrangements, and they ended up riding in a double decker tour bus wi


Mets' Jerry Blevins sets unwanted mark in first career start
The New York Mets just can't seem to have anything go right for them. On Sunday, thanks to regular starter Jason Vargas landing on the disabled list, the Mets opted to go with a bullpen day as they faced the Los Angeles Dodgers. Lefty specialist Jerry Blevins got the call to start for the first time in his career as the Mets tried to piece together the game. It did not go well. Blevins gave up back-to-back home runs to Enrique Hernandez and Max Muncy to open the game, which put him in rar


Las Vegas thinks LeBron James signing with Lakers is a 'sure thing'
Several NBA reporters have insisted that LeBron James has not yet decided where he will sign as a free agent this summer, but oddsmakers in Las Vegas obviously are not buying it. The gambling odds for where LeBron is going to end up this summer seem to be favoring the Los Angeles Lakers more by the day. As of the weekend, they were the overwhelming favorites to sign LeBron at -325. Vegas views James re-signing with the Cleveland Cavaliers as the second most likely result, though the odds of tha


Argentina player denies widespread reports of rift with manager
To say that the Argentina camp at the World Cup is in a sorry state is probably an understatement. On Sunday, defender Javier Mascherano was forced to deny a flurry of reports indicating that manager Jorge Sampaoli had lost the confidence of the team after their crushing 3-0 defeat to Croatia last week. Mascherano confirmed during press conference that there is no rift aamong Argentina players and players have no problem with Sampaoli, at all. pic.twitter.com/dnIDMMSRw1 — Argentina Footb


Cubs' Yu Darvish set for rehab assignment
Chicago Cubs pitcher Yu Darvish is inching closer to a return to action after a month of being sidelined. Darvish, who has been battling triceps tendinitis, will make his first rehab start on Monday, according to Gordon Wittenmyer of the Chicago Sun-Times. Darvish will head out today for South Bend for rehab start Monday. — Gordon Wittenmyer (@GDubCub) June 24, 2018 It's not clear how many rehab starts the Cubs will want Darvish making, and they may ultimately play it by ear. Init


Report: Egypt star considering quitting international soccer for unusual reason
Egypt star Mohamed Salah is reportedly considering quitting international football as he feels he has been used by his country for political gain, according to reports. According to John Sinnott and Alireza Hajihosseini of CNN, Salah feels "exposed" after being photographed with Ramzan Kadyrov, the leader of Chechnya, where the Egyptian team trained during the World Cup. Kadyrov has been criticized for his repressive leadership and comments against same-sex relationships. However, h


England must resist temptation to change
With a round-of-16 spot assured for England, Thursday's match against Belgium presents a quandary. But England shouldn't veer from what's put them in this position.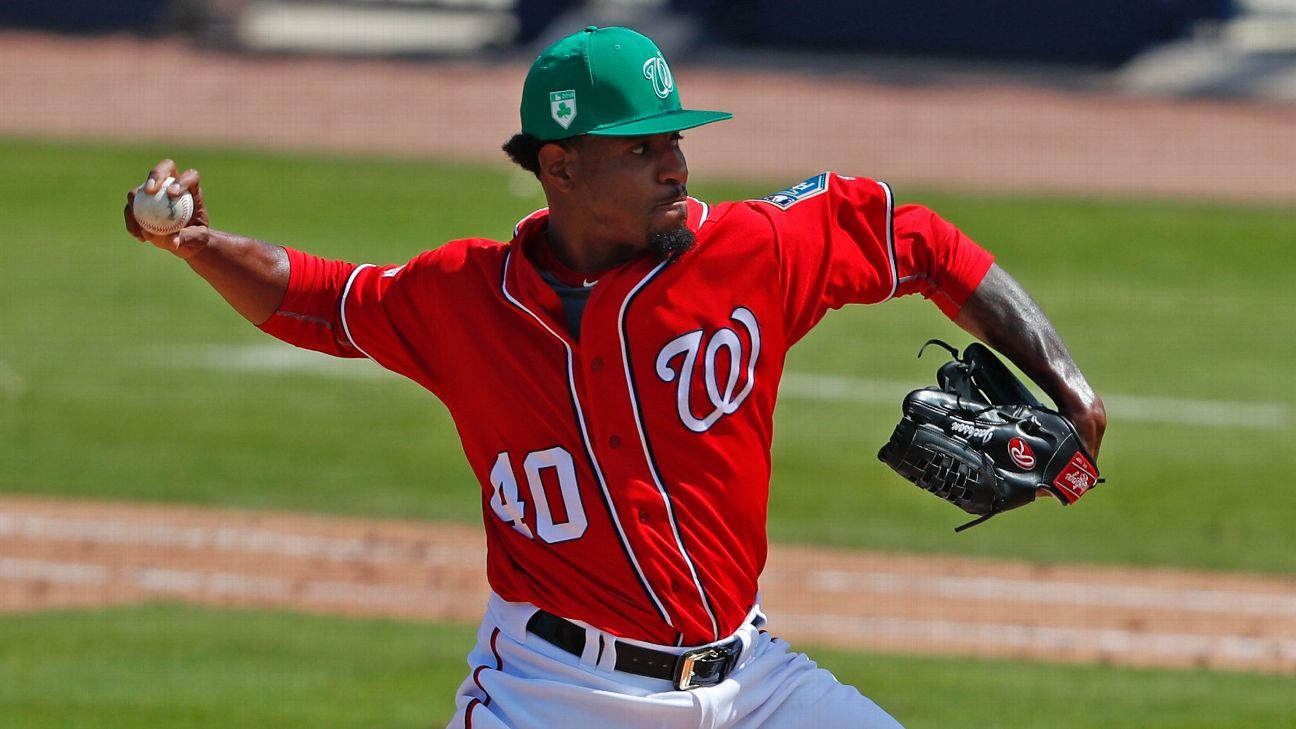 Report: P Jackson to join A's, record 13th team
Veteran right-hander Edwin Jackson will pitch for an MLB-record-tying 13th team, as the Athletics plan to call him up for Monday's game against the Tigers, the San Francisco Chronicle reported.


Manny Pacquiao's camp says they found weakness in Matthysse's style
Manny Pacquiao should be well-positioned entering his fight against Lucas Matthysse next month. Pacquiao's strength and conditioning coach Justine Fortune told The Manila Times that they have studied film on Matthysse and found some weaknesses they plan to exploit. "We've been watching tapes of Matthysse's latest fights, including his losses to (Victor) Postol and (Danny) Garcia, the past several days and we've found several defects and weaknesses in his style, which we'll try t...


Willson Contreras says ejection was because he did not thank umpire
Saturday's game between the Chicago Cubs and the Cincinnati Reds apparently featured one of the more ridiculous ejections in recent memory. During the fourth inning of the contest, Cubs bench coach Brandon Hyde was ejected by plate umpire Greg Gibson. Catcher Willson Contreras revealed after the game that the ejection was because he (Contreras) did not thank Gibson for granting him a timeout during an at-bat. An irritated Gibson seemed to chastise the catcher for his perceived lack of man


Giannis Antetokounmpo is cracking sex jokes again
Giannis Antetokounmpo cannot resist making those sex jokes. The Milwaukee Bucks star was on Instagram Live answering questions from fans. One question he was asked was whether he plays Fortnite. His response was classic. Giannis was asked on IG live if he plays #Fortnite. The answer he gave was straight savage. pic.twitter.com/A62oHvZlcp — BJ Boyer (@wcb94_) June 23, 2018 If that type of humor from surprises you, then you must have missed his Valentine's Day present video.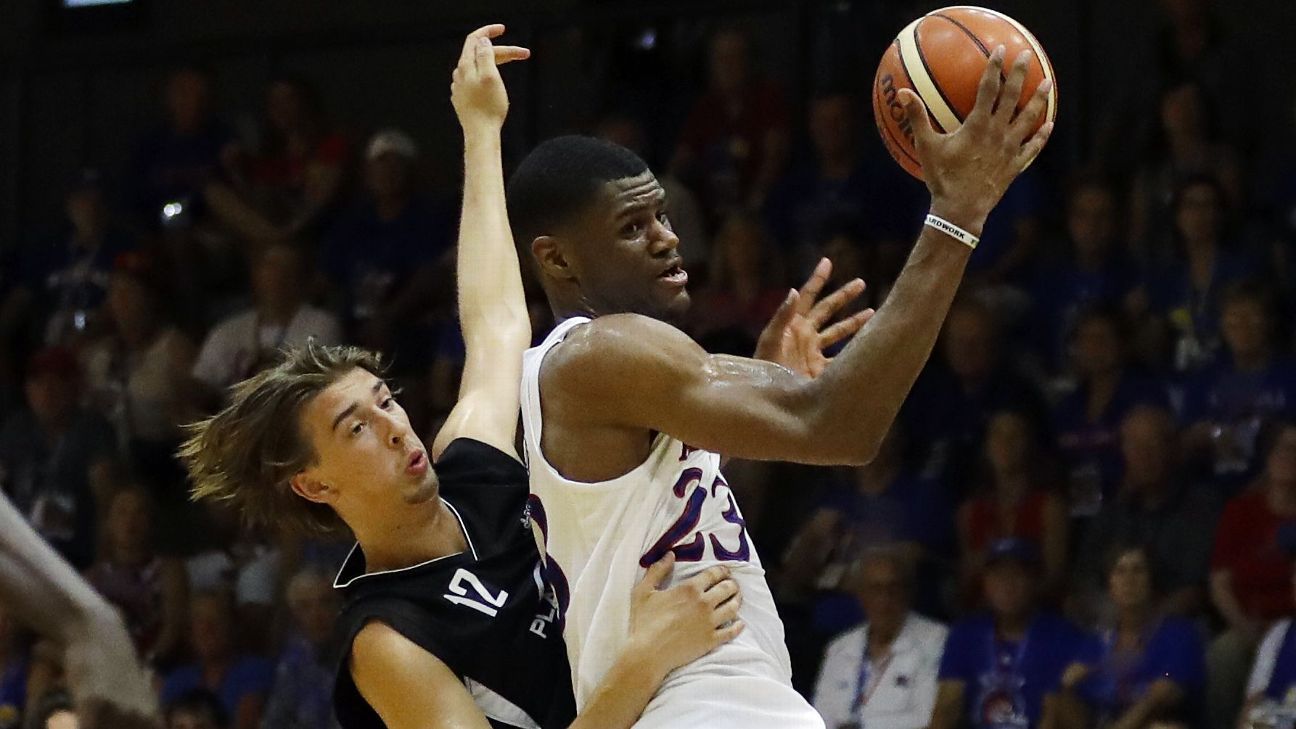 Sources: Cavs add ex-5-star KU recruit Preston
Billy Preston, a former five-star recruit whose career at Kansas was derailed by an NCAA investigation into his eligibility, has agreed to join the Cavs' summer league roster, sources told ESPN.


Minor league team goes viral with sugary hot dog
The Erie Sea Wolves created a frenzy online with one of their concoctions on "Sugar Rush Night." The Sea Wolves, a Double-A affiliate of the Detroit Tigers, decided to serve some foods in cotton candy. The ice cream ball wrapped in cotton candy made sense: Waiting for @erie_seawolves game to start so thought I'd try the cotton candy ice cream ball @noahcappe pic.twitter.com/uh8OqlCbfq — Kathleen (@baseballnbball) June 23, 2018 What was more daring was their hot dog topp


Trevor Bauer shares his favorite thing to do as a pitcher
Trevor Bauer is known for being a big strikeout pitcher, so it's no surprise that he gets a lot of enjoyment out of recording punchouts. Bauer allowed just one run over 6.1 innings on Saturday in the Cleveland Indians' 4-1 win over the Detroit Tigers. He struck out 11 giving him six double-digit strikeout games in his last eight starts. After the game, Bauer said that striking batters out is what he enjoys most. Trevor Bauer has a 1.93 ERA with 13.3 K/9, 37.7 K% (83 K in 56 IP) o


Charles Barkley questions the competition Luka Doncic faced
Charles Barkley isn't sold yet on Luka Doncic. Entering Thursday's NBA Draft, Barkley said he wouldn't have taken Doncic with one of the top two picks. The TNT analyst says he has nothing against the Slovenian teenager, but Barkley questions the level of competition Doncic faced in Europe. Chuck made his comments during an appearance on Scot Pollard's "Planet Pollard Podcast." "I don't trust the foreign competition. I have nothing against foreign


Berchelt dominates Barros in 3rd-round KO
Junior lightweight world titleholder Miguel Berchelt defeated Jonathan Victor Barros in a third-round knockout victory Saturday night in Merida, Mexico, to retain his title for the third time.


Kershaw satisfied with performance in DL return
Dodgers ace Clayton Kershaw came off the disabled list and allowed two runs in three innings against the Mets on Saturday. He threw 55 pitches, starting out strong before laboring through his final inning.


10 NFL players who should be considering retirement
Some say that the NFL stands for "Not For Long," and the reasons for that are obvious. Football is a dangerous game played by some of the strongest and fastest athletes in the world. Most NFL careers are understandably short at an average of between 3-6 years, with the higher number projected by the NFL and the lower number projected by the NFLPA. In some cases, players exceed those numbers, but Father Time catches up with everyone. And quite often, that's a hard pill to swall


Dwight Howard says he found out about trade via Instagram
Dwight Howard learned during the week that he will be playing for his sixth team in eight seasons following a trade from Charlotte to Brooklyn. While that is certainly newsworthy, what's also interesting is the way he learned about the trade. Howard said in a radio interview on "Steve Gorman SPORTS!" on FOX Sports Radio during the week that he learned about the deal through a comment on Instagram. "Well with the situation of me getting traded, one it was kind of blindsid


Report: New Lane Kiffin contract does not change one key figure
Lane Kiffin signed a ten-year contract extension at Florida Atlantic this week, but judging by one important point in the deal, it doesn't seem like it should be taken as a guarantee that he'll be at the school long-term. According to Chuck King of OwlAccess.com, which obtained a copy of Kiffin's new deal, much is unchanged in the new contract. That includes his base salary, though he is entitled to a number of bonuses based on performance. He'll also receive financial b


Watch: Rockies legend dumbfounded by Arenado's awesome play
This weekend saw one Colorado Rockies All-Star infielder impressing another. Rockies legend Todd Helton was guesting in the broadcast booth for a game against the Miami Marlins on Saturday when third baseman Nolan Arenado pulled off an insane defensive play. Arenado moved way to his left to cut off a groundball off the bat of Starlin Castro and get the force out at second base. For his part, Helton sounded pretty bewildered by the show of range. Todd Helton watching Nolan Arenado: "JesusR...


Islanders GM has 'no disappointment' in John Tavares for considering options
John Tavares will be the top option in NHL free agency this summer, but after spending his entire career with the New York Islanders, he's ready to listen to pitches from other teams. The Islanders themselves are comfortable with that. Islanders general manager Lou Lamoriello isn't reading anything into an announcement from Tavares's agent that the former No. 1 pick will meet with five other teams once his contract officially expires. "I have no disappointment. No discou


Belgium's Romelu Lukaku does not think ankle issue is serious
Belgium striker Romelu Lukaku does not think the ankle injury he suffered during Saturday's game against Tunisia is serious. Lukaku limped off around the hour mark after scoring twice during the 5-2 victory, but he said after the match that he fully expects to be ready to go when Belgium face England on Thursday. "I am a quick healer," Lukaku said, via Julien Laurens of ESPN FC. "I will see how I feel tonight and tomorrow with the medical staff. I am not too worried. I a


Mavs drafted Kostas Antetokounmpo with an eye on Giannis?
The Dallas Mavericks selected Giannis Antetokounmpo's younger brother Kostas with the No. 60 overall pick in this year's draft, and one prominent NBA figure believes that the choice was hardly a coincidence. During NBA TV's coverage of the draft this week, former Cleveland Cavaliers general manager David Griffin gave his thoughts on the Mavs' picking Kostas. "They're going to want to be a player in free agency and max free agency when Giannis Antetokounmpo is


Dwyane Wade has lofty ownership ambition after playing career ends
Dwyane Wade wants to own an NBA team when his playing career ends, but not just any franchise. Wade said in a recent interview with Joel Weber of Bloomberg that he wants to be part of an ownership group that brings the SuperSonics back to Seattle. "I definitely want to be a part of ownership in the NBA," Wade said. "I'm not going to try to buy a team. I don't have that kind of bread, but I definitely want to be a part of a great ownership group. NBA Commissioner Ad


Jim Harbaugh has amazing advice for Michigan players on avoiding fumbles
Jim Harbaugh is a very intense man, and very football-focused, so it's probably not really a huge surprise that an act as simple as carrying a baby could inspire him to give his football players a lesson. You see, ball security is important to the Michigan football coach, and what better example for Harbaugh to use to give a lesson on not fumbling than carrying his infant child? Jim Harbaugh telling the Michigan football team how to avoid turnovers has me laughing: pic.twitter.com/Y3XnuC


Brazil captain defends Neymar's emotional reaction after victory
There were some raised eyebrows after Neymar dropped tohis knees in tears after Brazil's 2-0 victory over Costa Rica in Friday's World Cup action, with some believing that what should have been a routine win did not warrant such a response. Neymar's teammates, however, defended him after the game, with Thiago Silva, the team's captain for the evening, stating that a late-season injury that looked like it might jeopardize his World Cup played into a lot of pressure. ̶


Islanders OK with Tavares fielding options
Islanders general manager Lou Lamoriello isn't disappointed that star John Tavares is talking with other teams, and says that the team can "hope in the end he's an Islander."


Report: Sixers 'doing everything they can' to clear cap space for LeBron James
There is little doubt that the Philadelphia 76ers have serious interest in bringing in LeBron James this summer. According to Zack Rosenblatt of NJ.com, the Sixers are "doing everything they can" to clear enough cap space to sign James to a max contract. It isn't clear what these moves would be, but it's a clear indication that James is on their radar. There are definitely obstacles to be overcome. The Sixers are still working without a full-time general manager, and the


Red Sox manager 'surprised' by Hanley Ramirez investigation rumors
Alex Cora is just as taken aback by the recent rumors surrounding Hanley Ramirez as the rest of us are. Addressing reporters on Friday, the Boston Red Sox manager said that he was "surprised" by allegations that the ex-Sox slugger was under federal and state investigation, per Chris Cotillo of MLB.com. Cora also said that he hoped the rumors were not true and reiterated that the team had no prior knowledge. News broke earlier in the day on Friday that the three-time All-Star Ramirez


Report: US Open to factor pregnancy in seeding
Amid criticism of its handling of Serena Williams' seeding at the French Open, the USTA has announced that the U.S. Open will consider a player's pregnancy when seeding at the upcoming major, according to the New York Times.


Report: LiAngelo Ball not talented enough for Lakers' summer team
LiAngelo Ball's exclusion from the Los Angeles Lakers' summer league team may have been due to an issue of talent. Leading up to Thursday's NBA Draft, Ball held workouts with a couple of teams, including the Lakers, for whom his brother, Lonzo, plays. That may be the extent of Ball's association with the Lakers moving forward. The Athletic's Bill Oram reported on Friday that a Lakers source told him LiAngelo was left off the summer league team because of a lack of


Winners and losers of draft weekend
While 217 prospects found new homes, the weekend also had trades, free-agent decisions and lots of chatter. Here's who came out ahead -- and behind.


Breaking down the Sonoma starting lineup
Kyle Larson won his second pole of the season. Martin Truex Jr. will start next to him on the front row. Take a driver-by-driver look through the field for Sunday's Cup series race.


White Sox not happy with Reynaldo Lopez's 'clowns' comment
The Chicago White Sox are enduring yet another miserable season, and now the frustration seems to be spilling over into the locker room as well. After the Sox got thumped by the Cleveland Indians 12-0 on Wednesday, righty Reynaldo Lopez, who started and took the loss, vented to reporters. "It's unacceptable for us to look the way we looked today," said Lopez, per MLB.com's Scott Merkin. "Nobody is happy about the way we looked today. Honestly, we looked like clowns there, starting...


Watch: Cardinals, Brewers in bench-clearing incident
The St. Louis Cardinals and Milwaukee Brewers were involved in a bench-clearing incident during Friday's game. During the eighth inning, Brewers shortstop Hernan Perez bunted a pitch that was fielded by Cardinals pitcher Jordan Hicks. Hicks threw to second base to record the force out of runner Eric Sogard, who collided with shortstop Yairo Munoz. Sogard seemed unhappy with the contact and the two appeared to exchange words. The dugouts and bullpens of both teams emptied in response. The


Avalanche plan to buy out Brooks Orpik
The Colorado Avalanche are not planning to keep Brooks Orpik around for long. The Avs acquired Orpik and goalie Philipp Grubauer in a trade with the Washington Capitals on Friday. Washington made the move in an effort to clear cap space to re-sign John Carlson. Colorado wanted Grubauer and plans to buy out Orpik. Joe Sakic confirms #Avs intention to flip or buyout newly acquired D Brooks Orpik: "I told him I owed him the respect to let him know that the plan is to buy him out and let him be a


Houston billboards recruit LeBron James to Rockets
Billboards aimed at recruiting LeBron James to join the Rockets have gone up around the Houston area. Later this month, James can opt out of his contract with the Cleveland Cavaliers and become an unrestricted free agent, meaning he would be able to sign with any team of his choosing. Should James exercise that option, he would become the most sought-after player in the NBA. A billboard appeared in New York back in April with hopes of convincing James to join the Knicks. Now, Houston is getting


Flyers GM says team wants to extend Wayne Simmonds
Philadelphia Flyers GM Ron Hextall says the team wants to sign Wayne Simmonds to a contract extension despite trade rumors surrounding the winger. Hextall made his comments during Friday's draft, saying the team is "going to try and sign" Simmonds, via Elliotte Friedman. Ron Hextall on Wayne Simmonds, "We're going to try and sign him." — Elliotte Friedman (@FriedgeHNIC) June 23, 2018 Simmonds is under contract for $5 million next season, with a cap hit of just un...


C-Webb to appear at U-M after Harbaugh invite
With the NCAA's 10-year ban on Chris Webber having recently been lifted, the former Wolverines basketball star accepted Jim Harbaugh's invitation Friday to attend a football game at The Big House this season.


Watch: Cubs pitcher tells Anthony Rizzo to shut up after diving catch
WGN cameras caught Chicago Cubs reliever Justin Wilson telling teammate Anthony Rizzo to shut up on Friday. Wilson was pitching for the Cubs in the bottom of the seventh against the Cincinnati Reds. He put the first three batters on and surrendered a run to make it 5-3 before helping himself out with a diving catch on a bunt. During a meeting at the mound following the catch, Wilson could be seen telling Rizzo to "shut up." Anthony Rizzo busting Justin Wilson's balls after a di