Diamondbacks assured Rockies they will not lay down for Dodgers
The Arizona Diamondbacks have given assurance that they will not lay down in their series against the Los Angeles Dodgers. The Diamondbacks began a three-game series with the Dodgers on Monday that has an impact on more than just the two teams involved. Arizona is in third place in the National League West but has been eliminated from playoff contention. Los Angeles is the division leader. Sandwiched between the two are the Colorado Rockies, who entered play on Monday just 1.5 games back of the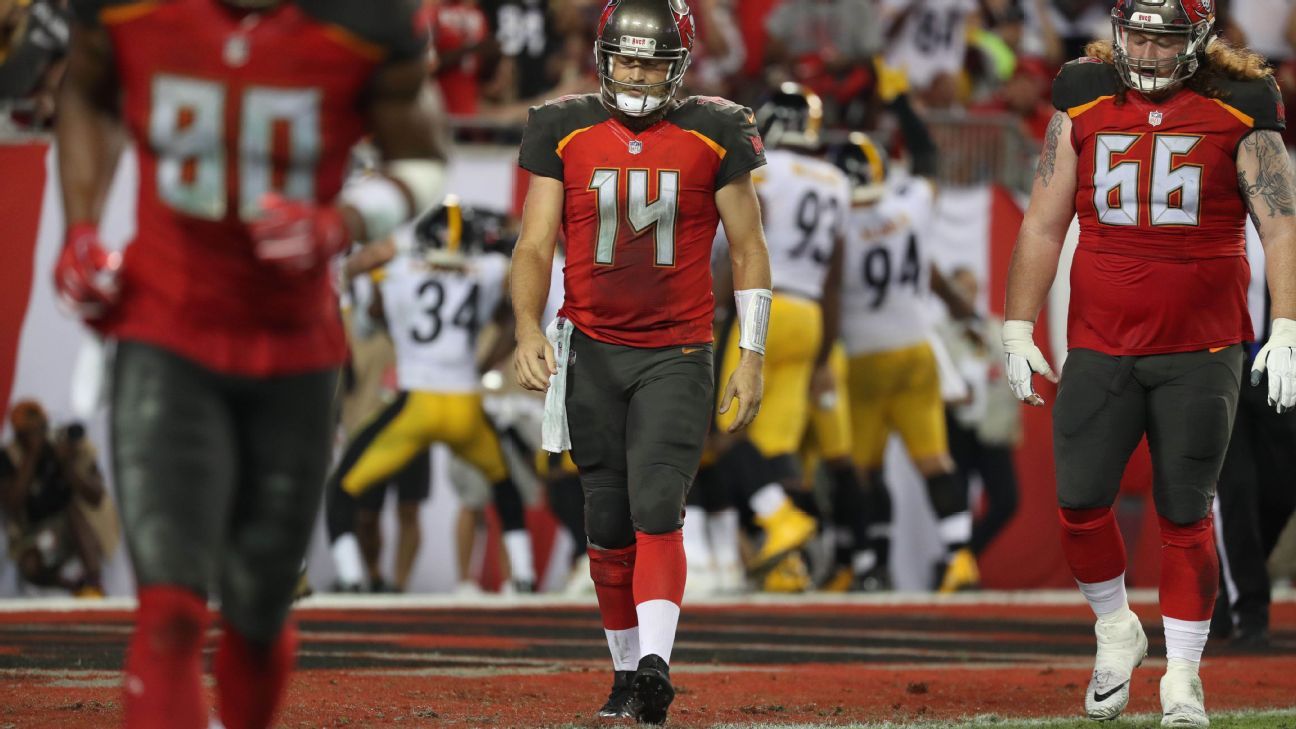 FitzMagic runs out, but QB still throws for 411
Bucs QB Ryan Fitzpatrick, whose "FitzMagic" was the talk of the NFL the first two weeks, struggled early with three first-half interceptions Monday night but still managed to engineer a late rally that came up just short in a 30-27 loss to Pittsburgh.


Report: Everson Griffen threatened to shoot someone at hotel
Everson Griffen was involved in an incident at a Minneapolis hotel on Saturday prior to the Vikings' home game against the Buffalo Bills on Sunday. Griffen was not present for the team's game on Sunday due to what the team termed a personal matter. Though he had already been ruled out of the game due to a knee injury, the circumstances behind his absence led to plenty of questions. According to KSTP, the ABC affiliate in Minneapolis, Griffen was at the Hotel Ivy on Saturday and verb


Lack of space between end zone and wall is safety hazard in NFL
The NFL needs to consider some uniform NFL stadium rules to ensure the safety of players. Those watching "Monday Night Football" between the Tampa Bay Buccaneers and Pittsburgh Steelers saw Tampa's Isaiah Johnson slam into the wall beyond the end zone during the second quarter while he was trying to make a play in coverage. RIP Isaiah Johnson #CTE pic.twitter.com/jFML9twOMD — SamZee (@SamZComedy) September 25, 2018 There simply was not enough room between the back of t


Twitter reacts to Vance McDonald's stiff arm of steel
Vance McDonald went old school on Chris Conte during the first quarter of "Monday Night Football." McDonald caught a short pass for a first down and was met by Conte, who tried to tackle him. But the Pittsburgh Steelers tight end buried Conte with a stiff arm for the ages and took the ball to the house for a 75-yard touchdown against the Tampa Bay Buccaneers. That stiff arm from Vance McDonald pic.twitter.com/QslKZJMQtT — Steve Noah (@Steve_OS) September 25, 2018 Fans absol


Cardi B reportedly in talks to do Super Bowl halftime show with Maroon 5
While the NFL has not made the official announcement, it has been widely reported that Maroon 5 has reached an agreement to headline the halftime show at Super Bowl LIII in Atlanta in February. Many fans are unhappy with the choice, but would the addition of Cardi B help alleviate some of the discontent? According to a report from TMZ, Cardi B is in negotiations to join Maroon 5 on stage during the biggest American sporting event of the year. However, there is an issue over whether or not the h


Lions' Darius Slay had funny reaction to intercepting Tom Brady
Detroit Lions cornerback Darius Slay had one of the biggest plays of his team's Sunday night win over the New England Patriots, and it's a memory he won't soon forget. Slay intercepted Patriots quarterback Tom Brady during the fourth quarter of the 26-10 Lions victory, a turnover that didn't clinch the victory but all but wiped out New England's realistic chances of making a comeback. Slay, as it turned out, was mentally ready to make the interception, and he even


Aqib Talib reportedly set to miss a month with high-ankle sprain
Los Angeles Rams cornerback Aqib Talib will reportedly miss a month with a high-ankle sprain suffered Sunday. Talib injured himself during Sunday's game against the Los Angeles Chargers, and the sprain is severe enough that, according to ESPN's Adam Schefter, he will miss at least a month. Rams' CB Aqib Talib suffered a high-ankle sprain Sunday that will sideline him at least one month, and Rams CB Marcus Peters strained his calf and is considered day to day, though with a Thursd...


Colts coach insists there is no concern over Andrew Luck's arm strength
Andrew Luck has now played in three games since returning from a shoulder injury that cost him the entire 2017 season, and the results have been mixed. On paper, Luck has not been awful. But to those who watched him before he underwent surgery, he seems like a much different player. Luck is averaging a career-low 5.3 yards per completion this season, which has led to questions about his arm strength. Colts head coach Frank Reich insisted on Monday that the team has "no concerns" in


Report: Chiefs have been persistent in inquiring about Earl Thomas
The Kansas City Chiefs have been the best offensive team in the NFL through the first three weeks of the season, and they are apparently determined to get better on the other side of the ball as they look to contend for a Super Bowl. ESPN's Chris Mortensen reported on Sunday that the Chiefs have "emerged as a candidate" to trade for All-Pro safety Earl Thomas if the Seattle Seahawks decide to move him. It's unclear if the Chiefs and Seahawks have had actual discussions a


Baker Mayfield has lofty aims after winning Browns' QB job
Baker Mayfield is officially the starting quarterback of the Cleveland Browns, and he has more than just winning games on his agenda. Mayfield took the promotion in stride Monday, saying that he's aiming to change the culture in Cleveland, not just lead the team to wins. "I didn't come here just to win one game, and I didn't come here just to start the next," Mayfield said, via Pat McManamon of ESPN. "We're building a franchise here, and we're tur


Spurs hoping Manu Ginobili joins team's coaching staff
The San Antonio Spurs lost another key franchise cornerstone this offseason when Manu Ginobili announced his retirement, but they are hoping the four-time NBA champion is still very much a part of the team going forward. On Monday, Gregg Popovich revealed that Ginobili joined him and the Spurs' other coaches on the team's coaching retreat last week. While no official announcement has been made in regard to Ginobili joining the staff, ESPN's Adrian Wojnarowski says Pop and the


Kristaps Porzingis unsure if he will miss entire season with ACL injury
Kristaps Porzingis is still rehabbing from a torn ACL he suffered back in February, and there has been plenty of talk about him potentially missing some or all of the 2018-2019 season. Unfortunately for New York Knicks fans, Porzingis is not ready to rule that out. While speaking with reporters on Monday, Porzingis was asked if there is a chance he won't play at all this upcoming season. His answer was a bit concerning. Kristaps Porzingis asked if there's a chance he sits out the who


Browns officially name Baker Mayfield starting QB
The Cleveland Browns have made official what we all knew was coming, and Baker Mayfield will be making his first NFL start when the team travels to Oakland to face the Raiders next weekend. On Monday, Browns head coach Hue Jackson said Mayfield will start in Week 4. However, he stopped short of naming the rookie the starter for the remainder of the 2018 season. Is Baker Mayfield the starter for this week or for the season? Hue: "He's the starting quarterback of this football team." Lot of


Richard Sherman blasts NFL focus on protecting QBs
After a Miami Dolphins defensive lineman's season was ended while trying to stay within the NFL's new roughing the passer rules, Richard Sherman is blasting the league's priorities. It started when Dolphins lineman William Hayes tore his ACL after his foot got caught in the ground attempting to avoid putting his full weight on the quarterback, which would be penalized under the new NFL rules. Dolphins DL William Hayes tore his ACL, he's out for the season. Big loss. It happ...


Mike D'Antoni won't commit to starting Carmelo Anthony
Carmelo Anthony certainly doesn't want to come off the bench, but the Houston Rockets might not give him a choice. Rockets coach Mike D'Antoni said Monday that he has yet to decide if Anthony will start for the Rockets or come off the bench, saying he prefers to wait and see how his pieces best fit together. Mike D'Antoni is leaving it open on whether Melo starts or comes off the bench: "We'll see how it fits. I don't know how they play together, they fit together." &mdas...


Richard Sherman will reportedly miss 2-3 weeks with calf injury
San Francisco 49ers cornerback Richard Sherman will miss some time with a calf strain, but not a serious one. According to Jordan Schultz of ESPN, Sherman underwent an MRI and will be out 2-3 weeks with a strained calf suffered in Sunday's loss to the Kansas City Chiefs. Richard Sherman will be out 2-3 weeks with a calf strain, after his MRI, per source. @RSherman_25 #49ers — Jordan Schultz (@Schultz_Report) September 24, 2018 The 49ers are certain to lose Sherman when they face t


Shohei Ohtani sings 'Despacito' for Angels rookie hazing
Hazing of rookies may not be quite as ruthless as it once was in the world of professional sports, but the Los Angeles Angels showed us over the weekend that you can still come up with plenty of friendly ways to embarrass the less experienced guys in the clubhouse. And no player is exempt. In order to pay his dues, Shohei Ohtani was forced to stand up on the team bus and sing the hit song "Despacito" in front of his teammates. Enjoy: Morning everyone! I bless you with Shohei Ohtani


Virginia Tech QB Josh Jackson needs surgery on fibula fracture
Virginia Tech quarterback Josh Jackson suffered a severe injury in Saturday's upset loss to Old Dominion. Hokies coach Justin Fuente announced Monday that Jackson fractured his left fibula on a running play in the fourth quarter of Saturday's game, and will require surgery. No timetable was announced for his return, but it's quite clear that Jackson will face an extended absence. Justin Fuente says QB Josh Jackson has a fracture to his left fibula and will have surgery tomor


Ohio State star Nick Bosa will not be ready for Penn State game
The Ohio State Buckeyes will be without star defensive lineman Nick Bosa in their big game against the Penn State Nittany Lions. Coach Urban Meyer confirmed Monday that it will be "a few more weeks" before Bosa is ready to play again, and will not be able to take part at ninth-ranked Penn State. Nick Bosa is still not ready. "It's going to be a few more weeks," Meyer said. — Ari Wasserman (@AriWasserman) September 24, 2018 Bosa left Ohio State's game against TCU a


Ezekiel Elliott: Cowboys defeat 'is on me'
On the surface, Ezekiel Elliott put up a solid day on Sunday, rushing for over 100 yards against the Seattle Seahawks. However, in his mind, two major mistakes meant he was at fault for Dallas's defeat. An illegal touch on his part negated a 31-yard touchdown in the second quarter, and his fourth quarter fumble stalled Dallas's comeback attempt in their 24-13 loss to the Seahawks. "I had a poor performance today," Elliott said, via ESPN's Todd Archer. "Did we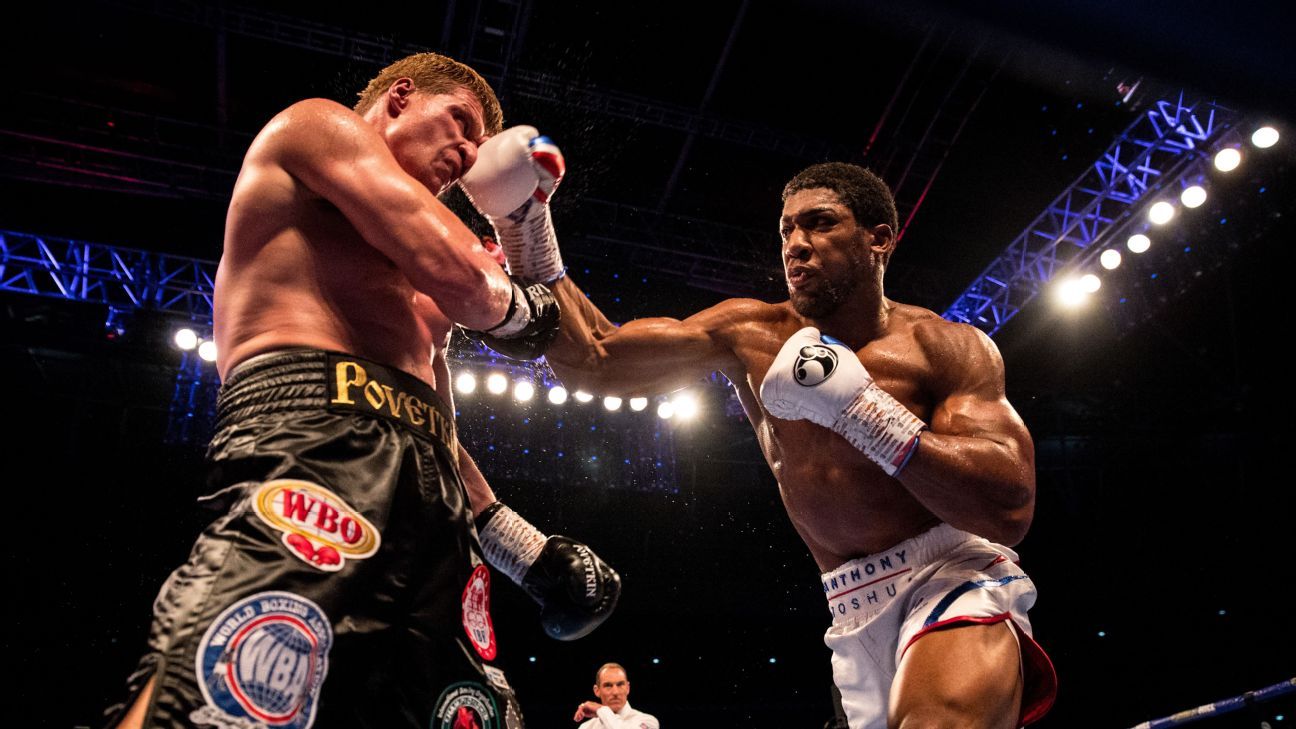 Joshua vs. Wilder next? Don't get your hopes up
Unified heavyweight world titlist Anthony Joshua scored an exciting seventh-round KO of Alexander Povetkin and kept alive the prospect of an undisputed championship fight with Deontay Wilder. Just don't count on that fight being next, writes Dan Rafael.


Fins' Hayes tears ACL trying to avoid sack flag
Dolphins defensive end William Hayes tore his ACL making a sack on Raiders quarterback Derek Carr on Sunday. Coach Adam Gase said Monday, "He was trying to not put his body weight on the quarterback and that happened."


Jerry Jones still has a 'lot of confidence' in Cowboys' offense
The Dallas Cowboys' offense has not inspired much confidence this season, but Jerry Jones still has not lost his faith. Jones was asked after the team's 24-13 loss to Seattle on Sunday for his thoughts on offensive coordinator Scott Linehan. The team owner said he still has a "lot of confidence" that they can turn things around. Jerry Jones on Scott Linehan: "There is no vote of confidence, no lack of confidence There is no anything. We're 1-2. We're not hitting on ...


Watch: Sister Mary Jo's encore first pitch did not go so well
Sister Mary Jo wowed fans with an impressive ceremonial first pitch prior to a Chicago White Sox game earlier this year, but her encore performance didn't go as well. The White Sox invited the pride of Marian Catholic to throw out the first pitch before Saturday's White Sox-Cubs game. Just like her first pitch a month earlier, Sister Mary Jo bounced the ball off her arm before firing in her pitch. Only this time, her pitched bounced before reaching the catcher. Sister Mary Jo from


Karl-Anthony Towns jokes with John Calipari after contract news
Karl-Anthony Towns had some jokes for John Calipari after his big contract news was shared on Saturday. News emerged that Towns had agreed to a five-year extension with the Minnesota Timberwolves that could be worth as much as $190 million. His college coach at Kentucky, Calipari, sent a tweet expressing congratulations for Towns. Towns wrote back with a joke about Calipari holding him back in college. Maybe you didn't hold me back as much as I thought #loveyoucoach #appreciateyou — K...


Rob Gronkowski confirms report about his retirement threat
Rob Gronkowski confirmed an interesting report that emerged on Sunday morning. Early on Sunday, ESPN's Adam Schefter reported that the Detroit Lions were going to acquire Gronk in a trade with the New England Patriots. According to Schefter, the trade fell through because Gronk threatened to retire, saying he would refuse to play for anyone other than Tom Brady, Bill Belichick and the Patriots. After the Patriots lost to the Detroit Lions on Sunday night, Gronk confirmed the report was ac


Shaq destroys Dwight Howard on Instagram after trolling him
Shaq absolutely annihilated Dwight Howard on Instagram Sunday. Things began when Shaq trolled Howard with a video from rap battle show "Wild 'n Out." View this post on Instagram Dam lol A post shared by DR. SHAQUILLE O'NEAL Ed.D. (@shaq) on Sep 23, 2018 at 8:24am PDT Howard responded to Shaq by commenting "we can have a roast battle if you want. I got 10 in the chamber for you lol." Shaq then went full savage on Dwight


15 biggest disappointments of NFL Week 3
Week 3 of the NFL was not kind to some favorites, as the Minnesota Vikings and Jacksonville Jaguars headlined the list of surprising losers on Sunday. They were hardly the only surprises of the week, however, as there were certainly some surprising moments all throughout the league, from underperforming stars to ongoing troublesome trends to, yes, roughing the passer calls. Here are 15 big disappointments from Week 3 of the NFL season. New England Patriots Woof. The Patriots are looking worse a


Bills troll everyone on Twitter after surprise win
The Buffalo Bills' social media team had a lot of fun on Twitter following their unexpected victory over the Minnesota Vikings on Sunday. The Bills went into Sunday's game winless and facing a team many considered to be a Super Bowl contender. To nearly everyone's surprise, Buffalo raced out to a 27-0 first half lead and went on to win 27-6. After the victory, the Bills' Twitter account was happy to troll those who didn't have faith in them. They mocked ESPN pundi


Bill Snyder had harsh quote about his Kansas State team
Bill Snyder had a harsh quote about his Kansas State Wildcats following Saturday's loss to West Virginia. Snyder's squad is 2-2 on the season, with lopsided losses to Mississippi State and the Mountaineers. One call that backfired on the team was the decision to go for it on 4th-and-inches near midfield down 7-0 in the second quarter. The team got stopped, and then WVU turned around scored two touchdowns on them to go into halftime up 21-0. "I went in the locker room and I accepte...


Watch: Patriots defense calls out Lions' play
The Detroit Lions must be in denial about opposing teams figuring out their offensive signals. During the first quarter of Sunday night's game, the New England Patriots' defense was heard calling out a Lions play before it happened. "It's a toss," the Patriots said. The Pats then blew up the Lions' toss for a big loss. "It's a toss." – NFL Defenses around the league know the #Lions play-calls before the snap, just like the #Jets said on Week 1pic


Watch: Bill Belichick snubs young Lions fans
Bill Belichick has never had a reputation for being a friendly guy, but his treatment of a couple of young Detroit Lions fans before Sunday night's game took things a bit too far. As Belichick was walking onto the field at Ford Field before the New England Patriots' game against the Lions, the Pats head coach snubbed two Lions fans who had their hands out for a high-five: Belichick has absolutely no time for children pic.twitter.com/P99XM91EF3 — Eric Hubbs (@BarstoolHubbs) Se


Redskins DE defends Clay Matthews over hit: 'That's not a flag'
Clay Matthews once again finds himself in the middle of a controversy over a roughing the passer penalty, and this time he has support from an unlikely place. Jonathan Allen, a defensive end for the team that benefited from the call on Sunday, said after the game that Matthews' hit on Alex Smith should not have resulted in a penalty flag. One more on the Clay Matthews roughing the passer penalty. This time from #Redskins DE Jonathan Allen: "That's not a flag. I'm sorry. I'm glad we...


Earl Thomas trolls Cowboys with bow after second interception
Earl Thomas told the Dallas Cowboys to trade for him. They didn't, so he made them pay on Sunday. Thomas had two interceptions in the Seattle Seahawks' win over the Cowboys. The second one came in the final few minutes of the game when Thomas hauled in a tipped ball for the takeaway. Take a bow for that INT, @Earl_Thomas #DALvsSEA pic.twitter.com/A3m6k7vZcE — NFL Network (@nflnetwork) September 23, 2018 Thomas gave a bow towards the Cowboys' bench after that play, maki


Report: Heat aggressively pursuing Jimmy Butler trade
Jimmy Butler trade talks are heating up, with one Eastern Conference team apparently looking to make a splash in the market. According to Adrian Wojnarowski of ESPN, the Miami Heat have been "as aggressive as any team" in discussing a Butler trade with the Minnesota Timberwolves. So far, Pat Riley and Miami have been as aggressive as any team in pursuit of a Jimmy Butler trade with Minnesota, league sources tell ESPN. Ownership still prefers to find a deal by early this week, sourc


Adrian Beltre still unsure about retirement after 'weird day'
Adrian Beltre had mixed emotions on what may have been his final home game as a member of the Texas Rangers. Beltre has openly contemplated retirement, stating this season that he's not sure if he will be back next season. With that in mind, the Rangers decided to take him out in the middle of Sunday's home finale against the Seattle Mariners to give him a moment to receive the recognition from his teammates and fans that he deserves. An incredible scene at Globe Life Park as Adria


Seattle's Thomas expects fine for 2 no-shows
Two no-shows at practice. Two interceptions vs. Dallas. It was a bizarre week for Seahawks' S Earl Thomas, who says he expects a fine for missing practice. "I'm invested in myself. If they was invested in me, I would be out there practicing," he said.


Colts bring in Jacoby Brissett over Andrew Luck for Hail Mary attempt
The Indianapolis Colts had one last chance to beat the Philadelphia Eagles on Sunday with a Hail Mary attempt as time expired, and they did not feel that Andrew Luck was the quarterback on their roster with the best chance to make the play. Trailing 20-16 and near midfield, the Colts needed to throw the ball into the end zone with five seconds remaining. Rather than have Luck attempt a 54-yard pass, they brought in backup quarterback Jacoby Brissett. Prior to the Hail Mary attempt, Luck had thr


Jimmy Garoppolo carted to locker room with leg injury
Jimmy Garoppolo was carted into the locker room after appearing to injure his left leg during the fourth quarter of the San Francisco 49ers' game against Kansas City on Sunday. Garoppolo took a big hit while scrambling by the sideline against the Chiefs. Prior to the hit, his left leg appeared to give out somewhat, indicating a potential knee injury. Left knee injury for Garoppolo. pic.twitter.com/qELPKnDO5B — ACL Recovery Club (@ACLrecoveryCLUB) September 23, 2018 The 49ers quart


Twitter reacts to Clay Matthews' latest roughing the passer penalty
Clay Matthews has seemingly become the poster boy for the NFL's new roughing the passer rules, and football fans are in an uproar over it. Matthews on Sunday was flagged for roughing the passer for the third consecutive week, and the general consensus has been that what he did should not constitute a penalty. Matthews did not make helmet-to-helmet contact with Washington Redskins quarterback Alex Smith or hit him in an area he shouldn't have, but the Packers star did land on Smith w


Redskins TE Jordan Reed seen making obscene gesture towards fans
Jordan Reed went viral on Sunday, and it was unrelated to anything he did on the field. FOX was televising Washington's game on Sunday against the Green Bay Packers and flashed to the sideline where quarterback Alex Smith was hanging out. In the background was Reed doing an obscene gesture towards the stands. Jordan reed noticed pic.twitter.com/WgWdXjmTMX — Ran Dussell (@DmfRuss) September 23, 2018 Reed could be facing a fine from the league considering that gesture was caught on


Clay Matthews gets another roughing the passer penalty for seemingly clean hit
The NFL has new rules in place this season for what constitutes roughing the passer, and no one is having more trouble following them than Clay Matthews. For the third week in a row, Matthews was flagged for unnecessary roughness for a hit on an opposing quarterback. Just like the play last weekend where he hit Minnesota Vikings quarterback Kirk Cousins, Matthews did not make helmet-to-helmet contact with Alex Smith or appear to do anything malicious. However, he did land on Smith with his body


Muhammad Wilkerson taken to hospital after suffering ankle injury
Muhammad Wilkerson was looking to get his once-promising career back on track with the Green Bay Packers this season, but he suffered an injury during Sunday's game that appeared to be quite serious. Wilkerson collided with a teammate in the second quarter of Green Bay's game against the Washington Redskins, and he appeared to be in serious pain. The training staff immediately put his ankle in an air cast before carting him off the field. Wilkerson was later taken to the hospital.


AJ Green leaves Week 3 game with groin injury
The Cincinnati Bengals went into Sunday's game without starting running back Joe Mixon, and they lost another star player when A.J. Green left with an injury of his own. Green landed awkwardly while trying to catch a pass early in the second half of his team's game against the Carolina Panthers, and the team announced he sustained a groin injury. He was able to walk off the field under his own power, though he was seen limping and later receiving medical attention on the sidelines.


Le'Veon Bell likes tweet indicating possible departure from Steelers
Pittsburgh Steelers running back Le'Veon Bell's Twitter likes are something of a window into his mind, and we got another glimpse on Sunday as reports flew about his future with the team. Bell liked a Tweet showing his last play from Pittsburgh's playoff loss to Jacksonville last season, referring to it as likely his final play as a member of the Steelers. pic.twitter.com/JS8lvujzb6 — Bleacher Report (@BleacherReport) September 23, 2018 Does Bell know something? Who k


Watch: Broncos' Phillip Lindsay ejected for throwing punch
Denver Broncos rookie running back Phillip Lindsay was ejected from Sunday's game against the Baltimore Ravens after throwing a punch at the bottom of a pile. After Ravens linebacker Terrell Suggs forced a strip sack of Denver's Case Keenum, the fumble pile got a bit raucous, and Lindsay threw a punch to get himself tossed from the game. Whoa. Broncos star rookie running back Phillip Lindsay threw a punch during a scrum after Suggs' strip sack, and the officials eject him. &mda


Matt Breida leaves game with apparent non-contact knee injury
Already faced with a backfield that has been heavily impacted by injury, the San Francisco 49ers may have lost yet another running back on Sunday. Matt Breida, a second-year undrafted free agent who has been the Niners' most effective rusher this season, went down in the first half of San Francisco's game against the Kansas City Chiefs with what appeared to be a knee injury. What's particularly concerning is that it looked like Breida suffered the injury before he was touched.