MLB blames Scott Boras for slow free agent market
Major League Baseball's free agent market has moved extremely slowly, with many of the top names still available. Lots of people are still trying to figure out why this is. While the obvious explanation is teams simply aren't willing to spend the money they once were, the league itself blamed superagent Scott Boras for slowing things down. "There are a variety of factors that could explain the operation of the market," MLB said in a statement to Jeff Passan of Yahoo Spor


Steelers expected to promote QB coach Randy Fichtner to offensive coordinator
The Pittsburgh Steelers are parting ways with offensive coordinator Todd Haley this offseason, and they are reportedly planning to hire from within to fill the position. According to ESPN's Chris Mortensen, the Steelers are expected to promote quarterbacks coach Randy Fichtner to offensive coordinator. Steelers are expected to promote their QB coach Randy Fichtner to offensive coordiantor, per @mortreport. — Adam Schefter (@AdamSchefter) January 17, 2018 The move does not come as


Kawhi Leonard out indefinitely again with quad injury
Kawhi Leonard has appeared in just nine games this season due to multiple injuries, and it sounds as though the 2017-18 season is going to continue to be a frustrating one for the San Antonio Spurs superstar. The Spurs announced on Wednesday that Leonard is still experiencing issues from his quadriceps injury and will be out for an "indefinite period of time." Kawhi Leonard Update: pic.twitter.com/2jb5svTAR2 — San Antonio Spurs (@spurs) January 17, 2018 Leonard missed the st


Report: Red Sox have offered JD Martinez five years, $100 million
J.D. Martinez reportedly has an offer in hand from the Boston Red Sox, and it's easy to see now why he hasn't taken it. According to ESPN's Buster Olney, Martinez has an offer from the Red Sox for roughly five years and $100 million. Source: Boston's offer to J.D. Martinez is in the range of five years, $100 million. — Buster Olney (@Buster_ESPN) January 17, 2018 This is a long way off from Martinez's reported initial demands. Even if that price has come down


Roger Goodell will once again attend NFC Championship, not go to New England
Roger Goodell has been brave enough to show his face in Foxboro since the NFL brutally botched the Deflategate scandal, but that does not mean he wants to spend any more time around Patriots fans than he has to. Just as he did a year ago, Goodell is reportedly planning to attend the NFC Championship Game this year rather than travel to New England for the AFC Championship. Just been informed by the league that Commissioner Goodell would be attending the NFC title game in Philadelphia and not c


Steve Kerr cracks jokes about defending Stephen Curry
Golden State Warriors coach Steve Kerr had to come up with another creative answer to a question he gets pretty much whenever his team faces the Chicago Bulls — which team would win a matchup against the Jordan-era icons? Kerr was a member of those Bulls, and he's dealt with these questions before — but he had a new set of lines Wednesday about defending Stephen Curry. Steve Kerr asked the usual question on how his 90's Bulls teams would fare vs Warriors. Kerr joked, "I w


Bengals fans flood Blake Bortles' charity with donations for beating Steelers
After Cincinnati Bengals quarterback Andy Dalton was the beneficiary of a charitable windfall from Buffalo Bills fans, Bengals fans are now paying it forward. The Blake Bortles Foundation, founded by the Jacksonville Jaguars quarterback, said they have seen roughly $5,000 come in from Bengals fans as a way to thank him for knocking the Pittsburgh Steelers out of the playoffs. The donations apparently came at the suggestion of Cincinnati radio host Mo Egger in the wake of a large sum given to Da


Ben Roethlisberger reportedly 'massively frustrated' with Mike Tomlin
The Pittsburgh Steelers are reportedly parting ways with offensive coordinator Todd Haley this offseason, but Haley may not be the only member of the team's coaching staff that Ben Roethlisberger has had questions about. Apparently, not all is well between Big Ben and his head coach, either. Colin Cowherd of FOX Sports Radio said Wednesday that sources have told him Roethlisberger is "massively frustrated" with Mike Tomlin. Big Ben was once again critical of Pittsburgh's


Which early-season surprises are really contenders
There might not be a single great team this season, but Oklahoma, Purdue and West Virginia have been pleasant surprises. Now we have to wait and see if they can really challenge for a national title.


Report: Steelers not expected to renew Todd Haley's contract
Even after Ben Roethlisberger did his best this week to downplay the ongoing feud between him and Todd Haley, the Pittsburgh Steelers are expected to part ways with the offensive coordinator. Ian Rapoport of NFL Media reports that Haley's contract with the Steelers has expired, and the team is not planning to bring him back. Sources: The #Steelers are allowing OC Todd Haley to walk now that he's out of his contract. Pittsburgh expected to have a new OC. — Ian Rapoport (@RapSheet)...


Where To Draft the 9 Biggest 2017 Fantasy Football Breakouts in 2018?
The dust hasn't even settled yet on last Fantasy season, but here we are, looking ahead to August! Many times we do this because the 2017 Fantasy Football breakouts are still fresh in our minds, and we want to try to understand what we should expect of them in 2018. Of course, after this season, we'd do the same thing with 2018 Fantasy Football breakouts, wondering why we didn't draft them! Taking a healthy look back on the season shouldn't be something that draws up ire and makes you m...


Leonard Fournette expected to play vs. Patriots despite ankle injury
Leonard Fournette aggravated an ankle injury in last Sunday's win over the Pittsburgh Steelers, but it is not expected to limit the star running back in the AFC Championship Game against the New England Patriots. Ian Rapoport of NFL Media reported on Wednesday that Fournette has actually been dealing with the same ankle injury for much of the season. While he briefly left Jacksonville's game against the Steelers, he is planning to practice in full this week. From our live Champions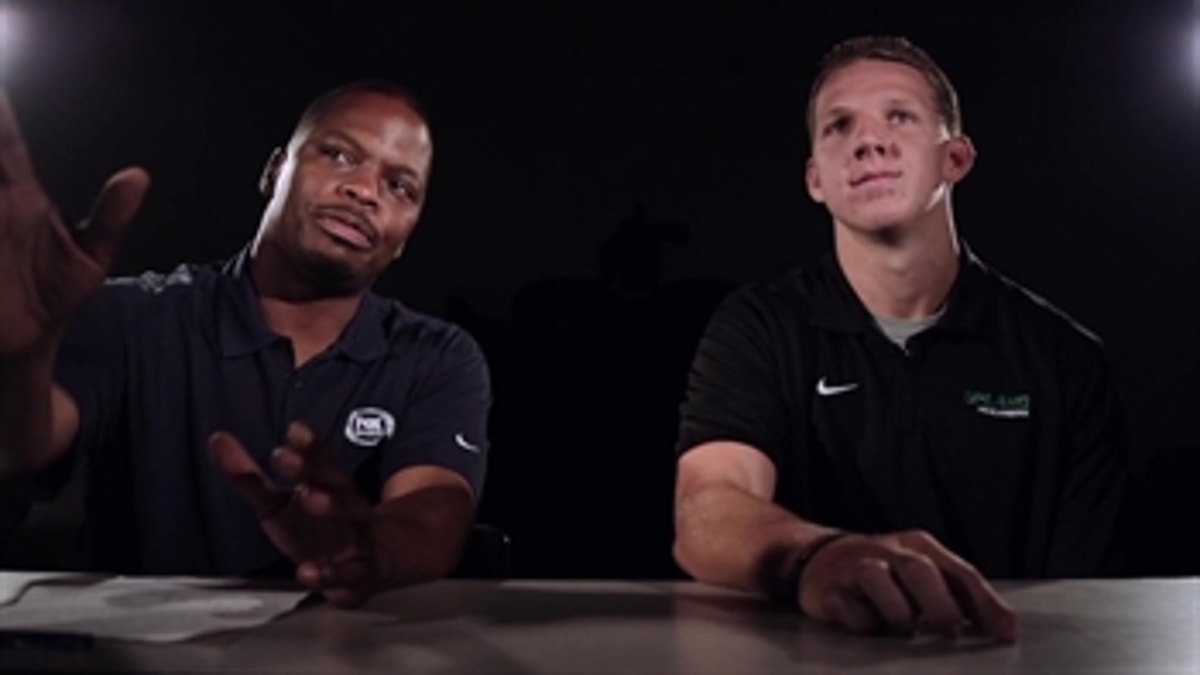 We at FOX Sports West wanted to pay our respects to the Hilinski family. So we thought re-airing our feature with Tyler from 2014's 'Year of the Quarterback' series, showing Tyler with his Upland teammates, chatting with our John Jackson and throwing perfect spirals in stride to receivers. RIP Tyler Hilinski.


Before Tua Tagovailoa came off the bench and into Alabama lore, the QB recruit had to get discovered. With a decommitment from Jake Fromm and an assist from Lane Kiffin, the QB went from Honolulu to college football history.


Le'Veon Bell's best 2018 team fit
The Steelers' star running back is a free agent and has already threatened to retire if he's hit with the franchise tag again. So where should he go? Or is Pittsburgh the ideal spot? Our insiders weigh in.


Biggest looming free-agent decisions for every team
Case Keenum has led the Vikings to the NFC Championship Game. But he might not even be back next season -- all three quarterbacks in Minnesota could hit the open market. NFL Nation reporters assess questions throughout the league.


15-year-old Marta Kostyuk makes history at Australian Open
15-year-old Marta Kostyuk has made history at the Australian Open by becoming the youngest player to reach the third round of a grand slam event since 1997. Kostyuk defeated Olivia Rogowska 6-3, 7-5 in the second round of the tournament to reach the round of 32. She is the youngest player to reach a grand slam third round since Mirjana Lucic-Baroni in the 1997 US Open. The last 15-year-old to reach the third round of the Australian was Nicole Vaidisova in 1995. Martina Hingis also reached the q


Pelicans standing tall, visit Hawks (Jan 17, 2018)
ATLANTA -- The New Orleans Pelicans try for their first four-game winning streak of the season as they face the Atlanta Hawks on Wednesday night at Philips Arena to start a stretch against four teams with losing records.


Report: Refs got threatening calls over controversial Music City Bowl ejection
Northwestern's win over Kentucky in the Music City Bowl last month was marred by a controversial ejection of top Wildcats playmaker Benny Snell in the early going, but some fans apparently took their outrage a bit too far. According to a report by Kyle Bonagura of ESPN on Tuesday, Pac-12 referee Chris Coyte and his crew, who worked the bowl game on Dec. 29, have been the target of threats and harassment by fans because of the incident. Per Bonagura: In the days following the game, Coyte


Rajon Rondo wonders why Isaiah Thomas deserves tribute from Celtics
Well, we know where Rajon Rondo stands on the debate about the Isaiah Thomas video tribute. Rondo, who is now with the New Orleans Pelicans, was in Boston on Tuesday night to face his former team. After his Pelicans beat the Celtics 116-113 in overtime, Rondo talked about the Thomas/Paul Pierce controversy. Earlier this month, Pierce said he did not want the Celtics to play a video tribute to Thomas when he returns to Boston as a member of the Cavaliers because it would attract from Pierce̵


Nemanja Bjelica calls out Arron Afflalo over fight
Nemanja Bjelica called out Arron Afflalo over the fight the two engaged in during Tuesday night's game between the Minnesota Timberwolves and Orlando Magic. Bjelica and Afflalo received technicals during the second quarter for an incident. Then a few minutes later while fighting for positions for a rebound, Afflalo ended up taking a swing at Bjelica. Bjelica got Afflalo in a headlock, and others came over to intervene. The two players ended up ejected from the game. Arron Afflalo's h


Washington State QB Tyler Hilinski dead after committing suicide
Washington State Cougars redshirt sophomore quarterback Tyler Hilinski was found dead on Tuesday after committing suicide, Pullman Police said in a statement. Hilinksi did not show up at practice on Tuesday, which prompted a welfare check on the quarterback by police officers. When they arrived at his apartment, they found the quarterback dead of a gunshot wound to the head. Police recovered a shotgun and suicide note from the scene. Pullman PD has confirmed Tyler Hilinski's demise. pic.tw


Landry: Contract talks with Fins 'disrespectful'
Wide receiver Jarvis Landry isn't sure why contract talks with the Dolphins have stalled, but the NFL leader in receptions this season feels the process has been "disrespectful" to this point.