The Rays have designated infielder/outfielder Rob Refsnyder for assignment, as Marc Topkin of the Tampa Bay Times tweets. It seems that's the roster move to enable the activation of center fielder Kevin Kiermaier. Refsnyder, 27, received a forty-game trial run in Tampa Bay, his fourth-straight season with some MLB action. As before, however, he failed…


Bauer hurls 7 scoreless, strikes out 8 in Tribe's win
Fans at Progressive Field nearly witnessed Indians starter Trevor Bauer reach a historic feat Monday night. Though it was another great start for the right-hander, he came just two strikeouts short of something very special.


Marlins muster more comeback magic vs. Giants
A week ago in Miami, the Marlins came back in four straight games against the Giants, and won three of those contests. At AT&T Park on Monday night, they found more late-inning magic. Miguel Rojas slapped an opposite-field single off closer Hunter Strickland, underlining a three-run ninth inning that lifted the Marlins to a 5-4 win over the Giants in the series opener.


MLB Daily Roster Roundup: Andrus, Crawford, Herrera, Martinez
ROSTER MOVES BY TEAM (June 18th) NATIONAL LEAGUE CHICAGO CUBS | Depth Chart Placed on Bereavement List: RP Brian Duensing Promoted: RP Rob Zastryzny MIAMI MARLINS | Depth Chart Reinstated from Bereavement List: SP Caleb Smith Optioned: RP Merandy Gonzalez PHILADELPHIA PHILLIES | Depth Chart Promoted: RP Austin Davis (contract purchased) Promoted: RP Hector Neris PITTSBURGH PIRATES | Depth Chart Activated from 10-Day…


Choo, Beltre belt noteworthy HRs vs. Royals
Rangers designated hitter Shin-Soo Choo extended his on-base streak to 32 games with a leadoff home run off Royals starter Ian Kennedy in Monday night's series opener at Kauffman Stadium.


deGrom stellar again as dominant run continues
Circumstances had grown unfathomable enough for Jacob deGrom that after the National League Cy Young Award candidate's last start, teammate Todd Frazier approached him to apologize for the Mets' offensive woes. Over a 10-start stretch, deGrom had posted a 0.87 ERA. The Mets were 2-8 in those games. So it was a completely foreign feeling when, in the seventh inning of a 12-2 blowout over the Rockies on Monday, deGrom joked that he almost didn't want to beat out a fielder's choice because he didn'


Cueto feeling 'really good' after simulated game
Following a two-inning simulated game on Monday, right-hander Johnny Cueto was convinced he won't have to spend much more time on the DL nursing his inflamed right elbow. Cueto reiterated his estimate of starting a pair of Minor League injury rehabilitation games before rejoining the Giants' rotation.


Torres, Buehler lead latest ROY poll
In the most recent Rookie of the Year poll, Yankees second baseman Gleyber Torres got 34 of 37 first-place votes to outdistance teammate Miguel Andujar. In the National League, Dodgers righty Walker Buehler continues to lead the poll, this time with 139 points.


Altherr's walk-off double sends Phils to wild win
Aaron Altherr's two-run double in the 10th was the winner in a game with a lot of late action. Tommy Pham's 10th-inning homer put the Cards up after they came back from 2 down in the 9th. Yadier Molina scored on a wild-pitch strikeout that would have ended the game, before Kolten Wong tied it with a pinch-hit single. The Phillies' bullpen wasted a dominant effort from Nick Pivetta, who fanned a career-high 13, but Philly didn't score after a 4-run 1st keyed by an Odubel Herrera homer.


Soto, and a history of time-bending feats in MLB
Juan Soto, the 19-year-old Nationals rookie outfielder, is such a phenom that he can even bend time. Well, not really. But Soto did find himself in the middle of a bizarre baseball incident on Monday, inking his name permanently in the "oddities" section of the MLB history books. In doing so, he joined an esteemed collection of players who also have experienced the wackiness that occurs when games are suspended.


2018 Amateur Draft Signings: 6/18/18
Here are today's notable draft deals, with rankings referenced courtesy of Baseball Keith Law: The Royals have agreed to terms with competitive balance Round A selection Kris Bubic, per MLB.com's Jim Callis (via Twitter). Widely tabbed as a top-fifty prospect, the Stanford southpaw ended up going 40th overall. He'll receive $1.6MM, just a bit shy of the $1,786,300 slot…


Maddon: 'A trap' in overvaluing NLCS rematch
The Cubs and Dodgers will play a split doubleheader on Tuesday, with the first game scheduled for 12:05 p.m. CT and the regular game to be played at 7:05 p.m. Monday's rematch in the opener of a three-game series was postponed because of a limited power outage at Wrigley Field that was affecting the operation of the lights in right field and the forecast of continued rain in the area over the next several hours.


Bucs pitcher to sing national anthem tonight
Steven Brault has been performing in front of crowds since he was a sixth-grader. He'd act in plays or shows, sing in the choir and, eventually, pitch in Major League ballparks.


Bucs' Williams rebounds, throws gem to nip Crew
Trevor Williams rebounded to register a career-high-tying seven strikeouts, surrendering a lone hit over seven scoreless innings to lead the Pirates to a tight win over the Brewers at PNC Park on Monday. Jordy Mercer's run-scoring double off Josh Hader in the seventh was the lone run of the game. Jhoulys Chacin allowed just one run over 6 1/3 innings, but Milwaukee's on-again, off-again offense was quiet in the loss.


Streaking Astros 'having the time of our lives'
Alex Bregman delivered a walk-off two-run double as the Astros tied a franchise record with their 12th straight win, beating the Rays, 5-4, on Monday. The Astros trailed by a run in the ninth, but loaded the bases on a walk, single and catcher's interference. Bregman then lined a pitch to the gap in left-center off Rays reliever Sergio Romo for the game-winner. Tampa Bay jumped ahead early on Wilson Ramos' two-run homer off Astros starter Gerrit Cole in the first inning and added a pair of runs


Yanks' bullpen shuts down Nats in nightcap
With the Yankees nursing a one-run lead, Jonathan Holder escaped a first-and-third, no-out situation in the sixth inning, and David Robertson, Dellin Betances and Aroldis Chapman turned in a scoreless inning each as New York held on for a 4-2 win over the Nationals on Monday night to split a modified doubleheader that began with the conclusion of a May 15 suspended game.


Royals, Yost emotional over Herrera trade
With Kelvin Herrera moving on after being traded to the Nationals on Monday, Royals players inside the clubhouse reflected on the memory of just how great HDH was.


Nats acquire reliever Herrera from Royals
The Nationals jumped the trade market to make an early summer splash on Monday evening, acquiring right-handed closer Kelvin Herrera from the Royals in exchange for a trio of Minor Leaguers: infielder Kelvin Gutierrez, outfielder Blake Perkins and right-hander Yohanse Morel.


Taubman talks path to Astros' front office
Brandon Taubman, Astros senior director of baseball operations, research and innovation, discusses his transition from the world of finance to a baseball front office on the Executive Access Podcast.


Halos 'very optimistic' about Ohtani's recovery
The Angels' medical staff and Dr. Steve Yoon were "very optimistic" about the prognosis of Shohei Ohtani's Grade 2 UCL sprain in the aftermath of the platelet-rich plasma and stem cell injections Ohtani received from Yoon last week, manager Mike Scioscia said.


Are Nationals living in past with Herrera trade?
Washington traded for Kansas City closer Kelvin Herrera on Monday. It sure seems like this is the latest in a long series of moves by Nationals general manager Mike Rizzo, who has been trying for six years to build the bullpen that, this time, finally, would win the big game.


Colon tops Marichal with DR-record 244th W
Bartolo Colon passed Juan Marichal for the most wins by a Dominican born pitcher, going six solid innings for his 244th victory in the series opener against the Royals. Shin-Soo Choo and Adrian Beltre backed the veteran right-hander with homers off Ian Kennedy, who gave up five runs to go with eight strikeouts. Beltre's three-run jack was the 465th homer of his career, tying him with Dave Winfield and Miguel Cabrera for 34th all time.


Goldy, D-backs back Greinke, hold off Halos
The D-backs rebounded from Sunday's crushing ninth-inning loss by beating the Angels, 7-4, on Monday night at Angel Stadium. Not surprisingly, it was Paul Goldschmidt who helped turn the page quickly with a two-run homer in the first inning as he remained scorching hot at the plate. It was his 15th home run of the year and his seventh in his last 13 games. Ketel Marte and Nick Ahmed also homered in the win, which was the eighth in the last 11 games for the D-backs.


Nimmo homers twice as Mets bats back deGrom
Brandon Nimmo hit an inside-the-park homer to lead off the game and a more conventional round-tripper in the seventh as the Mets beat Rockies, 12-2, to take the series opener on Monday. Jacob deGrom went eight innings, allowing one earned run and striking out seven to help New York win its third in a row.


Rangers Designate Deck McGuire
The Rangers have designated righty Deck McGuire for assignment, per a club announcement. That's the roster move for the activation of shortstop Elvis Andrus. McGuire was only just claimed off waivers, so the Texas organization evidently intended all along to try to sneak him back through waivers. If he clears, the 28-year-old will presumably take…


The Phillies announced that they've optioned right-hander Hector Neris to Triple-A Lehigh Valley and selected the contract of lefty Austin Davis from Double-A Reading. Neris has spent the better part of the past two seasons serving as Philadelphia's closer. While Neris was dominant in a setup role in 2016 and pitched similarly well in his…


The Indians announced that they've signed left-handed reliever Marc Rzepczynski to a minor league contract. The southpaw, who'd recently been released by the Mariners, has been assigned to Triple-A Columbus. This'll mark the second stint with the Indians for Rzepczynski, who pitched for Cleveland from 2013-14 before being traded to the Padres in exchange for…


The Rockies have agreed to re-sign reliever Jairo Diaz to a minors deal, per Nick Groke of The Athletic (via Twitter). Diaz will head back to the team's top affiliate. A 27-year-old righty, Diaz has been beset with arm troubles for some time now. Tommy John surgery cost him all of 2016 and he has…


Royals aren't tabbing Mondesi as full-time SS
Royals manager Ned Yost said on Monday that he is not making any commitments to starting infielder Adalberto Mondesi, presumably a big part of the team's future, at shortstop anytime soon.


Odubel stays hot with 3-run homer in first
Odubel Herrera bunted foul. He took a ball. Then he remained in his usual stance and clubbed a Miles Mikolas changeup over the right-field seats to give the Phillies a 3-0 lead before there was even an out.


Choo's homer extends on-base streak to 32
Rangers designated hitter Shin-Soo Choo extended his on-base streak to 32 games with a leadoff home run off Royals starter Ian Kennedy in Monday night's series opener at Kauffman Stadium.


Hicks hits third homer in five games
Aaron Hicks hit his second home run in as many days on Monday night in the Yankees' matchup against the Nationals at Nationals Park. Hicks, who's knocked nine homers this season, has hit three in the past five days.


Andrus activated among Rangers' moves
Shortstop Elvis Andrus was activated off the disabled list on Monday, a move that leaves Jurickson Profar as the Rangers' utility infielder. The club also optioned Jose Trevino to Double-A Frisco, leaving Isiah Kiner-Falefa as the backup catcher.


Twins Release Taylor Featherston
The Twins have released infielder Taylor Featherston, per an announcement from their Triple-A affiliate in Rochester (h/t: Twins Daily's Seth Stohs, on Twitter). Featherston, 28, appeared in the Majors each season from 2015-17, providing strong defensive value around the infield but struggling with the bat. In 244 plate appearances between the Angels, Phillies and Rays,…


Soto goes back in time, homers before debut
Nationals phenom Juan Soto added time travel to his exploits on Monday -- well sort of. Soto, who did not technically make his official Major League debut until five days after this game began, launched a two-run homer near the concourse in the second deck in right field to provide the difference in Washington's 5-3 victory over the Yankees in the conclusion of a suspended game that began on May 15.


Kiermaier set to return to Rays on Tuesday
Rays outfielder Kevin Kiermaier is ready to return to the Rays. The two-time Gold Glover, who had surgery to repair a torn ligament in his right thumb on April 20, is set to be activated on Tuesday and be available for Tampa Bay's game against the Astros in Houston.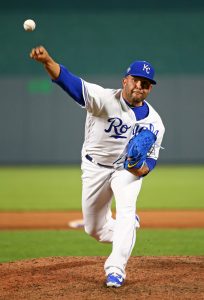 Nationals Acquire Kelvin Herrera
The Nationals have officially struck a deal to acquire reliever Kelvin Herrera from the Royals, making for a fascinating early swap. Outfielder Blake Perkins, third baseman Kelvin Gutierrez, and righty Yohanse Morel will head to Kansas City in return. This agreement represents a rare, mid-June strike of real consequence. We've already seen a few other notable trades…


Yanks recall Frazier, option Torreyes to Triple-A
Clint Frazier has served as the Yankees' main outfield replacement this season, so after New York recalled him from Triple-A Scranton/Wilkes-Barre on Monday, Frazier joked he's in the running for the Major League's 26th man of the year. To make room for Frazier, the Yankees optioned Ronald Torreyes to Scranton/Wilkes-Barre.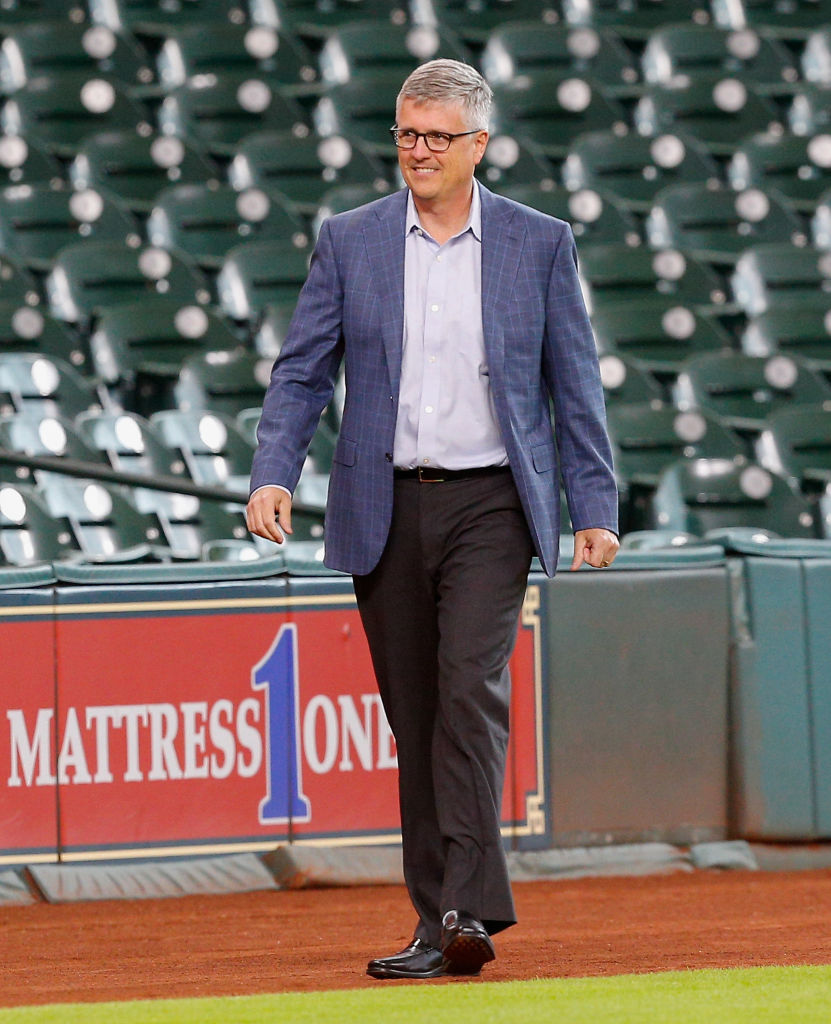 Astros Extend Jeff Luhnow Through 2023
The Astros announced on Monday that they've promoted Jeff Luhnow from general manager to president of baseball operations and signed him to a five-year contract extension that runs through the 2023 season. The exact length of Luhnow's prior contract with the Astros was unclear, though owner Jim Crane plainly stated at today's press conference that…


US Women's National Team roster announced
On Monday afternoon, USA Baseball announced its final 20-player roster for the USA Women's National Team ahead of the 2018 World Baseball Softball Confederation Women's Baseball World Cup.


Melky Cabrera Elects Free Agency
The Indians announced Monday that outfielder/designated hitter Melky Cabrera has elected free agency rather than accepting an outright assignment to Triple-A Columbus. He'd been designated for assignment last week and cleared outright waivers. The 33-year-old veteran switch-hitter will now head back to the open market in search of a new opportunity. Cabrera, who'd signed a…


Could Red Sox put Devers on trade block?
What are the chances the Red Sox trade Rafael Devers? What is the club's primary area of need in advance of the non-waiver Trade Deadline? Beat reporter Ian Browne answers those questions and more in the latest Inbox.


The Giants have re-signed right-hander Jose Valdez after releasing him recently, Matt Eddy of Baseball America reports as part of his latest roundup of the league's minor transactions. Valdez was designated for assignment back on June when the Giants activated Mark Melancon from the disabled list and, apparently, was eventually released (though there was no…


Kershaw possibly ready for activation
After Clayton Kershaw threw an impressive three-inning simulated game at Wrigley Field on Monday, all concerned agreed that the Dodgers' ace is ready. The question is, for what?


BREAKING: Nats acquire KC closer Herrera
The Nationals are on the verge of acquiring closer Kelvin Herrera from the Royals for a couple of Minor League prospects, according to MLB Network insider Jon Heyman.


Yankees, Mariners Interested In J.A. Happ
The Yankees and Mariners are among the clubs interested in Blue Jays left-hander J.A. Happ, tweets Jon Morosi of MLB.com. Happ figures to be one of the top rentals available on the starting pitching market this summer, if not the top rental, so it's hardly a surprise to see a pair of contending clubs with some…


Quick Hits: Kikuchi, Sugano, BoSox, JBJ, Rangers, D-backs
Japanese starting pitchers Yusei Kikuchi and Tomoyuki Sugano have been garnering attention from major league scouts, according to Jason Coskrey of the Japan Times. Several teams sent representatives to see the left-handed Kikuchi (Seibu Lions) and the right-handed Sugano (Yomiuri Giants) square off last Friday. The belief is that the 26-year-old Kikuchi will be the…


MLB Weekend Roster Roundup: Belt, Carrasco, Foltynewicz, Simmons, Soler
ROSTER MOVES BY TEAM (June 16th-June 17th) NATIONAL LEAGUE ATLANTA BRAVES | Depth Chart Activated from 10-Day DL: SP Julio Teheran Placed on 10-Day DL: SP Mike Foltynewicz (triceps tendonitis) Re-signed: RP Luke Jackson (MLB contract) Optioned: P Luiz Gohara Role change: P Brandon McCarthy (moved to bullpen) MILWAUKEE BREWERS | Depth Chart Promoted: RP Adrian Houser Optioned: RP…


Each team's most deserving All-Star
Today at The Thirty, we look at the most deserving All-Star on every Major League team. Some of these are obvious picks. Some of them will get pushed out by the roster crunch. But every single one of them, in a perfect world, would be on the team.


As the Rays continue to employ an unorthodox bullpen strategy by utilizing relievers as starters in many games, Tampa Bay's relief corps posted a 1.48 ERA over 30 1/3 innings last week to earn MLB Bullpen of the Week presented by The Hartford honors for the period of June 11-17.


Called up to Crew, Houser gets sick on hill
Adrian Houser -- who left Colorado Springs at 5 a.m. on Sunday, flew to Chicago, drove up to Milwaukee and made it to Miller Park about 30 minutes before first pitch -- vomited on the infield behind the mound on two occasions while pitching in the eighth inning of the Brewers' 10-9 loss to the Phillies.


Latest On Cubs' Rotation Plans
When Mike Montgomery stepped into the Cubs' rotation following Yu Darvish's placement on the 10-day disabled list skipper Joe Maddon characterized the move as temporary and suggested that the lefty would be bullpen-bound once everyone was healthy. After four excellent starts by Montgomery, though, GM Jed Hoyer is making no such proclamations, as Gordon Wittenmyer…


Baez hurt on HBP as Cubs miss out on sweep
The Cubs missed out on completing a sweep of the Cardinals on Sunday night and are hoping they didn't lose Javier Baez for too long as well. Baez exited the 5-0 loss in the third inning after getting hit on the left elbow with Jack Flaherty pitch. He was diagnosed with a contusion.


Central Notes: Tigers, Castellanos, Fulmer, Cards, Kang
While the Tigers' 36-37 record looks underwhelming, they've no doubt exceeded expectations so far after finishing last in the majors in 2017. But even though the team sits just 2 1/2 games behind the first-place Indians in the AL Central, general manager Al Avila isn't adjusting his immediate or long-term plans, he explained to Jason…


Mets Reportedly Prepared To Listen To Trade Offers
With the Mets mired in an abysmal slump that has seen the team go 3-11 in the month of June, Ken Rosenthal of The Athletic reports in his latest notes column (subscription required) that they're "open for business." While the Mets understandably prefer to hang onto controllable players like Michael Conforto, Brandon Nimmo, Seth Lugo, Robert…


The Rangers announced Monday that they've activated shortstop Elvis Andrus from the 60-day disabled list and recalled right-hander Ricardo Rodriguez from Triple-A Round Rock. Catcher Jose Trevino was optioned to Double-A Frisco in one corresponding move, while Ryan Rua was optioned to Triple-A in another. The Rangers still need to make a 40-man move to…


Pair of 3-way thrillers highlight NL ASG voting
The top spots in the National League are unchanged in the latest 2018 Camping World MLB All-Star ballot update released Monday. But the races at catcher and second base, in particular, are much too close for comfort.


Yadi guides Flaherty-led shutout on historic night
Yadier Molina caught a combined shutout led by rookie Jack Flaherty, drove in a run and tied a Major League record for games caught with one team as the Cardinals snapped a four-game losing streak with a 5-0 win over the Cubs on Sunday night in St. Louis. Matt Carpenter helped the cause with his 10th home run.


Behind 11 straight, Astros top Power Rankings
More than a week and a half ago, the Astros departed for their longest road trip of the season riding a winning streak that had reached exactly one game, and they were essentially in a neck-and-neck tie with Seattle in what is turning out to be delightfully interesting American League West race.


Quick Hits: Napoli, Cubs, Koehler, Tigers
Even after tearing his right ACL and meniscus last April, Mike Napoli isn't ready to close the book on his career, the veteran slugger tells The Athletic's Zack Meisel (subscription required).  "I'm going to train like I'm going to play next year," Napoli said.  "When it's time to make that decision, I'll make it, but…


Called up to Crew, Houser gets sick on hill
Adrian Houser -- who left Colorado Springs at 5 a.m. on Sunday, flew to Chicago, drove up to Milwaukee and made it to Miller Park about 30 minutes before first pitch -- vomited on the infield behind the mound on two occasions while pitching in the eighth inning of the Brewers' 10-9 loss to the Phillies. Houser allowed one run on two hits, but got through it with help from members of the Miller Park grounds crew, who cleaned up so play could continue.


Font and Co. quiet Yanks as Rays take finale
For the second day in a row, the Rays had a bullpen day. This time, it worked out in their favor as they defeated the Yankees, 3-1, at Yankee Stadium on Sunday afternoon to take the finale of the four-game series. Wilmer Font fanned five over 4 2/3 innings and Matt Duffy had three hits and two RBIs to pace the Rays.


Darvish's next step will be sim game on Tuesday
Yu Darvish will take another step toward returning to the Cubs' rotation when he throws a sim game on Tuesday at Wrigley Field. Darvish, sidelined since May 26 with inflammation in his right triceps, has thrown two bullpen sessions so far.


Teheran throws 6 no-hit innings in win over SD
Julio Teheran delivered six innings of no-hit ball, and Johan Camargo provided a two-run double that proved decisive as the Braves strengthened their status atop the National League East standings with Sunday afternoon's 4-1 win over the Padres at SunTrust Park. Teheran struck out a season-high 11 but showed a slight limp after the sixth. The Padres then got their first hit in the seventh. Matt Strahm started the Padres' planned bullpen day and pitched 2 2/3 scoreless innings.


Baseball Blogs Weigh In: Trout, Machado, BoSox, A's, Dodgers, Cubs
This week in baseball blogs… MLB & Fantasy Baseball Analyzed argues that Mike Trout shouldn't re-sign with the Angels. The Sports Tank wonders if the Red Sox should pursue a trade for Manny Machado. A's Farm talks to Athletics scouting director Eric Kubota about the team's top picks in this year's draft. The K Zone…


Thames hits 2 HRs; Crew drops rubber game
His tagline had been "Fear the Beard," but when reinstated off of the disabled list last Monday, Eric Thames experimented with his beard, citing too much free time while recovering from left thumb surgery.


Holland coming off DL this week
The Cardinals plan to take reliever Greg Holland on their upcoming road trip instead of further extending his rehab assignment, manager Mike Matheny confirmed on Sunday.


Mets stun D-backs with 2 HRs, 4 runs in 9th
Stymied for much of Sunday, the Mets scored a 5-3 victory over the D-backs at Chase Field when Brandon Nimmo hit a go-ahead, two-run homer off Brad Boxberger in the ninth, and Asdrubal Cabrera followed with a solo shot. The late dramatics took Mets starter Zack Wheeler off the hook for what would have been a tough-luck loss, after he struck out eight over six innings of two-run ball.


Grichuk's 2 HRs lead to Blue Jays' sweep
Toronto picked up its 18th come-from-behind victory of the season Sunday as Teoscar Hernandez and Yangervis Solarte hit a pair of solo home runs in the bottom of the eighth inning to lead the Blue Jays to an 8-6 win -- and a three-game series sweep -- over Washington. Randal Grichuk crushed a pair of homers and notched 4 RBIs. Nationals center fielder Michael A. Taylor went 3-for-4 and swiped four bases, giving him the MLB lead. Daniel Murphy picked up his second RBI since coming off the DL. Bot


Trevino walks off for Texas on 1st Father's Day
Pinch-hitter Jose Trevino, with his newborn son in the stands, blooped a single into short left field to score Rougned Odor and Isiah Kiner-Falefa in the bottom of the ninth to give the Rangers a wild 13-12 victory over the Rockies on Sunday.


Braves Sign Luke Jackson, Option Luis Gohara To Triple-A
The Braves have signed right-hander Luke Jackson to a Major League contract, the team announced via Twitter.  Jackson will return to Atlanta's roster in place of Luiz Gohara, who was optioned to Triple-A. Jackson was designated for assignment by the Braves earlier this week, and had elected to become a free agent rather than accept…


Dads, Yanks legends reunite on Old-Timers' Day
The Yankees gave their fans a true Father's Day treat before Sunday's series finale against the Rays. They held their 72nd Old-Timers' Day, with dozens of former stars -- large and small -- from the Yankees' constellation taking part.


Suzuki avoids serious injury after being hit by bat
Braves catcher Kurt Suzuki felt fortunate to avoid a significant injury when he was struck in the head with Raffy Lopez's backswing during the second inning of Sunday's 4-1 win over the Padres at SunTrust Park. Suzuki exited the game and underwent a series of evaluations, none of which indicated he sustained a concussion. The veteran catcher will be available to play defense or serve as a designated hitter when the Braves open a two-game set in Toronto on Tuesday.


Pirates Notes: Deadline, Rotation, Middle Infield, Bullpen
The Pirates have fallen to earth since a solid start and now sit a game below .500 (35-36), but general manager Neal Huntington told reporters before Sunday's loss to the Reds that he still has a buyer's mindset as the July 31 non-waiver trade deadline approaches. "We've had more conversations about adding players at this…


A's rally late, walk off Halos in 11 on Lucroy's hit
Jonathan Lucroy's single off the center-field fence with the bases loaded in the 11th inning gave the A's a 6-5 walk-off win over the Angels on Sunday at the Coliseum. Oakland had to come from behind in the ninth, as Marcus Semien led off the frame with a homer and Mark Canha tied it on a bloop single with two outs. The A's struck first with a two-run homer by Canha, but homers by Chris Young and Albert Pujols helped the Angels grab the lead. Andrew Heaney fired eight strong innings, allowing th


Indians Place Carlos Carrasco, Tyler Olson On 10-Day DL
The Indians placed right-hander Carlos Carrasco and left-hander Tyler Olson on the 10-day disabled list today, as per a team press release.  Righties Shane Bieber and Evan Marshall have been recalled from Triple-A to fill the two spots on the 25-man roster, with Bieber starting today's game against the Twins. Carrasco is headed to the…


Mets closer Familia activated from disabled list
The Mets' bullpen just got a bit stronger. The team activated closer Jeurys Familia, who had been sidelined since June 7 due to right shoulder soreness, before Sunday's series finale against the D-backs.


AL East Notes: Jays, Donaldson, Happ, Yanks, Ellsbury, Giambi
The latest from the American League East: Between third baseman Josh Donaldson and left-hander J.A. Happ, the Blue Jays' top two impending free agents, the latter is likely to bring back the greater return at the trade deadline, FOX Sports' Ken Rosenthal says (video link). Unlike Happ, Donaldson has been a superstar at his best,…