Little is Major: Williamsport In Real Life
Tonight, the spotlight will shine on a big moment in a small town. The Cardinals and Pirates will play a Major League game in a Minor League ballpark in front of Little League families. By the time it's all over, Little Leaguers and big leaguers alike will leave with the memory of a baseball lifetime.

2017-08-20 06:28:51
`
0
Phillies race past Giants with grand 6th
Ty Kelly put the punctuation mark on the Phillies' breakout night at the plate Saturday, lifting a grand slam in the sixth -- part of a seven-run inning -- to help Philadelphia break a six-game losing streak in a 12-9 win over the Giants.

2017-08-20 04:43:15
`
3
Contending clubs clash as part of MLB.TV slate
With nearly a month and a half of baseball left to play, postseason races are heating up rapidly. More than half of the teams throughout Major League Baseball find themselves in playoff contention, leaving plenty of intrigue on the table as the regular season comes down to the wire.

2017-08-20 04:43:04
`
2
Padres spoil Strasburg's return from DL
Yangervis Solarte's two-run home run off Stephen Strasburg provided the only offense Travis Wood needed Saturday, as the Padres edged the Nationals, 3-1, at Petco Park.

2017-08-20 04:36:16
`
2
Unlikeliest MLB success stories of 2017
Everyone loves an out-of-nowhere underdog story. Some of this year's involve breakout players, while others are impressive comeback seasons.

2017-08-20 04:24:17
`
2
Homers off Sale hold up as Yanks hold off Sox
After a couple of recent missteps against the Red Sox, the Yankees had some urgency to win Saturday night and not lose any more ground in the American League East. That meant beating heavy AL Cy Young Award favorite Chris Sale, and the Bronx Bombers used a couple of home-run swings to pull off that daunting task en route to an important 4-3 victory at Fenway Park.

2017-08-20 04:04:50
`
2
Little is Major: Cards-Bucs in Williamsport tonight!
Tonight, the spotlight will shine on a big moment in a small town. The Cardinals and Pirates will play a Major League game in a Minor League ballpark in front of Little League families. By the time it's all over, Little Leaguers and big leaguers alike will leave with the memory of a baseball lifetime.

2017-08-20 03:51:10
`
1
Blue Jays acquire Koehler from Marlins
The Blue Jays' continued search for pitching depth has now led them to right-hander Tom Koehler. Toronto acquired the 31-year-old starter in a trade with the Marlins late Saturday afternoon. The Blue Jays sent Minor League righty Osman Gutierrez to Miami as part of the deal.

2017-08-20 03:47:19
`
1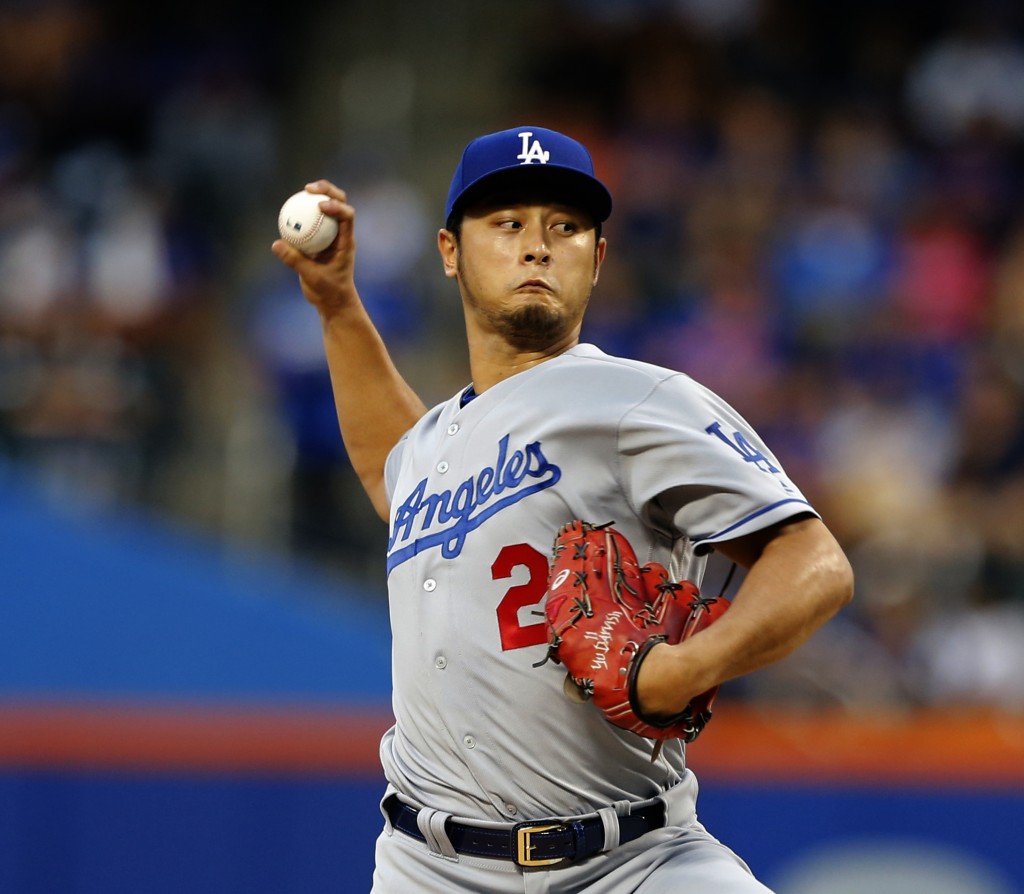 MLB Daily Roster Roundup: Darvish, Kemp, Strasburg
IMPACT ROSTER MOVES ATL: OF Matt Kemp activated from 10-Day DL; RP Matt Wisler recalled from minors; 2B/OF Micah Johnson optioned to minors; RP Luke Jackson (strained shoulder) placed on DL. | Braves Depth Chart CWS: SP Reynaldo Lopez (strained back) placed on 10-Day DL; RP Danny Farquhar has contract purchased from minors. | White Sox Depth Chart LAD: OF Curtis Granderson added to 25-man…

2017-08-20 03:40:13
`
2
Gennett's slam caps Reds' win vs. Braves
Reds outfielder Scott Schebler highlighted a three-hit performance with a pair of doubles and proved to be one of Julio Teheran's primary nemesis during Saturday night's 11-8 win over the Braves at SunTrust Park.

2017-08-20 03:25:59
`
2
Clark sees 'special opportunity' for Little Leaguers
Former Major Leaguer and current MLB Players Association Executive Director Tony Clark traveled to Williamsport, Pa., for the MLB Little League Classic on Sunday between the Pirates and Cardinals, but he made sure to arrive a day early to visit the Little League World Series for the first time.

2017-08-20 03:08:54
`
2
Umpires protest player criticism, wear white bands
Several Major League umpires wore white wristbands on Saturday to protest what they feel are "escalating verbal attacks" on umpires as well as the Office of the Commissioner's response to criticism by Tigers infielder Ian Kinsler directed at Angel Hernandez this past week.

2017-08-20 03:02:38
`
2
Timely hits back Bauer as Tribe blanks Royals
Jay Bruce continued his sizzling start with the Indians by hitting an RBI double, and catcher Roberto Perez delivered a two-out, two-run single in the fourth inning, and the Indians held off the Royals, 5-0, on Saturday night at Kauffman Stadium.

2017-08-20 02:50:56
`
2
Leader Watch: Votto 'ungodly' at the plate
Cubs manager Joe Maddon may have put it best, explaining why he resorted to a fourth man in the outfield to defend Joey Votto: The Reds first baseman is "ungodly" at the plate. It's a worthy descriptor to attach to one of the frontrunners for Most Valuable Player in the National League.

2017-08-20 02:46:51
`
2
Span motors to inside-the-park homer
Giants center fielder Denard Span relied on a fortunate carom and his determined baserunning to record his first career inside-the-park home run Saturday night against the Philadelphia Phillies.

2017-08-20 02:27:07
`
2
7-run 6th helps Mets snap skid, beat Marlins
Limited to just one run through the first 14 innings of the series, the Mets woke up in a big way with a seven-run sixth on Saturday night. Wilmer Flores and Kevin Plawecki each belted two-run homers in the outburst, as the Mets defeated the Marlins, 8-1, at Citi Field.

2017-08-20 02:02:08
`
1
Astros turn away A's with 6 double plays
Collin McHugh threw six scoreless innings to pick up his first win of the season, and Marwin Gonzalez delivered a two-run, bases-loaded single in the fourth to send the Astros to their fourth win in five games, 3-0, over the A's on Saturday night at Minute Maid Park. Houston turned a season-high six double plays, including one to end the game.

2017-08-20 01:49:39
`
1
Rangers pound White Sox, hit three 3-run HRs
The Rangers were rough on White Sox starter Derek Holland in his homecoming, even though they were kind enough to spot him a 5-0 lead before he took the mound.

2017-08-20 01:39:39
`
1
Good in a pinch: Aguilar's homer tops Rox
Jesus Aguilar had a pinch-hit, two-run homer in the ninth as the Brewers topped the Rockies. Teammate Travis Shaw also went deep, his 27th of the season. Charlie Blackmon had an RBI single in the eighth as the Rockies tied the score, but closer Greg Holland allowed three runs in the ninth, as Colorado remained one game up in the NL Wild Card race. The Brewers are two games back of the Cubs in the NL Central. Chad Bettis settled down after a rough start, allowing three runs over seven innings.

2017-08-20 01:33:19
`
1
Trout, Valbuena each hit 2 HRs in win vs. O's
Mike Trout and Luis Valbuena each homered twice as the Angels continued their recent power surge to blow past the Orioles with Saturday's 5-1 win to even the series.

2017-08-20 01:28:41
`
0
Berrios, big 4th lift Twins in shutout of Snakes
The bottom of the fourth inning started innocently enough with a single to right, but when it ended nine batters and five runs later, the Twins had firm control of the game as they went on to beat the D-backs for the second straight night, 5-0, on Saturday at Target Field.

2017-08-20 01:14:30
`
1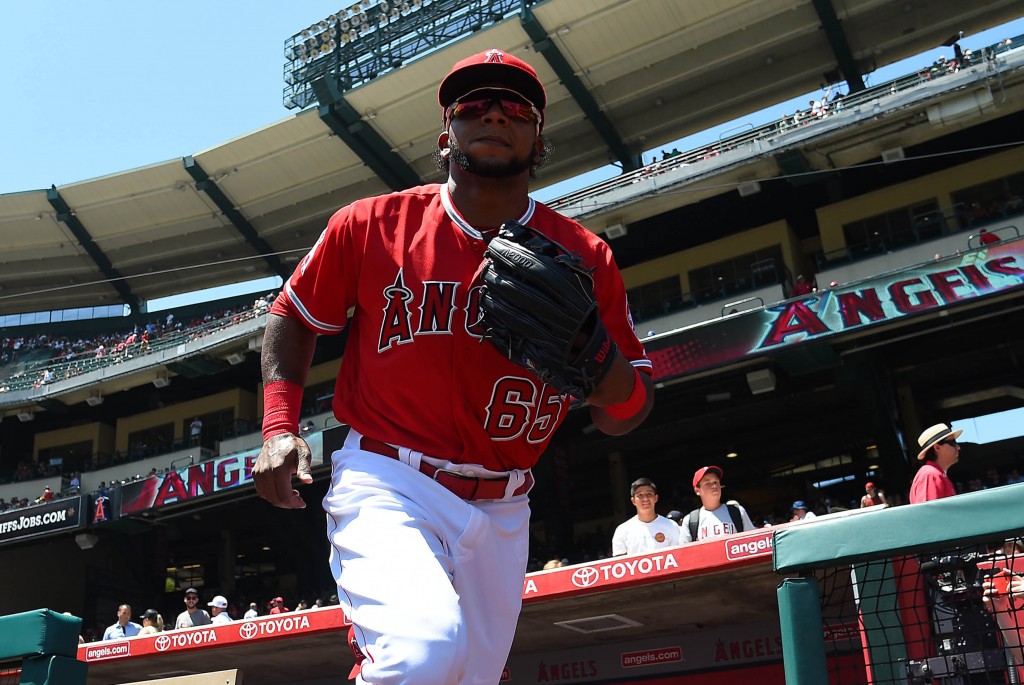 Rays Claim Cesar Puello From Angels
The Rays have claimed outfielder Cesar Puello off waivers from the Angels, Chris Cotillo of SB Nation reports (on Twitter). The Angels designated Puello for assignment last Saturday. The Rays organization will be the fifth for the 26-year-old Puello, who topped out at No. 77 among Baseball America's 100 best prospects when he was with…

2017-08-19 21:52:36
`
2
Gomez placed on DL with shoulder ailment
The Rangers have placed outfielder Carlos Gomez on the disabled list because of the cyst in the back of his right shoulder and have called up infielder Phil Gosselin from Triple-A Round Rock.

2017-08-19 20:56:44
`
2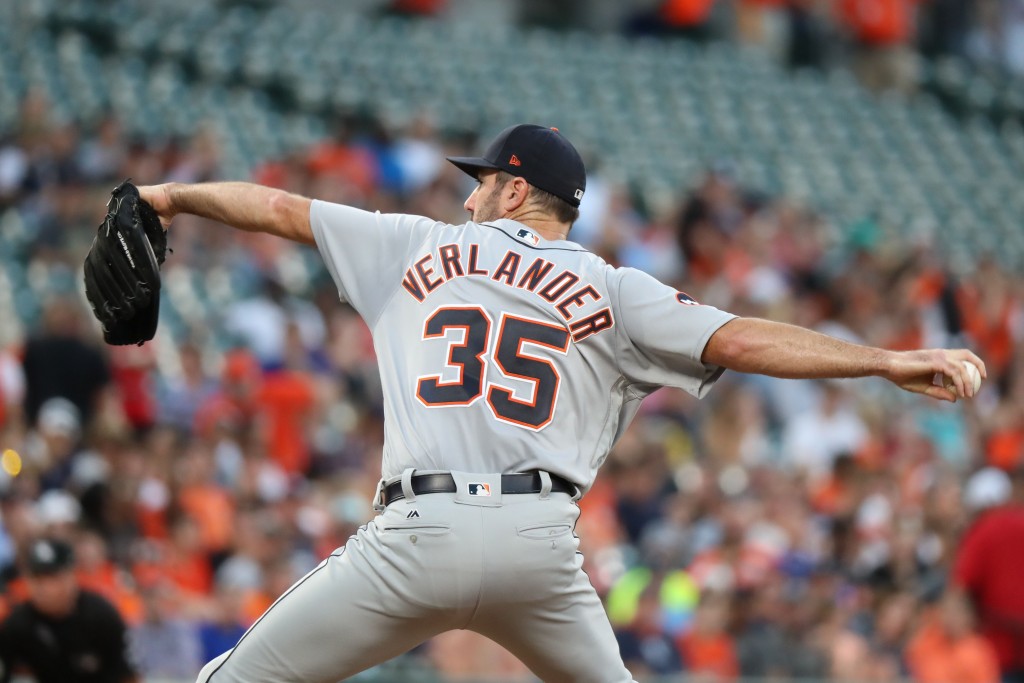 AL News & Rumors: Astros, Tigers, ChiSox, Jays
There remains an outside chance that Houston will trade for Tigers right-hander Justin Verlander this month, as the Boston Globe's Nick Cafardo hears from major league sources that the Astros haven't closed the door on acquiring the fireballer. There have been a slew of reports since last month on the possibility of Verlander going to…

2017-08-19 20:39:34
`
3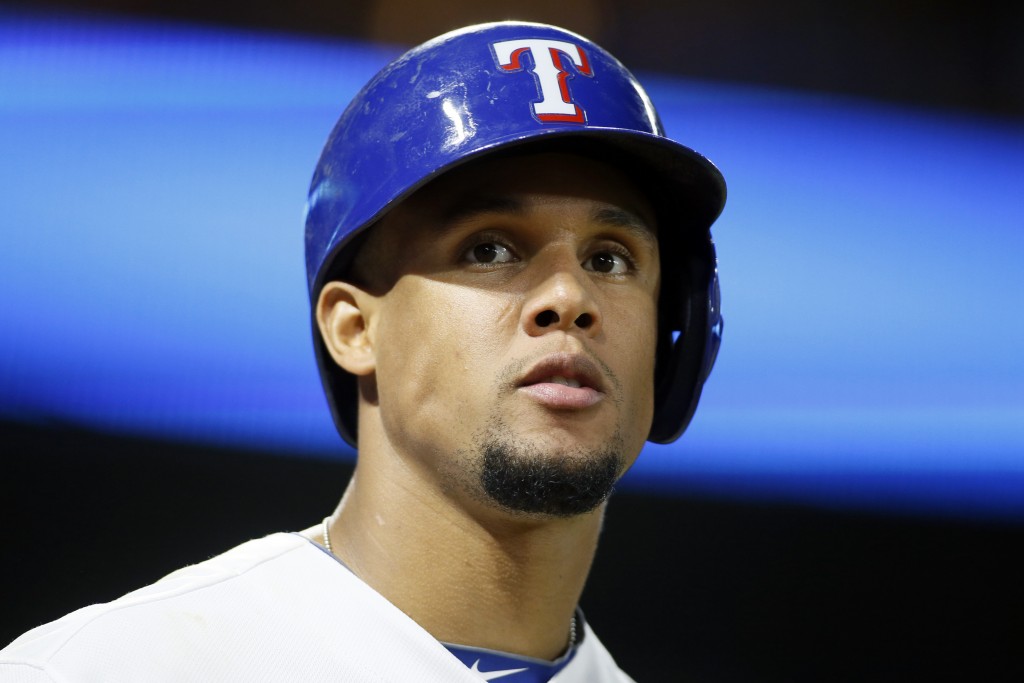 West Notes: Gomez, Renfroe, Astros
The Rangers have announced that they've placed outfielder Carlos Gomez on the 10-day DL after having a cyst on his right shoulder excised. To take his place on the active roster, the Rangers have recalled infielder Phil Gosselin from Triple-A Round Rock. Gomez has not played since last Sunday, but the Rangers were hopeful until recently that…

2017-08-19 18:54:06
`
1
Bucs recall Neverauskas, option Brault
The Pirates put the Triple-A shuttle into motion and shuffled their bullpen again Saturday afternoon. Down went left-hander Steven Brault, and up came right-hander Dovydas Neverauskas.

2017-08-19 18:54:01
`
2
Mariners activate Haniger, place Dyson on DL
The Mariners outfield will have a different dynamic at the start of their 12-game road trip, as Jarrod Dyson landed on the disabled list and Mitch Haniger was activated from the DL and recalled from Triple-A Tacoma on Saturday.

2017-08-19 18:16:37
`
2
Blackmon hitting more opposite-field homers
Even Rockies leadoff hitter Charlie Blackmon isn't sure what to make of a recent happy trend. He opened Friday night's 8-4 victory over the Brewers with his career-high-tying 29th homer. It went the opposite way to left-center field -- which is becoming less unusual.

2017-08-19 18:06:52
`
2
Historic Bowman Field set for MLB spotlight
The anticipation of watching the inaugural MLB Little League Classic is building, but few realize how much work went into preparing the field for Sunday's game on ESPN at 7 p.m. ET. Since March 1, a grounds crew team has been stationed in Williamsport, Pa., to make historic Bowman Field ready to host the Cardinals and Pirates.

2017-08-19 18:04:41
`
13
Happ's big day, Quintana lead Cubs over Jays
Rookie Ian Happ did it all on Saturday afternoon, hitting an RBI single in the first inning and a solo home run in the fourth and scoring the tiebreaking run on Javier Baez's single in the sixth to spark the Cubs to a 4-3 Interleague victory over the Blue Jays at Wrigley Field.

2017-08-19 17:57:17
`
2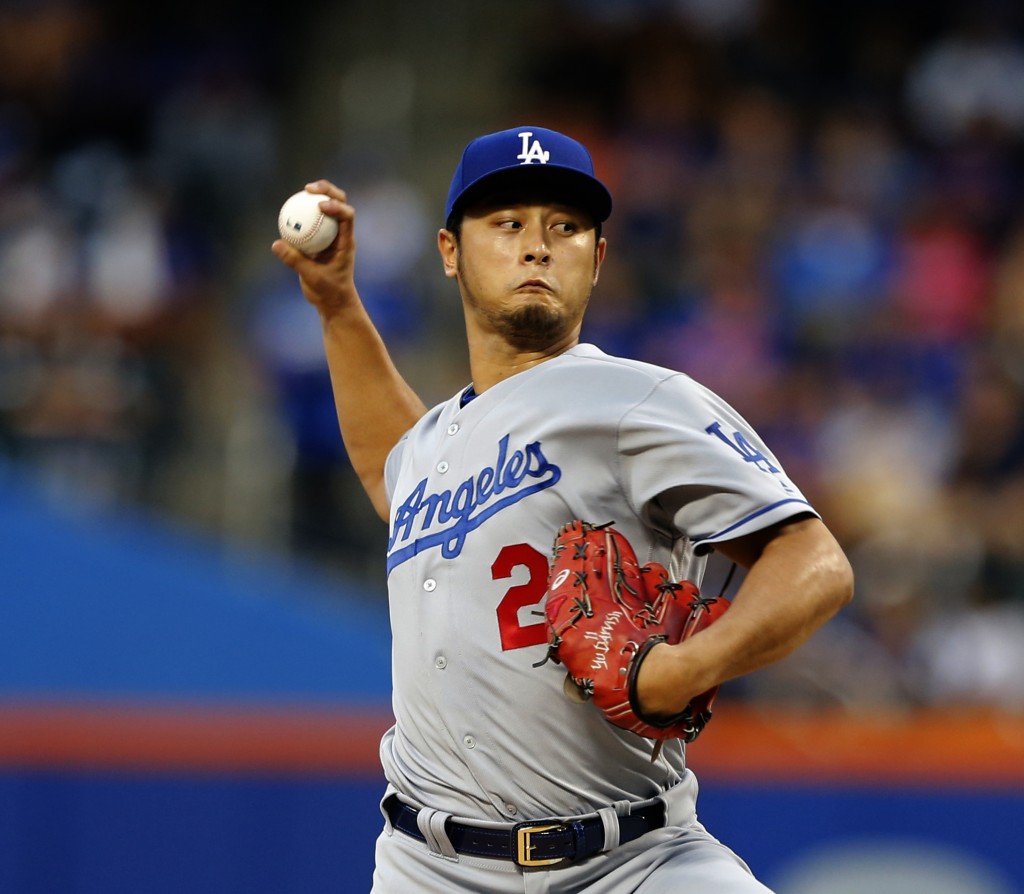 Dodgers Place Yu Darvish On 10-Day DL
The Dodgers have formally announced that they've placed righty Yu Darvish on the 10-day DL with lower back tightness. They also officially activated outfielder Curtis Granderson, optioned outfielder Joc Pederson to Triple-A Oklahoma City, and recalled lefty Edward Paredes from Oklahoma City. Darvish's injury is not expected to be serious, as GM Farhan Zaidi tells…

2017-08-19 17:29:11
`
2
Royals place Feliz on DL, call up Skoglund
The Royals placed reliever Neftali Feliz (right ulnar nerve palsy) on the 10-day disabled list Saturday and recalled left-hander Eric Skoglund from Triple-A Omaha to take his spot on the Major League roster.

2017-08-19 16:30:16
`
2
Mayza optioned, House up due to 'pen workload
A heavy workload for the bullpen has cost another reliever his spot in the Major Leagues, as lefty Tim Mayza was optioned to Triple-A Buffalo on Saturday morning to make room for TJ House.

2017-08-19 15:56:30
`
3
Kemp activated, hopes hammy issues in past
As Matt Kemp has repeatedly been hindered by hamstring problems this season, it has been easy to forget he exited May on pace for a second straight 30-homer season and ranked among the top 10 National League leaders in both batting average and OPS.

2017-08-19 15:24:52
`
1
Dodgers option Pederson after Grandy deal
When the Dodgers bolstered their outfield depth by acquiring Curtis Granderson from the Mets on Friday, slumping Joc Pederson's at-bats figured to be limited going forward. That speculation manifested into reality a day later on Saturday, as Pederson was optioned to Triple-A Oklahoma City to make room for Granderson on the 25-man roster.

2017-08-19 15:15:09
`
2
Bellinger exits; day to day with mild ankle sprain
Cody Bellinger was taken out of Saturday's game against the Tigers after he rolled his ankle making a catch at the right-field wall. Yasiel Puig replaced the rookie in the seventh.

2017-08-19 14:37:04
`
2
Granderson has bright future beyond baseball
Before the Mets traded him to the Dodgers on Friday, outfielder Curtis Granderson wasn't sure about his baseball future after 2017. He is a free agent and is expected to test the market.

2017-08-19 14:14:06
`
1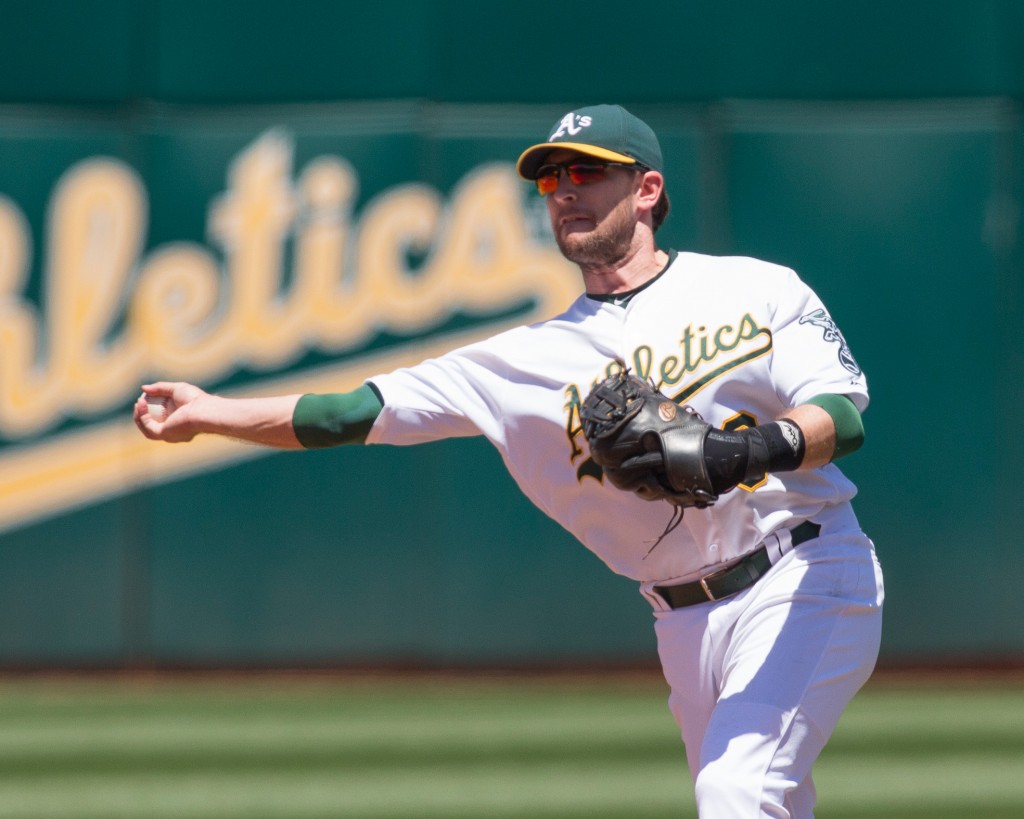 MLBTR Mailbag: Lowrie, Bruce, Giants, Controllable Starters
Thanks as always for your questions! If yours wasn't selected this week, you can always pose it in one of our weekly chats: Steve Adams at 2pm CST on Tuesdays, Jason Martinez at 6:30pm CST on Wednesdays, and yours truly at 2pm CST on Thursdays. Here are this week's questions and answers: Why is it…

2017-08-19 13:05:39
`
1
Dodgers win 6th in a row, tie Interleague record
The Dodgers tied a Major League record with their 13th consecutive Interleague victory, capitalizing on a Tigers defensive miscue with an Adrian Gonzalez RBI single in the seventh inning en route to a 3-0 win Saturday at Comerica Park.

2017-08-19 12:23:07
`
1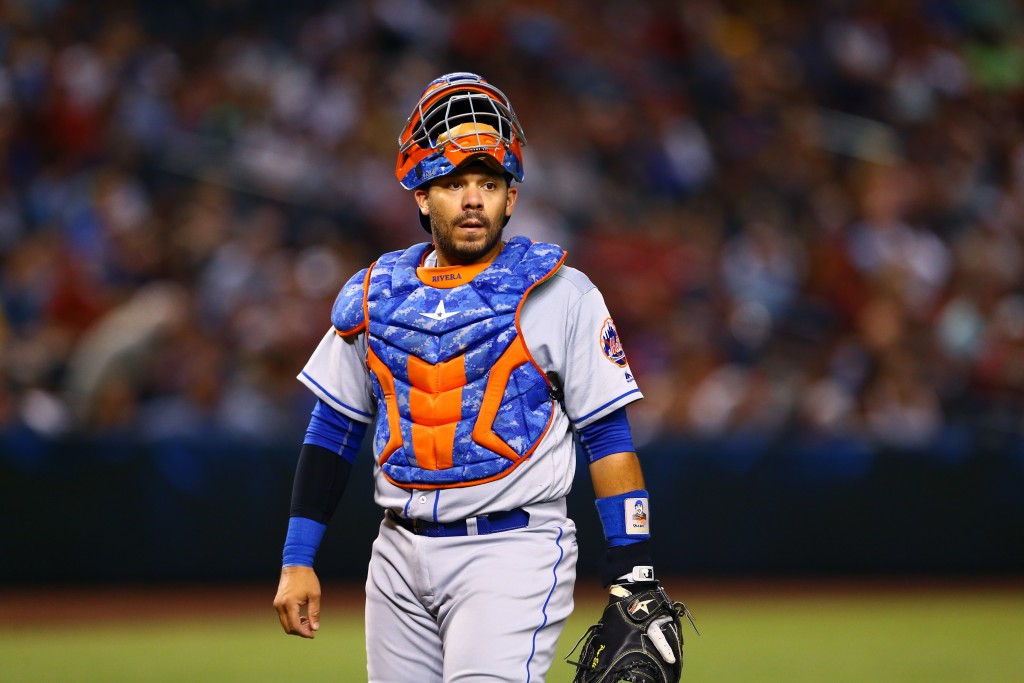 Cubs Claim Rene Rivera From Mets
The Cubs have claimed catcher Rene Rivera off waivers from the Mets, the teams have announced. To clear space for Rivera on their roster, the Cubs have designated righty Aaron Brooks for assignment. Rivera is the latest veteran to leave the Mets this month, following the trades of Jay Bruce, Neil Walker and Curtis Granderson. The…

2017-08-19 12:20:08
`
2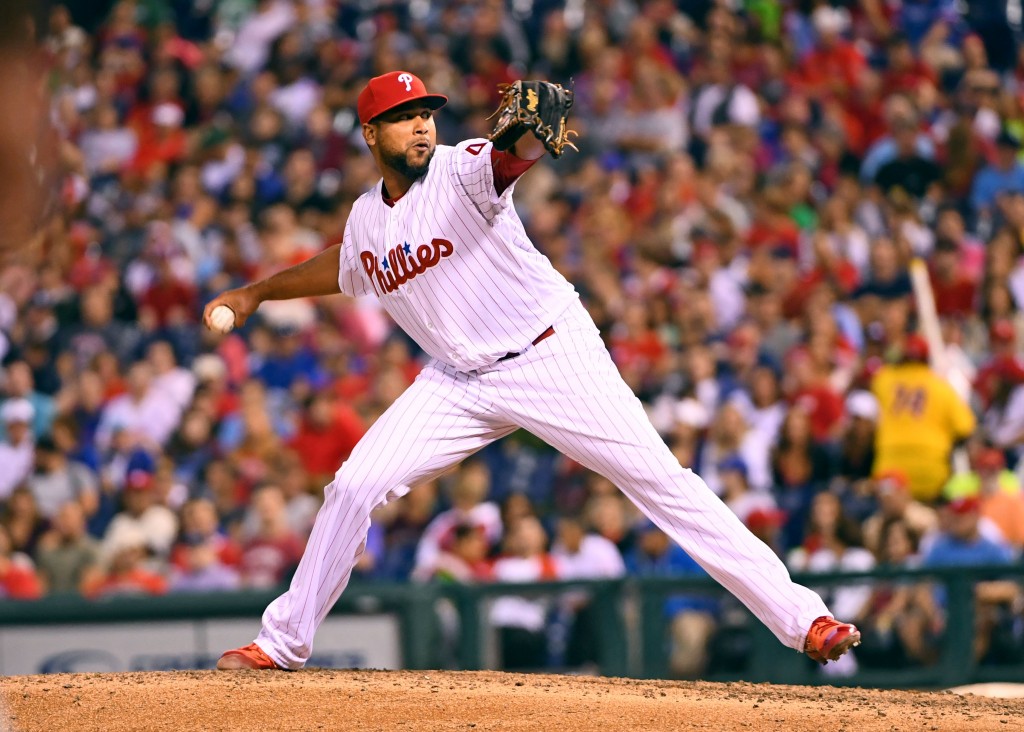 Minor MLB Transactions: Cardinals, Mariners, Phillies, Athletics
Here are today's minor moves from around the league. The Cardinals have announced that they've selected the contract of righty Josh Lucas, optioning fellow righty Mike Mayers (who allowed five runs against Pittsburgh yesterday) to Triple-A Memphis to clear space. The 26-year-old Lucas is a former 21st-round pick and took a slow path through the minors, but he's…

2017-08-19 12:11:29
`
2
White Sox put Lopez on DL with back strain
The White Sox rebuild hit a painful pothole Saturday, when right-handed pitcher Reynaldo Lopez was placed on the 10-day disabled list (retroactive to Friday) with a strained back and second baseman Yoan Moncada was scratched from the starting lineup due to right shin splints.

2017-08-19 11:48:27
`
2
Chapman loses job as Yankees' closer
The Yankees have removed Aroldis Chapman from the closer's role following a fourth straight ineffective appearance, with manager Joe Girardi stating on Saturday that the team will not necessarily have a set closer between Dellin Betances and David Robertson.

2017-08-19 10:32:16
`
1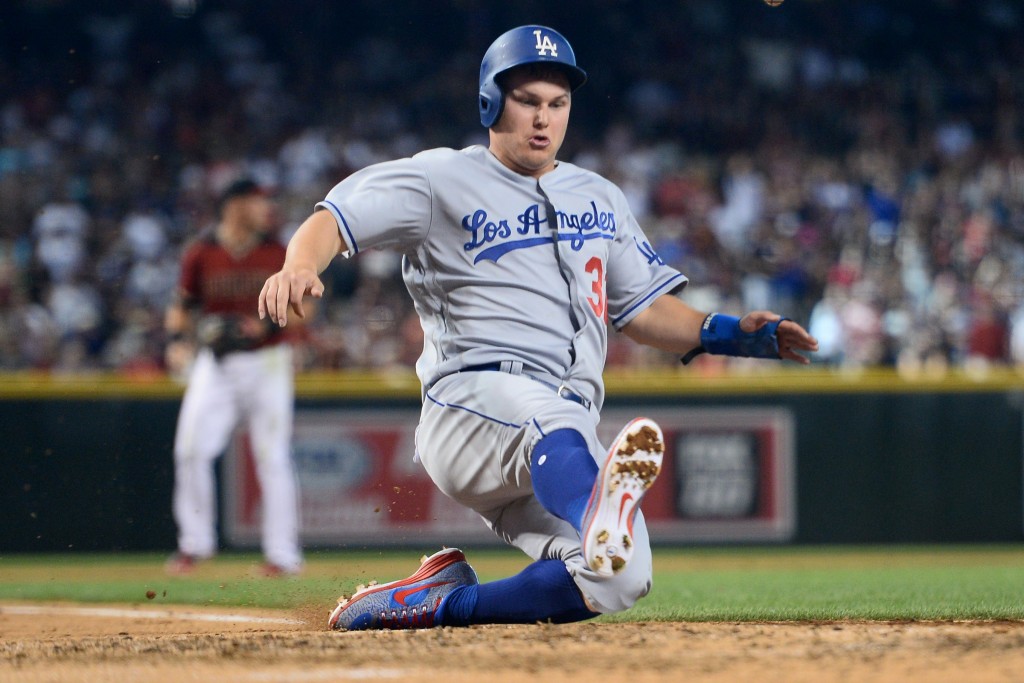 Dodgers To Option Joc Pederson
In the wake of yesterday's acquisition of Curtis Granderson, the Dodgers appear set to demote fellow outfielder Joc Pederson. There hasn't been any official confirmation of the move, but various beat writers noted earlier today that Pederson's locker was empty, and Dodgers manager Dave Roberts has seemingly confirmed the decision, telling reporters (including the Orange County…

2017-08-19 10:28:03
`
1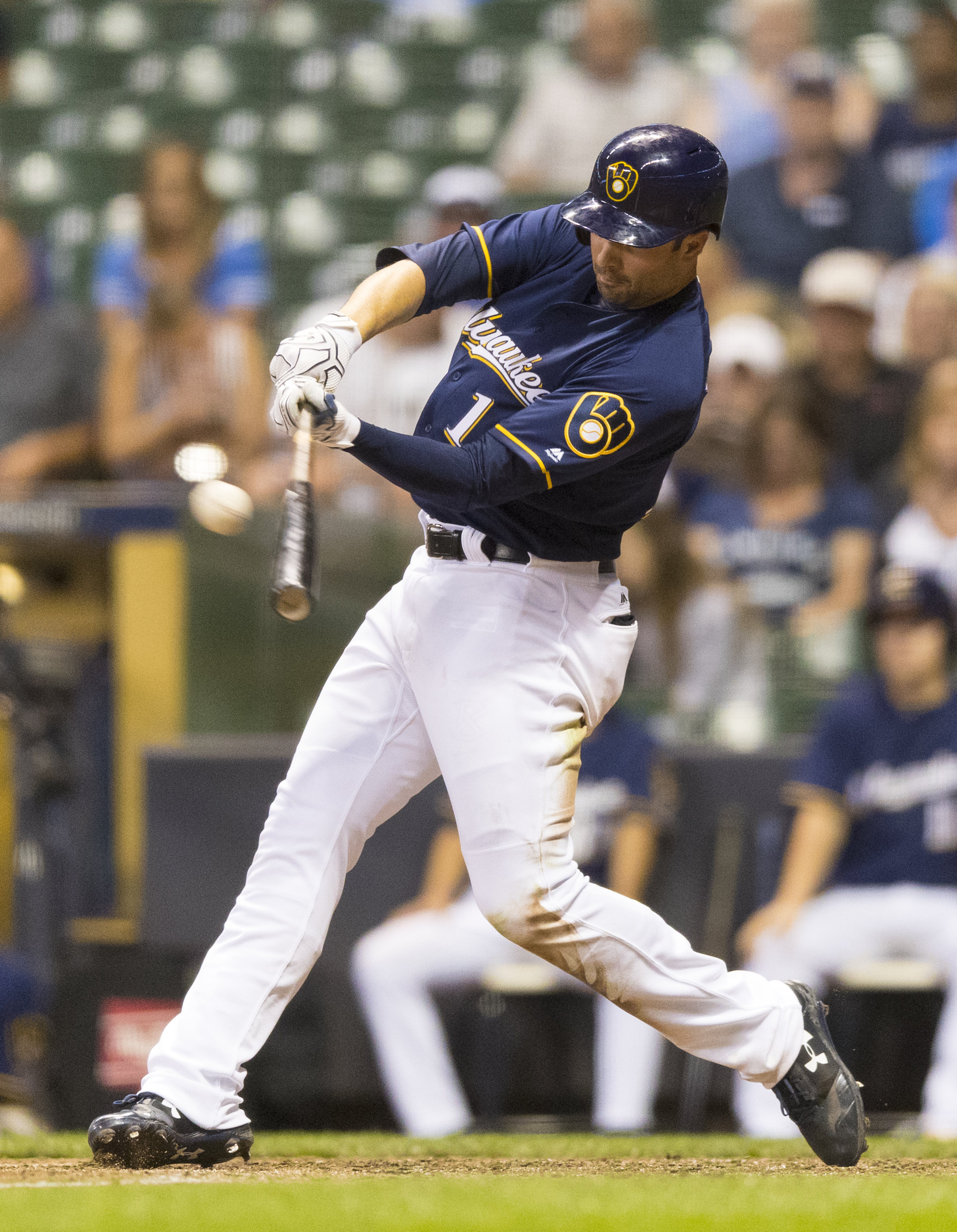 5 Key Stories: Brewers Nab Walker, Dodgers Get Granderson
Here are five top stories from throughout the week here at MLBTR. Brewers acquire Neil Walker. The Brewers made a significant move to upgrade their infield, acquiring second baseman Neil Walker from the Mets (plus a bit of salary relief) for a player to be named later. Walker had previously cleared waivers, meaning the Mets were…

2017-08-19 09:50:16
`
1
Kluber's next start could be pushed back
Corey Kluber thinks he can make his next scheduled start for the Indians. The team's medical staff, however, believes he might need to be pushed back a couple days. Both sides will have more clarity one way or the other when the ace attempts to throw a bullpen session Sunday.

2017-08-19 09:49:49
`
1
Cubs claim catcher Rivera on waivers
The Cubs claimed catcher Rene Rivera off waivers from the Mets on Saturday. To make room for Rivera on the 40-man roster, right-handed pitcher Aaron Brooks has been designated for assignment.

2017-08-19 09:13:53
`
0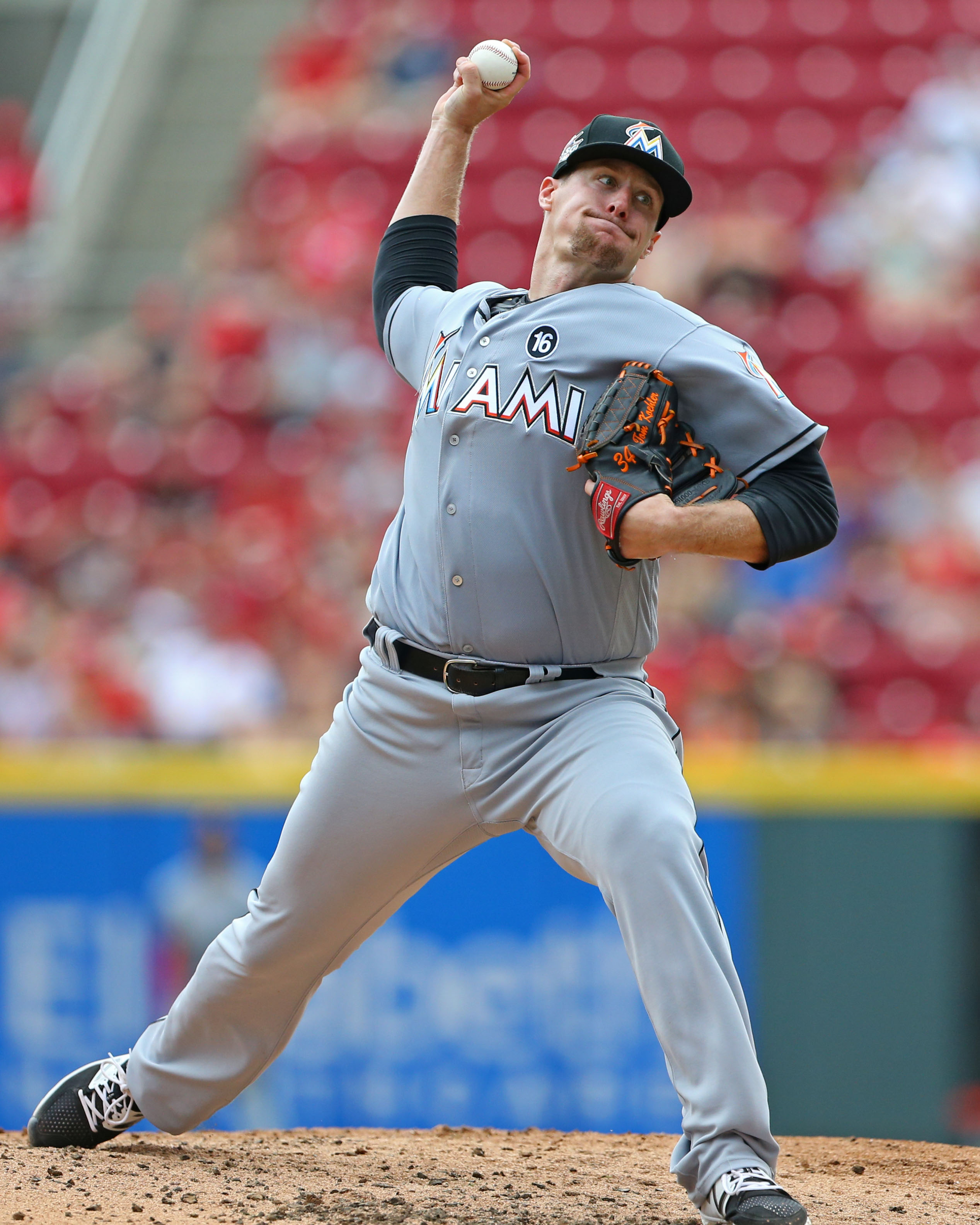 The Blue Jays have acquired right-hander Tom Koehler and cash considerations from the Marlins for minor league righty Osman Gutierrez, according to announcements from both teams. Gutierrez will report to Single-A Greensboro with his new organization. [RELATED: Updated Blue Jays Depth Chart] Koehler, who's on a $5.75MM salary and has another year of arbitration eligibility…

2017-08-19 09:09:33
`
1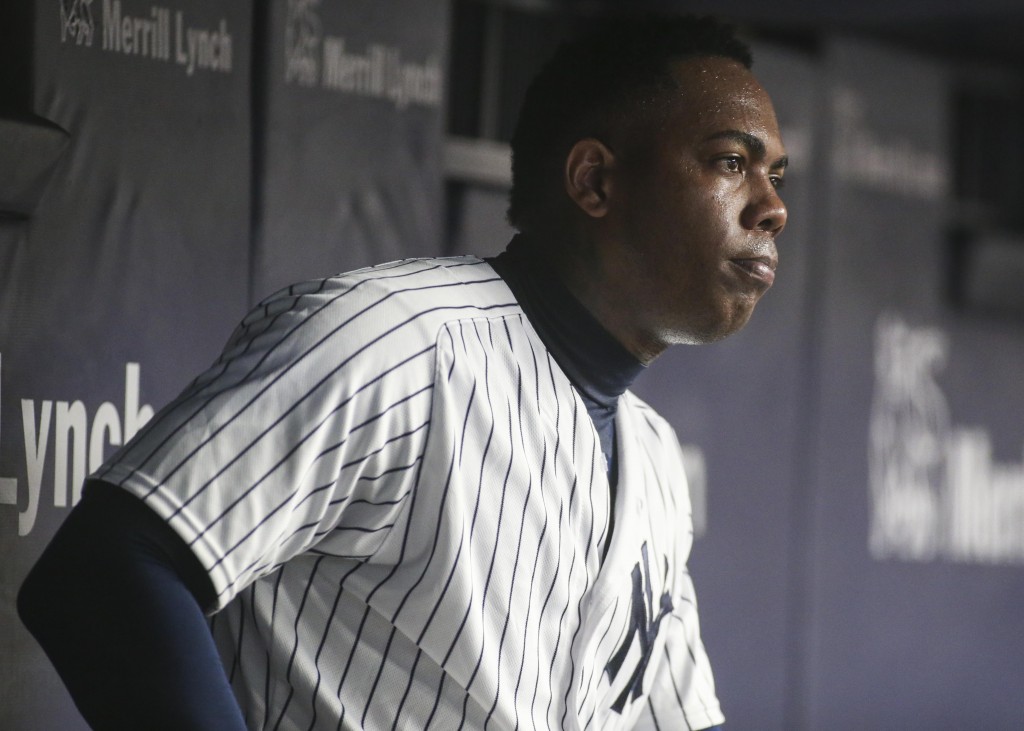 Yankees Notes: Chapman, Estrada, Tanaka
Not even a full season into signing a five-year, $86MM contract – a record deal for a reliever – Aroldis Chapman is out as the Yankees' closer, manager Joe Girardi announced Saturday, per Erik Boland of Newsday (Twitter link). The move isn't necessarily permanent, however, but a measure to "try and get him right," said…

2017-08-19 07:56:43
`
1
Cardinals promote righty reliever Lucas
The Cardinals will try yet another fresh arm in their bullpen, this time adding right-hander Josh Lucas to the roster on Saturday in place of Mike Mayers, who was optioned back to Triple-A Memphis after the team's win on Friday.

2017-08-19 06:37:49
`
1
Anderson wins 25th Anniversary HR derby
Brady Anderson, the current Orioles vice president of baseball operations, edged Sam Horn 5-4 in Saturday's 25th Anniversary Home Run Derby.

2017-08-19 06:19:39
`
1
Cobb to rejoin rotation next week
Alex Cobb (turf toe on right big toe) pitched two innings to Minor League hitters at Tropicana Field on Saturday. The right-hander is expected to come off the 10-day disabled list and rejoin the Rays' rotation next week.

2017-08-19 06:13:20
`
0
Dodgers Acquire Curtis Granderson
The Dodgers have officially struck a deal to land outfielder Curtis Granderson from the Mets for cash or a player to be named later. Granderson took the second spot on MLBTR's list of the top 25 August trade candidates earlier this evening; now, he's headed out west in search of a ring. While the Dodgers are…

2017-08-19 06:10:56
`
2
CC new K leader among AL lefties
CC Sabathia is the active Major League leader in strikeouts, and the veteran hurler notched another interesting footnote to his lengthy career as he returned from the 10-day disabled list on Saturday.

2017-08-19 06:10:04
`
1
Offseason Primer: The New Qualifying Offer Rules
Introduced as a more straightforward method of free agent compensation than the old Type A/Type B free agent designations, the qualifying offer has led to its own set of controversies over its five offseasons of existence.  Some players and agents felt that the attachment of a first-round draft pick to the signings of players who…

2017-08-19 05:23:34
`
2
Wong's journey shines a light on Hilo baseball
Kolten Wong may have put Hilo, Hawaii, on the baseball map with his ascension to the Majors in 2013, but the largest city on what is commonly referred to as the Big Island is making its mark on the youth baseball circuit, as well.

2017-08-19 04:58:56
`
2
Matheny hopes LL Classic will foster 'passion'
The story of how close his Little League team from Reynoldsburg, Ohio, came to qualifying for the Little League World Series many years ago is one that Mike Matheny has enjoyed retelling several times leading up to Sunday's Little League Classic between the Cardinals and Pirates, airing on ESPN at 7 p.m. ET.

2017-08-19 04:47:25
`
0
Granderson a necessary luxury for Dodgers
Curtis Granderson to the Dodgers? Come on. That's just being greedy, isn't it? More like being smart. The Dodgers haven't been to the World Series since 1988, and they know that while they have a good chance to end that drought in October -- it won't be easy. It will be anything but, given that they are likely to find the Nationals or Cubs standing in their way.

2017-08-19 04:39:27
`
1
Dodgers acquire Granderson from Mets
Baseball's hottest team added another piece Friday, as the National League West-leading Dodgers acquired former All-Star outfielder Curtis Granderson from the Mets and cash in exchange for cash or a player to be named.

2017-08-19 04:32:51
`
2
Upton could opt out after '17, still undecided
Justin Upton had a split second to think about his path as he rounded second base on his third-inning home run Friday night. He wasn't thinking about his future as a Tiger, or his contract opt-out at the end of the season. He was thinking about whether he had touched first base.

2017-08-19 04:19:04
`
1
Homers carry Rockies into Wild Card lead
Charlie Blackmon, Gerardo Parra and Carlos Gonzalez each hit home runs to lead the Rockies into solo possession of the top NL Wild Card spot. The Brewers got a trio of homers as well, as Domingo Santana, Keon Broxton and Orlando Arcia each went deep. German Marquez got the victory, his 10th of the season.

2017-08-19 04:16:53
`
6
Southeast spins perfecto on 2nd day of LLWS
The second day of the 2017 Little League World Series featured some history Friday, as three pitchers from the Southeast team (Greenville, N.C.) combined to record the tournament's first perfect game since 2008 in a 6-0 victory over the Midwest (Sioux Falls, S.D.).

2017-08-19 04:09:49
`
4
Bruce's 2 HRs, 5 RBIs power Tribe past KC
In the first of 10 games between the Indians and Royals that could decide the American League Central, the Tribe cruised to a 10-1 win on Friday night at Kauffman Stadium.

2017-08-19 04:05:55
`
6
Statcast of the Day: Buxton's inside-the-parker
It's no secret that Byron Buxton is one of MLB's fastest players, and he showed it with the second inside-the-park homer of his career, rounding the bases in an astounding 13.85 seconds.

2017-08-19 03:45:41
`
3
Dodgers' doubles trump Tigers' HRs in Detroit
The Dodgers didn't need to clear the spacious fences of Comerica Park to put on a show in Motown. Chris Taylor hit two of their six doubles, both for RBIs, in a four-hit game as Los Angeles outpaced the Tigers for an 8-5 win Friday night at Comerica Park.

2017-08-19 03:36:50
`
2
Cardinals hold off late rally, outslug Pirates
The Cardinals have stormed into the thick of the National League Central race on the strength of their lineup, and they needed every last bit of it Friday night. The Cards' bullpen nearly let an eight-run lead slip away but withstood a furious Pirates rally to give St. Louis an 11-10 win over Pittsburgh at PNC Park.

2017-08-19 03:21:15
`
3
Delmonico's two HRs lead White Sox past Rangers
Nicky Delmonico's second home run of the night -- this one an inside-the-park shot -- in the eighth inning lifted the White Sox to a 4-3 victory over the Rangers on Friday night. The loss dropped the Rangers to 2 1/2 games behind the Angels for the second Wild Card spot.

2017-08-19 03:16:37
`
1
Red Sox prevail after trading rallies with Yanks
The rivalry has been back to its riveting best the last two weekends, and no lead ever feels safe. The Yankees and Red Sox traded impressive comebacks in Friday night's series opener, but Boston prevailed with a 9-6 victory that had Fenway Park rocking in the late innings -- and with good reason.

2017-08-19 03:14:10
`
2
Starting Pictures: Cards, Pirates reminisce
The Cardinals and Pirates players who will be participating in Sunday's inaugural Little League Classic have fond memories of their own youth baseball years.

2017-08-19 03:09:43
`
4
Cruz crushes 30th HR 482 feet as M's roll
Erasmo Ramirez got some payback against his old teammates with a quality start, and Nelson Cruz made his mark with two doubles and a tape-measure home run to lead the Mariners' 7-1 win over the Rays on Friday night at Tropicana Field.

2017-08-19 03:03:03
`
3
Keuchel grounds A's as Astros ride 2 jacks
Dallas Keuchel, making his fifth start since missing eight weeks with neck discomfort, turned in his second consecutive gem by throwing seven scoreless innings to lead the Astros to their third win in four games, 3-1, over the Athletics on Friday night at Minute Maid Park.

2017-08-19 02:56:13
`
2
Padres option Renfroe, recall Blash
The San Diego Padres optioned outfielder Hunter Renfroe to Triple-A El Paso and recalled outfielder Jabari Blash from El Paso to take his place on the 25-man roster, the club announced Saturday.

2017-08-19 02:52:04
`
0
Giants romp early, cruise behind Moore
The Giants wasted no time in becoming the latest National League West team to see Phillies starter Zach Eflin well, notching three runs in the first and adding three more over the second and third innings in San Francisco's 10-2 win over Philadelphia on Friday.

2017-08-19 02:50:09
`
2
Mets deal Grandy to LA for player to be named
When the Mets signed Curtis Granderson to a four-year, $60 million free agent deal in December 2013, the contract ushered in a new era for the Mets. The day the signing became official at MLB's Winter Meetings, the Mets crowed about their desire to start competing on an annual basis, with a rising payroll and so much bright, young pitching.

2017-08-19 02:40:29
`
2
Cruz's 482-foot HR Statcast's longest at Trop
Embarking on a two-week, 12-game road trip, a team could use some extra energy. And nothing screams "energy boost" quite like a 482-foot jack, according to Statcast™, to polish off a victory.

2017-08-19 02:29:15
`
1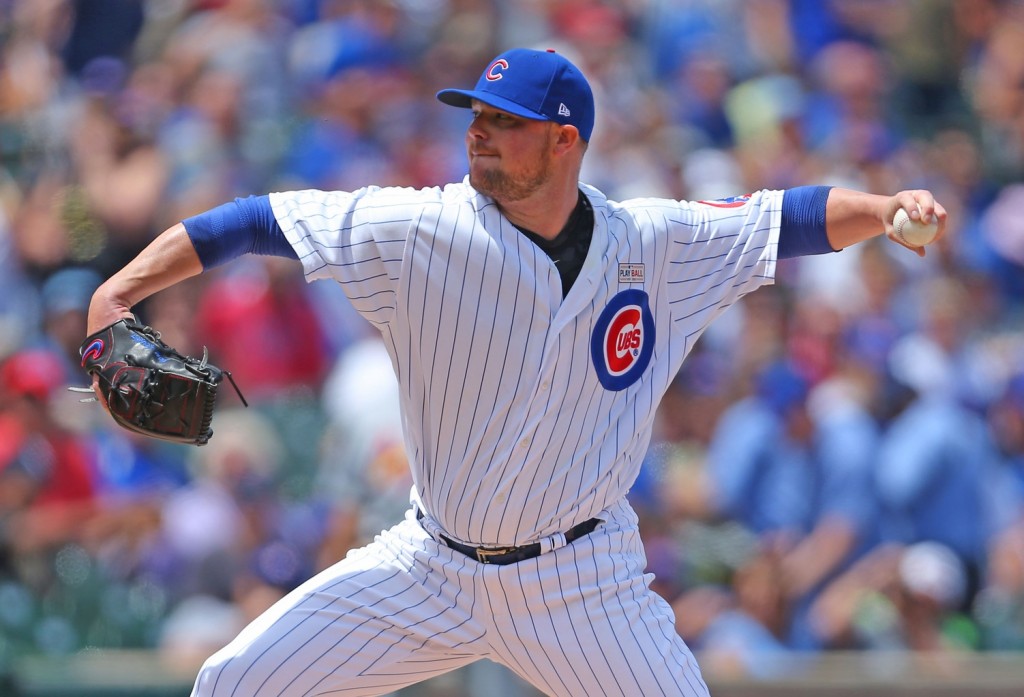 MLB Daily Roster Roundup: Kiermaier, Lester, Scherzer
IMPACT ROSTER MOVES CHC: SP Jon Lester (shoulder fatigue) and RP Justin Grimm (finger infection) placed on 10-Day DL; RP Felix Peña and Rob Zastryzny recalled from minors. | Cubs Depth Chart Mike Montgomery will move to the rotation while Lester is out. CIN: OF Scott Schebler activated from 10-Day DL; SP Scott Feldman (knee inflammation) placed on 10-Day DL. | Reds Depth Chart Schebler was…

2017-08-19 02:23:12
`
1
Cards optimistic Wainwright will return this season
After receiving the results of Adam Wainwright's exam with team physician Dr. George Paletta on Friday, president of baseball operations John Mozeliak said the Cardinals are "definitely optimistic" that the 35-year-old right-hander will pitch for the Cardinals again this year.

2017-08-19 02:22:32
`
0
Aroldis gets animated mound visit from Girardi
The animated discussion between Aroldis Chapman and Joe Girardi in the eighth inning took place at the center of a frenzied Fenway Park on Friday evening, moments after Jackie Bradley Jr.'s two-run single skidded through the center-field grass to provide the final scoring in the Yankees' 9-6 loss to the Red Sox.

2017-08-19 02:18:20
`
2
Twins tee off for 6 HRs, blow out D-backs
The Twins hit six homers to overcome a three-run deficit and back right-hander Ervin Santana in a 10-3 win over the D-backs in Friday night's Interleague series opener at Target Field.

2017-08-19 02:17:57
`
6
Carew, donor's family reunite on Donor Day
Mary Reuland admitted that it was the most difficult phone call she has ever made in her life. Last December, exactly one day after Konrad Reuland's funeral, Mary Reuland started gathering information and making the connection that her son's organs had been donated to Hall of Famer Rod Carew. Shortly after, Mary decided to give Rod's wife, Rhonda, a call, in hopes they could meet.

2017-08-19 02:16:04
`
1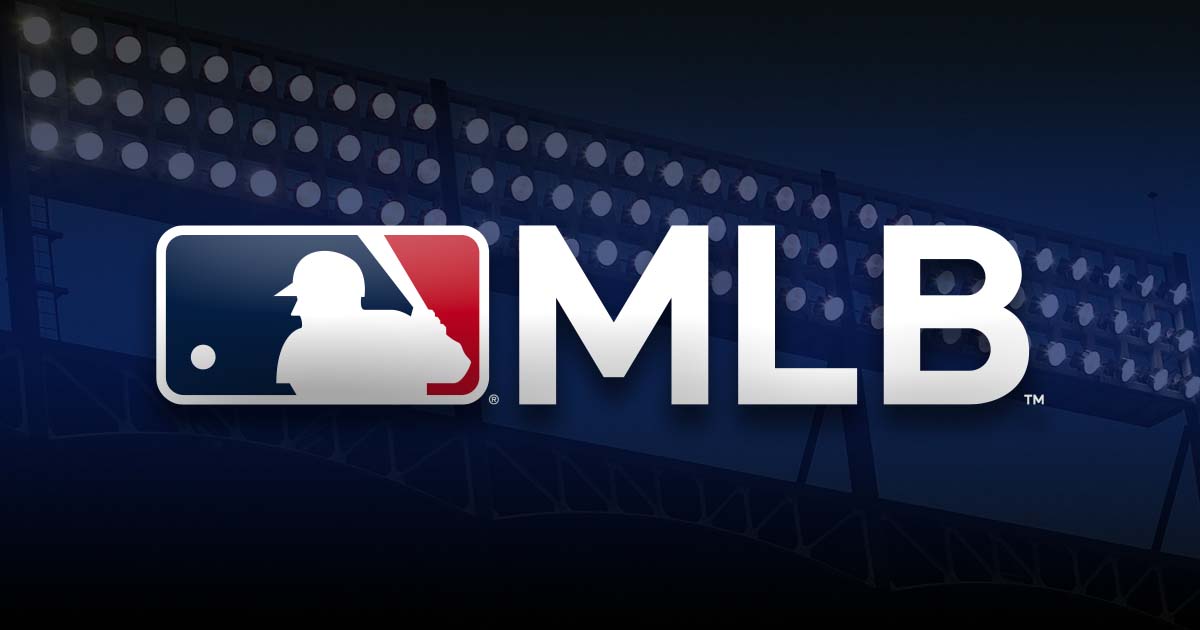 Tepesch, Quintana set to square off at Wrigley
Jose Quintana has faced the Blue Jays plenty of times before, but never as a member of the Cubs. That will change Saturday afternoon. Toronto will counter with right-hander Nick Tepesch.

2017-08-19 02:04:54
`
1
Romano delivers vs. Braves, backed by 3 HRs
Sal Romano halted his recent struggles by delivering one of the finest starts of his rookie season and R.A. Dickey's attempt to produce another gem evaporated as the Reds tagged him for three home runs in the sixth inning of Friday night's 5-3 win over the Braves at SunTrust Park.

2017-08-19 01:53:57
`
1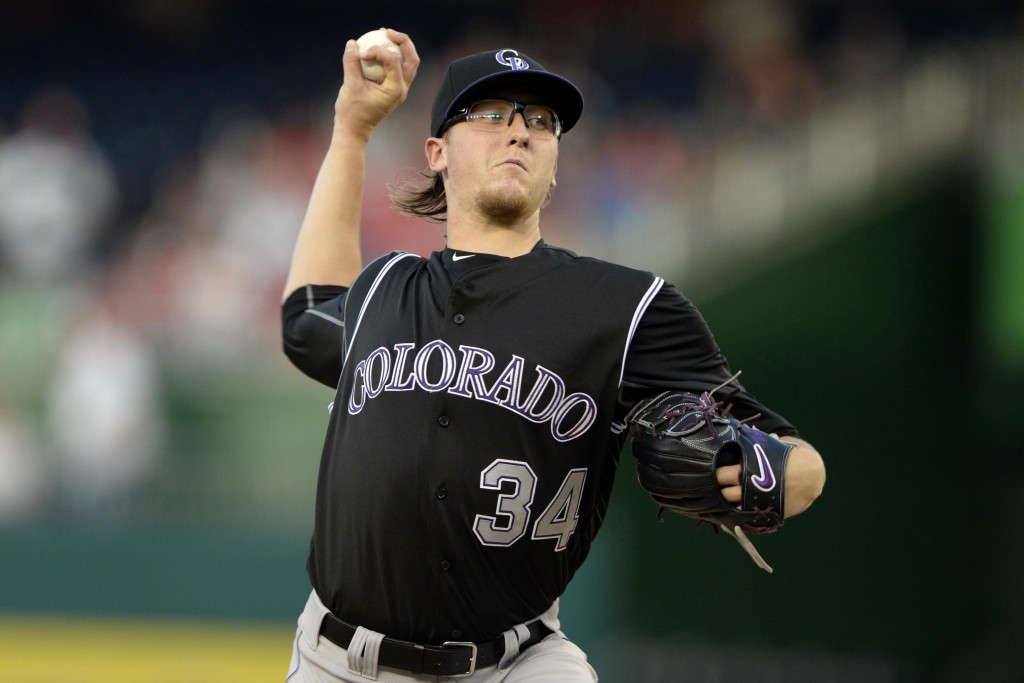 NL Notes: Phillies, Rockies, Cardinals, Price
Phillies righty Zach Eflin left yesterday's game with shoulder discomfort, and while there's no indication yet that the injury is serious, it continues a pattern for Phillies starters that's likely to lead to the team pursuing rotation help this winter, MLB.com's Todd Zolecki writes. The ten starters the Phillies have used this year include two pitchers…

2017-08-19 01:52:17
`
1
Manny (3 HRs) walks O's off with epic slam
Manny Machado homered three times and hit a walkoff grand slam to single-handedly propel the Orioles' come-from-behind 9-7 series-opening win over the Angels Friday night.

2017-08-19 01:45:22
`
2
Kluber's start cut short by right ankle sprain
Indians ace Corey Kluber attempted to pitch through a right ankle sprain in Friday night's 10-1 win over the Royals, but he exited his outing early with the team's head athletic trainer at his side.

2017-08-19 01:45:03
`
2
How Manny HRs? 3, and 3rd is walk-off GS!
Manny Machado is back and it's a scary thought for the rest of the league, perhaps one that could change the game in the Orioles' American League Wild Card hopes.

2017-08-19 01:41:21
`
2
Verlander hosts event for Wins for Warriors
The Wins for Warriors Foundation, founded by Tigers pitcher Justin Verlander to help military veterans, will partner with the Michigan Fitness Foundation to host the inaugural Patriot Ruck on Saturday, Sept. 9 in downtown Detroit to honor all military members, veterans and first responders who served and sacrificed on and after the Sept. 11, 2001 attacks.

2017-08-19 01:34:50
`
1
CC, Sale set for marquee clash on MLB.TV
Several marquee pitching matchups are on tap around MLB on Saturday, featuring the reigning American League Rookie of the Year and a pair of one-time Cy Young Award winners. There's also a big series with National League postseason implications underway in Colorado, one of several great games streaming live on MLB.TV as playoff races around baseball heat up.

2017-08-19 01:28:41
`
3