5 players whose free agency could linger
As we've seen over the last couple of offseasons, the Hot Stove calendar has evolved. While there once was a time when all top free agents would be signed before the New Year, recent offseasons have seen players wait until well into Spring Training in search of the best possible deal.


The Rangers have agreed to a contract (pending physical) with free agent catcher Jeff Mathis, according to Ken Rosenthal of The Athletic (via Twitter). It's said to be a two-year deal for the veteran receiver, with financial details not yet known. Let's get the obvious out of the way up front: Mathis is already 35…


East teams driving starting-pitcher market
The East divisions are the center of the starting-pitching market this offseason. The Yankees and Nationals are two large-market teams known to be looking for rotation help, and their neighbors are interested, too.


Arenado finishes third in NL MVP voting
Rockies third baseman Nolan Arenado finished in third place on the Baseball Writers' Association of America National League Most Valuable Player ballot, as announced Thursday on MLB Network. He finished behind the winner, Christian Yelich of the Brewers, and runner-up, Javier Baez of the Cubs.


Christian Yelich, Mookie Betts Win MVP Awards
The Baseball Writers' Association of America announced tonight that Brewers outfielder Christian Yelich was voted the Most Valuable Player of the National League. Meanwhile, fellow outfielder Mookie Betts took the prize in the American League. Yelich nearly pulled off a unanimous win after helping lead the Brew Crew to a stirring NL Central title. Only…


Twins To Name Wes Johnson Pitching Coach
The Twins will dip into the college ranks to find their next pitching coach, as Dan Hayes of The Athletic reports (subscription link) that Minnesota is set to hire University of Arkansas pitching coach Wes Johnson to hold that same role in Minneapolis. Additionally, the club will name Jeremy Hefner as its bullpen coach, Derek Wetmore of…


The Mariners announced today that they have inked a MLB pact with right-handed hurler Ruben Alaniz. He'll take the 33rd spot on the club's 40-man roster, leaving plenty of room still to work with. Alaniz, 27, has not yet received a shot at the majors. The nine-year minor-league veteran has mostly toiled without fanfare. Originally…


Betts, Yelich win first career MVP Awards
Red Sox outfielder Mookie Betts was named the 2018 American League Most Valuable Player on Thursday, adding an appropriate finishing touch to a magical year for a team that won a franchise-record 108 regular-season games and its fourth World Series in 15 seasons, and Brewers outfielder Christian Yelich earned the NL MVP honors after leading Milwaukee to an NL-best 96 wins and a return to the playoffs for the first time since 2011.


Bucs to continue exploring options at SS, RF
The Pirates added to their infield mix on Wednesday by acquiring utility man Erik Gonzalez in a five-player trade with the Indians, but they're not done looking for a shortstop or a short-term solution in right field.


Yelich crowned MVP in first year with Crew
Brewers right fielder Christian Yelich was a near-unanimous choice for the 2018 National League MVP Award, getting 29 of 30 first-place votes from the Baseball Writers' Association of America to win in a landslide over runner-up Javier Baez of the Cubs and third-place finisher Nolan Arenado of the Rockies.


Jacob deGrom To Remain With CAA
As recently as last night, Mets ace Jacob deGrom told reporters that he'd yet to settle on who his new agent will be in the wake of Brodie Van Wagenen's appointment as the Mets' general manager. That decision now looks to have been made, as SNY's Andy Martino reports that deGrom will remain with CAA…


Torre's charity event salutes 1998 Yankees
Members of the '98 champions, Mets closer John Franco and Hall of Famer Tony La Russa were on hand to support Safe at Home, which helps children impacted by violence and trauma in their homes, schools and communities.


5 amazing facts about your 2018 MVPs
Outfielders Mookie Betts of the Red Sox and Christian Yelich of the Brewers enjoyed sensational 2018 seasons, showing off well-rounded skill sets that helped lift their clubs to the postseason and earn them Most Valuable Player Awards.


As part of his explosive breakout 2018 season, Javier Baez didn't just give the Cubs elite hitting numbers and indispensable versatility around the infield -- he also added an element of thrill to everything he did, whether in his free-swinging approach, aggressive baserunning or daring tags in the field. The career year from one of the most exciting players in baseball culminated in a runner-up finish in the National League Most Valuable Player Award voting on Thursday.


Betts caps honors season with AL MVP Award
A batting title, a World Series championship, a Gold Glove, a Silver Slugger and a baby daughter had already made 2018 the most gratifying year in the life of Mookie Betts. And then there was a sweet capper on Thursday, when the superstar right fielder of the Red Sox was named the American League's Most Valuable Player, winning the award in a romp.


Trout finishes second in AL MVP voting
Mike Trout enjoyed his best overall season to date in 2018, but it wasn't enough to earn him his third career American League Most Valuable Player Award.


Hazen faces multilayered paths for 2019
The best way to envision what D-backs general manager Mike Hazen and his staff are facing this offseason is to picture a room filled with different sets of domino chains.


Ramirez finishes 3rd in AL MVP Award race
Indians slugger Jose Ramirez finished third in voting for the American Leagu Most Valuable Player Award behind Mookie Betts of the Red Sox and runner-up Mike Trout of the Angels. It marked the second straight year in which Ramirez -- a dynamic switch-hitting infielder -- placed third in voting for the AL's top accolade.


Betts, Yelich win first career MVP Awards
Red Sox outfielder Mookie Betts was named the 2018 American League Most Valuable Player on Thursday, adding an appropriate finishing touch to a magical year for a team that won a franchise-record 108 regular-season games and its fourth World Series in 15 seasons, and Brewers outfielder Christian Yelich earned the NL MVP honors after leading Milwaukee to an NL-best 96 wins and a return to the playoffs for the first time in 2011.


Which Draft Picks Each Team Would Lose By Signing A Qualified Free Agent
Bryce Harper, Patrick Corbin, Dallas Keuchel, Craig Kimbrel, Yasmani Grandal, and A.J. Pollock were the six free agents this year to receive and turn down a one-year, $17.9MM qualifying offer from their teams this month.  If those players sign elsewhere, here's a look at the draft picks the signing team would lose. Competitive Balance Tax Payors:…


MLB, Fox Sports Reach Reported $5.1 Billion Rights Agreement
Major League Baseball announced today that it has reached a new seven-year, multiplatform agreement with FOX Sports spanning the 2022-28 seasons. Eric Fisher of Sports Business Journal reports (via Twitter) that the contract's rough value is a staggering $5.1 billion — a near-50 percent increase over the total value of the existing agreement between MLB…


Robertson enjoying free-agent talks as own rep
Free-agent reliever David Robertson is representing himself after parting ways with his longtime agent, Scott Leventhal. Robertson, who will be pitching in his age-34 season in 2019, has fielded calls and texts from more than a half-dozen general managers since he hit the market.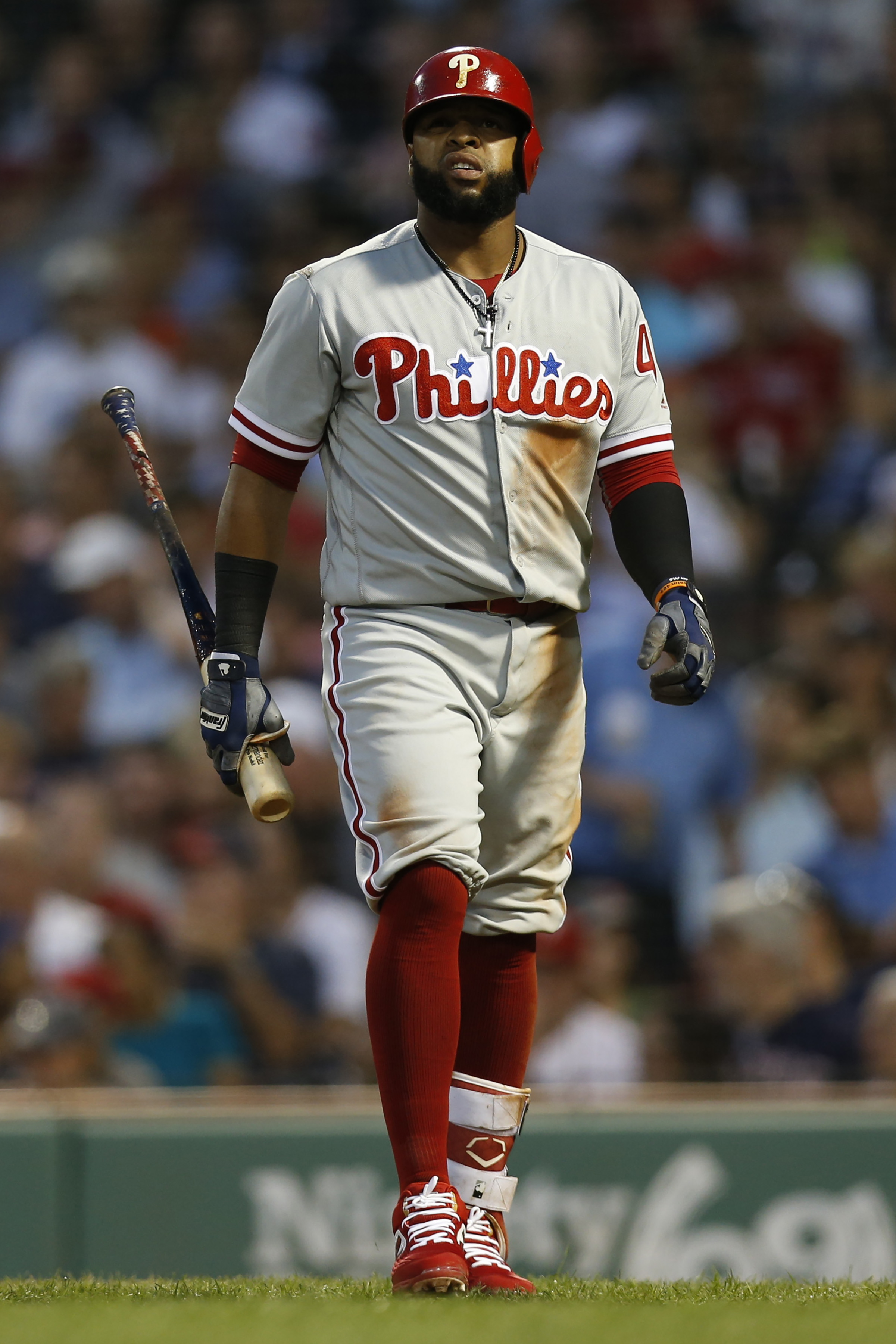 Looking For A Match In A Carlos Santana Trade
Earlier this week, Ken Rosenthal of The Athletic reported via a rival executive that the Phillies are "shopping the hell" out of first baseman Carlos Santana.  The Rhys Hoskins left field experiment went poorly this year, so it's logical for GM Matt Klentak to attempt to trade the veteran Santana to allow Hoskins to move…


MLB to permit more colorful cleats in 2019
MLB and the MLBPA announced Thursday that amendments have been made to the collective bargaining agreement's rules governing the appearance of cleats worn by players. The goal was increased wiggle room with regard to the colors and designs deemed appropriate for the field of play.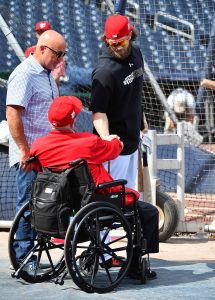 Offseason Outlook: Washington Nationals
The Nationals will again look to bounce back from a bitterly disappointing season, but they'll again do so with significant resources and reason for optimism. Guaranteed Contracts Max Scherzer, SP: $105MM through 2021 (with assorted deferments) Stephen Strasburg, SP: $135MM through 2023 (with assorted deferments; includes opt-outs after 2019, 2020) Ryan Zimmerman, 1B: $20MM through…


MLB, DAZN agree to 3-year live digital rights deal
Major League Baseball and global sports streaming platform DAZN have agreed to a three-year live digital rights partnership in the United States, set to begin with the 2019 MLB regular season, it was announced today by Baseball Commissioner Robert D. Manfred Jr., and DAZN Group Executive Chairman John Skipper.


Rangers win Selig Award for philanthropy
The Rangers were named the recipient of the 2018 Allan H. Selig Award for Philanthropic Excellence by Major League Baseball on Thursday at the quarterly Owners Meetings in Atlanta.


Free age-nts: Older players with market value
Here's a look at seven free agents in their late 30s and 40s who have plenty left to give. They might not be the young turks anymore, but they're not riding off into the sunset, either.


Rangers win Selig Award for philanthropy
The Texas Rangers organization has been named recipient of the 2018 Allan H. Selig Award for Philanthropic Excellence, Major League Baseball announced earlier today at the quarterly Owners Meetings.


MLB, FOX complete multiyear agreement
FOX Sports and Major League Baseball have reached a new multiyear, multiplatform rights agreement expanding the network's television, digital and Spanish-language rights and cementing FOX Sports as the home to baseball's marquee events for the next decade.


With Cy win, deGrom joins elite Mets club
There were two other right-handers for the Mets who were the kind of pitching stars that Jacob deGrom was for New York this season. There was Tom Seaver, the greatest figure in the history of the Mets' franchise. And there was young Dwight Gooden, who could throw fastballs past the world and turn every start into a must-see event -- fans were afraid to miss 20 strikeouts in a game or a no-hitter.


Should M's trade Diaz? Here are 5 good fits
The Mariners are stuck between contending and rebuilding this winter, so they may need to entertain unexpected ideas. Let's start with the thought of trading closer Edwin Diaz, one of baseball's best relievers.


Latest On Manny Machado's Market
Manny Machado's now-infamous "Johnny Hustle" comments and the incident in which appeared to deliberately clip Jesus Aguilar's foot on a play at first base have made him more of a lightning rod than ever, and there'll be no shortage of speculation on the degree to which he damaged his free-agent stock (if at all) as…


LIVE: MLB can end trip on high note
MLB's All-Star squad aims to wrap up its series in Japan with a win. Watch the action live on MLB Network now, with a repeat airing at 8 p.m. ET.


Warwick Saupold, Chad Bell Sign With KBO's Hanwha Eagles
The Hanwha Eagles of the Korea Baseball Organization announced that they've signed right-hander Warwick Saupold and left-hander Chad Bell to one-year contracts (hat tip: Dan Kurtz of MyKBO.net, on Twitter). Saupold will earn a total of $1MM — $300K signing bonus and $700K salary — while Bell will receive a $200K signing bonus and a $400K…


Rangers Announce Five Members Of Coaching Staff
The Rangers announced five members of their 2019 coaching staff Wednesday, including the hiring of Dodgers assistant hitting coach Luis Ortiz as their new hitting coach. In addition, Texas announced that bench coach Don Wakamatsu and third base coach Tony Beasley are returning to the staff in those roles next season. Bullpen coach Hector Ortiz…


Winners of multiple major year-end awards
A look at players and managers who have taken home two or more of baseball's top yearly prizes -- Most Valuable Player, Rookie of the Year, Cy Young and Manager of the Year -- during their careers.


Alonso homers, first in AFL in '18 with 6-RBI game
After tying for the Minor League lead with 36 homers this season, Peter Alonso now has the Arizona Fall League crown in his sights as well. The Mets' No. 2 prospect blasted his sixth homer of the fall Wednesday night as his Scottsdale Scorpions routed the Peoria Javelinas, 10-3.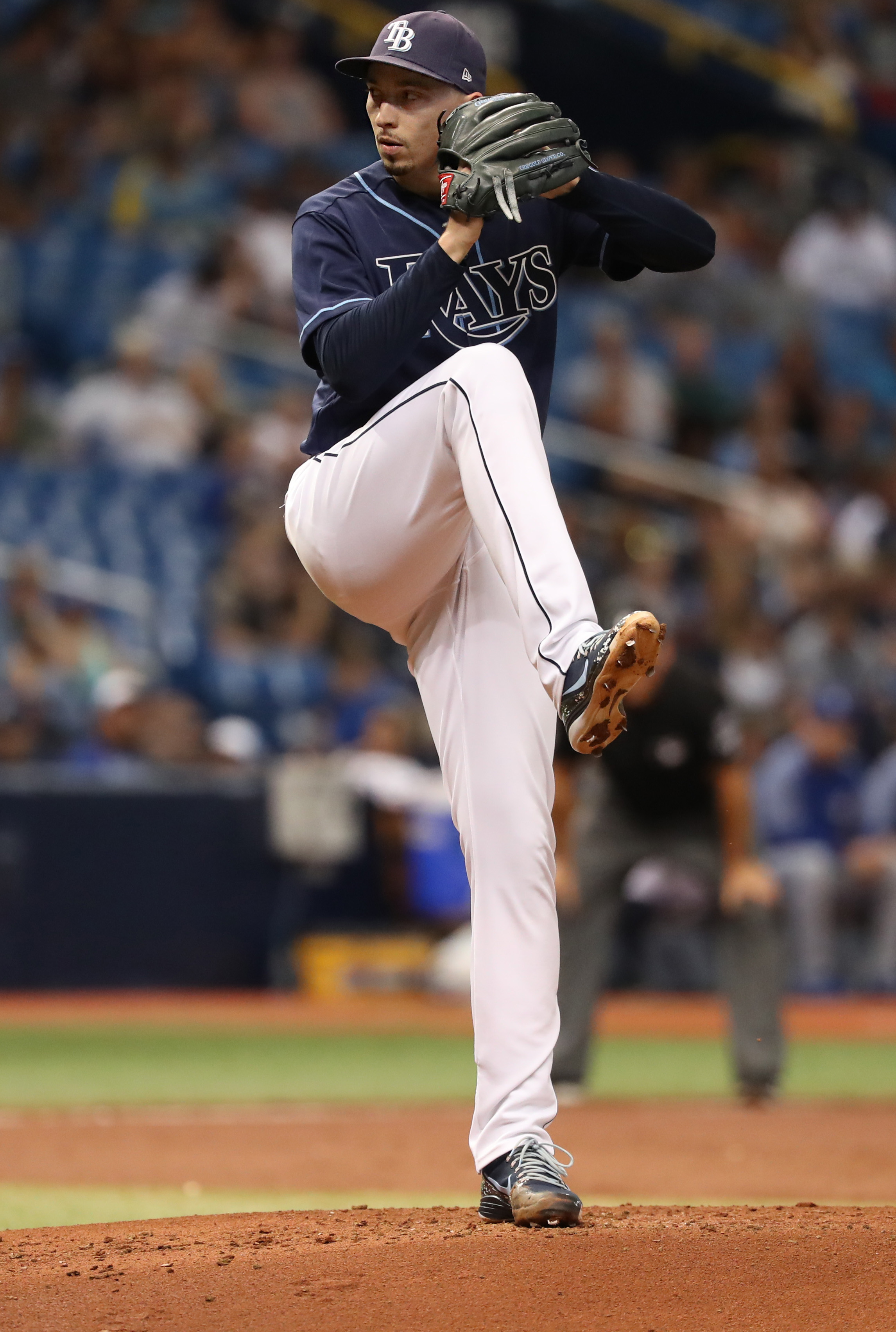 Blake Snell, Jacob deGrom Win Cy Young Awards
Rays left-hander Blake Snell and Mets right-hander Jacob deGrom have won the Cy Young Awards in their respective leagues, the Baseball Writers Association of America announced on Wednesday night. Snell received 17 of the 30 first-place votes, with the other 13 first-place nods going to Astros ace Justin Verlander. In the end, Snell narrowly edged out…


White Sox ACE program puts 20 more in college
The locale for the annual White Sox Amateur City Elite collegiate-signing-day ceremony moved from the Guaranteed Rate Field Conference and Learning Center to the Stadium Club on Wednesday night, but the spirit of this great initiative begun by the White Sox in 2007 certainly stayed the same.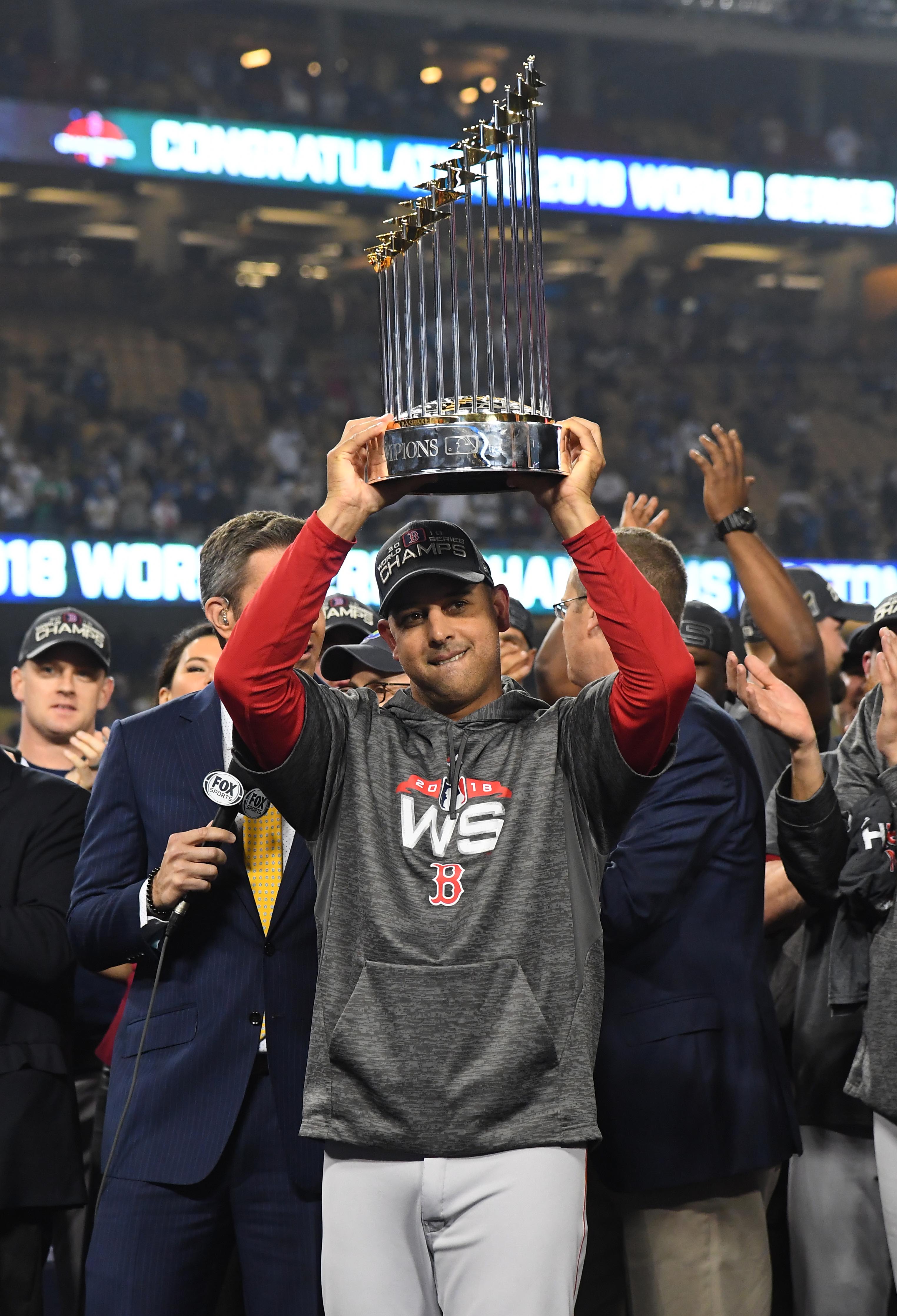 Red Sox Announce Extension With Alex Cora
5:12pm: WEEI's Rob Bradford tweets that Cora is indeed receiving a raise on the deal as well. 4:57pm: The Red Sox announced Wednesday that they're agreed to a new contract with manager Alex Cora on the heels of 2018's World Series title. Cora's original contract with the Sox spanned the 2018-20 seasons and included a…


These 5 teams need Eovaldi's elite velocity
Nathan Eovaldi's velocity makes him stand out from nearly all starting pitchers -- but especially from the others in this free-agent class. Eovaldi's fastball averaged 97.1 mph in 2018, much faster than the other top available starters. Here are five teams that would be a perfect home for Eovaldi's electric fastball.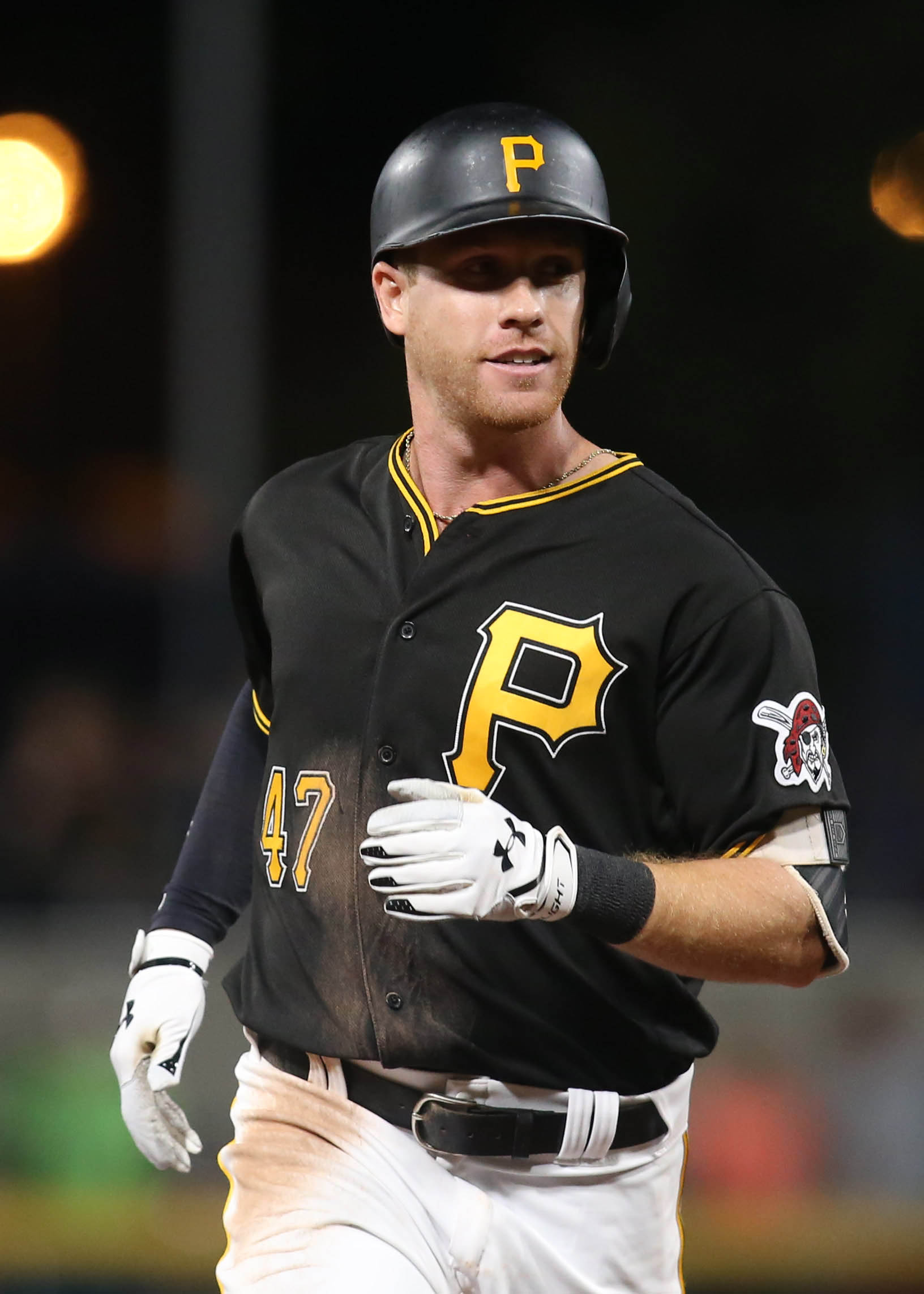 Indians Acquire Jordan Luplow, Max Moroff In Five-Player Trade With Pirates
The Indians announced Wednesday that they've acquired outfielder Jordan Luplow and infielder Max Moroff from the Pirates in exchange for utility man Erik Gonzalez and minor league right-handers Tahnaj Thomas and Dante Mendoza. The Pirates, too, have issued a press release announcing the move. In Luplow, Cleveland adds an outfield option to a perilously thin…


Phillies Place Justin Bour On Waivers
The Phillies have placed first baseman Justin Bour on waivers, tweets Jim Salisbury of NBC Sports Philadelphia. The move comes in advance of a fairly notable deadline, as teams have until Tuesday of next week to protect players from the Rule 5 Draft by adding them to the 40-man roster. The decision to place Bour…


The case for each AL MVP finalist
The 2018 American League Most Valuable Player Award race has yielded three tremendous all-around players as finalists in Mookie Betts, Jose Ramirez and Mike Trout. Each slugged more than 30 home runs while stealing more than 20 bases, as well as playing strong defense at his respective position. It's no easy decision to name one MVP from this trio, but that's exactly what will happen when the winner is announced Thursday at 6 p.m. ET on MLB Network. Here's the case for each finalist.


The case for each NL MVP finalist
The finalists in the 2018 National League Most Valuable Player Award race include a perennial MVP candidate and a pair of stars who ascended to superstar status last season. While the Rockies' Nolan Arenado had twice finished top-5, the Cubs' Javier Baez and the Brewers' Christian Yelich had never finished higher than 19th. It all makes for an exciting and intriguing announcement Thursday at 6 p.m. ET on MLB Network. Here's a look at the case for each finalist.


Mariners Expected To Hire Tim Laker As Hitting Coach
The Mariners are working to finalize a contract with Tim Laker to make him the organization's new hitting coach, per MLB.com's Greg Johns. He'll take over for Edgar Martinez, who moved into a different role with the club. Laker had been the assistant hitting coach for the Diamondbacks, a position he has held for two…


deGrom, Snell rise to top as 1st-time Cy winners
The Cy Young script has been rewritten. When the Mets' Jacob deGrom and the Rays' Blake Snell were announced on Wednesday night as the 2018 winners of baseball's most prestigious pitching prizes, it was a window into the metrics that matter most when evaluating the modern-day starter and into the way the starting role itself has been altered -- perhaps irrevocably -- in MLB.


Luis Ortiz named Rangers hitting coach
New Rangers manager Chris Woodward continued to round out his Major League coaching staff on Wednesday, most notably with the hiring of Luis Ortiz as hitting coach. Ortiz joins Woodward from the Dodgers' coaching staff in 2018.


deGrom wins NL Cy Young Award in runaway
In the end, it wasn't close. A summer full of hand-wringing about wins and losses, the value of pitcher WAR and the nature of run prevention seemed a distant memory on Wednesday, when the Baseball Writers' Association of America crowned Jacob deGrom the National League Cy Young in a blowout. Garnering 207 points to Max Scherzer's 123, deGrom became the sixth Cy Young Award winner in Mets history.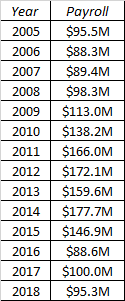 Projecting Payrolls: Philadelphia Phillies
I'm ecstatic to join the MLBTR team to offer insight on an essential topic in the baseball world, especially this time of year: team payrolls. We'll be combing through the league this winter, focusing first on the teams that figure to be the biggest players in the free agent marketplace. There's no better place to…


Red Sox, Cora agree on new deal through '21
A day after Alex Cora finished second in the American League Manager of the Year Award race, the Red Sox gave their skipper the ultimate vote of confidence by redoing his contract to include a raise, an extra guaranteed year in 2021 and a club option that can keep him in Boston through '22.


Pirates acquire three players in trade with Tribe
The Pirates acquired infielder Erik Gonzalez along with Minor League pitchers Tahnaj Thomas and Dante Mendoza from the Indians in exchange for outfielder Jordan Luplow and infielder Max Moroff on Wednesday.


Ranking every Cy Young Award season
While voting procedures and philosophies have changed with the times, the general object of the awards always has been to identify the pitchers who enjoyed the most success during the regular season -- however that is defined. Without further delay, here are the greatest Cy Young Award seasons of all time.


Relievers the Braves should target for 2019
Though enough bodies are already present within the Braves' system, there's good reason to regard the bullpen as an area of need. Here is a look at the team's bullpen picture.


Phillies To Promote Chris Young To Pitching Coach
The Phillies are set to promote Chris Young to their primary pitching coach position, per Ken Rosenthal of The Athletic (via Twitter). He had been the assistant to Rick Kranitz, who'll now be allowed to speak with other organizations about their openings. Young — not to be confused with this Chris Young … or that…


Hiura discusses AFL, Brewers' success
On this week's Pipeline Podcast, Jim Callis, Jonathan Mayo and Tim McMaster are joined by Brewers prospect Keston Hiura, who discusses the success he's had in the Arizona Fall League and how much he enjoyed watching the Brewers' postseason run.


Yankees weighing Machado's off-field comments
The Yankees' interest in Manny Machado is serious, and as the club continues to gather information and evaluate his potential fit in pinstripes, managing general partner Hal Steinbrenner said it is "essential" to hear an explanation for the free-agent slugger's October commentary.


Minor-League Pitching Signings: 11/14/18
We'll use this quiet morning to catch up on a few recently reported minor-league signings of veteran pitchers that we haven't yet covered (with a hat tip to Chris Cotillo of MassLive.com for noting them) … The Dodgers inked righty Kevin Quackenbush to a minors deal, his representatives at Full Circle Sports Management announced. Quackenbush broke…


Leyland praises former Tigers rival Mauer
Jim Leyland only knew Mauer from the opposite dugout and from a few conversations, among them a flight together from Detroit to New York for the All-Star Game in 2008. Leyland's respect for Mauer, however, went well beyond that of a division foe.


Marlins' starters on the mend will impact rotation
With several starters having minimal big league experience, the Marlins are in the market for rotation depth. Miami's front office aims to protect itself from having to rush prospects, so the organization is exploring modestly-priced free agents as well as trade possibilities.


Bolstering the bullpen high on Cards' priority list
While the Cardinals' search for an impact bat may be monopolizing most of their Hot Stove headlines, the club continues to operate with multiple offseason goals in sight. High on that list is improving the bullpen, which, even after a midseason overhaul, still has glaring holes.


Industry Notes: MASN, Wright, Mariners, Amateur
Over at The Athletic, Meghan Montemurro takes a fascinating look at how monster free agent contracts are negotiated. Subscribers will certainly want to read the entire piece for themselves, but there are a few notable takeaways that are worth discussing here. Notably, Montemurro's efforts at canvassing prior signings reveals that heavy and early ownership involvement…


Laker poised to become Mariners' hitting coach
Tim Laker, the current assistant hitting coach for the D-backs, is in the final stages of being hired as the Mariners' new hitting coach to replace Edgar Martinez, according to a baseball source.


10 prospects who have stood out in the Fall League
The final week of the Arizona Fall League provides an early opportunity to reflect on some its top players and performances. The MLB Pipeline crew has been present for more games this year than ever before, with our team alternating stints covering up to two games per day throughout the six-week season. While my two-week tour of AFL recently came to an end, many of the players that I saw while in Arizona left an indelible impression. Here are thoughts on some of them, both hitters and pitchers,


MLB commits $500,000 to vet-assist groups
In an ongoing effort to further support military veterans and their families, Major League Baseball announced a $500,000 grant commitment through 2019 to several nonprofits to assist service members in transitioning to civilian life.


Bullet trains make travel a breeze for MLB stars
Transporting more than 100 people from city to city in a foreign country isn't easy, but with the help of the fastest high-speed rail in the world, this week's travel schedule was a cinch for the Major League traveling party.


Inbox: Who will be Padres' Opening Day SS?
The next month will be an active one for A.J. Preller and the rest of the Padres' front office. The Friars have a handful of roster decisions to make by next Tuesday. They're still kicking the tires on shortstops, third basemen, starting pitching and relief pitching. And the Winter Meetings (Dec. 9-13) loom in Las Vegas. With that in mind, here's a look at some of your most pressing questions surrounding the Padres this offseason:


Players who didn't win awards, but deserved to
Like every other element of the entertainment business, MLB is awash in awards. There are awards for pitching prowess, defensive deftness and straight-up slugging. There is a trophy given to guys who give to the community. There is an honor designated for designated hitters. There are rewards reserved for rookies and relievers. And perhaps the most valuable award of all is the one that goes to the Most Valuable Player in each league.


Elias, from Astros, looks like Orioles' GM pick
The Orioles, amid a rebuild, have spent their time studying organizations that have built sustainability, used advanced analytics and grown a contender from within. It's to little surprise, then, that the Orioles landed on Astros assistant general manager Mike Elias as their choice to head the front office.


Astros' Mike Elias Reportedly The Favorite To Be Named Orioles' GM
11:45pm: MLB.com's Mark Feinsand tweets that "it is expected that Mejdal would join Elias in Baltimore" if Elias is indeed named general manager. 11:08pm: The Orioles long-running search for a new baseball operations leader could be winding to a close. Bob Nightengale of USA Today tweets that "barring a sudden change of heart," Astros assistant…


AL Notes: Red Sox, Indians, Merrifield, ChiSox
As the Red Sox gear up to defend their 2018 World Series championship, MLBTR's Tim Dierkes joined WEEI's Rob Bradford on this week's episode of the Bradfo Sho. Tim and Rob discuss the recent Top 50 free agent list published here at MLBTR, with a specific focus on a number of Red Sox free agents…


Red Sox, Juan Centeno Agree To Minor League Contract
The Red Sox are in agreement with catcher Juan Centeno on a minor league contract, tweets MassLive.com's Chris Cotillo. The Magnus Sports client figures to receive an invite to Major League Spring Training. Centeno, 28, appeared in 10 games for the Rangers this past season and joins the Boston organization with 111 games of MLB…


Diamondbacks Sign Abraham Almonte To Minor League Deal
The Diamondbacks have signed veteran outfielder Abraham Almonte to a minor league pact with an invitation to Major League Spring Training. He's represented by ISE Baseball. The actual signing took place last week, it seems, though the D-backs didn't formally announce the move themselves, so it flew largely under the radar. The only acknowledgment of…


Scott Brosius Won't Return To Mariners' Coaching Staff; Perry Hill Likely To Be Hired
Mariners third base coach Scott Brosius won't be returning to the organization in 2019, reports Ryan Divish of the Seattle Times. The organization had hoped to renew Brosius' contract and had formally invited him back, per the report, but Brosius decided weeks ago that he'd be pursuing other opportunities, it seems. The departure of Brosius…


History shows what Eovaldi can expect in FA
One of the best Trade Deadline additions any team made in 2018, Nathan Eovaldi posted a 3.33 ERA over 12 regular-season appearances (11 starts) with the Red Sox before shining in the postseason for the World Series champions. Having boosted his stock considerably, Eovaldi should draw significant interest on the free-agent market. Here, you will find a list of the latest news and rumors surrounding the right-hander.


These 3 teams could be perfect fits for Greinke
With the free-agent market light on front-end starting pitchers, an interesting trade possibility has been floated this week: Could the D-backs move Zack Greinke? If Arizona decides to move the veteran right-hander, here are three teams that would be interesting fits.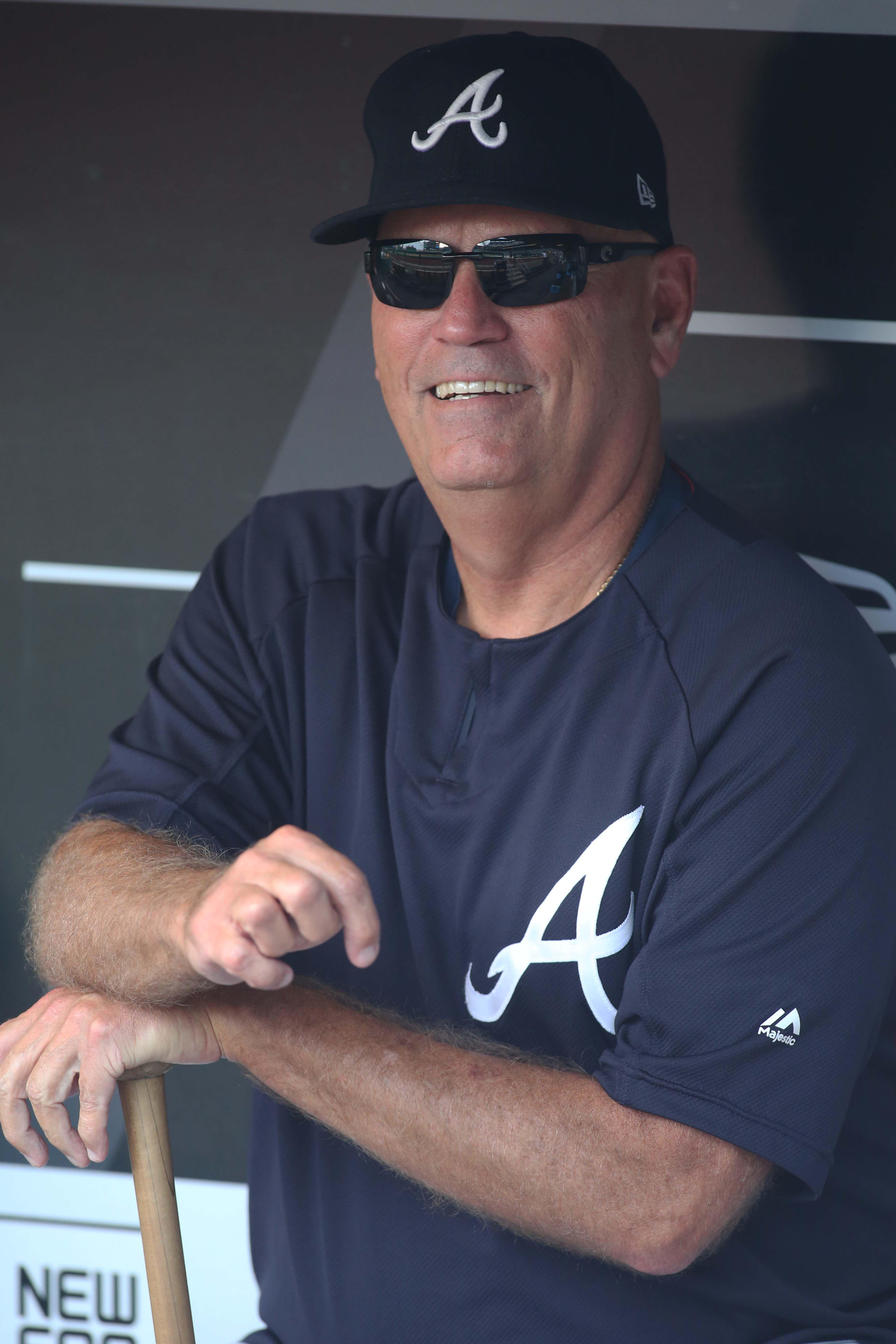 Brian Snitker, Bob Melvin Win Manager Of The Year Awards
Braves manager Brian Snitker and Athletics skipper Bob Melvin were named Manager of the Year in their respective leagues, the Baseball Writers Association Of America announced Tuesday. As a reminder, votes were submitted prior to the beginning of postseason play. Snitker received 17 first-place votes and edged out Milwaukee's Craig Counsell 116 to 99 on…


How speed could affect these over-30 FAs
What can Sprint Speed tell us about free agents Andrew McCutchen, Mike Moustakas, Brian Dozier, and Daniel Murphy? Maybe a lot. Let's take a look through each of their cases.