Healthy Velasquez dominant on hill in G2 win
Vince Velasquez pitched seven shutout innings in the Phillies' victory over the Padres in a doubleheader nightcap on Sunday at Citizens Bank Park. He didn't allow a hit through five innings, and he struck out seven. Odubel Herrera and Rhys Hoskins homered in the win, which overshadowed San Diego starter Luis Perdomo's quality start.


Herrera passes first test as interim closer in DC
Kelvin Herrera worked out of a jam to secure a five-out save -- his first with the Nats -- and Bryce Harper starred in all facets with a homer, an assist and a steal to defeat the Braves. Max Scherzer (6 IP, 2 ER) outdueled fellow All-Star Mike Foltynewicz (5 2/3 IP, 4 ER), and the Atlanta bullpen couldn't keep the game in reach late.


Sunday's top prospect performers
Danny Jansen hit a pair of early home runs to back a strong effort on the mound by Sean Reid-Foley as Triple-A Buffalo held on to defeat Durham, 5-3.


9 trade targets who could make big impacts
Mets ace Jacob deGrom represents the kind of talent that teams don't trade very often, which is why he probably won't be dealt. He's 30 years old and two seasons from free agency. His 1.68 ERA ranks first in the Majors, and in 19 starts, he has allowed more than three runs only once.


Familia gets the win in A's debut
Jeurys Familia arrived at his new home clubhouse on Sunday for his first game with the A's roughly an hour before first pitch against the Giants. He'll be called upon to be the closer should they need one.


The Pirates have been on a tear this month, riding a nine-game win streak that started before the All-Star break. The bullpen's stellar performance during a three-game sweep of the Reds helped Pittsburgh's relief corps earn MLB Bullpen of the Week presented by The Hartford honors for games played from July 20-22.


Subway Series finale postponed by rain
Sunday night's Subway Series finale between the Yankees and Mets at Yankee Stadium has been postponed due to rain. The game will be made up on Monday, Aug. 13, at 7:05 p.m. ET.


Mariners activate Zunino; Paxton near return
The Mariners took another step toward returning to full strength on Sunday as catcher Mike Zunino was activated off the 10-day disabled list and inserted in the lineup for the afternoon's series finale against the White Sox.


Turner exits in return due to groin tightness
Justin Turner's return to the Dodgers' lineup lasted less than three innings, as the Los Angeles third baseman left Sunday's 11-2 win over the Brewers at Miller Park in the middle of the third due to right groin tightness, the club announced.


Mets To Place Noah Syndergaard On DL
The Mets are placing Noah Syndergaard on the 10-day disabled list after he contracted hand, foot and mouth disease, Anthony DiComo of MLB.com was among those to tweet. The club doesn't expect it to be a long-term issue, per DiComo, and it believes he contracted the illness while working at a kids camp over the…


Archer (13 K's) dominant with scouts watching
With a large congregation of scouts watching, Chris Archer validated their presence with a 13-strikeout performance in the Rays' 6-4 walk-off win against the Marlins Sunday at Tropicana Field. Trade talk is rampant as Major League Baseball's July 31 non-waiver Trade Deadline approaches. Contending teams are perusing the rosters of non-contending teams hoping to find that piece that might push them over the top. Archer could be such a piece.


Royals sweep on Butera's inside-the-park HR
Drew Butera raced home for a three-run inside-the-park homer in the seventh inning that lifted the Royals to a three-game sweep of the Twins. Rookie starter Brad Keller logged seven strong frames with a career-high eight strikeouts, while Alex Gordon hit a two-run double for his 500th extra-base hit for Kansas City. Minnesota starter Jake Odorizzi also struck out eight in six solid frames.


'No disconnect' between Mets and Cespedes
Defending the Mets' handling of Yoenis Cespedes as he battles potentially career-altering heel issues, Mets assistant general manager John Ricco on Sunday called surgery "a last-resort thing" and a "fairly radical" treatment that may not be necessary for the team's star outfielder.


Pirates hit 4 HRs vs. Reds, win 9th in a row
The Pirates homered four times in the first four innings to blitz Reds starter Matt Harvey and complete a three-game sweep of Cincinnati with a win at Great American Ball Park on Sunday afternoon for the team's ninth consecutive victory. Corey Dickerson went 4-for-5 and homered in his fourth straight game. Starling Marte, Gregory Polanco and Sean Rodriguez also went deep. Pirates starter Ivan Nova allowed two runs on five hits in 6 2/3 innings.


Suter re-aggravates forearm injury vs. Dodgers
Brewers starter Brent Suter grimaced after throwing to first base for the final out of the third inning on Sunday and went straight into the clubhouse with a member of Milwaukee's athletic training staff, the latest injury issue for a team beset by them of late.


Sox are first to 70 wins behind Sale's 9 K's
The Red Sox became the first team to 70 wins following a one-hour, 35-minute rain delay, a nine-strikeout performance from Chris Sale and a nine-run offensive outpouring over the Tigers. Jackie Bradley Jr. led the charge at the plate with a three-run homer, while Andrew Benintendi drove in two with a triple and Eduardo Nunez added two RBIs. Detroit scored just once, on Jeimer Candelario's solo homer, and starter Blaine Hardy was limited to three-plus innings, tagged for four runs.


Indians, Brewers, Phillies Interested In Asdrubal Cabrera
Mets pending free-agent infielder Asdrubal Cabrera is enjoying one of his best seasons, and contending teams have taken notice. The Indians, Brewers and Phillies are among the clubs with interest in Cabrera, Buster Olney of ESPN tweets. The switch-hitting Cabrera has already been a member of the Indians, with whom he played from 2007-14. Cabrera…


Minor MLB Transactions: 7/22/18
The latest minor moves from around baseball… Braves utilityman Danny Santana has cleared waivers and been outrighted to Triple-A Gwinnett, per Gabe Burns of the Atlanta Journal-Constitution. The Braves designated Santana on Thursday, less than a month after they selected his contract. The 27-year-old Santana has hit .279/.300/.539 with 11 home runs in 232 Triple-A…


Sonny Gray Drawing "A Bit Of Interest"
Sonny Gray was part of a trade deadline deal last year, and the right-hander may end up on the move again this season. Gray, whom the Yankees acquired from the Athletics last July, is generating "a bit of interest" with July 31 nearing, Jon Heyman of Fancred tweets. Heyman casts doubt on the Yankees shipping…


Cubs will try to add more pitching before Deadline
Cubs relievers boasted the second-best ERA and had the fewest losses in the National League entering Sunday, but president of baseball operations Theo Epstein says they're on the lookout to add an arm before the July 31 non-waiver Trade Deadline.


5 best relievers you don't know who may get dealt
Everyone expects relievers to be the most valuable currency at the non-waiver Trade Deadline, but not all of those relievers pile up wins or saves. Some of the most interesting names don't stand out by the traditional measures, so let's help explain who they are.


Schwarber jack lifts Cubs, Quintana over Cards
Kyle Schwarber broke a sixth-inning tie with a solo homer to help the Cubs come away with a series win in a five-game set vs. the Cardinals. Cubs starter Jose Quintana tossed seven quality innings, allowing two runs on six hits, including a bunt single to leadoff hitter Matt Carpenter -- whose six-game home run streak came to an end. Willson Contreras had a pair of RBI singles to help lead the Cubs' offense.


Injury Updates: Turner, Suter, Cespedes, Frazier
A right adductor strain had kept Justin Turner out of the Dodgers' starting lineup since July 11, though his return to his regular third base spot today didn't last long.  Turner had to leave today's 11-2 win over the Brewers in the middle of the third inning due to right groin tightness.  Talking to media…


Most consecutive games with a home run
In the history of Major League Baseball, only 28 players (a total of 31 times) have homered in six straight games, the most recent of whom was Giancarlo Stanton in 2017. How difficult is it to go deep in six straight? There have been many more 30-game hitting streaks, four-strikeout innings and six-hit games. There have even been more perfect games.


Kemp powers Dodgers to emphatic finale win
Matt Kemp homered twice, while Manny Machado notched his first Dodgers RBI and Chris Taylor drove in three to power a huge win over the Brewers on Sunday. Alex Wood notched his sixth straight quality start with six innings of two-run ball for the Dodgers, who took two of three from Milwaukee. Brent Suter threw three innings before exiting with a forearm strain for the Brewers, while Hernan Perez and Erik Kratz combined to pitch the final three innings.


Happ K's 9 in potential Toronto farewell
With the trade rumors continuing to swirl, J.A. Happ took the mound at Rogers Centre while wearing a Blue Jays uniform for likely the final time in his career. Happ struck out nine and allowed one run over five strong innings in a 5-4 victory over the Orioles on Sunday afternoon. Baltimore relievers Brad Brach and Tanner Scott combined to give up four runs to spoil the O's lead entering the eighth inning.


O'Neill hits career-best 3 homers
Tyler O'Neill has had plenty of multi-homer games in his career -- 12, to be exact, though all of them had been of the two-homer variety.


Phillies Place Edubray Ramos On DL
The Phillies announced that they've placed reliever Edubray Ramos on the 10-day disabled list with a left patella tendon strain. To take his roster spot, the team reinstated fellow reliever Luis Garcia from the DL. At 54-43 and tied with the Braves for the NL East lead, the Phillies have been among the majors' surprise…


Heyman's Latest: Mets, Wheeler, deGrom, Syndergaard, Jackson, Phils, Braves
"About a half-dozen teams" have some interest in Mets right-hander Zack Wheeler, FanCred Sports' Jon Heyman tweets.  Wheeler's name has been mentioned in trade rumors for a few weeks now, with such teams as the Reds, Yankees, and Diamondbacks all reportedly linked to the 28-year-old.  With the Mets firmly in sell mode as the deadline…


A's win Bay Bridge trophy on 2nd straight walk-off
The Athletics won Sunday's series finale, 6-5, against the Giants in 10 innings on a walk-off hit from Matt Chapman. Khris Davis and Matt Olson had two-home run performances, while Andrew McCutchen went deep for the Giants in defeat.


Phillies place Ramos on 10-day DL
Edubray Ramos was placed on the 10-day DL after he strained his left patellar tendon on a pitch in the sixth inning of Sunday afternoon's 10-2 loss to the Padres in Game 1 of a doubleheader at Citizens Bank Park.


Perez, Kratz pitch as Crew drops finale, series
Utility man Hernan Perez was the Brewers' best pitcher on Sunday and catcher Erik Kratz wasn't far behind, which was good for comic relief but little else in an 11-2 loss to the Dodgers at Miller Park.


Cafardo's Latest: Yanks, Drury, Gray, O's, Jays, Donaldson, Hamels, Marlins, Straily
Third baseman Brandon Drury was in the package the Yankees offered the Orioles for shortstop Manny Machado, Nick Cafardo of the Boston Globe reports. The Yankees' proposal didn't suffice for the Orioles, who sent Machado to the Dodgers for a five-player return on Wednesday. Drury has also been part of a 2018 trade, an offseason…


Greinke fans 13 as D-backs cool off Rockies
Zack Greinke struck out a season-high 13 to help the D-backs beat the Rockies, 6-1, on Sunday, ending Colorado's seven-game win streak. Greinke allowed one run on two hits in eight innings, his longest outing of the year. Nick Ahmed hit a two-run triple and Jeff Mathis added a two-run double for the D-backs. Ian Desmond homered for the Rockies, who are now in third place in the NL West.


Odor's big day backs Gallardo's best start
Rangers right-handed starter Yovani Gallardo turned in his best start of the season and slowed down what had been a surging Indians lineup in Sunday's series finale at Globe Life Park, a 5-0 Texas victory. Rougned Odor, who homered and drove in three runs, gave Gallardo all the support he would need, though Ryan Rua also hit a two-run home run.


Baseball Blogs Weigh In: Hand, Harper, Brewers, Gennett, Castellanos, Mets
This week in baseball blogs… M-SABR develops three new metrics to evaluate starting pitching performance. Both Infield Chatter and Know Hitter reacts to this week's Indians-Padres blockbuster. MLB & Fantasy Baseball Analyzed asks if Bryce Harper should be a trade candidate. Reviewing The Brew ponders which Twin the Brewers should try to acquire – Brian…


Doolittle has setback; Goodwin dealt for prospect
An MRI on Saturday morning revealed a stress reaction, the precursor of a stress fracture, in the bridge of Sean Doolittle's left foot. Doolittle, who wore a walking boot Sunday for the first time in a week and a half, didn't have a timetable for his return, but said the injury is measured by weeks, not months.


Pitching key to Yanks reaching ultimate goal
This was a Subway Series Saturday afternoon at Yankee Stadium between the Yankees and the Mets, what would be a really good afternoon for the Yankees until it wasn't in the top of the ninth -- when Aroldis Chapman would lose the strike zone and nearly lose the game -- until it finally was when Chasen Shreve had to close for the Yankee closer and their team finally won, 7-6.


Myers hits 450-foot HR as Padres roll
Wil Myers crushed a 450-foot home run to cap off a great day of offense for the Padres, snapping a six-game skid for the club. Former Phillie Freddy Galvis and Hunter Renfroe each went 3-for-5, knocking in three runs combined. Tyson Ross allowed only two runs over five innings, striking out five batters. Rhys Hoskins launched his first long ball since the Home Run Derby with a solo shot in the first inning.


Trade Rumors: Hamels, Phillies, Rangers, Tigers, J. Iglesias, M's, D-backs
Rangers left-hander Cole Hamels has made it known he'd welcome a return to Philadelphia, where he pitched from 2008-15, but a reunion appears "unlikely," Todd Zolecki of MLB.com writes. The Phillies are trying to stay away from the starting pitching market in general, according to general manager Matt Klentak, who said Friday that the team's…


Lopez cruises, helps Marlins win fourth straight
Pablo Lopez delivered the best start of his young career and helped the Marlins top the Rays on Saturday. Lopez allowed just three hits and one earned run, a solo shot to Joey Wendle. Cameron Maybin added an insurance homer in the seventh for Miami, giving Kyle Barraclough enough breathing room to close out the game despite giving up a moon shoot to Ji-Man Choi in the ninth.


Carpenter nails HR feat done by just 27 others
On the heels of one of the best individual performances in franchise history, Matt Carpenter didn't let up, homering in both games of the Cardinals' doubleheader on Saturday vs. the Cubs to make it six games in a row with a home run.


Potential Tigers trade chip Fiers stifles Red Sox
Jose Iglesias drove in four and Mike Fiers tossed 6 1/3 scoreless innings to lead Detroit to a win over the Red Sox on Saturday evening at Comerica Park. Starter Brian Johnson allowed two unearned runs in his five innings for Boston, which has scored just once in the past 18 innings.


Carrasco cruises, Tribe scores 16 to rout Rangers
The Indians offense gave up starter Carlos Carrasco a surplus of support, scoring 16 runs on 21 hits in a 16-3 victory over the Rangers on Saturday night at Globe Life Park. Yonder Alonso delivered his first multi-home run game of the season, while Carrasco won his 12th game and struck out eight in 6 2/3 innings of work.


Teams Interested In Jonathan Schoop, Kevin Gausman, Dylan Bundy
Orioles second baseman Jonathan Schoop and right-handers Kevin Gausman and Dylan Bundy are drawing trade interest, according to Roch Kubatko of MASNsports.com. The Braves have asked the Orioles about all three players, while the Brewers have inquired about Schoop and Gausman, and Kubatko confirms the Yankees' previously reported interest in Gausman. Whether the Orioles are…


Saturday's top prospect performers
When the Phillies were still in the running for Manny Machado, Adonis Medina's name was floated as the type of prospect who might be enough to land the superstar shortstop. On Saturday night, Medina showed why he's on that level.


Healy's 2 HRs, Gonzales' gem fuel win No. 60
Ryon Healy smacked a pair of three-run homers and Marco Gonzales flirted with a no-hitter en route to a 8-2 series-clinching victory over the White Sox on Sunday at Safeco Field. Seattle is now baseball's fourth team to reach the 60-win mark, following the Red Sox, Yankees and Astros. Gonzales' no-hit bid lasted until the sixth inning, when Chicago center fielder Adam Engel sent a slow chopper up the middle for an infield single.


A's win in 11th before record Coliseum crowd
The A's capped an eventful day with their first post-break win, getting a game-ending single from Jonathan Lucroy in front of the largest baseball crowd in Coliseum history (56,310) to pull within three games of the second American League Wild Card spot amid a 22-7 stretch.


MLB Weekend Roster Roundup: Braun, Familia, Hernandez, LeMahieu, Zunino
ROSTER MOVES BY TEAM (July 21st-July 22nd) NATIONAL LEAGUE CHICAGO CUBS | Depth Chart Added to 25-man roster: RP Jesse Chavez Chavez was acquired from the Rangers on Thursday. Placed on 10-Day DL: RP Anthony Bass (strained back) Promoted: P Luke Farrell, RP Dillon Maples Farrell will make a spot start on Monday. Maples was the 26th…


Marlins' relievers drawing trade interest
The Citrus Series may not be significantly swaying the divisional standings, but it has captured the attention of contending clubs. At least a dozen scouts have been at the three-game set between the Marlins and the Rays at Tropicana Field. They are mainly focused on pitchers for both teams.


Dickerson drubs Reds in Bucs' 8th straight win
Corey Dickerson belted a pair of solo home runs, and Nick Kingham backed it up with 6 2/3 strong innings to lift the Pirates, 6-2, over the Reds on Saturday night at Great American Ball Park. Pittsburgh has won eight in a row and is over .500 for the first time since June 6.


Dodgers injury updates: Turner, Puig, Urias
After acquiring Manny Machado and opening the second half with a win over the past four days, Dodgers manager Dave Roberts kept the good news coming with a series of positive injury updates before Saturday night's game at Miller Park.


Verlander K's 11, Springer hits slam as Astros roll
Justin Verlander picked up his first win in more than a month by striking out 11 batters in six innings, and George Springer cranked his first grand slam of the season to lead the Astros to a 7-0 win over the Angels on Saturday at Angel Stadium.


A's honor 1989 WS team with belated parade
Almost 30 years have passed since the A's swept the Giants in the World Series in 1989, a series that was interrupted by the Loma Prieta earthquake and turned the Bay Area's attention away from baseball. There was no parade at the time, and understandably so. But on Saturday, in front of a sold-out crowd at the Coliseum, players from the 1989 team gathered to be honored in an on-field ceremony, receiving a belated parade ceremony for their championship.


Salvy's homer powers Royals to series win
Salvador Perez clubbed a go-ahead two run homer -- his 14th dinger of the season -- and Jakob Junis was solid in his return from the disabled list as the Royals secured their first series victory since May 30 -- also against the Twins. Joe Mauer set a club record for doubles with his 415th in the first and he scored on Eddie Rosario's single, but starter Lance Lynn labored for the Twins.


Estrada to make rehab start Monday
Marco Estrada will not return as expected from the disabled list on Monday, and instead the veteran right-hander will make a rehab start for Double-A New Hampshire.


White Sox get gem, HR robbery in shutout of M's
White Sox starter Dylan Covey carried a no-hitter into the sixth until Mariners second baseman Dee Gordon singled to center with one out on Saturday night at Safeco Field. He finished with two hits allowed over 8 1/3 shutout innings, winning for the first time since June 13. The 5-0 shutout was preserved by Leury Garcia's leaping catch with one out in the ninth, taking away a potential two-run homer from Mitch Haniger off of Joakim Soria.


Cards tab 2 to make first MLB starts vs. Reds
Their pitching plans complicated by a doubleheader and injury to Carlos Martinez, the Cardinals will open their next series against the Reds behind two pitchers making their first Major League starts. Right-hander Daniel Poncedeleon will get the nod on Monday and lefty Austin Gomber on Tuesday at Great American Ball Park in Cincinnati.


Undermanned Rays lack firepower vs. Marlins
Playing with a short roster, the Rays took a 3-2 loss to the Marlins on Saturday night at Tropicana Field. Tampa Bay -- which entered the All-Star break on a 14-1 run at Tropicana Field -- has lost two games at home since returning, and its third straight loss overall.


Choo has on-base streak halted at 52 games
Shin-Soo Choo's on-base streak has come to a halt. The Rangers' designated hitter went 0-for-4 and struck out twice in Saturday's 16-3 loss against the Indians, ending his on-base streak at 52 games.


Royals acquire outfielder Goodwin from Nats
The Royals announced Sunday that they have acquired outfielder Brian Goodwin from the Washington Nationals in exchange for Minor League pitcher Jacob Condra-Bogan. Goodwin will be added to the Major League roster when he reports to the club.


A's land Familia from Mets for two prospects
One of the best bullpens in the game just got better. The surging A's, suddenly meddling in the American League Wild Card race, fortified an already formidable bullpen with the addition of Mets closer Jeurys Familia on Saturday.


Sean Doolittle Has "Stress Reaction" In Foot
Nationals closer Sean Doolittle underwent an MRI on Saturday that revealed a "stress reaction" in his left foot, Mark Zuckerman of MASNsports.com tweets. There's no timetable for Doolittle's return, but he's expected to miss "weeks, not months," according to Zuckerman. Doolittle has already been out since July 7, though the Nationals were surely hoping the…


Quick Hits: Cano, Mets, Familia, D-backs, S. Miller, White Sox
Mariners second baseman Robinson Cano has been out since mid-May on account of both an 80-game suspension and a fractured right hand. In his absence, the Mariners have deployed Dee Gordon at second, and they're not going to waver from that upon Cano's return. "We are looking at Dee as our second baseman," general manager…


Trade Rumors: Abreu, Brewers, BoSox, Twins, Royals, Dodgers, Brach, Treinen
As an established veteran on a cellar-dwelling team, White Sox first baseman Jose Abreu has come up often as a speculative trade candidate, but the club's "strongly inclined" to retain him, Bob Nightengale of USA Today tweets. The 31-year-old hasn't exactly boosted his trade value this season, having hit a career-worst .250/.312/.435 (101 wRC+, compared…


Angels bust out with 4 HRs to take series finale
After coming slow out of the gate following the All-Star break, the Angels' bats came alive in a 14-5 win over the Astros in Sunday afternoon's series finale at Angel Stadium, snapping the club's three-game skid.


Gallo day to day after exiting with ankle sprain
Rangers outfielder Joey Gallo is considered day to day after leaving Sunday's game in the eighth inning with a sprained left ankle. Gallo injured the ankle landing on first base wrong while trying to beat out an infield hit in the sixth inning.


Another pinch-hit HR lifts Rox to 7th straight win
Tom Murphy hit a tiebreaking solo homer with two outs in the eighth inning Saturday night to lift the Rockies past the D-backs, 6-5, for their seventh straight win. Steven Souza had three hits, and Ketel Marte added two hits for the D-backs, who have lost 12 of 18 and are now third in the NL West race.


Brewers get to Kershaw, snap 7-game skid
Christian Yelich and Keon Broxton powered a three-run sixth inning against Clayton Kershaw, leading the Brewers to a victory that snapped a seven-game losing streak. Yelich led off the inning with a home run, and Broxton capped it with an RBI triple to drive in Manny Pina. Kershaw allowed four runs, but only one was earned due to three Dodgers errors, two of which were committed by Max Muncy. Chris Taylor put Los Angeles on the board with a two-run single in the first inning against Chase Anders


Paxton on track to return for M's early next week
James Paxton hadn't thrown off of a mound since a back issue forced a first-inning exit in Anaheim on July 12, but the Mariners' ace got through his normal bullpen session Saturday. He's preparing for his return from the DL, which is expected to be Tuesday against the Giants.


Cards rally in nightcap after Carp's record HR
Paul DeJong delivered a go-ahead double in the ninth inning, atoning for an error that led to two unearned runs, and Matt Carpenter provided a historic spark off the bench as the Cardinals rallied to split a doubleheader. Carpenter, who entered the nightcap off the bench, became the 28th big leaguer with a HR in six consecutive games and the first player to homer six times in a series at Wrigley Field.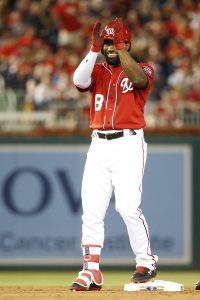 The Royals have acquired outfielder Brian Goodwin from the Nationals for minor league reliever Jacob Condra-Bogan, Washington announced. The Nats also recalled reliever Sammy Solis to take Goodwin's roster spot. A National since they chose him in the first round (34th overall) of the 2011 draft, Goodwin never became a full-time player with the club.…


Tebow hits DL with right hand discomfort
Outfielder Tim Tebow was placed on the 7-day disabled list on Saturday by Binghamton, the Mets' Double-A affiliate, with discomfort in his right hand. It marks the first trip to the disabled list for the 30-year-old outfielder during his season-plus in professional baseball.


Top prospect Lewis promoted to Double-A
Kyle Lewis, who represented the Mariners in Sunday's Futures Game in Washington, D.C., has been promoted from Advanced-A Modesto to Double-A Arkansas to take the place of injured outfielder Braden Bishop, general manager Jerry Dipoto said Saturday.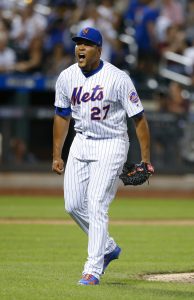 Athletics Acquire Jeurys Familia
In a trade that has been widely expected since last night, the Athletics have officially acquired right-hander Jeurys Familia from the Mets. In exchange, the Athletics have sent a pair of minor leaguers back to New York: third baseman William Toffey and right-hander Bobby Wahl. The Mets will also receive $1MM in international bonus money, while the…


Mauer sets career doubles mark for Twins
First baseman Joe Mauer set a franchise milestone on Saturday night, becoming the Twins' all-time leader in doubles with No. 415 against the Royals at Kauffman Stadium, surpassing Hall of Famer Kirby Puckett's total of 414.


The Royals have designated lefty reliever Enny Romero for assignment, Maria Torres of the Kansas City Star reports. The move was made in order to recall right-handed starter Jakob Junis for tonight's game. As Torres notes in her above tweet, the Royals are the third team that the 27-year-old Romero has pitched for this season.…


Injury Notes: Reds, Cespedes, Angels, Rangers
Reds infielder Alex Blandino suffered a torn ACL in his right knee on Friday, John Fay of the Cincinnati Enquirer writes. Blandino will miss the rest of the season, though the length of the recovery period (five to six months, Fay writes) suggests his 2019 isn't in jeopardy. A first-round pick (No. 29 overall) of…


Friars-Phils rained out Saturday; twin bill Sunday
Tonight's game between the Phillies and San Diego Padres has been rescheduled due to rain. It will be played tomorrow, July 22, as part of a split-admission doubleheader, with the makeup game (game 49 on ticket) scheduled for a 6:05 p.m. first pitch. Sunday's regularly scheduled game (game 50 on ticket) will be moved from 1:35 p.m. to 12:05 p.m. Gates will open at 11:05 a.m. for the first game, and for the second game will open approximately one hour prior to first pitch.


The Rays have promoted outfielder Justin Williams to the major league club for the first time, Marc Topkin of the Tampa Bay Times reports. To make room for him on the active roster, they've optioned lefty reliever Hoby Milner to Triple-A. Williams, who'll turn 23 next month, was the Diamondbacks' second round pick in the…


Saturday's postponement delays Nats' climb
The game between the Braves and Nationals on Saturday night has been postponed due to inclement weather. Information regarding the date and time of the rescheduled game will be released at a later time.


Stroman starts 2nd half on right foot with 7 K's
Marcus Stroman limited Baltimore to one run on five hits and two walks over seven strong innings to lead the Blue Jays to a 4-1 victory at Rogers Centre. The innings matched a season high, and seven strikeouts were his highest total since Stroman made his season debut against the Yankees on April 1. The Orioles went 1-for-4 with runners in scoring position and they left five men on base behind right-hander Alex Cobb, who allowed one earned run through five innings.


Trade News & Rumors: Trade Value Rankings, Dozier, Andujar, Britton
Fangraphs recently released its annual rankings of the top 50 most valuable contracts in baseball, or the players who would have the highest value in a trade. High atop the list sits a pair of Indians infielders (Jose Ramirez and Francisco Lindor), while Aaron Judge, Mike Trout and Carlos Correa round out the top five.…


The Cubs have made a host of roster moves today (first announced by Patrick Mooney of The Athletic), chiefly among them the placement of right-hander Anthony Bass on the 10-day disabled list due to a back muscle issue. The move creates room for the recently acquired Jesse Chavez to be activated. The club also promoted…


Cespedes sits; Mets monitor lingering heel issue
A day after Yoenis Cespedes returned to the Mets following a nine-and-a-half-week absence, homered, then revealed that he is battling heel issues that may require major surgery to fix, Cespedes was out of the Mets' lineup Saturday against the Yankees. Manager Mickey Callaway, who said he was unaware of Cespedes' comments regarding his heels, painted the issue as one of general soreness.


Braun back off disabled list, batting cleanup
The Brewers on Saturday activated Ryan Braun from the disabled list and optioned catcher Jacob Nottingham to Triple-A Colorado Springs. Braun was in the cleanup spot against the Dodgers, playing first base.