Why freeloader baby-eating ants are welcomed to the colony
It might seem surprising that a colony of ants would tolerate the type of guests that gobble both their grub and their babies. But new research shows there's likely a useful tradeoff to calmly accepting these parasite ants into the fold: They have weaponry that's effective against their host ants and a more menacing intruder ant.


New research modernizes rammed earth construction
A building method as old as dirt is being re-examined as a 'new' and viable modern construction material. Compressed soil, also known as rammed earth, is a method of construction that dates back centuries.


Antibiotic resistance can be caused by small amounts of antibiotics
Antibiotic-resistant bacteria are a global and growing problem in health care. To be able to prevent further development of resistance developing, it is important to understand where and how antibiotic resistance in bacteria arises. New research shows that low concentrations of antibiotics, too, can cause high antibiotic resistance to develop in bacteria.


Trees with grassy areas soften summer heat
Trees cool their environment and 'heat islands' benefit from it. However, the degree of cooling depends greatly on the tree species and the local conditions. In a recent study, scientists at the Technical University of Munich (TUM) compared two species of urban trees.


How your brain learns to expect mud puddles in the park (and other things)
Whenever there's a mismatch between what you expect to experience and what you actually experience, the brain has to register the error and update your expectation. These changing expectations are fundamental for making decisions. A new study is the first to show how your midbrain responds to the error, and the orbitofrontal cortex updates the information. That's how you know what to expect tomorrow.


Potential source of gender differences in migraines
Findings from a new study conducted in rats reveal that females may be more susceptible to migraines and less responsive to treatment because of the way fluctuations in the hormone estrogen affect cells in the brain.


Audit finds biodiversity data aggregators 'lose and confuse' data
Both online repositories the Atlas of Living Australia (ALA) and the Global Biodiversity Information Facility (GBIF) were found to 'lose and confuse' portions of the data provided to them, according to an independent audit of ca. 800,000 records from three Australasian museums. Genus and species names were found to have been changed in up to 1 in 5 records, and programming errors caused up to 100 percent data loss in some data categories.


Eating more fish could prevent Parkinson's disease
Parvalbumin, a protein found in great quantities in several different fish species, has been shown to help prevent the formation of certain protein structures closely associated with Parkinson's disease. A new study shines more light on the link between consumption of fish and better long-term neurological health.


Air Force opens space training to allies, accelerates Space Acquisition
Colorado Springs CO (SPX) Apr 20, 2018 Citing the National Defense Strategy, Air Force Secretary Heather Wilson announced that beginning in 2019 the Air Force is opening its space training to allies during her keynote speech at the 34th Space Symposium in Colorado Springs, Colorado. April 17, 2018. "It's time to build on years of collaboration to deepen our relationships with our allies and partners in space," Wilson said. "We


Animal cyborg: Behavioral control by 'toy' craving circuit
Children love to get toys from parents for their birthday present. This craving toward items also involves object hoarding disorders and shopping addiction. However, the biological meaning of why the brain pursues objects or items has remained unknown.


First genetic evidence of ongoing mating between 2 distinct species of guenon monkeys
A new study of guenon monkeys in Gombe National Park is the first to provide genetic evidence of ongoing mating between two distinct species. These monkeys have successfully been producing hybrid offspring for hundreds maybe even thousands of years. Prior studies have suggested that the different physical characteristics of these monkeys keeps them from interbreeding. So, if their faces don't match, they shouldn't be mating, right? Wrong, according to this latest evidence.


NATO moves from Cold War bunker to glass and steel palace
Brussels (AFP) April 19, 2018 With its futuristic curved roof, gleaming walls of glass and steel and host of eco-friendly features, NATO's new billion-euro Brussels headquarters is a world away from the drab, low-slung warren of offices reeking of Cold War intrigue that it replaces. The alliance is almost halfway through its move into the new building, with Secretary General Jens Stoltenberg expected to shift to his new



Today's Top Science Headline --"There is No Past or Future" (WATCH Video)
  The smooth "flow" of time is an illusion, that "The events of the world do not form an orderly queue like the English, they crowd around chaotically like the Italians," says Carlo Rovelli, an Italian theoretical physicist who wants to make the uninitiated grasp the excitement of his field. The concept of time, he says, "has lost layers one after another, piece by piece". We are left with "an empty windswept landscape almost devoid of all trace of temporality … a wo...


Human-like walking mechanics evolved before the genus Homo
A close examination of 3.6-million-year-old hominin footprints discovered in Laetoli, Tanzania, suggests our ancestors evolved the hallmark trait of extended leg, human-like bipedalism substantially earlier than previously thought.


New study shows wearable technology also contributes to distracted driving
A new study examines wearable technology and whether it affects drivers' concentration. Scientists have discovered that while a driver texting with a wearable device can marginally reduce their level of distraction, it ultimately makes texting while driving just as dangerous as with an ordinary cell phone.



The Milky Way --"Still Growing at 13-Billion Years"
"Our Milky Way is more than 13 billion years old, so it is not young anymore, but the galaxy still has both a central bulge of old stars and spiral arms of young stars," said Matthew Colless from Australia National University. A new international study involving The Australian National University (ANU) and The University of Sydney has found that galaxies grow bigger and puffier as they age. Co-researcher Professor Matthew Colless from ANU said that stars in a young galaxy moved in an or


Saving a penalty: How science helps predict soccer scores
Ever since the first penalty kicks were introduced to soccer in 1891, experts, coaches and supporters have puzzled over the question of why some goalkeepers are better at stopping penalties than others. A new review now demonstrates that simply learning which corner to dive to is not enough. It is important that goalkeepers also perfectly calculate their dive to get to the corner at the right time.


Joint Force Space Component commander staff to move to Schriever AFB
Washington DC (AFNS) Apr 23, 2018 Air Force officials announced Schriever Air Force Base, Colorado, as the preferred location for the Joint Force Space Component staff. This action, approved by the secretary of the Air Force, is part of a restructure of its components to build a coherent and streamlined warfighting structure which is expected to improve the nation's space warfighting effectiveness and ultimately enhance th


Growing evidence that probiotics are good for your liver
Increased awareness of the importance of the microbes that live in our gut has spurred a great deal of research on the microbiome and fueled a booming probiotics industry. A new study suggests probiotics can improve not only the health of our gut but liver health, as well.


The key to saving elephants and other species may lie in the DNA contained in their droppings, says conservation biologist Samuel Wasser -- Read more on ScientificAmerican.com



Totally Different DNA Structure Identified --"It's DNA, But Not as We Know It"
    "When most of us think of DNA, we think of the double helix," says Associate Professor Daniel Christ (Head, Antibody Therapeutics Lab, Garvan) who co-led the research. "This new research reminds us that totally different DNA structures exist - and could well be important for our cells." In a world first, Australian researchers have identified a new DNA structure - called the i-motif - inside cells. A twisted 'knot' of DNA, the i-motif has never before been directly seen


Climate change intensifies droughts in Europe
Global warming will exacerbate soil droughts in Europe - droughts will last longer, affect greater areas, and have an impact on more people. If the earth warms by three degrees Celsius, extreme events could become the normal state in the future.


New vaccine could help people overcome 'bath salts' abuse
Researchers have developed a vaccine for one of the most dangerous types of synthetic cathinones, or bath salts. The vaccine blunts the illegal stimulant's effects on the brain, which could help recovering drug users who experience a relapse.


A statement released by 317 members of the U.S. National Academy of Sciences challenges the widespread dismissal of science and scientific understanding by the current administration. -- Read more on ScientificAmerican.com


Five new blanket-hermit crab species described 130 years later from the Pacific
Unlike most hermit crabs, the blanket-hermit crab does not use empty shells for protection, and instead lives symbiotically with a sea anemone. The crab uses the anemone to cover its soft abdomen, and can pull the anemone's tissue over its head to protect itself whenever necessary. Since 1888, this crab had been considered a unique species until a research team recently described five new ones and a new genus.


Trichomonosis discovered amongst myna birds in Pakistan
A strain of the disease responsible for killing nearly two thirds of the UK's greenfinch population has spread to myna birds in Pakistan. In 2011, the disease was discovered to have reached European finch populations. Now it has been found in an entirely separate songbird species -- the common myna, native to India and one of the world's most invasive species. Although it is not generally fatal to them, they may pass it on to other species.



Last Week's Top 5 Space & Science Headlines
    "We'll Find Planets of a Kind Never Seen Before" 100,000-year-Old Hashtag: "The First Human Symbol?" "We Truly Don't Know What It Is" --Mystery Milky-Way Spectrum of Light Observed It's About Expanding Earth! Over the Next 10 Years, Space Will Become an Industrial Zone Filled with Orbiting Factories" Z-Machine --World's Most Powerful X-ray Source "Will Create a White-Dwarf Star on Earth"         


Raytheon tapped for Air and Missile Defense Radar Program
Washington (UPI) Apr 20, 2018 Raytheon has been awarded a contract by the U.S. Navy for services in support of the Air and Missile Defense Radar Program. The deal, announced by the Department of Defense, is valued at more than $136.5 million under the terms of a fixed-price-incentive, firm target contract, which is a modification of a previous contract. The contract from Naval Sea Systems Command enables Rayt



Today's "Planet Earth Report" --Humans are Driving Large Mammals to Extinction
    "They have evidence that hominids in Africa had already been impacting the size distribution of mammals on that continent before Homo sapiens evolved," says paleoecologist Emily Lindsey, assistant curator and excavation site director of the La Brea Tar Pits Museum in Los Angeles, who was not involved in the study. What that means, she says, is "these groups of hominid species were having impacts on a continental scale before the evolution of modern humans." And it do...


Asthma and hay fever linked to increased risk of psychiatric disorders
A new study is the first to find a significant link between asthma, hay fever and a broad spectrum of psychiatric disorders. Over 15 years, 10.8 percent of patients with allergic diseases developed a psychiatric disorder, compared to only 6.7 percent of those without allergies. Monitoring the mental health of patients with allergies could help doctors care for their patients more effectively.


Odd one out: Protein goes against the family to prevent cancer
Researchers have made the surprise discovery that the 'odd one out' in a family of proteins known to drive cancer development is instead critical for preventing stomach cancers. The research team showed switching off a certain gene caused spontaneous development of stomach cancers, driven by chronic inflammation. The study also revealed that immunotherapy may prove to be a significant tool for treating stomach cancers that are driven by runaway inflammation, warranting further investigation.


Pentagon awards $67.8M contract for Ballistic Missile Defense System
Washington DC (UPI) Apr 19, 2018 MacAulay-Brown Inc. has been awarded a contract by the Missile Defense Agency for development and services to support the Ballistic Missile Defense System. The deal, announced Wednesday by the Department of Defense, is valued at more than $67.8 million under a competitive cost-plus-fixed-fee level of effort contract. The contract enables to MacAulay-Brown Inc., out of Dayton, Ohi


US, Russian nuclear shift as dangerous as NKorean threat
Geneva (AFP) April 19, 2018 A recent shift in nuclear weapons policies in the United States and Russia, involving upgrades, modernisation and growing arsenals is as dangerous as North Korea's nuclear threat, campaigners warned Thursday. Beatrice Fihn, who heads the International Campaign to Abolish Nuclear Weapons (ICAN), hailed an upcoming summit between the United States and North Korean in what Washington hopes will


Writing and deleting magnets with lasers
Dresden, Germany (SPX) Apr 19, 2018 Scientists at the Helmholtz-Zentrum Dresden-Rossendorf (HZDR) together with colleagues from the Helmholtz-Zentrum Berlin (HZB) and the University of Virginia in Charlottesville, USA have found a way to write and delete magnets in an alloy using a laser beam - a surprising effect. The reversibility of the process opens up new possibilities in the fields of material processing, optical technology,


Endangered salamander offers clues on healing spinal cord injury
A new study takes a comparative approach to pinpoint what happens differently in humans versus other animals to explain why they can successfully regenerate neurons while we instead form scar tissue. By learning from the similarities and differences, researchers hope to find new leads in the treatment of spinal cord injury.


Every Airman must understand the business of space superiority: Goldfein
Colorado Springs, Colo. (AFNS) Apr 19, 2018 Chief of Staff of the Air Force Gen. David L. Goldfein emphasized the essential role Airmen have when it comes to space superiority during the 34th Space Symposium April 17, 2018, in Colorado Springs, Colorado. "Our space specialists must be world-class experts in their domain," said Goldfein. "But, every Airman, beyond the space specialty, must understand the business of space superiority


Nanomedicine: Drugs can be made 'smarter'
A new method has been developed to make drugs 'smarter' using nanotechnology so pharmacologists can tailor their drugs to more accurately target an area on the body, such as a cancer tumor.


Virulence switch in 'Iraqibacter': potential Achilles heel?
Microbiologists have identified a component of a genetic switch, which they call a potential 'Achilles' heel,' for a type of bacteria often associated with wounded warriors. The switch makes it possible for Acinetobacter baumannii to change between a virulent, hardy form and an avirulent form that is better at surviving at lower temperatures outside a host. Defining the switch could map out targets for new antibiotics.


Why zero-calorie sweeteners can still lead to diabetes, obesity
Increased awareness of the health consequences of eating too much sugar has fueled a dramatic uptick in the consumption of zero-calorie artificial sweeteners in recent decades. However, new research finds sugar replacements can also cause health changes that are linked with diabetes and obesity, suggesting that switching from regular to diet soda may be a case of 'out of the frying pan, into the fire.'


We're Good At Recognizing Distorted Faces
A new paper from MIT neuroscientists Sharon Gilad-Gutnick and colleagues reveals that we are remarkably good at recognizing faces even if they are highly distorted. Not only is this scientifically interesting, the deformed images used in this study are rather hilarious. Here's an example of a face being distorted by horizontal and vertical compression (also known as thinning and flattening). The unfortunate victim of these distortions is Bill Clinton: Gilad-Gutnick et al. found tha


'After Venus We Can't Exclude Possibility of Other Planets Hosting Life'
Washington DC (Sputnik) Apr 19, 2018 Scientists led by Sanjay Limaye have found out that the atmosphere of Venus could be host to extraterrestrial life. The authors noted that the moderate temperatures and pressures, along with the chemical makeup of the planet's clouds could establish an environment necessary to sustain life. Sputnik spoke to Professor Sanjay Limaye about it. b>Sputnik: /b>Can you tell us in more detail ho



"The Weird Existence of Primordial Black Holes in the Early Universe" --Harvard-Smithsonian Center for Astrophysics
    Astronomers studying the motions of galaxies and the character of the cosmic microwave background radiation came to realize in the last century that most of the matter in the universe was not visible. About 84 percent of the matter in the cosmos is dark matter, much of it located in halos around galaxies. It was dubbed dark matter because it does not emit light, but it is also mysterious: it is not composed of atoms or their usual constituents like electrons and protons. Mea


The New Space Race: NASA to Award 1st Contracts for Gateway Moon Base
Washington DC (Sputnik) Apr 23, 2018 As the space race heats up, the first contracts for the manufacture of key components for humanity's Gateway orbital lunar base will be awarded in 2019, according to NASA. Expected to begin next year, a big push to reignite space exploration will see landmark awards for contractors to begin building humanity's first orbital moon base, according to NASA. Intended to be used as a stagi


China strengthens international space cooperation
Beijing (XNA) Apr 23, 2018 China will continue to strengthen international cooperation in peaceful exploration and utilization of outer space, said Li Guoping, a spokesman of the China National Space Administration (CNSA), Thursday. So far, China has signed 121 cooperation agreements with 37 countries and four international organizations, Li said at a press conference about the Space Day of China, which will come on


Eye in the Sky: Bill Gates Backs Real Time Global Satellite Surveillance Network
Seattle WA (Sputnik) Apr 23, 2018 For those of us who increasingly feel like there is no place on Earth to be free of prying eyes, a new announcement from some deep-pockets tech investors appears to ensure humanity that global surveillance from orbit is coming, and soon. On Wednesday, EarthNow - a startup that hopes to provide satellite imagery and live video in real time using a constellation of satellites orbiting the Ea


For heavy lifting, use exoskeletons with caution
You can wear an exoskeleton, but it won't turn you into a superhero. Researchers report that that a commercially available exoskeleton relieved stress on the arms just as it was supposed to -- but it increased stress on the back by more than 50 percent.


Genomics study in Africa: Demographic history and deleterious mutations
Scientists set out to understand how the demographic changes associated with the Neolithic transition also influenced the efficacy of natural selection. By comparing the genome diversity of more than 300 individuals from groups of forest hunter-gatherers (pygmies) and farmers (Bantu-speaking peoples), from western and eastern Central Africa, they discovered that the reason pygmies did not suffer from excessive deleterious mutations was because of their genetic diversity and their admixture with


Four Years of NASA NEOWISE Data
Pasadena CA (JPL) Apr 23, 2018 NASA's Near-Earth Object Wide-field Infrared Survey Explorer (NEOWISE) mission has released its fourth year of survey data. Since the mission was restarted in December 2013, after a period of hibernation, the asteroid- and comet-hunter has completely scanned the skies nearly eight times and has observed and characterized 29,375 objects in four years of operations. This total includes 788 near-Ea


NASA Takes First 3-D Microscopic Image on the Space Station
Cleveland OH (SPX) Apr 19, 2018 Standard flat imagery of space science is a thing of the past for researchers at NASA's Glenn Research Center and Procter and Gamble Co. (P and G). Using the International Space Station's newly upgraded microscope, the Light Microscopy Module (LMM), scientists can now see microscopic particles in 3-dimensional images. On April 12, researchers first viewed the particles, called colloids, in


Immune diversity among the KhoeSan population
By analyzing genes of two distinct groups of the KhoeSan, investigators were able to find a level of diversity and divergence in immune cell repertoires much higher than identified in any other population.


Smarter fiber data transmission doubles capacity to the home
Researchers have developed data transmission techniques that can double or even triple the data transmission capacity of existing fiber to the home connections. Enjoying this increase requires you to upgrade your modem. But even if only your neighbors do, you can get a higher data capacity as well.


The famous Oxford Dodo died after being shot in the back of the head, according to new research. Using revolutionary forensic scanning technology and world-class expertise, researchers have discovered surprising evidence that the Oxford Dodo was shot in the neck and back of the head with a shotgun.


Lyrid meteor shower to peak over the weekend
Washington (UPI) Apr 20, 2018 The second major meteor shower of 2018 is set to peak this weekend. The Lyrids will deliver roughly 20 streaking meteors per hour during its peak. Saturday night will offer sky-watchers the best chance to take in the shooting stars, but Friday and Sunday nights will host a handful of meteors, too. "The shower will be best viewed after midnight when the radiant is highest in the s


Animal study connects fear behavior, rhythmic breathing, brain smell center
There's increasing physiological evidence connecting breathing patterns with the brain regions that control mood and emotion. Now researchers have added neurons associated with the olfactory system to the connection between behavior and breathing. Connecting patterns in these interactions may help explain why practices such as meditation and yoga that rely on rhythmic breathing can help people overcome anxiety-based illnesses.


Squeezing more power out of solar cells
Physicists have published new research that could literally squeeze more power out of solar cells by physically deforming each of the crystals in the semiconductors used by photovoltaic cells.


Defect in debilitating neurodegenerative disease reversed in mouse nerves
Scientists have developed a new drug compound that shows promise as a future treatment for Charcot-Marie-Tooth disease, an inherited, often painful neurodegenerative condition that affects nerves in the hands, arms, feet and legs. The researchers used the compound to treat the nerves of mice harboring the genetic defects that cause the disease.


Judges as susceptible to gender bias as laypeople -- and sometimes more so
A new study of trial court judges suggests these arbiters of the law sometimes let their personal ideas about gender roles influence their decision-making. The findings, which are part of a broader study of judicial behavior, revealed that the judges were just as likely as laypeople to discriminate - in ways that harmed both men and women - in decisions involving child custody or workplace discrimination cases related to family caregiving duties.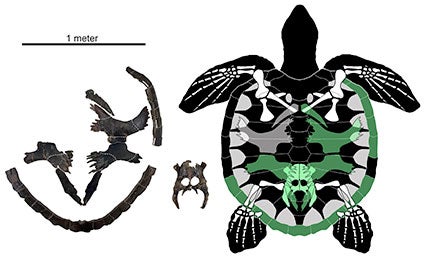 Paleo Profile: Martin's Sea Turtle
This Cretaceous chelonian is close to the origin of the hard-shelled sea turtles that still swim the oceans -- Read more on ScientificAmerican.com


Scientists have developed a new class of crystalline porous organic salts with high proton conductivity for applications such as proton-exchange membranes for fuel cells.


If Singing's Tough, Try Whistling
A new study claims it's easier to accurately whistle a melody than to sing it. Christopher Intagliata reports. -- Read more on ScientificAmerican.com



Today's "Planet Earth Report"--"Sea Nomads: The Superhumans Living Among Us"
  "I think it's fascinating to see just how extraordinary this population is, to think that they're almost like superhumans living among us with these really extraordinary capabilities. But I also think natural selection is a lot more powerful than we sometimes give it credit for, and maybe we should be looking for it in more places than we thought." The Bajau people of Southeast Asia, known as Sea Nomads, spend their whole lives at sea, working eight-hour diving shifts with traditiona


Fungus: The good, the bad and their fortuitous differences
Genetic differences between two very similar fungi, one that led to Quorn™, the proprietary meat substitute, and another that ranks among the world's most damaging crop pathogens, have exposed the significant features that dictate the pair's very different lifestyles, features that promise targets for controlling disease.