Cavaliers release statement on JR Smith situation
JR Smith has been openly pushing for the Cleveland Cavaliers to give him an opportunity to play elsewhere, and the team has confirmed that they will do just that. In a statement released on Tuesday, the Cavs thanked Smith for his contributions to the organization and announced that he is working with both the team and his representation "regarding his future." Statement from the Cavaliers on JR Smith: " pic.twitter.com/WHTo8etdj6 — Rachel Nichols (@Rachel__Nichols) November 2


76ers respond to Markelle Fultz's agent ordering him to see specialist
Markelle Fultz is scheduled to see a shoulder specialist next week and will not take part in team activities until after he is evaluated, and all of this sounds like it is news to the Philadelphia 76ers. Fultz's agent, Raymond Brothers, confirmed to ESPN on Tuesday that he — not the 76ers — advised Fultz to meet with a specialist. Fultz played seven minutes during Monday's win over the Phoenix Suns before being benched in favor of TJ McConnell, but head coach Brett Brown


JR Smith reportedly leaves Cavs, working with team on trade
JR Smith has made it clear that he no longer wants to play for the Cleveland Cavaliers, and it sounds like the team is in the early stages of granting the veteran swingman his wish. Joe Vardon of The Athletic reports that Smith has left the Cavs to work out on his own, and he and the team have reached an "amicable" decision to part ways. A buyout agreement is not yet on the table, but Cleveland is said to be looking at possible trade scenarios. The breakup is 'amicable,' the so...


Ben Roethlisberger shares funny item on his son's Christmas list
James Conner had arguably his worst game of the season on Sunday against the Jacksonville Jaguars, but the Pittsburgh Steelers made it sting a little less by finding a way to win. Perhaps equally as important, the tough day did not impact the way Ben Roethlisberger's son feels about Conner. During his weekly radio show Tuesday, Roethlisberger was asked about a pair of drops from Conner, one of which came on fourth down and one that would have resulted in a touchdown in the fourth quarter.


Report: Mitchell Trubisky likely to play on Thanksgiving despite shoulder injury
Chicago Bears quarterback Mitchell Trubisky suffered a shoulder injury during the fourth quarter of his team's win over the Minnesota Vikings on Sunday, but it does not sound like he is in danger of missing Week 12. ESPN's Adam Schefter reports that the Bears are "optimistic" Trubisky will be under center when they take on the Detroit Lions on Thanksgiving Day. Despite Mitchell Trubisky suffering a shoulder injury in fourth quarter against Vikings, Bears are optimistic


Jalen Ramsey does not back down from calling Josh Allen 'trash'
Josh Allen appears to be on track to return from his injury to face the Jacksonville Jaguars on Sunday, which means the rookie quarterback will have a chance to prove himself against Jalen Ramsey. And if you think Ramsey is going to back down from his controversial offseason remarks ahead of a matchup against the Buffalo Bills, you're wrong. During his infamous interview with GQ Magazine that was published back in August, Ramsey bashed several NFL quarterbacks. The All-Pro cornerback had


Baseball world pays tribute to Adrian Beltre following retirement
Adrian Beltre announced his retirement on Tuesday after playing a remarkable 21 Major League Baseball seasons, and his next stop will almost certainly be the Baseball Hall of Fame. In a statement released by the Texas Rangers, Beltre said he came to the incredibly difficult decision that it is time to call it a career. "After careful consideration and many sleepless nights, I have made the decision to retire from what I've been doing for my whole life, which is playing baseball, the


Ex-Michigan State prez Simon facing 4 charges
Former Michigan State president Lou Anna K. Simon was charged Tuesday with two felony counts and two misdemeanor counts of lying to the Michigan State Police during an investigation into former doctor Larry Nassar.


Rams' Dante Fowler says Patrick Mahomes was 'rattled'
The Los Angeles Rams and Kansas City Chiefs treated football fans to one of the greatest NFL games of all time on Monday night, and one player on the winning side felt that the inexperience of Patrick Mahomes was a big factor down the stretch. After the Rams took a 54-51 lead late in the fourth quarter, Kansas City got the ball back twice with less than two minutes remaining and chances to either tie the score or take the lead. Both drives ended on Mahomes interceptions, and Rams defensive end


JR Smith publicly calls out Cavs for tanking
JR Smith admitted a few weeks ago that he would prefer for the Cleveland Cavaliers to trade him, but that probably won't bother the team nearly as much as what he said on Monday. In an interview with Jason Lloyd of The Athletic, Smith reiterated that he has no interest in remaining with the Cavs. The main reason for that, he says, is that the team is committed to tanking this season. "I don't think the goal is to win. The goal isn't to go out there and try to get as many wins as you...


Ohio State RB responds to Karan Higdon guaranteeing Michigan victory
Michigan running back Karan Higdon is confident enough heading into this weekend's huge matchup against Ohio State that he was willing to guarantee a victory over the Wolverines' biggest rival. As you might expect, the Buckeyes seem to disagree. Ohio State running back Mike Weber posted an obvious response to Higdon on Twitter: " I gUaRanTEe A wIn" pic.twitter.com/JKJmmiNrXl — Mike Weber (@mikeweberjr) November 20, 2018 In fairness to Higdon, a reporter asked a question ...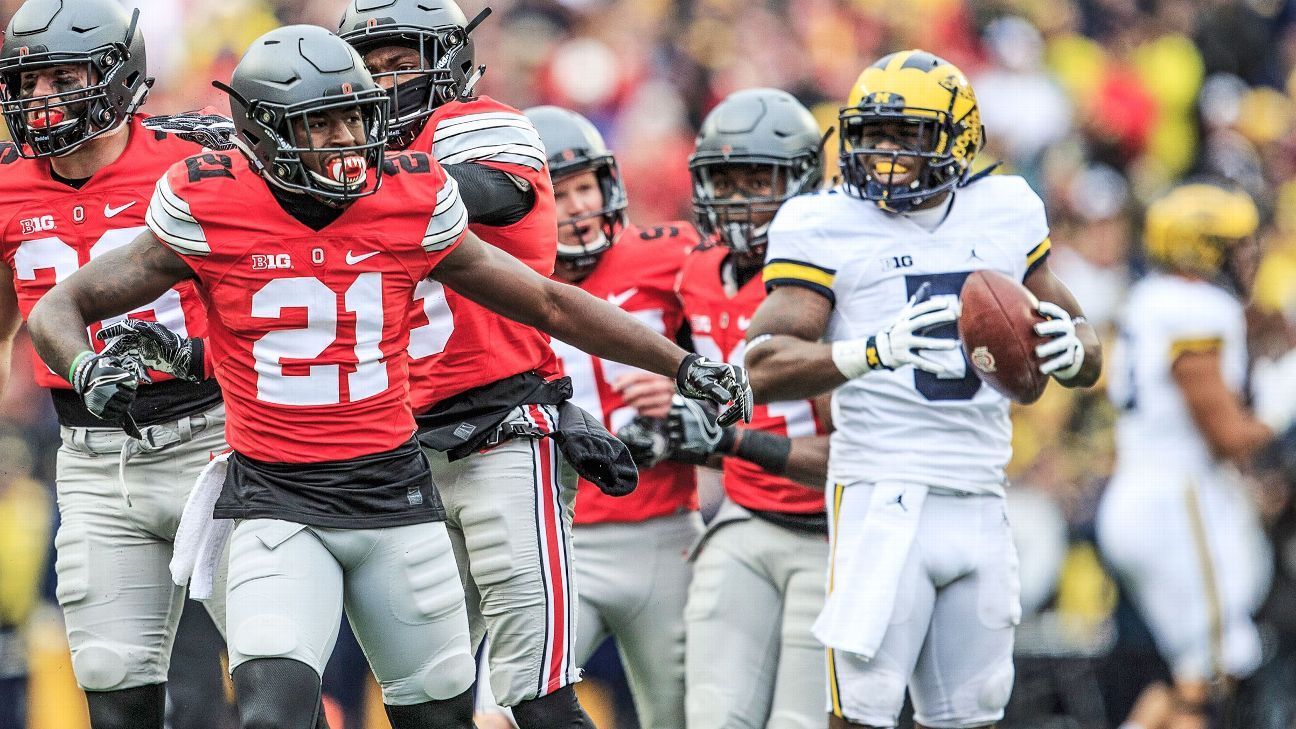 The hater's guide to Rivalry Week
From petty feuds to genuine hate, this is college football's best week. Here are the iconic moments and unforgettable quotes from the game's top rivalries.


Who wins The Match: Tiger or Phil?
With Tiger and Phil about to (finally) happen, we answer the important questions: Who wins, what is the best side bet, and what is the match we'd actually rather see.


Tony Dungy impressively predicted a 100-point MNF game
Tony Dungy only needed to see 10 minutes of the incredible "Monday Night Football" game to know where it was heading. After seeing a couple of early penalties called on the Kansas City Chiefs' defense, Dungy knew that the game was setting up to be high-scoring. He said that with the way the refs were calling the game, there would be 100 points scored. This NFL officiating is hard to watch. If those two calls are penalties the secondaries will have no chance. There will be 100


10 NFL players who could make a big impact down the stretch
The 2018 NFL season is coming up on the final quarter stretch and in most cases, nothing is settled. Divisions are close, playoff races are tight, and injuries around the league have really begun to shake things up. It's now make-or-break time for players and teams, and as the saying goes, big players make big plays in big games. So who might those big players be? Here's a look at 10 players who could have a big impact down the stretch. 10. Colt McCoy, QB, Washington Redskins 33 yea


Fans loved Rams-Chiefs 'Monday Night Football' instant classic
The heavily-anticipated "Monday Night Football" matchup between the Kansas City Chiefs and Los Angeles Rams lived up to the expectations and even surpassed them. The teams ping-ponged back-and-forth, trading touchdowns and leads, with the Rams eventually prevailing 54-51 thanks to consecutive interceptions on Kansas City's final two possessions. The displays of offense were ridiculous and everything fans could have asked for, as the game turned into a real-life version of R


Georgia player hits on Laura Rutledge days after sideline collision
A Georgia Bulldogs football player hit on ESPN reporter Laura Rutledge days after knocking her down in a sideline collision. Rutledge shared a video on Twitter Sunday of some of her follies that took place while she was reporting on the Georgia-UMass game. That included getting pulled by Georgia's mascot, and getting run over by two players on the sideline. Took an L in Athens today. So many thanks to everyone at @UGAAthletics for their help after this happened…even though I'm a...


Watch: Ndamukong Suh gets away with swatting Patrick Mahomes
The referees were throwing penalty flags left and right in the first half of Monday night's Kansas City Chiefs-Los Angeles Rams game, but somehow they failed to call a penalty on Ndamukong Suh for swatting Patrick Mahomes. The Kansas City quarterback scrambled to the 1-yard line in the second quarter and was met by two Rams defenders. Suh completely swatted him in the head but got away with it. Somehow the refs didn't throw a flag on THIS? Classic Ndamukong Suh. pic.twitter.com/9t8tXO0...


Astros, Cardinals pursuing Paul Goldschmidt in trade talks
Paul Goldschmidt is on the trade block, and two National League teams are apparently serious about trying to acquire him. The Athletic's Ken Rosenthal reported on Monday night that the Houston Astros and St. Louis Cardinals have had the most meaningful discussions with Arizona about Goldschmidt. #Astros, #STLCards are the two teams that have had the most meaningful discussions with the #DBacks about a trade for Paul Goldschmidt, sources tell The Athletic. No deal is close; talks not yet


Twitter reacts to refs calling so many penalties in Rams-Chiefs game
The story after a quarter of play in Monday night's anticipated game between the Los Angeles Rams and Kansas City Chiefs was about all the penalty flags being thrown. Through a quarter of play, KC had been flagged 8 times for 82 yards. Their defensive backs were repeatedly called for fouls, while they also committed multiple infractions at the line of scrimmage. After a quarter and a half, the Chiefs had been penalized 9 times for 92 yards, while the Rams were flagged once for 5 yards. F


Kelly Bryant to take final official visit at Auburn
Kelly Bryant has made his plans for his final official visit as a graduate transfer. The former Clemson quarterback will take his last official visit to Auburn, according to Auburn Undercover. Athletes are allowed to take five official visits. Bryant has already gone to Arkansas, Missouri, North Carolina and Mississippi State. He's previously taken an unofficial visit to Auburn, and now he'll be returning for an official. Bryant did the same thing with North Carolina, taking both an


Zion Williamson had some incredible trash talk for SDSU opponent
Zion Williamson had some incredible trash talk for a San Diego State opponent during their game on Monday at the Maui Jim Maui Invitational. Williamson had 13 points, 6 rebounds and 5 steals in only 18 minutes of Duke's 90-64 win. He was fouled by Aztecs guard Devin Watson during the game and hit back with some intimidation, telling Watson he's too small for him. Zion Williamson just looked at San Diego State's Devin Watson, after Devin fouled him, and said, "You're too smal...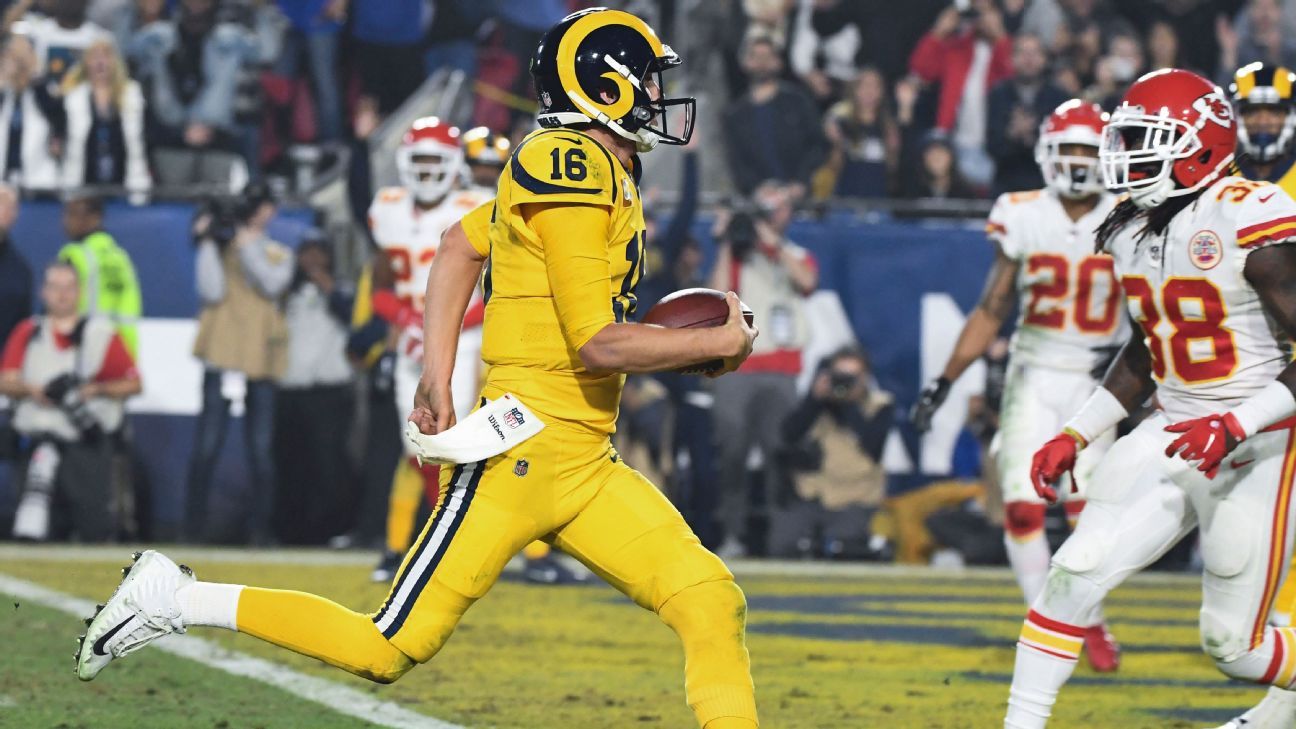 Rams, Chiefs combine for record night on MNF
A game that quarterback Jared Goff fittingly called "four quarters of craziness" saw the Rams and Chiefs combine to add multiple entries to the NFL record book on Monday night.


John Wall fined by Wizards for unloading on Scott Brooks
John Wall was fined by the Washington Wizards for unloading on head coach Scott Brooks during a recent practice, according to a report. ESPN's Adrian Wojnarowski says Wall directed a verbal barrage onto Brooks after being challenged in practice to raise his and the team's intensity. Wall reportedly told Brooks "f— you" in response. Story filed to ESPN: The Wizards fined All-Star John Wall for unloading a verbal barrage onto coach Scott Brooks in a recent practice.


Rams' Ebukam leads way as defenses total 3 TDs
In a game that was supposed to be all about offense, the Rams and Chiefs combined for three defensive touchdowns on Monday Night Football, led by outside linebacker Samson Ebukam's fumble recovery and interception, both returned for TDs, for L.A.


Watch: Les Miles has total brainfreeze at Kansas press conference
Les Miles was introduced as the new head football coach of the Kansas Jayhawks on Sunday, and his press conference included an odd moment. He was talking about what kind of involvement the team would have in the community and appeared to have a brainfreeze. He went nearly 20 seconds in between finishing his thought as his mind went blank. wait for it pic.twitter.com/WpMZkWYAJa — Tom Martin (@TomKCTV5) November 19, 2018 What happened during that moment? Your guess is as good as ours, but


Report: Yankees still interested in Patrick Corbin, JA Happ
The New York Yankees made a big move to bolster their starting rotation on Monday, but there's no reason to believe they're done. According to Jon Morosi of MLB.com, the Yankees are still aiming to sign either Patrick Corbin or J.A. Happ in free agency even after trading for James Paxton. Source: #Yankees remain interested in free agents Patrick Corbin and J.A. Happ, following the James Paxton deal. Yankees are placing a higher priority on adding one more starting pitcher than sign


Horrific details of Alex Smith's leg injury revealed
Alex Smith suffered what looked like one of the most gruesome football injuries of the season on Sunday, and it has become clear that it was every bit as horrifying as it appeared. Redskins head coach Jay Gruden said after Washington's 23-21 loss to Houston that Smith suffered a broken tibia and fibula and will undergo surgery. On Monday, Adam Schefter shared some details about the injury that are easy to understand, but far more difficult to digest. Alex Smith suffered a compound fracture &...


Mariners reportedly trade James Paxton to Yankees
The New York Yankees are looking for ways to upgrade their starting rotation this offseason, and they took a big step toward accomplishing that goal on Monday. Jeff Passan of Yahoo Sports reports that the Yankees have acquired starting pitcher James Paxton in a trade with the Seattle Mariners. Source: James Paxton has been traded to the New York Yankees. — Jeff Passan (@JeffPassan) November 19, 2018 Yankees No. 1 prospect Justus Sheffield is among the players who will be sent to Seattle


League of Legends free-agency guide
League of Legends free agency opened Monday with some big names already on the move. Keep track of all the roster mayhem on our free agency page.


Liddell and Ortiz fighting for future, not past
Chuck Liddell and Tito Ortiz are both MMA legends who long ago saw the sport pass them by. But on Saturday, they will rekindle their old animosity while also trying to propel the fight game forward.


Kate Fagan has declined a contract extension at ESPN and is leaving the company at the end of the year, The Washington Posts reports. (...)