Rays troll Aaron Judge over old tweet
Tampa Bay can never pass up an opportunity to clown their division rivals. The Rays, who will be hosting the New York Yankees for a three-game series starting on Monday, took some time to troll Yankees slugger Aaron Judge on Sunday. They dug up an old tweet that Judge sent back in October 2013 where he said that he was going to a Rays playoff game. I'm going to a rays game tomorrow! #playoffbaseball — Aaron Judge (@TheJudge44) October 8, 2013 The team then quoted Judge's tweet


Former teammate defends DeMarcus Cousins' decision to sign with Warriors
DeMarcus Cousins' decision to sign with the Golden State Warriors was one of the most unpopular free agent moves in recent memory, but Memphis Grizzlies swingman Garrett Temple can understand where he is coming from. Temple, who was teammates with Cousins on the Sacramento Kings during the 2016-17 season, spoke about the four-time All-Star in an appearance this week on "The HoopsHype Podcast" with host Alex Kennedy. While Temple admitted to being "really surprised"


Report: Tobias Harris turns down $80 million extension from Clippers
Tobias Harris has reportedly turned down a contract extension from the Los Angeles Clippers so he can be a free agent next summer. Earlier this year, Harris was sent to the Clippers from the Detroit Pistons in the trade that saw Blake Griffin go to Detroit. In 32 games for the Clippers, Harris averaged 19.3 points, 6 rebounds, 3.1 assists, and 1.2 steals per game while connecting on 41 percent of his three-pointers. That was apparently good enough for Los Angeles to offer Harris a contract ext


Dodgers clown Brewers infielder over 48-mph pitch
The Los Angeles Dodgers had some jokes over the slow pitch thrown by Milwaukee's Hernan Perez on Sunday. The Brewers were getting blown out late in their 11-2 loss to the Dodgers, so Milwaukee decided to spare their bullpen by using two position players to pitch. One was Perez, who threw a 48-mph pitch while facing Austin Barnes. Hernan Perez mixing it up pic.twitter.com/obQajSeEl8 — Routine Baseball (@RoutineBaseball) July 22, 2018 The pitch hit Barnes, leading to some jokes. Dod


Watch: Shogun Rua knocked out in first round
Shogun Rua was pummeled in the octagon during his fight with Anthony Smith at UFC Fight Night in Hamburg on Sunday. The headline fight lasted just 1:29 before the referee had to step in and keep Smith from doing more damage to Rua, who could not defend himself. Smith brought the pain with a series of punches and elbows that forced Rua into the fence. #UFCHamburg Anthony Smith just DEMOLISHED Shogun Rua. Wow!! pic.twitter.com/BEZQ1mhh5J — Todd Lucier (@MrOldSchool22) July 22, 2018 The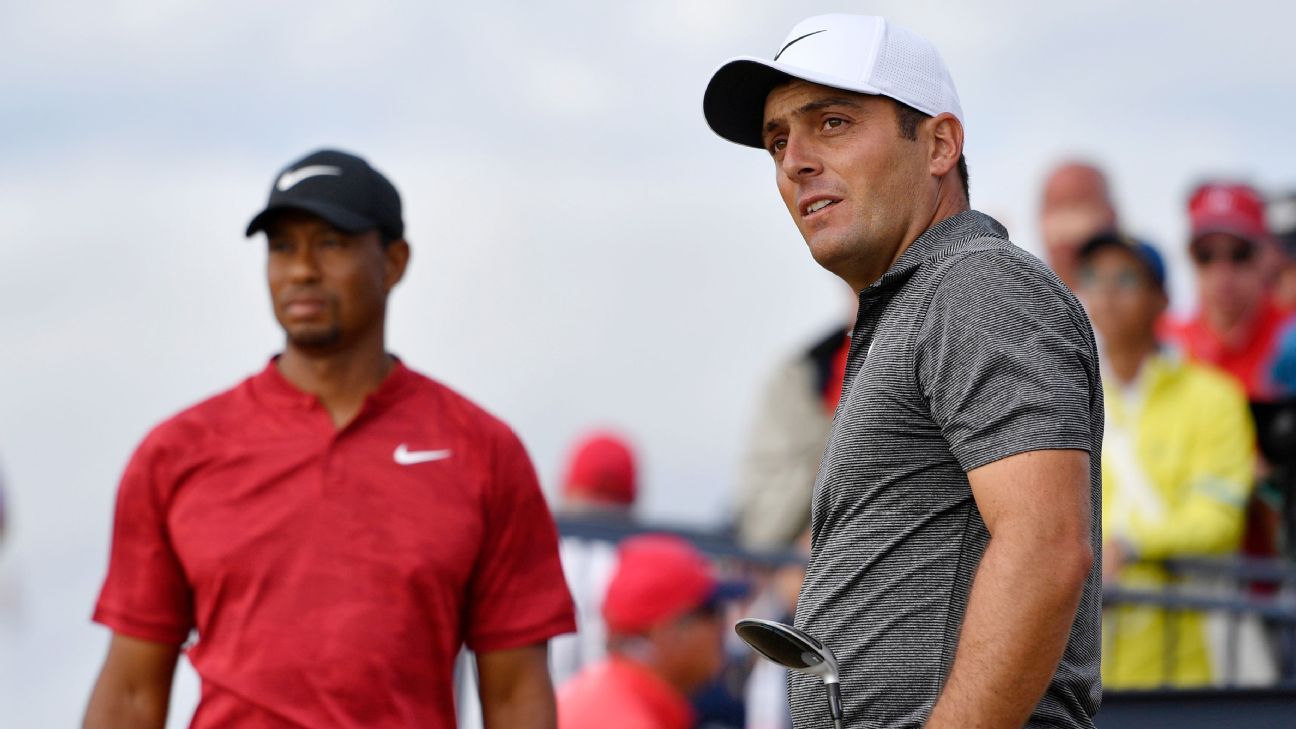 Inside a wild Sunday at The Open
From the return of Tiger roars on Sunday at a major to a Jordan Spieth detour around a forgotten part of the course, The Open's final round had everything.


Watch: Grown man takes ball intended for child at Cubs game
We have another example of a gem of a fan to highlight. A Chicago Cubs fan took a ball that was intended for a child during Sunday's Cubs-Cardinals game at Wrigley Field. Sorry, kid. Baseball is for balding men. pic.twitter.com/o138NDkcRe — Chris Hassel (@Hassel_Chris) July 22, 2018 Unfortunately this sort of thing is more common than you think. Let's hope the fan did the right thing and gave the ball to the kid. At least the Cubs tried to make it right. Should be noted tha


This Mike Trout is simply stunning
The theme throughout Mike Trout's career with the Angels has been that he produces while his teammates fail to keep up. Few things seem to affirm that more than this stat. Houston Astros reporter Brian McTaggart noted before Sunday's game that Trout had not driven in a teammate since June 19. Mike Trout hasn't driven in a teammate since June 19. — Brian McTaggart (@brianmctaggart) July 22, 2018 It's no surprise that the Angels have gone 10-15 during that span. Si


Report: Titans place Kevin Dodd on did not report list
Kevin Dodd continues to seemingly be on the outs with the Tennessee Titans. The former second-round pick did not report for OTAs this offseason. Now, NFL Media's Ian Rapoport says the Titans placed Dodd on the Did Not Report list. The #Titans placed OLB Kevin Dodd on the "Did Not Report" list, source said. That's a twist. — Ian Rapoport (@RapSheet) July 22, 2018 Taken No. 33 overall in 2016, Dodd has only played in 18 games over his first two seasons and has hardly contribut...


Person close to Kawhi Leonard predicts he won't leave Toronto
Kawhi Leonard is said to be intent on signing with the Lakers when he becomes a free agent next summer, but that didn't stop the Raptors from giving up their best player to acquire him via trade. One person close to the star forward thinks Toronto's risk will pay off in a big way. A person close to Leonard told Mark Zeigler of the San Diego Union-Tribune that he believes Kawhi will fall in love with Toronto and end up re-signing next summer. Zeigler described the source as "so


Dodgers' Justin Turner leaves game with groin tightness
Justin Turner's return to the Los Angeles Dodgers' starting lineup was short-lived. Turner left Sunday's Dodgers-Milwaukee Brewers game during the third inning with what was said to be groin tightness. Official word — Justin Turner left with right groin tightness. Same issue that kept him out of the lineup for 10 days — Bill Plunkett (@billplunkettocr) July 22, 2018 Turner was 1-for-2 with an RBI double before leaving the game. Turner had a pinch hit appearance


Ravens OC: Lamar Jackson is 'way ahead of the curve'
Lamar Jackson may be well on his way to pushing Joe Flacco for the Baltimore Ravens' starting quarterback job. Ravens offensive coordinator Marty Mornhinweg on Sunday praised Jackson for the work that he's done, saying he's "way ahead of the curve." Ravens offensive coordinator Marty Mornhinweg said quarterback Lamar Jackson's accelerated improvement is the result of hard work. "He's done an outstanding job up to date," Mornhinweg said. "He's way ahead of ...


Syndergaard to DL for hand, foot, mouth disease
Mets starter Noah Syndergaard is going on the 10-day disabled list after recently exhibiting symptoms of hand, foot and mouth disease, a viral illness that normally affects children under 5 years of age.


Justin Thomas: Francesco Molinari is 'hottest player on the planet'
The praise keeps rolling in for Francesco Molinari. After the 35-year-old captured his first major with a win at The Open Championship on Sunday, colleague Justin Thomas called Molinari "the hottest player on the planet." What a round by @F_Molinari. Played with him Thursday-Friday, not surprised! Guy is the hottest player on the planet currently. Bogey free out there today is a championship round — Justin Thomas (@JustinThomas34) July 22, 2018 The words could not be truer.


NFL community pays tribute to Tony Sparano
The Minnesota Vikings announced on Sunday that longtime NFL coach Tony Sparano has died at age 56, and the reaction from teams, coaches, players and executives shows just how respected he was across the league. Sparano, who is best known for his four-year stint as the Miami Dolphins' head coach from 2008-2011, complained of chest pains last week and was admitted to the hospital on Thursday. He was released Friday after doctors conducted a series of tests, but he died Sunday morning. The NFL c...


Saquon Barkley signs rookie contract with Giants
Saquon Barkley will be ready to roll when the New York Giants open up training camp. The team's first-round pick agreed to a four-year deal worth $31.2 million, according to NFL Media's Ian Rapoport. Rapoport says the contract is fully guaranteed. The #Giants have agreed to terms with first-round RB Saquon Barkley on his four-year, fully guaranteed contract worth $31.2M, source says. He has a $20.76M signing bonus with $15M paid out immediately — the most in several years. He ge...


Tiger Woods praises Francesco Molinari for 'beautiful' play
Francesco Molinari received some praise from Tiger Woods upon winning his first career major. Molinari captured the Claret Jug by winning The Open Championship on Sunday with a score of -8 for the tournament. He played his final round with Tiger, who complimented Molinari for his "beautiful" play. "It's not easy," Tiger said of winning The Open Championship after completing his final round. "It takes every facet of the game working. And on top of that you hav


Watch: Tiger Woods frustrated after fan yells during his tee shot
A fan yelled out during Tiger Woods' tee shot on 18 at The Open Championship on Sunday, leaving the golfer frustrated. Woods was teeing off on the par-4 final hole in his final round, looking to improve upon his score of -5 for the tournament. The fan yelled out in the middle of Tiger's swing, causing him to pull off on his finish. "Ugh, what are you doing?" Woods could be heard saying just as he finished his stroke. Here's video: Fan yelling during Tiger's


Watch: Xander Schauffele drops S-bomb after bad shot
Xander Schauffele is not used to having many of his shots in major championships shown on television, and the 24-year-old proved that with the way he reacted to one of them during the final round of The Open Championship on Sunday. Schauffele, who held the lead for much of the day, hit an approach shot on the 15th hole that he was not pleased about. As he watched the ball sail beyond the flag, he couldn't help but let an S-bomb fly. I didn't know Xander and I had so much in common with...


Manziel traded to last-place Montreal in CFL
Quarterback Johnny Manziel's CFL career will continue in Montreal after the Hamilton Tiger-Cats traded him to the Alouettes on Sunday in a deal involving five players and two first-round picks.


Cort Nielsen takes Tour de France stage 15
Magnus Cort Nielsen won a sprint finish on stage 15 of the 2018 Tour de France, beating Ion Izagirre and Bauke Mollema to victory after 20 riders formed an early breakaway.


Matt Carpenter credits homemade salsa for home run binge
St. Louis Cardinals slugger Matt Carpenter has been on fire during the team's current road trip, and now that appears to be taking on a literal sense as well. During Saturday's doubleheader against the Chicago Cubs, Carpenter clubbed home runs in each of the two games to mark his fifth and sixth dingers in his last four contests. The homers also brought his RBI total to ten over that span. After the game, Carpenter credited some homemade salsa that he brought on the road trip for th


Jake Cave Among Top Waiver Adds | Carlos Rodon Ready to Surge
Your Fantasy Baseball Planner, with recommended streamers and waiver adds Back to work, kids. Regain your focus and let's grind as the July 31 trade deadline looms among us. Pitching For Two, Please (Recommended two-start pitchers) Julio Teheran, Braves (at Marlins, Monday; vs. Dodgers, Sunday): His 4.00 ERA is courtesy of his penchant for giving up the long ball (18 in 105 innings pitched), but when the ball stays in the yard, Teheran is a downright tough nut to crack. Opponents have hit .185...


Tigers' Fiers clowns 'scared' JD Martinez for sitting out game
JD Martinez's day off Saturday against his old team did not sit well with some. The Boston Red Sox All-Star outfielder was out of the lineup for their game against the Detroit Tigers, marking just his seventh missed contest of the year. After the game (a 5-0 victory for Detroit), Tigers starter Mike Fiers, who fired 6.1 shutout innings to earn the win, seemed to rip Martinez. He said that Martinez was scared to face him and accused the AL RBIs leader of asking for a day off against him, a


Markelle Fultz expected to be Philadelphia's sixth man next season
Markelle Fultz is ready to put the 6 in Philadelphia 76ers. In an appearance this week on 97.3 ESPN's "The Sports Bash," Keith Smith of Real GM spoke on Fultz and his expected role for the Sixers in 2018-19. "He's probably likely to be the sixth man coming off the bench," Smith said of the 20-year-old. "And in a lot of ways that's a great role for him because on the days that he's got it going, you ride him. On the days where he doesn't, he...


Hader warmly received by Brewers fans in return
In his first appearance in a game since the emergence of his controversial tweets, Josh Hader was received warmly, with cheers and applause, by Brewers fans. "It means a lot," he said after Milwaukee's 4-2 win.


Cards' Carpenter homers in sixth straight game
Cardinals first baseman Matt Carpenter hit a pinch-hit home run in Game 2 of a doubleheader against the Cubs on Saturday, breaking Mark McGwire's franchise record with his sixth straight game with a home run.


Report: White Sox likely to keep Jose Abreu through trade deadline
It does not appear that Jose Abreu will be the latest casualty of the Chicago White Sox's roster teardown. Bob Nightengale of USA TODAY Sports reported on Saturday that the White Sox are now "strongly inclined" to keep the Cuban first baseman through the Jul. 31 deadline instead of trading him away. Abreu, 31, is one of Chicago's most attractive trade chips and just made his second career All-Star team after hitting 13 home runs and 52 RBIs in the first half. The White S


Isaiah Thomas questions why Jamal Crawford has not been signed yet
Isaiah Thomas is going to bat for his fellow Washington native. In a post to Twitter on Saturday, the Denver Nuggets guard questioned why Jamal Crawford had not been signed yet, saying that it made "no sense." How is @JCrossover still a free agent? Makes no sense! — Isaiah Thomas (@isaiahthomas) July 21, 2018 Crawford, who is close friends with Thomas and often links up with him at Seattle Pro-Am events, has this to say in response to the tweet. -this " new" Nba I guess lol


Watch: Indiana's Justin Smith sets record with 48-inch vertical
Indiana forward Justin Smith is proving that gravity is for losers. The 6-foot-7 sophomore broke an all-time school record with an unreal 48-inch max vertical this week. Smith's jump easily shattered Victor Oladipo's old record of 42 inches and tied the NBA Combine record as well. Have a look: Move aside @VicOladipo! We have a new ALL-TIME IU record!@justinsmith3_ recorded a inch Max Vertical today! That also ties the @NBA Combine record! pic.twitter.com/LFMtK1DiBD — Indiana


Aroldis Chapman dismisses knee concerns after rough outing
Aroldis Chapman dismissed concerns about his knee after a rough outing on Saturday. Chapman entered the New York Yankees' game against the New York Mets looking to close things out with a 7-3 lead. Unfortunately he failed to record an out as he put on five straight, walking three, hitting a batter and allowing a hit. He was charged with three runs in the appearance. After the game, Chapman was asked whether his knee had anything to do with his issues Saturday. Both Chapman and manager Aa


Yoenis Cespedes to see foot specialist, get MRI
The excitement over Yoenis Cespedes' return to the New York Mets' lineup has already passed. Cespedes returned for the Mets and homered on Friday in his first action in over two months. But Cespedes promptly was held out of Saturday's game due to continued lower body problems. New York Daily News reporter Kristie Ackert reported on Saturday that Cespedes will see a foot specialist and undergo an MRI. Cespedes will be checked out by a specialist "early in the week." He wi...


JD Martinez expected to play on Sunday despite soreness
JD Martinez is expected to play on Sunday despite not being in the lineup for Saturday's game due to soreness. The Boston Globe's Pete Abraham reported on Saturday that Martinez has soreness after smacking into a wall on Friday while making a catch against his former team. Here's the play: JD MARTINEZ WITH THE GLOVE THIS TIME #DirtyWater pic.twitter.com/n1dPbDwUpX — LIGHT IT (@FyahWill) July 21, 2018 Abraham says that Martinez is expected to be OK to play on Sunday ag


Mets, A's finalize trade for closer Jeurys Familia
Entering a Saturday game against the New York Yankees, closer Jeurys Familia remained unavailable for the New York Mets as trade winds continued to swirl. The Mets and Oakland A's were knee-deep in trade discussions for Familia and had begun to review medical records of all players involved in the proposed trade as of Friday night. And shortly after the conclusion of a 7-6 loss to the Yankees on Saturday, the Mets and A's finalized the deal for Familia. In exchange for Familia, the


CB Bashaud Breeland visiting with Raiders, Chiefs
Free agent cornerback Bashaud Breeland looks like he is getting closer to finding a home for the 2018 season. Breeland is set to visit the Oakland Raiders on Sunday and Monday and then the Kansas City Chiefs on Tuesday, according to ESPN reporter Rob Demovsky. Cornerback Bashaud Breeland is visiting the Raiders on Sunday and Monday then headed to the Chiefs on Tuesday, a source said. He's the one who signed a three-year, $24 million deal with the Panthers that was voided after he failed a p...


DeMar DeRozan thanks Toronto, fans in emotional goodbye
DeMar DeRozan was not a happy camper after learning that he had been traded from the Toronto Raptors to the San Antonio Spurs, expressing frustration and disappointment on his now-deleted Instagram story. With several days to let the upheaval settle and the reality of his new life set in, DeRozan took to Instagram to share an extremely emotional thank you and goodbye to Canada, Toronto and his fans. Words could never express what you've meant to me. I was just a 19 year old kid from Com...


A's will set Oakland Coliseum attendance record on Saturday night
The Oakland A's will make history on Saturday night when hosting nearly 57,000 fans, which will be the largest crowd to ever amasse at the Oakland Coliseum. It will also be the largest single-game crowd for any MLB contest this season, besting the 53,904 fans who showed up for a June 26 game between the Los Angeles Dodgers and Chicago Cubs at Dodgers Stadium. In order to reach the near-57,000 mark, the A's will open up Mount Davis for the first time in 13 years, allowing for an addit


Johnny Manziel continues to ride the pine in Canada
The Hamilton Tiger-Cats suffered a 31-20 loss to the Saskatchewan Roughriders in Week 6, and for the sixth consecutive week, quarterback Johnny Manziel didn't take a single snap. Part of the reason Manziel has struggled to reach the field has been the play of fellow quarterback Jeremiah Masoli, who had tied a CFL record with nine straight 300-yard games. However, in the Week 6 loss coming off the bye, he managed just 184 yards with no touchdowns and one interception. Despite Masoli'


Giants' Steve Tisch rips President Trump, won't punish players who protest
New York Giants co-owner Steve Tisch ripped President Donald Trump earlier this week, telling The Hollywood Reporter that the president "has no understanding" of why players kneel or protest during the national anthem, and that none of his players will be punished if they decide to protest in 2018. "Hopefully he'll have much more going on that he's going have to deal with and should deal with and must deal with than worrying about what NFL players do," Tisch


Two Mexican Baseball League umps suspended for horrific call (Video)
Two Mexican Baseball League umpires have been suspended after the duo collaborated on one of the worst calls in the history of the sport. And no, that is not an exaggeration. Thoughts of terrible calls undoubtedly plague the mind of most baseball fans, but for those cheering on the Diablos Rojos del Mexico, they can now stake claim to being victims of the most ludicrous call of all-time. With Algodoneros de Union Laguna's Jonathan Jones in the hole 0-1, he adjusted his approach and in an


Spectacular few hours.


Jon Gruden says Khalil Mack decision is his 'toughest'
The honeymoon period for Jon Gruden in his return to the Raiders has ended abruptly thanks to the holdout of one of the team's best players. Defensive star Khalil Mack did not participate in OTAs and officially held out of the team's minicamp as he seeks a new contract. Mack is in the final year of his rookie contract and set to make just over $13 million, but he's a former Defensive Player of the Year and deserving of a long-term deal. Speaking at a Raiders fan rally at Ricky&


Yoenis Cespedes considering surgery that would keep him out 8-10 months
Yoenis Cespedes returned to action on Friday night for the New York Mets after missing more than two months with hip and quad issues. But those aren't his only problems. Cespedes says the root of his problems is a calcification issue in both of his heels. These issues have bothered him for years. There is a surgery that could fix it, but the problem is the operation would knock him out 8-10 months. Cespedes says that the cause of his medical issues is calcification in both heels. He says


Birdie barrage not enough as Lincicome cut
Despite a second round that included five birdies and an eagle, Brittany Lincicome missed the cut at the Barbasol Championship, failing in her bid to become the first female golfer since 1945 to make the cut in a PGA Tour event.


Woods shoots 5-under 66 in Open third round
It was vintage Tiger Woods during the third round of The Open at Carnoustie as he fired a 5-under 66. This is the first major he's started with three straight rounds of par or better since the 2012 Open at Royal Lytham.


Watch: Max Scherzer, Stephen Strasburg have heated moment in dugout
Stephen Strasburg's return from the disabled list did not go well at all. Strasburg was charged with six runs on eight hits over 4.2 innings in an 8-5 loss to the Atlanta Braves on Friday. It was Strasburg's first start since June 8 and the most runs he's allowed all season. After entering the dugout following his start, Strasburg mostly ignored his teammates, and that didn't sit well with Max Scherzer. Scherzer said something to Strasburg and the two got heated. Strasbu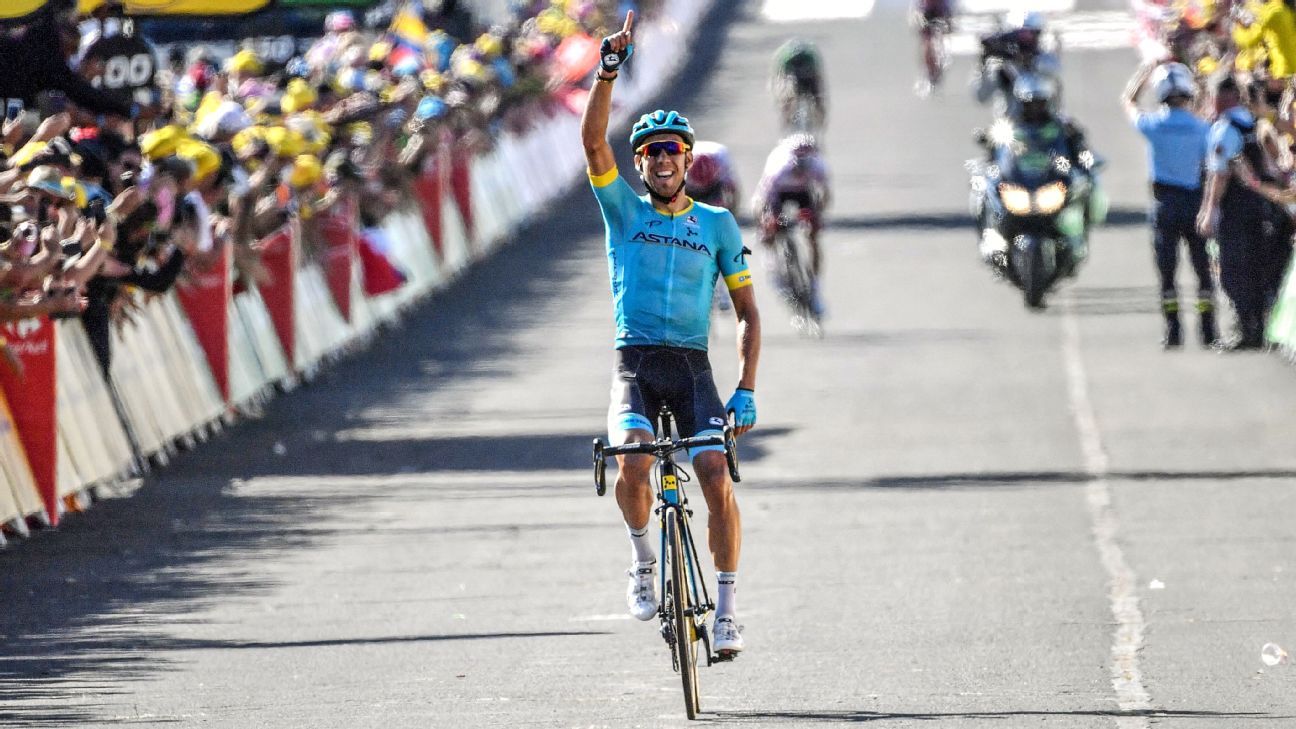 Spain's Omar Fraile powered to victory with a late burst in the last climb.


DFS NASCAR: New Hampshire Cup Picks and Xfinity Preview
There are only seven races before the Monster Energy NASCAR Cup Series playoffs begin. This week, drivers can lock themselves into the playoffs with a victory in the Foxwoods Resort Casino 301 at New Hampshire Motor Speedway. This is the first season in NASCAR history when the Cup Series will only visit the track once per year. CUP SERIES PREVIEW FOR FOXWOODS RESORT CASINO 301 TOP-PRICED PICKS Kyle Busch ($11,600 on DraftKings, $12,500 on FanDuel) is the most recent winner at New Hampshire. In ...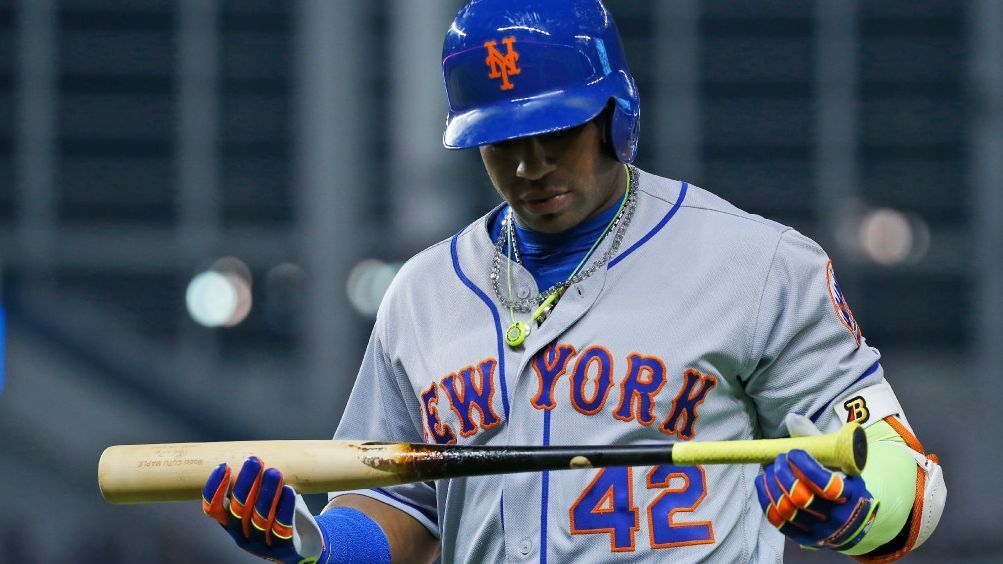 Mets skipper unaware of Cespedes surgery talk
Mets manager Mickey Callaway said he was unaware of comments made Friday by injury-plagued slugger Yoenis Cespedes, who revealed that he may need surgery on both heels that would sideline him for eight to 10 months.


Diamondbacks have funny exchange with ex-pitcher Dan Haren
Ex-pitcher Dan Haren had a funny exchange with the Arizona Diamondbacks on Twitter Friday. The D-backs announced their 20th anniversary team on Friday. Haren, who pitched 2.5 seasons for the team, making the All-Star team twice, was not included. He tweeted at Arizona asking for a "recount". Can we get a recount? — dan haren (@ithrow88) July 20, 2018 In response, the person running the account trash-talked Haren, saying he's gone from hanging breaking balls to hanging


Trump criticizes NFL anthem policy on Twitter
One day after the NFL said it is halting its enforcement of anthem rules, President Donald Trump tweeted out criticism of the NFL and called for action from commissioner Roger Goodell.


Strasburg, Scherzer get testy in Nats' dugout
After exiting in the fifth inning following a less than stellar return to the mound, Stephen Strasburg argued with fellow pitcher Max Scherzer in the Nationals' dugout, with the pair ending up having a talk with manager Davey Martinez.