Texas QB Sam Ehlinger sidelined after aggravating shoulder injury
Texas quarterback Sam Ehlinger aggravated a shoulder injury and failed to start the third quarter against Iowa State. Ehlinger took a nasty hit to the shoulder on a scramble late in the first half and left the game. He appeared on the sideline after halftime, but was still replaced by backup Shane Buechele to start the second half. Looked like Sam Ehlinger took a hard hit to his right shoulder at the end of the 1st half. That's certainly worth monitoring to start 2nd half. — Max Olso


Watch: Jimmy Butler drills game-winning three at OT buzzer
It only took until his third game with the Philadelphia 76ers for Jimmy Butler to prove his worth to his new team. Butler drilled a game-winning three pointer with three-tenths of a second left in overtime in a 122-119 win over the Charlotte Hornets on Saturday evening, authoring a signature moment very early in his Philadelphia career. That's why they brought me here! pic.twitter.com/unCUvV36do — The Crossover (@TheCrossover) November 18, 2018 Butler didn't have a huge night


Kentucky LB disappointed over Senior Day fan support
The Kentucky Wildcats are in the top 25 and now sit 8-3 after their win on Senior Day, but the crowd wasn't big enough for one player's liking. The crowd was somewhat sparse, at least during the coin toss, with empty seats visible in the stadium. Coin toss for Kentucky-Middle Tennessee at Kroger Field #bbn #ukfootball pic.twitter.com/m9HNv2NouB — John Clay (@johnclayiv) November 17, 2018 Linebacker Kash Daniel was upset after the game, feeling that one of the most successful


Warriors owner: Green suspension was not to placate Kevin Durant
Golden State Warriors owner Joe Lacob has weighed in on the decision to suspend Draymond Green for his confrontation with Kevin Durant. There has been widespread speculation that the suspension was at least partially fueled by Golden State's desire to show Durant how much they value him, as he is a free agent at the end of the season. Lacob, however, said that motive had nothing to do with the decision. "I've read and heard all the things people are talking about. That we̵


USC fans turn against Clay Helton after loss to UCLA
The USC Trojans are facing long odds just to become bowl eligible, and their head coach is starting to feel the heat. The Trojans gave up 13 unanswered points in the fourth quarter to lose 34-27 to rivals UCLA, dropping them to 5-6 on the season. They'll be heavy underdogs next week against unbeaten Notre Dame, but will need a win just to become bowl-eligible. The combination of the poor record and rivalry loss had at least one USC fan in the stadium venting their anger at Helton, who is


Syracuse coach blown away by Notre Dame's dominance
The Notre Dame Fighting Irish posted an emphatic 36-3 win over the Syracuse Orange at Yankee Stadium on Saturday, and it was a performance that left one of the coaches somewhat slack-jawed. Syracuse coach Dino Babers couldn't stop praising Notre Dame after the win, saying at one point that the Fighting Irish had been so dominant he'd lost track of how much they were losing by. Syracuse HC Dino Babers on Notre Dame: "If they play the way that they played us, they're probably goi...


Michigan's Chase Winovich leaves game with apparent injury
Michigan Wolverines defensive lineman Chase Winovich suffered a potentially serious injury Saturday against Indiana. Winovich was blocked to the ground and then fallen on, seemingly intentionally, by Indiana offensive lineman Simon Stepaniak. Winovich stayed down for quite a while before immediately departing to the locker room. Medical trainers are tending to Chase Winovich down on the field — angelique (@chengelis) November 17, 2018 Fans are chanting "Chase! Chase!" Huge cheers whe


Twitter reacts to Michigan's terrible clock management
The Michigan Wolverines played a sluggish first half against the Indiana Hoosiers, and nothing encapsulated that better than the final play. With 15 seconds left, the clock running off a bizarre run play, and no timeouts from the Indiana three-yard line, the Wolverines tried to pass the ball once more in an effort to score a go-ahead touchdown. Quarterback Shea Patterson threw it short of the end zone, and it was caught for a one-yard gain, but receiver Sean McKeon failed to reach the end zone


Maryland's Matt Canada explains decision to go for two in overtime
The Maryland Terrapins lost 52-51 in overtime Saturday thanks to a controversial playcall at the end of the game. Instead of kicking an extra point and setting up another possession, interim coach Matt Canada opted to go for two and the win at the end of the first overtime period. The playcall wasn't bad and the Terps set up an open man, but quarterback Tyrrell Pigrome missed the open receiver and the upset bid fell short. Canada said after the game that the decision to go for two was mad


Watch: Colorado State game-winning touchdown nullified in crushing fashion
The Utah State Aggies found themselves quite lucky to escape Saturday against the Colorado State Rams. With the Rams down 29-24 on the final play of the game, they appeared to connect on an amazing Hail Mary catch to wide receiver Preston Williams. However, after further review, it was ruled that Williams had stepped out of bounds and became the first player to touch the ball after coming back in, thus nullifying the catch. rules are rules… Utah State wins pic.twitter.com/N9E2EEOcJc &mda


Chiefs WR Sammy Watkins misses practice again with foot injury
Sammy Watkins' status for Monday night's big game against the Los Angeles Rams is in question. Watkins hurt his foot in Kansas City's win over the Browns two weeks ago and missed the team's win over Arizona last week. Watkins practiced for the Chiefs on Thursday, but he did not practice on Friday or Saturday. Chiefs head coach Andy Reid says Watkins is "making progress" but they are taking things day by day with him. Andy Reid says Eric Berry, Mitch Morse a


Miami QB Jarren Williams suspended, did not travel to VT for game
Miami Hurricanes quarterback Jarren Williams was suspended and did not travel with the team for its game on Saturday at Virginia Tech. Williams' suspension was for a violation of an undisclosed team rule, the Sun Sentinel's Christy Chirinos says. Can now confirm this report…Jarren Williams is not in Blacksburg after violating a team rule. Williams is the third UM quarterback to be suspended this season. — Christy Chirinos (@ChristyChirinos) Novem


Giannis Antetokounmpo defends brother amid racism controversy
Giannis Antetokounmpo came to his older brother's defense amid a racism controversy unfolding in his home country. Giannis' older brother, Thanasis, plays professional basketball in Greece for Panathinaikos. His team defeated Olympiakos last week. Afterwards, a TV personality who is an Olympiakos fan, called Thanasis a "monkey." He says he did not mean it in a racist way, but he's still receiving plenty of backlash anyway. Giannis posted on Instagram Thursday in d


Blue Jays reportedly not seriously talking Marcus Stroman trade
Teams are showing interest in Marcus Stroman, but it does not sound like the Toronto Blue Jays are too interested in trading their pitcher. MLB Network's Jon Morosi reported on Saturday that the Jays are not in serious trade discussions regarding Stroman. He mentions the Cincinnati Reds as a team interested in the pitcher. Sources: #BlueJays not engaged in serious trade discussions involving Marcus Stroman with any club, although #Reds are among the teams with some level of interest in h


Jon Gruden thinks Raiders are in good spot for the future
Jon Gruden approached the season with an intention to win, but after getting off to a poor start, the Oakland Raiders changed directions quickly and decided to rebuild. They've traded top talent like Khalil Mack and Amari Cooper and received several first-round picks in return, and they'll be armed with plenty of salary cap space in the future. Between all the high draft picks and salary cap space, Gruden said this week that he believes the Raiders are in a good spot for the future.


Warriors reportedly not interested in Carmelo Anthony
Draymond Green may think that Carmelo Anthony can still play in the NBA, but that won't be happening for the Golden State Warriors. Writing for The Undefeated, Marc J. Spears reported Friday that the Warriors have "no interest" in adding Anthony to their team. Anthony is still on Houston's roster despite the Rockets not wanting him to report to the team any longer. He lasted just 10 games with the Rockets before they decided to part ways with him. The 34-year-old has be


Cubs reportedly in on Bryce Harper free agency negotiations
Bryce Harper free agency negotiations are underway according to a report, and the Chicago Cubs are among the teams involved. Dan Bernstein, a host on The Score in Chicago, said on his show Friday that Harper negotiations are picking up steam and the Cubs are in. .@dan_bernstein reporting that the Bryce Harper negotiations are picking up steam and that the Cubs are among the teams "in" on the free agent right fielder. pic.twitter.com/8UfoUewbBg — Bernstein & McKnig


Dwight Howard gets shots up hours after Wizards loss
Dwight Howard made it a late night at Capital One Arena following a Washington Wizards loss. The Wizards fell to a disappointing 5-10 on the season after losing to the Brooklyn Nets 115-104 on Friday. Howard played well in his eighth game for his new team. He had 25 points and 17 rebounds. However, Washington's three-game winning streak came to an end. After the game, Howard stuck around to get some extra shots up and work with his trainer. At 10 pm, Dwight Howard is alone on the court g


15 key questions for NFL Week 11
Week 11 should excite football fans everywhere as it features some huge games, including a hotly-anticipated matchup between the Los Angeles Rams and Kansas City Chiefs, plus an NFC North battle between the Minnesota Vikings and Chicago Bears. There are numerous other games with playoff implications worth watching as well. What should we be looking for in these contests? Here are 15 key questions to keep in mind as Week 11 kicks into gear. 1. Which defense can step up in the Chiefs-Rams tilt? W


Hamlin leaves best pit stall to teammate Busch
Denny Hamlin's crew chief put Joe Gibbs Racing ahead of his driver as he opted for the second-best pit stall for the NASCAR Cup Series season finale Sunday, allowing JGR driver and championship contender Kyle Busch to have the best pit stall.


Jimmy Butler throws shade at ex-Timberwolves teammates
Jimmy Butler threw some shade at his former Minnesota Timberwolves teammates following his first win since joining the Philadelphia 76ers. Butler scored a team-high 28 points on 12/15 shooting in Philly's 113-107 win over Utah on Friday night. After the game, he was interviewed by NBC Sports Philadelphia's Serena Winters and asked what's made him so comfortable with his new teammates. The answer he gave seemed like indirect shot at his ex-teammates. Home debut ends with a win


Joel Embiid has been dealing with swollen hand since last season
Joel Embiid says he has been dealing with discomfort in one of his hands for close to a year. Embiid has started the season like he wants his name in the discussion for the best player in the NBA's Eastern Conference. Not only has Embiid been posting big stat lines, but he's been doing it with an injury. Philly Voice's Kyle Neubeck reported on Friday night that Embiid says he's been dealing with a swollen hand on and off since a game last season against the Phoenix Suns.


Pete Carroll had hilarious comment about team's halftime adjustments
Pete Carroll had a funny quote about the adjustments his Seattle Seahawks made at halftime of their game against the Green Bay Packers on Thursday night. Carroll's Seahawks were down 21-17 to the Packers at halftime. They had given up 14 points in the first quarter and got off to a poor start before pulling things together in the second quarter with a couple of touchdowns. Carroll said that the team just "yelled at each other" at halftime, according to Seattle Times reporter B


Report: Dwayne Haskins expected to leave for NFL Draft
Dwayne Haskins' reign as Ohio State's starting quarterback may be brief. Bleacher Report's Matt Miller reported in his scouting notebook column published on Friday that he was told Haskins' plan is to leave for the NFL Draft after the season. Miller says he published his first Big Board of the season earlier in the week and said he was told Haskins would remain at Ohio State. He says he was contacted afterwards and told otherwise. From Miller: "Multiple sources rea


Washington Huskies mascot to retire during Saturday game
The Washington Huskies are among the colleges that use a live mascot at their games, and the current dog will be retiring after Saturday. Washington's dog, Dubs, is 10 years old and will lead the Huskies onto the field before the game for the final time Saturday. There will then be a "Passing of the Collar" ceremony in the first quarter. The next mascot, Dubs 2, will lead the team onto the field after halftime. Thank you, Dubs Dubs will lead the Huskies out of the tunnel fo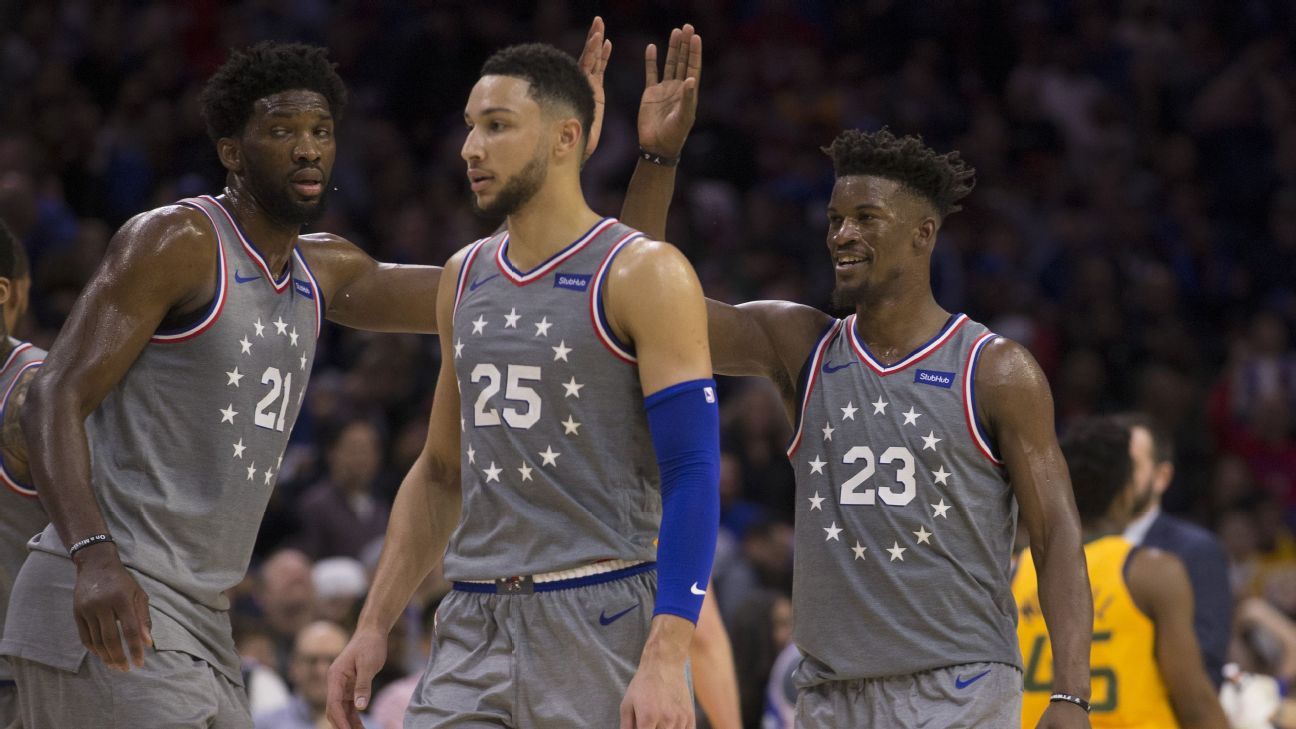 Butler: 'So much more fun' playing with 76ers
Jimmy Butler was effusive in praising his 76ers teammates after Friday night's win over the Jazz, saying, "Basketball is just that easy. With this group of guys, it is really easy."


'Aggressive' Irving takes over as C's top Raptors
After scoring 23 of his 43 points in the fourth quarter and overtime Friday against the Raptors, Kyrie Irving stressed the need for the Celtics' struggling offense to be more aggressive and attack the rim.


Are Jets growing favorites to sign Le'Veon Bell?
We're a long way away from any resolution, but one team keeps coming up in chatter about Le'Veon Bell's next destination. Bleacher Report's Michael Freeman spoke with ten NFL personnel sources, six of whom said they felt Bell was bound for the Jets next season. One source close to the Pittsburgh Steelers even called it a "foregone conclusion." Betting odds reflect this as well. Bovada's new odds show the Jets as favorites in prop betting on Bell's


Report: Carmelo Anthony may not find new team until February
Carmelo Anthony may be sitting out a while as he looks to continue his NBA career. The Houston Rockets have said that Anthony will not return to the team despite remaining on the roster. That has opened the door to him finding a new organization, but there are no clear suitors and may not be for a while. One Western Conference executive told Marc J. Spears of The Undefeated that Anthony may not find a new team until after the trade deadline, which doesn't arrive until next Feb. 7. There a


Mike McCarthy ducks questions about job security
Green Bay Packers coach Mike McCarthy isn't being drawn into comments on his job security. After a round of rumors flared up after the Packers' loss to the Seattle Seahawks on Thursday, McCarthy simply said that rumors come with the territory and he would continue to focus on improving the team. "That's the job," McCarthy said, via Rob Demovsky of ESPN. "That's the way this business has gone. I'm not going to get into comparables, but at the end o


Report: No momentum in A's talks about Sonny Gray
The rumored reunion between the Oakland Athletics and Sonny Gray does not look to be happening, at least for now. According to Jon Morosi of MLB.com, the Athletics have spoken with the New York Yankees about Gray, but the talks have no momentum at the moment and nothing is close. Sources: #Yankees, #Athletics have had contact about a deal that would send Sonny Gray back to Oakland, but there is no present momentum in talks. Oakland is looking for pitching and clearly comfortable bringing back


Tests reportedly confirm broken thumb for Jimmy Graham
One of the key parts of the Green Bay Packers' offense reportedly has the injury they feared he did. According to Adam Schefter of ESPN, Packers tight end Jimmy Graham does have a broken thumb, and looks likely to miss some time. It's unclear just how long that will be. Tests today showed that Packers' TE Jimmy Graham broke his thumb, per source. Team trying to figure out how long he now will be out. — Adam Schefter (@AdamSchefter) November 16, 2018 At this point, for the ...


Report: Reds inquiring about several front-end starting pitchers
The Cincinnati Reds are looking to rebuild after four consecutive seasons with 68 or less wins, and they apparently feel that bolstering their starting rotation is a great place to begin. Jon Heyman of Fancred sports reports that the Reds have been in contact with the Seattle Mariners about James Paxton, the New York Yankees about Sonny Gray and the Cleveland Indians about both Corey Kluber and Carlos Carrasco. The main focus for Cincinnati is Paxton and Gray, according to Heyman. However, the


Rams take out emotional full-page ad rallying fans in wake of wildfires
The Los Angeles Rams will play a surprise home game on Monday night after field conditions in Mexico City forced the NFL to relocate their Week 11 game against the Kansas City Chiefs, and they are using the opportunity to rally fans as devastating wildfires continue to rage across the state of California. On Friday, the Rams took out a full-page ad in the Los Angeles Times that featured the message "Monday is for you." Monday night's for you, Los Angeles. #LATogether pic.twitter....


Joe Flacco reportedly 'very unlikely' to play against Bengals
The Baltimore Ravens are 4-5 heading into Week 11 and fighting for a playoff spot, and it sounds like they will be relying on a backup quarterback to help keep them in the hunt. Joe Flacco has missed practice all week with a hip injury, and Jason La Canfora of CBS Sports reports that it is "very unlikely" he will be able to play against the Cincinnati Bengals on Sunday. Continue to hear it is very unlikely Joe Flacco plays Sunday. Barring a very unexpected, last-minute, Willis Reed


Report: 'Growing sense' Packers will replace Mike McCarthy after season
Mike McCarthy deserves much of the blame for the way the Green Bay Packers lost to the Seattle Seahawks on Thursday night, and the head coach's blunders late in the game have done nothing to quiet talk of him being on the hot seat. Michael Silver of NFL.com reported on Friday that there is a "growing sense" McCarthy will be fired at the conclusion of the season unless the 4-5-1 Packers experience a dramatic turnaround. Silver's colleague Ian Rapoport later confirmed that


Broncos lose another starting offensive lineman for the season
The Denver Broncos are trying to fight their way through what has been another disappointing season, and the injury bug is not helping. James Palmer of NFL Network revealed on Friday that offensive lineman Max Garcia suffered a torn ACL in practice the day before and will be out for the remainder of the season. Another interior lineman for the #broncos done for the year. Max Garcia tore his ACL in practice yesterday per source. Brutal. They're already down Ronald Leary (Achilles) and Matt Pa...


McKenzie Milton explains why UCF should be playoff team over Notre Dame
UCF is two wins away from completing its second consecutive undefeated season, and the Knights still will not have a College Football Playoff appearance to show for it. As far as the team's quarterback is concerned, UCF is better than at least one program that would likely make the playoff if the season ended today. When asked about UCF's resume this week, quarterback McKenzie Milton called out Notre Dame for its performance against Pitt earlier this season. Milton says film from No


Report: Packers concerned Jimmy Graham may have broken thumb
Jimmy Graham was forced to leave Thursday night's game against the Seattle Seahawks in the first half after he suffered a hand injury, and the Green Bay Packers reportedly believe it could be serious. According to Ian Rapoport of NFL Media, the Packers fear that Graham suffered a broken thumb. If that is the case, it's unclear whether or not the star tight end will be able to play through it. #Packers TE Jimmy Graham is having his thumb examined today, source said, and the team is


Whataburger wants to hook Patrick Mahomes up after ketchup compliment
There has been a lot of talk about Patrick Mahomes and his love for ketchup over the past 24 hours, and one restaurant that made its way into the discussion wants to thank the Kansas City Chiefs star for the free publicity. On Thursday, a reporter told Mahomes that she heard he enjoys ketchup on steak and asked if he has any other untraditional uses for the condiment. That led to a discussion about the MVP candidate's favorite ketchup brands, and he said the one that Whataburger makes is


Major Applewhite gives his side of incident with Ed Oliver
Major Applewhite got into a heated confrontation with one of his star players on the sideline during Thursday night's game against Tulane, and the Houston coach was willing to give his side of the story after the Cougars' 48-17 win. Applewhite confirmed to reporters that defensive tackle Ed Oliver became furious when the coach told him he could not wear a bubble coat on the sideline that was only intended to be worn by active players. Oliver has missed Houston's last four game


Report: Draymond Green told Kevin Durant we will win without you
The Golden State Warriors felt that Draymond Green crossed the line during his verbal altercation with Kevin Durant on Monday night, and the reason they decided to suspend Green is becoming clearer by the day. Chris Haynes of Yahoo Sports spoke with sources who heard first-hand what was said during Green's confrontation with Durant, and they confirmed that Green called Durant a "b—-" multiple times. However, what led to the suspension was a comment Green made basically d


UCLA Bruin Bear statue found vandalized ahead of rivalry game
UCLA campus police are investigating the vandalism of the Bruin Bear statue on campus days ahead of the rivalry football game against USC. The Bruin Bear statue, which is located in the middle of campus, was found covered in red and yellow paint on Thursday morning, according to the Daily Bruin student newspaper. The Bear statue goes into "hibernation" the week of the rivalry game and is covered up with chalkboard walls to help protect against vandalism. USC does the same thing to