Well-Done Meat Not Good for Your Blood Pressure
People who like their steak well-done instead of rare might face a slightly increased risk of high blood pressure, a preliminary study suggests.
Could a Pap Test Spot More Than Cervical Cancer?
The researchers behind the new study developed a testing regimen called PapSEEK to see if additional samples collected during a pelvic exam could be used to detect endometrial or ovarian cancer.
Breast Tumor Size Shrank As Mammograms Increased
The average size of breast tumors at diagnosis fell 23 percent during that time -- from 26 millimeters to 20 millimeters (1.02 to 0.79 inches), the researchers found.
Sugary Sodas Linked Again to Increased Heart Risks
The researchers also looked at the effect of sugary foods on the risk of dying, but there didn't seem to be an impact on premature death risk.
Millions Get Wrong Treatment for Back Pain: Study
Many patients are treated in emergency rooms, told to take time off from work and rest, referred for scans or surgery, and prescribed painkillers that include addictive opioids, the researchers said.
Tai Chi Beats Aerobics for Fibromyalgia Pain
Treatment for fibromyalgia typically includes aerobic exercise, but this can be challenging for many patients when their symptoms flare up, the researchers explained.
Waning Vaccine Protection May Be Driving Rise in Mumps
A resurgence of mumps among young American adults is likely as the protection provided by childhood vaccinations weakens, researchers warn.
16 Cute and Comfy Pairs of Workout Shorts For Curvy Babes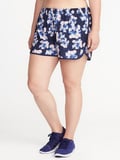 Whether you're heading to the gym for a sweat session, ready to get your vinyasa on, running a 5K, or lounging around on the weekend, a great pair of workout shorts are a must for Summer. And nope, you don't have to bust your bank account in order to bust your butt, babe. This roundup of wallet-friendly workout shorts, curated specifically for curvy girls, is proof of that! They check off all the boxes: they are cute, are practical, and make you feel 100. Related:Calling All Curvy Gir
Smartwatch App Might Help Detect A-Fib
Smartwatches may help detect a serious heart rhythm irregularity known as atrial fibrillation.
Mediterranean Diet May Help Protect Bones in Postmenopausal Women
Following a Mediterranean diet may be good for bone mineral density and muscle mass in women after menopause.