Mets Announce Full Coaching Staff
The Mets have officially announced their 2022 coaching staff, with pitching coach Jeremy Hefner as the only returning member of the last year's coaching corps.  Many of the new hires had already been reported in recent weeks, with hitting coach Eric Chavez, first base coach Wayne Kirby, third base coach Joey Cora, and bench coach…


NL Central Notes: Haudricourt, Pirates, Flaherty, Cardinals
Veteran sportswriter Tom Haudricourt announced his retirement yesterday, as the longtime Brewers beat writer for The Milwaukee Journal Sentinel will be officially stepping away within the next month or two.  Haudricourt has been with the Journal Sentinel for the last 36 years, following an eight-year stint with The Richmond Times Dispatch that launched his baseball…


Poll: What Is The Rays' Future In Tampa Bay?
The Rays' plan of splitting home games between Tampa Bay and Montreal led to quite a bit of debate and controversy since the club first floated the concept in 2019, though after the Rays asked the league for formal approval of the plan in November, the MLB Executive Council officially rejected the two-city proposal yesterday.…


Collective Bargaining Issues: International Draft
Last week, Major League Baseball presented a proposal on (some) core economics to the MLB Players Association. Among the features included in the league's offer: the implementation of a draft for the acquisition of international amateur players. The league's interest in an international draft is nothing new. MLB pushed for its inclusion during negotiations on…


Quick Hits: Alfonzo, Correa, Clark
Longtime Queens fan-favorite Edgardo Alfonzo has been hired to manage the Staten Island Ferry Hawks of the independent Atlantic League, reports Jon Heyman of MLB Network. The move to Staten Island actually checks a third of New York City's five boroughs off of Alfonzo's professional checklist; in addition to his eight seasons playing for the…


Nationals Sign Rusney Castillo To Minor League Deal
The Nationals signed former Red Sox outfielder and one-time top prospect Rusney Castillo to a minor league deal earlier this month. The 34-year-old Cuban defector, who spent 2021 playing for NPB's Tohoku Rakuten Goldean Eagles, will most likely begin the season with Triple-A Rochester but could be given a chance to compete for a bench…


Oakland Ballpark Proposal Clears Key Hurdle
The A's moved a step closer to securing a new ballpark in downtown Oakland on Wednesday when the six-member Oakland Planning Commission voted unanimously to recommend the certification of the Howard Terminal environmental impact review following conclusion of public comment (Casey Pratt of ABC7 reported the results of the vote). The decision, which could be…


Draft Prospect Peyton Pallette To Undergo Tommy John Surgery
Peyton Pallette, a pitcher at the University of Arkansas, has sustained a UCL injury that'll require Tommy John surgery, as first reported by Kendall Rogers of D1 Baseball. That'll obviously end Pallette's third season in Fayetteville before it begins, with TJS procedures typically requiring a recovery timeline in the 14-16 month range. It's a crushing…


Pro Hockey Rumors Seeking Part-Time Writers
We're looking to add multiple part-time contributors to the Pro Hockey Rumors writing team. The positions pay on an hourly basis. Applicants must meet all of the following criteria: Exceptional knowledge of all 32 NHL teams, with no discernible bias. We want you to be as comfortable writing about Janis Moser and Connor Dewar as…


Cardinals Didn't Actively Pursue Free Agent Shortstop Help Before The Lockout
The Cardinals have entered each of the past four seasons with Paul DeJong as the Opening Day shortstop. He'd earned the starting nod in 2018 after hitting .285/.325/.532 across 443 plate appearances as a rookie the year prior. DeJong's next two seasons weren't quite as strong, but he still combined slightly above-average offense with highly-regarded glovework.…


Rays' Tampa/Montreal Timeshare Plans Nixed By MLB
12:42 PM: Though he made no express commitments, Sternberg made his disappointment with the Executive Council's decision clear. When asked explicitly if he'd explore moving the franchise out of the Tampa Bay region, Sternberg neither confirmed nor denied that such an idea had entered into his plans, stating that club brass "will see how the…


CPBL's Wei Chuan Dragons Sign Ronny Rodriguez
The Wei Chuan Dragons of Taiwan's Chinese Professional Baseball League announced this afternoon they've agreed to a deal with infielder Ronny Rodríguez (h/t to CPBL Stats). It'll be the first CPBL action for the 29-year-old, who spent some time in Japan last season as a member of the Nippon-Ham Fighters. Rodríguez has two seasons of big…


MLBTR Poll: Carlos Rodon's Contract
The free agent starting pitching market moved very quickly before the transactions freeze. Carlos Rodón and Clayton Kershaw are the clear top two starters remaining, and it seems Kershaw's market could be limited by geographical concerns. That'd leave Rodón as the lone potential top-of-the-rotation arm available in free agency, but his status is complicated by health questions.…


NL East Notes: Phillies, Zauzmer, Mets, Lefkowitz, Braves
Earlier this offseason, the Mets denied the Phillies' request to interview baseball analytics director Ben Zauzmer about Philadelphia's assistant GM opening, SNY's Andy Martino writes.  The Phillies instead went with another young executive for the role, hiring 27-year-old Anirudh Kilambi away from the Rays. Like Kilambi, Zauzmer is also young (29), has a background in…


MLBPA Preparing Response To MLB's Latest CBA Proposal
The MLB Players Association is preparing its response to the proposal made by Major League Baseball last week, tweets Jon Heyman of the MLB Network. Heyman adds that the union is expected to put its next offer on the table within a matter of days. The league broached some features of core economics last Thursday,…


Guardians Name Joe Torres As Assistant Pitching Coach
The Guardians officially announced their 2022 full coaching staff, with Joe Torres joining the mix as an assistant pitching coach.  Torres fills the role left open when Ruben Niebla left the Guardians in October to become the Padres' new pitching coach. The 10th overall pick of the 2000 draft, Torres pitched 13 seasons in the…


Carlos Correa Had Pre-Lockout Asking Price Of At Least $330MM
It wasn't any secret that Carlos Correa was looking to score big in free agency, and the shortstop set a very high asking price prior to the lockout.  According to MLB Network's Jon Heyman (via Twitter), Correa was asking for at least a $330MM contract, with an overall range of $330MM to $350MM.  It is…


Rockies Hire Jordan Pacheco As Triple-A Hitting Coach
The Rockies have named former infielder/catcher Jordan Pacheco as the new hitting coach for their Triple-A affiliate in Albuquerque.  Pacheco officially retired this past August, and will now move immediately into coaching following the end of his 14 seasons as a player. Pacheco was a ninth-round pick for Colorado in the 2007 draft, and he…


Red Sox Sign Taylor Cole To Minor League Deal
The Red Sox announced that Taylor Cole has been signed to a minor league contract, with the right-hander receiving a non-roster invitation to Spring Training.  Since Cole began the offseason as a minor league free agent, he is eligible to sign during the lockout. Cole posted a 2.08 ERA over 8 2/3 innings in the…


Testimonials From Trade Rumors Front Office Subscribers
The benefits of a Trade Rumors Front Office subscription include ad-free browsing on all four of our websites, my MLB mailbag, a weekly live chat with Anthony Franco, exclusive articles from Anthony and Steve Adams, fantasy baseball chats and articles from Brad Johnson, a private Slack discussion community, and early access to our live chats…


Padres Name Shane Robinson Double-A Bench Coach
The Padres announced their 2022 minor league coaching staffs yesterday, including the hiring of Shane Robinson as the bench coach for the Double-A San Antonio Missions.  The news would seemingly indicate that the 37-year-old Robinson is retiring from playing after 15 seasons. Best known for his time with the Cardinals, Robinson was a fifth-round pick…


After many months of rumors and speculation, the Cubs finally pulled the ripcord on their rebuild in earnest at last year's trade deadline. In quick succession, Kris Bryant, Javier Baez, Anthony Rizzo, Craig Kimbrel, Ryan Tepera, Andrew Chafin, Jake Marisnick and Trevor Williams were all given opportunities elsewhere. Now the roster mostly consists of new…


NPB's Seibu Lions Sign Burch Smith
The Seibu Lions of Japan's Nippon Professional Baseball announced yesterday that they've signed right-hander Burch Smith. The 31-year-old elected minor league free agency at the end of the season after being outrighted off the A's 40-man roster in September. Smith has appeared in parts of five big league seasons, including each of the past four. He…


Should The Reds Trade Any Of Their High-End Starters?
It wasn't an encouraging start to the winter for Reds fans. After trading Tucker Barnhart and waiving Wade Miley in moves that amounted to little more than salary dumps, general manager Nick Krall famously spoke of "aligning … payroll to our resources." That hinted at a lack of forthcoming additions, and indeed, the Reds have yet to…


Carlos Correa Switches Agencies, Hires Boras Corporation
Free agent shortstop Carlos Correa has switched agencies and is now a client of Scott Boras and the Boras Corporation, according to Mark Berman of Fox 26. Correa had previously been represented by William Morris Endeavor. Going into the offseason, Correa was widely considered to be part of a two-headed top of the free agent…


Why Haven't The Braves Paid Freddie Freeman?
Though the consensus across the industry remains that Braves franchise cornerstone Freddie Freeman will ultimately end up back in Atlanta, few expected Freeman to reach 2021 Opening Day — let alone the long-inevitable lockout — without a deal to keep the face of the franchise with the only club he's ever known well into the backside…


Dodgers Promote Brandon Gomes To General Manager
The Dodgers announced this afternoon that they've promoted Brandon Gomes from assistant general manager to general manager. The move solidifies Gomes a key member of a Los Angeles front office that also includes senior Vice President Josh Byrnes and is helmed by president of baseball operations Andrew Friedman. The move doesn't come as much of…


Nationals Overhaul Minor League, Organizational Staff
The Nationals announced a flurry of new coaching and organizational hires this morning. Per the club's official announcement, the club has hired more than twenty additional staff members, including to fill fourteen new roles added to their system. The hirings of fifteen-year big-league veteran Coco Crisp (as outfield/baserunning coordinator) and 2003 AL batting champ Bill…


Coco Crisp, Bill Mueller To Join Nationals' Player Development Staff
Former big leaguers Coco Crisp and Bill Mueller are taking on roles in the Nationals player development department, reports Jesse Dougherty of the Washington Post (on Twitter). Crisp is joining the organization as an outfield/baserunning coordinator, while Mueller will serve as the club's quality control coordinator. It'll be the first affiliated ball post-playing gig for…


Organizational Notes: Brewers, Dodgers, Padres
The Brewers added a pair of new coaches to their major league staff, reports Will Sammon of The Athletic. The club named Jim Henderson its new bullpen coach and Matt Erickson as its infield and assistant hitting coach. Henderson replaces Steve Karsay, who stepped down last week citing a desire to spend more time with…


MLBTR Poll: Where Will Seiya Suzuki Sign?
Last week, Andrew Baggarly of the Athletic wrote that Seiya Suzuki fielded offers from ten to twelve major league teams before the lockout. The identities of all those clubs aren't known, but the Giants, Mariners, Rangers, Red Sox, Blue Jays and Yankees had all been tied to the NPB star in the past. During his conversation…


Can The White Sox Make The Most Of Andrew Vaughn?
The White Sox have one of the best closers of his generation burning a hole in their pocket. Craig Kimbrel's trade availability is no secret, so much so that speculation has reached the part of the trade rumors life cycle, as explored yesterday by MLBTR's Mark Polishuk. That said, when GM Rick Hahn picks…


Francisco Liriano Announces Retirement
Left-handed pitcher Francisco Liriano has announced his retirement, agent Mike Maulini tells Robert Murray of FanSided. Liriano debuted in 2005 with the Twins as a 21-year-old, and he last toed the rubber with the Pirates in 2019. All in all, Liriano appeared in 14 big-league seasons with the Twins, Blue Jays, White Sox, Tigers, Astros,…


CPBL's Uni-President Lions Sign Wilin Rosario
Earlier this month, the Uni-President Lions of Taiwan's Chinese Professional Baseball League announced an agreement with catcher Wilin Rosario (h/t to the Taipei Times). The 32-year-old (33 in February) is best known in the United States for his five-year MLB run with the Rockies. A right-handed hitter, Rosario broke into the majors as a September call-up…


Cubs Eschewing Power In New Ways
Last season, as most of Major League Baseball moved incontrovertibly towards a high velocity, strikeout-forward approach, the Cubs put together a soft-tossing rotation not at all focused on missing bats. Headlined by Kyle Hendricks and Zach Davies, perhaps the two preeminent control artists in the sport, the Cubs unique approach aimed–quite literally–to induce weak contact…


Read The Transcript Of Brad Johnson's Fantasy Baseball Chat
Brad Johnson has been writing about fantasy baseball for more than a decade and has considerable experience in Roto, H2H, dynasty, and experimental formats.  As an expert in the field, Brad participates in the Tout Wars Draft and Hold format and was crowned the league's winner in 2020.  Brad's writing experience includes RotoGraphs, NBC SportsEDGE, and this…


The University of Missouri announced this afternoon that pitching coach Brian DeLunas passed away last night at the age of 46. He had been battling kidney disease. A Missouri native and co-founder of St. Louis-based training facility Premier Pitching and Performance, DeLunas returned to Columbia for his second stint as Tigers pitching coach last June.…


Details On The Orioles' Signing Of Cesar Prieto
While most members of the 2021-22 international signing class are teenagers who are years away from the major leagues, 22-year-old infielder Cesar Prieto could potentially help the Orioles as early as this season.  It makes Prieto a particularly intriguing player to watch from this signing period, as noted in separate pieces by The Baltimore Sun's…


What If The White Sox Don't Trade Craig Kimbrel?
While the White Sox exercised their $16MM club option on Craig Kimbrel back in November, Chicago GM's Rick Hahn hinted that the veteran closer could very well be in a different uniform come Opening Day 2022.  "What we have to figure out is if it makes the most sense to have Craig in a White…


Aníbal Sánchez Considering Return To MLB In 2022
Right-hander Aníbal Sanchez was a free agent last year after the Nationals declined his option for the 2021 season. He held multiple showcases for interested clubs, even into late April. However, he never found a deal to his liking and ended up deciding to sit out the season. But that doesn't mean he's retired, as…


Who's Blocking Spencer Torkelson?
In 2019, the Detroit Tigers finished the season with a record of 47-114, easily the worst in the league that year. The silver lining in a season that bad is receiving the first overall selection in the next year's draft. The Tigers used the first overall pick in the 2020 draft on Spencer Torkelson, a…


Kris Bryant had a rough showing in 2020, with injuries limiting him to 34 games and batting line of .206/.293/.351 for a wRC+ of 75. However, that is the clear outlier on his resume, as his six other seasons have seen him put up a wRC+ of at least 123. Overall, in 884 games, his…


Despite a thoroughly disappointing 73-89 season in 2021, Twins owner Jim Pohlad made things clear back in July — the Twins were planning to reload for 2022, not rebuild.  It wasn't at all a far-fetched expectation, given how Minnesota won the AL Central in both 2019 and 2020, and still had several members of the…


AL East Notes: Guerrero, Bichette, LeMahieu, Camden Yards
The futures of Vladimir Guerrero Jr. and Bo Bichette are "the most pivotal bigger-picture personnel matter facing the Blue Jays," Sportsnet.ca's Shi Davidi writes, and it remains to be see if both young stars will remain in Toronto over the long term.  Guerrero and Bichette are both controlled via arbitration through the 2025 season, and…


The Impact Of International Signing Day
Thanks to the year-round work of people like Ben Badler over at Baseball America, we have a pretty clear sense already of how the international signing period has kicked off. Although this is technically an 11-month period, many teams will be mostly done with their international signings after today. Of course, that's largely because there's…


Notable 2021-22 International Signings
The 2021-22 international signing period is officially underway, and though this signing period is open until Dec. 15, 2022, many of the big names have already signed. Teams have long since lined up deals with newly eligible teenage players, so the news today largely represents confirmation of what was anticipated. Still, it's a day of no…


International Signing Period Opens Today
MLB's 2021-22 International signing period opens today, making it possible for teams to consummate deals with international amateurs from countries outside of the United States and Canada. Some agreements have been in place for years, but today is the day that players can finally sign on the dotted line. Not all players will actually sign…


Mets To Hire Glenn Sherlock As Bench Coach
The Mets have chosen Glenn Sherlock as their new bench coach, MLB Network's Jon Heyman reports (Twitter link).  Sherlock was a member of the Pirates coaching staff for the last two seasons, and also has ties to both the Mets and manager Buck Showalter. The Showalter/Sherlock connection began with the Yankees' Double-A affiliate in 1989,…


Minor MLB Transactions: 1/14/22
A few more minor league signings to supplement the recent flurry of minor league deals around the league… The Tigers are bringing back right-handed pitcher Ricardo Pinto after he spent all of the 2021 season in Detroit's minor league ranks. Pinto was previously a prospect of some note, pitching in the 2016 Futures Game in the Phillies organization before…


Click right here to read the transcript of tonight's live baseball chat


Simply put: The Tigers are on the rise. They are going to be a popular pick to jump into the field of contenders in 2022 – and for good reason. Though a 77-85 record might not look like a team on the rise, they started the year with an 8-19 month of April and looked…


The Los Angeles Dodgers have re-signed pitcher Yefry Ramirez to a minor league deal according to Chris Hilburn-Trenkle of Baseball America. The right-hander spent last year in the Dodgers organization, with the bulk of his time stemming from his stay at Triple-A. Ramirez has typically worked as a starter throughout his career, though his lone big league…


Quick Hits: Bregman, Taillon, Van Horne
Astros third baseman Alex Bregman was cleared to hit today for the first time since undergoing surgery on his right wrist in November, reports Mark Berman of Houston's Fox26 (Twitter link with video). Though he played through it, Bregman injured his wrist in September, an issue that came to light only when teammate Carlos Correa…


White Sox Re-Sign Kyle Crick, Sign Ryder Jones
The White Sox have re-signed reliever Kyle Crick and signed infielder Ryder Jones, per Chris Hilburn-Trenkle of Baseball America. Crick joined the White Sox Triple-A affiliate in Charlotte last July after being released by the Pirates, while Jones, whose last taste of the majors came in 2018, spent 2021 bouncing around the Diamondbacks' system. Both signed minor league…


Twins Sign Curtis Terry To Minors Deal
The Twins recently signed first baseman Curtis Terry to a minor league contract, according to Chris Hilburn-Trenkle of Baseball America. He'd elected minor league free agency after being outrighted off the Rangers' 40-man roster at the end of the season. Terry had spent his entire career in the Texas organization, joining the club as a 13th-round…


Padres Re-Sign Jose Castillo, Webster Rivas
The Padres have re-signed reliever Jose Castillo and catcher Webster Rivas to minor league contracts, according to Chris Hilburn-Trenkle of Baseball America. Both players were cut from San Diego's 40-man roster at the end of the season. Castillo tossed 38 1/3 innings across 37 relief appearances for the Friars in 2018. He averaged 94.9 MPH on his…


Melky Cabrera Announces Retirement
Longtime major league outfielder Melky Cabrera announced his retirement this morning (h/t to Hector Gómez of z 101). Cabrera last appeared in the majors in 2019 but had played winter ball in each of the past two years. The announcement officially closes the book on Cabrera's successful big league playing career. He broke into the majors…


Yankees Sign Ryan Weber, Manny Banuelos
The Yankees recently signed righty Ryan Weber and southpaw Manny Bañuelos to minor league contracts, according to Chris Hilburn-Trenkle of Baseball America. Both pitchers were minor league free agents, allowing them to sign non-roster deals during the ongoing transactions freeze. Weber has pitched in the big leagues in each of the past seven years. The sinkerballer has…


Atlantic League To Shelve Robot Umpires, Return Mound To Standard Distance
The independent Atlantic League, one of four independent leagues designated as official MLB Partner Leagues following the 2020 reorganization of MiLB, will return to the traditional method of calling balls and strikes in 2022, reports J.J. Cooper of Baseball America. The league had adopted the Automated Ball-Strike (ABS) system — known colloquially as the 'robo-ump'…


Giants Sign Corey Oswalt, Luis Gonzalez, Joe Palumbo To Minor League Contracts
The Giants have recently signed right-hander Corey Oswalt, left-hander Joe Palumbo, and outfielder Luis Gonzalez to minor league contracts, as reported by Baseball America's Chris Hilburn-Trenkle.  All three players were minor league free agents, and thus eligible to be signed during the lockout. Gonzalez and Palumbo are both back for what is technically their second…


Athletics Finalize Coaching Staff
A few weeks after naming Mark Kotsay manager, the A's announced their 2022 coaching staff this afternoon. As previously reported, former Tigers and Angels skipper Brad Ausmus steps in as Kotsay's bench coach. Meanwhile, last season's hitting coach — Darren Bush — transitions to third base/run prevention coach. Third base coach had belonged to Kotsay…


Diamondbacks Sign Braden Bishop, Keynan Middleton To Minors Deals
The Diamondbacks recently signed outfielder Braden Bishop and reliever Keynan Middleton to minor league contracts, according to Chris Hilburn-Trenkle of Baseball America. Both players had qualified for minor league free agency at the end of last season after clearing outright waivers during the year. Bishop has spent the entirety of his big league tenure with the Mariners.…


Details On Today's CBA Negotiations
The owners and players met today to discuss core economic issues for the first time since the start of the lockout, even if today's talks seemingly didn't result in much (or any) common ground being found between the two sides.  Ronald Blum of The Associated Press reports that the session lasted roughly an hour, with…


Mets Sign Alex Claudio, Stephen Nogosek To Minor League Contracts
The Mets recently signed left-hander Alex Claudio and right-hander Stephen Nogosek to minor league deals, Chris Hilburn-Trenkle of Baseball America reports.  The signings are allowed during the lockout since both players are minor league free agents. Claudio was released by the Red Sox in late September after inking a minors deal with Boston in August. …


Royals Sign Arodys Vizcaino To Minor League Deal
The Royals announced this morning that they've signed reliever Arodys Vizcaíno to a minor league contract. As a minor league free agent, the right-hander remained eligible to sign a non-roster deal over the course of the lockout. Should he crack the big league club, Vizcaíno would lock in a $1MM base salary with an additional $500K…


Travis Snider Announces Retirement
Former major league outfielder Travis Snider announced his retirement on Instagram this morning. "Thank you baseball. You have given me countless relationships and experiences I will cherish for the rest of my life," Snider wrote as part of his statement. "I am so thankful that I got to live out my childhood dream and share it…


Marlins Signed Erik Gonzalez To Minor League Contract
In a move that flew under MLBTR's radar during the pre-lockout transactions frenzy, the Marlins signed utilityman Erik Gonzalez to a minor league deal in late November.  Because the Pirates outrighted him off their 40-man roster during the season, Gonzalez (with over three years of MLB service time) had the option of electing free agency…


MLBPA Takes Issue With Endeavor's Purchase Of Minor League Affiliates
The William Morris Endeavor Agency (WME) has made fairly rapid strides in MLB player representation over the past two years. Carlos Correa hired WME's Jon Rosen in September 2019. In 2021, the company landed a few notable player reps formerly of established agencies like Excel Sports Management and CAA. (WME also briefly hired Billy Eppler between…


Seiya Suzuki Still Planning To Wait Out Lockout To Sign With MLB Club
As it has for all major league free agents, the lockout has frozen the signing process for Seiya Suzuki. The Japanese star was posted by his NPB club, the Hiroshima Carp, in late November. That opened a 30-day window for Suzuki to come to an agreement with a big league team, but MLB instituted a lockout…


The Many Paths Ahead Of Andrew Benintendi
2018 was a tremendous season for Andrew Benintendi.  The outfielder hit 16 home runs, stole 21 bases and slashed .290/.366/.465. His walk rate and strikeout rate were both better than league average, coming in at 10.7% and 16%, respectively. His wRC+ was 123 and he was worth 4.4 wins above replacement, according to FanGraphs. He…


Angels Sign Magneuris Sierra, Kyle Barraclough To Minors Deals
The Angels have signed outfielder Magneuris Sierra and right-hander Kyle Barraclough to minor league contracts, according to Baseball America's Chris Hilburn-Trenkle.  Both players are eligible to be signed during the lockout since they entered the offseason as minor league free agents. A veteran of five MLB seasons, 2021 saw Sierra receive his most playing time…


CPBL's CTBC Brothers Sign Francisco Pena
The CTBC Brothers of Taiwan's Chinese Professional Baseball League announced the signing of former big league catcher Francisco Peña (h/t to CPBL Stats). It'll be the first experience in an Asian professional league for the 32-year-old, who has spent the past fifteen seasons in affiliated ball in the United States. Peña has appeared in the majors…


Latest On Brewers' Coaching Staff
Steve Karsay is stepping down as the Brewers' bullpen coach, Tom Haudricourt of The Milwaukee Journal Sentinel reports.  Karsay is leaving the position due to family considerations.  There isn't yet any word on a possible replacement as bullpen coach, though Haudricourt suggests that Triple-A pitching coach Jim Henderson might be a logical internal candidate. Best…


From time to time, as a service to our readers, MLB Trade Rumors will post job opportunities of possible interest that are brought to our attention. MLBTR has no affiliation with the hiring entity, no role in the hiring process, and no financial interest in the posting of this opportunity. The Oakland Athletics are currently…


Comparing Each Team's Current Payroll To Previous Spending
The MLB and MLBPA will be returning to the bargaining table tomorrow, in order to hopefully begin the process of thawing the MLB landscape, which has remained quite frosty for over a month now. While this is surely welcome news for the baseball world, it doesn't seem like the end of the lockout is imminent.…


Braves, Jackson Stephens Agree To Minor League Deal
The Braves have signed right-handed pitcher Jackson Stephens to a minor league deal, according to Alfonso E. Saer Gomez and David O'Brien of The Athletic. (Twitter links.) As noted by both tweets, the 27-year-old was recently awarded Pitcher of the Year in the Venezuelan Winter League. Stephens was selected by the Reds in the 18th…


How Many $100 Million Contracts Are Left This Offseason?
23 years ago, the Dodgers signed righty Kevin Brown to a seven-year, $105MM deal in advance of his age-34 season.  It was the first baseball contract to break the $100MM barrier.  The deal famously included a charter jet to fly Brown's family from Georgia to Los Angeles 12 times per season.  Sandy Alderson, then working…


Twins, Dereck Rodriguez Agree To Minor League Deal
The Twins are in agreement with Dereck Rodríguez on a minor league contract, according to an announcement from the right-hander's representative, Gavin Kahn. It's something of a full-circle moment for Rodríguez, who began his career in the Minnesota system as a sixth-round pick in the 2011 draft. While Rodríguez spent his first six pro seasons in…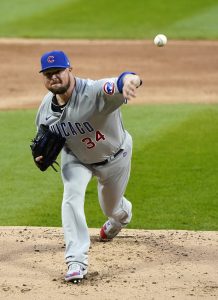 Jon Lester Announces Retirement
After a 16-year major league career, Jon Lester tells Jesse Rogers of ESPN he's made the decision to retire. "It's kind of run its course," the 38-year-old said of his career. "It's getting harder for me physically. The little things that come up throughout the year turned into bigger things that hinder your performance. I'd like…


Tampa Mayor Jane Castor Discusses Rays' Future
In an interview with the Tampa Bay Times, Tampa mayor Jane Castor made clear that she hopes to see the Rays remain in the Tampa area. While she added the caveat that the Tampa region would "continue to grow without a doubt" regardless of the team's future, reports Charlie Frago, Castor also made the case…


Which Teams Are Most Likely To Acquire Matt Olson?
The A's are generally expected to make a few marquee players available after the lockout in an effort to trim payroll. If Oakland does embark on something of an organizational reboot, Matt Olson seems one of the likelier players to wind up elsewhere. Projected by MLBTR contributor Matt Swartz for a $12MM salary in his penultimate…


Quick Hits: Elian Soto, Yankees, Hinske, Royals
While the next international signing period opens on January 15, teams are already lining up the next wave of int'l prospects for years in advance.  Washington City Paper's Byron Kerr writes that the Nationals have agreed to a deal with outfielder/third baseman Elian Soto, the younger brother of superstar Juan Soto, as the 15-year-old has…


Quick Hits: Acuña, Yankees, Marlins, Pirates
In what's surely a welcome sight for Braves fans, superstar outfielder Ronald Acuña Jr., who watched his teammates win the 2021 World Series from the dugout as he rehabbed an ACL tear, has resumed on-field batting practice in his native Venezuela (video of the session can be seen here, via Spanish-language baseball news site El Extrabase).…


Minor MLB Transactions: 1/11/22
The latest minor league moves from around the sport… The Reds announced that infielder Juniel Querecuto has been signed to a minor league deal, and invited to the team's big league Spring Training camp.  A veteran of 10 pro seasons, Querecuto reached the majors for a four-game cup of coffee with the Rays in 2016. …


Guardians Announce Several Organizational Promotions
The Guardians announced 20 new promotions and hirings within the organization, including some prominent new titles for members of the baseball operations department.  Assistant general manager Matt Forman was given the additional title of executive VP, essentially placing him under only president of baseball operations Chris Antonetti and GM Mike Chernoff on the team's decision-making…


Rays Bullpen Catcher Jean Ramirez Passes Away
The Rays announced that bullpen catcher Jean Ramirez has passed away at age 28.  We at MLB Trade Rumors send our condolences to Ramirez's family and loved ones. A 28th-round pick out of Illinois State in the 2016 draft, Ramirez played three seasons in Tampa Bay's farm system before being released following the 2018 season. …


MLB, MLBPA Expected To Resume Core Economics Discussions On Thursday
11:43 pm: Bob Nightengale of USA Today sheds some light on the upcoming proposal. The league is not expected to address the service time structure during this session. MLB is expected to put forth an increase in the league minimum salary to $600K, with further hikes to a height of $700K by the end of…


Collective Bargaining Issues: Universal DH
Over the past few weeks, we've covered a series of issues that figure to be key areas of dispute in collective bargaining talks. In early stages of negotiations, Major League Baseball and the MLB Players Association presented varying proposals regarding such things as playoff expansion, the service time structure and the competitive balance tax. Today's…


Bonus Pools For 2021-22 International Signing Market
The 2021-22 international signing period opens on January 15, as for the second straight season, the usual July 2 opening date for the int'l was pushed back due to the pandemic.  This new signing period will run from January 15 to December 15, and it remains to be seen exactly what will happen with international…


Which Remaining Free Agent Relievers Are Coming Off The Strongest Seasons?
As teams plan out their post-lockout needs, most are probably looking to the bullpen as an area that could use further help. With the number of relievers clubs deploy throughout a season, essentially all of them could be well-served to stockpile depth in the middle innings. The most straightforward path to doing that is via…


Click here to chat with MLBTR's Anthony Franco.


Poll: What Do You Make Of Service Time?
Last week we explored a poll covering December transactions from the year 2016, the ramifications of which Nationals, White Sox, and Yankees fans are all feeling to this day. This article's look-back will touch on another poll from the archives and focus on a topic that affects the league at large: service time regulations. Service time…


Orioles Changing Left-Field Dimensions At Camden Yards
Construction has begun on the left field area at Oriole Park at Camden Yards, Nathan Ruiz of The Baltimore Sun reports, as the Orioles are looking to make their ballpark's dimensions slightly more favorable towards pitchers.  The stretch of the left field wall from the foul pole to the bullpen area in left-center field will…


MLB, Apple Reportedly Discussing Broadcasting Rights
According to a report from the New York Post's Andrew Marchand, Major League Baseball has recently engaged in "serious" and "substantial" talks with Apple with regard to weeknight broadcasting rights, specifically to the Monday- and Wednesday-night package previously aired by ESPN. Should a deal be reached, Apple would presumably broadcast the games on Apple TV+,…


MLB Expected To Make Core Economics Proposal To MLBPA Within Two Weeks
Last week, both Jeff Passan of ESPN and Evan Drellich of the Athletic reported that Major League Baseball had been preparing core economics proposals to present to the MLB Players Association. Both Passan and Drellich suggested that could ignite collective bargaining negotiations by the end of the month. Bob Nightengale of USA Today adds a bit…


NL Central Notes: Brewers, Mejia, Madrigal, Pirates, Newman
A few weeks before the lockout, the Brewers acquired right-hander J.C. Mejía from the Guardians in exchange for cash considerations or a player to be named later. The 25-year-old had a tough rookie season in Cleveland, working to an 8.25 ERA/4.75 SIERA over 52 1/3 innings. He started 11 of his 17 appearances, holding down a rotation…


Chat With Former MLB Reliever Alex Hinshaw
Alex Hinshaw made his major league debut with the Giants in May 2008, striking out the first batter he faced — two-time All-Star Michael Bourn. That set the stage for a strong rookie season, as the southpaw went on to post a 3.40 ERA over 39 2/3 innings. He took the ball 48 times that year,…


Giants Deny Mets' Request To Interview Andrew Bailey
Following a frustrating weekend that saw the Padres refuse an interview with quality control coach Ryan Flaherty and Reds planning and outfield coach Jeff Pickler remove himself from consideration, the Mets' search for a bench coach hit another snag today. As Ken Rosenthal of The Athletic reports, the Giants have denied the Mets' request to…


What's Next For Mets After Starting The Offseason With A Spending Spree?
The Mets have already been one of the league's most active teams this offseason. They've replaced their manager, added a new baseball operations leader and embarked upon a huge spending spree to land the market's top center fielder and starting pitcher. They probably won't make quite as many headlines coming out of the lockout, but…