Mac Jones shoots down SCUBA suit rumor
The New England Patriots faced the Buffalo Bills in tough conditions on Monday night and got the win. There was a rumor floating around that Pats quarterback Mac Jones wore a SCUBA suit under his uniform as a way to help stay warm and repel the snow and other elements. A few reporters said it looked like Jones was wearing the SCUBA suit. Looks like Mac Jones is wearing a scuba suit pic.twitter.com/gTys4tB2N4 — Mark Daniels (@MarkDanielsPJ) December 7, 2021 Former Pats lineman Rich Ohrn


LSU's huge contract offer to Jimbo Fisher revealed
LSU hit what was a home run in their eyes with the hiring of Brian Kelly as their new head football coach. But before landing him, they reportedly targeted Jimbo Fisher pretty heavily. Fisher had been described as LSU athletic director Scott Woodward's dream candidate. LSU reportedly was even prepared to offer Fisher an 8-year, $125 million deal. How bad did LSU want Texas A&M's Jimbo Fisher? In late November, LSU was prepared to offer Fisher an 8-year, $125 million deal – $13 ...


Ben Roethlisberger speaks the truth about 'Thursday Night Football'
Ben Roethlisberger's Pittsburgh Steelers are getting set to face the Minnesota Vikings on Thursday night, and it's a game Big Ben is not necessarily looking forward to. And the reason has nothing to do with his opponent. Roethlisberger is like most players around the NFL who dislike "Thursday Night Football" because he finds it too disruptive to his recovery from the previous game. The Steelers quarterback was asked this week about what he needs to do to get ready for a


Jeff Tedford secures first big win as Fresno State head coach
Jeff Tedford has been on the job at Fresno State for a day and already has secured a big win. According to 247 Sports, Bulldogs quarterback Jake Haener has removed his name from the transfer portal. This is a big development because a week ago, it looked like Haener was leaving Fresno State to follow his head coach Kalen DeBoer to Washington. The transfer would have made sense considering Haener began his college career with the Huskies. But there are apparently two factors that led to Haener r


Reporter blasts 'overrated' Russell Wilson trade stories
Speculation has long indicated that Seattle Seahawks quarterback Russell Wilson may try to find a new team if the organization's struggles continue. One veteran NFL reporter is going against the grain on that chatter. Longtime reporter John Clayton appeared on 93.7 The Fan in Pittsburgh and went off on the Wilson trade rumors. Clayton, who is based in Seattle, definitely said that Wilson will remain with the Seahawks in 2022, and called the trade chatter "overrated." .@JohnCl


Kevin Love has interesting admission about LeBron James-era Cavs
As the last man standing from the Cleveland Cavaliers' 2016 NBA title team, Kevin Love is now spilling some tea about that era. In an episode this week of Bleacher Report's "Full-Bodied" with former Cavs teammate Channing Frye, Love made an interesting admission about the 2016 squad led by LeBron James. "We didn't realize exactly what we had," said the veteran Love. "What we had was so special … We were the most talented, underachieving regu


Has Mike Zimmer has lost Vikings locker room?
Talks of potential coaching changes are already taking hold around the NFL. One team's situation may be bad enough to call for an immediate change though. Minnesota Vikings coach Mike Zimmer is firmly on the hot seat. He may not even last until the end of the season, according to Jason La Canfora of CBS Sports. The Vikings are 5-7, coming off a loss to the lowly Detroit Lions, and highly unlikely to make the playoffs. Zimmer's calling card is usually his defense, but the unit has g


Pete Carroll has surprising comment about costly Jamal Adams trade
If the Seattle Seahawks regret the growing cost of their trade for Jamal Adams, they are not showing it publicly. Adams will undergo season-ending shoulder surgery, cutting short his second campaign in Seattle. That ensures his 2021 will end without him collecting a single sack just one year after setting a career high with 9.5 of them. That production simply will not sit well in light of the fact that the Seahawks gave up two first-round picks for Adams. One of them, their 2022 selection, look


Fernando Tatis Jr. was involved in motorcycle accident in Dominican Republic
Fernando Tatis Jr. has escaped with only minor injuries after an accident this week in his native Dominican Republic. Kevin Acee of the San Diego Union-Tribune reports that Tatis Jr. was involved in a minor accident on Sunday and suffered only minor scrapes. Acee adds that the Padres star was doing normal activities as of Tuesday, citing people familiar with the All-Star slugger's status. An initial report out of the Dominican Republic stated that a motorcycle was involved in the accident


76ers' reported Ben Simmons trade stance is bad news for Damian Lillard
If Damian Lillard and Ben Simmons want to play together, they're going to have to convince the Philadelphia 76ers to significantly change their current stance on a trade. The 76ers are not interested in a trade involving Simmons and Portland's CJ McCollum, according to Kyle Neubeck of Philly Voice. That was also independently confirmed to Michael Kaskey-Blomain of CBS Sports. The Sixers remain determined to get fair value if they trade Simmons. They have clearly decided that McCollu


Dolphins WR looking to acquire bizarre pet
A Miami Dolphins player may soon be a true "Florida Man" in one sense. Dolphins receiver Mack Hollins said on Wednesday that he is looking to acquire a strange pet — an alligator. "You can carry it," said Hollins, per Barry Jackson of the Miami Herald. Hollins added that he will go looking for an alligator over the weekend with the Dolphins on bye. He also said that he has two snakes that he carries around his neck while roaming around the neighborhood. For Hollins


Hue Jackson is reportedly top choice for surprising college coach job
Hue Jackson may have a surprising opportunity to get back into coaching at the college level. The former Cleveland Browns head coach is reportedly the top candidate at Grambling State, according to John Brice of Football Scoop. Things are serious enough that the two sides are reportedly in negotiations, which have intensified over the past 72 hours. Jackson receiving interest from a SWAC school is not new, as Alabama State reportedly reached out to him last month about its head coaching job. Ja


Look: Vladimir Guerrero has other sons who can rake too
Vladimir Guerrero may be well on his way to becoming the LaVar Ball of Major League Baseball. MLB insider Hector Gomez shared some videos this week revealing that Guerrero has other sons who can rake too besides just Toronto Blue Jays slugger Vladimir Guerrero Jr. Gomez tweeted a video of 15-year-old Vladi Miguel Guerrero, a left-handed hitter, sending some pitches into space. Vladi Miguel Guerrero, 15, the left-handed hitter of the Guerrero dynasty!. He's son on Vladimir Guerrero Sr. pic.


Report: Virginia closing in on top choice for football coach
The Virginia Cavaliers appear to be close to hiring a new football coach. Clemson offensive coordinator Tony Elliott has emerged as the leading candidate for the Virginia job, according to Chris Low and Adam Rittenberg of ESPN. The two sides are interested enough that a contract could be finalized as early as Wednesday. Elliott had landed in Charlottesville on Wednesday to participate in a job interview. The fact that he was accompanied by his family seemed to be a significant hint that this mi


Gordon Hayward trends on Twitter for hilarious reason
Gordon Hayward was probably extremely confused when he opened up the Twitter app this morning. The Charlotte Hornets swingman trended on Twitter for a funny reason on Wednesday and it didn't even really have much to do with him. The NBA's official Twitter page wished a happy birthday to Boston Celtics rookie Sam Hauser. The picture used in the tweet had everyone fooled. Due to Hauser's resemblance to Hayward, many believed that it was Hayward at first glance. Join us in wishi


Damian Lillard fires back at latest round of rumors
Portland Trail Blazers guard Damian Lillard is once again trying to shut down rumors that he might be on his way out of Portland. With the Portland Trail Blazers struggling and the organization hit by instability, Lillard rumors have ramped up again in recent weeks. A new report on Tuesday indicated that Lillard only wants a two-year extension on top of his current deal, and some candidates to replace fired GM Neil Olshey might prefer to move Lillard rather than have to try to build around him


Report: Russell Wilson would 'strongly consider' trade to 3 teams
Russell Wilson will likely be the subject of trade rumors once again when the season ends, and the star quarterback reportedly remains open to moving on from the Seattle Seahawks. Wilson has a full no-trade clause, which means he would have to approve any potential trade even if the Seahawks agreed to a deal. One team that has been viewed as a logical suitor is the New Orleans Saints. According to ESPN's Jordan Schultz, Wilson would "strongly consider" waiving his no-trade cla


Wizards fans may not like Bradley Beal's latest comments about his future
The Washington Wizards are having one of their best seasons in years, but Bradley Beal is putting a bit of a damper on it with his latest comments. The Wizards star spoke this week on the "Posted Up" podcast with Yahoo! Sports' Chris Haynes and addressed his future with the team. Beal has a four-year, $185.5 million extension offer currently on the table from the Wizards but has yet to accept it. "I got time, so I kinda hold the cards right now," said Beal. "


Lincoln Riley is subject of brutal proposal by Oklahoma lawmaker
The Oklahoma Sooners have moved on and named a new football coach after Lincoln Riley's abrupt departure for USC. Some, however, still want to take one more parting shot at the former coach. That includes Oklahoma state senator Bill Coleman of Ponca City. On Tuesday, Coleman proposed renaming a three-inch stretch of state highway the "Lincoln Riley Highway." The kicker? The proposal covers the last three inches of the westbound lane of State Highway 325, which crosses the bord


Aaron Rodgers not worried about Bears using his trash talk as motivation
Aaron Rodgers delivered possibly the most savage trash talk of his career the last time the Green Bay Packers faced the Chicago Bears, and it would not be a surprise if his opponents attempt to use that as motivation ahead of Sunday night's rematch. As you might expect, Rodgers doesn't seem too concerned about that. It was during the Packers' Oct. 17 win over Chicago that Rodgers shouted "I still own you!" at Bears fans following a key touchdown run. The reigning M


Trae Young calls out Hawks writer over insult
Trae Young refuses to give a local writer a pass just because he covers Young's team. Atlanta Hawks beat writer Chris Kirschner of The Athletic got into it with a Twitter user this week. The user criticized the premise of one of Kirschner's articles and then said that they were not going to pay to read it as the article was paywalled. Kirschner fired back by calling the user "broke." Let me guess, you didn't read the story or have no reading comprehension. Which one i...


Jalen Rose files for divorce from wife Molly Qerim
Jalen Rose and Molly Qerim have worked together in a professional setting for many years, but it appears their relationship away from the television studio has come to an end. Rose has filed for divorce from Qerim, according to court records obtained by TMZ. The gossip site reports that the split has been considered amicable and that Rose and Qerim remain friendly with one another. Rose filed for divorce on April 30, so he and Qerim have been separated for quite some time. There had been specul


Details surrounding death of former NFL player Glenn Foster released
Former NFL defensive lineman Glenn Foster Jr. was involved in an altercation in jail the day before he died suddenly, according to authorities. Police in Alabama have shared some of the details surrounding Foster's death, which is still under investigation. Foster was initially arrested on Friday after he was involved in a high-speed chase, Ramon Antonio Vargas of NOLA.com reports. Police in Reform, Ala., spotted Foster driving at speeds up to 90 mph in a 45-mph zone. He was chased along


Kliff Kingsbury reacts to former Cardinals player getting tattoo in his honor
Kliff Kingsbury probably never could have imagined that a former Arizona Cardinals player would get a tattoo in his honor, but here we are. Frank Sanders did exactly that on Tuesday, and Kingsbury had a very simple reaction. Sanders, a wide receiver with the Cardinals from 1995-2002, got a tattoo paying tribute to Kingsbury after he had been highly critical of the coach in the past. Sanders promised to get the tattoo if the Cardinals beat the San Francisco 49ers without Kyler Murray and DeAndre


Colin Cowherd roasted for flip-flopping on Mac Jones in funny video
Mac Jones has been by far the best of all the rookie quarterbacks taken in this year's draft, and Colin Cowherd would be lying if he said he saw that coming. The radio host was highly critical of Jones several months ago, but he seems to have changed his tune quite a bit. After the New England Patriots drafted Jones, Cowherd said the former Alabama star had "no play-making ability and has the lowest ceiling" of any of the big quarterbacks. Cowherd also emphatically said that J


Aldon Smith arrested on felony DUI charge following car accident
Former San Francisco 49ers star Aldon Smith was arrested once again this week for driving while under the influence, and he is facing a felony charge after the latest incident. Smith was arrested on Monday and charged with felony DUI causing injury. According to TMZ, the 32-year-old was involved in a two-car crash in San Mateo Valley, Calif. One person suffered a minor injury in the accident, and Smith was taken into custody from the scene. Smith was still in custody as of Tuesday afternoon, wi


Kirk Herbstreit sounds off on College Football Playoff 'conspiracy theory'
Cincinnati is the first team to reach the College Football Playoff from a non-Power Five conference, and many people are surprised they got in even with their undefeated record. Kirk Herbstreit is not one of those people. Herbstreit took to Twitter on Tuesday to blast the narrative that the College Football Playoff selection committee would never give the "small guy" a chance. He mocked those who have complained that the system is rigged. "After SEVEN years of bi–hing an


Randy Moss, Tom Brady had secret meeting year before teaming up
Tom Brady's documentary series "Man in the Arena" has given fans a behind-the-scenes look at some of the most memorable moments in NFL history. The episode that aired on ESPN+ on Tuesday night covered the New England Patriots' heartbreaking 2007 season, and in it was an awesome story about Randy Moss. Moss was traded from the then-Oakland Raiders to the Patriots for a fourth-round pick during the 2007 NFL Draft. Moss was a disgruntled wide receiver at the time, and many


Report: Duke has interest in Jason Garrett
Duke football is looking for a new head coach after pushing out David Cutcliffe, and they have several possible replacements in mind. One of the candidates for the job is a familiar name. The Raleigh News & Observer reports that Duke has interest in Jason Garrett for their head coaching position. Garrett, 55, was the head coach of the Dallas Cowboys from 2011-2019 before being let go by the team. He then became the offensive coordinator of the New York Giants but was fired this season. Gar


Luka Doncic makes surprising admission after Mavs loss
Luka Doncic made a surprising admission on Tuesday after his Dallas Mavericks lost 102-99 to the Brooklyn Nets. Doncic played 37 minutes in his team's loss, second behind teammate Dorian Finney-Smith, who played 38 minutes. Throughout the game, TNT's broadcasters commented on Doncic's appearance and conditioning. Reggie Miller felt Doncic looked heavy and said the talented guard looked out of shape. Reggie Miller with some HSOs during the broadcast: "To me, looking at him, ...


Charles Barkley has strong message for Anthony Davis
Charles Barkley delivered a strong message towards Anthony Davis on Tuesday night. The Los Angeles Lakers are struggling early this season as many people predicted they would. They entered Tuesday's game against the Boston Celtics 12-12. There have been recent rumors about coach Frank Vogel being on the hot seat, and Barkley thinks that's garbage. The TNT analyst spoke on Tuesday and pointed the finger at Davis for the Lakers' struggles. He thinks Vogel is being wrongly target


Jim Harbaugh's old tweet about Kirby Smart resurfaces
An old tweet Jim Harbaugh sent about Kirby Smart has resurfaced ahead of the College Football Playoff. Harbaugh's Michigan Wolverines have reached the CFP for the first time in school history. They are ranked No. 2 and will face No. 3 Georgia in the CFP semifinals on Dec. 31. The game will be the first between the schools since 1965. Despite that, there is some history between Harbaugh and Smart. Back when Harbaugh took over the Michigan program, he was making all sorts of noise nationwid


CJ McCollum dealing with collapsed lung
The Portland Trail Blazers are the walking wounded, and CJ McCollum is among their players dealing with a medical issue. The Blazers announced on Tuesday that McCollum is dealing with a collapsed lung. The injury was sustained during the fourth quarter of Portland's game against Boston on Saturday. Both McCollum and Damian Lillard, who is dealing with an abdominal injury, are out for Wednesday's game. In more injury news, Anfernee Simons (right ankle), Ben McLemore (left hip), Nas


LeBron James has telling take on Lakers coach
LeBron James does not sound like he is ready for Frank Vogel to get David Blatt'd just yet. The Los Angeles Lakers star was asked this week about the scrutiny that is facing Vogel and replied with a telling take. "I think criticism comes with the job, you know?" said James, per ESPN's Dave McMenamin. "Frank is a strong-minded guy. He has a great coaching staff. We as his players have to do a better job of going out and producing on the floor. We're a team and


Ex-Yankees OF throws shade at team after leaving in free agency
One ex-New York Yankee is feeling pretty liberated to be out of pinstripes. Former Yankees outfielder Clint Frazier threw some shade at his old team in a tweet on Tuesday. Frazier signed with the Chicago Cubs in free agency earlier this offseason. He expressed excitement about joining the Cubs and added in a swipe at the Yankees' no facial hair policy by writing "here's to leaving my razor at home" to conclude his tweet. While the tweet on its own could have been constr


Could Dillon Gabriel transfer to Ole Miss or Oklahoma?
Dillon Gabriel is one of the top quarterbacks available in the transfer portal, and there are a few schools where he could be leaning. The former UCF quarterback took an official visit to Ole Miss over the weekend and attended a basketball game at the school. UCF transfer QB Dillon Gabriel, who is on an official visit to Ole Miss, is taking in the Ole Miss/Memphis basketball game. — Brad Logan (@BradLoganCOTE) December 4, 2021 The visit to Ole Miss led to strong speculation that he coul


Jeff Tedford reportedly returning to Fresno State, could bring transfer QB
Fresno State is turning to a familiar face to run the program. The Bulldogs are finalizing a deal with Jeff Tedford to make him their head football coach, Yahoo's Pete Thamel reported on Tuesday. Tedford was an assistant at Fresno State from 1992-1997. He later went on to have tremendous success as Cal's head coach from 2002-2012 before being fired by the school. He returned to Fresno State from 2017-2019 before burning out and stepping down due to health issues. Now the 60-year-old


Major SEC East quarterback enters transfer portal
LSU is a program in transition, and they will have a new starting quarterback next season. Max Johnson announced on social media Tuesday that he is entering the transfer portal. LSU, Thank you for allowing me to pursue my academic and athletic career here. I have made strong relationships that will last a lifetime with coaches, staff and especially my teammates! With careful and prayerful consideration, I am entering the transfer portal. — Max Johnson (@Max_Johnson_14) December 8, 2021


Lakers reportedly interested in ex-Russell Westbrook Thunder teammate
The Los Angeles Lakers could be helping Russell Westbrook feel more at home in his first season with them. J. Michael of the Indianapolis Star reported on Tuesday that the Lakers are among several teams who are interested in trading for Indiana Pacers guard Jeremy Lamb. The 29-year-old Lamb, who is averaging 7.3 points per game in a bench role for the Pacers this season, was teammates with Westbrook on the Oklahoma City Thunder from 2012 to 2015. Lamb is on an expiring contract, giving him adde


Report: Zion Williamson has ballooned to even crazier weight
Zion Williamson appears to be cultivating mass at a truly alarming rate. ESPN's Tim MacMahon appeared this week on "The Lowe Post" podcast and revealed that the New Orleans Pelicans star has soared to an even crazier weight. MacMahon said that he has heard from several sources that Williamson now weighs 330 pounds. Williamson, who is listed on NBA.com at 284 pounds, remains out after undergoing foot surgery in the offseason. He was cleared for full practice last month but rece


Pacers ready to blow up their core?
The Indiana Pacers could soon be taking a stick of dynamite to their roster. Shams Charania and Bob Kravitz of The Athletic reported on Tuesday that the Pacers are moving towards a "substantial" rebuild and are expected to open up trade conversations around their top veterans. The Pacers are said to be receptive to trading guard Caris LeVert and either forward Domantas Sabonis or center Myles Turner. The report adds that 87-year-old owner Herb Simon, who has always demanded that the


Report: Ex-NBA Rookie of the Year eyeing reinstatement after drug ban
Two years after being kicked out of the NBA, a notable former player is looking to get reinstated. JD Shaw of Hoops Rumors reported this week that ex-NBA Rookie of the Year Tyreke Evans is hoping to be reinstated by the league soon. The 32-year-old is said to be training in preparation for a return. Evans was "dismissed and disqualified" from the NBA in 2019 after violating the terms of the NBA/NBPA anti-drug program. He had reportedly tested positive for "drugs of abuse.̶


Mac Jones reveals why he could not speak with Peyton Manning
The New England Patriots did not grant Peyton Manning access to Mac Jones this week in advance of Peyton and Eli's latest "ManningCast," but Mac Jones says the denial was nothing personal. Manning said during Monday night's game between the Patriots and Buffalo Bills that he reached out to Jones several days ago. Jones said he would be willing to speak with the Manning brothers, but he asked Peyton to contact New England's PR director to clear it through him. The P


Watch: Bill Belichick delivered epic quote in locker room after beating Bills
Bill Belichick led the New England Patriots to what was clearly one of the proudest wins of his career on Monday night, and the coach delivered the perfect quote in the locker room after the game. The Patriots were all high-fives and hugs following their 14-10 win over the Buffalo Bills. The game was played in freezing temperatures with winds that gusted up to 50 mph, and Belichick's team looked better prepared than the opposition. Belichick summed that up with a simple declaration: ̶


Nikola Jokic has funny friendship with fellow NBA center
Nikola Jokic may have some enemies in the NBA (see: Morris, Markieff), but he also has some friends. The Denver Nuggets star revealed after Monday's loss to the Chicago Bulls that he has a funny friendship with Bulls center Nikola Vucevic. "We play Counter-Strike a lot together," said Jokic, per Harrison Wind of DNVR Sports. "Counter-Strike" is the famous first-person shooter game. It is currently the single most popular title on top video game service Steam. Jokic


Ex-Saints player Glenn Foster dies after being taken into police custody
Former New Orleans Saints defensive lineman Glenn Foster Jr. died unexpectedly this week. He had been taken into police custody not long before. An official at the medical examiner's office in Pickens County, Ala., said Foster died on Monday, according to Nola.com. The official said he could not comment on the cause of death because the case remained under investigation. Foster was 31. Foster was in Pickens County jail as of Sunday, and there was no indication that he had been released pr


Luke Fickell explains how he has handled interest from other programs
Luke Fickell has found himself in the awkward position of chasing a national championship while being pursued by other programs, but the Cincinnati coach insists he has not let it become a distraction for his team. Fickell confirmed the obvious to ESPN's Andrea Adelson this week — he has received interest from several other schools. Naturally, those schools wanted to speak with Fickell as soon as they could. He says he took a hard stance and refused to speak with anyone until the da


Leonard Fournette has hilarious tweet about catching passes from Tom Brady
Tom Brady may be 44, but the seven-time Super Bowl champion is still capable of putting plenty of zip on his passes. Just ask Leonard Fournette. Fournette has been a huge part of the Tampa Bay Buccaneers' passing game this season. Apparently that has been somewhat of a challenge for him. Why? Because he has to mentally and physically prepare to be on the receiving end of fastballs from Brady. The running back sent a hilarious tweet about that this week: This how I prepare my mind when Iâ...


Bill Belichick shares a thought on Tom Brady's documentary series
Tom Brady's new documentary series "Man in the Arena" has been airing weekly on ESPN+, and the reviews have been overwhelmingly positive. Bill Belichick is unable to provide one yet, but he says he will certainly be tuning in at some point. Belichick was asked about the series, in which Brady dives into his 10 Super Bowl appearances, during his weekly appearance on WEEI's "The Greg Hill Show." The New England Patriots coach said he is looking forward to catch


Bills' Isaiah McKenzie learned over Twitter his coach didn't trust him
Buffalo Bills wide receiver Isaiah McKenzie was inactive for Monday night's game against the New England Patriots, and he may not have known the specific reason why until his coach's postgame press conference. With winds gusting up to 50 mph, Bills coach Sean McDermott chose to have safety Micah Hyde field punts and running back Matt Breida handle kick returns. McDermott was asked after the Bills' 14-10 loss about McKenzie and Marquez Stevenson, two return specialists, not bei


Did Bill Belichick hint at Patriots' gameplan with face mask?
Bill Belichick implemented a very simple and specific gameplan to help the New England Patriots beat the Buffalo Bills on Monday night. Those who saw what the coach was wearing on his face before the game may have known it was coming. Belichick wore a face mask featuring the Navy athletics logo prior to his team's 14-10 win. Bill Belichick wore a Navy Midshipmen mask in his pregame interview and promptly ran the ball 46 times pic.twitter.com/euXwnxuiTC — Will Brinson (@WillBrinson)


Michelle Beadle says LeBron James, Maverick Carter hold grudge against her
Michelle Beadle revealed recently that LeBron James openly wanted her to be fired from her job with ESPN before she left the network, and she says LeBron and his camp hold a grudge against her to this day. Beadle made the surprising claim last month that James tried to get ESPN to fire her. She said it was awkward and that she was "honored" to even be on LeBron's mind. As for why the Los Angeles Lakers star had an issue with her, Beadle speculated that it was because she mocke


Joe Buck roasted Peyton Manning with great zinger
Back in September, Peyton Manning took aim at legendary announcer Joe Buck during an early episode of the "ManningCast." During the stream, Peyton said he would prefer a co-host who doesn't know as much about the game of football as he does. Specifically, Peyton said, he'd want someone alongside of him that doesn't understand defensive coverages. Someone like Joe Buck. Peyton Manning just ended Joe Buck's career on live television. pic.twitter.com/nisdWdKd0E &


Report: Oregon interested in BYU coach Kalani Sitake
Oregon needs a new head football coach, and they have interest in a notable coach. The Ducks have reportedly shown interest in interviewing Kalani Sitake for their vacancy. Former Salt Lake City-based radio host Tim Montemayor reported the news on Sitake Monday night. I am told by a source at BYU that Oregon has requested permission to interview #BYU Head Coach Kalani Sitake. — YouTube: The Monty Show —SUBSCRIBE (@TheMontyShow) December 7, 2021 Montemayor tends to have good infor


Patriots' David Andrews zinged teammate Shaq Mason
The New England Patriots' 3-pass victory led to all sorts of jokes and questions after their 14-10 win over the Buffalo Bills on Monday. According to reporter Jeff Howe, Patriots center David Andrews said he hadn't been part of a game with so few passes since maybe he was six years old. He then jabbed teammate Shaq Mason, suggesting Mason maybe had been part of a game with so few passes. Patriots center David Andrews said he hasn't been part of a game with 3 passes since he was


Sean McDermott did not appreciate Bill Belichick question after loss
Sean McDermott definitely does not want to hear that he gotten beaten by Bill Belichick, even if that is exactly what happened on Monday night. Belichick's New England Patriots put on a situational football clinic against McDermott's Buffalo Bills, using throwback schemes to grind out a 14-10 victory in very poor weather conditions at Highmark Stadium. After the game, a reporter asked McDermott about the psychological impact of having Belichick on the other sideline. McDermott did n


Patriots' Matthew Judon had funny zinger for Mac Jones
The New England Patriots left Buffalo with a huge win on Monday night, and that left them comfortable enough to joke around afterwards. The Pats won 14-10 despite throwing just three passes in the game. They ran the ball 46 times and went old school in the windy conditions. Matthew Judon had three tackles, a sack and two passes defended in the victory. He complimented the Patriots' offense for getting the job done, but he included a zinger for quarterback Mac Jones, who had a light load.


Bills' Micah Hyde, Jordan Poyer incensed with reporter over postgame question
Micah Hyde and Jordan Poyer were incensed with a question asked by a Buffalo Bills reporter after the team lost 14-10 to the New England Patriots on "Monday Night Football." The Patriots went old-school football and ran the ball 46 times against the Bills, choosing to pass just three times due to the heavy winds. New England ran the ball successfully too, piling up 222 yards on the ground. After the game, Bills defensive players Hyde and Jordan Poyer answered questions from the medi


Bill Belichick, Patriots beat Bills in heavy winds with throwback football
The New England Patriots pulled off a 14-10 win at the Buffalo Bills on Monday night, playing through heavy winds and blizzard conditions. Patriots head coach Bill Belichick really threw it back to the old school to pull out a victory. Belichick came well-prepared for the storm and had his offense focus on the ground game almost exclusively. The Pats attempted just three passes while running it 46 times. Quarterback Mac Jones went 2/3 for 19 yards, yet he came out victorious. As a team, the Pat


Matt Rhule on hot seat amid Panthers' struggles?
The Carolina Panthers surprisingly fired offensive coordinator Joe Brady on Sunday, and there is speculation it could be the prelude to a bigger move. Speculation grew Monday that the Panthers may be losing patience with second-year head coach Matt Rhule. Pro Football Talk's Mike Florio said on Monday's "PFT Live" that he'd heard from a league source that Rhule may be in danger of losing his job as well. Mike Florio on @ProFootballTalk this morning when he asked a


Kayvon Thibodeaux among first to make key NFL Draft decision
Now that college football season is over, a raft of early NFL Draft declarations are set to follow. One came down Monday night, and is not a surprise. Oregon defensive lineman Kayvon Thibodeaux, a likely top-five pick in the NFL Draft, has decided to declare, as first reported by ESPN's Adam Schefter. In addition, Thibodeaux will not take part in Oregon's Alamo Bowl appearance against Oklahoma. None of this is a surprise, but it's still noteworthy when a high-profile player de


Peyton Manning got shut down by Patriots over Mac Jones interview
The New England Patriots run a notoriously tight ship. So tight, in fact, that not even Peyton Manning can get any interview he wants. Manning said on Monday night's alternate "Monday Night Football" broadcast that he had spoken to Bills quarterback Josh Allen in the leadup to the game. He tried to do the same with Patriots quarterback Mac Jones, but was apparently shut down by the organization's PR staff. It's all about football in Mac Jones' rookie season pic


Video: High winds lead to incredible opening kickoff on 'MNF'
Monday's game between the New England Patriots and Buffalo Bills is going to be a wild ride. That was easy to see just from the opening kickoff. Both the Patriots and Bills were forced to play in brutal conditions Monday, with the city of Buffalo under a wind advisory. Gusts were forecast to approach 50 MPH during the game. It certainly looked it on the opening kickoff, which kicker Tyler Bass casually dispatched into the stands behind the end zone with almost no extra effort. The wind i


Shareef O'Neal has hilarious quote about playing Shaq one-on-one
Is Shaquille O'Neal a bad sport when it comes to pickup basketball? His son Shareef sure thinks so. Shareef, a junior forward at LSU, said he hasn't played his father one-on-one in about five years. Part of that may be because, in the younger O'Neal's estimation, Shaq "plays super dirty" and "fouls a lot." "If we score on him, he'll say it's a travel," Shareef told Josh Peter of USA Today. 'He'll say anything. I won...


Former Vikings head coach takes shot at team for their loss to Lions
One ex-Minnesota Vikings coach is kicking the team while they are down. Mike Tice, who was the head coach of the Vikings from 2002 to 2005, took a shot at the team on Twitter after Sunday's loss to the hapless Detroit Lions. "Really. F-ing Detroit," wrote Tice. "Even my sorry a– NEVER lost to Detroit" (profanity edited by LBS). The receipts check out for Tice as well. In each of Tice's four full seasons as head coach of the Vikings, the team went 2-0 ag


DeMar DeRozan agrees with LeBron that NBA's COVID protocol is 'fishy'
DeMar DeRozan now finds himself sympathizing with LeBron James after landing in the NBA's COVID protocol. The Chicago Bulls announced that the star swingman has entered health and safety protocols. DeRozan will miss at least Monday's game with the Denver Nuggets. He will then need to produce two straight negative PCR tests in 24 hours or be subject to ten days of isolation, per ESPN's Adrian Wojnarowski. Bulls head coach Billy Donovan added that the team does not currently kno


2021 Heisman Trophy finalists announced
The finalists for the 2021 Heisman Trophy have been announced. Alabama quarterback Bryce Young, Ohio State quarterback CJ Stroud, Pitt quarterback Kenny Pickett, and Michigan defensive lineman Aidan Hutchinson were announced Monday as the four finalists for the prestigious honor. Young is the heavy favorite to win the award. The Crimson Tide quarterback has passed for 4,322 yards, 43 touchdowns and just four interceptions this season. He has also rushed for three scores for the 12-1 Tide. Thou


Ron Rivera not happy about hit that injured Logan Thomas
Ron Rivera is letting his feelings be known about a controversial play from Sunday's win over the Las Vegas Raiders. In the the fourth quarter of Washington's 17-15 victory over the Raiders, WFT tight end Logan Thomas suffered an injury while blocking for an Antonio Gibson run. Raiders defensive end Yannick Ngakoue tried to get around the block and ended up going low and taking out Thomas' knee. Logan Thomas sifted back across the line on this run, edge defender went low to a


Saints lose WR Deonte Harris to DUI suspension
The New Orleans Saints will be without one of their receiving options over the next few weeks. The NFL upheld a 3-game suspension for wide receiver Deonte Harris. Harris was arrested in July for drunk driving. Two-game suspensions are typical for DUI arrests, but Harris received a 3-game suspension and appealed. Monday's announcement means Harris lost his appeal. During his July arrest, Harris was issued several citations including negligent driving, reckless driving, failure to obey traf


Aaron Rodgers unaffected by Jordan Love's COVID thanks to special rule
Green Bay Packers quarterback Jordan Love tested positive for COVID-19 on Monday, raising speculation about Aaron Rodgers' status as a potential close contact. As it turns out, there is no reason for concern from Rodgers' standpoint. One rule in the NFL's health protocols ensures that Rodgers will be able to play Sunday regardless of Love's status. Rodgers is on a testing holiday due to his own recent bout with COVID-19. That means he does not have to isolate or take ext


Old Mac Jones tweet goes viral for great reason
Mac Jones grew up in Florida and played college ball at Alabama. The rookie quarterback has openly admitted that he has very little experience with cold weather, and that could become a problem when the New England Patriots take on the Buffalo Bills on Monday night. The forecast for Monday night in Buffalo calls for temperatures in the 20s, snow showers and winds that could gust up to 50 mph. Highmark Stadium looked like a winter wonderland hours before kickoff. We've gone full snow globe


Manny Diaz takes shot at Miami over his firing
Manny Diaz was fired by Miami on Monday after spending days with his job status in limbo. He took a shot at the school over the way his firing was handled. Miami was engaged in a very public pursuit of Mario Cristobal for about two weeks before ultimately reaching a deal with him. The school's pursuit of Cristobal played out all the while Diaz was still employed as the head football coach. Diaz alluded to the unconventional manner in which his firing transpired in a statement he issued o


Mario Cristobal has very classy gesture upon leaving Oregon
The college football world has been rocked by acrimonious high-profile coaching departures in recent weeks. That helped make what Mario Cristobal did Monday so refreshing. Hours after announcing his departure from Oregon to take the head coaching job at Miami, Cristobal did a radio interview with Portland's 750 The Game and reflected on his time with the Ducks. Not only did Cristobal praise the school, but he openly sold the job to potential candidates and urged the school to "win c


Tyrann Mathieu has funny response to Broncos fan who was talking trash
The Honey Badger is at it again with an opposing fanbase. Kansas City Chiefs safety Tyrann Mathieu had a funny response on Monday to a Denver Broncos fan who was talking trash on Twitter. The fan touted Broncos running back Javonte Williams' stellar performance against the Chiefs in a profane tweet that also mentioned Mathieu. "Bra y'all had 9 points," Mathieu tweeted in reply. The Broncos lost to the Chiefs 22-9, but it was certainly through no fault of Williams. Filling in...


Watch: Gardner Minshew, Eagles fan had awesome exchange after game
No player was more thrilled with his team's win in Week 13 than Gardner Minshew, and the Philadelphia Eagles quarterback was happy to share that excitement with a fan after the game. Minshew started in place of the injured Jalen Hurts and played extremely well in a 33-18 road win over the New York Jets. The former sixth-round pick was fired up, and his excitement level only grew when he spotted a fan who was holding up a No. 10 "Minshew II" jersey. Minshew began going crazy an


Look: Staples Center signs are now coming down from front of arena
The unofficial end of an era for Los Angeles sports has begun this week. Images went viral on Monday of construction crews beginning to remove the iconic "Staples Center" signage from the top of the downtown Los Angeles arena. Take a look. RIP to the Staples Center pic.twitter.com/YVlR91woDg — Joe Pompliano (@JoePompliano) December 6, 2021 The rebranding was also underway by the main entrances. Crews early Monday morning began the process of rebranding Staples Center to Cr


Deion Sanders reportedly received interest from 1 Group of Five school
Deion Sanders' exploits at Jackson State continue to garner attention from FBS schools across the country. The latest evidence of that comes from Pat Forde of Sports Illustrated, who offered some inside information on the Colorado State Rams' coaching search. Forde reported Monday that Colorado State inquired about Sanders before ultimately hiring Nevada coach Jay Norvell. CSU prioritized minority candidates. Also made inquiries about Charles Huff at Marshall and Deion Sanders at J


Eye-popping amount has been spent on college football coach buyouts
Several head coaches have been fired by top college football programs this season, and many of those dismissals have been quite costly. For the sport as a whole, the collective buyout amount is pushing toward a whopping nine figures. Manny Diaz was officially fired by Miami on Monday, paving the way for the Hurricanes to hire Mario Cristobal away from Oregon. As Ross Dellenger of Sports Illustrated notes, Diaz's buyout with Miami was valued at an estimated $4 million. You can add that amo


Ben Simmons has interesting reaction to Damian Lillard report
Ben Simmons is a hard man to find these days … except on social media. The absentee Philadelphia 76ers star offered an interesting reaction Monday to the recent report that linked him to Portland Trail Blazers counterpart Damian Lillard. Simmons "liked" an Instagram post from Bleacher Report about the claim. Here is a screenshot of Simmons' "like." Ben Simmons seems like interested huh Ben and Dame duo sheesh pic.twitter.com/BDd9PoSSqo — Ally (@allyr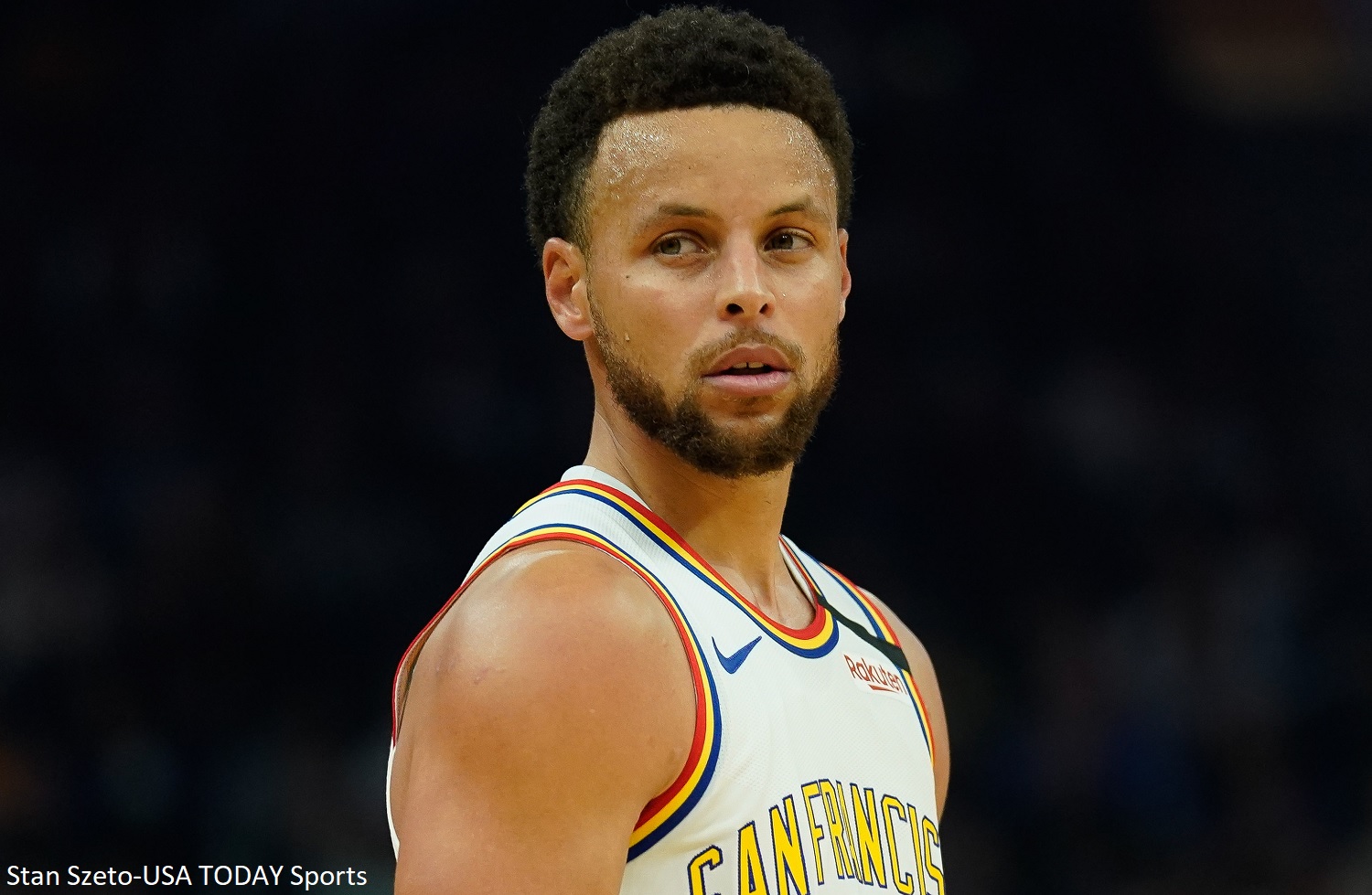 Warriors eyeing prominent guard to pair with Steph Curry?
The Golden State Warriors could be trying to pair Stephen Curry with a notable fellow member of the 2009 draft class. Joe Vardon and Kelsey Russo of The Athletic reported this week that the Warriors were "keenly interested" in partnering Curry with Ricky Rubio if Rubio wanted a buyout from the Cleveland Cavaliers. For now however, Rubio is all-in on the Cavs, who are a surprising 13-11 on the year. That said, we are still a couple of months away from peak buyout season in the NBA. T


Mac Jones files for new trademark that isn't so Tom Brady-like
Mac Jones has filed for yet another trademark as he works his way toward NFL stardom, and the latest is a bit more unique. Jones' legal team recently filed paperwork to trademark the phrase "MAC10," according to Darren Rovell of Action Network. The rookie is seeking to use the word mark on apparel. After filing to get the trademark "MJ10," it looks like Pats QB Mac Jones has now also filed for "Mac10." pic.twitter.com/AassGgvspm — Darren Rovell (@darrenrovell) D...


Joe Burrow planning to play through injury after dislocating finger
Joe Burrow suffered an injury during Sunday's game that appeared to be quite painful, but he is not expected to miss any game action because of it. Burrow hurt his right finger in the second quarter of the Cincinnati Bengals' loss to the Los Angeles Chargers. He was seen on the sideline throwing passes afterword, and he was clearly in significant pain. Burrow's pinky finger was then shown on the CBS broadcast and appeared badly swollen. He returned to the game and made some st


Kentucky Derby-winning horse Medina Spirit dies suddenly
The horse that won the Kentucky Derby earlier this year amid a banned substance controversy has died. According to a story from Paulick Report, Medina Spirit collapsed and died after a workout at Santa Anita Park in California on Monday morning. The cause of death is unknown but will be investigated. The horse was 3 years old. Medina Spirit won the Kentucky Derby on May 1 and later tested positive for an illegal substance. Trainer Bob Baffert, who has a history of horses testing positive for ba


Mario Cristobal informs Oregon he has accepted Miami job
Mario Cristobal is headed home to Miami. Cristobal will be introduced as the next head football coach at the University of Miami in the very near future. After days of negotiating with Cristobal, Miami fired head coach Manny Diaz on Monday morning. Bruce Feldman of The Athletic reports that Cristobal held a players-only meeting at around the same time to inform his Oregon team he is leaving. Several of Cristobal's staff members were on the road and learned of the official decision shortly


Damian Lillard has strong response to report of tension with Chauncey Billups
The Portland Trail Blazers have been inconsistent at best this season, and a report on Monday claimed that has already led to tension between first-year head coach Chauncey Billups and some of his players. Damian Lillard issued a strong response to that report. A story from Shams Charania and Sam Amick of The Athletic cited sources who claim "Lillard has grown frustrated with the team's play and tension appears to be on the rise between the players and Billups." Lillard caught win...


Manny Diaz fired by Miami, paving way for Mario Cristobal
The University of Miami got one step closer to hiring Mario Cristobal as head football coach on Monday, as Manny Diaz has been fired. Diaz has been informed by Miami that he is being let go, according to multiple reports. Sources: Miami has fired Manny Diaz. — Pete Thamel (@PeteThamel) December 6, 2021 The move was widely expected, as Miami has been working to hire Cristobal away from Oregon. The Hurricanes have reportedly offered Cristobal a sizable contract, and there was talk that th


Report: Star player wants to play with Ben Simmons
Ben Simmons has seemingly done nothing but hurt his own trade value since the Philadelphia 76ers were eliminated from the postseason last year, but at least one star player is interested in teaming up with the former first overall pick. Portland Trail Blazers star Damian Lillard wants to play with Simmons, according to Shams Charania and Sam Amick of The Athletic. The Blazers are once again struggling defensively this season and rank 30th in defensive rating. While Simmons' career has ess


Hawks fans troll PJ Washington with savage taunt about Brittany Renner
PJ Washington has a complicated history with social media star Brittany Renner, and Atlanta Hawks fans tried to make sure Renner was on Washington's mind during their team's game against the Charlotte Hornets on Sunday. As Washington was attempting free throws late in the first half, a group of Hawks fans showered him with "Brittany Renner!" chants. Renner found it hilarious. glad you made it though BD @PJWashington — Brittany Renner (@bri


Mike Tomlin shares how he knew Ravens would go for 2
The Baltimore Ravens and Pittsburgh Steelers appeared to be headed for overtime on Sunday night after Lamar Jackson found Sammy Watkins for a touchdown as time expired. John Harbaugh had other plans, however, which was no surprise to Mike Tomlin. Tomlin said after Pittsburgh's 20-19 win that he knew the Ravens would attempt a 2-point conversion after they scored. The Steelers coach said Harbaugh's reliance on analytics makes Baltimore "predictable." Mike Tomlin on the R


Broncos OL Quinn Meinerz goes viral for block on Melvin Ingram
Broncos rookie offensive guard Quinn Meinerz went viral on Sunday night for an incredible block against Melvin Ingram. Denver had the ball down 10-3 against the Kansas City Chiefs in the second quarter. They ran the ball with Mike Boone on 2nd-and-8 and had right guard Meinerz pull to the left to try and create a hole. Meinerz spotted Ingram and locked in on him. And when we say locked in, we mean it. Meinerz began blocking Ingram near the line of scrimmage and pushed him about 15 yards downfi


Kenyan Drake has message for NFL after suffering broken ankle
Kenyan Drake sent a message to the NFL on Sunday night after suffering a season-ending broken ankle earlier in the day. Drake had one rush and one catch in the Raiders' 17-15 loss to Washington in Week 13. Early in the second quarter, he rushed on a 2nd-and-5 play near midfield. Three Washington players converged on him, including Daniel Wise, who then dragged Drake backwards, breaking the running back's ankle. If the emphasis is to protect the players this should be an illegal for


Pascal Siakam has hysterical explanation for what inspired big game
Pascal Siakam was the star of Toronto's 102-90 win over the Washington Wizards on Sunday night. He might be able to credit his baby niece for that. Siakam scored 31 points with six rebounds and three assists in the win, marking one of his best all-around performances of the season. In his mind, that apparently happened because he got peed on by his two-month-old niece. To what does Siakam owe his big game tonight? "My brother has a kid, my niece, and usually I don't like carrying ne...


Jonathan Allen has hilarious comment about Washington kicker's game-winner
The Washington Football Team won in dramatic fashion on Sunday, beating the Las Vegas Raiders on a late field goal. The circumstances of that field goal, however, were particularly noteworthy. Kicker Brian Johnson was brought in on Tuesday on an emergency basis due to an injury to regular kicker Joey Slye. Johnson was signed from the Chicago Bears' practice squad, and barely had time to get comfortable before being called into duty on Sunday. Johnson did not miss a beat, converting a 48-y


Ex-NBA Coach of the Year eyeing return to sideline?
One prominent former NBA coach could be getting the itch to start calling out the Xs and Os again. Ex-Houston Rockets head coach Mike D'Antoni spoke this week with Jonathan Feigen of the Houston Chronicle. D'Antoni, who is working this season as an advisor for the New Orleans Pelicans and their head coach Willie Green, revealed that he would not rule out a return to coaching. "Willie's been great to work with," said D'Antoni. "We talk and it's great having a dial...


Mike Tomlin takes another shot at Chase Claypool's practice suggestion
Pittsburgh Steelers coach Mike Tomlin is apparently really frustrated and fixated on some things one of his players said during the week. The Steelers' struggles have prompted some examination of the team's practice methods and whether certain things can be done better. That prompted second-year receiver Chase Claypool to suggest playing music during practices, an idea that Tomlin clearly did not think much of. Tomlin actually went back to Claypool's remarks Sunday following P


Jets LB calls out Fletcher Cox, Eagles for disrespecting them
It has been a while since the New York Jets have been respectable, and one of their players thinks that opponents are treating them accordingly. After losing to the Philadelphia Eagles on Sunday, Jets linebacker CJ Mosley called out Fletcher Cox and other Eagles players for disrespecting his team. Mosley said that Cox was laughing at Jets head coach Robert Saleh during the game and that the Eagles showed no respect by not shaking hands during the coin toss, per ESPN's Rich Cimini. The for


Lamar Jackson throws helmet after failed 2-point conversion to lose game
The Baltimore Ravens lost a total heartbreaker to the rival Pittsburgh Steelers on Sunday, and it's a game both Lamar Jackson and Mark Andrews will be replaying in their nightmares. After dominating the first half, the Ravens faded in the second, allowing the Steelers to come back and claim a 20-13 lead in the fourth quarter. The Ravens stormed back late, putting together an eight play, 60-yard drive with under two minutes to go. That drive ended with Jackson finding Sammy Watkins in the


Cardinals had terrible trash-talk attempt after win over Bears
The Arizona Cardinals earned an "F" for effort with their attempt to trash talk the Chicago Bears on Sunday. The Cardinals won in Week 13 over the Bears by a final score of 33-22. After the game, Arizona's Twitter account tried to clown the Bears with a meme of the Cloud Gate sculpture in Chicago shaped like an "L" and a mini-cardinal sitting on top. pic.twitter.com/KItVv6Rfl8 — Arizona Cardinals (@AZCardinals) December 5, 2021 The problem was that nobody k


Tre'von Moehrig costs Raiders a win with drop on interception
The Las Vegas Raiders very easily could have walked out of their game on Sunday against Washington with a win. All that was needed were some solid hands from Tre'von Moehrig. Unfortunately, Raiders fans learned the hard way why Moehrig plays defense and not offense. Washington had the ball at the Raiders 40 with just under a minute left in a 15-14 game. They had a 1st-and-10 play, and Taylor Heinicke attempted a pass to Adam Humphries. Moehrig jumped the route and stepped in front of the


Joe Burrow downplays finger injury after shaky performance
Cincinnati Bengals quarterback Joe Burrow put together a fairly mediocre performance on Sunday, and a finger injury might have had something to do with it. The pinky finger on Burrow's throwing hand was visibly swollen during Sunday's game against the Los Angeles Chargers. Burrow played through the injury, but the results weren't great, as he threw two interceptions in a 41-22 loss. After the game, Burrow brushed aside the injury. He said he would simply have to "deal wi