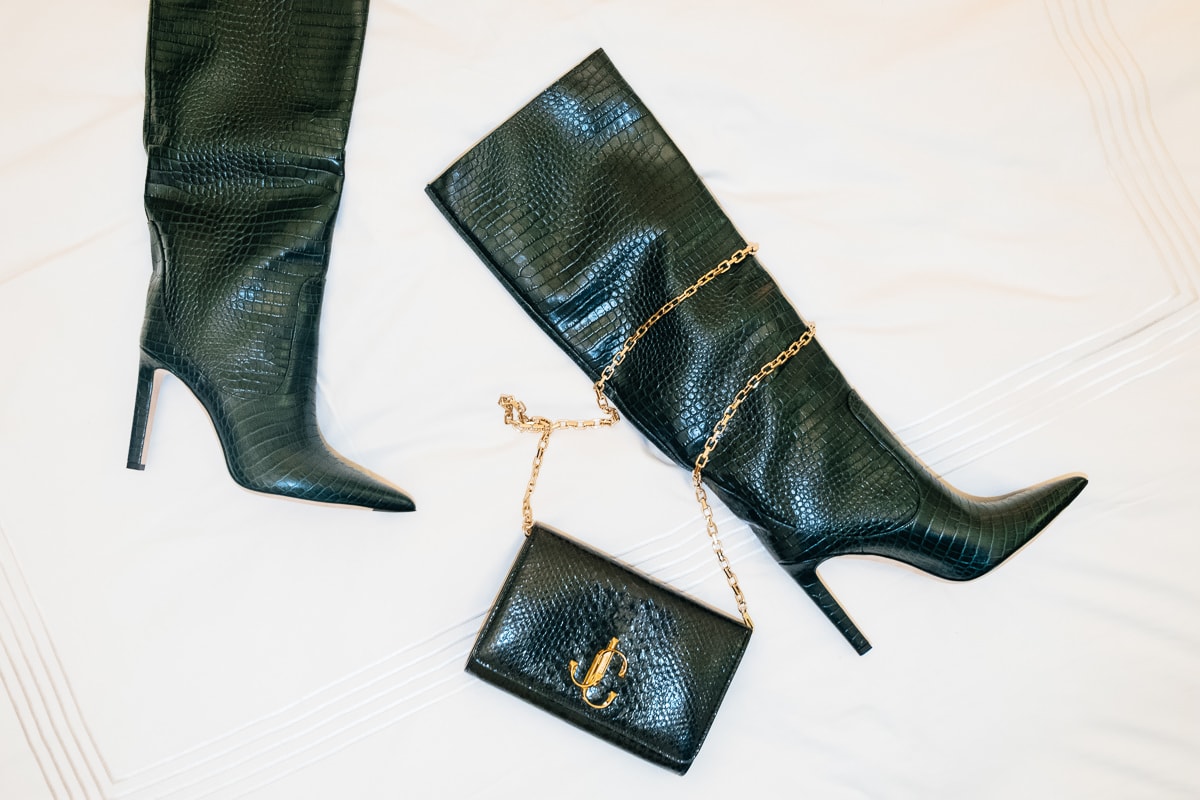 Introducing the Jimmy Choo Varenne Bag Family for Fall 2019
There's this idyllic version of the perfect day in my mind, and that day always involves NYC in the fall. The crispness in the air is enough to take away any unwanted smells, the few trees on the streets leading into Central Park have leaves turning various shades of yellow, orange, and red, and the classic New York City buildings – from brownstones to historical landmarks – are found on either side of me as I walk down the street. Scenes from one of my all-time favorite movies


Models Make the Rounds in London, Milan and NYC with Bags from Burberry, Prada and Fendi
We have entered "Fashion Month," the period of competing international fashion weeks! Buckle up, because the pics of models standing outside of parties and runway shows will be fast and furious. And for our favorite Hadids, it's the most lucrative time of the year! They'll be jetting around Europe for weeks. Let's check out the whirlwind of activity (and fantastic bags) in London, Milan and elsewhere. The post Models Make the Rounds in London, Milan and NYC with B


Your First Look at Fendi's Spring 2020 Bags
Fendi is having a moment, and despite the loss of Karl Lagerfeld earlier this year, it seems there is no stopping this storied Italian design house. Over the last year Fendi's popularity has sky-rocketed, and with the introduction of Fendi Mania, and the resurgence of the iconic Fendi Baguette Bag, the brand is once again one of the top luxury players. It seems that there is no stopping Fendi's success, and for Spring 2020, Fendi plays on its current hits, introducing interesting tak


A Look at Prada's Spring/Summer '20 Runway Bags
The buzz surrounding Prada's S/S '20 show yesterday is still being discussed. Inside of the industrial Fondazione space, bright colors and cool pastels combined to give off that quirky Prada vibe we know and expect. When talking to Miuccia Prada about this collection, it was clear that the clothing for this season focused on the wearer themselves as she stated "the person should be more important than the clothes" and that "personal style is more important than clot


The Best Hobo Bags At Every Budget
It's no secret that mini bags have been dominating the handbag game for what seems like forever. I am so over the micro itty bitty bags, which are hopefully a passing trend rather than the way of the future, but I can't deny the staying power of the traditional mini bag. In this digital age, I completely understand why mini bags are at peak popularity, but I just can't seem to downsize enough to fully get on board (trust me, I've tried). Luckily for me and all my big bag lovi...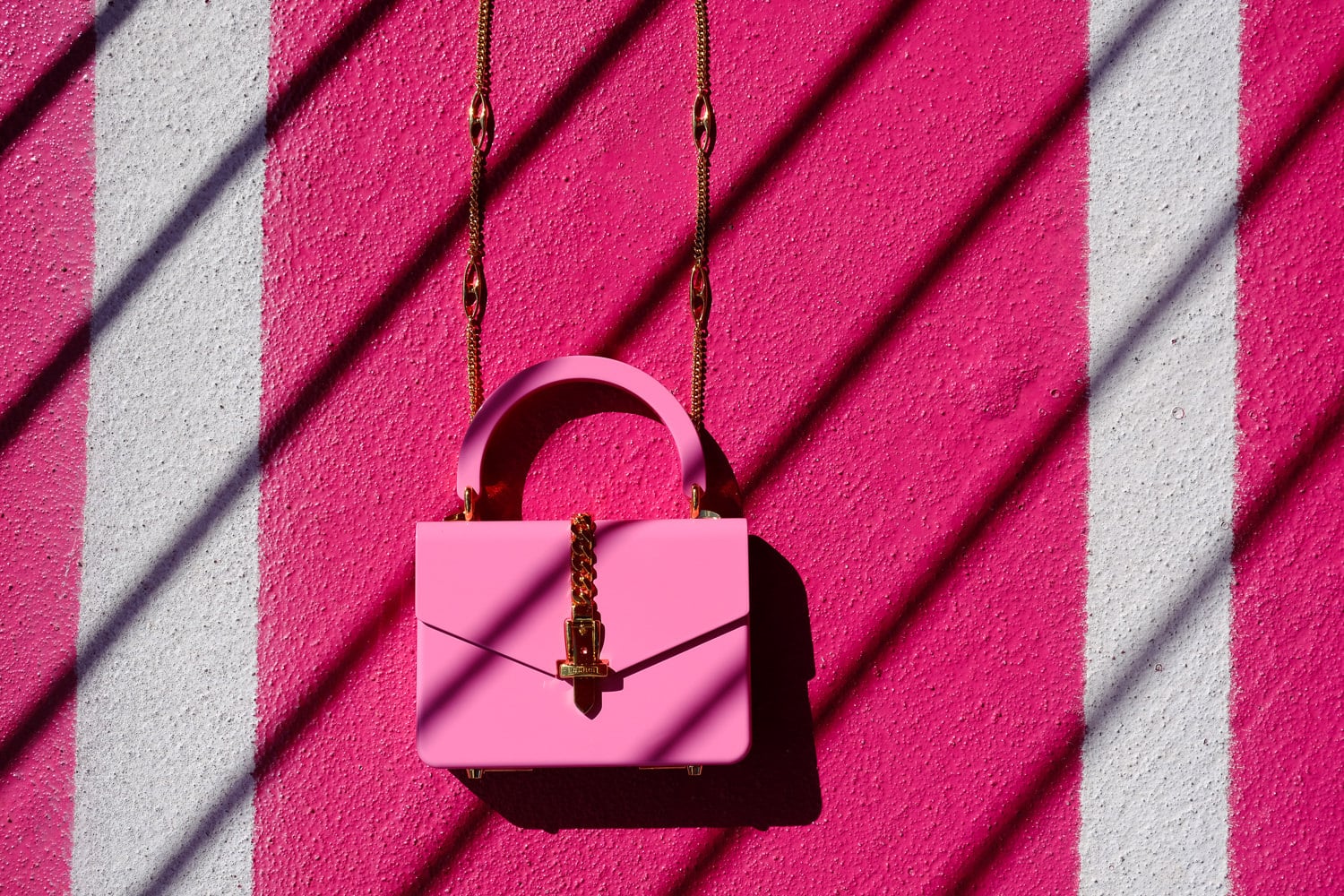 The Latest Statement Piece from Gucci Is the Sylvie 1969 Plexiglas Mini Bag
One of the reasons many of us are purse-obsessed revolves around the ability a handbag has to transform an outfit. Sure, plenty of our bags are meant to be our daily, functional bags, but we wouldn't call ourselves handbag aficionados without an appreciation for the artsy pieces designers offer. Many of us own those special pieces, knowing they are meant for specific and special occasions while also knowing that the bold statement they make is worth the lesser wear. This is the case with t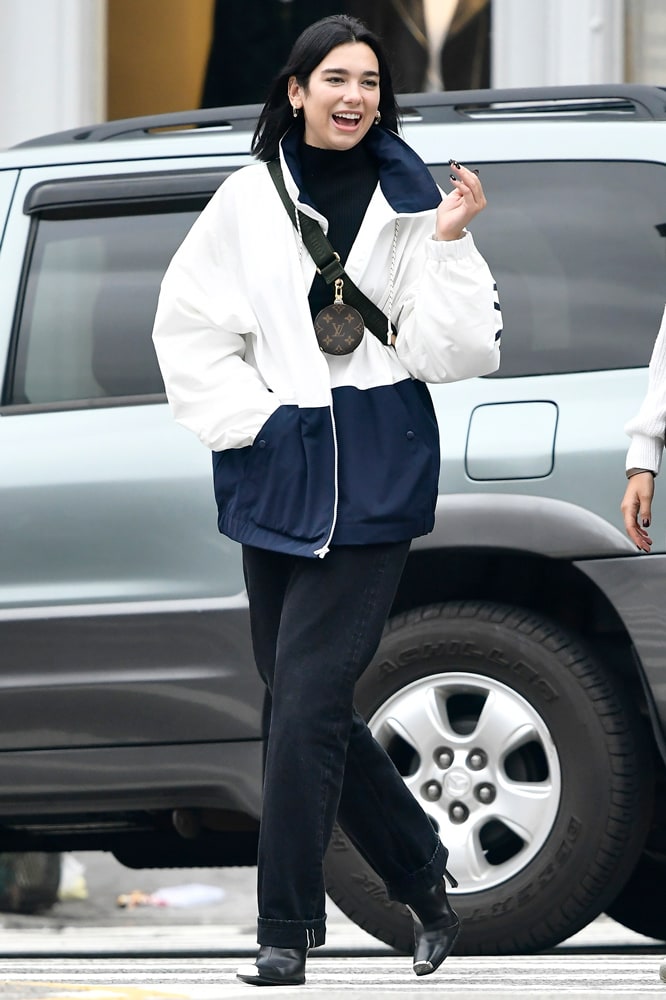 Introducing the New Louis Vuitton Pochette Bag That is Everywhere
I can't remember the last time I felt the urge to drop everything and run to the store to buy something, but that's the exact feeling that I got when I discovered the Louis Vuitton Multi Pochette. First spotted on Valentina Ferragni a mere ten days ago, we weren't even sure of the exact name of this bag (bags?) at first. In the days prior you guys helped to identify it, and I soon spotted this interesting combination of Pochette accessories worn by both musical superstars (thin


Celebs Take a Brief Respite from Fashion Weeks with Bags from Balenciaga, Louis Vuitton
Well, I thought we'd pivot right to London Fashion Week, but it looks like everyone's taking a juice break to recharge their batteries after NYFW. So here are a bunch of celebs at their casual best: celebs with no pants, celebs in bra tops, celebs in overalls! It's all here. Toni Colette and Jennifer Garner are also here to remind us what adults are actually supposed to look like. Take note, "IT" girls under 25! One day you'll all be over 30, and I won't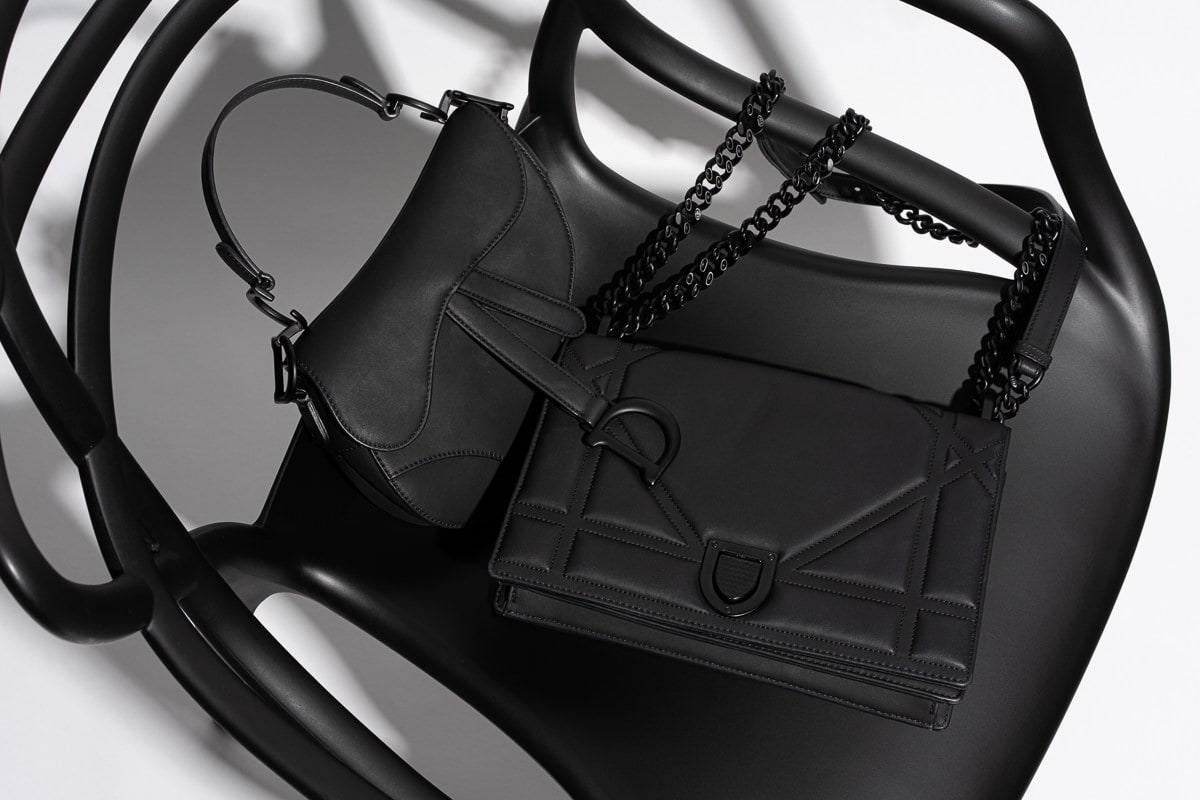 A Look at the Incredibly Covetable Dior Ultra-Matte Bags
One of the most sought after leather and hardware combinations in the handbag world is matte black. Whenever a design house releases bags with this all black everything treatment, they are instantly scooped up, and rightfully so. Black will always be the most timeless and if it's offered on an already iconic bag, it gives a modern twist that can't be denied. Dior Saddle Matte Mini | Diorama Matte The minute I heard Dior was introducing its line of Dior Ultra-Matte Handbags, I knew


Riccardo Tisci's Influence Shines Bright In Burberry's Spring 2020 Bags
Last September, former Givenchy powerhouse designer Riccardo Tisci made his runway debut at Burberry. Immediately it was apparent that big changes were afoot at the iconic British brand. As Burberry aimed to modernize and reach a larger consumer base, Tisci looked to his work at Givenchy and implemented elements that worked into his designs for Burberry. To start, Tisci designed and debuted a brand new logo, which pays homage to Burberry's founder Thomas Burberry. In addition to introduc


JW Anderson Plays With Textures and Shapes for Its Spring 2020 Bags
JW Anderson first rose to popularity in the fashion world for his menswear designs. Eventually he expanded into RTW, and then LVMH purchased a stake in the company back in 2013. The brand was eventually able to expand into accessories as well, likely due to the backing of LVMH. As his profile expanded, so did his popularity, and eventually JW Anderson bags became a favorite of indie fashion lovers around the globe. Known for his modern, often sporty, and so very British aesthetic, JWA logo bags


PurseBlog Asks: How Do You Decide When to Part Ways With Your Bags?
I have packed up and moved nearly every single year over the last decade. Because of how frequently I move, I am no stranger to purging my wardrobe. When I'm preparing to pack up the contents of my four walls, I always sort through my closet before packing up any of my boxes. I go through my clothing, shoes, and handbags, ultimately deciding which items I will sell or donate during the process. Last week while assessing my current wardrobe situation (because yes, I am moving yet again), I real...


Basically Everyone Carried Bottega Veneta's The Pouch at NYFW
In the waning days of NYFW, celebs turned to one bag and one bag alone. It seems like this extremely versatile bag ended up in the hands of every fashion influencer worth her salt at roughly the same time. That's no accident, of course. Will this trend continue at the subsequent European fashion weeks? Only time will tell. But how do you feel about this NYFW "IT" bag today? The post Basically Everyone Carried Bottega Veneta's The Pouch at NYFW appeared first on PurseBlo


NYFW-Goers Show Off the Latest Bags from Chloé and Louis Vuitton
Fashion week bag-spotting is never disappointing. Celebs feel obliged to showcase the newest, most exotic and/or most obscure bags from their collection, and it absolutely keeps us on our toes. This week, there's a healthy mix of all three, thanks to NYFW's usual crowd of heiresses, actresses and influencers. And get excited, because while NYFW concludes on Saturday, London Fashion Week starts today! London Fashion then overlaps with Milan Fashion Week, which then overlaps with Paris


Michael Kors Bets Heavy on New Logo Hardware for Its Collection Spring 2020 Bags
Michael Kors is one of the most iconic American designers of our time and his runway show presentation at NYFW is one of the most star-studded, and highly anticipated events of the week. Though Michael Kors is most synonymous with his Michael Michael Kors (who could forget the infamous Hamilton Bag) line, the show that Kors puts out at NYFW showcases the Michael Kors Collection. Perhaps it's because of that diffusion line that Michael Kors tends to group handbag lovers into two extreme cat


Meet Jenna, the young expat English teacher living in Japan. She is convinced that much of the stories linking counterfeit bag production to supporting terrorism is nothing but propaganda. After reading through her submission a few weeks ago, we actually decided to do some research to which degree this is actually the case. Morality and legality of counterfeits aside, it would be interesting to determine whether the claims are true and to what extent. Look out for an article on this very topic i


A Look At the Evelyne III 29 As Your First Hermès Bag
[Editors note: We wanted to provide a unique perspective on the Evelyne both from a first time Hermès buyer as well as a seasoned Hermès buyer, read on for the scoop from two of our writers including our very own Hermès expert] The Hermès Newbie I remember the first time I came in contact with Hermès. I was in Paris, for the first time, and dragged my reluctant mother into the flagship store on rue du Faubourg Saint-Honore. I haphazardly said to her, 'Mom, you should buy yourself a...


Your First Look at Proenza Schouler's Spring 2020 Bags
I think it would be a fair assessment to say that Proenza Schouler is a brand looking forward to its next big bag hit. Accessory wise, designers Jack McCollough and Lazaro Hernandez earned their stripes with the massive successes of both the PS1 and PS11 lines. These designs have cemented Proenza Schouler's place in the handbag world, with both bags increasing both the brand's presence and power in the market. The powerhouse duo behind the brand has continued to produce new designs,


Love It or Leave It? Colorblocked Handbags
Colorblocking has been gaining momentum in the fashion world as of late, particularly in the world of Instagram influencers. Love them or hate them, I often look to influencers to stay on top of the latest trends. In fact, I look at Instagram way more often than I would an issue of Vogue or Elle, although I did recently purchase the September issue of Vogue based solely on the fact that Taylor Swift was on the cover, but I digress. One of my favorite Instagram influencers, Blair Eadie, has take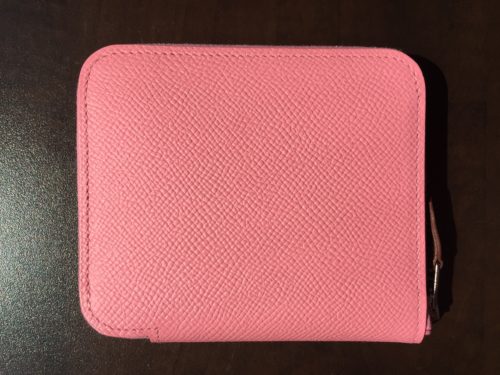 The Incredible Variety of Hermès Wallets
You use it every day. It has to be functional, well made and attractive. Every time you open your bag – there it is! – your wallet. Hermès is, of course, famous and beloved for its gorgeous purses, but what you keep inside your purse is just as important, and nothing is more important than your wallet (how else are you going to pay for all of your purchases?!?). Hermès makes a huge variety of wallets, and each is well-designed and durable. Some are incredibly versatile, doing doub...


NYFW Brings Out the Best New Bags from Jacquemus, STAUD, Mansur Gavriel and more
Prepare to be slightly overwhelmed by the wild variety of bags that models, influencers and reality stars are bringing to NYFW this year. Several of them are in no way available to the non-celebrity set yet, sadly. But it's ok, we'll wait. But of course, as we all sit around waiting with bated breath to pre-order anything good, stars like Jennifer Lopez can practically buy anything off the runway. And you might be surprised what this year's hot, new, right-off-the-runway favori


According to Longchamp, the Micro Bag Trend Is Going Strong into Spring 2020
Storied Parisian label Longchamp was first founded in 1948 as creators of luxury leather smoking pipes. After many successful years creating fine French smoking products, the company eventually expanded into small leather goods, luggage, RTW and men's collections. The luxury brand is now known worldwide for its incredible craftsmanship and leather expertise. Creative Director Sophie Delafontaine brought the collection to New York, which resonates as sort of an ode to the brand's inte


Mad About Plaid! These Bags Are the Perfect Way to Transition from Summer to Fall
The first official day of autumn isn't until September 23rd, but with Labor Day behind us, I'm already embracing my favorite season of the year. Over the last week or so, I've begun the exhilarating process of switching my wardrobe over from sundresses to sweaters and have pulled my darker colored bags out from the depths of their dust bags. I gravitate towards dark jewel-toned and neutral-colored bags for fall, it seems like a natural transition from the brighter colors I wear during the ...


Mansur Gavriel Experiments With Embossed Croc for Fall 2019
When a new handbag brand is introduced it's not often that the fashion world takes immediate notice, but that's exactly what happened when Rachel Mansur and Floriana Gavriel launched their namesake brand in 2012. What first began as a leather accessories brand with a few key styles, the brand has since launched into both RTW and shoes. Arguably the original minimalistic bag brand, the designers have stayed true to the brand's iconic aesthetic over the last 7 years, introducing


New York Fashion Week is Here and This Bag is Everywhere
If you've ever lived in or happened to be visiting New York City during fashion week you know that the city streets basically transform themselves into a runway. The world's most fashionable people flock to the city for shows, events and star studded parties. And, if you've ever happened upon the location of a fashion show you'll understand when I say it is one of the most frenzied experiences. Street style photographers hound editors, influencers, buyers and aspiring fas


Mark Cross Bags Have Stolen My Heart
The seasons are changing and it seems that my personal taste is changing as well. I'm a self-proclaimed logo lover, but lately, I have been gravitating towards minimalistic bags made with superior materials. This change in my handbag preference has been gradual, but I believe the root of it to be Mark Cross handbags. Specifically, Mark Cross handbags on the arm of Kate Beckinsale, but I digress. The more I see Mark Cross bags online, the more I would like to have one for myself, the styles are...


Celebs Wrap Up the Venice Film Festival with Bags from Gucci and Salvatore Ferragamo
The Venice Film Festival concluded over the weekend, and I'm personally bummed. This festival in particular truly delivered in the bag department, and celebs never dropped the ball when it came to festival glamour. But there isn't any time to mourn, because New York Fashion Week is HERE, and it started last Friday. That's right, we're already four days deep into NYFW. September is truly the best month for bag-spotting. The post Celebs Wrap Up the Venice Film Festival wi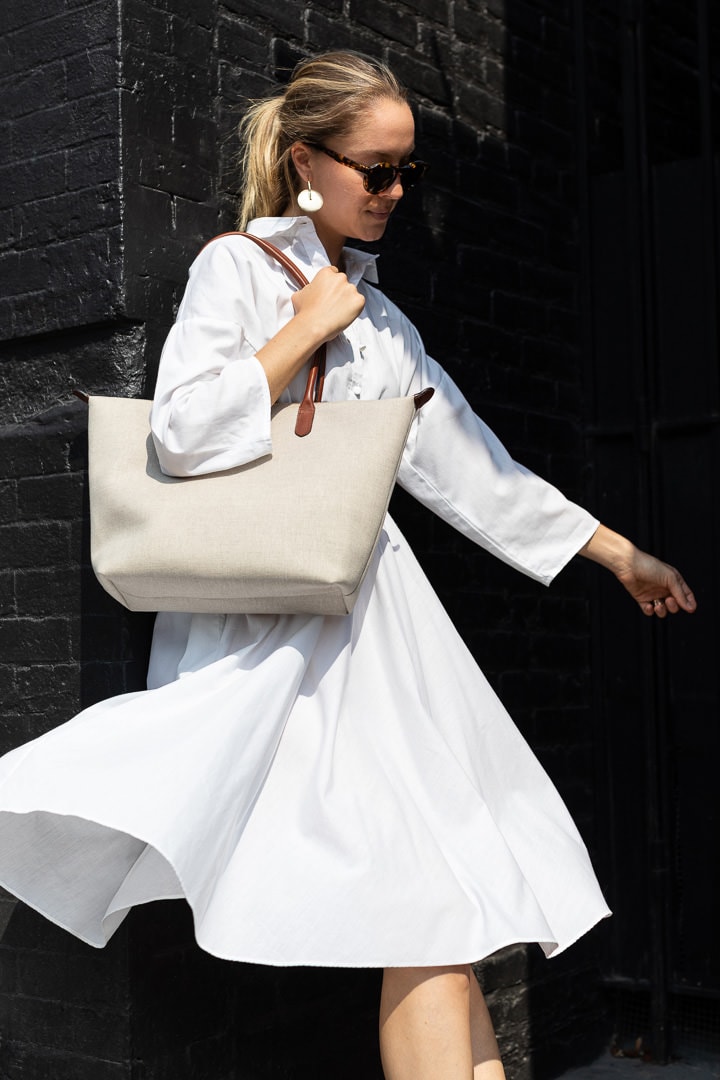 Sunday in Brooklyn with the Linjer Linen Tote
Last fall we introduced you to Linjer and gave you a peek at some of the bags the brand has to offer. In the short time since we first introduced you all to Linjer we've covered a few different bags. Linjer was built on the premise of creating high-quality, minimalist designs that don't cost an arm and a leg, and their designs and offerings reflect those principles entirely. While Linjer's leather bags are a bit more elevated, the brand also offers bags that are ideal for the e


Celebs School Us with New Bags from Balmain, Paco Rabanne and MZ Wallace
In case you managed to avoid all of your friends' "First day of school" pic posts, allow me to inform you that school is back in session! The parade of celeb mom school drop-offs and pick-ups has resumed! Celeb moms will be extra busy chauffeuring their celeb spawn back to school, and in the case of NYC celebs, they'll be even more visible than usual. Meanwhile, celeb fall fashion trends are coming at us fast, and a certain star-adorned designer cowboy boot is really taki


The 12 Best Bag Deals for the Weekend of September 6
Why is it that the week after a holiday weekend always feels so long? Though it started off pretty slow we've all finally made it to Friday and with Friday comes a whole slew of bag deals. We're getting to that weird time of year where the sales are few and far between. The pickings are pretty slim as fall fashion is in full swing and holiday sales are in the distant future. Regardless we dug around to bring you some fresh deals and steals because here at PurseBlog, it wouldn't


12 of the Most Wanted Bags for Fall 2019
In case you've been unaware the last few days, September is finally upon us, which means that the start of fall is quite literally a stones throw away. Pre-Orders for fall bags tend to pop up online mid-summer, so at this point new fall bags have been creeping up on us for sometime now. Though fall weather is not yet here, we've already got a pretty solid idea which bags are going to be everywhere when the temps do finally drop. Fall's new arrivals are, across the board, pretty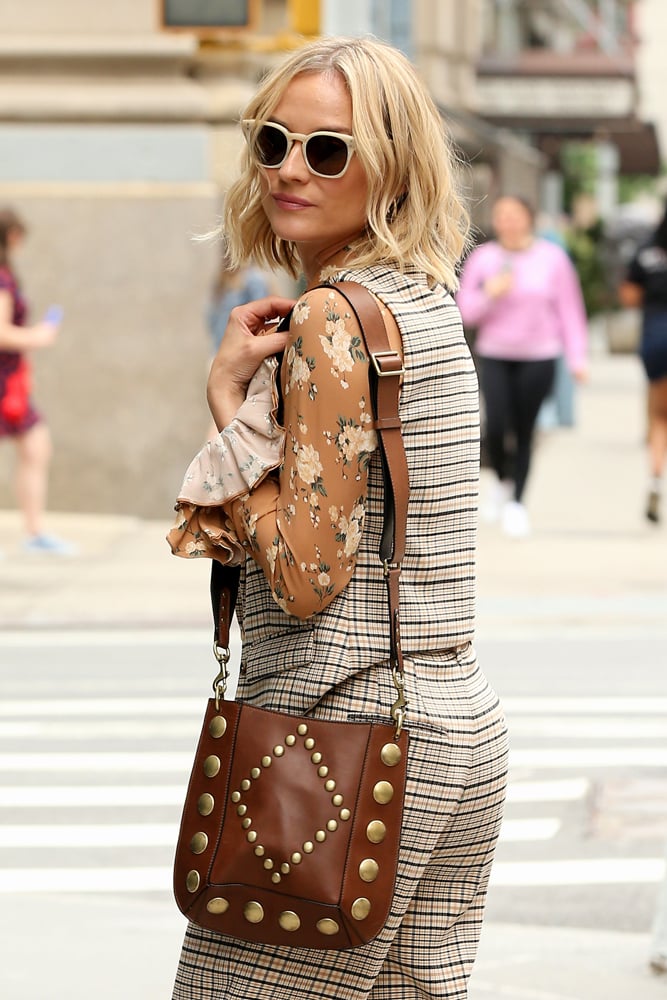 Why Aren't We Paying More Attention to Isabel Marant Handbags?
Earlier this summer I spotted celeb style star Diane Kruger carrying a studded, bohemian-chic cross body bag as she headed out of BUILD series in NYC. The bag was different from many celeb favorites of late, and though I could tell the leather was great quality and the bag appeared to be beautifully crafted, I couldn't immediately identify it. With a bit of digging I was able to positively ID the bag as the Isabel Marant Nasko Bag. Though the bag wasn't particularly my style as the o



The Archival Revival of the Gucci 1955 Horsebit
The dive into archives of storied House bags continues to be a major push for many brands, and much of this started with Gucci. Many of the bags we see have a twist from an archival design and the reintroduction of the Gucci 1955 Horsebit is no different, as it has been modernized with similar lines and forms that were first introduced six decades ago. When you're a handbag lover and hear the word Horsebit, you think Gucci. The Gucci Horsebit is part of the brand's genetic code, be


Purseonals: Louis Vuitton Rose Des Vents
Some of you may remember when I wrote about my purchase of the Louis Vuitton Rose Des Vents in early spring. Suffice to say, my post was met with quite a bit of discussion. Here's a quick refresher: The SA I purchased the bag from in Paris claimed this specific Rose Des Vents (pictured above) was "limited edition" and "one of only 47 ever made." Four months later, I now realize the SA was far from truthful. In fact, the tactics he used were shady at best, which is


Celebs Cruise Around Venice with Miu Miu, Dior and Chanel
The Venice Film Festival continues, but French designers (and not Italian) seem to be de rigueur on the Venice Lido (which is just what they call their fancy Venetian beach, BTW). There is a smattering of Miu Miu here and there. Meanwhile, back on domestic shores, celebs in NYC and LA are enjoying their last gasp of summer while carrying bags from 3.1 Phillip Lim, Frame and Chanel, of course. The post Celebs Cruise Around Venice with Miu Miu, Dior and Chanel appeared first on PurseBlog.


Celine to Launch Its First Fragrance Collection With Hedi Slimane
Since Hedi Slimane signed on as Celine's newest creative director a year and a half ago, many changes have taken place. Fans were promised expansion along with a new vision for the band, and now we've learned of Slimane's latest venture for Celine—fragrance. Nearly every major designer offers a scent or two, and fragrance is an important part of a brand's DNA. A scent is said to evoke a certain feeling, memory, time or place, and for a designer, it often embodies everyt...


I'm Tired of Logos, But Designers Aren't
It's no secret that designers are logo-crazed. We've seen them on our favorite bags, and we've worn them plenty. (I'm guilty.) And at least for now, the trend shows no sign of slowing. It's important to note that I'm not just referring to the small, shiny hardware-type logos found on Chanel Flaps or Prada Gallerias. Lately, we've seen more and more handbags with large, in-your-face logos, often coating a purse with a designer's name or logo acros


PurseBlog Beauty: the Tried and True Products I Simply Cannot Live Without
I've always been someone who loves to shop for beauty products. I can remember the first makeup kit that I begged my mom to buy for me in the 4th grade. It was Clueless themed from the TV show based on the hit film and included an aggressive shade of lime green eye shadow inside-ha! I've been somewhat of a beauty junkie ever since, and find testing new products and skincare lines to be a fun and easy way to pamper myself. I love researching different ingredients and products, so I spend a to...


Celebs Make Their Way Around the World with Bags from Fendi and Hermès
Nothing irks us more than a good mystery bag. Except, of course, when the mystery bag is carried by not one but TWO celebs within days of each other. Celebs are flooding Venice (possibly literally, what with the weight of all their gowns and luxury goods) and they are bewildering us with one new bag we can't ID. This bag was very conspicuously carried around the Venice Film Festival by two different Victoria's Secret models, so we can assume this is an intentional promotional push fr


The 11 Best Bag Deals for the Weekend of August 30
Technically September still gives us more summer days than it does fall days, but with Labor Day coming up this Monday it really feels like summer has come and gone. It's crazy, and even though I'm ready for fall temps and fall fashion, I am not ready to accept how fast time is moving! Lately it feels like in one blink of an eye one month is over. I've been checking out what's to come from designers this fall for a couple of months now, and though there are many bags I


CC 45: The High Maintenance Aficionado
This Florida gal has bags on her mind! Well, perhaps not right now, as all of us in Florida are currently busy scrambling for last minute hurricane supplies, with Dorian looming and due to pummel most of the state come Sunday… Enjoy this CC installment and don't forget to tell your own story at the link below. Take the Closet Confessionals Survey Now The Basics Age: 34 Gender Identity: Female Location: Florida Occupation: Manager Industry: Advertising Salary: $90,000 H


Alexander Wang Collaborates With Bulgari to Reimagine Its Iconic Serpenti Bag
Founded in Rome by a Greek silversmith in 1884 Bulgari is a brand that is rich in history and world-renowned for its Italian craftsmanship. Known first for its exquisite jewelry, the Bulgari family has defined a distinct style and reputation over its 135 years in business. Specific motifs and hardware pay homage to the house's roots, and one of the most iconic symbols of Bulgari is the Serpenti head. The Serpenti is an emblem of wisdom, symbolizing rebirth and vitality, and Bulgari was one


Why Luxury Brands Want to Resell Vintage Bags Themselves
One of my first luxury handbags was a stunning Prada hobo that I sat up until the wee hours nervously watching and bidding for on eBay. These days I indulge my vintage handbag habit on sites like The RealReal, which guarantees the authenticity of every bag their vendors put up for sale and offers a wide selection of vintage and on-trend items. I'm not alone in my passion for consignment shopping. The sixth annual resale report from Thread Up says one in three shoppers made a purchase from a ...


Pumpkin Spice Lattes Are Back at Starbucks and We're Celebrating With These Bags
Summer 2019 flew by in the blink of an eye, but I'm certainly not complaining because autumn is fast approaching, and it's my favorite season of the year. I have been eagerly anticipating its arrival as DC is known for being brutally hot and humid during the summer. Autumn is always a nice reprieve when the seasons change. Along with all of the fun changes in fashion that come with fall (think: boots, scarves, and oversized sweaters), I love autumn because I get to indulge in my favorite...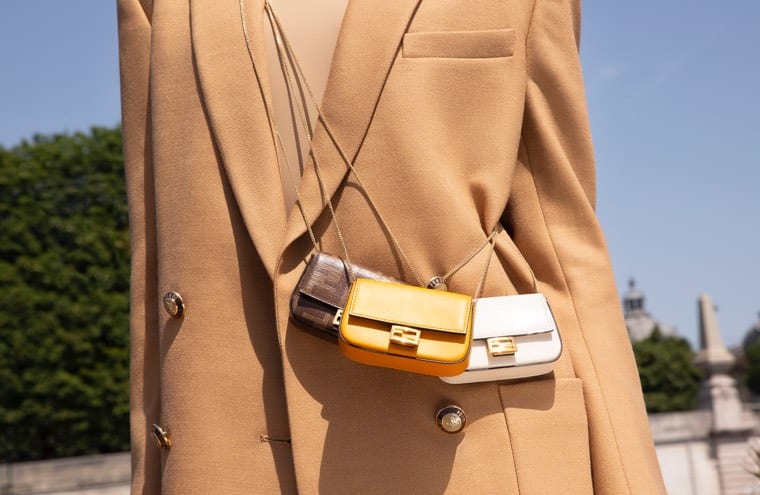 Fendi's Latest Baguette Bag Proves Micro Bags Aren't Going Anywhere
Just when we thought we'd seen the tiniest of mini bags, Jacquemus surprised us with an even smaller version of its ever popular and ever impractical Chiquito bag earlier this summer. Though not quite as itty bitty, Fendi is the next designer to cash in on the micro bag trend, introducing a baby version of its iconic Baguette bag. Meet the Fendi Nano Baguette. The Nano Baguette is available in a few different iterations. From smooth and patent leathers to Fendi's iconic double F c


Celebs Do a 90s Redux with Bags from Louis Vuitton, Marc Jacobs and Saint Laurent
Celebs are rapidly embracing more and more trends from the 1990s, and I swear the Hadid sisters are largely to blame. Nothing is more 90s than wearing sneakers with literally any outfit…except maybe neon floral patterns. Or denim jackets. Or oversized sweatshirts. Or high and tight ponytails. Or Marc Jacobs bags. There's a lot going on in here, and be warned: It's all pretty 90s. I apologize in advance if you find anything that reminds you of junior high triggering. The post


New for Pre-Fall 2019, the Louis Vuitton Boite Chapeau Souple Now Comes in Monogram Vernis
When Louis Vuitton first introduced the Petite Boite Chapeau it was an instant hit. Though a bit impractical, the bag sold out and was spotted on the arms of fashion's elite. Quick to capitalize on this popular shape, Louis Vuitton eventually released a more practical (and much more affordable) version called the Boite Chapeau Souple. As its name suggests ("souple" is French for "flexible"), this version is softer, but it's also larger and works well as a day bag. It also has...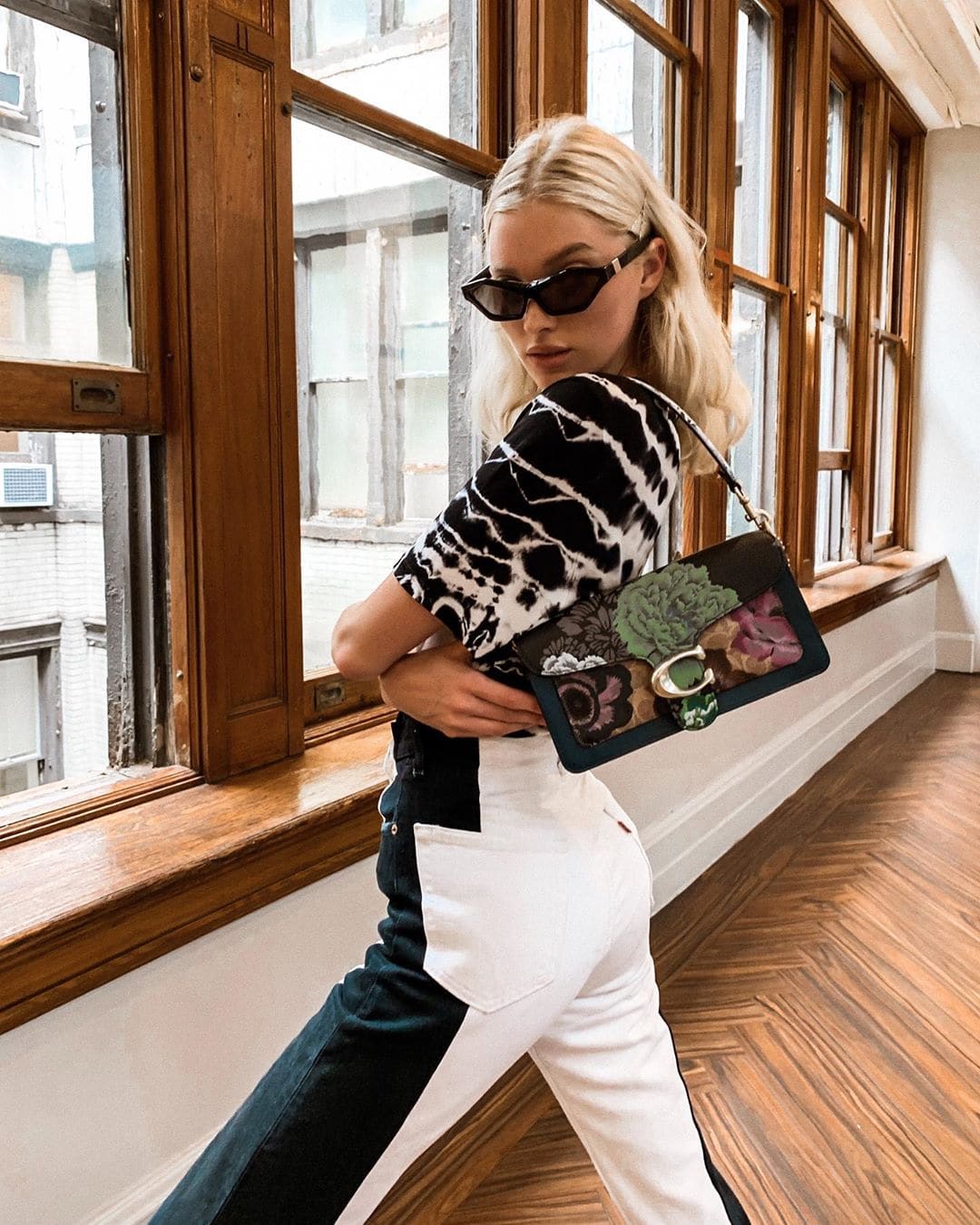 Are Designers Doing Themselves a Disservice By Using Influencers to Sell Bags?
Last summer, Dior relaunched its iconic Saddle Bag and immediately it was clear that the bag was going to be a big push for the brand moving forward. The re-launch of the Saddle Bag was obviously backed by a huge marketing budget as the re-launch of this once beloved it-bag was impossible to ignore. While the brand did use a few more traditional marketing outlets such as ad campaigns and online ads to market the bag, the biggest push towards selling the new Dior Saddle bag came from everyoneR


Puffer and Quilted Bags Are Making a Comeback This Fall
Another week, another new trend! As we approach fall, we have our eyes on another oldie but goodie style: Quilted and puffer bags. You know, the bags that basically double as pillows. That's what I like to call function at its finest. I digress, though. In all seriousness, quilted and puffer bags are making a comeback in a very big way this year. While Gucci, Chanel, and Saint Laurent have produced numerous leather quilted pieces in the last couple of years, we're now seeing designe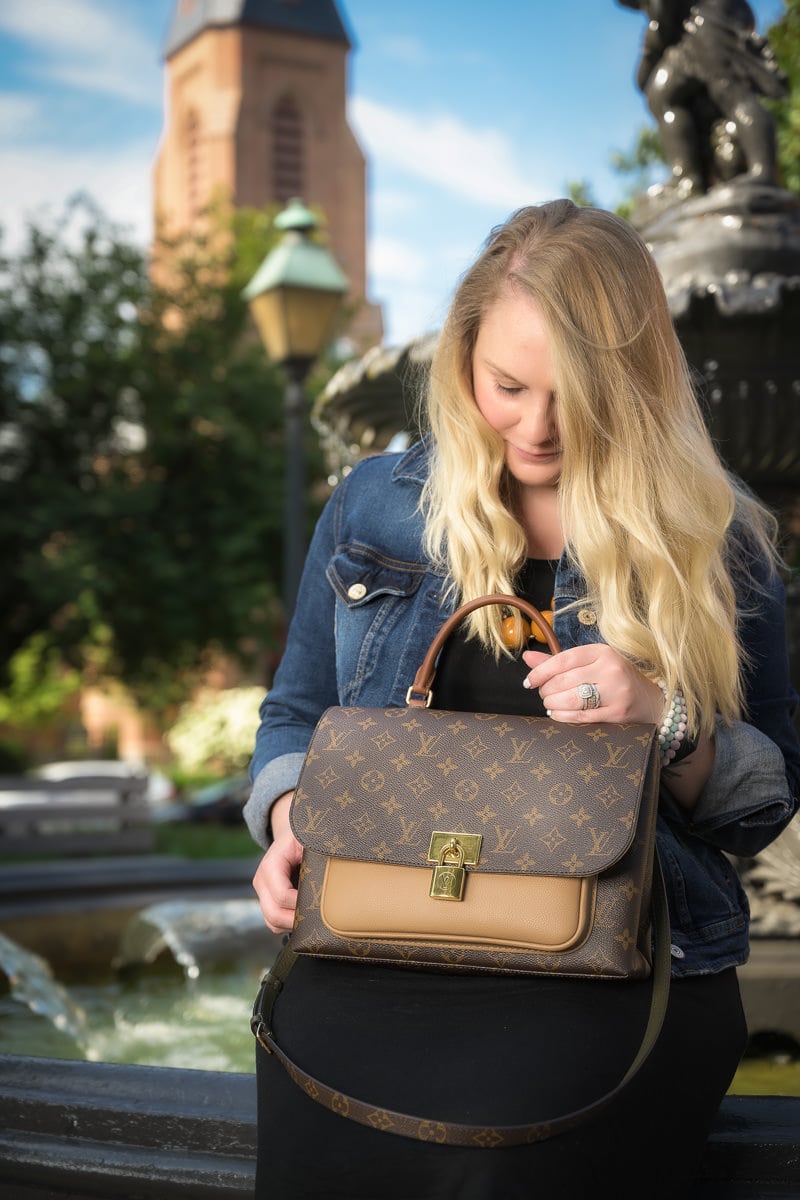 Pursesonals: Louis Vuitton Marignan
I shared earlier this summer that I was on the hunt for a Louis Vuitton Onthego during my trip to Paris. My search for an Onthego was a bust, but that didn't stop me from picking up another LV on my trip abroad. Prices in Paris are the best in the world for Louis Vuitton, so I knew I wanted to purchase a new bag while I was there. I mentioned that I went to several Louis Vuitton locations during the week, but was greeted with the friendliest sales associates and the least amount of shoppers at...


When Online-Based Consignment Shops Pop Up, We All Benefit
Thrift stores, vintage boutiques, and consignment shops are nothing new. But today, as more and more secondhand bag shopping moves strictly to the web (think ThredUP and Vestiaire Collective), I've noticed somewhat of a resurgence in brick and mortar consignment pop-ups, especially in major cities like New York, Los Angeles, and Miami. Some that come to mind are The RealReal, Rebag, and Fashionphile. Of the three, I first learned of The RealReal a few years ago, while I was exploring my


Celebs Look Somber with New Styles from Balenciaga, Coach and Bulgari
Celebs are not exactly full of smiles this week, but we all know style is a deadly serious business. Also, the world is a bit of a dumpster fire at the moment, so everyone gets a pass this week! We invite you to briefly distract yourself from 2019's endlessly terrible news cycle with some truly premium celebrity bag picks that include cutting-edge designs from Balenciaga and Bulgari (with an assist from Alexander Wang). Take your time, really. The post Celebs Look Somber with New Styles


Bigger Is Better: Oversized Bags Are In for Fall
PSA: There's a little more than a month left of summer. (I know…it's crazy.) As you soak up these last moments of sunshine and beach time, the team here at Purseblog is eagerly looking ahead at fall's latest and greatest trends. Among them? Oversized bags. Though totes and shoppers are nothing new, the upcoming season has them poised to be more in style than ever. That may explain why, over the last few months, we've seen bags such as the Dior Book Tote and the rec


Celebs Trek Around the World with Gucci and Hermès
TV show sets have been good to us in recent years. Younger has filmed in NYC for six seasons now, and with a Gossip Girl reboot on the horizon, we feel our cup runneth over. But Darren Star's new Lily Collins vehicle, Emily in Paris, looks particularly enticing as it films its first ten episodes in Paris. Like all Darren Star projects, this one demands much of its wardrobe department, and this week, it's even given us a good mystery bag. The post Celebs Trek Around the World with G


The Best Bag Deals for the Weekend of August 23
We're back from our annual PurseBlog summer break and we dove into this week head on. Though we did trickle out a few new posts last week we don't blame you if you missed us while we were away! Fear not, because we're back at it this week with a fresh new crop of bag deals, and a bunch of new sale bags popped up over the last two weeks. Summer is winding down and in the blink of an eye fall will be here, so now is the perfect time to purchase a bag that can easily transition fr


Pyramid Shaped Purses Are About to be Micro-Trending
Chanel's Metiers d'Art collection is one of the most ornate collections that the brand puts out, and back in December we got a first look at the 2019 collection, which is in boutiques now. As fans have come to expect from the brand, the collection was grand and elegant. Inspired by Ancient Egypt, plenty of embellishments and metallics were seen throughout, but the standout piece in the collection was a sequined pyramid-shaped bag. This mini bag is a true show stopper—it's both incre...


Hermès How-To: Building and Maintaining a Relationship with a Sales Associate
If you're a fan of Hermès, you know that there is always something new to obsess over. Sure, we all love and crave the Birkin/Kelly/Constance bag trifecta, but there is inevitably something more: the elusive rodeo (preferably in the PM "petit modele" size); the scarf in that magical colorway; the perfect-for-three-seasons twillaine cardigan; the exotic Collier de Chien bracelet; and so on. There are pieces that require a certain amount of work to obtain, and there are pieces that ...


I Just Discovered the Ultimate Bag Organization Hack
We all remember the bag that got away. For me, it's a shiny black Givenchy Antigona in medium. When I first came across it, maybe three years ago now, I immediately fell in love with the color, shape, and size. At first glance, it appeared practical and chic - a style I could effortlessly rock from the office to happy hour to the airport. That is, until I took a look inside. Then and now, the inside of the Antigona is comparable to a bottomless pit to, well, nowhere. And said problem is...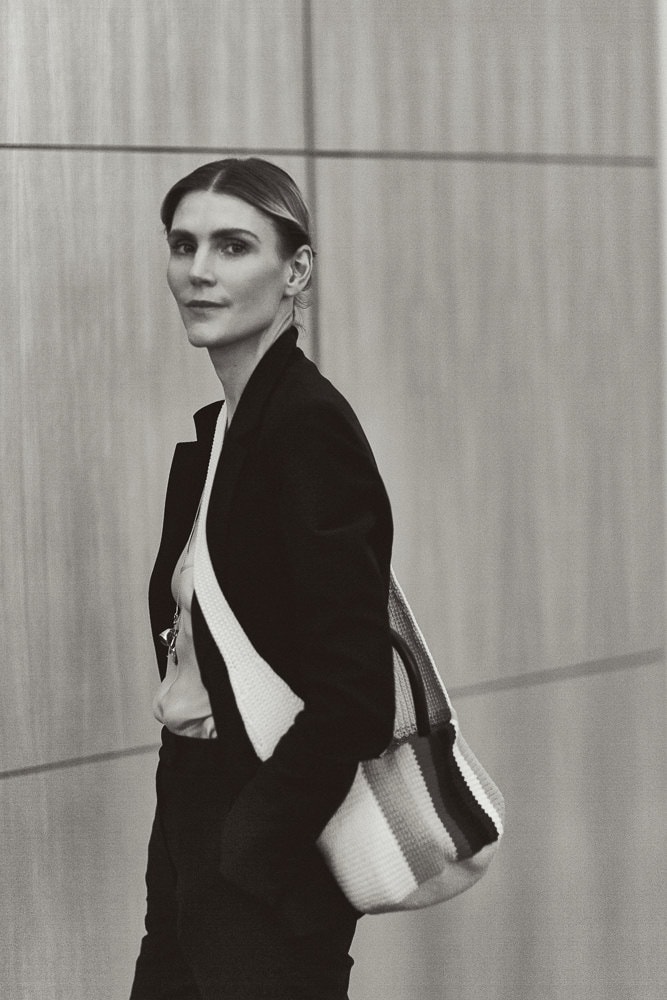 Gabriela Hearst to Open Her Online Handbag Sales
With more consumers focused on sustainability, it has become a luxury that few brands possess and many are playing catchup to try and achieve. This is not the case with Gabriela Hearst. The designer launched her eponymous line merely 4 years ago with luxury and sustainability in mind, and the result has been collections of ready to wear and accessories that wow those with a keen fashion eye while also showcasing extreme innovation of materials and design. Though Gabriela Hearst's major focus i...


Celebs Promote Exciting New Projects with Bags from Loewe, BOYY and Chanel
Some of my absolute faves are out and about this week because they have new movies or shows to promote. They all have way too much acting cred to be out in front of paparazzi cameras every single weekend, so you know that when they are called upon to appear before the press, they don't skimp in the bag department. And per usual, we also have our usual glut of famous people, currently attached to no projects whatsoever, just being famous and appearing in public! Not that we ever fault anyon


White Hot Bags to Score Before Labor Day
How is Labor Day less than two weeks away? Inquiring minds would love to know. Anyway, summer is almost over, which gives us little time until we have to pack away our warm-weather clothes for dark hues and cozy materials. Though that's exciting in some regards (who doesn't love chunky sweaters and suede booties?), it also means many of the lighter and brighter bags we've sported for the last few months should go back into their respective dust bags until next spring. Not s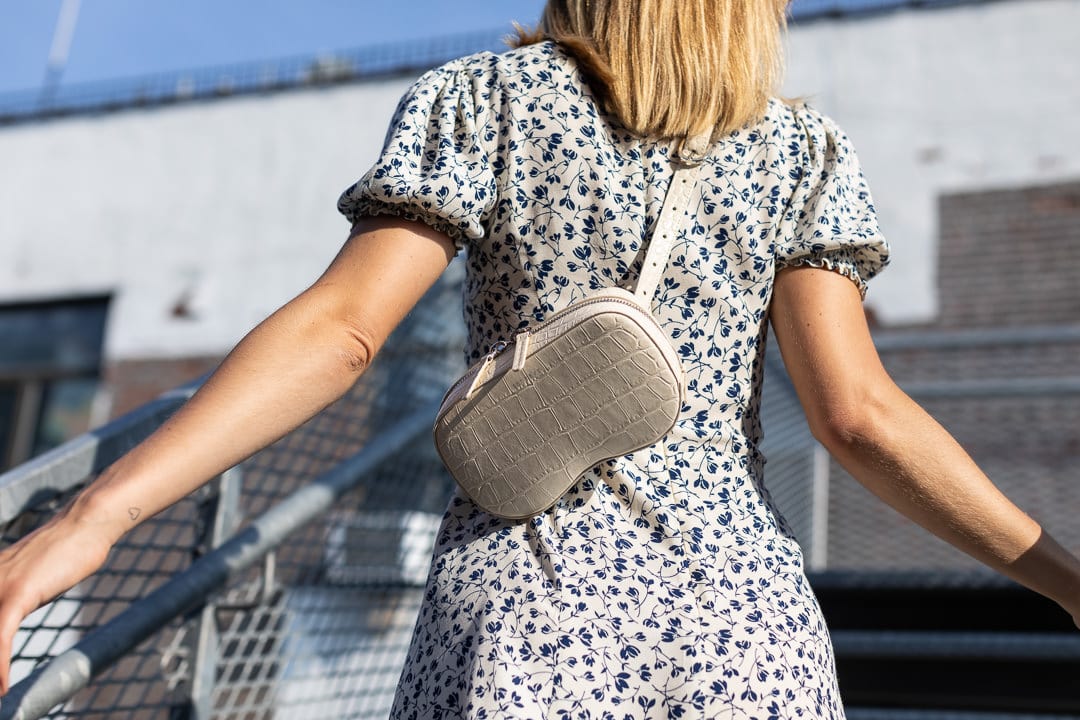 Purseonals: Senreve Coda Belt Bag in Dragon Cream
In the nearly 3 years since San Francisco-based new bag brand Senreve launched, we've covered the brand a fair bit. Megs and I both purseonally love and use certain styles from the brand which is why we've continued to cover its ever expanding line. Senreve's bags are simplistic in shape and pack a punch in both quality and construction. Recently we were introduced to a new line of bags called the Dragon Collection. This collection features most loved shapes in an embossed croc


I've Got Medea Bags on the Brain
Galeries Lafayette Haussmann is an iconic department store in Paris, and I would be remiss if I didn't recommend that you visit the exquisite building when you're in the City of Lights. Of course, the shops are full of beautiful fashion eye candy, but the 43-meter-high dome in the middle of the store is the complete show stopper that crystallizes it as a special Parisian landmark. The building is covered in ornate glass stained windows, and with its notable art deco decor, it's truly a si...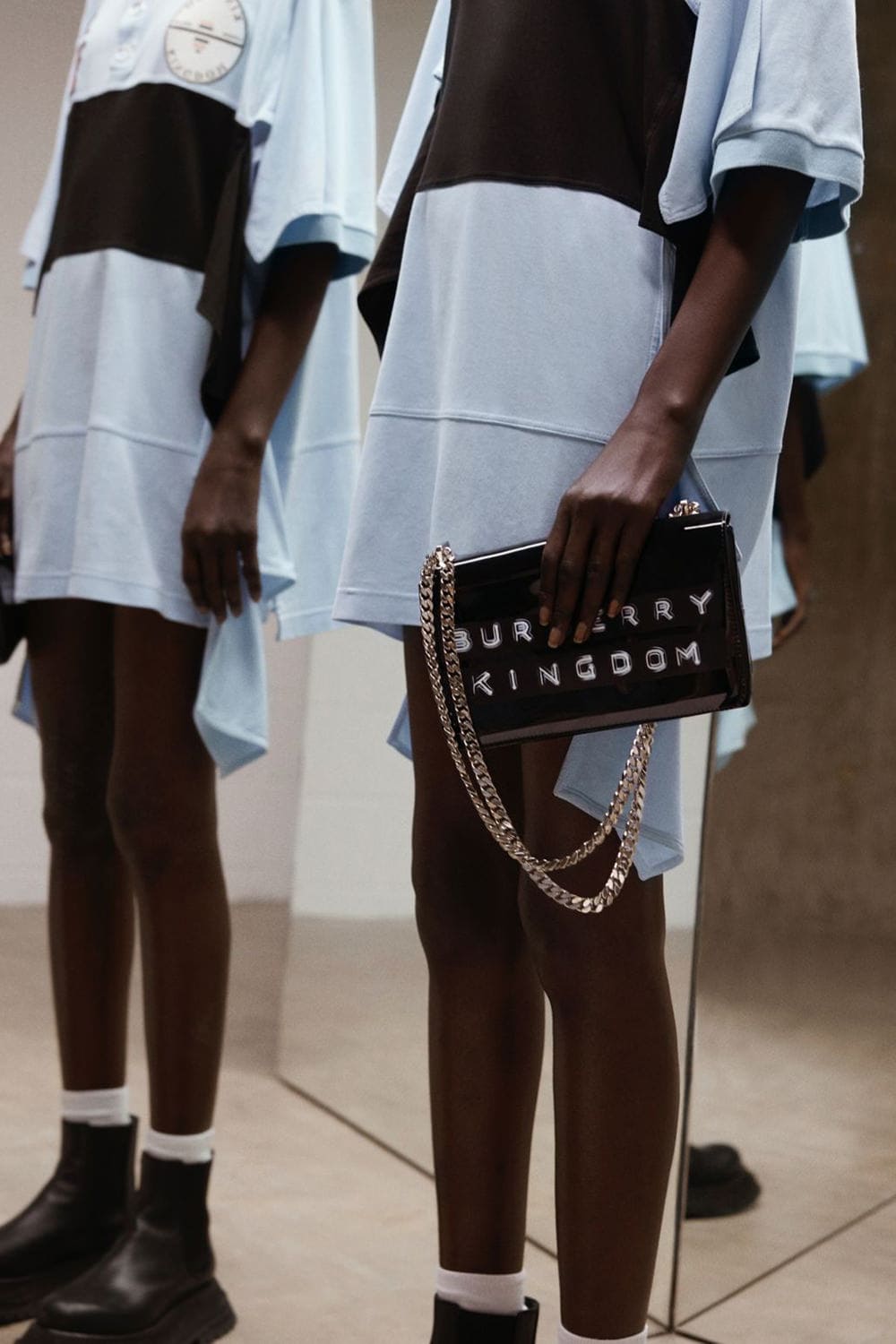 Introducing the Burberry Lola Bag
It seems that nearly every major fashion house has experienced a serious revamp in the last couple of years. From Chloe and Celine to Bottega Veneta and Givenchy, designer shakeups have been the norm in the luxury sector and handbag lovers have begun to accept these changes. Sometimes a designer will take successful elements from their predecessor and ease consumers into the change while others will come in hot and make big changes right out of the gate. Riccardo Tisci at Burberry took the latt...


These Gorgeous Handbags Are a Minimalist's Dream
I'm a self-proclaimed lover of logos and monograms, but I have recently been admiring minimalistic handbags. I don't see my love of logos or monograms going away any time soon, but I do feel that I should invest in a few high quality, tasteful, simple bags. I'm such a sucker for ornate details, but I find the lack of ornateness to be a detail all of its own. There is something beautiful and special about a bag that is only memorable and covetable because of the quality of the materials and...


Nikki Bella was not anywhere on my radar until she started gracing our virtual pages more and more frequently about six to eight months ago. Nikki has already had a long, storied career as a pro wrestler and "Diva" for the WWE. She and her twin sister Brie, known as "The Bellas," are both now retired from wrestling, and Nikki has leveraged her WWE fame into reality stardom and a stint on Dancing with the Stars and the celeb edition of American Ninja Warrior. She also cont


Purseonals: Polène Numéro Un Mini
I only like to write Purseonals once I've carried a bag for a while, that way I really know how it works. That means any bag that falls into this category has really been worn and carried by me and the review I give is as real as it gets. I'm behind on Purseonals because to be honest I haven't been changing my bags out much. Toward the end of my pregnancy I was tired and swollen and the first few months with Vaughn have been spent with me carrying a Prada Nylon backpack (review


I feel like many of us can recall times in our lives where we used retail therapy as an escape from real life, in one way or another. The thrill of the chase, coupled with the exhilaration of the new make for an intoxicating experience that distracts and numbs our pain, even just for a little while. Today's confessional was submitted by a Canadian executive assistant who had a period in her mid-20s during which she fell down that deep rabbit hole until she hit rock bottom. Fortunately, she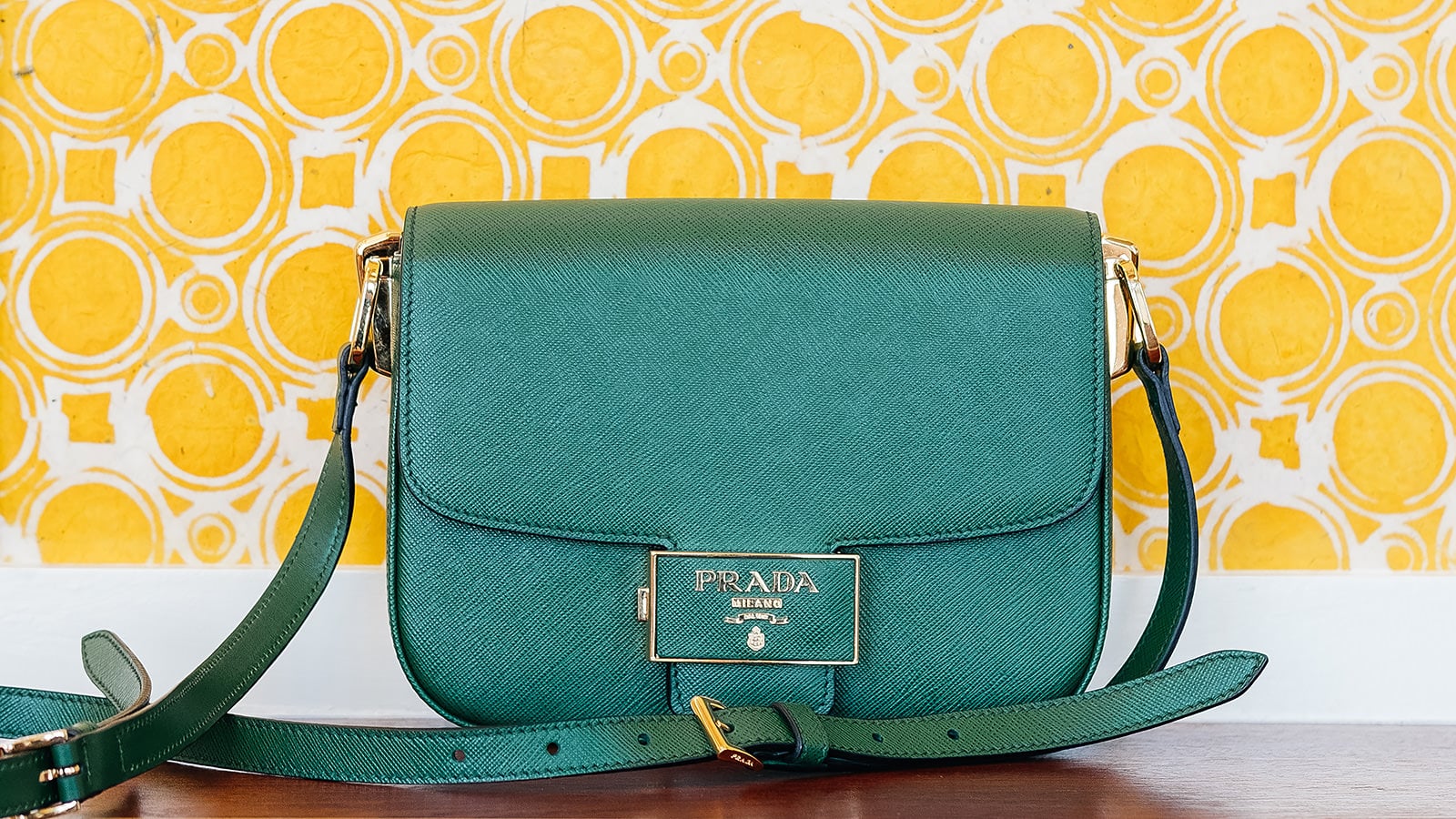 Sophisticated, Timeless, and Pretty: Introducing the Prada Emblème Bag
While every major house introduces seasonal designs that showcase a typically more trendy appeal for that given time, the classic elements from a house are what originally drew us to the brand and set the brand apart. When you think of Prada bags, you undoubtedly think of their famed Saffiano leather. I know I do. Prada utilizes one of the most beautiful Saffiano leathers, which is very durable and makes the Emblème easily recognizable as Prada from a distance. Prada Emblème in Billardo I h...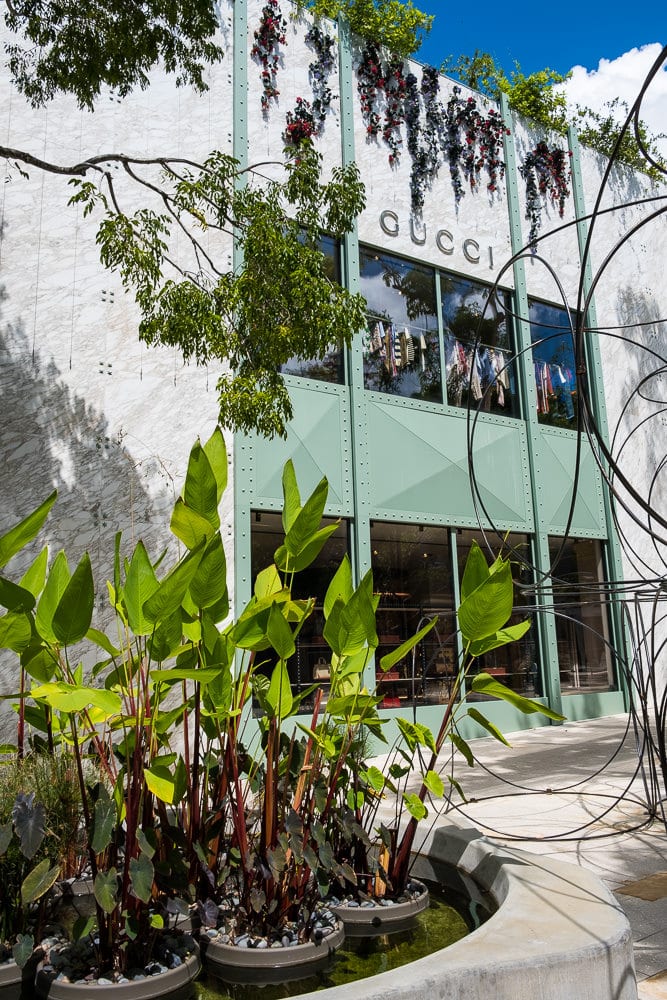 Your Ultimate Shopping Guide to the Miami Design District
When was the last time you visited Miami? If it's been more than a year, you must (yes, must!) start searching for airline tickets. Why? Simple: The Miami Design District is one of the best luxury malls in the country, and if you're swooning over a bag, you'll have the time of your life purchasing it there. When you think of South Florida, especially Miami, you probably envision endless beaches and a year-round spring break atmosphere. While that reigns true in some areas, Mi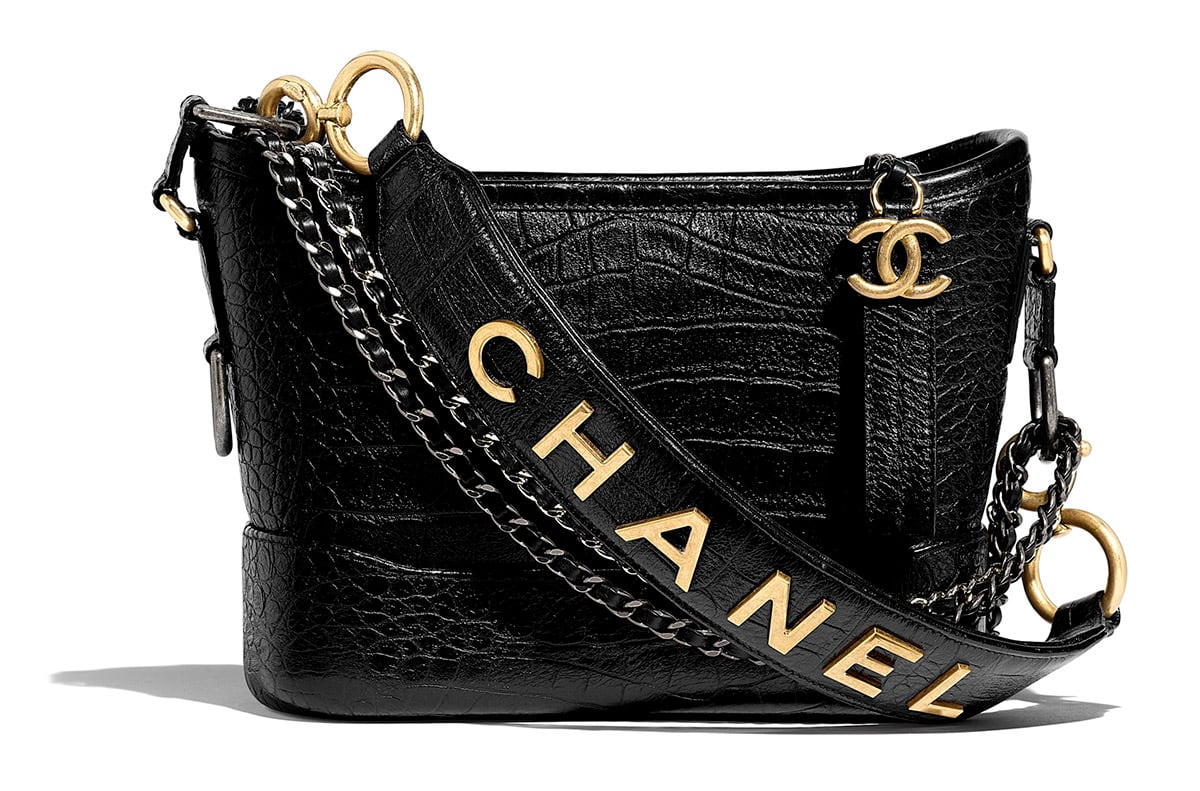 Chanel Comparison: The Coco Handle Flap or The Gabrielle?
Let me preface this by saying: I know we all have our opinions on Chanel. Some vehemently disagree with acquiring new bags, while others can't get enough. (I fall with the latter half.) Between hasty price increases and quality discrepancies (I haven't experienced any, but I'd be remiss not to mention them, especially when a group on tPF is adamant they exist), anything Chanel is quite the conversation starter, to say the least. Putting that aside, I've been thinking a l


Today's (slightly delayed) confessional was submitted by a psychiatric nurse from the Land of the Thousand Lakes. Her small collection is ever revolving, a new bag in would mean an old bag out. She doesn't permit materialism to weight her down; in best Marie Kondo form, if something doesn't spark joy, she gets rid of it. This confessional is the antidote to the typical western approach to consumerism, which is why we chose it as this week's CC installment. Enjoy and don


Loving Lately: 12 Items On the Top of My Fall 2019 Wishlist
I'm sure I mentioned this last fall, and the one before that, but fall continues to be my favorite season to shop for. I lust after a closet refresh in the fall more so then when the temps start to heat up. It's fun to play with fall fashion because you can layer more, which makes dressing almost like a math equation. You can subtract one piece and replace it with another for a totally fresh look, which is exactly why I like to spend a little extra on both staple pieces that make a


Celebs Bowl, Golf and Hustle with Bags from Prada, Louis Vuitton and Louboutin
There's a lot of Louis Vuitton love happening this week. Tiffany Haddish has something exciting to show us from Louis Vuitton, and we have a healthy dose of man bags. Spoiler: Half of them are Louis Vuitton. It's been a while since we had a serious surge of celeb Louis Vuitton endorsement, so I suppose we're overdue. But there are also treats from Prada, Christian Louboutin and Balenciaga within. Let's review them together, shall we? The post Celebs Bowl, Golf and Hustl


The 12 Best Bag Deals for the Weekend of August 9
Another Friday is upon us which means that we've got a fresh new crop of bag deals for your viewing (and shopping) pleasure! Some of the deals we found are hard to believe, so you better go and snag them before someone else does. There's a decent amount of variety happening over in the sale section, and we found bag deals from a slew of different designers. Every bag brand from Givenchy and Fendi to Marni and our contemporary favorite Manu Atelier have something to offer up now that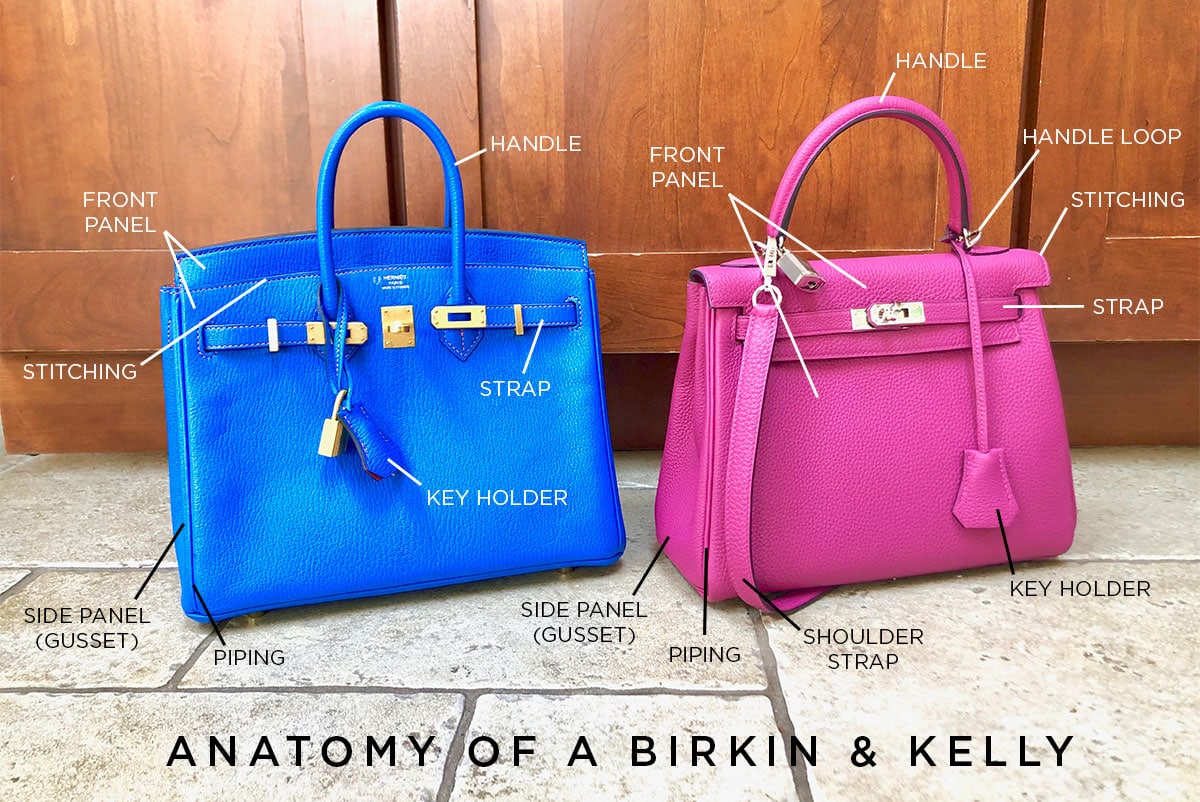 The Hermès Special Order Process, Explained
Perhaps you've jumped through all the hoops, made all the purchases, and already own a Birkin or three – or maybe you just have an amazing relationship with that stellar Sales Associate (SA) you've really connected with. No matter how it happens, you find yourself hearing those magic words you've hoped for: your SA invites you to place a Special Order. What is a Special Order at Hermès? Also known as an "SO", or occasionally an "HSS" (for Horseshoe Stamp, the foil stamp...


Introducing the Louis Vuitton Monogram Jungle Collection
Earlier this year Louis Vuitton introduced an exaggerated version of its iconic Monogram print. Aptly named 'Monogram Giant,' the print was first introduced in a capsule collection for Summer 2019 in bold, bright colors. Soon after the Monogram Giant bags were also introduced in the brand's classic brown color way. The Monogram Giant print continues to be a big push for Louis Vuitton as the massive print was just given an animalistic makeover for the brand's latest capsul


I'm Head Over Heels for Prada's Daino Bags
Ten years ago marks the release of one of my favorite films, The Proposal. If you haven't seen it, it's an excellent rom-com that I cannot recommend to you more. It's the perfect choice if you're in the mood for an easy, feel-good movie. I loved it so much that I saw it twice in theaters, which is hard to believe was a decade ago. The movie boasts a star-studded cast, with none other than Sandra Bullock, Ryan Reynolds, Betty White, Craig Nelson, Denis O'Hare, Mary Steenburgen, Malin Ak...


Celebs Flaunt Their Whitest White Bags from Gucci, Dolce & Gabbana, and Saint Laurent
As a rule, I avoid bringing a lot of white into my wardrobe, because I feel like wearing white is just inviting chaos and mayhem into your life. And by "chaos" I mainly mean unruly ketchup stains, muddy hems or nasty scuffs. Maybe it's just me? Celebs are totally free of this sort of neurosis, of course, and are unafraid to sport blindingly white designer bags in public. In other news, we may require your expertise to crack the case on not one but two enticing mystery bags. Can


I Think Fanny Packs Are Here to Stay—Here's Why
There was a time when backpacks weren't a staple in every bag lovers wardrobe, rather they were a shape that was considered on the trendier side. Every season, designers would have one or two backpacks amongst their lineup of bags, but their popularity would fall off depending on the year. Sometimes they would be more prevelant than others, but now it's clear that backpacks are here to stay. They have consistently been popular amongst bag lovers the last couple of years, and theyR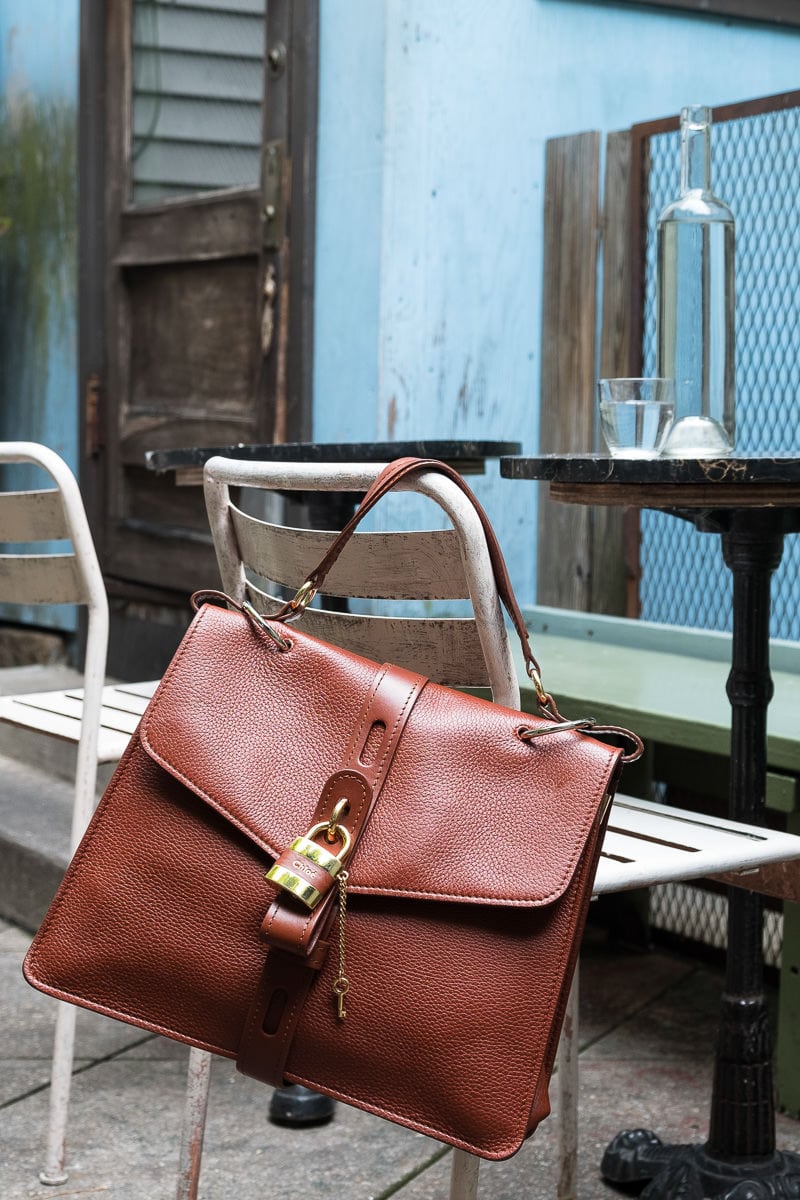 When I think of Chloe I immediately think of the many iconic bag designs of the past. In the last few years or so, Chloe has churned out bag hit after after bag hit, and now, starting with Pre-Fall 2019, Chloe introduces a new, but old bag which is giving us some serious nostalgia. Bag lovers will remember the ever-popular Chloe Paddington Bag, which was one of the most iconic it-bags of the past. The Paddington Bag was known for its exaggerated lock detailing, and now it's been reimag...


We've Got Pics + Prices of Our Favorite Chanel Pre-Collection Fall 2019 Bags
When it comes to Chanel, devotees of the brand are lucky—new bags hit the site more often than that of other designers. Not all brands do pre-collections, and most of the ones that do don't offer as large of a selection as Chanel does, and they often don't present them with as much fanfare either. The pre-collection line is now in stores and these bags have arrived to fill the gap until the runway collection hits boutiques in September. For the most part, pre-collection bags are p...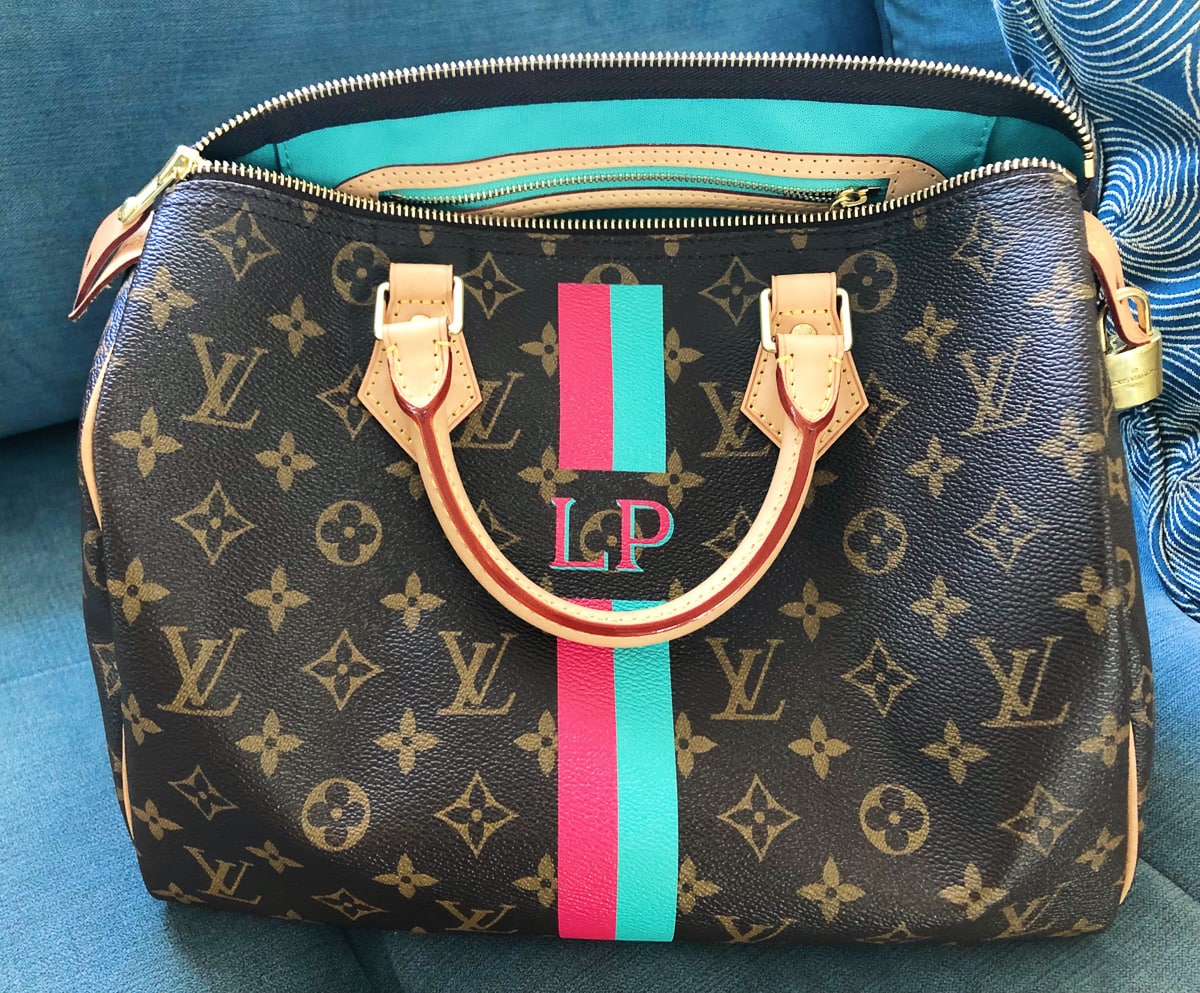 My Mon Monogram Speedy Handles Wear and Tear Like a Champ
Earlier this summer, I shared that I'm a big fan of Mon Monogrammed bags. I purchased my Mon Monogrammed Speedy 30 from my local Louis Vuitton boutique two and a half years ago, and from the moment I brought the bag home with me, I was worried about how well the painted monogram would hold up with normal wear and tear. Speedies don't have protective feet on the bottom, so I have been particularly worried about the paint on the bottom of my bag. I have a personal rule against putting my bag o...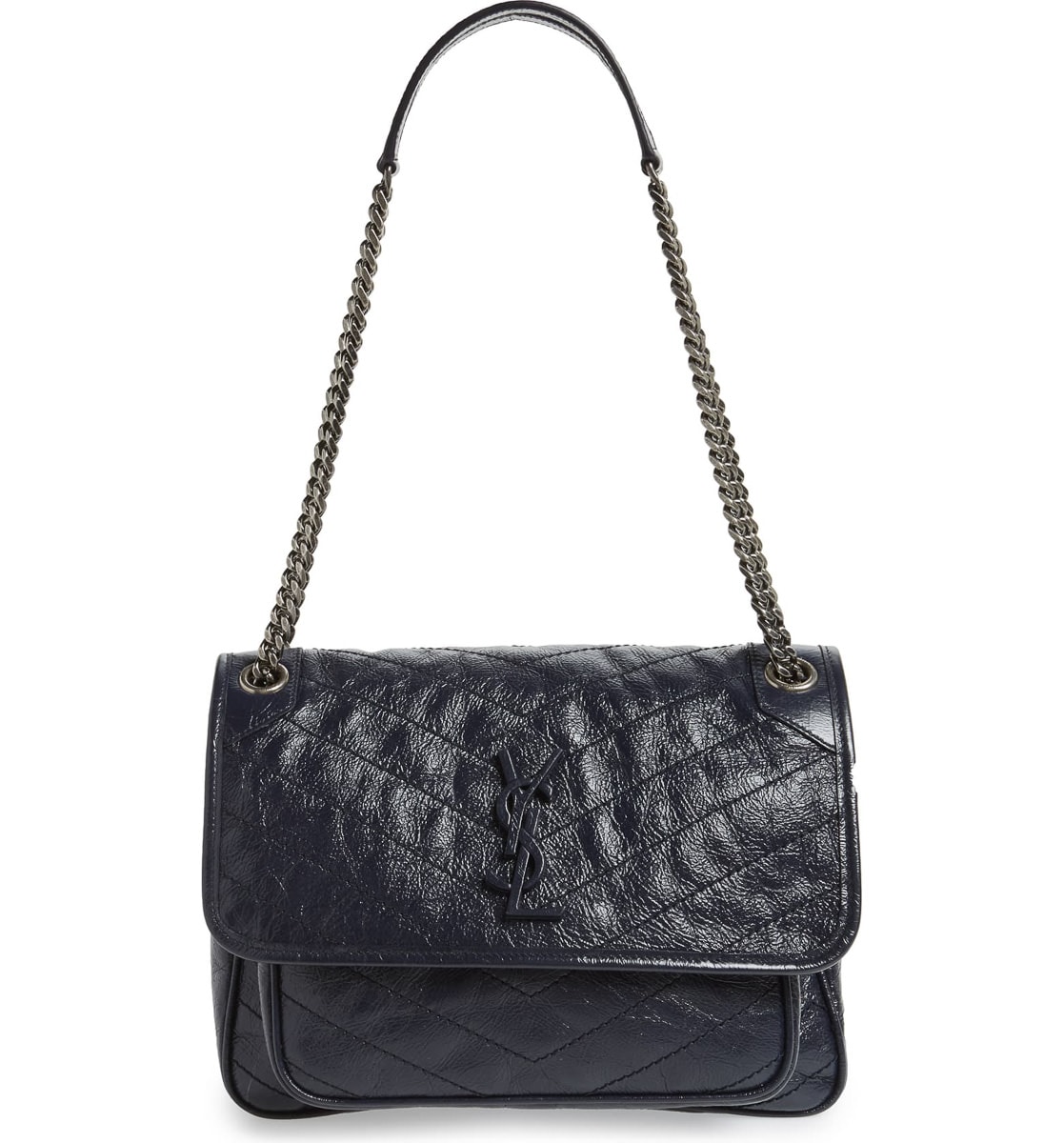 What Do We Think of the Saint Laurent Niki Shoulder Bag?
A couple of weeks ago, a fellow bag-loving friend of mine sent me a photo of herself with a Saint Laurent Niki Monogram YSL Large Flap Shoulder Bag. I'm embarrassed to say, but at first I had no idea what the bag was. Of course I knew it was Saint Laurent, thanks to the large YSL logo, but the rest was a mystery. A few minutes later, she sent a follow-up message that read, "I just bought it!" For the next hour, I did a deep-dive into all I could find online about the style. H


Celebs Carry Gucci and Goyard in London, Loewe in NYC, Hermès in Tel Aviv
This week: I've never noticed how Emma Roberts and Ashley Tisdale are actually quite similar looking. Their taste in bags is markedly less so, however. Julianne Moore can rock a pink Givnechy power suit like no one else, and Jennifer Lopez is jet-setting around Israel and Russia for a mini concert tour series in a less-traversed tour circuit of the globe. I expect more pics from that (and more tiger jumpsuits and croc Birkins, fingers crossed) will be forthcoming. The post Celebs Carry G


I'm Getting Tired of Influencer-Backed Minimalist Bag Brands
Way back in 2012 when Instagram was in its early years, the term 'influencer' wasn't even a thing. At the same time, two New York City based designers founded a minimalist bag brand known for its high quality Italian leathers and simplistic designs. Mansur Gavriel was born at the perfect time. Brands were beginning to realize the power of social media marketing and Mansur Gavriel was able to capitalize on the social media boom. Mansur Gavriel's Bucket Bag was an instant


Bachelorettes, Actresses and Socialites Carry Gucci and By Far
It's officially August, and celebs are dressing accordingly for the dog days of summer. We're seeing more skin, and suddenly, a lot more Gucci. But more importantly, one of our featured celebs (and beloved bag enthusiasts) has recently remarried and is having a wedding ceremony in Capri this week, completely unbeknownst to me! I guess my invitation got lost in the mail. This has been quite a summer for lavish, European celebrity weddings, and I am loving it. The post Bachelorettes,


The 10 Best Bag Deals for the Weekend of August 2
August is finally here and I can guarantee you one thing, the new arrivals just can't beat the steals that are in the sale section right now. Sure, the fall handbag arrivals are tempting, and there's nothing like a shiny fresh new bag to make you smile, but you certainly can't beat the deals that are continuously popping up in the sale section. One of my favorites is the brown Marni Leather tote. I love this color because it's a great year round tone, and I would love to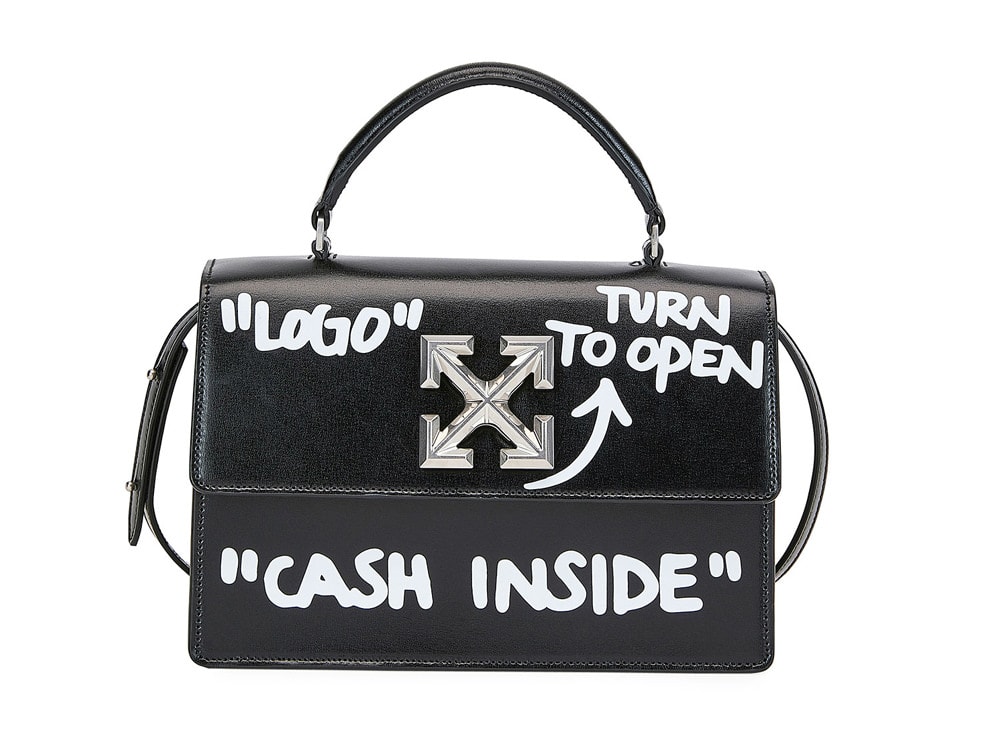 Gucci Once Again is the World's Top Luxury Brand
Every quarter, Lyst releases a report, called the Lyst Index, which analyzes the online shopping habits of shoppers around the globe. The report analyzes data from Google searches, sales, as well as other important markers such as brand and product social media call outs plus engagement stats worldwide. The report is issued quarterly, meaning it takes into account data from a three month period. The latest report issued for Q2 covers April, May and June. For Q1, Virgil Abloh's wildly pop


Today's confessional comes to you from a sales manager in her mid-40s from Pennsylvania's state capital. Unlike the CCs we published recently, this one does not excite with controversy, but rather delivers a wholesome account from someone who overcame great personal tragedy, gets inspired by other PurseForum community members and generally keeps her life, spending and priorities well balanced. We want to hear your story! Fill out the questionnaire at the link below: Take the C


Get a Peek at Louis Vuitton's Fall 2019 Bags in This Brand New Campaign
Louis Vuitton released its Fall/Winter 2019 ad campaign late last week and we're smitten. A few new shapes were featured as well as new iterations of shapes from previous seasons. As we've come to expect from fashion brands these days, there was no shortage of mini bags, and the brand's iconic monogram was pictured throughout as well. The stylistic details of the collection also include patchwork, patterns and interesting layering. Overall the collection is said to express Nic


These Breakfast at Tiffany's Inspired Bags Are on My Wish List
I recently read an incredible book called The Seven Husbands of Evelyn Hugo by Taylor Jenkins Reid. The book immerses you into the world of old Hollywood and is full of scandal, glitz, and glamour. I devoured it from cover to cover in one sitting—it was just that good. In fact, it was one of the best books I've read in a long time (and I read a lot). Since the novel swept me away into the world of old Hollywood, I've been inspired to watch some classic Hollywood films as a result. Breakfas...


Has Fashion Become More Unattainable Than Ever?
As a pre-teen and teen girl growing up in suburban New York, the fast paced world of fashion was so close that I could taste it. I dreamed of the day when I was old enough to work in fashion and live in New York City. From a very young age I could picture myself catching a yellow cab with a newly purchased designer handbag dangling from my arm. And, as silly as it sounds, I often feel like I was born to do what I do now. Aside from a couple of distant relatives that I only saw once or twice a


Celebs Hit the Beach and the Streets with Dior and Staud
If there is a summer "IT" bag, it is now, unquestionably, the Dior Book Tote. I have never seen designer canvas totes in such quantity in the last decade. They are perfectly sized for sitting atop your rolling suitcase and even functioning as an overnight bag. And while celebs tend to favor the "Oblique" logo-patterned ones, Dior already offers a myriad of playful embroidered versions, all with very Dior-appropriate price tags. The post Celebs Hit the Beach and the Stre


Back to School Cool — 12 Backpacks to Start the School Year in Style
August is, quite literally, just around the corner, and as we turn the page on a new month much of the country is already preparing for a new school year. That means one very important thing if you're into handbags—it's backpack season. This is the time of year where new designs are popping up all over. Lucky for us though, backpacks are no longer just for the hallways but rather they've transcended from trend to wardrobe staple. It's easy to see why backpacks have st...


Is Your Hermès Birkin or Kelly Truly an Investment?
As fans of fashion and lovers of accessories, we plan, plot and splurge on things that give us aesthetic joy and enhance the way we present ourselves to the world. To justify what may be over-the-top purchases, we come up with various explanations as to why these purchases are ok – and when it comes to Hermès, one such explanation may be "it's an investment". While an accessory like a scarf or belt may be an investment in the aesthetic sense – an investment in oneself – ...


I'm Considering Paying Double the Retail Price to get my Hands on Louis Vuitton's Onthego
When Louis Vuitton released the Monogram Giant Collection, I was instantly smitten. I'm a Louis gal through and through, and this collection has been checking all of the logo-mania boxes. I became particularly obsessed with the Onthego tote bag, and quite frankly haven't been able to get the dang bag off my mind ever since. The Onthogo is quite large, measuring L 16.1 x H 13.4 x W 7.5 inches. You can easily fit a laptop, book, scarf, wallet, sunglasses, and any other belongings you like to c...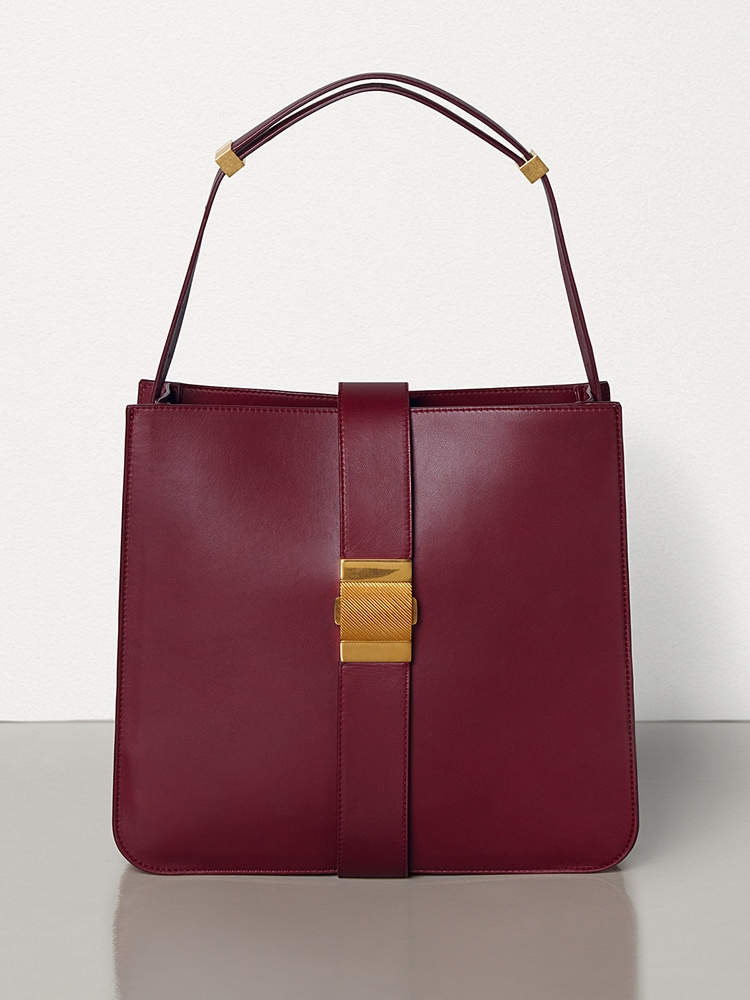 This New Bottega Veneta Bag is Giving Me Old Celine Vibes
About a year ago it was announced that longtime Bottega Veneta creative director Tomas Maier would be replaced by young designer Daniel Lee, an alum of Balenciaga, Maison Margiela, and most notably as director of RTW at Celine under the direction of Phoebe Philo. The move was not entirely shocking as parent company Kering aimed to modernize and hiring a fresh-faced new designer would target a younger customer base. Earlier this year Lee presented his first runway collection for the brand, and it


PurseBlog Asks: What's Your Favorite Bag Style?
I have a confession to make: When I first started my collection, I was a little shortsighted. My goal was comparable to a math equation: acquire as many classic and timeless pieces without going over my allotted "bag fund" budget. A Birkin (at this point, at least) was out of the question. Same with a Kelly. But, high up on my *somewhat* realistic list was a Prada Galleria Medium Saffiano Leather Bag, a Valentino Rockstud Leather Tote, and, of course, a Chanel Classic Flap. When I t


Celebs See Stars with Bright Red Bags from Prada and Frame
Starlets of the past and present gathered to pay homage to the producer/director Kenny Ortega, who brought us 90s classics like Hocus Pocus and Newsies, as well as more recent Disney fare that I'll never watch, because I'm not a mom! (Anyone involved with Hocus Pocus deserves a Hollywood Star though, in my humble opinion.) Outfest in LA brought Kate Walsh back into the spotlight for a hot sec, and other than that, we just have a bunch of celebrities wearing sunglasses and slyly smili