Ryan Pressly To Undergo Knee Surgery, Miss 4-6 Weeks
The Astros have placed right-hander Ryan Pressly on the 10-day injured list, amidst a series of roster moves.  (MLB.com's Brian McTaggart was among those to report the news.)  Astros GM Jeff Luhnow told Chandler Rome of the Houston Chronicle and other media that Pressly will miss four-to-six weeks after undergoing arthroscopic knee surgery. Infielder Jack…


D'Backs Notes: Ray, Lamb, Ahmed
The latest from Arizona… Robbie Ray threw a bullpen session on Tuesday and is on track to be activated off the injured list when first eligible on Sunday.  (Nick Piecoro of the Arizona Republic was among those to report the news.)  A lower back spasm sent Ray to the IL on August 15, and while…


Dodgers Notes: Ryu, May, Jansen, Stripling, Hill, Verdugo
Hyun-Jin Ryu has been one of baseball's best pitchers this season, and with a trip to free agency pending, MLB.com's Mark Feinsand speaks to several rival executives about how Ryu will fare on the open market this winter.  It should be noted that Ryu sidestepped a chance at free agency last offseason by accepting a…


Minor MLB Transactions: 8/22/19
The latest minor moves from around baseball…. The Rangers announced yesterday that right-hander David Carpenter has been assigned outright to Triple-A.  Carpenter was designated for assignment on Monday, and thus must have cleared waivers before being removed from the Rangers' 40-man roster.  This is the second time Carpenter has been DFA'ed and outrighted this season,…


Astros To Promote Abraham Toro
The Astros are calling up third base prospect Abraham Toro, according to reporter Jacques Lanciault (Twitter link).  As noted by The Athletic's Jake Kaplan (Twitter link), it isn't yet known what corresponding moves will be made to create room for Toro on either the 25-man or 40-man rosters. As Kaplan observes, the promotion is rather…


Quick Hits: International Prospects, Rosario, Defense
The Reds have absorbed their share of tough losses this season, but none compare to how the Cincinnati Red Stockings dropped a 5-3 result to the Louisville Colonels on this day back in 1886.  Louisville's Chicken Wolf hit a game-deciding inside-the-park home run, though Cincinnati outfielder Abner Powell can be excused for failing to properly…


White Sox Activate Yoan Moncada
The White Sox have activated Yoan Moncada from the 10-day injured list, as per a team announcement.  Outfielder Ryan Cordell was optioned to Triple-A yesterday to open up a spot for Moncada on the 25-man roster. Moncada was in the midst of a breakout season when he was sidelined with a Grade 1 hamstring strain…


East Notes: Nola, Stroman, Dansby, Riley, Deivi, Lowe
As the Phillies quest for a playoff berth intensifies, manager Gabe Kapler looks poised to increase his ace's workload in hopes that Aaron Nola can carry the team to the promised land. As Jim Salisbury of NBC Sports writes, the Phillies are considering starting the 26-year-old Nola every fifth day for the stretch run, regardless of intervening…


Eddie Rosario Day-To-Day With Hamstring Tightness
After Twins outfielder Eddie Rosario left today's game early, Do-Hyoung Park of MLB.com reports that the move was simply precautionary, and that Rosario is day-to-day with hamstring tightness. The 27-year-old Rosario was pulled from Wednesday's matchup with the White Sox prior to the sixth inning after going hitless in his first two times at-bat. With…


Russell Martin Discusses Possible Retirement
Dodgers catcher Russell Martin is in the midst of his 14th and what could be his final Major League season, as the impending free agent told Sportsnet.ca's Shi Davidi that he might consider hanging up his spikes if he can't land with another contending team this offseason. "I know I can do it physically. It's…


AL Central Notes: Abreu, Duffy, Burrows, Perez
As the "Rally Squirrel" becomes the latest hero of the Twins' season, here are some items from around the AL Central… There have been multiple indications that a new contract between the White Sox and impending free agent Jose Abreu seems inevitable, and the first baseman gave another today, telling Daryl Van Schouwen of the…


Pirates Place Chris Archer, Clay Holmes On Injured List
The Pirates have placed right-handers Chris Archer and Clay Holmes on the 10-day injured list, the team announced.  Archer has been sidelined with inflammation in his throwing shoulder, while Holmes is suffering from left quad discomfort.  Right-handers Dario Agrazal and Parker Markel have been called up from Triple-A to fill the two 25-man roster spots.…


Padres Select Eric Yardley's Contract, Option Travis Jankowski
The Padres announced that they have selected the contract of right-hander Eric Yardley.  Outfielder Travis Jankowski has been optioned to Triple-A to create 25-man roster space. The call-up represents a belated, and undoubtedly very welcome, belated birthday gift for Yardley, who turned 29 on Sunday.  As noted by Baseball America's Kyle Glaser, Yardley was an…


NL Injury Notes: McCann, Freeland, Cueto, Anderson
Brian McCann left Tuesday's game with what the Braves described as left knee soreness.  The veteran catcher was set to undergo tests today, and manager Brian Snitker indicated to reporters (including Tim Tucker of the Atlanta Journal-Constitution) that he didn't yet know if McCann would need to be moved to the injured list.  Alex Jackson…


Braves Place Brian McCann On 10-Day Injured List
The Braves have placed catcher Brian McCann on the 10-day injured list due to a left knee sprain, the team announced.  Alex Jackson has been called up from Triple-A to take McCann's roster spot. The injury occurred in last night's 5-1 win over the Marlins, as McCann left the game after the third inning.  The…


Cubs' Brandon Morrow Shut Down For Season
Cubs reliever Brandon Morrow has suffered a setback in his recovery from elbow surgery, President Theo Epstein told reporters including Jordan Bastian of MLB.com. He'll miss the remainder of the season. While the precise nature of the setback is not yet known, Bruce Levine of 670 The Score reports that Morrow will require another procedure to correct…


Angels Place Griffin Canning On IL With Elbow Inflammation
The Angels have placed right-handed pitcher Griffin Canning on the 10-day injured list with right elbow inflammation, according to Jeff Fletcher of the Orange County Register. It's the same issue that landed the 23-year-old rookie on the injured list in early August. As Maria Torres of the Los Angeles Times notes, manager Brad Ausmus was unable…


Minor MLB Transactions: 8/21/19
Here are the latest minor moves from around baseball… The Nationals have agreed to a minor-league deal with left-handed pitcher Sam Freeman, according to Mark Zuckerman of MASN. He'll report to Triple-A Fresno. Though he was a mainstay in Braves bullpens over the last two years, he has only appeared in one big league game in 2019.…


Rays Select Aaron Slegers' Contract
The Rays have selected the contract of right-hander Aaron Slegers from the Triple-A Durham Bulls, as per a team announcement.  Righty Hoby Milner has been optioned to Triple-A in a corresponding move, and Tampa Bay already had open space on its 40-man roster. Slegers was acquired from the Pirates in late March, and the 6'10"…


Astros Place Aaron Sanchez On Injured List
The Astros have placed right-handed pitcher Aaron Sanchez on the 10-day injured list, according to Brian McTaggart of MLB.com. As expected, he'll be joined by injured shortstop Carlos Correa. Per McTaggart, manager A.J. Hinch said that Sanchez felt a sore right pectoral during Tuesday's start, which resulted in a dip in velocity for the starter.…


Angels Designate Adalberto Mejia For Assignment
Prior to yesterday's double-header with the Rangers, the Angels designated left-hander Adalberto Mejia for assignment.  Righty Jaime Barria was called up from Triple-A in a corresponding move, and Barria tossed five innings while starting the nightcap (a 3-2 Angels loss in 11 innings). The DFA continues what has been a whirlwind of transactional business for…


Tigers Shut Down Top Prospect Casey Mize
The Tigers are shutting down former first-overall selection and top pitching prospect Casey Mize, per Jason Beck of MLB.com. While he's out of commission, he'll remain with the Double-A Erie Seawolves before reporting to instructional league in mid-September. As Beck notes, no one injury motivated the Tigers' decision; rather the organization would prefer to take…


Chris Sale's visit with Dr. James Andrews on Monday didn't reveal any ligament damage in the star left-hander's throwing elbow, Sale told reporters (including MLB.com's Ian Browne) yesterday.  For now, Sale will continue to rest following a platelet-rich plasma injection shot, and he'll be re-evaluated in six weeks. While any visit to Dr. Andrews is…


Jon Gray Suffers Season-Ending Foot Fracture
Rockies right-hander Jon Gray will miss the rest of the season after suffering a left foot fracture, the team announced.  Gray has been placed on the 60-day injured list.  Colorado purchased the contract of right-hander Tim Melville from Triple-A, and Melville will take Gray's spot as the starter for today's game against the Diamondbacks. The…


Mets Robert Gsellman Unlikely To Return This Season
Robert Gsellman is likely done for the season after a source revealed he has suffered a partial lat tear, per Andy Martino of SNY.tv (via Twitter). Gsellman was placed on the 10-day injured list retroactive to Wednesday with what was classified at the time as tight right triceps. The 26-year-old has 14 saves and 22…


The Oakland Athletics released starting pitcher Marco Estrada today, the team announced. The move doesn't come as a total surprise, as Estrada has not pitched for Oakland since April 16th. It's a disappointing turn nonetheless for the veteran Estrada. The San Francisco Chronicle's Susan Slusser tweets that Estrada was simply unable to get healthy, which…


Mets Notes: Rajai Davis, Lockett, Pounders, Nimmo, Lowrie
While dealing with the news that Robert Gsellman is likely done for the year, the Mets have made another roster move. Veteran Rajai Davis was added to the 25-man roster, tweets The Athletic's Tim Britton. Signed to a minor-league deal, the 38-year-old Davis hit .287/.334/.410 in 84 games for Triple-A Syracuse. This will be his…


Minor MLB Transactions: 8/20/19
We'll use this post to track the latest minor transactions from around baseball… The Royals have agreed to a deal with left-handed pitcher Jake Brentz, per Jeffrey Flanagan of MLB.com. After he was released by the Pirates, he'll now be assigned to Double-A with his new organization. Brentz, 24, has had success at that level…


Chris Archer Leaves Start With Shoulder Discomfort
In a worrisome moment for the Pirates, starter Chris Archer left his start against the Nationals after throwing an errant warm-up pitch before the second inning. Per Mark Zuckerman of MASN, the Pirates are calling it right shoulder discomfort for Archer. Archer made it through the first inning of Tuesday's game without issue, striking out…


Mariners Place Domingo Santana On IL, Select Outfielder Jake Fraley
The Mariners have a fresh face joining their outfield mix. Jake Fraley has been selected from Triple-A and will be available for today's game. Domingo Santana has been placed on the injured list with right elbow inflammation, the team announced. Santana's IL stint is retroactively to begin yesterday on August 19th. With the addition of…


Yankees Reportedly Set To Sign Trevor Rosenthal
The Yankees are set to sign free agent reliever Trevor Rosenthal to a minor league deal, according to a tweet from MLB Daily Dish's Andersen Pickard later backed up by Jon Heyman of MLB Network (Twitter links). The veteran elected free agency on August 10th after being designated for assignment by the Tigers organization. Rosenthal, if nothing else, has…


Steven Duggar Avoids Shoulder Surgery
After receiving a second opinion on his injured left AC joint, Giants outfielder Steven Duggar has received the best possible news, tweets Henry Schulman of the San Francisco Chronicle: he won't require surgery. Instead, the 25-year-old is looking at a four-to-six week rehab timeline. He'll still miss the remainder of the season, but it's nonetheless…


Pirates Announce Series Of Roster Moves
In a grab bag of roster moves, the Pirates have announced the activation of reliever Richard Rodriguez from the injured list, the optioning of pitcher Montana DuRapau to Triple-A, the reinstatement of infielder Jose Osuna from suspension, and the long-delayed placement of pitcher Kyle Crick on the suspended list. Rodriguez, 29, has been on the IL…


Danny Santana, Nomar Mazara Exit With Injuries
TUESDAY: Santana's confident he won't miss time, according to manager Chris Woodward, but it doesn't appear Mazara will be as fortunate. His oblique injury is similar to (but not as severe as) the strain that sent teammate Joey Gallo to the IL in June. Gallo wound up sitting out just over three weeks (via Jeff…


Vladimir Guerrero Jr. Could Return This Week
Blue Jays rookie third baseman Vladimir Guerrero Jr. could be back in the Toronto lineup in short order, as Jon Morosi of MLB Network relays that the 20-year-old Canada native could return for this week's tilt with the Dodgers (link). The team has apparently indicated that Vlad Jr.'s status is more "day-to-day than week-to-week". After…


Carlos Correa Leaves Game With Back Discomfort
The Astros defeated the Tigers on Monday to improve to 80-46, but the World Series hopefuls didn't escape unscathed. Star shortstop Carlos Correa left the game with discomfort in his back, the team announced. Manager A.J. Hinch said afterward Correa's day-to-day, but he admitted: "I don't like it. It's not comfortable." (Twitter links via Mark…


Injury Notes: Strickland, Elias, Ross, Arrieta, Eickhoff, Kluber
The Nationals pitching staff has taken another hit, per Jesse Dougherty of the Washington Post (Twitter links). Reliever Hunter Strickland is having X-rays taken at PNC park after a bar struck him across the face. The injury stems from a weight room accident, but Strickland was up and about, playing catch ahead of tonight's contest…


Central Notes: Abreu, Gordon, Bader, Brusdar
Although the White Sox and first baseman Jose Abreu have made their affinity for one another known on many occasions, the club reportedly won't offer the pending free agent a contract extension this season. Nevertheless, Abreu once again made it clear Monday his mission is to re-sign with the White Sox, as Daryl Van Schouwen…


Braves Place Jacob Webb On 60-Day IL
The Braves recalled right-handed reliever Jacob Webb from Triple-A Gwinnett on Monday and placed him on the 60-day injured list with an elbow impingement, David O'Brien of The Athletic tweets. The move opened up 40-man space for outfielder Billy Hamilton, whom the Braves claimed off waivers from the Royals. This will be a season-ending development…


Rangers Place Nomar Mazara on IL, Purchase Nick Solak's Contract
Following an early exit from last night's game, Rangers outfielder Nomar Mazara will head to the injured list with a strained left oblique muscle, per Evan Grant of the Dallas Morning-News (link). The team has purchased the contract of infielder Nick Solak in a corresponding move. This sequence of moves has been suspected since last…


Pitcher Notes: Doolittle, Nix, Lindblom
Though manager Dave Martinez has maintained that he will regain his closer's role when he returns from the injured list, Nationals reliever Sean Doolittle isn't taking anything for granted, as shown in a profile from the Washington Post's Jesse Dougherty. "I mean that's awesome to get that vote of confidence from your manager. But I have…


West Notes: Felix, Oberg, Dahl
Erstwhile Mariners ace Felix Hernandez toed the rubber for the Tacoma Rainiers on Monday night and it shouldn't be long before he's donning a Seattle uni once again, according to a report from Ryan Divish of the Seattle Times. Hernandez, out since May 12th with a lat-strain, threw 69 pitches and was largely effective in…


Athletics Outright Dustin Garneau
The Athletics outrighted catcher Dustin Garneau to Triple-A Las Vegas on Monday after he cleared waivers, the team announced. Garneau has been outrighted in the past, meaning he could have turned down the assignment in favor of free agency. However, he'll stay in the organization, Martin Gallegos of MLB.com tweets. The well-traveled Garneau was a…


Rays Select Hoby Milner's Contract
The Rays have selected the contract of left-hander Hoby Milner from Triple-A Durham, Juan Toribio of MLB.com tweets. Milner will take the 25-man spot of lefty Brendan McKay, whom the Rays optioned. The Rays took a 9-3 beating at the hands of the Mariners on Monday, when McKay yielded seven runs (three earned) on three…


Carlos Correa Likely Headed To IL
Astros shortstop Carlos Correa is likely to land on the 10-day injured list after exiting last night's game with back discomfort, manager A.J. Hinch told reporters including Brian McTaggart of MLB.com. An official decision won't be made until later tonight, but Hinch and the Astros are "not optimistic" that the star shortstop, who isn't available…


Mariners Will Reportedly Promote Jake Fraley
The Mariners plan to promote outfielder Jake Fraley from Triple-A Tacoma before their game against the Rays on Tuesday, Daniel Kramer of MLB.com reports. Fraley isn't on the Mariners' 40-man roster, but the team currently has three openings. Fraley is in his first year with the Seattle organization, which acquired him from the club he'll…


The Cubs have optioned utility man David Bote to Triple-A, as Gordon Wittenmyer of the Chicago Sun-Times was among those to tweet. It seems that's the roster move to make way for the return of righty Steve Cishek. Bote, 26, has been a constant presence on the MLB roster this year since inking a surprise…


Corey Kluber Will Be Shut Down For Two Weeks
This season has already tested the Indians' vaunted pitching depth, and the latest development regarding venerable righty Corey Kluber will do so further. He's now slated for at least a two-week shutdown after leaving his most recent rehab start with an abdominal issue, Paul Hoynes of the Plain Dealer reports. It had seemed that Kluber…


The Rockies announced that they've claimed right-handed reliever Wes Parsons off waivers from the Braves, who had designated him for assignment over the weekend. In order to make room on the 40-man roster, the Rox moved Scott Oberg from the 10-day IL to the 60-day IL, definitively ending his season. Oberg went on the IL…


With the Rays seeking to hang on to a Wild Card spot, they will need whatever contributions they can get from several injured players — among them, righty Tyler Glasnow. Today's update on the situation delivers a bit of a mixed bag of news on the exciting young hurler, as Marc Topkin of the Tampa Bay…


Orioles Release Matt Wotherspoon, Josh Lucas
The Orioles have released righties Matt Wotherspoon and Josh Lucas, per an announcement from the club's top affiliate. Neither presently held a 40-man roster spot. The Baltimore organization has continued to cycle through arms at the MLB level, with an obvious need for depth. But the churn has also created a roster squeeze in the upper…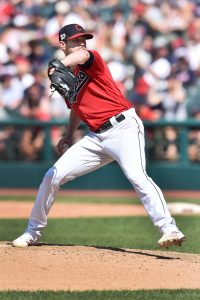 The Best Young Starters Of 2019
We're nearing the end of the 2019 regular season, a campaign which has featured plenty of valuable contributions from young starters. By my count, no fewer than 10 starters age 25 or younger have excelled this year. Several of them could continue helping their teams' causes once the postseason rolls around in a couple months.…


Diamondbacks Sign Michael Tonkin
The Diamondbacks have signed right-hander Michael Tonkin out of the independent Atlantic League, per an announcement Long Island Ducks GM Michael Pfaff (Twitter link). He'll head to Triple-A Reno for now, Tonkin, 29, allowed just one earned run with a 31-to-9 K/BB ratio in 26 2/3 innings with the Ducks prior to signing with the…


The Braves have claimed outfielder Billy Hamilton off waivers from the Royals, per a club announcement. The Atlanta organization will be responsible for the remainder of Hamilton's $4.25MM salary along with a $1MM buyout on a mutual option. It's a fairly significant price to pay, but understandable under the circumstances. The Braves have lost their…


Click here to read a transcript of today's chat with MLBTR's Steve Adams.


AL West Notes: Haniger, Tucker, Manaea
While Mariners right fielder Mitch Haniger was deemed close to untouchable in trade talks last offseason, some around the game expect him to be available in the coming offseason, tweets MLB Network's Jon Heyman. That's hardly a firm indication that Seattle will push to move Haniger when his value has diminished, but the 28-year-old (29…


Rangers Designate David Carpenter
The Rangers announced that they have designated righty David Carpenter for assignment. It's the second time he has been bumped from the MLB roster this season. The move coincides with the team's decision to send fellow right-hander Adrian Sampson to the 10-day injured list due to a lower back issue. To take the open roster…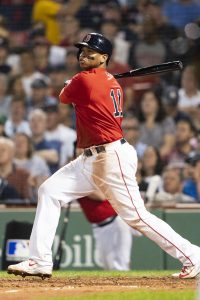 Considering his age, contract status and performance, there is no question that Boston's Rafael Devers is on the short list of most valuable third basemen in the game. That Devers has reached this point isn't something which would've shocked many observers back when the Red Sox promoted the then-touted prospect to the majors in July…


Ivan Nova Open To Re-Signing With White Sox
Ivan Nova's tenure with the White Sox began in shaky fashion, as he allowed five or more runs in four of his first six starts to the season. However, the former Yankees and Pirates righty has settled into a run of success and tells Doug Padilla of the Chicago Sun-Times that if the opportunity to…


Minor MLB Transactions: 8/18/19
The latest minor moves from around the game… The Marlins outrighted Deven Marrero to Triple-A after the infielder cleared waivers, the team announced.  Marrero was designated for assignment on Friday.  Formerly a highly-touted prospect during his days in Boston's farm system, Marrero didn't produce much at the plate in limited Major League action (343 PA)…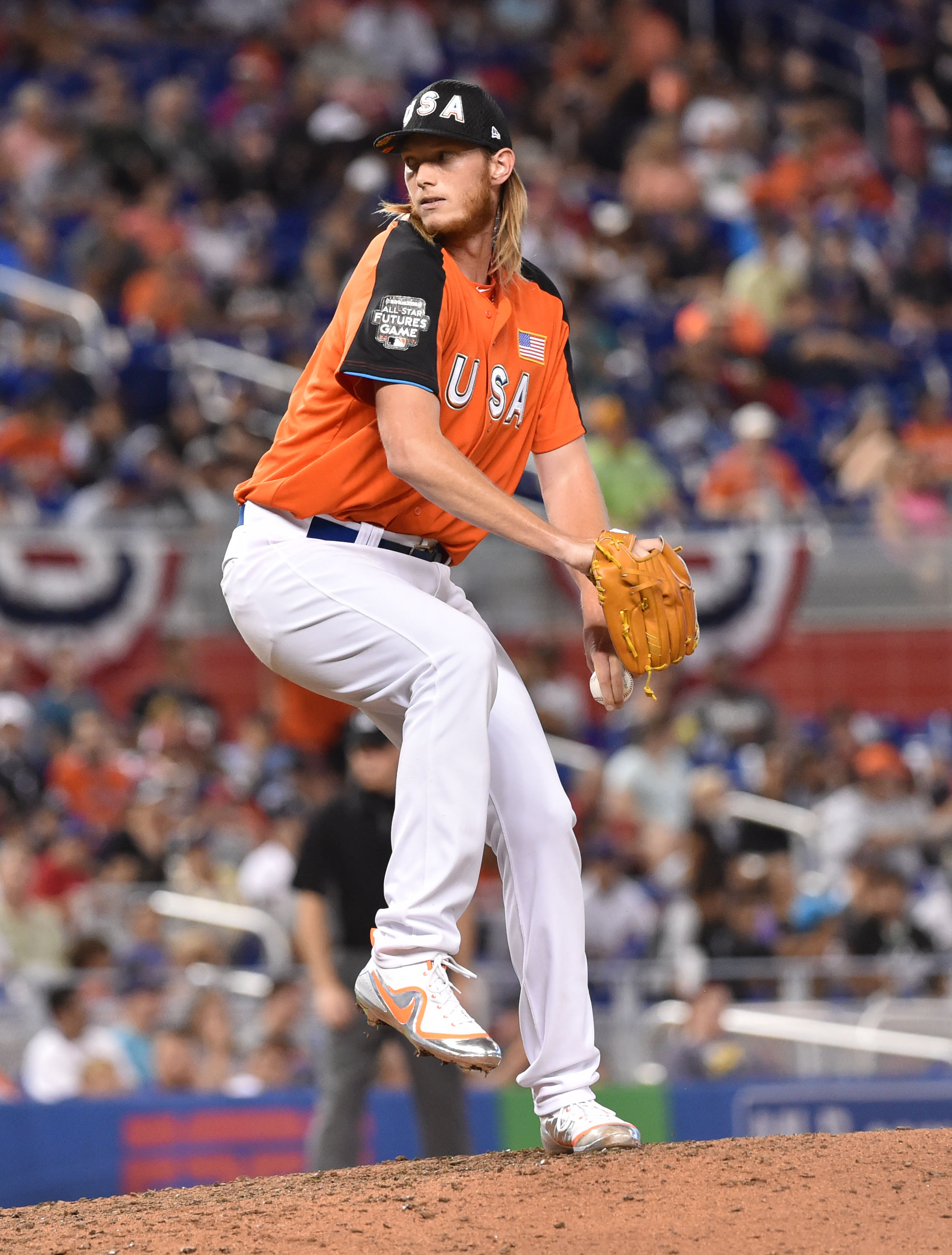 The Athletics will promote left-hander A.J. Puk from Triple-A Las Vegas prior to tomorrow's game, Martin Gallegos of MLB.com reports (via Twitter). Puk, the No. 6 overall pick in the 2016 draft, will need to have his contract formally selected. Oakland has an opening on its 40-man roster to accommodate him. Puk, 24, is considered…


Injury Notes: Kluber, Gallo, Dietrich, Casali, Robinson
After just one inning of work in a rehab start on Sunday, Corey Kluber was removed from the game due to left abdominal tightness.  (Cleveland.com's Joe Noga was among those to report the news.)  Kluber is expected to receive further tests on Monday, though the early word is that Kluber was simply removed as a…


Angels Select Miguel Del Pozo's Contract, Option Jose Suarez To Triple-A
Prior to Sunday's game, the Angels selected the contract of left-hander Miguel Del Pozo from Triple-A.  Fellow left-hander Jose Suarez was optioned to Triple-A in the corresponding move.  Del Pozo didn't pitch in the Angels' 9-2 victory over the White Sox, so he is still looking for his first official Major League appearance. Originally signed…


Chris Sale Out For Remainder Of Regular Season
5:17pm: The team update does have some bad news: Sale has received a platelet-rich plasma treatment and will be shut down for at least six weeks. He'll be reevaluated at that time. Whether there's any possibility of Sale appearing in the postseason isn't known. But with less than six weeks to go before the end…


Dodgers Activate Jedd Gyorko From IL
10:54 am: Gonsolin's promotion won't merely be a one-day spot start. Manager Dave Roberts tells Ken Gurnick of MLB.com the rookie will stay on the active roster through at least next week to make one additional start. 9:04 am: The Dodgers announced today they have activated infielder Jedd Gyorko from the 60-day injured list. Additionally, the club has…


Poll: Who Will Be The AL's Wild Card Teams?
The Twins hold a 2.5-game lead over the Indians in the AL Central after today's action, and in addition to fighting for the division crown, both clubs are desperately trying to avoid facing even more competition in the AL wild card hunt.  Cleveland (74-51) is currently in possession of the top wild card spot, with…


Nationals To Reevaluate Ninth Inning
The Nationals are reconsidering their usage of closer Sean Doolittle, manager Dave Martinez tells Mark Zuckerman of MASN. Any significant change could affect both the team's 2019 postseason push and Doolittle's employment in 2020. Washington lost in fourteen innings to the Brewers last night, a game which bizarrely saw Milwaukee hit five home runs after the…


Click here to join tonight's baseball livechat, moderated by MLBTR's Mark Polishuk


Yankees Activate CC Sabathia From IL
As expected, the Yankees announced they have activated left-hander CC Sabathia from the 10-day injured list. He'll start today's series finale against Cleveland after missing around three weeks with right knee inflammation. It hasn't been a banner final season for the 39 year-old, who has been especially plagued by the league's home run surge. Sabathia's 2.39…


Nationals Place Sean Doolittle On Injured List
The Nationals announced today they have placed reliever Sean Doolittle on the 10-day injured list with right knee tendinitis. Righty Kyle McGowin is up from Double-A Harrisburg to take Doolittle's active roster spot. We just heard Washington was considering cutting Doolittle's workload back in recognition of his recent downturn in performance. Doolittle and manager Dave Martinez attributed…


Rockies' Scott Oberg Likely Out For Season
The Rockies announced today that they have placed closer Scott Oberg on the 10-day injured list with a blood clot in his right arm. To take his spot on the active roster, right-hander DJ Johnson has been recalled from Triple-A. The Athletic's Nick Groke adds that the blood clot, an issue that Oberg has already…


The Cubs have activated closer Craig Kimbrel from the 10-day injured list, according to Jordan Bastian of MLB.com. He will replace Duane Underwood Jr., who has been optioned to Triple-A Iowa, on the active roster. Kimbrel landed on the injured list with right knee inflammation, which has held him out of action for the Cubs…


Yankees Place Thairo Estrada On IL, Recall Tyler Wade
10:18 am: Estrada suffered the injury running the bases in yesterday's game, manager Aaron Boone tells Bryan Hoch of MLB.com (via Twitter). 10:06 am: The Yankees announced today they have placed infielder Thairo Estrada on the 10-day injured list with a right hamstring strain. Utiltyman Tyler Wade is up from Triple-A Scranton Wilkes-Barre to take his place. Estrada,…


Prospect Notes: Lux, Adell, Dalbec, Hall
As Gavin Lux continues to shred Triple-A pitching, it isn't yet clear if the star prospect will make his Dodgers debut in 2019, Bill Plunkett of the Orange County Register writes.  Dodgers president of baseball operations Andrew Friedman simply said "I don't know" when asked about the possibility of a Lux promotion, as Friedman cited…


Felix Hernandez Nearing Return
Mariners pitcher Felix Hernandez could be activated as early as next weekend, reports Ryan Divish of the Seattle Times. He is scheduled to make a rehab start with the Mariners' Triple-A affiliate on Monday, which would put the 33-year-old on track to rejoin the Seattle rotation on Saturday or Sunday, assuming no setbacks. With the Mariners…


Rays Expected To Call Up Trevor Richards
The Rays are expected to call up pitcher Trevor Richards to start Sunday's game against the Tigers, according to a tweet from Juan Toribio of MLB.com (link). Peter Fairbanks was optioned to Triple-A Durham in an accommodating move. This will be Richards' first appearance in a Rays uni since being acquired by the club in…


Nationals Likely To Activate Max Scherzer Thursday
The Nationals will likely activate ace Max Scherzer on Thursday, manager Dave Martinez tells Jamal Collier of MLB.com (via Twitter). Scherzer threw a simulated game yesterday and came out unscathed. Of course, a Scherzer return will be a boon to a Washington club holding onto a 2.5 game in the Wild Card standings. The Nats just…


The Reds announced today they have placed first baseman Joey Votto on the 10-day injured list with a lower back strain. Brian O'Grady has been recalled to replace Votto on the 25-man roster. So continues a shockingly difficult season for the former NL MVP. Votto's .262/.352/.410 line is the first below-average offensive performance of his career. In…


AL Notes: Laureano, Harvey, Brusdar, Lourdes
We'll kick off this Sunday by taking a look at some injuries and minor-league news around the Junior Circuit. Athletics center fielder Ramón Laureano is making slow but steady progress from a stress reaction in his shin, he tells Susan Slusser of the San Francisco Chronicle (via Twitter). Laureano plans to begin running next week…


Astros Place Aledmys Diaz On IL, Activate Brad Peacock
The Astros have placed infielder Aledmys Diaz on the 10-day injured list, according to Chandler Rome of the Houston Chronicle. Per The Athletic's Jake Kaplan, Cy Sneed has been recalled to replace Diaz on the active roster, while Brad Peacock has also been activated from the injured list. While there's no official diagnosis for Diaz,…


Phillies Place Roman Quinn On Injured List
The Phillies placed outfielder Roman Quinn on the 10-day injured list today, following his removal from Friday's game with the Padres. It's a right groin muscle strain for the 26-year-old Philadelphia product, as detailed by a report from Scott Lauber of the Philadelphia Enquirer (link). After managing a 97 wRC+ in 50 games in his rookie…


Robert Gsellman To Injured List With Triceps Injury
After being generally harangued for their win-next-year approach at July's trade deadline, the Mets have ripped off an 11-5 record this August. At 63-60, New York sits just 2.0 games back in the NL Wild Card race. But if the Mets are going to summon a truly amazing late-season turnaround, they will be doing so,…


Jake Arrieta To Undergo Season-Ending Surgery
Phillies righty Jake Arrieta will undergo season-ending surgery later this month to remove a bone spur in his right elbow, Todd Zolecki of MLB.com reports. Arrieta, 33, had been pitching through the injury since early in the summer, to less-than-stellar results. The 2019 season was the hurler's worst since his days in Baltimore: though the…


NL Notes: Kimbrel, Scherzer, Swanson
MLB.com's Jordan Bastian offers that the "expectation" is that Cubs closer Craig Kimbrel will be activated for Sunday's contest with the Pirates. Signed this midseason to a 3-year/$43MM contract, Kimbrel got off to a rocky start in Chicago before a knee injury robbed him of participation in the club's last 13 games. Through his first…


Carlos Carrasco Set For Rehab Assignment, Likely To Return As Reliever
Indians righty Carlos Carrasco, out since late May after being diagnosed with chronic myeloid leukemia, is set to appear in a rehab game for AA-Akron on Monday, per The Athletic's Zack Meisel. Carrasco will be limited to just an inning in preparation for a bullpen role upon return, per Meisel. The rotation lynchpin, who last…


Red Sox Place Chris Sale On 10-Day IL With Elbow Inflammation
6:37 pm: Ryan Brasier has been called up from Triple-A Pawtucket to fill Sale's spot on the active roster, according to a report from the Boston Herald's Steve Hewitt (link). 4:52 pm: It appears the issue may indeed be more serious than initially believed. Per President of Baseball Ops Dave Dombrowski (h/t to Bill Koch of the…


Vladimir Guerrero Jr. Headed For MRI
Heralded Blue Jays rookie Vladimir Guerrero Jr. was removed from today's contest with the Mariners due to what the team has called "left knee discomfort". "Vladito" exited the game after making a diving grab on a ground ball at third base in the top of the second inning, and it appears the move may have…


Ender Inciarte Placed On Injured List
Following a string of earlier reports regarding the hamstring injury sustained by Braves outfielder Ender Inciarte yesterday, the team has officially placed him on the 10-day injured list. Gabriel Burns of the Atlanta Journal-Constitution shares that Inciarte is expected to be out 4-6 weeks after an MRI scan revealed a sprain of the Grade 2 variety…


Pirates Season Marked By Conflict On-Field And Off
Last night's walkoff victory against the reeling Cubs aside, the Pirates are mired in a deep funk. They started the second half in free fall, going 6-25 as they've dipped from the fringes of the playoff race to (at one point) twenty games under .500. The Pirates have been involved in multiple on-field conflicts, with…


The Orioles recalled right-hander Hunter Harvey, the team's PR department announced. This comes after Tom Eshelman was optioned to Triple-A Norfolk last night. Harvey, 24, is a former top prospect whose ascent was slowed by a number of injuries. When he enters a game, it will be a major league debut for Harvey, though it's…


Mets Injury Updates: J.D. Davis, Robert Gsellman
After storming back into the playoff picture after the trade deadline, the Mets took a tough loss against the lowly Royals last night. Coming off a series loss to the first-place Braves, the Mets remain two games out of playoff position. Their aggressiveness at the trade deadline prompted reactions ranging from surprise to accusations of…


David Robertson Undergoes Tommy John Surgery
Phillies righty David Robertson, who negotiated a two-year, $23MM deal prior to the season on his own behalf, has undergone Tommy John Surgery and will miss the rest of this season and all of 2020, Scott Lauber of the Philadelphia Inquirer reports. Robertson, 34, had been one of baseball's premier relievers for nearly the entire…


Julio Urias Suspended 20 Games
Dodgers lefty Julio Urias has been suspended 20 games under MLB's Joint Domestic Violence, Sexual Assault, and Child Abuse policy, MLB.com's Ken Gurnick reports. Per Jorge Castillo of the LA Times, the suspension includes the five games Urias served while on administrative leave. Urias will not appeal the decision and will be eligible for postseason…


Outrighted: Yacabonis, Mantiply, Lail
Let's catch up on a few announcements regarding players who have been outrighted after clearing waivers … The Orioles announced that righty Jimmy Yacabonis is destined for Triple-A after clearing. He had struggled in a 41-inning showcase this year, managing only a 5.40 ERA with 7.2 K/9 against 5.3 BB/9. Yacabonis has produced similar numbers…


Latest On Tyler Glasnow, 3 Other Injured Rays
It's unclear whether injured Rays right-hander Tyler Glasnow will be able to pitch again this year, but he isn't giving up on his season, Juan Toribio of MLB.com reports. Glasnow, out since May 10 with forearm troubles, has been throwing from 90 feet of late and is set for a bullpen session Monday. The soon-to-be…


Astros Option Cy Sneed, Recall Rogelio Armenteros, Reinstate Francis Martes
The Astros optioned Cy Sneed to Triple-A while promoting Rogelio Armenteros, per Chandler Rome of the Houston Chronicle (via Twitter). Armenteros, 25, is up to slated to start today's game versus the Athletics. It's been so far so good for Armeneteros this season, with a 1.93 ERA/2.86 FIP in 14 innings thus far, including one…


Rangers Could Call Up Brock Burke
The Rangers, seeking a starter for half of their Tuesday doubleheader against the Angels, are considering calling up left-hander Brock Burke, Jeff Wilson of the Forth Worth Star-Telegram reports. It would be the major league debut for the 23-year-old Burke, who's already on the Rangers' 40-man roster. "We're kind of hoping that Burke would be…


Pitcher Notes: Carrasco, Scherzer, German
The latest on a few notable right-handers… The Indians' Carlos Carrasco took a significant step Friday toward returning to a major league mound, Mark Feinsand of MLB.com explains. Carrasco, out since the end of May because of a leukemia diagnosis, threw his first live batting practice session, tossing 25 pitches to Single-A hitters. The Indians…


NL Notes: Kang, Brewers, Mets, Reds
After spending several years with the Pirates, who released him Aug. 5, it's possible free-agent infielder Jung Ho Kang will resurface in the National League Central. Kang took infield practice with the Brewers' Triple-A affiliate in San Antonio on Thursday, as journalist Joe Alexander noted. Tom Haudricourt of the Milwaukee Journal Sentinel corroborated Alexander's report…