NL East Notes: Nationals, Mets, Braves
Nationals star Stephen Strasburg missed the beginning of the season with a nerve issue in his right hand, but it didn't shelve him for long. The reigning World Series MVP made his season debut last Sunday, though the Orioles roughed him up for five earned runs on seven hits in 4 1/3 innings. It turns…


Former Mets ace Matt Harvey may not be far from a return to the major leagues, Jeffrey Flanagan of MLB.com writes. Now with the Royals, Harvey will throw an intrasquad game Thursday, after which the club will evaluate whether it should promote him to the bigs. General manager Dayton Moore has been encouraged by what…


The Astros are badly in need of several missing stars. Perhaps no absence is more notable than that of staff ace Justin Verlander. Last we checked in, Verlander was not progressing as rapidly from a forearm strain as he had hoped. But it seems now that he's nearing readiness for an attempt at a return.…


Yordan Alvarez "Very Close" To Return; Roberto Osuna Will Attempt Rehab
Astros manager Dusty Baker said today that outfielder/DH Yordan Alvarez is "very close" to returning to action, as Mark Berman of FOX 26 was among those to cover (Twitter links). The skipper also revealed that closer Roberto Osuna will attempt to rehab and return later this season. A precise timeline isn't yet known for Alvarez, but…


Red Sox Place Andrew Benintendi On Injured List
The Red Sox have placed left fielder Andrew Benintendi on the 10-day injured list with a right rib cage strain, per a team announcement. The club recalled right-hander Ryan Weber from its alternate training site in a corresponding move. Benintendi's IL placement continues what has been an abysmal start to 2020 for the typically sturdy…


Royals Add Asa Lacy, Carlos Hernandez To Player Pool
The Royals have added left-hander Asa Lacy and right-hander Carlos Hernandez to their 60-man player pool and assigned the pair to their alternate training site, per a club announcement. Lacy is the bigger name of the two, having been selected with the fourth overall pick of the 2020 draft. Though he was the second pitcher…


Rangers Add Ricky Vanasco & Cole Winn To 60-Man Pool
The Rangers announced today that Ricky Vanasco and Cole Winn have each been added to the club's 60-man player pool. Both are right-handed hurlers; neither has a 40-man roster spot. It's unlikely that either of these two young pitchers will have a real shot at earning a 2020 call-up. The move is probably intended to get…


Giants Designate Andrew Triggs
The Giants have designated righty Andrew Triggs for assignment. That'll create 40-man space for Trevor Cahill, whose contract was selected. Triggs only made one appearance this year, coughing up three earned runs while recording only a single out. He's still looking to reestablish himself in the majors after his career was interrupted by surgery to…


Pirates To Activate Keone Kela
Pirates closer Keone Kela will be active for the team's upcoming series against the Reds, manager Derek Shelton announced to reporters Wednesday (Twitter link via Will Graves of the Associated Press). It'll be the season debut for Kela, who has yet to pitch since missing Summer Camp due to a positive Covid-19 test. Kela, 27,…


Joe Kelly Suspension Reduced On Appeal
Dodgers reliever Joe Kelly has succeeded in appealing his eight-game suspension. The ban will now span five contests. Jared Carrabis of Barstool Sports first reported the news on Twitter, with Jeff Passan and Kiley McDaniel of ESPN.com confirming that report (via Twitter). Kelly was suspended after a well-publicized bench-clearing incident during a game with the Astros.…


Mets Moving Robert Gsellman Into Rotation
The Mets are set to give Robert Gsellman the start for tonight's game, but it's more than just an "opener" assignment for the righty, it seems. Manager Luis Rojas said in an appearance on WFAN 660 AM today that Gsellman will be stretched out to work as a starter moving forward (Twitter links via MLB.com's Anthony…


Trevor Cahill To Start For Giants On Wednesday
Right-hander Trevor Cahill will make his Giants debut Wednesday with a start against the Astros, Maria Guardado of MLB.com reports. The Giants will announce a corresponding roster move before the game. Cahill signed with the Giants in the offseason as someone with a great deal of starting experience, but he was only able to score…


Dodgers shortstop Corey Seager began the season on a marvelous pace, but a back problem forced him out of their game against the Giants on Aug. 7, and he hasn't played since. Manager Dave Roberts issued an update on Seager on Tuesday, saying (via Jorge Castillo of the Los Angeles Times) that the 26-year-old is…


C.J. Cron Likely To Require Knee Surgery
Tigers first baseman C.J. Cron hit the injured list due to a left knee sprain yesterday, and the outlook on the slugger doesn't appear good. Cron spoke with Tigers beat reporters today, revealing that surgery to repair a ligament in his knee will likely be required (Twitter links via Evan Woodbery of MLive.com and Jason…


Asdrubal Cabrera Changes Representation
Nationals infielder Asdrubal Cabrera has changed representation and hired Gene Mato of Mato Sports Management, Jon Heyman of MLB Network tweets. MLBTR has made note of the switch in our Agency Database. The well-traveled Cabrera joined the Nationals last August after the Rangers released him. Texas signed Cabrera to a one-year, $3.4MM contract before 2019,…


The Rays have outrighted catcher Kevan Smith, the team announced. He cleared waivers after recently being designated for assignment. With the move, the Tampa Bay organization will retain Smith on its 60-man player pool. Bringing him back up would require a 40-man move, however. Smith received only a pair of plate appearances before he was…


The Braves made outfielder Ronald Acuna Jr. a late scratch before their game against the Yankees on Tuesday because of left wrist discomfort. He'll undergo further evaluation in New York on Wednesday, Mark Bowman of MLB.com tweets. Acuna attributes this injury to a recent slide, per Bowman, and it's not yet clear whether it's serious.…


The Rays announced that they've outrighted left-hander Sean Gilmartin to their alternate training site. He'll stay in the organization as part of the Rays' 60-man player pool. Gilmartin, whom the Rays signed to a minor league contract over the winter, spent a very short period on their roster before they booted him. The club selected…


Pirates Transfer Clay Holmes To 45-Day Injured List
The Pirates have transferred righty Clay Holmes from the 10-day injured list to the 45-day injured list, per Jason Mackey of the Pittsburgh Post-Gazette. His spot on the 40-man roster goes to Nick Tropeano, who was claimed off waivers earlier today. Holmes has been out since July 28 with a forearm strain. He has to…


Rays Place Andrew Kittredge On 45-Day IL, Select Aaron Slegers
The Rays have placed right-hander Andrew Kittredge on the 45-day injured list with a sprained ulnar collateral ligament, per a club announcement. They've selected the contract of righty Aaron Slegers to replace him on the roster. It's another blow to a Tampa Bay bullpen that has already lost southpaw Colin Poche to Tommy John surgery.…


MLB Suspends Alex Cintron, Ramon Laureano
3:07pm: The league has announced the suspensions. Cintron's will begin immediately. Laureano is appealing his suspension, so his punishment will be held in abeyance until the appeals process has been completed. 1:52pm: Laureano has actually received a six-game suspension, Susan Slusser of the San Francisco Chronicle reports (via Twitter). 1:41pm: Major League Baseball will announce…


Indians Place Mike Clevinger, Zach Plesac On Restricted List
The Indians announced today that right-handers Zach Plesac and Mike Clevinger have been placed on the restricted list. Both pitchers violated the league's health and safety protocols over the weekend when they went out after Saturday night's game. In a pair of corresponding moves, Cleveland reinstated outfielder Tyler Naquin from the injured list and recalled…


The Padres have acquired first baseman Yonder Alonso from the Braves for cash, Dennis Lin of The Athletic tweets. He'll join the Padres' taxi squad. Alonso had been with the Braves on a minor league contract since the winter, and he hasn't accrued an at-bat this year. Now 33 years old, Alonso's a veteran of…


D-backs Trade Ildemaro Vargas To Twins
The Twins announced that they have acquired switch-hitting utility infielder Ildemaro Vargas from the Diamondbacks for cash. Minnesota will make a 28-man roster move to accommodate Vargas' activation at a later date. Arizona designated Vargas for assignment late last week. Vargas, 29, has a strong Triple-A track record at the plate and plenty of versatility,…


MLBTR Poll: Sustainable Hitter Breakout
The trade deadline is approaching. Heck, the postseason races are already taking shape. But it's still exceedingly early in this oddest of MLB seasons. With the action unfolding on a tightened timeline, it's more necessary than ever not to ignore the short-sample alerts. That said, it's hard to ignore some of the unexpected names near the…


With Giancarlo Stanton sidelined, the Yankees have recalled young outfielder Clint Frazier. He had been on optional assignment at the team's alternate training site. While hardly a surprising move under the circumstances, it's a notable moment for team and player. Soon to turn 26, Frazier has long seemed ready for extended MLB action but has…


Pirates Place Joe Musgrove On 10-Day Injured List
The Pirates have placed right-hander Joe Musgrove on the 10-day injured list due to inflammation in his right triceps, per a club announcement. The team didn't offer a timetable on a potential return. Acquired in the trade that sent Gerrit Cole to Houston, the now-27-year-old Musgrove has established himself as a useful rotation piece in…


Tigers Place C.J. Cron On Injured List
The Tigers have placed first baseman C.J. Cron on the 10-day injured list, per a club announcement. Infielder Willi Castro was recalled to take the open roster spot. The organization says that Cron has been diagnosed with a left knee sprain. It remains to be seen if there's any greater damage to the joint. Cron…


White Sox Outright Drew Anderson
The White Sox have outrighted hurler Drew Anderson to their alternate training site, James Fegan of The Athletic was among those to report. The club designated the right-hander for assignment over the weekend. Formerly a member of the Phillies, with whom he entered pro ball as a 21st-round pick in 2012, Anderson joined the White…


The Pirates announced Tuesday that they've claimed right-hander Nick Tropeano off waivers from the Yankees, who had designated him for assignment over the weekend. Tropeano has been optioned to the Pirates' alternate training site. Tropeano, 30 this month, has pitched in parts of five big league seasons, compiling a 4.51 ERA with 8.0 K/9, 3.6…


Click here to read a transcript of Tuesday's chat with MLBTR's Steve Adams.


Ken Giles May Soon Resume Throwing
Blue Jays closer Ken Giles appears to be making progress in his effort to work back from a forearm strain. He's "recovering well" and "could be throwing soon," GM Ross Atkins informed reporters including Ben Nicholson-Smith of Sportsnet.ca (via Twitter). This sounds quite promising, though there are still some hurdles left to clear. Giles is…


Phillies Designate Nick Williams, Trevor Kelley For Assignment; Nick Pivetta Optioned
The Phillies announced a series of roster moves Tuesday, selecting the contracts of right-handers Connor Brogdon and Blake Parker. In corresponding 40-man moves, Philadelphia designated outfielder/former top prospect Nick Williams and right-hander Trevor Kelley for assignment. Right-hander Nick Pivetta was also optioned to Philadelphia's alternate training site. Williams, 26, was considered one of the game's…


The Rays have shut down young left-hander Brendan McKay on account of tightness in his pitching shoulder, Marc Topkin of the Tampa Bay Times relays. The two-way player had been working back from a positive COVID-19 test at the Rays' alternate training site before the team had to shelve him again. There's no word on…


Injured Angels shortstop Andrelton Simmons is closing in on a return, manager Joe Maddon said Monday (via Mike DiGiovanna of the Los Angeles Times). Simmons, who landed on the IL on July 28 with a left ankle sprain, has progressed to taking batting practice. Ankle problems have slowed Simmons since last season, during which the 30-year-old…


MLB Reportedly Considering Playoff Bubble Format
Coronavirus outbreaks have already had a significant impact on the truncated Major League Baseball regular season, as teams such as the Cardinals and Marlins have been sidelined for extended periods since the campaign opened a couple weeks ago. That type of outcome would be even more catastrophic if it were to occur during the playoffs,…


Pitching Notes: Hamels, Quintana, M's, Tigers
Left-hander Cole Hamels, whom the Braves placed on the 45-day injured list July 23, still has not thrown off a mound during his recovery from a triceps problem, Mark Bowman of MLB.com tweets. The Braves remain hopeful Hamels will pitch this year, though, per manager Brian Snitker. Of course, Hamels isn't eligible to return until…


Rangers Designate Greg Bird For Assignment, Select Derek Dietrich
The Rangers announced a series of roster moves Tuesday afternoon, most notably adding recently signed Derek Dietrich to the Major League roster and designating first baseman Greg Bird for assignment (after first reinstating him from the injured list). Texas also selected the contract of lefty Wes Benjamin from its alternate training site and optioned right-hander…


The Yankees got some promising news on sidelined slugger Giancarlo Stanton. The burly outfielder was diagnosed with a relatively mild grade 1 hamstring strain, per Jon Heyman of MLB Network (Twitter link). With little reason to push Stanton now, the front-running Yanks already placed him on the injured list. He'll no doubt be sidelined longer than…


The Mariners have signed right-hander Seth Frankoff to a minor league contract and assigned him to their alternate training site, per a club announcement. Seattle's 60-man player pool now contains 59 players. Frankoff is repped by Vanguard Sports. The 31-year-old Frankoff has just two Major League innings under his belt but is a veteran of…


Brewers Reinstate Luis Urias, Designate Logan Morrison
The Brewers have reinstated infielder Luis Urias from the injured list. He had been sidelined due to a COVID-19 diagnosis. To open roster space, the Milwaukee organization has designated veteran first baseman Logan Morrison for assignment. He could conceivably remain with the team if he clears waivers and the club wants to keep him in…


Mariners Claim Brady Lail, Designate Patrick Wisdom
The Mariners announced Monday that they've claimed right-hander Brady Lail off waivers from the White Sox and designated infielder Patrick Wisdom for assignment. Lail, 27, made his big league debut with the Yankees in 2019 but pitched just 2 2/3 innings in his lone appearance with the club. It was a similar tale with the…


Royals Place Franchy Cordero On 45-Day IL
The Royals have placed outfielder Franchy Cordero on the 45-day injured list, per a club announcement. He is sidelined with a wrist injury. While this won't officially end Cordero's season, it makes it quite unlikely he'll return to action. He originally hit the injured list on August 9th, so he won't be eligible to return…


Cardinals-Tigers Doubleheader Postponed
The Cardinals' next scheduled matchup will be postponed, per a league announcement. The team had been set to resume play on Thursday in a doubleheader against the Tigers. This is only the latest in a string of cancellations that have threatened the viability of the 2020 season for the venerable St. Louis organization. The club…


Diamondbacks Place Madison Bumgarner On Injured List, Select Jeremy Beasley
4:01pm: The team has selected the contract of righty Jeremy Beasley and activated him to fulfill the open active roster spot. Beasley, a former 30th-round pick, gets his first taste of the majors after pitching to a 4.49 ERA in 122 1/3 innings in the upper minors last year. 3:47pm: The Diamondbacks have placed lefty Madison…


Rays Place Charlie Morton On 10-Day Injured List
The Rays have placed right-hander Charlie Morton on the 10-day injured list due to inflammation in his right shoulder, the team announced Monday morning. Lefty Jose Alvarado was reinstated from the paternity list in a corresponding move. Morton, 36, exited Sunday's outing after just two innings due to fatigue in his shoulder. The veteran righty…


The Braves optioned lefty Sean Newcomb to the team's alternate training site after tonight's game. He'll remain on the 40-man roster and in the 60-man player pool. This is the latest in a series of hits to the Atlanta rotation. In this case, as with Mike Foltynewicz, it's simply a matter of inadequate performance. Newcomb,…


The Rangers have signed infielder Derek Dietrich to a minor league contract and assigned him to their alternate training site, per a club announcement. Texas will be the third organization for Dietrich already in 2020. He signed a minor league deal with the Reds (with whom he spent the 2019 season) over the winter and…


Dodgers Place Joe Kelly On Injured List
The Dodgers announced that right-handed reliever Joe Kelly has been placed on the 10-day injured list due to inflammation in his right shoulder. No timeline for his return was provided. The Dodgers have recalled lefty Adam Kolarek in his place. Kelly is still facing an eight-game suspension after throwing a fastball near Alex Bregman's head…


Marcus Stroman Opts Out Of 2020 Season
The Mets announced Monday that right-hander Marcus Stroman has opted out of the remainder of the 2020 season. The right-hander, who is a free agent at season's end, called the move a family decision and cited the many "uncertainties" and "unknowns" of playing in the current health-and-safety atmosphere. This obviously represents a major blow to…


The Red Sox have released lefty Brian Johnson, according to Christopher Smith of MassLive.com (via Twitter). He did not have a place on the team's 40-man roster but was in the 60-man player pool. Johnson, 29, was a useful swingman for the Boston club back in 2018. He threw 99 1/3 frames that year, working…


Many of you have already shown your support for MLB Trade Rumors by signing up for an ad-free membership.  The benefits of the $29.99 yearly membership continue to grow: Ad-free faster viewing experience Connor Byrne's weekly MVP/Cy Young/Rookie of the Year Power Rankings Exclusive member-only online chats with our expert MLB writers every week Exclusive…


Mike Clevinger Violates Coronavirus Protocols
Indians right-hander Mike Clevinger has violated their coronavirus protocols, the team announced (via Ryan Lewis of Ohio.com). Clevinger was scheduled to start for the Indians against the Cubs on Tuesday, but they'll go with fellow righty Adam Plutko instead. Clevinger's violations came on the road against the White Sox over the weekend, as did fellow…


Dodgers Outright Terrance Gore
The Dodgers have outrighted outfielder Terrance Gore, Bill Plunkett of the Orange County Register tweets. He had recently been designated for assignment. Gore will remain in the Dodgers' 60-man player pool. He will remain available to the team if and when there's another opportunity at the MLB level. In addition to potential fill-in duty, Gore…


Angels Designate Jose Rodriguez
The Angels have designated righty Jose Rodriguez for assignment, per a club announcement. His 40-man spot was needed for southpaw Jose Suarez, who was reinstated from the injured list and optioned to the team's alternate training site. Soon to turn 25, Rodriguez first reached the majors in 2019 as a swingman for the Halos. He…


The Orioles announced this morning that they have released left-hander Ty Blach. He underwent Tommy John surgery last month. Blach wasn't on the team's 40-man roster but had been in their 60-man player pool, which dropped to a total of 59 players with his release. Blach, 29, struggled in 20 2/3 frames with the Orioles…


Twins Sign Casey Lawrence, Outright Aaron Whitefield
The Twins have inked right-hander Casey Lawrence to a minor league deal and assigned him to their alternate training site in St. Paul, per The Athletic's Dan Hayes (Twitter link). Meanwhile, outfielder Aaron Whitefield has cleared waivers and been assigned outright to the minor leagues. Being outrighted to the minors versus the alternate training site…


Madison Bumgarner To Be Evaluated By Team Doctors
Arizona Diamondbacks manager Torey Lovullo told reporters including The Athletic's Zach Buchanan that big-ticket free-agent acquisition Madison Bumgarner was removed from today's game due to back spasms (Twitter links). Bumgarner is returning to Phoenix to be looked at by team doctors. It's been a disappointing start to Bumgarner's career outside of San Francisco. The former…


Pirates To Sign Henderson Alvarez
The Pirates have reached an agreement to sign free-agent right-hander Henderson Alvarez, according to MLB insider Robert Murray. Alvarez, 30, has not pitched in the Majors since 2017, and has most recently turned up with the American Association's Milwaukee Milkmen. The deal, which is still pending a physical, will bring Alvarez aboard on a minor…


Lane Thomas Tests Positive For COVID-19
Outfielder Lane Thomas it the latest St. Louis Cardinal to test positive for coronavirus, per Derrick Goold of the St. Louis Post-Dispatch. Major League Baseball had already announced the cancellation of the Cardinals upcoming series with the Pirates, meaning they remain stuck on just 5 games played. They've now missed 13 consecutive games, and it's…


Reds Place Mike Moustakas On 10-Day Injured List
The Reds announced that infielder Mike Moustakas has been placed on the 10-day injured list (retroactive to August 6) due to a left quad bruise.  Right-hander Tejay Antone has been called up to take Moustakas' roster spot. More analysis to come…


Indians Dismiss Zach Plesac After Violating Health Protocols
The Indians have sent pitcher Zach Plesac home to Cleveland after discovering that Plesac violated MLB's health and safety protocols by going out in Chicago on Saturday night, reports Ken Rosenthal of The Athletic. Per Rosenthal, Plesac has been isolated from the team and will be required to quarantine for at least three days, with daily…


Royals Reinstate Hunter Dozier, Place Franchy Cordero On 10-Day IL
The Royals have reinstated Hunter Dozier from the injured list, the club announced via Twitter.  Dozier will take the roster spot left open by outfielder Franchy Cordero, who is headed to the 10-day IL with a right wrist sprain. Dozier is set to make his season debut after testing positive for COVID-19 just two days'…


Pirates Place Phillip Evans On 45-Day IL; Promote Jose Osuna, Brandon Waddell
10:09AM: The Pirates have officially placed Evans on the 45-day injured list.  The Bucs also announced the Mears option, the Osuna call-up, and the selection of Waddell's contract. 8:55AM: Evans will likely miss the rest of the season after suffering a broken jaw and a concussion, Mackey reports. 8:33AM: The Pirates will be calling up…


The Giants and White Sox have completed a trade, with outfielder Luis Basabe heading to San Francisco in exchange for cash considerations.  Right-hander Jordan Humphreys was placed on the restricted list to make room for Basabe on the Giants' roster.  (Henry Schulman of the San Francisco Chronicle tweets that Humphreys is dealing with a family…


Mets Place Michael Wacha On 10-Day IL
The Mets announced that right-hander Michael Wacha has been placed on the 10-day injured list due to inflammation in his throwing shoulder.  Catcher Ali Sanchez has been called up from the club's alternate training site to take Wacha's spot on the active roster. After a strong debut start for New York on July 27, Wacha…


Giants Announce Multiple Roster Moves
In addition to a trade this morning, the Giants have made a series of roster moves ahead of this afternoon's matchup with the Dodgers (first reported by Maria Guardado of MLB.com). They'll make a few tweaks to the pitching staff, reinstating left-hander Jarlin Garcia from the 60-day injured list and adding veteran Trevor Cahill to…


Click here to ask questions and follow along with this afternoon's live baseball chat, moderated by MLBTR's Mark Polishuk


Twins Select Cory Gearrin's Contract
The Twins have selected the contract of right-hander Cory Gearrin, the club announced.  Right-hander Sean Poppen has been optioned to create room for Gearrin. Gearrin inked a minor league deal with Minnesota back in February and will now make the prorated portion of a $1MM guaranteed salary for reaching the active roster.  The 34-year-old doesn't…


Quick Hits: Yankees, Chapman, Rays, Morton, Nationals, Rizzo, Martinez
The New York Yankees will make a decision about Aroldis Chapman's timeline to return to action after a throwing session on Tuesday, per ESPN's Marly Rivera. Chapman has yet to make an appearance this season. He tested positive for COVID-19 back on July 11th after showing mild symptoms. Chapman has been working his way back…


Yankees Place Giancarlo Stanton On 10-Day Injured List
The Yankees have placed Giancarlo Stanton on their 10-day injured list due to a left hamstring strain, the team announced.  Thairo Estrada has been recalled to take Stanton's place on the active roster. Stanton was removed from last night's 5-3 loss to the Rays, as manager Aaron Boone told reporters (including MLB.com's Bryan Hoch) that…


Rays Announce Multiple Roster Moves
The Rays announced several roster moves this morning (MLB.com's Juan Toribio was among those to tweet the full list), including the news that Manuel Margot has been activated from the COVID-19 injury list.  The club also selected the contract of right-hander John Curtiss from its alternate training camp, and also called righty Ryan Thompson back…


Astros Acquire Brooks Raley From Reds
The Houston Astros acquired Brooks Raley from the Reds for a player to be named later, the Reds announced. Raley was designated for assignment on Thursday. In a corresponding move, the Astros transferred closer Roberto Osuna to the 45-day injured list, per Mark Berman of Fox 26. Osuna is likely to undergo season-ending Tommy John…


The Orioles announced today that they have claimed right-handed pitcher Jorge Lopez off waivers from the Royals. Lopez, 27, was designated for assignment by Kansas City on Friday. He'll be added to the Baltimore 40-man roster, which is now full. More to come.


The Cubs announced that utilityman Derek Dietrich has been released so that Dietrich can explore a Major League opportunity with another club.  (MLB.com's Jordan Bastian was among those to report the news.) Dietrich signed a minor league deal with Chicago just prior to the July opener, and only three days after the Reds released him…


White Sox Designate Drew Anderson
The White Sox designated righty Drew Anderson for assignment, as per a team announcement.  Jose Ruiz, another right-hander, has been called up from the alternate training site to take Anderson's roster spot. Anderson signed a minor league deal with Chicago during the offseason and only had his contract selected prior to Saturday's game.  Unfortunately for…


Angels Recall Patrick Sandoval For Start, Option Luke Bard
The Los Angeles Angels optioned Luke Bard to their alternate site today, recalling Patrick Sandoval in his place, per Jason Martinez of Roster Resource over at Fangraphs. Sandoval made his major-league debut last season going 0-4 across 10 appearances (9 starts). His first start of the season came last week in a 10-2 Angels win over…


Cardinals Not Ready To Return, Likely To Cancel Series With Pirates
The St. Louis Cardinals have been told that they won't be coming together again as a team for at least 3-5 days, per The Athletic's Mark Saxon (via Twitter). Obviously, the implication here is that their upcoming series with the Pittsburgh Pirates will be canceled. Major League Baseball has not made an official announcement as…


Quick Hits: Verlander, Seager, Soroka
Astros manager Dusty Baker told reporters including the Houston Chronicle's Chandler Rome that ace Justin Verlander is "not progressing as quickly as he'd like" in his recovery from a forearm strain. Of course, Verlander holds himself to extremely lofty standards, so that could mean any number of things. Verlander went to the injured list on…


Giants Place Jeff Samardzija On 10-Day IL
The Giants have placed right-handed pitcher Jeff Samardzija on the 10-day injured list due to a shoulder impingement, according to Kerry Crowley of the Mercury News. He's set to undergo an MRI today. Meanwhile, left-hander Andrew Suarez has been recalled to replace Samardzija on the active roster. A blister on his right hand has prevented…


Blue Jays Option Billy McKinney, Activate Chase Anderson
Billy McKinney has been optioned to the Blue Jays' taxi squad, clearing the way to for Chase Anderson to join the active roster, per Shi Davidi of Sportsnet. Anderson starts today's game against the Red Sox, who are struggling themselves to fill out the starting rotation. The Jays rotation ranks 25th in fWAR for the…


Marlins' Roster Moves: Bleier, Venditte, Mejia, Moran
The Miami Marlins placed recent acquisition Richard Bleier on the injured list with a "mild strain in his elbow in his elbow bicep", per MLB Network contributor Craig Mish (via Twitter). In corresponding moves, the Marlins selected the contract of Pat Venditte, the switch-pitcher recently brought to camp. Humberto Mejia has been optioned to the…


Rangers Release Wei-Chieh Huang
The Rangers announced today that they have released right-handed pitcher Wei-Chieh Huang, who had been playing at the team's alternate training facility. Huang was a member of the Rangers' 60-man player pool, though he was not on the 40-man roster. He was acquired in the 2018 trade that sent Jake Diekman to Arizona. Huang appeared…


12:49PM: Iannetta explained his decision to The Athletic's Ken Rosenthal, saying that he told the Yankees in the offseason that he was going to retire if he wasn't on the Major League roster.  That stance didn't change after Higashioka was injured. "If I didn't make the team out of spring, I was going to call…


Orioles Recall Keegan Akin, Option Cedric Mullins
The Orioles announced today that they've promoted left-hander Keegan Akin to the Major League roster. To make room, outfielder Cedric Mullins has been optioned to the team's alternate training site. Akin, 25, is set to make his MLB debut. More to come.


Mets Make Handful Of Roster Moves
The Mets announced a few moves before their loss to the Marlins on Friday. The club activated right-hander Robert Gsellman from the injured list, optioned lefty Daniel Zamora to its alternate training site, added infielder Luis Carpio to its 60-man player pool and outrighted outfielder Ryan Cordell. Gsellman hasn't pitched this season on account of…


Injury Updates: Seager, Bummer, Senzel, Strop
The latest on four notable players who left last night's action due to potential injuries… Corey Seager left the field during the third inning of the Dodgers' 7-2 victory over the Giants due to what the club described as lower back discomfort.  As manager Dave Roberts told MLB.com's Ken Gurnick and other reporters, Seager will…


Yankees Announce Multiple Roster Moves
The Yankees have announced five roster moves prior to today's doubleheader with the Rays.  Catcher Erik Kratz joins the active roster after signing a Major League contract with the team, and Kratz will take the place of catcher Kyle Higashioka, who is headed to the 10-day injured list (retroactive to August 6) due to a…


White Sox Place Aaron Bummer On 10-Day IL, Promote Zack Burdi
The White Sox placed left-hander Aaron Bummer on the 10-day injured list due to a left biceps strain, the team announced.  Right-hander Brady Lail was also designated for assignment, and the two open Major League roster spots will be filled by right-handers Zack Burdi and Drew Anderson.  Burdi is being called up from the club's…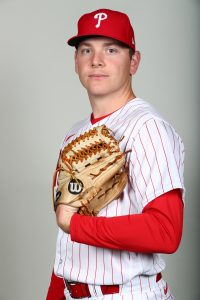 Phillies To Promote Spencer Howard For Sunday Start
Phillies pitching prospect Spencer Howard is set to make his Major League debut on Sunday.  According to Scott Lauber of the Philadelphia Inquirer, Howard has been told that he will be starting one of tomorrow's games in the Phils' doubleheader with the Braves.  Another transaction will need to be made in order to open room…


Red Sox Option Ryan Weber, Call Up Dylan Covey
The Red Sox have optioned right-hander Ryan Weber to their alternate training site, as per a team announcement.  Recently-acquired righty Dylan Covey has been called up to take Weber's spot on the MLB roster. The 2020 season has been a struggle for Weber, who has a 9.90 ERA over three starts and only 10 innings…


Twins Place Josh Donaldson On IL
The Twins have placed third baseman Josh Donaldson on the injured list with a strained right calf, Dan Hayes of The Athletic was among those to report. The move's retroactive to Aug. 4, though it's unclear how long Donaldson will take to recover. Minnesota has gone all week without Donaldson, who suffered the injury July…


Reds Acquire Mark Payton From Athletics
The Reds have acquired outfielder Mark Payton from the Athletics for cash considerations, Bobby Nightengale of the Cincinnati Enquirer tweets. Cincy took Payton from Oakland during last winter's Rule 5 Draft, but it returned him to the A's on July 21. The 28-year-old Payton entered the pro ranks as a seventh-round pick of the Yankees…


West Notes: Hosmer, Rangers, Rockies, Giants
There's a "very good chance" the Padres will activate first baseman Eric Hosmer from the injured list Saturday, manager Jayce Tingler told AJ Cassavell of MLB.com and other reporters. Hosmer has been out since July 28 with gastritis, which cut off an encouraging start to the season in which he was hitting more fly balls…


Royals Designate Jorge Lopez For Assignment
The Royals announced Friday that right-hander Jorge Lopez has been designated for assignment. He'd been on the bereavement list, and because he's out of minor league options, had to either be added back to the 28-man roster or designated for assignment. The Kansas City front office clearly didn't feel that Lopez was among the team's…


Indians Hitting Coach Ty Van Burkleo Opts Out Of Season
Indians hitting coach Ty Van Burkleo has elected to opt out of the season over coronavirus concerns, Zack Meisel of The Athletic was among those to report. He'll continue to assist the club remotely. Meanwhile, Alex Eckelman will join the big league staff to join Victor Rodriguez and Justin Toole as coaches who will work…


Latest On Yordan Alvarez, Jose Urquidy
A litany of health problems have slowed the Astros, who have started 2020 an even 6-6 after winning the American League a year ago. Slugger and 2019 AL Rookie of the Year Yordan Alvarez is among the team's most important players on the shelf, likely owing to a positive coronavirus test. Alvarez is taking batting…


Orioles Add Two To 60-Man Player Pool
The Orioles announced Friday that they've added lefty Brian Gonzalez and infielder Gunnar Henderson to their 60-man player pool. Both have been assigned to the club's alternate training site in Bowie. Baltimore's pool is up to 59 players. Gonzalez, 24, doesn't rank among Baltimore's best prospects but has had success up through the Double-A level,…


Red Sox Release John Andreoli, Add Seth Blair To Player Pool
The Red Sox have released outfielder John Andreoli in order to open a spot in their 60-man player pool for right-hander Seth Blair, per a team announcement. Blair will join the club's alternate training site. Andreoli, 30, is a Worcester native with 26 games and 67 plate appearance of big league experience under his belt.…


Cardinals Game Postponed Due To Additional Covid-19 Positive(s)
12:25pm: Major League Baseball has officially announced that tonight's game is postponed due to one additional positive test. However, USA Today's Bob Nightengale tweets that there's "concern" of a second positive test beyond the one the league has confirmed. That could point to some yet-inconclusive results and also explain the discrepancy between the earlier reporting…