Kwang Hyun Kim Moves Into Cardinals Rotation
The Cardinals will utilize lefty Kwang Hyun Kim in the rotation, manager Mike Shildt tells reporters including Derrick Goold of the St. Louis Post-Dispatch (Twitter link). Kim, 32, had been slotted into the relief unit after battling for a starting job in camp. He has made just one relief appearance, picking up a save but…


Pirates Place Nick Burdi On 45-Day Injured List
The Pirates announced today that they've placed reliever Nick Burdi on the 45-day injured list. He's said to be dealing with a right elbow injury. Utilityman JT Riddle has been activated from the injured list to take the open roster spot. While the full outlook isn't yet known, this is just wretched news for Burdi.…


Click here to read a transcript of tonight's live chat with Connor Byrne of MLBTR.


Marlins Sign Brandon Leibrandt
The Marlins have inked lefty Brandon Leibrandt, Craig Mish of Sports Grid reports on Twitter. He'll join the organization's 60-man player pool. There's little doubt the deal is of the minor-league variety. Liebrandt, son of Charlie, comes aboard after participating in the Somerset Professional Baseball Series staged by the indy ball Somerset Patriots. The 27-year-old Leibrandt,…


Royals Outright Oscar Hernandez, Place Starling & Sparkman On IL
The Royals have announced a series of roster moves. Backstop Oscar Hernandez was outrighted after clearing waivers. In other moves, the team has sent outfielder Bubba Starling and righty Glenn Sparkman to the injured list. The latter is dealing with a forearm strain. To replace them, catcher Meibrys Viloria and righty Scott Blewett were called…


Latest On MLB's Coronavirus Protocols
With the coronavirus already having disrupted multiple teams' seasons, commissioner Rob Manfred reportedly warned union chief Tony Clark last week that Major League Baseball could shut down the campaign prematurely if clubs don't follow its protocols. Baseball has continued on since then, though, and Manfred seems confident the league will finish its current season. The…


Mets Acquire Ariel Jurado, Designate Ryan Cordell
The Mets announced this afternoon that they've acquired right-hander Ariel Jurado from the Rangers in exchange for a player to be named later and (not or) cash considerations. Outfielder Ryan Cordell was designated for assignment to open a spot on the team's 40-man roster. Jurado has been assigned to the Mets' alternate training site in…


Angels To Activate Julio Teheran
The Angels will activate right-hander Julio Teheran from the injured list Wednesday, tweets Jeff Fletcher of the Orange County Register. The team has yet to formally announce the move, but Fletcher notes that manager Joe Maddon indicated as much on a pre-game radio appearance last night. It'll be Teheran's 2020 debut and mark his first…


Dodgers Promote Zach McKinstry
The Dodgers have promoted utilityman Zach McKinstry to the active roster, per a club announcement. He'll take the roster spot of southpaw Victor Gonzalez, who was optioned down. It's quite an achievement for the 25-year-old McKinstry, who entered the professional ranks as a 33rd-round draft pick back in 2016. He'll give the Dodgers yet another…


Latest On Cardinals' Potential Roster Additions
The Cardinals placed six players on the injured list yesterday following the team's Covid-19 outbreak, and they'll likely be adding infielder Rangel Ravelo to the IL as well. The team confirmed yesterday that he is also among the current players to have tested positive (but did not formally place him on the injured list). That…


Nick Madrigal Headed For IL With Separated Shoulder
Just-promoted White Sox infielder Nick Madrigal is headed directly to the injured list. He has been diagnosed with a separated shoulder, GM Rick Hahn told reporters including James Fegan of The Athletic (Twitter link). Fortunately, it sounds as if the prognosis is generally good. Madrigal could return to action by the end of the month,…


Cardinals Purchase Contracts Of Max Schrock, Roel Ramirez
The Cardinals announced four new additions to the active roster. Two of those players, infielder Max Schrock and righty Roel Ramirez, first had to be selected to the 40-man roster. Also coming up are righty Alex Reyes and southpaw Genesis Cabrera. Each of these moves, excepting that of Ramirez, was already known to be in the…


Tommy Kahnle Undergoes Tommy John Surgery
Aug. 5: Kahnle's surgery was performed yesterday, Heyman tweets. July 31: Yankees manager Aaron Boone announced Friday that right-handed reliever Tommy Kahnle will undergo Tommy John surgery, Marly Rivera of ESPN reports. This isn't surprising news, as MLB Network's Jon Heyman reported just minutes ago that Kahnle was probably going in this direction. Still, the…


Yankees Outright Chris Iannetta
The Yankees have outrighted catcher Chris Iannetta to their alternate training site, per a team announcement. Iannetta, whom the Yankees designated for assignment over the weekend, is no longer part of their 40-man roster but will stay in their 60-player pool. The 37-year-old Iannetta joined the Yankees as a minor league pickup last offseason on…


Braves Place Albies, Adams On Injured List; Markakis Activated
The Braves announced this morning that they've placed second baseman Ozzie Albies and first baseman Matt Adams on the 10-day injured list. Albies is dealing with a bone contusion in his right wrist, while Adams is hobbled by a hamstring strain. In a pair of corresponding moves, Atlanta reinstated outfielder Nick Markakis from the restricted list…


Max Scherzer Departs Early With Hamstring Injury
7:59pm: Thankfully, Scherzer is not dealing with an arm issue. He says he has a hamstring issue that flared up during the game, as Mark Zuckerman of MASNsports.com was among those to cover on Twitter. 5:32pm: The Nationals pulled ace Max Scherzer from tonight's game after one inning. It's not yet clear what drove the decision. Scherzer had…


Angels skipper Joe Maddon provided an update on the injury situations of shortstop Andrelton Simmons and starter/DH Shohei Ohtani. Mike DiGiovanna of the Los Angeles Times was among those to cover the chat (Twitter links). In the case of Simmons, who is nursing an ankle injury, he's not going to be activated as soon as eligible.…


Rockies Add Brian Serven To 60-Man Player Pool
The Rockies have added catcher Brian Serven to the 60-man player pool, per a team announcement. He'd still need to be added to the 40-man roster in order to be brought onto the active roster. Serven, 25, was taken in the fifth round of the 2016 draft. He had a rough offensive season in 2019,…


Royals' Brad Keller To Make Season Debut Thursday
Royals starter Brad Keller will make his season debut Thursday against the Cubs, manager Mike Matheny announced (via Jeffrey Flanagan of MLB.com). The right-hander has been behind schedule because of a positive coronavirus test. The 25-year-old Keller is about to begin his third season as a member of the Royals, who grabbed him during the…


Edwin Encarnacion, Nick Madrigal Exit With Shoulder Issues
The White Sox suffered a pair of potentially alarming injuries in their game against the Brewers on Tuesday, per tweets from James Fegan of The Athletic and Scott Merkin of MLB.com. Designated hitter Edwin Encarnacion and second baseman Nick Madrigal departed early with left shoulder problems. The team will reevaluate both players Wednesday. Encarnacion was…


Mariners Place Kendall Graveman On Injured List, Select Joey Gerber
The Mariners announced Tuesday that they've placed right-hander Kendall Graveman on the 10-day injured list due to neck spasms and selected the contract of right-hander Joey Gerber from their alternate training site. Seattle also recalled southpaw Taylor Guilbeau from their alternate site and optioned fellow lefty Zac Grotz. Graveman's placement on the IL is retroactive…


Yadier Molina, Paul DeJong Among Cardinals To Test Positive For Coronavirus
Mainstay Cardinals backstop Yadier Molina announced today that he is among the players that has tested positive for COVID-19. Starting shortstop Paul DeJong is also among the players to test positive. The team further announced (with the players' approval) that infielders Edmundo Sosa and Rangel Ravelo and pitchers Junior Fernandez and Kodi Whitley have been infected…


Marlins Place 13 Players On Injured List
The Marlins announced today that they've placed 13 players on the injured list. Those going on the IL include right-handers Sandy Alcantara, Jeff Brigham, Robert Dugger, Yimi Garcia, Jordan Holloway, Nick Neidert and Ryne Stanek; left-handers Adam Conley, Caleb Smith and Alex Vesia; infielders Sean Rodriguez and Miguel Rojas; and catcher Chad Wallach. Miami also…


The Rays can look forward to a significant lineup boost. The team has activated outfielder Austin Meadows from the COVID-19 injured list, Marc Topkin of the Tampa Bay Times tweets. Meadows has yet to make his season debut. He had already been cleared to rejoin the team but needed a few weeks to ramp up…


The Braves have designated lefty Chris Rusin for assignment, per a club announcement. Additionally, the team placed righty Mike Soroka on the 45-day injured list. Those moves created a pair of active roster spots to enable the promotion of two pitchers. Righties Chad Sobotka and Huascar Ynoa will each join the MLB team. Rusin, 33,…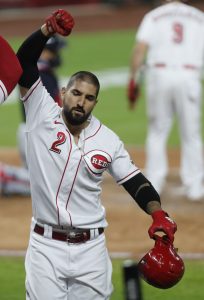 Free Agent Stock Watch: Nick Castellanos
So … it's early. Then again, we're also already a sixth of the way through the season (for some teams, anyway). When it comes to assessing next year's free agent crop, teams won't have the luxury of watching a full season of repeat testing. That being said, we're not going to fall into the trap…


White Sox Place Carlos Rodon On Injured List, Designate Luis Alexander Basabe
The White Sox have placed left-hander Carlos Rodon on the 10-day injured list due to left shoulder soreness, per a team announcement. In his place, they've selected the contract of right-hander Brady Lail from their alternate training site. Outfield prospect Luis Alexander Basabe was designated for assignment to open space on the 40-man roster for…


The Nationals have activated outfielder Juan Soto and right-hander Wander Suero from the injured list, the team announced. Outfielder Andrew Stevenson was optioned to the alternate training site to open one roster spot, while the team's recent placement of Will Harris on the IL left them with an existing vacancy. Soto isn't in tonight's lineup,…


Roberto Osuna May Require Tommy John Surgery
12:59pm: The initial diagnosis is that Osuna requires Tommy John surgery, Mark Berman of FOX 26 reports on Twitter. He'll go for a second opinion. If indeed that major reconstruction is required, it could have major ramifications beyond the present season. Osuna is earning $10MM this year (on a full-season basis) and would be due a…


The Padres are set to promote top pitching prospect Luis Patino. It appears the ADN Barranquilla Twitter account first posted the news, which has since been confirmed by other outlets. Patino is just twenty years of age, but he's widely considered one of the most electric young arms in baseball. He's expected to work out of…


Angels Don't Expect Shohei Ohtani To Pitch Again In 2020
Angels right-hander Shohei Ohtani went down Monday with a Grade 1-2 flexor pronator mass strain. It looked then as if Ohtani wouldn't make a return to the mound this year because of his four- to six-week timeline to begin throwing again. Manager Joe Maddon confirmed Tuesday that Ohtani is likely done as a pitcher for…


Athletics Promote James Kaprielian
The Athletics announced Tuesday that they've placed right-hander Jordan Weems on the 10-day injured list with a strained right lat and recalled right-hander James Kaprielian from their alternate training site. Oakland already has a deep rotation — Sean Manaea, Jesus Luzardo, Mike Fiers, Frankie Montas, Chris Bassitt — so it seems that Kaprielian's Major League…


Mets Place Robinson Cano On Injured List, Activate Billy Hamilton
The Mets have placed second baseman Robinson Cano on the 10-day injured list due to a Grade 2 left adductor strain and selected the contract of Billy Hamilton, who'll be on the bench for tonight's game (Twitter links via Anthony DiComo of MLB.com). DiComo adds that Jeff McNeil (intercostal strain) and Amed Rosario (quad tightness)…


Support MLBTR With An Ad-Free Subscription
With MLBTR's traffic and revenue down significantly, we've introduced an ad-free subscription option for those with the means and desire to support the site directly.  To provide 15+ new posts every single day on the latest hot stove news, we've got seven employees plus significant hosting and development costs. If you're a longtime reader and…


No New Positive COVID-19 Tests For Marlins, Cardinals
There was finally some good news on the coronavirus front, with Jon Heyman of MLB Network reporting (Twitter links) the latest test results from two hard-hit teams. Neither the Marlins nor the Cardinals registered any new positive tests for COVID-19. That means that the Marlins will finally get back to action this evening. That had been…


Click here to join Tuesday's chat with MLBTR's Steve Adams, or if you prefer, follow along in the embedded frame:


Mike Soroka Suffers Season-Ending Achilles Tear
Braves ace Mike Soroka suffered a torn right Achilles on Monday and will miss the rest of the season, Jeff Schultz of The Athletic was among those to report. The injury forced the right-handed Soroka out of his start early in a loss to the division-rival Mets. Not only is this development horrible news for…


MLB To Implement 28-Man Rosters For Balance Of 2020 Season, Postseason
While the initial plan for the shortened 2020 season was for rosters to begin at 30 players, drop to 28 after 15 days and drop to 26 two weeks later, it appears that plan will change. The Athletic's Ken Rosenthal tweets that rosters will drop to 28 players as scheduled on Thursday, but they'll remain…


Minor League Baseball Changes Negotiating Teams
Major League and Minor League Baseball are still at the bargaining table, but the latter will now seat different representatives. According to J.J. Cooper of Baseball America, the MiLB leadership has named a new slate of negotiators. It's an interesting gambit with the clock ticking on the existing deal between the sides and plenty of…


Braves' Anthopoulos On Possibility Of Pitching Trade
Braves GM Alex Anthopoulos is still picking up the pieces after a stunning series of early-season pitching woes culminated in last night's loss of Mike Soroka. Today, he discussed the possibility of swinging a trade with reporters including Gabe Burns of the Atlanta Journal-Constitution (Twitter links). The Atlanta organization is now going without four of…


Twins Place Rich Hill On Injured List
The Twins have placed left-hander Rich Hill on the injured list because of shoulder fatigue, Dan Hayes of The Athletic was among those to report. Hill's IL placement will be backdated, per manager Rocco Baldelli. The club has also added righty Juan Minaya to its 60-man player pool, Do-Hyoung Park of MLB.com tweets. Consistent IL…


Rangers Activate Joely Rodriguez, Place Greg Bird On IL
The Rangers announced that they've activated left-hander Joely Rodriguez from the injured list and placed first baseman Greg Bird on the 10-day IL, retroactive to Aug. 1. Bird's dealing with a right calf strain. The 28-year-old Rodriguez is now in position to make his Rangers debut after dealing with lat issues. The former Phillie spent…


60-Man Pool Additions: Orioles, Brewers
Here are the latest additions to 60-man player pools from around the majors: Joining the Orioles' 60-man player pool are righty Kyle Bradish, outfielder Ryan McKenna, and southpaw Bruce Zimmermann. Bradish, a fourth-round pick of the 2018 draft, had a solid year at the High-A level in 2019 and came to the Baltimore organization in the Dylan…


Mike Soroka Helped Off Field With Lower-Leg Injury
Braves starter Mike Soroka had to be helped off of the field after suffering an evident injury. He was attempting to cover first base when he came up limping and ultimately could not bear weight on his right leg. While it's obviously far too soon to know what kind of prognosis Soroka will face, replays…


Rockies V. Padres: Who's More Likely To Make Playoffs?
Neither Colorado nor San Diego entered the season as teams expected to contend for playoff berths, but both the Rockies and Padres have been among the National League's best teams a week-plus into what will go down as a strange 2020 campaign. The NL West rivals met over the weekend, and the Rockies took two…


The Twins have selected the contract of lefty Caleb Thielbar, per a club announcement. To create active roster space, the team optioned outfielder LaMonte Wade Jr. Thielbar, 33, is making a triumphant return to the majors after four seasons away. He worked to a 2.74 ERA over 98 2/3 innings with the Twins from 2013-15, but…


Mets' Infield Dealing With Injuries
The Mets are suddenly dealing with a few notable injuries in their infield, Deesha Thosar of the New York Daily News was among those to report. Second baseman Robinson Cano (left groin), shortstop Amed Rosario (left quad) and third baseman Jeff McNeil (lower back) are all battling some degree of "tightness," per Thosar. The severity…


Astros To Acquire Chase De Jong
The Astros have struck a deal to pick up righty Chase De Jong, per Mark Berman of FOX 26 (Twitter link). He had been working with the indy league Sugarland Skeeters. It's not immediately clear whether De Jong will join the Astros' active roster or instead head to the team's alternative training site. Regardless, he'll…


White Sox Sign Clayton Richard
The White Sox have inked left-hander Clayton Richard to a minor-league deal, per LaMond Pope of the Chicago Tribune  on Twitter. He'll report to the team's alternative training site. Richard, 36, has eleven years of MLB experience under his belt. He had a nice run earlier in his career before injuries intervened. Richard hasn't found much success…


The Padres have selected the contract of outfielder Abraham Almonte, as Kevin Acee of the San Diego Union-Tribune was among those to cover on Twitter. He'll take the active roster spot of righty Jerad Eickhoff, who was optioned down. More to come …


The Pirates have selected the contract of righty Yacksel Rios. Fellow right-hander Michael Feliz was moved to the 45-man injured list. Rios was outrighted off of the 40-man roster in late June. The 27-year-old will now get another shot. He owns a 6.20 ERA through 65 1/3 total MLB frames over the past three seasons.…


Cardinals Will Not Travel For Scheduled Series In Detroit
2:57pm: Indeed there are 13 total positives, including seven players, Jon Heyman of MLB Network tweets. 2:34pm: The Cards will not go to Detroit as scheduled, Mark Saxon of The Athletic tweets. It seems now they'll ultimately scratch at least seven contests, he adds. It also sounds as if the number of players on the roster with…


MLB To Cancel Field Of Dreams Game
Major League Baseball has decided to cancel the "Field of Dreams Game" it had previously scheduled for August 13. The Cardinals and White Sox were supposed to square off in the famed Iowa cornfield. The Cardinals are currently waiting to see just how bad an internal COVID-19 outbreak turns out to be. No matter how…


White Sox Activate Nomar Mazara
The White Sox announced Monday that they've activated right fielder Nomar Mazara for his season debut. In a pair of corresponding moves, catcher Yermin Mercedes was optioned to their alternate training site and right-hander Jimmy Lambert was placed on the 45-day injured list. Mazara has yet to live up to the top prospect hype that surrounded his MLB…


The Angels will promote top prospect Jo Adell, per Jon Heyman of MLB Network (via Twitter). The club is off tonight, so he'll have his first shot at playing in the majors tomorrow evening. Adell entered each of the past two seasons as a consensus top-ten prospect leaguewide. Selected out of high school in the…


Phillies To Resume Season Tonight
The Phillies announced this morning that their latest wave of testing again revealed no new positive Covid-19 tests. The team is traveling to New York to play the Yankees in the Bronx tonight, per the announcement. Jake Arrieta is lined up to face Gerrit Cole in tonight's series opener, and Aaron Nola is starting tomorrow night's…


Marlins Announce Numerous Roster Moves
As they prepare to resume play, the Marlins have announced a flurry of additions to the active roster (as covered on Twitter by reporters including Jordan MacPherson of the Miami Herald). Just who'll move to the COVID-19 injured list remains to be seen. Most of these players were picked up in the last week or…


Mets Outright Hunter Strickland
Right-hander Hunter Strickland went unclaimed on outright waivers and has been assigned to the team's alternate training site in Brooklyn, tweets MLB.com's Anthony DiComo. Strickland is no longer on the 40-man roster, but because he was outrighted to the alternate training site, he remains in the Mets' 60-man player pool and could be selected back…


Rangers Place Danny Santana On 10-Day Injured List
Prior to this afternoon's game against the Giants, the Rangers announced they've placed outfielder Danny Santana on the 10-day injured list, retroactive to July 30, with a right forearm strain. In his stead, they're bringing up infield prospect Anderson Tejeda. Four years removed from his previous quality season, Santana surprisingly broke out in Texas last season, hitting…


Shohei Ohtani Diagnosed With Strain Of Flexor Pronator Mass
Angels right-hander Shohei Ohtani has been diagnosed with a Grade 1-2 flexor pronator mass strain, the team announced. Ohtani is unlikely to begin throwing for at least four to six weeks. He's day-to-day as the club's designated hitter. Considering the timeline the Angels provided, it doesn't seem probable that Ohtani will factor into their rotation…


Carlos Rodon Departs With Shoulder Soreness
8:33pm: Rodon experienced shoulder soreness, the team announced. 8:16pm: White Sox starter Carlos Rodon left his start today after just two innings. The lefty's fastball velocity dropped precipitously in his second frame, as MLB.com's Adam McCalvy observes on Twitter. It's too soon to tell what caused the velo drop, but the South Siders obviously were concerned enough…


Shelby Miller Opts Out Of 2020 Season
Righty Shelby Miller has opted out of the 2020 season, the Brewers announced. He had been working out at the team's alternative training site. Miller, once an exciting young MLB hurler, has fallen on hard times on the mound of late. He has thrown only 82 innings in the majors over the past three seasons…


Padres Add Three To Player Pool
The Padres announced that they've added left-hander Travis Radke and infielders Seth Mejias-Brean and Jason Vosler to their 60-man player pool. All three will head to the club's alternate training site. The additions bring San Diego's pool up to a total of 57 players. Radke, 27, pitched well across three minor league levels in 2019,…


Mariners Place Brandon Brennan On 45-Day Injured List
The Mariners announced yesterday they have placed reliever Brandon Brennan on the 45-day injured list with a left oblique strain. The right-hander got into one game before the injury. Brennan stuck with Seattle as a Rule V pick out of the White Sox organization last season. While he only managed a 4.56 ERA in 47.1 innings…


Dodgers Activate Clayton Kershaw
The Dodgers have officially activated LHP Clayton Kershaw ahead of today's game, the team announced. Right-hander Mitch White has been optioned to create a spot on the active roster. Kershaw is set to take the mound for the Dodgers this afternoon against the Diamondbacks. Kershaw will make his season debut after missing his scheduled Opening…


Shohei Ohtani Underwent MRI On Pitching Arm
Two-way star Shohei Ohtani expressed discomfort in his right arm following today's start against the Astros, per various reporters (including Rhett Bollinger of MLB.com). He's been sent in for an MRI, the results of which have not yet come back. There's surely hope disaster will be avoided. But it's tough not to be at least somewhat…


Cardinals Have "Multiple" New Positive COVID-19 Tests
The St. Louis Cardinals have "multiple" new positive tests for COVID-19, according to a report from MLB insider Robert Murray. The exact number of positive tests isn't yet known. The news marks the third consecutive day the Cardinals have discovered more than one new positive test result, with the team discovering as many as five…


White Sox Release Kelvin Herrera
The White Sox have requested waivers on right-hander Kelvin Herrera for his unconditional release, as first reported by James Fegan of The Athletic. Herrera was playing out the final year of a two-year, $18MM contract signed with the Sox prior to last season. Herrera was designated for assignment on Friday. Herrera's White Sox tenure will…


Reds Place Joey Votto On Injured List; Activate Anthony DeSclafani
As expected, the Reds activated right-hander Anthony DeSclafani from the 10-day injured list today, as DeSclafani is scheduled to start the first game of a double-header against the Tigers.  He will take the roster spot of a notable figure, as first baseman Joey Votto will head to the injured list. The Cincinnati Enquirer's Bobby Nightengale…


Pirates Place Mitch Keller, Michael Feliz On 10-Day Injured List
The Pirates placed right-handers Mitch Keller and Michael Feliz on the 10-day injured list, the club announced.  Keller is dealing with left side discomfort while Feliz is suffering from right forearm discomfort.  Right-hander Cody Ponce and southpaw Sam Howard were called up to fill the two spots on the 30-man active roster. Keller and Feliz…


Roberto Osuna Leaves Game, Will Undergo MRI
Astros closer Roberto Osuna left Saturday's game due to an arm injury, and manager Dusty Baker told reporters that Osuna will head from Anaheim to Houston to undergo an MRI.  Facing his third batter of the ninth inning last evening, Osuna threw a pitch to the Angels' Jason Castro and immediately signaled for the trainer…


6:23 pm: Betts' finger has some swelling, but x-rays fortunately came back negative, manager Dave Roberts told reporters, including Ken Gurnick of MLB.com (Twitter links). He's day-to-day. 5:41 pm: Mookie Betts was lifted for a pinch hitter in the seventh inning of this afternoon's game against the Diamondbacks. The club since announced (Twitter link) that he…


Francisco Liriano Opts Out Of 2020 Season
Free-agent LHP Francisco Liriano has opted out of the 2020 season, according to MLB insider Robert Murray. Per Murray, the 36-year-old left "multiple guaranteed offers" on the table. Liriano is the 19th player (not including Nick Markakis, who chose to return to play after initially opting out) to spend this season on the sidelines. He…


Padres Place Eric Hosmer On 10-Day Injured List; Select Jerad Eickhoff's Contract
The Padres placed first baseman Eric Hosmer on the 10-day injured list Saturday due to gastritis.  Right-hander Jerad Eickhoff will take Hosmer's spot on the active roster, as the club announced today that Eickhoff's contract had been selected. Hosmer has only played in three games this season, though the good news is that team doctors…


Royals Reinstate Jakob Junis, Cam Gallagher From Injured List; Designate Oscar Hernandez
The Royals have activated right-hander Jakob Junis and catcher Cam Gallagher from the injured list, as per the team's official Twitter account.  To create roster space, catcher Oscar Hernandez was designated for assignment and righty Ronald Bolanos was optioned to the club's alternate training site. Junis is slated to start Kansas City's game against the…


Brewers Place Ryan Braun On 10-Day Injured List
The Brewers have placed Ryan Braun on the 10-day injured list, retroactive to July 30, the club announced. He's dealing with an infection in his right index finger. Milwaukee didn't provide a timetable for his return. The 36-year-old has only gotten into four games to this point, starting three at designated hitter. He's coming off a…


Mets Activate Jared Hughes From Injured List; Move Jed Lowrie To 45-Day IL
The Mets announced a series of roster moves this morning, including the news that right-hander Jared Hughes has been activated from the injured list.  Righty Franklyn Kilome was optioned to the minor league training site to make 30-man roster room for Hughes.  Also of note is the news that infielder Jed Lowrie has been moved…


Pirates Acquire Tyler Bashlor From Mets
The Pirates have acquired right-handed pitcher Tyler Bashlor from the Mets in exchange for cash considerations, reports Tim Healey of Newsday. The Pirates have designated LHP Robbie Erlin for assignment in order to clear a spot on the 40-man roster. More to come.


Rockies Place Wade Davis On 10-Day IL, Move Scott Oberg To 45-Day IL
The Rockies made some significant bullpen moves today, moving closer Wade Davis to the 10-day injured list due to a right shoulder strain.  Right-hander Joe Harvey has been recalled to take Davis' spot on the active roster.  In more troubling news, right-hander Scott Oberg has been moved from the 10-day IL to the 45-day IL…


Mets' Yoenis Céspedes Absent From Ballpark
As their Sunday matchup with the Braves got underway, the New York Mets announced that outfielder Yoenis Cespedes's whereabouts are unknown. The Mets released the following statement: "As of game time, Yoenis Cespedes has not reported to the ballpark today. He did not reach out to management with any explanation for his absence. Our attempts…


Cubs To Promote Justin Steele To Active Roster
10:42AM: The Cubs announced Steele's promotion, and in a corresponding move, right-hander James Norwood was placed on the 10-day injured list (retroactive to July 30) due to right shoulder inflammation.  Pitching in his third season for the Cubs, Norwood has a 16.20 ERA over 1 2/3 innings pitched this season. 9:22AM: The Cubs will promote…


Mets Acquire Billy Hamilton From Giants For Jordan Humphreys
The Mets and Giants have agreed to a trade that will sent veteran outfielder Billy Hamilton to New York in exchange for right-hander Jordan Humphreys, MLB.com's Anthony DiComo reports (Twitter link). After signing a minor league deal with San Francisco in February, Hamilton will move on without ever officially suiting up for the club.  Hamilton's…


Quick Hits: Cardinals Coronavirus Update, Mize, Kimbrel
The Cardinals and Brewers scheduled doubleheader for Sunday has been postponed, MLB announced in a statement. The Cardinals had 3 players and 1 staff member test positive for coronavirus this weekend with four pending tests still unresolved, tweets ESPN's Jesse Rogers. The positive tests will affect the schedule for the next week as well. The…


Marlins Claim Brian Moran, Sign Brett Eibner
The Marlins announced they have claimed left-handed reliever Brian Moran off waivers from the Blue Jays. They've also purchased the contract of two-way player Brett Eibner from the Eastern Reyes del Tigre of the independent Constellation Energy League, per an announcement from the indy ball club. (Mark Berman of Fox 26 was first to report that agreement…


Giants Designate Jandel Gustave For Assignment
Prior to today's game, the Giants designated right-handed reliever Jandel Gustave for assignment, per Maria Guardado of MLB.com (Twitter link). The move cleared roster space for the addition of fellow right-hander Andrew Triggs, whose contract was selected. Additionally, Rule V draftee Dany Jimenez cleared waivers and was returned to the Blue Jays organization after being designated earlier in…


Marlins To Resume Season On Tuesday; Updates on Cardinals, Phillies
Major League Baseball released a statement this afternoon providing updates on a number of clubs, including the Marlins, who have been out of action for the last week after a COVID-19 outbreak within the organization. As of now, Miami is set to resume its season on Tuesday with a four-game series against the Orioles in…


White Sox Place Tim Anderson On IL, Promote Yermin Mercedes
The White Sox have placed shortstop Tim Anderson on the 10-day injured list with a strained right groin, according to James Fegan of The Athletic. In turn, they've recalled catcher Yermin Mercedes to fill Anderson's roster spot. It will be Mercedes's first foray in the Majors after nearly a decade in pro ball. Anderson, 27,…


Eduardo Rodriguez Out For Season
Red Sox lefty Eduardo Rodriguez has been shut down for the 2020 season as a result of the myocarditis he has experienced following a bout with COVID-19, according to Alex Speier of the Boston Globe. While the Red Sox are confident that Rodriguez will make a full recovery in the long term, his heart issues…


Diamondbacks To Promote Andy Young
The Diamondbacks will give infielder Andy Young his first Major League promotion, MLB Network's Jon Heyman reports (Twitter link).  Young is already on Arizona's 40-man roster, though the D'Backs will have to make another move to find space on the 30-man active roster. Originally a 37th-round pick for the Cardinals in the 2016 draft, Young…


Minor MLB Transactions: 8/1/2020
It's been a busy sports day with the NBA and NHL back in action, not to mention the many MLB games still underway. As the action rolls along, we'll use this post to review some minor moves you may have missed… Catcher Jonathan Lucroy has been assigned to the Red Sox alternate training site in…


Marlins' Isan Diaz Opts Out Of 2020 Season
Marlins infielder Isan Diaz has opted out of the 2020 season.  MLB Network's Jon Heyman tweeted yesterday that Diaz was considering such a decision, and the move became official last night when Miami placed Diaz on their restricted list.  Diaz released a statement on his Instagram page: "This has been a tough week to see…


Dodgers Option Tony Gonsolin, Recall Mitch White
The Dodgers have made a change to their pitching staff, optioning right-hander Tony Gonsolin and recalling Mitch White from the team's alternate training site, as reported by J.P. Hoornstra of the Orange County Register. White is poised to make his Major League debut. More to come.


Astros Place Chris Devenski On Injured List, Select Carlos Sanabria
The Astros have placed pitcher Chris Devenski on the injured list, retroactive to July 29th, per Mark Berman of Fox 26 (via Twitter). To replace him on the roster, Houston selected the contract of Carlos Sanabria. As with many clubs around the game, consistently fielding a competent pitching staff is going to be bit of…


Braves Designate Jhoulys Chacin, Select Chris Rusin's Contract
The Braves have selected the contract of left-hander Chris Rusin, as per the team's official Twitter account.  To create space on both the 30-man active roster and the 40-man roster, Atlanta designated right-hander Jhoulys Chacin for assignment. Atlanta signed Chacin to a one-year, Major League contract back on July 21, as the club was looking…


Tigers Could Promote Casey Mize For Sunday's Start
One of baseball's top prospects could make his MLB debut on Sunday, as Casey Mize could potentially start the Tigers' game against the Reds.  Detroit manager Ron Gardenhire has held back from directly stating that Mize is slated to start, as the skipper told MLB.com's Jason Beck and other reporters on Friday that "I can't…


Rays Place Kevan Smith On Injured List, Recall Daniel Robertson
The Tampa Bay Rays have recalled infielder Daniel Robertson just a couple days after sending him to their alternate training site. Catcher Kevan Smith was placed on the injured list, per the team. Smith, 32, has been suffering from cold symptoms, prompting some coronavirus concern, though he's tested negative, per Marc Topkin of the Tampa…


Marlins Acquire Richard Bleier
The Orioles announced that they have traded left-hander Richard Bleier to the Marlins for a player to be named later. For the Marlins, this is clearly an attempt to fill in a roster that has been decimated by the coronavirus. Miami has seen a whopping 18 players test positive for the illness, which has prevented…


Lorenzo Cain Opts Out Of 2020 Season
Brewers center fielder Lorenzo Cain has opted out of the rest of the 2020 season, according to a team press release.  President of baseball operations David Stearns commented on the situation in the release, saying "Lorenzo Cain has informed us that he will not participate for the remainder of the 2020 season.  We fully support…


Marlins Acquire Richard Bleier
AUGUST 1: In a corresponding roster move, the Orioles selected the contract of catcher Bryan Holaday, per Roch Kubatko of MASNsports.com (via Twitter). Holaday becomes the third catcher on the O's active roster, joining Pedro Severino and Chance Sisco. JULY 31: The Orioles announced that they have traded left-hander Richard Bleier to the Marlins for…


AL Notes: Anderson, Giles, Red Sox, Indians
White Sox shortstop Tim Anderson left the team's win over the Royals on Friday with right hip soreness, the club announced. The reigning AL batting champion is day-to-day, and the White Sox will re-evaluate him Saturday, manager Rick Renteria told James Fegan of The Athletic and other reporters. Anderson had a multi-hit game Friday, continuing…