Easter Basket Ideas + Spring Gift Guides
We put together some adorable Easter basket ideas for Easter or any spring gift giving! You can mix and match these sweet options to create the CUTEST spring baskets and gifts. See the Easter baskets at the end of the post (and even some unconventional ideas for baskets!). These should ship in time for Easter [...]


Come Along for a Stroll Through Target! Target Spring Decor 2023
Come along for a little stroll through Target today...It's so fun to see such cute spring decor. I love looking to see what's new, what I could add to my existing decor, or what is similar to what I already have that I should bring out for spring, and what inspiration I can take away, too!


Our Pretty Spring Dishes and Easter Table Accessories + 6 Table Setting Tips!
I have always loved having pretty dishes and table settings, especially in SPRING! Today I wanted to give you a sneak peek at our beautiful new spring dishes and Easter table settings and accessories from Williams Sonoma. Our kitchen and dining room renovation isn't finished yet, but of course I'm already gathering all my favorite [...]


Pretty Spring Kitchen Accessories
Now that my kitchen remodel planning is behind me and the space is coming together, I finally have time to think about which accessories I want in it! Here are pretty spring kitchen accessories I found on Amazon--I ordered a few for our new kitchen!


5 Beautiful + Charming Bathrooms: Sunday Strolls + Scrolls
We found some beautiful and extra charming bathrooms to share today! It'll be awhile before I can start working on our bathrooms (since we're in over our heads with projects going on right now) but these bathrooms got me SO INSPIRED for all the possibilities! I hope you enjoy every details of these beautiful bathrooms as much as I do. Whether you want to start from scratch or just add a little personality to an existing space, you'll find so many ideas in these spaces.


Charming Kitchen Faucets (4 We've Had and Many More!)
I love charming kitchen faucets, especially the vintage look of gooseneck and bridge styles. Today I wanted to show you other faucets we've had in the past and give you a round up of more options at various price points!


5 Reasons Your Home May Not Feel Like A Sanctuary
Do you ever feel like your house doesn't look or feel the way you want it to? Deep down, beyond a desire to improve what our homes LOOK like, I believe what we all really want is a home that FEELS like a sanctuary, a peaceful refuge that inspires and rejuvenates us. Here are 5 possible reasons your home may not feel like a sanctuary.


Kitchen Inspiration: The Ultimate 31 Post Round Up of Timeless Kitchen Ideas
Oak Hill Architects Do you enjoy looking at timeless kitchen ideas as much as I do? Maybe you're dreaming of a kitchen remodel! Or looking for kitchen decorating inspiration? Or maybe you just love kitchens. ME TOO! I've got LOTS of inspiration for you today. You can scroll down to go right to it, or [...]


My Home Decor + Furniture on Sale (Favorite Presidents' Day Sales 2023)
Hi friends! I wanted to pop in and share a few home decor sales that might be of interest to you if you're doing any shopping this holiday weekend! I'll also share some photos of several of my own home decor pieces and furniture that are on sale right now! A few Presidents' Day Weekend [...]


35 Bunny Accessories + Easter Decor
Spring is in the air! We're sharing 35 adorable bunny accessories you could use to decorate for spring or Easter or to begin family traditions!


Fresh new spring decor shop with accessories and gifts for your home!


Simple spring changes to our bedroom + design tips and a 'get the look' mood board.


Amazon Home Decor – The Latest in My Amazon Shop
We've added a lot to our Amazon Home Decor Storefront and have been updating the category folders to make it easier to locate what you're looking for! Today I wanted to show you some of our latest additions, so many cute things! Decorating doesn't have to be expensive, whether you're an avid local bargain hunter, [...]


How to Decorate to Bring Happiness to Your Home
There is always so much noise online about "what is in and what is out" or "what is acceptable to do and not do" in home decor. It's my belief that decorating your home should be personal! You should decorate to bring happiness to your home.


Whimsical & Romantic Valentine's Decor and Ideas from Terrain
Do you decorate for Valentines day? Today's post will inspire you with creative ideas for decorating your home in this season, whether you plan to decorate for Valentine's Day or not! Our homes should bring us joy. They should reflect who we want to be, the life we've lived and what matters to us in [...]


Dreaming of Spring Gardens: Monday Mood Board
"If winter starts to feel dreary, it helps to remind ourselves that spring is on the way. Keep a pretty notebook where you can jot down all the lovely ideas that pop into your head during the day (or in the wee hours of the night). Whether the possibilities are destined for next season or [...]


Cozy Winter Fireplace Decorating: Sunday Strolls & Scrolls
@toni_marianna @amymaisondecor @thegroggyanchor @byemmadiaz @our1925home Fireplaces, candles, places to curl up on a cold winter's eve …. so cozy! I saved these inspiring spaces for the warm mood each of them evoke in their own way. There is so much to learn from them! A sanctuary isn't a style where everyone has the same elements [...]


Charming Wood and White Kitchens: Sunday Strolls + Scrolls
@thegroggyanchor A mix of wood and white in a kitchen, with metal accents and a bit of color (or a shade of black) for contrast has always felt like a classic formula me. There are so many ways to bring those elements together and add your own personality. I've remodeled many of our kitchens over [...]


My Pleated Patterned Lampshades + Sources
Sources for above: Bird Wall Art // Pleated Floral Lamp Shade I mentioned in my previous Strolls and Scrolls post that we now have three pleated lampshades in our new home. Today I wanted to share sources with you! Patterned lampshades are a fun way to refresh old lamps and give them a new but [...]


Looking back at 2022 and all the ways we've made progress in our home, plus life memories and business behind the scenes!


I think every home needs a snug, I hope this Monday Mood Board will inspire you to make one of your own!


Sunday Strolls and Scrolls: Charming Christmas Homes
We have a brand new inspired series to share with you! It's been awhile since we've put one of these inspiration room series together, so we are excited to be back with one we think you'll love as much as we do. Introducing Sunday Strolls + Scrolls! A periodic series where we can appreciate beauty [...]


Printable Christmas Gift Tags + Gift Wrap Inspiration
I love to use printable Christmas gift tags. They are such a simple and affordable way to add a little personal touch to your gifts, or even to add on to homemade items like baked goods! Have you wrapped your gifts yet? I for one have not. I've never been good at wrapping very far [...]


Getting Ready for Winter in The Snug
Do you have a room in your home that will be your cozy go-to space for winter? The Snug is without a doubt going to be my cozy winter spot! Sharing more photos and how we arranged our furniture to create zones!


How to Make Christmas More Festive, Magical, and Memorable (10 Simple Ideas)
Want this season to feel joyful, festive and make more memories in your home as we enter these last couple of weeks before Christmas? Today I'm sharing ten simple ideas for how to make Christmas feel more festive. "The best winter holiday traditions bring people together and leave a lasting impression. Keep them simple and [...]


Collected Cottage Bedroom Mood Board
Today's Monday Mood Board is inspired by my real life bedroom. It's a work in progress, so I will call it my collected cottage bedroom mood board! Many of you have let me know that you love the idea of focusing on a mood for your home! It is truly my favorite way to create [...]


20 Little Attitudes of Gratitude List
"Gratitude unlocks the fullness of life. It turns what we have into enough, and more." -Melodie Beatty Back in 2008 I shared a list of our family's 20 Little Attitudes of Gratitude, things I wanted our son and our family to work on around the home. I love to revisit this list, both for our own family [...]


Our family has always loved going out to get a real Christmas tree. But with our kids growing up and moving to different cities, we can't always do it any more. CUE THE TEARS! I miss that tradition with our family so much : ( but hope we'll get to do it again. I also [...]


Coastal Cottage Winter Mood Board
This week's Monday Mood Board might look familiar to you! We pulled together some of the elements we have in our living room (and similar ones!) to create this coastal cottage winter mood board. To me, the most important design feature to work with is the mood. To create a mood you like, you can [...]


My Favorite Black Friday Sales
There are some GREAT BLACK FRIDAY DEALS out there already! Some of my favorites from our Holiday Gift Guides are on sale too. If you're doing some Christmas shopping this week like I am, maybe we can get it all done before Thanksgiving! WOO HOO! I want to take a moment to thank you again for your [...]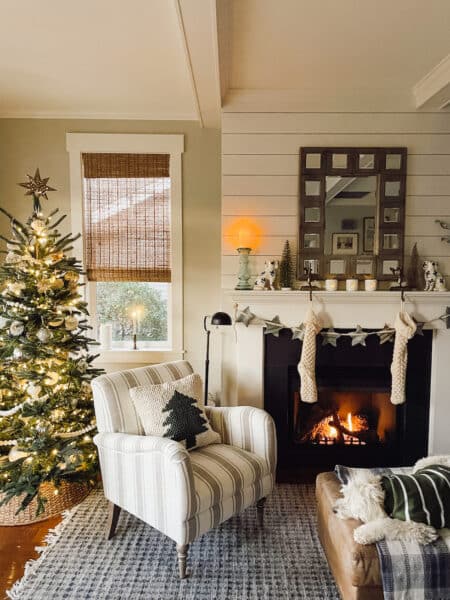 The Tale of our Striped Armchair
Meet our striped armchair! Here's the tale of how our Christmas tree led us make the right design decision for our living room!


Meaningful Christmas: Our Blue and White Nativity Set
Reading the Christmas story and setting up the nativity scene were always special parts of our family's Christmas tradition from the time we had babies. In fact, when the kids were very young my husband made one out of cardboard so they could play with it. They loved that! This year I gave my daughter [...]


Gift Guides 2022: Our Favorites + Ideas for Everyone!
Every year we keep our eyes open for the best of the best gift ideas for your home and the people you care about. It's always fun curating our favorites to share with you! We know our readers look forward to these gift guides every year, so we consider our time putting them together as [...]


Thanksgiving in the Kitchen Mood Board
Mood board sources below Are you hosting Thanksgiving this year (or did you, if you are in Canada!)? Last year we had just moved in to our new home. We had a wonderful Thanksgiving at my daughter Kylee's house in Portland. But this year, we're hosting! My sister and her family, the grandparents, our son [...]


An Autumn Dining Room Mood Board
Get inspired for your home and this season with a cozy autumn dining room mood board! Sources linked below This is a dining room I'd want to spend a lot of time in. The space is cozy, charming, and so inviting. I adore the mix of patterns, the rich warm browns with the soft blues, [...]


Our Christmas Decor Shop 2022 is HERE!
Our Christmas Decor Shop 2022 is here! We've scoured the web to find the most charming Christmas decor and added them to our shop! Find the links in the post and bookmark them for the future!


Amazon Prime Early Access Sale + Giveaway
My Amazon Prime Early Access Sale Favorites (click here!) Good news, friends! It's the Amazon Prime Early Access Sale (October 11-12)! This is new Prime member-exclusive event that offers early Holiday deals for customers to shop starting in the fall. It's a great time to get some Christmas shopping done if you're buying gifts this [...]


Battery Operated Window Candles: A Charming and Cozy Tradition for Winter
The best battery operated window candles (with unexpected features!) Window candles are a charming tradition with history! These battery operated window candles with bulbs and timers are a warm and welcoming idea to bring to your home in the darker months! Find the best window candles and more on why I love them in this post.


Entryways are such hardworking spaces. Perhaps you haven't really thought of your entry as a room that could (or should!) be cozier. But if this is the space that will welcome your family and friends to your home, let's give it a cozy fall mood!


10 Tufted Ottomans (Instead of Coffee Tables!)
Tufted ottomans can work really well in place of a coffee table! I love ours and have used it for years, so today I'm sharing 10 tufted ottomans and answering some FAQ I get about tufted ottomans!


Favorite Home Decor Labor Day Weekend Sales 2022
Source for above – Serena & Lily Hi friends! If you're shopping for your home over Labor Day weekend, here are some of my favorite home decor sales. Have a wonderful weekend! Serena & Lily 20% off everything with code – Click HERE to shop the sale Sources: Brass Chandelier with Shades // Nautical Rope Mirror // Guest Hand Towels (lighthouse [...]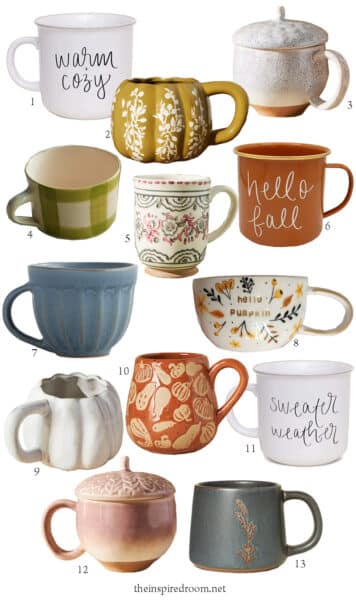 Fall Mugs to Make Your Day Cozier
I have a thing for cute mugs. Do you, too? I found several adorable mugs online that are making me excited for all the fall experiences!