The Twins have claimed right-hander Ralph Garza Jr. off waivers from the Astros, per a club announcement. Garza has been assigned to Triple-A St. Paul for the time being. A corresponding 40-man roster move isn't necessary, as Minnesota already had an open spot. Their 40-man roster is now full. Garza was designated for assignment by…


It's reunion season in Oakland. The A's announced Wednesday that they've signed outfielder/designated hitter Khris Davis to a minor league contract and assigned him to their affiliate in the Arizona Complex League. Davis, of course, was a mainstay in the Athletics' lineup from 2016-20, logging a trio of 40-homer campaigns as the team's primary designated…


11:00am: Hamels signed a Major League deal with a $1MM base salary, tweets ESPN's Buster Olney. USA Today's Bob Nightengale adds that Hamels will take home a $200K bonus for every start made. 10:32am: The Dodgers have a deal in place with Hamels, tweets Mike DiGiovanna of the L.A. Times. He'll first head to the…


Orioles To Select Marcos Diplan, Dusten Knight
The Orioles are set to shake up their bullpen mix a bit on Wednesday, per Dan Connolly of The Athletic, who reports that the team is set to select right-handers Marcos Diplan and Dusten Knight to the big league roster (Twitter link). Neither pitcher is on the 40-man roster, so Baltimore will need to make…


AL East Notes: Eshelman, Barnes, Darwinzon, Brasier
The Orioles announced that Thomas Eshelman has cleared waivers and accepted an assignment to Triple-A. The righty was designated for assignment on Sunday. In 21 1/3 innings this year, he's struggled mightily, with an ERA of 8.02, along with strikeout and walk rates of 6.9% and 9.8%. Elsewhere in the AL East… Matt Barnes was…


NL East Injury Notes: deGrom, d'Arnaud, Anderson
Mets ace Jacob deGrom spoke with reporters today, including Tim Healey of Newsday Sports, about his mounting injury woes. He said that his recent elbow inflammation is a separate issue to the forearm tightness that initially landed him on the IL. That forearm tightness caused deGrom to be sidelined on July 18th. A week later,…


Tyler Glasnow Expected To Undergo Tommy John Surgery
AUGUST 3: As expected, Glasnow will indeed have Tommy John surgery on Wednesday, reports Marc Topkin of the Tampa Bay Times. JULY 31: Rays right-hander Tyler Glasnow is expected to undergo Tommy John surgery next week, per ESPN's Jeff Passan (via Twitter). That not only officially marks an end to his 2021 season, but perhaps…


Dodgers Place Edwin Uceta On Injured List, Recall Brusdar Graterol
The Dodgers have placed righty Edwin Uceta on the IL with a lumbar strain, according to Bill Plunkett of The Orange County Register. His roster spot will go to fellow righty Brusdar Graterol. Uceta has been on-and-off the roster constantly this year, having been optioned and recalled six times. This will also be his second…


Brewers Claim Sal Romano Off Waivers From Yankees
The Brewers announced they've claimed right-hander Sal Romano off waivers from the Yankees. He'll add some depth to a bullpen that has been hit hard by the spread of COVID-19 throughout the Milwaukee clubhouse in recent days. Milwaukee will be Romano's third team of the year. He opened the season in Cincinnati but was cut loose…


Rays Sign Evan Phillips To Minor League Deal
The Rays have signed reliever Evan Phillips to a minor league deal, according to Ken Rosenthal of The Athletic. This is a quick bounceback for Phillips, as he was one of three players released by the Orioles yesterday. Phillips has been shuffling between Triple-A and the big leagues over the past few years. Since the…


Yankees Claim Jonathan Davis Off Waivers From Blue Jays
The Yankees announced a series of roster moves before this evening's game against the Orioles. Most notably, outfielder Jonathan Davis has been claimed off waivers from the Blue Jays. New York also selected the contracts of right-handers Brody Koerner and Stephen Ridings. They're replacing Gerrit Cole and Jordan Montgomery, who landed on the COVID-19 injured list after testing positive for…


Blue Jays Activate Corey Dickerson, Place Cavan Biggio On 10-Day IL
The Blue Jays have activated Corey Dickerson from the 10-day IL, per a team announcement. He will swap places with Cavan Biggio, who is going on the 10-day IL with "mid-back tightness." This will be Dickerson's first action for the Jays, having been acquired from the Marlins in a trade while on the injured list.…


Where Do The Cubs Go From Here?
Last week's trades of Anthony Rizzo, Javier Baez, and Kris Bryant were painful for Cubs fans.  Rizzo had been a Cub for 9.5 years.  Baez was drafted by the Cubs and his tenure lasted a decade.  Bryant was with the team for eight years after being drafted.  By 3pm Friday, all three were in different…


Phillies Release Brandon Kintzler
The Phillies have released reliever Brandon Kintzler, according to the MLB.com transactions tracker. That was the anticipated outcome after the veteran right-hander was designated for assignment over the weekend. Kintzler has well over five years of MLB service time, so he'd have had the right to reject an outright assignment in favor of free agency while retaining…


The Rays announced they've selected the contract of left-hander Dietrich Enns. Righty Chris Mazza was optioned to Triple-A Durham to open active roster space, while fellow righty Ryan Thompson was transferred from the 10-day to the 60-day injured list to clear a 40-man roster spot. Tampa Bay signed Enns out of independent ball last August, and he's now…


The Rays signed David Freitas to a minor league deal last week (h/t to Chris Hilburn-Trenkle of Baseball America). The veteran backstop signed with the Kiwoom Heroes of the Korea Baseball Organization last offseason, but he was waived in late June after putting up a .259/.297/.394 line across 148 plate appearances. Freitas has appeared in the…


AL West Injury Notes: Gurriel, Bregman, Urquidy, Pinder
Yuli Gurriel was scratched from tonight's Astros game with neck stiffness, according to Chandler Rome of the Houston Chronicle. Rome goes on to say that Gurriel was in "obvious discomfort" before speaking with the trainer. The 37-year-old is having his best season to date, with a slash of .324/.388/.490, producing a wRC+ of 145 and…


The Twins released right-hander Matt Shoemaker this afternoon, manager Rocco Baldelli told reporters (including Phil Miller of the Minneapolis Star-Tribune). Minnesota had already passed Shoemaker through outright waivers earlier this season, so the move won't clear up a 40-man roster spot. Minnesota signed Shoemaker to a one-year, $2MM deal over the winter in hopes of stabilizing…


Tigers' President: Team Could Pursue "High-Impact" Players This Offseason
Tigers president/CEO Christopher Ilitch spoke with reporters (including Chris McCosky of The Detroit News and Evan Petzold of the Detroit Free Press) this afternoon. Most notably, Ilitch addressed the upcoming offseason and suggested the Tigers could pursue some bigger-ticket acquisitions as they near the end of their rebuild. "(General manager Al Avila) and his team…


Outrighted: Tauchman, LaMarre, Weigel
Last Friday's trade deadline brought about a slew of DFAs as teams made room for newly acquired big leaguers. With the trades of players who'd been on Major League contracts no longer allowed post-deadline, most of these players will hit outright waivers and be made available to all 29 other clubs. (Others may simply be…


The Marlins announced they've placed middle infielder Jazz Chisholm on the COVID-19 injured list. Infielder Deven Marrero has been selected to the roster to replace him. Chisholm has been experiencing virus-like symptoms, reports Jordan McPherson of the Miami Herald (Twitter link). There's no indication that he's actually tested positive for the virus at this point. The 23-year-old is…


The Yankees are promoting Luis Gil to start this evening's game against the Orioles, the team told reporters (including Kristie Ackert of the New York Daily News). He'll be making his major league debut. Gerrit Cole had initially been lined up to take the ball, but he's now out of action for at least ten days…


Diamondbacks Select Tyler Gilbert
The Diamondbacks announced they've selected the contract of pitcher Tyler Gilbert. Southpaw Miguel Aguilar was optioned to Triple-A Reno in a corresponding move. It's the first big league call for Gilbert, a 27-year-old southpaw. A sixth-round pick of the Phillies out of USC in 2015, Gilbert spent his first few professional seasons in the Philadelphia organization. The…


Cubs' Hoyer Discusses Lack Of Extensions For Core Players
It's been a surreal week for Cubs fans, watching the core of the 2016 World Series club head out the door at the trade deadline in exchange for a series of prospects. Kris Bryant, Anthony Rizzo and Javier Baez have been the faces of the Cubs for a half decade now, but they now find…


Padres Designate Jorge Mateo For Assignment
The Padres announced this afternoon they've designated outfielder Jorge Mateo for assignment. The move clears active roster space for left-hander Matt Strahm, who has been reinstated from the 60-day injured list. San Diego acquired Mateo from the A's last June. The former top prospect was out of minor league options, so the Padres had to keep him…


Gerrit Cole Tests Positive For Covid-19; Gio Urshela To IL With Hamstring Strain
Yankees ace Gerrit Cole had been scheduled to start tomorrow's game against the Orioles but won't take the mound after testing positive for Covid-19, manager Aaron Boone announced to reporters this evening (Twitter link via Tyler Kepner of the New York Times). Boone also revealed that third baseman Gio Urshela is headed to the 10-day…


Pirates Place Chad Kuhl On Covid List, Select Shea Spitzbarth
The Pirates announced Monday that they've placed righty Chad Kuhl on the Covid-19-related injured list and selected the contract of right-hander Shea Spitzbarth in a corresponding move. Kuhl, 28, tested positive for Covid-19, per the Pirates, so he'll be sidelined a minimum of 10 days under this year's health and safety protocols. The right-hander has…


Angels Promote Jo Adell, Chris Rodriguez
The Angels have recalled outfield prospect Jo Adell and right-hander Chris Rodriguez from Triple-A Salt Lake, per a club announcement. Rodriguez, who was in the team's bullpen earlier this season, will make his first MLB start tonight against the Rangers. This will be the second call to the Majors for Adell, 22, who struggle mightily…


Mariners Activate Jake Fraley, Claim Marcus Wilson Off Waivers
The Mariners announced a series of roster moves this afternoon. Outfielder Jake Fraley has been activated from the COVID-19 injured list, while fellow outfielder Marcus Wilson was claimed off waivers from the Red Sox and optioned to Triple-A Tacoma. In corresponding moves, infielder Shed Long landed on the 10-day injured list with a stress reaction in his right…


The Marlins signed right-hander Bryan Mitchell to a minor league contract last week. He's been assigned to Triple-A Jacksonville, where he made his first appearance over the weekend. Mitchell pitched in the big leagues every year from 2014-18, spending the first four years with the Yankees before logging his most significant seasonal workload (73 innings) with…


The Orioles released reliever Evan Phillips, reports Dan Connolly of the Athletic (Twitter link). Baltimore is also moving on from reliever Cody Carroll and first baseman/corner outfielder Chris Shaw, according to Rich Dubroff of Baltimore Baseball (on Twitter). All three players had already been outrighted off the 40-man roster, so they'll hit the open market and presumably pursue minor league…


Diamondbacks Claim Sean Poppen
The D-backs announced Monday that they've claimed righty Sean Poppen off waivers from the Rays. Right-hander Stefan Crichton, who'd been with the club as a Covid-19 replacement player, was returned to Triple-A Reno in a corresponding roster move. Because Crichton had been selected to the roster as a replacement player, he didn't need to be…


Mets To Claim Jake Reed Off Waivers From Rays
The Mets are claiming reliever Jake Reed off waivers from the Rays, reports Anthony DiComo of MLB.com (Twitter link). Tampa Bay designated the right-hander for assignment over the weekend. Reed's time with the Rays was extremely brief, consisting of just a single appearance with Triple-A Durham. Prior to that, he'd spent some time with the Dodgers…


Astros Claim Jacob Wilson Off Waivers From A's
The Astros are claiming infielder Jacob Wilson off waivers from the Athletic, according to announcements from both teams. Oakland had designated Wilson for assignment over the weekend. Righty Tyler Ivey is being transferred to the 60-day injured list to create 40-man roster space, relays Chandler Rome of the Houston Chronicle (Twitter link). More to come.


Support MLBTR With An Ad-Free Subscription
If you enjoyed MLBTR's trade deadline coverage, we hope you'll consider our Trade Rumors Front Office subscription service.  For $29.89 per year, you'll be supporting us directly.  All ads on the site will disappear, and we work hard to provide additional value straight to your inbox every week.  Our subscription service has only gotten better…


Brewers Place Josh Hader On Covid List
4:50pm: Hader indeed tested positive, tweets Adam McCalvy of MLB.com. He'll be out a minimum of 10 days. 3:38pm: The Brewers have placed lefty Josh Hader on the Covid-19-related injured list, per a club announcement. Newly added righty John Axford has been selected to the Major League roster in a corresponding move. The team did…


Rangers Designate David Dahl For Assignment
The Rangers announced Monday that they've designated outfielder David Dahl for assignment. Texas has also selected the contract of right-hander Jimmy Herget, optioned righty Demarcus Evans to Triple-A Round Rock, and added outfielder DJ Peters to the active roster. The Rangers announced earlier in the afternoon that they'd claimed him from the Dodgers. Dahl, 27,…


Rangers Claim DJ Peters Off Waivers From Dodgers
The Rangers announced they've claimed outfielder DJ Peters off waivers from the Dodgers. Los Angeles had designated Peters for assignment over the weekend. It's not particularly surprising to see a team take a shot on Peters, who's long been considered a prospect of some note. Peters' combination of big power and enough athleticism to play a…


Brewers Acquire John Axford From Blue Jays
The Brewers announced they've acquired reliever John Axford from the Blue Jays for cash considerations. Axford signed a minor league deal with Toronto in June and was not on the Jays' 40-man roster, which is why he's eligible to be traded even after last Friday's deadline. Axford will be selected to Milwaukee's big league roster before this…


The Athletics announced Monday that right-hander Domingo Acevedo, who'd been designated for assignment Saturday, cleared release waivers and has re-signed a minor league deal to return to the organization. Acevedo made his big league debut with the A's earlier this season, allowing three runs in three innings before being designated for assignment. That DFA was…


Astros Activate Josh James From Injured List
The Astros activated reliever Josh James from the 60-day injured list and optioned him to Triple-A Sugar Land last night. A 40-man roster spot was opened earlier in the day when right-hander Ralph Garza was designated for assignment. James underwent left hip surgery last October, a procedure that originally called for a six-to-eight month recovery timeline. His…


Tigers GM Al Avila Discusses Deadline
Chris McCosky of The Detroit News recently spoke with Tigers' general manager Al Avila about the trade deadline. Avila discussed the circumstances that led to a relatively quiet deadline for the club. The only move they made was sending lefty Daniel Norris to the Brewers in exchange for righty Reese Olson. Players like Jonathan Schoop…


Tigers Claim Nivaldo Rodriguez From Astros
The Tigers announced they've claimed right-hander Nivaldo Rodríguez off waivers from the Astros and optioned him to Triple-A Toledo. Houston designated Rodríguez for assignment over the weekend. Detroit had a pair of vacancies on the 40-man roster, so no corresponding move was necessary. Rodríguez has made nine appearances totaling sixteen innings of relief at the big…


Pirates Claim Anthony Banda From Mets
The Pirates announced they've claimed left-hander Anthony Banda off waivers from the Mets. Pittsburgh already had a vacancy on the 40-man roster. New York designated Banda for assignment over the weekend. Banda's tenure with the Mets proved a fairly short one. New York acquired the 27-year-old in a minor league trade with the Giants in early…


Red Sox Notes: Bloom, Scherzer, Sale, Fabian
Acquiring one of the game's better power hitters in Kyle Schwarber doesn't exactly make for a quiet deadline season, though compared to what other AL contenders did in July, the Red Sox were comparatively modest in picking up Schwarber and relievers Hansel Robles and Austin Davis.  Chief baseball officer Chaim Bloom told MLB.com's Ian Browne…


Rays Notes: Springs, Johnson, McHugh, Archer
The Rays have placed Jeffrey Springs on the IL with a knee sprain, according to Marc Topkin of the Tampa Bay Times. Topkin also says Springs is relieved that it's just a sprain and not something involving structural damage. Springs gives his own recovery timeline as 2-4 weeks. Acquired in an offseason deal with the Red…


Injury Updates: Guillorme, Rendon, Trout, Walsh, Ohtani, Schwarber, Lamet
The Mets placed Luis Guillorme on the IL today with a left hamstring strain, according to Mike Puma of The New York Post. RHP Geoff Hartlieb was added to the roster in a corresponding move. Guillorme has been a solid contributor on a Mets team that has dealt with its fair share of injuries this year.…


Mets, Kumar Rocker Not Expected To Reach Agreement Before Draft Signing Deadline
TODAY: Rocker and the Mets aren't expected to reach an agreement before today's 4pm CT signing deadline, according to ESPN's Jeff Passan and Kiley McDaniel.  While not all hope has been abandoned that the two sides might still work something out, it would take "a drastic change" for a late agreement. JULY 27: The Mets…


Teams have until 4pm CT today to reach agreements with their selections from this year's amateur draft, and here are the latest notable signings coming in under the wire.  You can get more background on these players via the prospect rankings and scouting reports compiled by Baseball America, Fangraphs, MLB Pipeline, The Athletic's Keith Law,…


July Headlines: American League
We covered the National League yesterday, so let's look at the American League's biggest transactional headlines from a wild month of July… Windy City Trade Winds: "Help from within" had a few different meanings for the White Sox last month, as the return of Eloy Jimenez from the injured list and Luis Robert beginning his…


Orioles Make Three Roster Moves
The Orioles placed left-hander Tanner Scott on the 10-day injured list due to a left knee sprain.  Fellow lefty Keegan Akin has been reinstated from the COVID-related injury list to take Scott's place on the active roster, while right-hander Thomas Eshelman was designated for assignment to open up a 40-man roster spot. Scott has a…


Dodgers Activate Mookie Betts From 10-Day IL
The Dodgers announced a series of roster moves, most notably the activation of star outfielder Mookie Betts from the 10-day injured list.  Right-hander Yefry Ramirez also had his contract selected, with James Sherfy moved to the 60-day IL to open up a 40-man roster space.  For the active roster, utilityman Zach McKinstry and right-hander Mitch…


Astros Notes: Garza Jr., James, Bregman, Báez, Brantley
The Astros have designated Ralph Garza Jr. for assignment, according to Chandler Rome of The Houston Chronicle. Rome speculates that this move is to facilitate the activation of Josh James. Before today's game, general manager James Click told reporters, including Fox 26's Mark Berman, that James was close to returning. James has shown flashes of…


Marlins To Seek Catching Help In Offseason
Jorge Alfaro's time with the Marlins looks to be about up, as Barry Jackson and Craig Mish of The Miami Herald report that the club is planning to part ways with the catcher this winter and look for a new starter behind the plate.  Alfaro earned $2.05MM this season in his first year of arbitration…


Marlins Select Sean Guenther, Option Lewin Diaz
The Marlins have selected the contract of left-hander Sean Guenther from Triple-A Jacksonville.  First baseman Lewin Diaz was optioned to Triple-A in the corresponding move. The 25-year-old Guenther is now in position to make his Major League debut.  A seventh-round pick out of Notre Dame in the 2017 draft, Guenther isn't ranked by either Baseball…


Yankees Place Domingo German On 10-Day Injured List
The Yankees placed right-hander Domingo German on the 10-day injured list prior to today's game, as German is suffering from inflammation in his throwing shoulder.  Righty Albert Abreu was called up from Triple-A to fill the spot on the active roster. German started New York's 4-2 win over the Marlins last night, lasting four innings…


Marlins Sign First-Rounder Kahlil Watson
The Marlins officially announced their deal with 16th overall pick Kahlil Watson.  MLB Pipeline's Jim Callis (Twitter links) originally reported on Friday that the two sides were in agreement on a deal, and Watson passed his routine physical yesterday. Watson is expected to receive a bonus of $4,540,790, which is well above the $3,745,500 slot…


Dee Strange-Gordon Elects Free Agency
Infielder Dee Strange-Gordon has decided to opt out of his minor league deal with the Pirates, according to The Athletic's Ken Rosenthal (via Twitter).  The veteran signed with Pittsburgh in early July. Strange-Gordon is still looking for his first MLB game of the 2021 campaign, which would make it 11 seasons in the Show for…


TODAY: The Angels officially announced that Detmers' contract has been selected.  Infielder Kean Wong was also recalled from Triple-A, while James Hoyt and Luis Rengifo were optioned to Triple-A yesterday to open up roster space. JULY 30, 8:10PM: Cobb is indeed going on the IL, according to the team. But it's because of "right wrist…


The Brewers have selected the contract of left-hander Blaine Hardy.  The veteran will take the spot of Hunter Strickland, whose placement on the COVID-related injury list wasn't made official until today. Hardy underwent Tommy John surgery in March 2020, preventing him from taking the field last season and keeping him from benefiting from a minor…


Orioles GM Mike Elias On Deadline, Future
Orioles general manager Mike Elias spoke to Rich Dubroff of BaltimoreBaseball.com, just after their relatively inactive deadline. Baltimore are firmly entrenched in the "seller" category, with the worst record in the American League and only the Diamondbacks keeping them from being worst in all of MLB. But despite that, the club only made a pair…


Details On Extension Talks Between Joey Gallo, Rangers
6:30PM: In a follow-up piece, Grant speaks to Boras, who disputes the story that they made a counterproposal north of $300MM. "I asked where they saw Joey sat in relation to Elvis [Andrus] and Anthony Rendon," Boras is quoted as saying. "There was never a counter-offer or demand made. There was only a question asked." 3:01PM:…


Jed Hoyer Discusses Cubs' Deadline Moves
The Cubs were one of the busiest teams of deadline season, moving many of their veteran players in a series of trades that officially closed the curse-breaking era of Wrigleyville baseball.  However, president of baseball operations Jed Hoyer feels the next window of contention will open sooner rather than later thanks to these deals, telling…


Marlins Discussed Trades Involving Bryan Reynolds, Brandon Marsh
Prior to the trade deadline, the Marlins were looking for outfield help, and explored what would have been a pair of major deals.  Barry Jackson and Craig Mish of The Miami Herald report that the Marlins checked in with the Pirates about All-Star center fielder Bryan Reynolds, and also discussed a fascinating deal with the…


Brandon Workman Elects Free Agency
Brandon Workman has been outrighted off the Red Sox roster and elected free agency, according to Pete Abraham of The Boston Globe. Workman has recently been designated for assignment to create roster space after Boston traded for Kyle Schwarber. After being a mainstay of the Red Sox bullpen for years, Workman was traded to Philadelphia…


Draft Deadline Notes: Rocker, Ulloa, Zavala
The 4PM CT deadline for teams to sign their draft picks has now passed. The biggest storyline is that the Mets and first-round pick Kumar Rocker could not come to an agreement. Reports indicate that there was a dispute between the team and Rocker's camp about a health issue, though the exact nature of any…


Astros Select Jake Meyers, Designate Nivaldo Rodriguez For Assignment
The Astros announced a number of roster moves today. Phil Maton — acquired yesterday from the Indians — was added to the active roster, while Jake Meyers had his contract selected. To make room on the active roster, Bryan Abreu was optioned to the taxi squad and Brandon Bielak was optioned to Triple-A. To create…


Yankees Designate Sal Romano For Assignment
The Yankees announced that right-hander Sal Romano has been designated for assignment.  The move creates a roster spot for left-hander Andrew Heaney, acquired yesterday in a trade with the Angels. Signed to a minor league deal in May, Romano had his contract selected last week and he tossed 2 1/3 scoreless innings over two appearances…


Padres Place Fernando Tatis Jr, Chris Paddack On 10-Day IL
The Padres have placed shortstop Fernando Tatis Jr. and right-hander Chris Paddack on the 10-day injured list.  Tatis is on the IL with left shoulder inflammation, after leaving last night's game with a shoulder problem following a slide into third base.  Paddack has been sidelined with a left oblique strain, and his placement is retroactive…


The latest on coronavirus situations from around baseball… Marlins manager Don Mattingly has tested positive for COVID-19, the team announced (MLB.com's Christina De Nicola was among those to report the news).  Mattingly is experiencing some mild symptoms but has been vaccinated against the coronavirus.  Bench coach James Rowson will serve as acting manager while Mattingly…


Angels Notes: Deadline Trades, Minasian, Cobb, Ward
The Angels acted as sellers rather than buyers at yesterday's trade deadline, moving Andrew Heaney to the Yankees and Tony Watson to the Giants in a pair of deals.  However, these were the only moves made, as "we were not focused on tearing down this team by any stretch," GM Perry Minasian told The Los…


Marlins Reinstate Trevor Rogers From 10-Day IL, Designate Preston Guilmet
The Marlins announced four roster moves prior to their game with the Yankees, most notably the activation of tonight's scheduled starting pitcher.  Trevor Rogers has been reinstated from the 10-day injured list, and newly-acquired catcher Alex Jackson has also officially been added to the roster.  In corresponding moves, right-hander Preston Guilmet was designated for assignment…


Braves Option Orlando Arcia, Sean Newcomb
Deadline acquisitions Richard Rodriguez and Jorge Soler are in Atlanta and active or tonight's ballgame, per the team. To make room for their arrival, Orlando Arcia and Sean Newcomb have been optioned to Triple-A. Arcia came over from the Brewers midseason and had mostly played left field for the Braves — his first outfield appearances…


Taylor Rogers' Season In Jeopardy Due To Finger Injury
Taylor Rogers is hoping to avoid a season-ending surgery in the wake of his recent finger injury, Twins manager Rocco Baldelli told The Minneapolis Star Tribune's Phil Miller and other reporters.  Baldelli initially thought that Rogers' injury would indeed keep the left-hander out of action for the remainder of the 2021 season, though Rogers received…


Deadline Notes: Rockies, Story, Mets, Bryant, Gibson, Nationals, Dodgers
The Rockies reportedly received offers for All-Star shortstop Trevor Story from the Yankees, Brewers, White Sox, and Rays prior to Friday's trade deadline, per Jon Heyman of the MLB Network (via Twitter). The Rockies have been criticized for their failure to move Story, given that they are all but assured to lose him as a free…


Dodgers Place Tony Gonsolin On 10-Day Injured List
The Dodgers have placed right-hander Tony Gonsolin on the 10-day injured list due to right shoulder inflammation, and also sent right-hander Brusdar Graterol and outfielder Luke Raley to Triple-A.  The trio of moves clears the way for Max Scherzer to be activated onto the Dodgers' roster, while righty Edwin Uceta and southpaw Garrett Cleavinger were…


Tyler Glasnow Expected To Undergo Tommy John Surgery
Rays right-hander Tyler Glasnow is expected to undergo Tommy John surgery next week, per ESPN's Jeff Passan (via Twitter). That not only officially marks an end to his 2021 season, but perhaps his 2022 season as well. Passan adds that he may not return until 2023, though there remains a "small chance" that they'll find…


Injury Updates: Brito, Marte, Kershaw, Sale
Phillies Triple-A prospect Daniel Brito collapsed in the first inning of today's game, and had to be taken off the field via ambulance.  According to a statement released by the team, Brito is currently undergoing surgery at a local hospital, but no other details were provided.  (Sal Maiorana of The Rochester Democrat and Chronicle has…


July Headlines: National League
This year's trade season did not disappoint. After a wild couple of days, we're gonna do our best to recap the action from one of the busiest trade deadline in recent memory. Let's start with the headlines coming out of the Senior Circuit this month… The Champ Are Still The Champs: This phrase, in many ways,…


Fernando Tatis Leaves Game With Apparent Shoulder Injury
Padres shortstop Fernando Tatis Jr. left tonight's game after sliding into third base and seemingly re-injuring his left shoulder, according to Dennis Lin of The Athletic. There isn't any word yet on the severity of the injury. But this is an issue that has been bothering Tatis on-and-off for the entire season. It first flared…


Nationals Expected To Activate Josiah Gray, Mason Thompson
In trading away much of their current roster before yesterday's trade deadline, the Nationals prioritized talent that was close to Major League ready. The hope and expectation was that many of the players acquired over the past few days will soon join Juan Soto, Victor Robles, and company in DC to begin shaping the next…


Diamondbacks Sign First-Rounder Jordan Lawlar
4:19PM: The D'Backs have officially announced their agreement with Lawlar. 3:45PM: As originally reported yesterday by John Gambadoro of 98.7FM Phoenix, the Diamondbacks reached an agreement with sixth overall pick Jordan Lawlar.  The high school shortstop signed for a hefty $6,713,300 bonus, according to MLB Pipeline's Jim Callis (Twitter links).  This is both well over…


Diamondbacks Reinstate Carson Kelly, Place Five On COVID-IL,
The Diamondbacks appear to be dealing with a COVID outbreak, according to Bob Nightengale of USA Today. He lists Stuart Fairchild, Joe Mantiply, Noe Ramirez, Riley Smith and Pavin Smith as those going on the IL. Manager Torey Lovullo told Zach Buchanan of The Athletic that Ramirez and Fairchild actually tested positive. Because of those…


Mets Designate Anthony Banda, Outright Akeem Bostick
The Mets announced that left-hander Anthony Banda has been designated for assignment, while right-hander Akeem Bostick has been outrighted to Triple-A.  (Bostick was DFA'ed yesterday as part of the Mets' roster shuffles on deadline day.)  The moves open up some 40-man roster space for the two particulars of yesterday's big trade with the Cubs —…


Trevor Story "Confused" By Lack Of Trade
Rockies' shortstop Trevor Story is "confused" after not being traded before today's deadline, according to Patrick Saunders of The Denver Post. "I don't have really anything good to say about the situation and how it unfolded," Story says. Story has been often mentioned as a logical trade candidate, given the fact that he's a pending…


Nationals Sign First-Rounder Brady House
As reported yesterday, the Nationals signed first-round pick Brady House. His deal is worth $5MM, per Jon Heyman of the MLB Network (via Twitter). The slot value for the 11th overall selection is $4.55MM. House's signing represents a bit of good news for Nats fans amid their sell-off yesterday. The high school shortstop was long…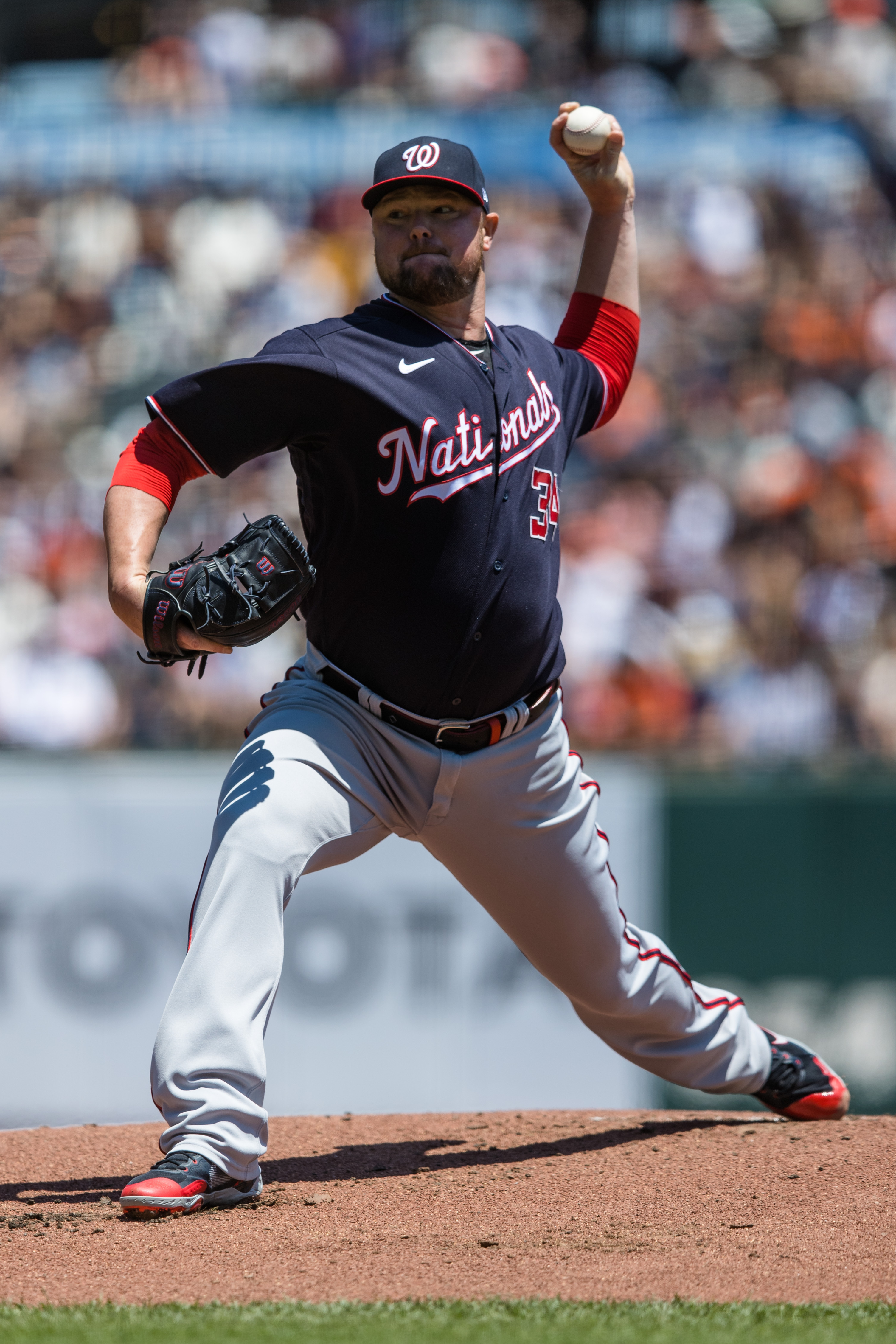 Nationals, Cardinals Swap Jon Lester For Lane Thomas
The Cardinals added a second veteran lefty just prior to the trade deadline, agreeing to acquire longtime division rival Jon Lester from the Nationals in exchange for outfielder Lane Thomas. Both teams announced the swap. Lester joins fellow graybeard J.A. Happ as a new addition to a Cardinals rotation that has been decimated by injury.…


Twins Exploring Buxton, Donaldson Trades
1:36PM: Both Buxton and Josh Donaldson are being shopped by the Twins, MLB.com's Mark Feinsand tweets. 12:56PM: The Twins have already traded Nelson Cruz and Jose Berrios, and they're surely not done for the day, with several other players to shop to contending clubs. Center fielder Byron Buxton's market has picked up steam since last…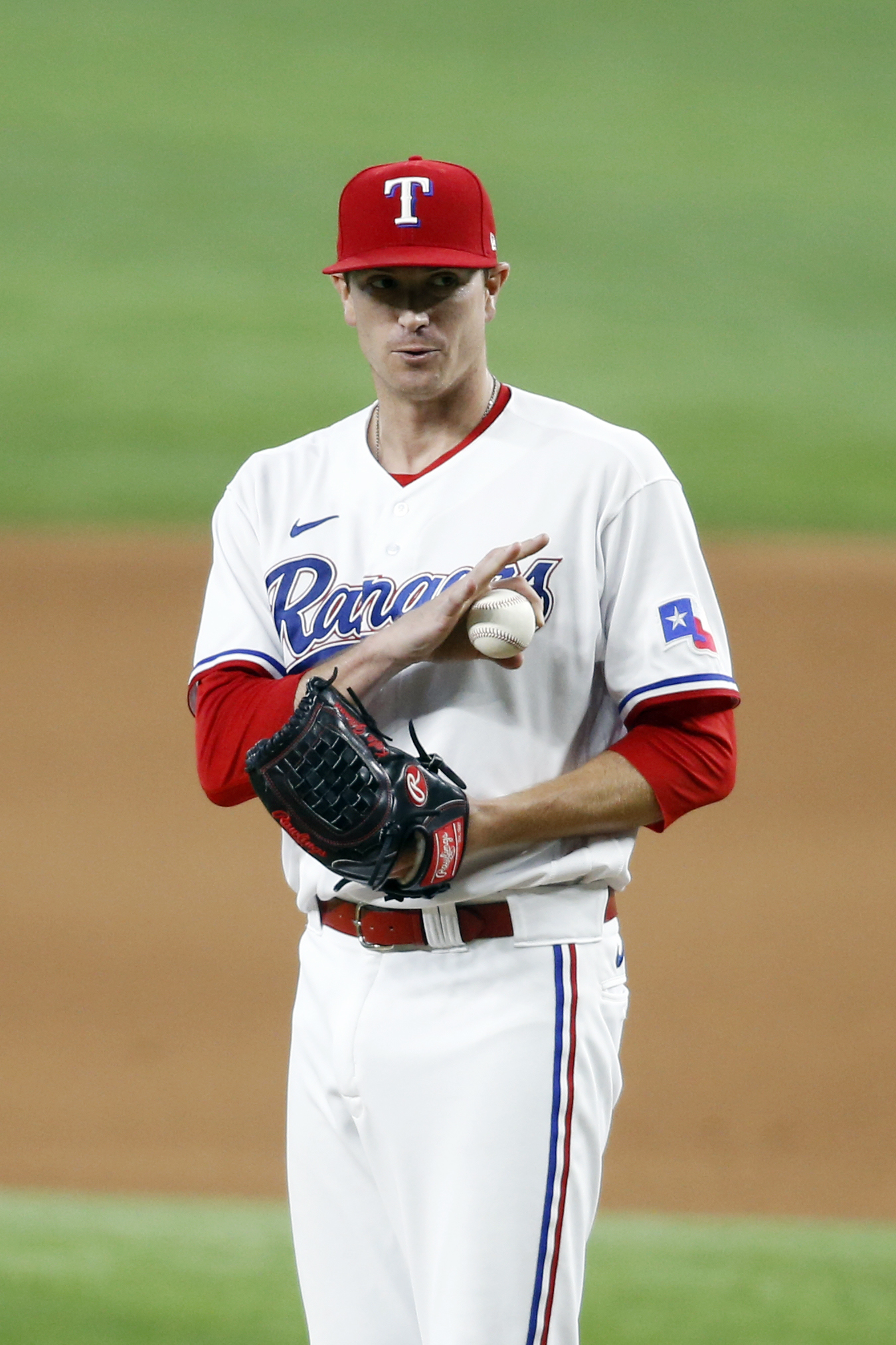 Phillies Acquire Kyle Gibson, Ian Kennedy For Package Including Spencer Howard
The Phillies struck a deadline deal to add a pair of quality arms — one each for the rotation and the bullpen. Philadelphia acquired starter Kyle Gibson and reliever Ian Kennedy from the Rangers, along with pitching prospect Hans Crouse. In return, the Phils are sending three players, including young righty Spencer Howard. Texas also added pitching prospects Kevin Gowdy and Josh…


Kyle Gibson Rumors: Deadline Day
Rangers right-hander Kyle Gibson is enjoying a career year, reaching his first All-Star Game and posting a 2.87 ERA and 50.8% grounder rate over 113 innings.  There are some red flags (a 4.46 SIERA and a below-average 20.4% strikeout rate), but for a veteran arm controlled through 2022 on an $8MM salary, Gibson has been…


Tigers Reportedly Discussing Michael Fulmer In Trades
The Tigers have been discussed reliever Michael Fulmer with other teams this afternoon, reports Jon Morosi of MLB.com (Twitter link). Detroit needn't move Fulmer, who's controllable through next season via arbitration, unless particulaly impressed by an offer. Fulmer has tossed 42 innings of 3.86 ERA/3.44 SIERA ball this season, his first as a bullpen option. He's…


Dodgers Reinstate Corey Seager From Injured List
The Dodgers announced they're activating star shortstop Corey Seager from the 60-day injured list prior to this evening's game against the Diamondbacks. He's in tonight's starting lineup, hitting cleanup and playing shortstop. The star shortstop has been out since being hit on the hand with a pitch from Ross Detwiler in mid-May. X-rays revealed a fractured…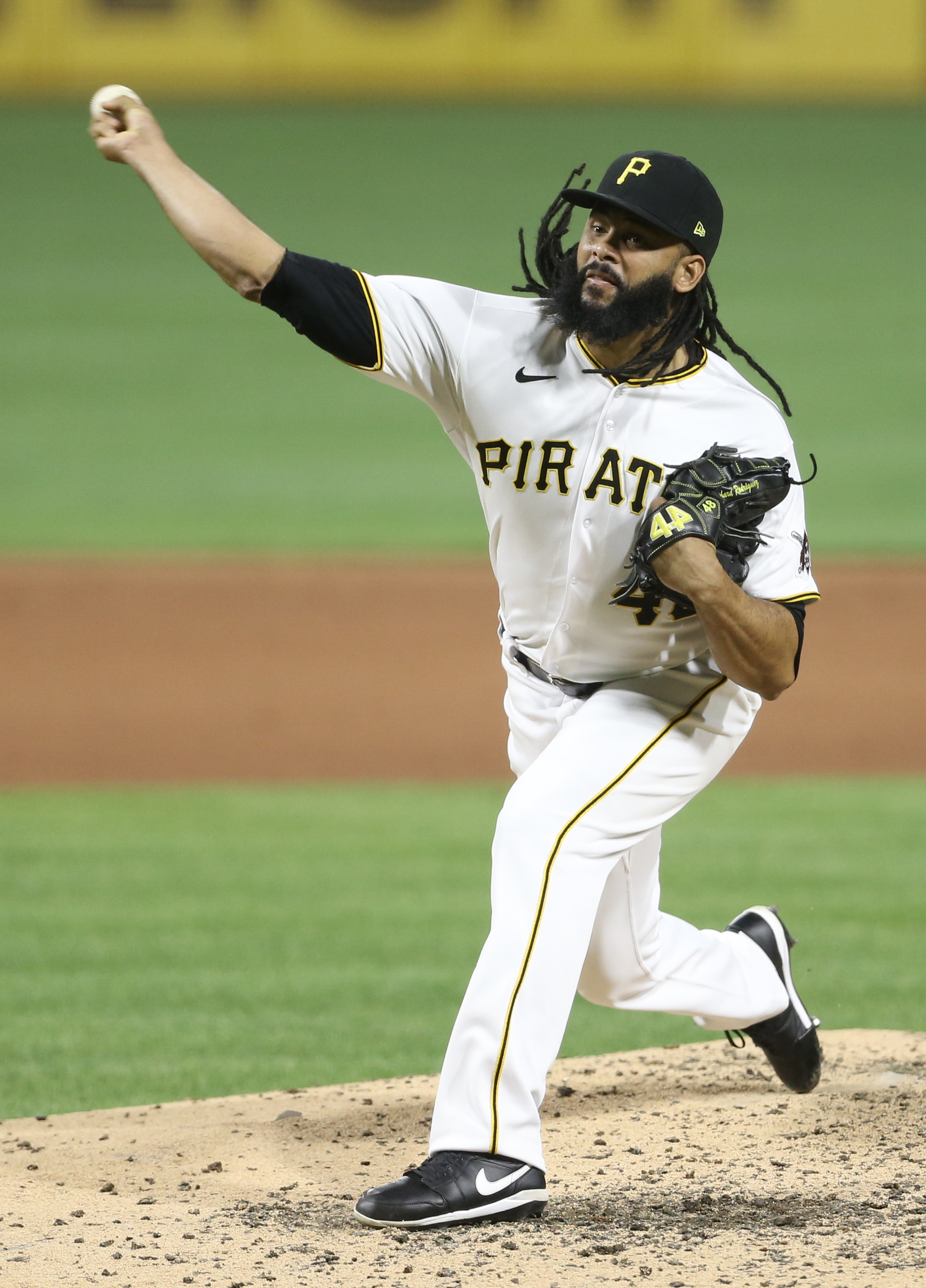 Braves To Acquire Richard Rodriguez
The Braves and Pirates completed a last-minute deal sending closer Richard Rodriguez from Pittsburgh to Atlanta, reports ESPN's Jeff Passan (via Twitter). Ken Rosenthal of The Athletic adds that righties Bryse Wilson and Ricky DeVito are headed to Pittsburgh in return for Rodriguez. Rodriguez, 31, is under team control through 2023.  He currently sports a…


Twins Claim Edgar Garcia From Reds
The Twins announced that they've claimed right-handed reliever Edgar Garcia off waivers from the Reds and optioned him to Triple-A St. Paul. Cincinnati designated Garcia for assignment earlier in the week. The 24-year-old Garcia has seen MLB time with the Phillies, Rays and Reds but limped to a 7.14 ERA in 46 1/3 innings. His…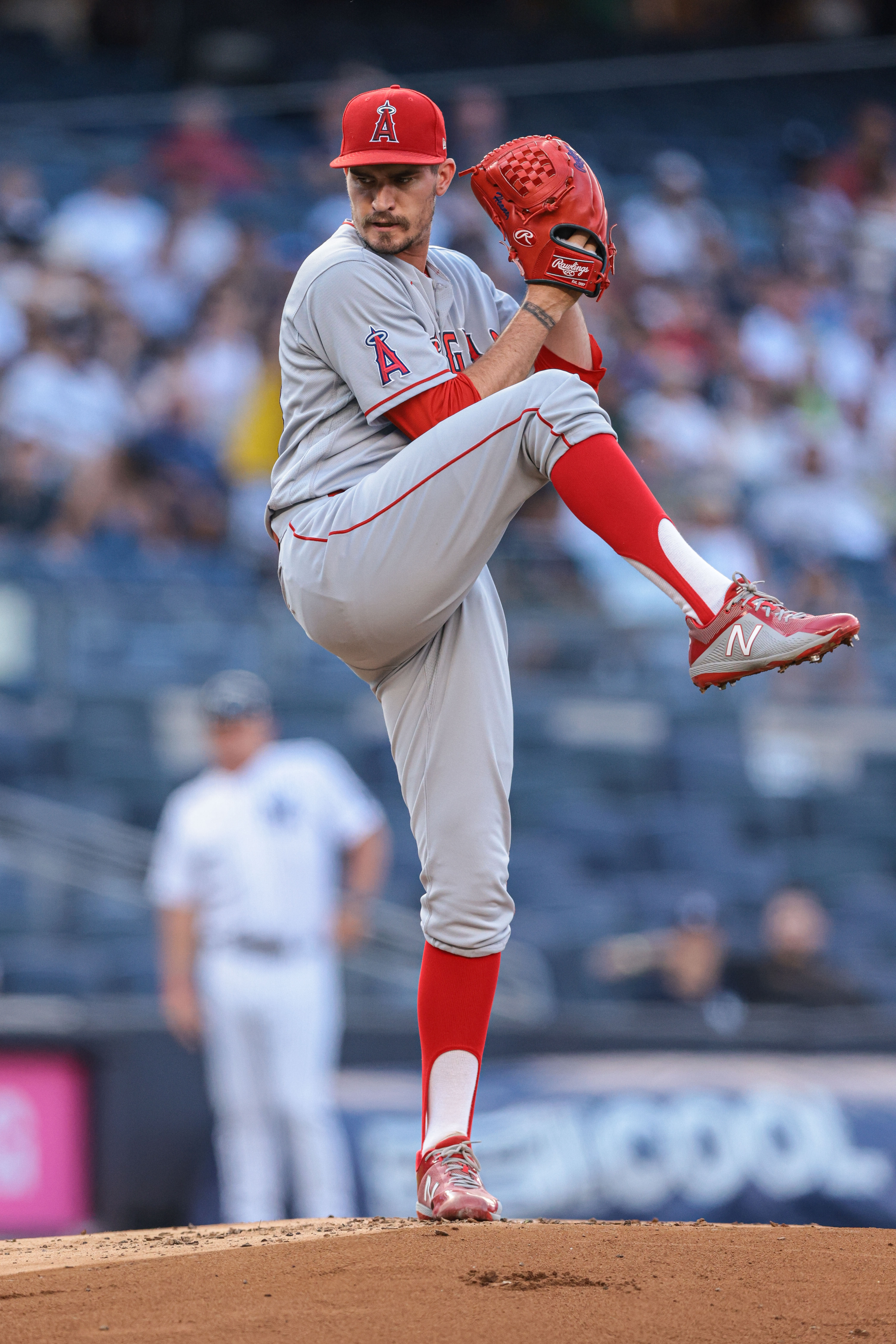 The Yankees made a late deal to bolster the back of their rotation prior to Friday's trade deadline, announcing the acquisition of Angels left-hander Andrew Heaney. New York is sending minor league righties Janson Junk and Elvis Peguero back to the Halos in the deal. Heaney, 28, will be a rental option for the Yankees,…


Jacob deGrom Shut Down Another Two Weeks Following Setback
Mets ace Jacob deGrom has suffered a setback in his rehab from a forearm issue, as recent testing revealed additional inflammation, MLB.com's Anthony DiComo reports (Twitter link). He'll be shut down from throwing entirely for another two weeks. It's already been more than three weeks since deGrom pitched in a game, so he'll need some…


The Braves have picked up slugger Adam Duvall in a trade with the Marlins, as originally reported by Craig Mish of The Miami Herald (Twitter links).  Catcher Alex Jackson is heading to the Marlins. It is the second outfield trade in a matter of minutes for the Braves, who also just acquired Eddie Rosario from…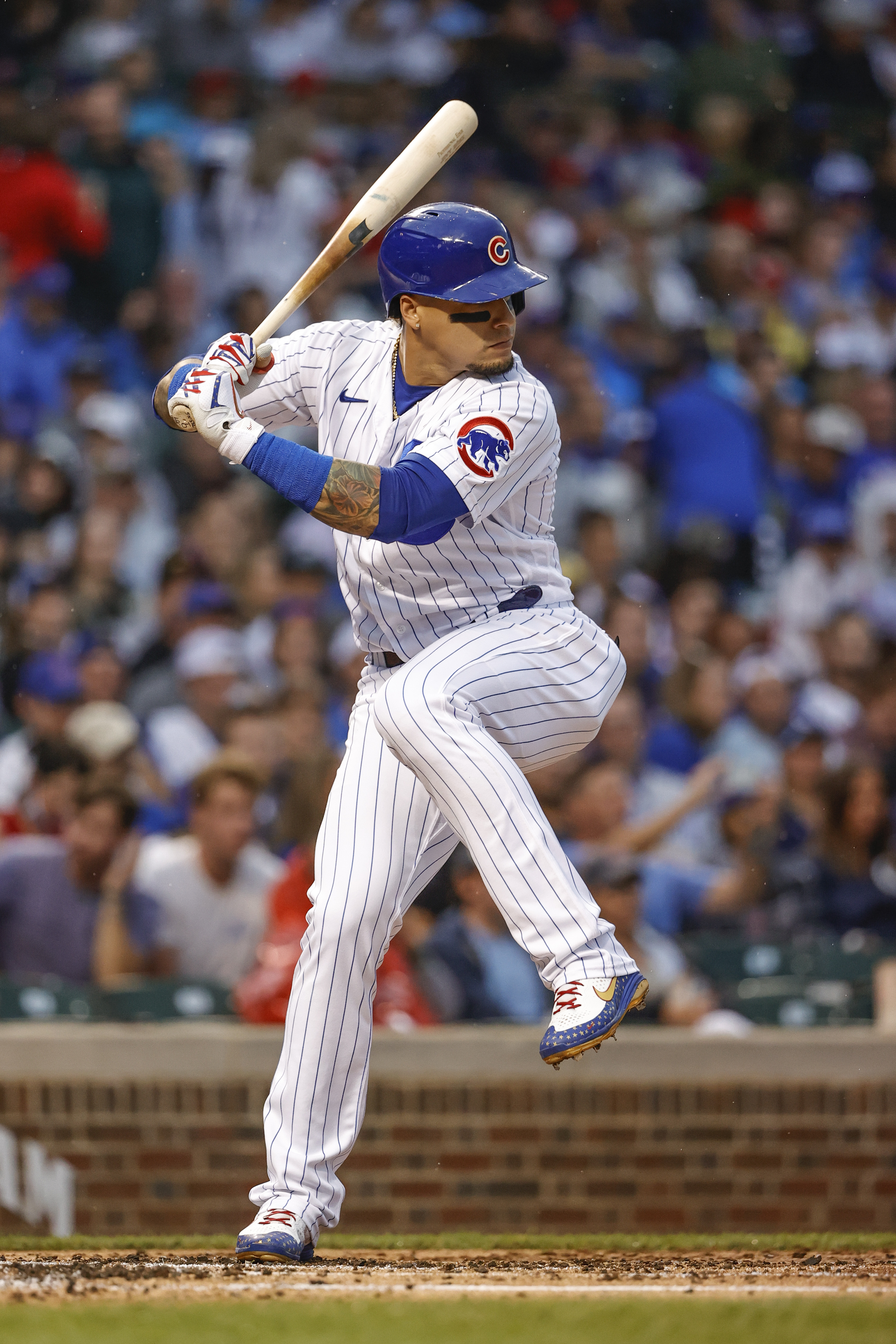 Mets Acquire Javier Baez, Trevor Williams
The Mets and Cubs announced agreement on a deal sending star shortstop Javier Baez to Queens. He'll be accompanied by right-hander Trevor Williams, with outfield prospect Pete Crow-Armstrong sent back to Chicago in return. Between landing Francisco Lindor during the offseason and now trading for Baez, the Mets have obtained two of the sport's best shortstops (who are…