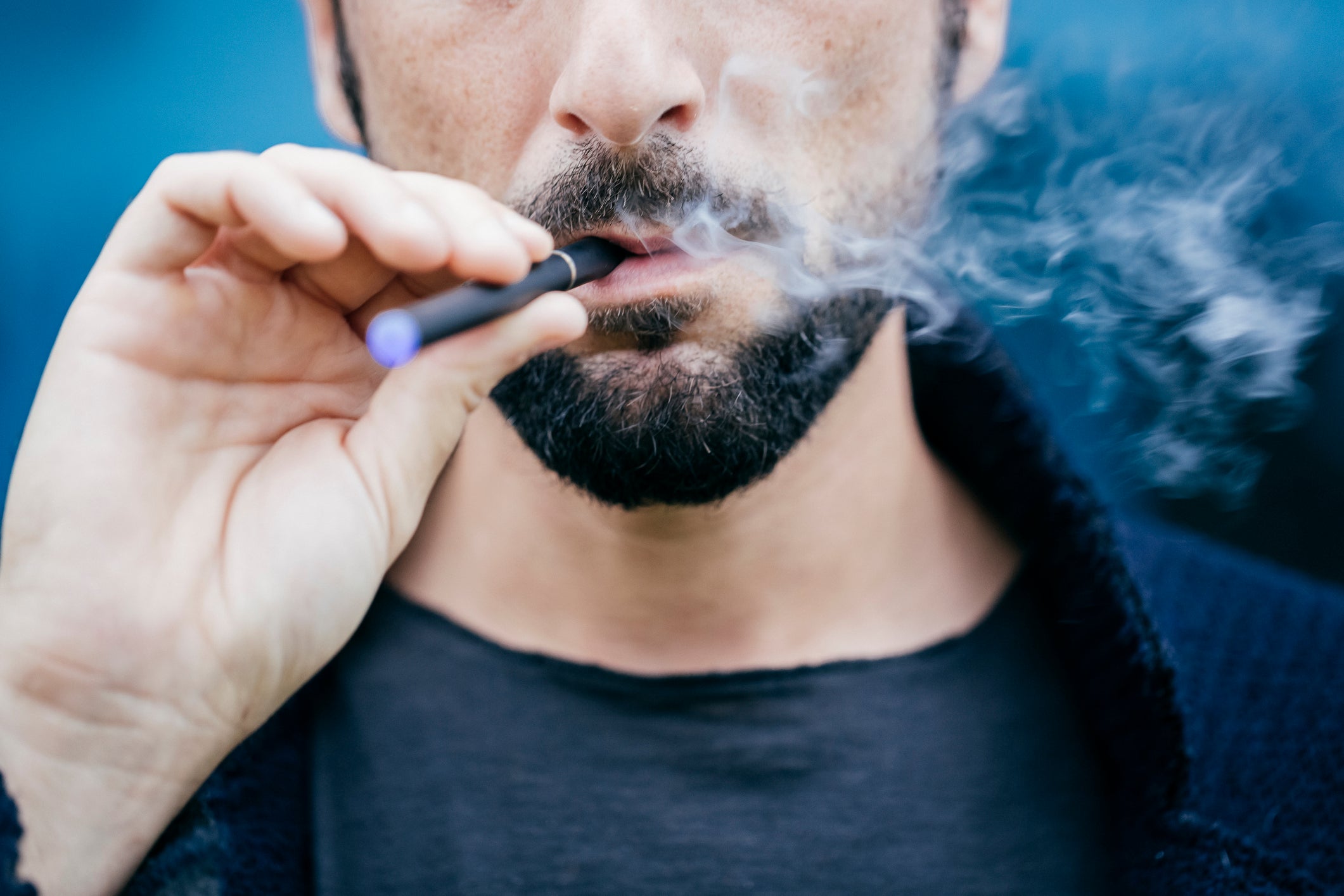 Vaping-Related Illness Has a New Name: EVALI
The U.S. Centers for Disease Control and Prevention noted the name in new guidance on the illness, which has sickened nearly 1,300 people across 49 states -- Read more on ScientificAmerican.com


How Scientists Know Our Human Ancestors Ate Insects
Today, insect eating is on the rise. Did our ancestors chow down on the critters, too? (Credit: CK Bangkok Photography/Shutterstock) Anticipating food shortages in coming decades, some companies are touting insects as tomorrow's protein source. Entrepreneurs are jumping on board and chips made of crickets are hitting grocery shelves. But scientists advise caution: They say more research is needed on the environmental impact of rearing insects at an industrial scale. As sustain...


DNA fracturing rewires gene control in cancer
A multi-institutional team has brought attention to genomic structural variation as a previously unappreciated mechanism involved in altering DNA methylation, a form of gene control, in human cancers.


Soil on moon and Mars likely to support crops
Researchers have produced crops in Mars and moon soil simulant developed by NASA. The research supports the idea that it would not only be possible to grow food on Mars and the moon to feed future settlers, but also to obtain viable seed from crops grown there.


Overlap allows nanoparticles to enhance light-based detection
Scientists use the plasmonic properties of gold nanoparticles to amplify light from molecules triggered by electrochemiluminescence. The work could help researchers analyze the active surfaces of catalysts and other materials at the nanoscale.


Widely available drug reduces head injury deaths
A low cost and widely available drug could reduce deaths in traumatic brain injury patients by as much as 20%, depending on the severity of injury, according to a major study. The researchers say that tranexamic acid (TXA), a drug that prevents bleeding into the brain by inhibiting blood clot breakdown, has the potential to save hundreds of thousands of lives.


Politics: Being attractive helps, but it isn't everything
The question may be as old as democracy itself: are physically attractive people elected more often than less attractive opponents? Scientists have found out that looking good can at least partly explain success in elections. "However, a candidate's party affiliation still has the biggest impact on a voter's decision," adds one of the researchers.


Empty spaces, how do they make a protein unstable?
Partial unfolding of proteins can be a major challenge in the industry, as it may affect the stability of products. So how does an empty space or cavity in its hydrophobic core destabilize a protein? And would such a cavity, in fact, be empty? These are some of the questions that researchers answer in a new study.


A study has demonstrated the effectiveness of the technology known as genomic selection in a wheat improvement program.


Analysis of Galileo's Jupiter entry probe reveals gaps in heat shield modeling
The entry probe of the Galileo mission to Jupiter entered the planet's atmosphere in 1995 in fiery fashion, generating enough heat to cause plasma reactions on its surface. The data relayed about the burning of its heat shield differed from the effects predicted in fluid dynamics models, and new work examines what might have caused such a discrepancy. Researchers now report their findings from new fluid radiative dynamics models.


Tissue damage caused by a heart attack to be reduced by 30%?
A heart attack is caused by a clot that blocks the artery blood flow. Under these conditions, the affected tissues undergo a rapid necrosis. But why? Scientists discovered that the synthesis of a lipid provokes the necrosis. This lipid accumulates in the absence of oxygen and blocks cellular functions. By inhibiting its synthesis in a mouse suffering a heart attack, the biologists were able to reduce the tissue damage by 30%.


Happy, angry or neutral expressions? Eyes react just as fast
Scientists have investigated how our eyes and brain react when we see emotionally charged or neutral faces. She combined eye-tracking and electroencephalography (EEG). The result: reflex-like eye movements are independent of the expression a face shows; our attention is drawn to them just as fast.


Researchers build a soft robot with neurologic capabilities
In work that combines a deep understanding of the biology of soft-bodied animals such as earthworms with advances in materials and electronic technologies, researchers have developed a robotic device containing a stretchable transistor that allows neurological function.


Changes associated with Alzheimer's disease detectable in blood samples
Researchers have discovered new changes in blood samples associated with Alzheimer's disease. A new international study was conducted on disease-discordant Finnish twin pairs: one sibling suffering from Alzheimer's disease and the other being cognitively healthy. The researchers utilised the latest genome-wide methods to examine the twins' blood samples for any disease-related differences in epigenetic marks which are sensitive to changes in environmental factors. These differences between the s


Repeated febrile convulsions linked to epilepsy and psychiatric disorders
The risk of febrile convulsions increases with the child's fever, and children who suffer from repeated febrile convulsions during their first year of life have an increased risk of developing epilepsy and psychiatric disorders later in life. This is shown by a comprehensive register-based study. In the study, almost 76,000 Danish children who have been suffering from febrile convulsions have been followed for more than 30 years.


Survival strategy found in living corals which was only seen in fossil records
Some corals can recover after massive mortality episodes caused by the water temperature rise. This survival mechanism in the marine environment -- known as rejuvenation -- had only been described in some fossil corals so far. A new study reveals the first scientific evidence of the rejuvenation phenomenon in vivo in Cladocora caespitosa coral colonies, in the marine reserve in Columbrets, in the coast of Castellón.


Super light dampers for low tones
A team of acoustic researchers has built macroscopic crystal structures that use internal rotation to attenuate the propagation of waves. The method makes it possible to build very light and stiff materials that can also 'swallow' low frequencies very well, as they report.


Controlling the charge state of organic molecule quantum dots in a 2D nanoarray
Researchers have fabricated a self-assembled, carbon-based nanofilm where the charge state (ie, electronically neutral or positive) can be controlled at the level of individual molecules. Molecular self-assembly on a metal results in a high-density, 2D, organic quantum-dot array with electric-field-controllable charge state, with the organic molecules used as 'nano-sized building blocks' in fabrication of functional nanomaterials. Achieved densities are an order of magnitude larger than conventi


Potential therapy to treat detrimental effects of marijuana
A new study using a preclinical animal model suggests that prenatal exposure to THC, the psychoactive component of cannabis, makes the brain's dopamine neurons (an integral component of the reward system) hyperactive and increases sensitivity to the behavioral effects of THC during pre-adolescence.


Achieving a safe and just future for the ocean economy
much attention has been given to the growth of the 'Blue Economy' -- a term which refers to the sustainable use of ocean and marine resources for economic growth, jobs, and improved livelihoods. Ocean resources are viewed as lucrative areas for increased investment, including in fisheries, aquaculture, bio-prospecting, renewable energy, oil and gas, and other businesses. Ensuring that socially equitable and sustainable development occurs should be the mandate of governments and industry, maintai


A Frank Look at Female Orgasms and Rabbits
A very weak paper in PNAS has attracted some attention lately: An experimental test of the ovulatory homolog model of female orgasm The paper aims to be a test of the hypothesis that the human female orgasm is a kind of evolutionary relic from an earlier stage in evolution. In humans, ovulation happens on a monthly cycle and is not related to sexual activity. However, in some mammal species, such as rabbits, ovulation is triggered by sex (or copulation, as biologists say)


Fire blankets can protect buildings from wildfires
Wrapping a building in a fire-protective blanket is a viable way of protecting it against wildfires, finds the first study to scientifically assess this method of defense. Rigorous testing reveals that existing blanket technology can protect structures from a short wildfire attack, but for successful deployment against severe fires and in areas of high housing density, technological advancement of blanket materials and deployment methods, as well as multi-structure protection strategies, are nee


Rare 'itinerant breeding' behavior revealed in California bird
Only two bird species have ever been shown to undertake what scientists call 'itinerant breeding': nesting in one area, migrating to another region, and nesting again there within the same year, to take advantage of shifting food resources. However, new research provides strong evidence of this rare behavior in a third bird -- the Phainopepla, a unique bird found in the southwestern US and the northernmost member of an otherwise tropical family.


The flavors of fermented foods are heavily shaped by the fungi that grow on them, but the evolutionary origins of those fungi aren't well understood. Experimental findings offer microbiologists a new view on how those molds evolve from wild strains into the domesticated ones used in food production.


Rumbling 'Marsquakes' on the Red Planet are Mystifying and Exciting Scientists
NASA's InSight lander has its seismic instrument tucked under a shield to protect it from wind and extreme temperatures. (Credit: NASA/JPL-Caltech) NASA's Mars InSight spacecraft landed on the Red Planet in November 2018. Scientists equipped the mission with a seismometer so they could learn how Mars releases seismic energy — that is, to get a feel for how the Red Planet rumbles. So far, InSight has recorded more than 100 seismic signals, and researchers are confident at least 21 o...


Astronomers Zoom in on a Galaxy 9 Billion Light-years Away Thanks to Gravitational Lensing
(Credit: MIT/Image courtesy of the researchers) When even the most powerful telescopes can't capture the views you want, it helps to have natural magnifying glasses to rely on. In a paper published Monday in Nature Astronomy, researchers describe how they zoomed in to capture a young, star-forming galaxy roughly nine billion light-years away in X-ray light. To study such a distant galaxy, they used the fact that massive objects can warp space-time around them and magnify ligh...


Early warning signals heralded fatal collapse of Krakatau volcano
Potsdam, Germany (SPX) Oct 14, 2019 On 22 December 2018, a flank of the Anak Krakatau volcano plunged into the Sunda strait between the Indonesian islands of Sumatra and Java, triggering a tsunami that killed 430 people. An international research team led by Thomas Walter of the German Research Centre for Geosciences GFZ in Potsdam has now shown that the volcano produced clear warning signals before its collapse. This was the resu


Study offers solution to Ice Age ocean chemistry puzzle
Hobart, Australia (SPX) Oct 11, 2019 New research into the chemistry of the oceans during ice ages is helping to solve a puzzle that has engaged scientists for more than two decades. At issue is how much of the CO2 that entered the ocean during ice ages can be attributed to the 'biological pump', where atmospheric carbon is absorbed by phytoplankton and sequestered to the seafloor as organisms die and sink. Solving the


New satellite may make flood prediction easier
Columbus OH (SPX) Oct 14, 2019 A satellite on schedule to launch in 2021 could offer a more comprehensive look at flooding in vulnerable, under-studied parts of the world, including much of Africa, South America and Indonesia, a new study has found. The study, published last month in the journal Geophysical Research Letters, found that the satellite also will likely improve flood modeling around the world, even in areas


OPIR Geosynchronous Earth Orbiting (GEO) satellite completes PDR
Los Angeles AFB CA (SPX) Oct 14, 2019 The Next Generation OPIR Geosynchronous Earth Orbiting (GEO) satellite program, commonly referred to as NGG, achieved another major milestone in 2019 by completing its system/ground and space vehicle preliminary design review (PDR) Sept. 27, 2019. Next Generation OPIR will provide a capable, resilient, and defensible space-based global missile warning capability against emerging threats.


Scientists find microbial remains in ancient rocks
Sydney, Australia (SPX) Oct 14, 2019 Scientists have found exceptionally preserved microbial remains in some of Earth's oldest rocks in Western Australia - a major advance in the field, offering clues for how life on Earth originated. The UNSW researchers found the organic matter in stromatolites - fossilised microbial structures - from the ancient Dresser Formation in the Pilbara region of Western Australia. The stroma


Aerojet Rocketdyne teams with NASA to develop novel rocket engine technology
Los Angeles CA (SPX) Oct 14, 2019 Aerojet Rocketdyne has entered into a Space Act Agreement with NASA's Marshall Space Flight Center to design and manufacture a lightweight rocket engine thrust chamber assembly using innovative additive manufacturing processes and materials. The goal of the project is to reduce manufacturing costs and make a thrust chamber that is easily scalable to support a variety of missions, including


AI for understanding and modelling the Earth System
Oberpfaffenhofen, Germany (SPX) Oct 15, 2019 An interdisciplinary team of four researchers from the German Aerospace Center (Deutsches Zentrum fur Luft- und Raumfahrt; DLR), the Max Planck Institute for Biogeochemistry, the University of Valencia, and Columbia University has been awarded a 2019 European Research Council (ERC) Synergy Grant to understand and model the Earth system with machine learning, one of the important approaches of ar


How and when was carbon distributed in the Earth?
Matsuyama, Japan (SPX) Oct 14, 2019 It is generally accepted that planetary surfaces were covered with molten silicate, a "magma ocean", during the formation of terrestrial planets. In a deep magma ocean, iron would separate from silicate, sink, and eventually form a metallic core. In this stage, elemental partitioning between a metallic core and a magma ocean would have occurred and siderophile elements would be removed from the


ISRO works with Qualcomm to develop improved geo-location chipset
New Delhi (Sputnik) Oct 15, 2019 India is moving forward towards harnessing space technology for national development and to make it accessible for everyone as they go about their daily lives. To improve the geo-location capabilities of upcoming mobile phones, automotive and Internet-of-Things (IoT) platforms, Indian Space Research Organisation (ISRO) and US-based chip-maker Qualcomm have developed a new chipset platform.


There's a new Clean Up Sheriff in LEO
Bethesda MD (SPX) Oct 15, 2019 Yes, there is a new space debris cleanup sheriff in town and it is a sister company to Launchspace, called LAUNCHSPACE TECHNOLOGIES CORPORATION (LTC). This organization is focused on supporting commercial, civil and military activities in creating innovative new technologies and systems in order to strengthen and advance the exploitation of space. Although the name is new, it offers


Interstellar comet with a familiar look
Krakow Poland (SPX) Oct 15, 2019 For decades, astronomers have speculated that the space between stars may be populated by exosolar minor bodies - comets and asteroids - ejected from their home planetary systems. Studies have also suggested that these bodies may occasionally pass through the Solar System and be identified thanks to their strongly open orbits. The discovery of 'Oumuamua two years ago brought the long-awaited con


The Cosmos' Most Powerful Magnets May Form When Stars Collide
These snapshots of two merging stars in action show the overall strength of the magnetic field in color (yellow is more magnetic), as well as the magnetic field lines (hatching). The stars on the left, which don't have very strong magnetic fields, are just about to merge into a more massive and magnetic star (right). According to new research, such mergers can dramatically bolster the strength of the final star's magnetic field. (Credit: F. Schneider et al./Nature volume 574, pages 211-214 (...


This Interstellar Space Rock Looks a Lot Like Our Own Solar System's Comets
The Gemini Observatory in Hawaii caught this first-ever color image of the interstellar comet Borisov and its faint tail. (Credit:Composite image by Travis Rector. Credit: Gemini Observatory/NSF/AURA) Asteroids, comets and other rocky objects litter the solar system, left over from when the planets formed. Scientists study these space rocks to learn about what the early solar system was like. Now, we're entering an era in which we can learn about alien planetary systems in the same wa...


Unlocking the biochemical treasure chest within microbes
An international team of scientists has developed a genetic engineering tool that makes producing and analyzing microbial secondary metabolites -- the basis for many important agricultural, industrial, and medical products -- easier than ever before, and could even lead to breakthroughs in biomanufacturing.


First man to perform spacewalk dies
Moscow (AFP) Oct 11, 2019 Alexei Leonov, a legendary Soviet cosmonaut who was the first man to perform a spacewalk in 1965, died in Moscow on Friday aged 85 after a long illness. The Russian space agency Roscosmos said it was saddened to announce the death of "cosmonaut No 11" who was twice decorated with the country's top honour, the Hero of the Soviet Union. Tributes poured in from across the globe, with Weste


AFRL reimagines tech development with virtual reality
Wright-Patterson AFB OH (SPX) Oct 10, 2019 In a move the Wright Brothers likely never anticipated but surely would approve, the Air Force Research Laboratory Aerospace Systems Directorate is using a bicycle to demonstrate how virtual and augmented reality could revolutionize aircraft maintenance, as well as collaborative partnerships. At the Air Vehicles Technology Symposium, held Sept. 10-12 in Dayton, the Virtual, Augmented, and


Global analysis of submarine canyons may shed light on Martian landscapes
Stanford CA (SPX) Oct 10, 2019 Submarine canyons are a final frontier on planet Earth. There are thousands of these breathtaking geological features hidden within the depths of the ocean - yet scientists have more high-resolution imagery of the surface of Mars than of Earth's ocean floor. In an effort to shed light on these mysterious underwater features, Stanford researchers analyzed a collection of global images from


Emirati astronaut returns home to hero's welcome
Abu Dhabi (AFP) Oct 12, 2019 An Emirati astronaut who became the first Arab to reach the International Space Station received a hero's welcome home on Saturday. Hazzaa al-Mansoori of the United Arab Emirates was greeted by Abu Dhabi's powerful Crown Prince Mohammed bin Zayed Al-Nahyan at the capital's airport. Men, women and children lined a red carpet to welcome back Mansoori and his colleague Sultan al-Neyadi -


Lakes worldwide are experiencing more severe algal blooms
The intensity of summer algal blooms has increased over the past three decades, according to a first-ever global survey of dozens of large, freshwater lakes. Researchers used 30 years of data from the Landsat 5 near-Earth satellite and created a partnership with Google Earth Engine to reveal long-term trends in summer algal blooms in 71 large lakes in 33 countries on six continents.


Women have substantially less influence on Twitter than men in academic medicine
Women who are health policy or health services researchers face a significant disparity in social media influence compared to their male peers, according to a new study. Although the average number of tweets among all researchers tend to be consistent, women trail behind men in follower counts, regardless of how active they are on Twitter.


Microbleeds may worsen outcome after head injury
Using advanced imaging, researchers have uncovered new information regarding traumatic microbleeds, which appear as small, dark lesions on MRI scans after head injury but are typically too small to be detected on CT scans. The findings published in Brain suggest that traumatic microbleeds are a form of injury to brain blood vessels and may predict worse outcomes. The study was conducted in part by scientists at the National Institute of Neurological Disorders and Stroke (NINDS), part of the Nati


A study from MIT reveals glycans, branched sugar molecules found in mucus, can prevent bacteria from communicating with each other and forming infectious biofilms, effectively rendering the microbes harmless.


How to control friction in topological insulators
Topological insulators are innovative materials that conduct electricity on the surface, but act as insulators on the inside. Physicists have begun investigating how they react to friction. Their experiment shows that the heat generated through friction is significantly lower than in conventional materials. This is due to a new quantum mechanism, the researchers report.


The nano-guitar string that plays itself
Scientists have created a nano-electronic circuit which vibrates without any external force. Just as a guitar string vibrates when plucked, the wire -- 100,000 times thinner than a guitar string -- vibrates when forced into motion by an oscillating voltage. The surprise came when they repeated the experiment without the forcing voltage. Under the right conditions, the wire oscillated of its own accord. The nano-guitar string was playing itself.


Dementia spreads via connected brain networks
Scientists used maps of brain connections to predict how brain atrophy would spread in individual patients with frontotemporal dementia (FTD), adding to growing evidence that the loss of brain cells associated with dementia spreads via the synaptic connections between established brain networks.


Shipment tracking for 'fat parcels' in the body
Without fat, nothing works in the body: These substances serve as energy suppliers and important building blocks -- including for the envelopes of living cells. Numerous diseases are related to disorders in the fat metabolism, such as obesity or cancer. Researchers are now demonstrating how the fat metabolism can be monitored down to the individual liver cell of a mouse with the greatest sensitivity.


Oaks have a complex evolutionary history that has long eluded scientists. New research, however, provides the most detailed account to date of the evolution of oaks, recovering the 56-million-year history that has made the oaks one of the most diverse, abundant and important woody plant groups to the ecology and economy of the northern hemisphere.


Unique sticky particles formed by harnessing chaos
New research shows that unique materials with distinct properties akin to those of gecko feet - the ability to stick to just about any surface -- can be created by harnessing liquid-driven chaos to produce soft polymer microparticles with hierarchical branching on the micro- and nanoscale.


Scientists pinpoint cause of harmful dendrites and whiskers in lithium batteries
Scientists have uncovered a root cause of the growth of needle-like structures -- known as dendrites and whiskers -- that plague lithium batteries, sometimes causing a short circuit, failure, or even a fire. Such defects are a major factor holding back the batteries from even more widespread use and further improvement.


Cheaper catalyst can generate hydrogen in a commercial device
Researchers have shown for the first time that a cheap catalyst can split water and generate hydrogen gas for hours on end in the harsh environment of a commercial electrolyzer -- a step toward clean, large-scale hydrogen production for fuel, fertilizer and industry.


Scientists reveal mechanism of electron charge exchange in molecules
Through a new scanning transmission electron microscopy method, researchers are able to observe electron distribution between atoms and molecules and uncover clues to the origins of ferroelectricity, the capacity of certain crystals to possess spontaneous electric polarization that can be switched by the application of an electric field. The research also revealed the mechanism of charge transfer between two materials.


New genetic-based epilepsy risk scores
An international team of researchers has developed new genetic-based epilepsy risk scores which may lay the foundation for a more personalized method of epilepsy diagnosis and treatment. This analysis is the largest study of epilepsy genetics to date, as well as the largest study of epilepsy using human samples.


Satlink shows the most advanced satellite telecommunications solutions to Spanish Special Forces
Madrid, Spain (SPX) Oct 11, 2019 Satlink, a Spanish company specializing in satellite communications, has showcased the most advanced solutions currently available in the market to the Special Operations Forces of the Spanish Army as well as other government security agencies. The company has carried out simulations in real-life scenarios on a very practical day, called Operation Beyond the Horizon, in collaboration with


Army bio-inspired theoretical research may make robots more effective on the future battlefield
Adelphi MD (SPX) Oct 10, 2019 In an effort to make robots more effective and versatile teammates for Soldiers in combat, Army researchers are on a mission to understand the value of the molecular living functionality of muscle, and the fundamental mechanics that would need to be replicated in order to artificially achieve the capabilities arising from the proteins responsible for muscle contraction. Bionanomotors, like


OmegA team values partnerships with customer, suppliers
Los Angeles CA (SPX) Oct 14, 2019 As aerospace and defense suppliers from across the country took their seats at Constitution Hall in Washington D.C., a gleaming 18-foot-tall OmegA rocket model on the stage commanded their attention. The event was the third annual OmegA suppliers conference, and judging from the overall reaction to the 1/12-scale model, the only thing the suppliers would have liked to see more was an actua


Celebrating a mission that changed how we use radar
Pasadena CA (JPL) Oct 14, 2019 Oct. 11, 2019, marks the 25th anniversary of the end of a space mission that transformed the way we use radar to observe large-scale environmental processes on our home planet. The Spaceborne Imaging Radar-C and X-Band Synthetic Aperture Radar (SIR-C/X-SAR) mission made available to people worldwide the scientific data used to this day to inform decisions to slow and mitigate climate change.


Sharing data for improved forest protection and monitoring
Vienna, Austria (SPX) Oct 11, 2019 Although the mapping of aboveground biomass is now possible with satellite remote sensing, these maps still have to be calibrated and validated using on-site data gathered by researchers across the world. IIASA contributed to the establishment of a new global database to support Earth Observation and encourage investment in relevant field-based measurements and research. Forest biomass is


FAST identify origins of puzzling signals from space
Beijing (Sputnik) Oct 14, 2019 For more than a month, Chinese scientists have been studying mysterious fast radio bursts coming from space. China's Five-hundred-meter Aperture Spherical Radio Telescope (FAST), the world's largest radio telescope, has now picked up more of these radio pulses that have baffled astronomers for more than a decade. Chinese astrophysicists studying fast radio bursts or FRBs have reported doze


Satelles, Inc. Secures $26 Million in Series C Funding Round Led by C5 Capital
Reston VA (SPX) Oct 10, 2019 Satelles, Inc. has raised $26 million in Series C funding. C5 Capital led the round, with participation from Iridium Communications and existing investors. This new investment brings Satelles's total funding since the launch of its platform to $39 million and will help the company expand its sales and marketing efforts, broaden its partner network, and accelerate product development. Indus


SMC sets new standard for acquisition and operations of SensorSat
Los Angeles AFB CA (SPX) Oct 14, 2019 The Operationally Responsive Space (ORS)-5 satellite, also known as SensorSat, will reach Full Operational Capability declaration later this year. Marking a significant milestone of success for the Air Force Space Command's Space and Missile Systems Center and the 18th Space Control Squadron, ORS-5 will continue to expand Space Domain Awareness. ORS-5 launched Aug. 26, 2017, and reached Op


The Milky Way kidnapped several tiny galaxies from its neighbor
Riverside CA (SPX) Oct 11, 2019 Just like the moon orbits the Earth, and the Earth orbits the sun, galaxies orbit each other according to the predictions of cosmology. For example, more than 50 discovered satellite galaxies orbit our own galaxy, the Milky Way. The largest of these is the Large Magellanic Cloud, or LMC, a large dwarf galaxy that resembles a faint cloud in the Southern Hemisphere night sky. A team of


UK teams complete space weather mission study ahead of selection decision in November
London, UK (SPX) Oct 14, 2019 The first phase of design work for the European Space Agency's Lagrange spacecraft has been completed, with three out of the four multinational teams led by the UK. This ESA mission, together with a complementary US mission, will form the major elements of an early warning system for severe space weather, which can be hazardous to critical infrastructure on Earth and human life in space.


Black holes stunt growth of dwarf galaxies
Riverside CA (SPX) Oct 14, 2019 Astronomers at the University of California, Riverside, have discovered that powerful winds driven by supermassive black holes in the centers of dwarf galaxies have a significant impact on the evolution of these galaxies by suppressing star formation. Dwarf galaxies are small galaxies that contain between 100 million to a few billion stars. In contrast, the Milky Way has 200-400 billion st


Spacebit aims to land first UK rover on the Moon
London, UK (SPX) Oct 14, 2019 At an award-winning and mind-blowing festival of discoveries and ideas - New Scientist Live, CEO and Founder of UK startup Spacebit, Pavlo Tanasyuk announced the first commercial UK mission to The Moon, making hereby lunar missions accessible. Spacebit will send the smallest robotic moon rover in the world, with legs and not wheels. This will be the very first time in history anything with