Light-matter interaction without interference
Quantum dots might constitute the foundation of quantum communication. They are an efficient interface between matter and light, with photons emitted by the quantum dots transporting information across large distances. However, structures form by default during the manufacture of quantum dots that interfere with communication. Researchers have now successfully eliminated these interferences.


How gonorrhea develops resistance to antibiotics
As public health officials worry about the emergence of antibiotic-resistant gonorrhea, researchers are tracing how antibiotics bind to a gonococcal protein, information that can help lead to new antimicrobials.


New approaches to heal injured nerves
Researchers have deciphered new mechanisms that enable the regeneration of nerve fibers. This could open up new treatment approaches for the brain, optic nerve, and spinal cord injuries.


Tech time not to blame for teens' mental health problems
A new study suggests that the time adolescents are spending on their phones and online is not that bad. The study tracked young adolescents on their smartphones to test whether more time spent using digital technology was linked to worse mental health outcomes.


Bioprinting complex living tissue in just a few seconds
Researchers have developed an extremely fast optical method for sculpting complex shapes in stem-cell-laden hydrogels and then vascularizing the resulting tissue. Their groundbreaking technique stands to change the field of tissue engineering.


Researchers have confirmed the analgesic effects of social support - even without verbal or physical contact.


What's killing sea otters? Parasite strain from cats
Many wild southern sea otters in California are infected with the parasite Toxoplasma gondii, yet the infection is fatal for only a fraction of sea otters, which has long puzzled the scientific community. A new study identifies the parasite's specific strains that are killing southern sea otters, tracing them back to a bobcat and feral domestic cats from nearby watersheds.


Test launches of Boeing's Starliner for ISS mission delayed again
Moscow (Sputnik) Aug 23, 2019 The launch of US aerospace corporation Boeing-developed unmanned spacecraft Starliner to the International Space Station (ISS) was postponed to October 6 from September 17, and the test launch of manned Starliner was rescheduled to December 30 from November 30, a space industry source said. "At present, the test flight of the Starliner without a crew should begin on October 6, and a test m


Brain's astrocytes play starring role in long-term memory
Researchers have discovered that star-shaped cells called astrocytes help the brain establish long-lasting memories. The work could inform therapies for disorders in which long-term memory is impaired, such as traumatic brain injury or dementia.


In a quantum future, which starship destroys the other?
Hoboken NJ (SPX) Aug 23, 2019 Quantum mechanics boasts all sorts of strange features, one being quantum superposition - the peculiar circumstance in which particles seem to be in two or more places or states at once. Now, an international group of physicists led by Stevens Institute of Technology, University of Vienna and University of Queensland flip that description on its head, showing that particles are not the only obje


Evolution designed by parasites
A new paper explores an overlooked aspect of the relationship between parasites and their hosts by systematically discussing the ways in which parasitic behavior manipulation may encourage the evolution of mechanisms in the host's nervous and endocrine systems.


Monster Asteroid Nearly Twice as Big as London's Shard Tower Heading Toward Earth - Report
Washington DC (Sputnik) Aug 23, 2019 Tesla and SpaceX CEO Elon Musk has previously claimed that the Earth has no defense against giant asteroids approaching the planet, with NASA and SpaceX currently developing systems that would help to redirect space rocks from bumping into the Earth. A monster asteroid larger than the world's largest buildings, including London's the Shard, will be passing near the Earth at a speed of 23,1


How red-eared invaders are hurting California's native turtles
Western pond turtles got fatter and healthier after scientists removed nearly 200 invasive red-eared slider turtles from the UC Davis Arboretum, reports a new study. The study is the first to quantify competition between these two species in the wild.


Experiments illuminate key component of plants' immune systems
Biologists have shed new light on a crucial aspect of the plant immune response. Their discovery, revealing how plant resistance proteins trigger localized cell death, could lead to new strategies for engineering disease resistance in next-generation crops.


Cell suicide could hold key for brain health and food security
Research into the self-destruction of cells in humans and plants could lead to treatments for neurodegenerative brain diseases and the development of disease-resistant plants. A study has identified the role certain proteins play in cellular suicide.


Successful egg harvest breaks new ground in saving the northern white rhinoceros
There are only two northern white rhinos left worldwide, both of them female. Saving this representative of megafauna from extinction seems impossible under these circumstances, yet an international consortium of scientists and conservationists just completed a procedure that could enable assisted reproduction techniques to do just that.


A novel technology for genome-editing a broad range of mutations in live organisms
Researchers have developed a new tool -- dubbed SATI -- to edit the mouse genome, enabling the team to target a broad range of mutations and cell types. The new genome-editing technology could be expanded for use in a broad range of gene mutation conditions such as Huntington's disease and the rare premature aging syndrome, progeria.


Boosting Space Situational Awareness: SMC awards SBIR Phase 2 contract
Los Angeles AFB CA (SPX) Aug 22, 2019 The Air Force Space and Missile Systems Center (SMC) Directorate of Special Programs (DirSP) awarded a Small Business Innovation Research (SBIR) Phase 2 contract to Bluestaq LLC who will develop the Space Situational Awareness (SSA) Marketplace program under the auspices of AFWERX. AFWERX was created in 2017 by then Air Force Secretary Heather Wilson to support rapid innovation within the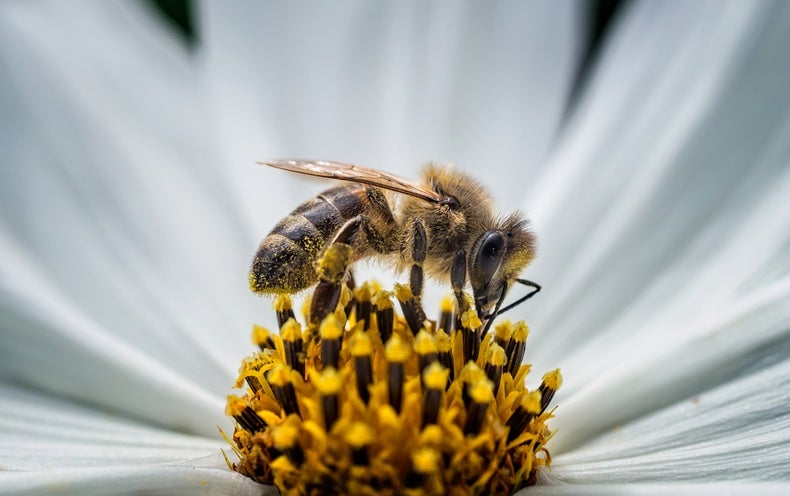 Microbes in flowers are crucial to bee diets, and microbiome changes could be starving the insects -- Read more on ScientificAmerican.com


Nano-thermometer takes temperature inside cells
Scientists have developed a nano-thermometer able to take temperatures inside cells. The technique takes advantage of the fluorescent properties of a modified molecular rotor and the viscosity of the cell.


China's satellite tests pulsar navigation for future deep space exploration
Beijing (XNA) Aug 23, 2019 Chinese scientists have conducted experiments on pulsar navigation with an X-ray space telescope, and the technology could be used in future deep space exploration and interplanetary or interstellar travel. The experiments were conducted on the Hard X-ray Modulation Telescope (HXMT), dubbed Insight, which was sent into space on June 15, 2017, to observe black holes, pulsars and gamma-ray b


Study suggests weight loss regardless of psychiatric medication use
A new study suggests that individuals who take anti-depressants and/or anti-psychotics and participate in a weight management program can lose weight whether or not they take psychiatric medications, according to a new report. The study is the first to examine weight loss outcomes in individuals taking anti-depressants or anti-psychotics alone, in combination or not at all.


'Game-Changer' for Cosmic Research: NASA Chief Touts Nuclear Powered Spacecraft
Washington DC (Sputnik) Aug 23, 2019 Earlier this month, NASA's Future In-Space Operations working group said that its portable nuclear powered reactor will be ready to fly to Mars by 2022. Speaking at a National Space Council (NSC) meeting on Tuesday, National Aeronautics and Space Administration (NASA) chief Jim Bridenstine specifically praised the potential use of nuclear thermal propulsion in space exploration. "Tha


The case for retreat in the battle against climate change
With sea level rise and extreme weather threatening coastal communities, it's no longer a question of whether they are going to retreat; it's where, when and how. In a new paper, researchers advocate for a managed and planned retreat, not a short-term spur of the moment reaction to a massive storm.


Biomaterials smarten up with CRISPR
The CRISPR-Cas system has become the go-to tool for researchers who study genes in an ever-growing list of organisms, and is being used to develop new gene therapies that potentially can correct a defect at a single nucleotide position of the vast reaches of the genome. It is also being harnessed in ongoing diagnostic approaches for the detection of pathogens and disease-causing mutations in patients.


Atacama Desert microbes may hold clues to life on Mars
Washington DC (SPX) Aug 23, 2019 Microbial life on Mars may potentially be transported across the planet on dust particles carried by wind, according to a study conducted in the Atacama Desert in North Chile, a well-known Mars analogue. The findings are published in Scientific Reports. Armando Azua-Bustos and colleagues investigated whether microbial life could move across the Atacama Desert using on wind-driven dust part


Helping NASA spacecraft travel faster and farther with math
By combining cutting-edge machine learning with 19th-century mathematics, a mathematician is working to make NASA spacecraft lighter and more damage tolerant by developing methods to detect imperfections in carbon nanomaterials used to make composite rocket fuel tanks and other spacecraft structures.


A space cocktail of science, bubbles and sounds
Paris (ESA) Aug 20, 2019 The International Space Station was again the stage for novel European science and routine operations during the first half of August. Plenty of action in the form of bubbles and sounds added to the mix in the run-up to a spacewalk and the comings and goings of visiting vehicles. ESA astronaut Luca Parmitano installed the Multiscale Boiling experiment, known affectionately as Rubi, in its


Videos of chemical synthesis at atomic resolution achieved
For the first time, researchers have managed to view previously inaccessible details of certain chemical processes. They have shown there are significant discrete stages to these processes which build on our knowledge of chemical synthesis. These details could aid in the development of methods to synthesize chemicals with greater control and precision than ever before. Methods such as these could be useful in materials science and in drug development.


Pentagon axes troubled $1 bn contract for missile defense
Washington (AFP) Aug 22, 2019 The Pentagon announced Wednesday that it is terminating a troubled billion-dollar program to develop a ballistic missile interceptor, citing design problems. The Defense Department said it would seek bids for a new version of the weapons system called the Redesigned Kill Vehicle, or RKV. The program was being led by Boeing. "Ending the program was the responsible thing to do," said Micha


NASA Seeks BIG Ideas from Universities for Tech to Study Dark Regions on the Moon
Washington DC (SPX) Aug 23, 2019 NASA plans to land humans on the Moon by 2024 with the Artemis program. Before astronauts step on the lunar surface again, new technology instruments will study the surface. NASA is engaging the university community for ideas to help achieve some of these activities through its annual Breakthrough, Innovative and Game-changing (BIG) Idea Challenge, which is asking university teams to submi


Malaria control success in Africa at risk from spread of multi-drug resistance
In the first continent-wide genomic study of malaria parasites in Africa, scientists have uncovered the genetic features of Plasmodium falciparum parasites that inhabit different regions of the continent, including the genetic factors that confer resistance to anti-malarial drugs. This sheds new light on the way that drug resistance is emerging in different locations and moving by various routes across Africa, putting previous success in controlling malaria at risk.


Psychiatric illnesses are common in adults and children with kidney failure
Between 1996 and 2013, approximately 27% of adults, 21% of elderly adults, and 16% of children with kidney failure in the United States were hospitalized with a psychiatric diagnosis in the first year of kidney failure. The prevalence of hospitalizations with psychiatric diagnoses increased over time across age groups, mostly due to secondary diagnoses.


Big brains or big guts: Choose one
A global study comparing 2,062 birds finds that, in highly variable environments, birds tend to have either larger or smaller brains relative to their body size. Birds with smaller brains tend to use ecological strategies that are not available to big-brained counterparts.


The Paleozoic diet: Why animals eat what they eat
In what likely is the first study on the evolution of dietary preferences across the animal kingdom, researchers report several unexpected discoveries, including that the first animal likely was a carnivore and that humans, along with other omnivores, belong to a rare breed.


Some Exoplanets Could Have Greater Biodiversity Than Earth
When you stack up the most promising recent exoplanet finds, as illustrated here, it becomes clear none is Earth's true twin. But even more habitable worlds may be out there waiting to be found. (Credit: NASA/Ames/JPL-Caltech) Earth is the only place in the universe where we know life exists. But with billions of other star systems out there, it might not be the best place for life. In a new study, astronomers modeled the potential for life on other watery planets and found some condi...


Study models new method to accelerate nanoparticles
Researchers have modeled a method to manipulate nanoparticles as an alternative mode of propulsion for tiny spacecraft that require very small levels of thrust. The team simulated a system that uses light to generate an electromagnetic field to move the particles from a reservoir, funneled through an injector, then shot out of an accelerator to produce thrust.


These Coastal Mud Bacteria Make a Chemical That Cools Our Climate and Smells Like the Ocean
Scientists recently dug into salt marshes and discovered abundant amounts of a"good guy gas" that helps cool Earth's climate. (Credit: JuneJ/shutterstock) The tangy smell of the sea may seem like nothing more than salt in the air, but in fact it comes courtesy of a specific chemical. And dimethyl sulfide, or simply DMS, not only defines that airy aroma, but it also helps cool the climate. In a study published Monday in the journal Nature Microbiology, researchers say they've discovere...


Researchers have discovered the mechanism through which ultraviolet radiation, given off by the sun, damages our skin.


A second planet in the Beta Pictoris System
Paris, France (SPX) Aug 20, 2019 A team of astronomers led by Anne-Marie Lagrange, a CNRS researcher at the Institut de Planetologie et d'Astrophysique de Grenoble (CNRS/Universite Grenoble Alpes), has discovered a second giant planet in orbit around Beta Pictoris, a star that is relatively young (23 million years old) and close (63.4 light-years) and surrounded by a disk of dust. The Beta Pictoris system has fascinated a


Space Command, National Reconnaissance Office to form joint command
Washington (UPI) Aug 21, 2019 A joint concept of operation will allow the new U.S. Space Command and the National Reconnaissance Office to form a unified command structure. Acting Director of National Intelligence Joseph Maguire outlined the plan during a meeting on Tuesday at the National Air and Space Museum in Chantilly, Virginia. Intelligence community assets would be under the operational and tactical control o


Scurrying roaches help researchers steady staggering robots
To walk or run with finesse, roaches and robots coordinate leg movements via signals sent through centralized systems. Though their moving parts are utterly divergent, researchers have devised handy principles and equations to assess how both beasts and bots locomote and to improve robotic gait.


Cracking a decades-old test, researchers bolster case for quantum mechanics
Researchers have developed creative tactics to get rid of loopholes that have long confounded tests of quantum mechanics. With their innovative method, the researchers were able to demonstrate quantum interactions between two particles spaced more than 180 meters (590 feet) apart while eliminating the possibility that shared events during the past 11 years affected their interaction.


Researchers have identified the neural processes that make some memories fade rapidly while other memories persist over time.


In a quantum future, which starship destroys the other?
Quantum mechanics boasts all sorts of strange features, one being quantum superposition -- the peculiar circumstance in which particles seem to be in two or more places or states at once. Now, an international group of physicists flip that description on its head, showing that particles are not the only objects that can exist in a state of superposition -- so can time itself.


Map of malaria behavior set to revolutionize research
The first detailed map of individual malaria parasite behavior across each stage of its complicated life cycle has been created by scientists. Researchers used advanced single-cell technology to isolate individual parasites and measure their gene activity. The result is the Malaria Cell Atlas, which gives the highest resolution view of malaria parasite gene expression to date and monitors how individual parasites change as they develop in both the mosquito and human host.


The near-Earth asteroid Ryugu - a fragile cosmic 'rubble pile'
Berlin, Germany (SPX) Aug 23, 2019 In the summer of 2018, the asteroid Ryugu, which measures only approximately 850 metres across, was visited by the Japanese Hayabusa2 spacecraft. On board was the 10-kilogram German-French Mobile Asteroid Surface Scout (MASCOT) - a lander no bigger than a microwave oven and equipped with four instruments. On 3 October 2018 MASCOT, operated by the control centre at the German Aerospace Center (De


The Shape Of Your Mouth Affects How You Talk and Gets Amplified Across Generations
(Credit: eveleen/shutterstock) Around the world, humans communicate with each other using nearly 7,000 distinct languages. But despite how different languages like English and Chinese are for example, we all use the same basic anatomy to talk. Our lips, tongues and the bones inside our mouths allow humans to make the noises of language. Now researchers have found that differences in the shape of the roof of the mouth influence how we pronounce vowel sounds. And the team says that


Addressing causes of mortality in Zambia
Despite the fact that people in sub-Saharan Africa are now living longer than they did two decades ago, their average life expectancy remains below that of the rest of the world population. A new study looked into the importance of various causes of death in Zambia and how eliminating the most prominent of these would impact life expectancy in the country.


Lasers enable engineers to weld ceramics, no furnace required
Smartphones that don't scratch or shatter. Metal-free pacemakers. Electronics for space and other harsh environments. These could all be made possible thanks to a new ceramic welding technology. The process works in ambient conditions and uses less than 50 watts of laser power, making it more practical than current ceramic welding methods that require heating the parts in a furnace.


Genetic diversity couldn't save Darwin's finches
Researchers found that Charles Darwin's famous finches defy what has long been considered a key to evolutionary success: genetic diversity. The study of the finches of the Galapagos Islands could change the way conservation biologists think about species with naturally fragmented populations to understand their potential for extinction. 


New tool mines scientific texts for fusion protein facts
A new computational tool called ProtFus screens scientific literature to validate predictions about the activity of fusion proteins -- proteins encoded by the joining of two genes that previously encoded two separate proteins.


A single gene determines whether a fly has a good sense of sight or a good sense of smell
Trade-offs in the sizes of visual and olfactory organs are a common feature of animal evolution, but the underlying genetic and developmental mechanisms have not been clear. A study reveals that a single DNA variant that affects the timing of sensory organ development in fruit flies could explain the size trade-off between eyes and antennae, potentially providing a quick route to behavioral changes and adaptation.


Here's how early humans evaded immunodeficiency viruses
The cryoEM structure of a simian immunodeficiency virus protein bound to primate proteins shows how a mutation in early humans allowed our ancestors to escape infection while monkeys and apes did not. SIV's Nef protein forms a solid link between two primate proteins, tetherin and AP-2, forcing the destruction of tetherin, which normally prevents new SIV virions from budding off. A mutation in human tetherin disrupted binding, thwarting SIV budding -- until HIV evolved a work-around.


Babies Need Healthy Microbiomes. But Where Do Microbiomes Come From?
(Credit: Odua Images/Shutterstock) A human's genes are laid down at conception. A fetus' heart, brain and other organs start to form five weeks later. At six months, an unborn child has most of its body parts. But there is one essential component missing: the helpful bacteria, often referred to as the microbiome, that will inhabit its gut, skin and other organs. Our first interactions with microbes set the stage for health throughout our lives. Babies' microbiomes have...


High-precision technique stores cellular 'memory' in DNA
Researchers have created a technology called DOMINO to store complex 'memories' in the DNA of living cells, including human cells. This memory storage capacity can form the foundation of complex circuits that trigger a cellular event, such as producing a fluorescent protein, when a specific event or sequence of events occurs.


There are way more species of horseshoe bats than scientists thought
Horseshoe bats are bizarre-looking animals with giant ears and elaborate flaps of skin on their noses that they use like satellite dishes. There are about a hundred different species of horseshoe bats -- and that number is only going to grow. By studying the DNA of horseshoe bat specimens in museum collections, scientists have discovered that there are probably a dozen new species of horseshoe bat that haven't been officially described yet.


Scratching the surface of how your brain senses an itch
Light touch plays a critical role in everyday tasks, such as picking up a glass or playing a musical instrument, as well as for detecting the touch of, say, biting insects. Researchers have discovered how neurons in the spinal cord help transmit such itch signals to the brain. The findings could help contribute to a better understanding of itch and could lead to new drugs to treat chronic itch, which occurs in such conditions as eczema, diabetes and even some cancers.


E-cigs can trigger same lung changes seen in smokers, emphysema
Scientists found that the lungs of vapers -- like the lungs of smokers -- have elevated levels of protease enzymes, a condition known to cause emphysema in smokers. The researchers also found that the nicotine in vaping liquids is responsible for the increase in protease enzymes.


Visualizing strong magnetic fields with neutrons
Researchers have developed a new method with which strong magnetic fields can be precisely measured. They use neutrons obtained from the SINQ spallation source. In the future, it will therefore be possible to measure the fields of magnets that are already installed in devices and thus are inaccessible by other probing techniques.


Genes tell the story of how the Asian tiger mosquito spread
Over the last 40 years, the Asian tiger mosquito, Aedes albopictus, has invaded every continent thanks to the transportation of its eggs via human trade and transportation. Researchers have now used the genomes of the mosquitoes to track the history of the invasion and expansion of the species through Albania, Italy, and Greece.


Russia sends 'Fedor' its first humanoid robot into space
Moscow (AFP) Aug 22, 2019 Russia on Thursday launched an unmanned rocket carrying a life-size humanoid robot that will spend 10 days learning to assist astronauts on the International Space Station. Named Fedor, for Final Experimental Demonstration Object Research with identification number Skybot F850, the robot is the first ever sent up by Russia. Fedor blasted off in a Soyuz MS-14 spacecraft at 6:38 am Moscow


EVA complete installation of second Commercial Docking Port on Space Station
Houston TX (SPX) Aug 22, 2019 NASA astronauts Nick Hague and Andrew Morgan concluded the spacewalk at 2:59 p.m. EDT. During the six-hour and 32-minute spacewalk, the two astronauts successfully installed the second of two international docking adapters (IDAs). The IDAs will be used for the future arrivals of Boeing CST-100 Starliner and SpaceX Crew Dragon commercial crew spacecraft. NASA's commercial crew partnership w


Slow electrons to combat cancer
Slow electons can be used to destroy cancer cells - but how exactly this happens has not been well understood. Now scientists have been able to demonstrate that a previously little-observed effect actually plays a pivotal role: Due to a process called interatomic Coulombic decay, an ion can pass on additional energy to surrounding atoms. This frees a huge number of electrons, with precisely the right amount of energy to cause optimal damage to the DNA of the cancer cells.


A step closer to solving the methane mystery on Mars
Canberra, Australia (SPX) Aug 22, 2019 Scientists have taken an important step towards revealing the mysterious source of methane on Mars, by refining estimates of the gas in the planet's atmosphere. The methane puffing from a huge crater on Mars could be a sign of life or other non-biological activity under the planet's surface. Gale crater, which is 154 km in diameter and about 3.8 billion years old, is thought by some to con