Smarter catalysts through 'induced activation'
Researchers propose a novel method of significantly enhancing the catalytic efficiency of materials already in broad commercial usage, a process they have termed 'induced activation.'


Novel microscopic picoshell particles developed
Bioengineers have created a new type of petri dish in the form of microscopic, permeable particles that can dramatically speed up research and development (R&D) timelines of biological products, such as fatty acids for biofuels. Dubbed PicoShells, the picoliter (trillionth of a liter), porous, hydrogel particles can enable more than one million individual cells to be compartmentalized, cultured in production-relevant environments, and selected based on growth and biomass accumulation traits usin


Is Vesuvius taking an extended siesta?
Located near Naples, Italy, Vesuvius last had a violent eruption in 1944, towards the end of the Second World War. It could be a few hundred years before another dangerous, explosive eruption occurs, suggests a new study by volcano experts.


Supplement appears to boost muscle, mitochondria health
An oral supplement intended to stimulate a natural body process appears to promote muscle endurance and mitochondrial health in humans. New research suggests that the supplement, urolithin A, may help improve or prolong muscle activity in people who are aging or who have diseases that make exercise difficult.


Branching worm discovered in Japan named after Godzilla's nemesis
Branching marine worms are bizarre creatures with one head but a body that branches over and over again into multiple posterior ends. Until now, only two species of these curious beasts, thought to be extremely rare, were known. However, a third species has now been discovered and described. The worm, named Ramisyllis kingghidorahi after King Ghidorah, Godzilla's monster enemy, was discovered in Japan.


Scientists trace the path of radioactive cesium in the ecosystem of Fukushima
In 2011, the nuclear accident at Fukushima, Japan, resulted in the deposit of radioactive cesium (radiocesium) into habitats in the vicinity. A decade after the accident, researchers have collated the complicated dynamics of radiocesium within forest-stream ecosystems. Understanding radiocesium flow in the environment could help mitigate contamination and inform future containment strategies.


Researchers discover crystalline zeolites in a nanotubular (1D) shape.


A team of researchers has identified a neural network which is responsible for generating tic disorders. Targeting of this network via deep brain stimulation delivered by a pacemaker-like device has resulted in the alleviation of symptoms in people with Tourette syndrome. The researchers' findings could serve as a basis for improving the treatment of people with severe tic disorders.


Highly eccentric black hole merger discovered
Scientists believe they have detected a merger of two black holes with eccentric orbits. This can help explain how some of the previous black hole mergers are much heavier than previously thought possible.


Research in mice identifies neurons that control locomotion
For more than a century, scientists have known that while the commands that initiate movement come from the brain, the neurons that control locomotion once movement is underway reside within the spinal cord. Researchers now report that, in mice, they have identified one particular type of neuron that is both necessary and sufficient for regulating this type of movement. These neurons are called ventral spinocerebellar tract neurons (VSCTs).


Here's why whales don't drown when they gulp down food underwater
Ever wondered whether whales can burp, and why they don't drown when they gulp down gallons of water and krill? New research may just hold the answer. Researchers found that lunge-feeding whales have an 'oral plug', a fleshy bulb in their mouths that moves backwards to seal off the upper airways during feeding, while their larynx closes to block the lower airways.


Scientists build bioreactors and engineer bacteria to advance biofuel research
Researchers from the University of Kent's School of Biosciences have designed and built equipment that can be used to investigate bacterial biofuel production at a fraction of the cost of commercial systems. This technology was then used to demonstrate that bacterial genetic engineering could be used to enhance biofuel production.


Towards compact quantum computers thanks to topology
Researchers at PSI have compared the electron distribution below the oxide layer of two semiconductors. The investigation is part of an effort to develop particularly stable quantum bits -- and thus, in turn, particularly efficient quantum computers.


New sensor grids record human brain signals in record-breaking resolution
A new array of brain sensors can record electrical signals directly from the surface of the human brain in record-breaking detail. The new brain sensors feature densely packed grids of either 1,024 or 2,048 embedded electrocorticography (ECoG) sensors. If approved for clinical use, these sensors would offer surgeons brain-signal information directly from the surface of the brain's cortex in 100 times higher resolution than what is available today. The technology could provide better guidance for


Development of a lithium-air battery with an energy density over 500 wh/kg
Researchers have developed a lithium-air battery with an energy density over 500Wh/kg -- significantly higher than currently lithium ion batteries. The research team then confirmed that this battery can be charged and discharged at room temperature. In addition, the team found that the battery developed by the team shows the highest energy densities and best cycle life performances ever achieved. These results signify a major step toward the practical use of lithium-air batteries.


Worldwide coordinated search for dark matter
An international team of researchers has published comprehensive data on the search for dark matter using a worldwide network of optical magnetometers. According to the scientists, dark matter fields should produce a characteristic signal pattern that can be detected  by correlated measurements at multiple stations of the GNOME network.


Drug mimics beneficial effects of fasting in mice
An investigational cancer drug that starves tumors of their energy supply also shows evidence of improving whole body metabolism, leading to improved weight control, according to a new study in mice.


An all-in-one approach to diabetes treatment
A team of researchers has come up with a new approach to streamline the process that people with diabetes use to estimate the carbohydrate content of a meal, draw blood to measure current blood glucose levels, and calculate and deliver the correct insulin dose.


Review reports improved transparency in antidepressant drug trials
New research suggests manufacturers of newly developed antidepressant drugs have become more forthcoming about clinical trials that don't pan out. While the new findings are encouraging, they still hint at a fundamental shortcoming in medicine: A reliance of studies selectively reported in scientific literature, as opposed to the unvarnished results of clinical trials reported to the Food and Drug Administration.


A new approach to a $1 million mathematical enigma
Numbers like pi, e and phi often turn up in unexpected places in science and mathematics. Pascal's triangle and the Fibonacci sequence also seem inexplicably widespread in nature. Then there's the Riemann zeta function, a deceptively straightforward function that has perplexed mathematicians since the 19th century. The most famous quandary, the Riemann hypothesis, is perhaps the greatest unsolved question in mathematics, with the Clay Mathematics Institute offering a $1 million prize for a corre


Creating sustainable material from waste
A team of researchers looking for ways to upcycle biomass into new products has demonstrated that it is possible to efficiently turn industrially processed lignin into high-performance plastics, such as bio-based 3D-printing resins, and valuable chemicals. An economic and life-cycle analysis reveals the approach can be competitive with similar petroleum-based products, too.


TV watching linked with potentially fatal blood clots
Take breaks when binge-watching TV to avoid blood clots, say scientists. The warning comes as a study reports that watching TV for four hours a day or more is associated with a 35% higher risk of blood clots compared with fewer than 2.5 hours.


Hubble finds a black hole igniting star formation in a dwarf galaxy
Often portrayed as destructive monsters that hold light captive, black holes take on a less villainous role in the latest research from NASA's Hubble Space Telescope. A black hole at the heart of the dwarf galaxy Henize 2-10 is creating stars rather than gobbling them up. The black hole is apparently contributing to the firestorm of new star formation taking place in the galaxy. The dwarf galaxy lies 30 million light-years away, in the southern constellation Pyxis.


Quantum computing in silicon hits 99% accuracy
Researchers have proven that near error-free quantum computing is possible, paving the way to build silicon-based quantum devices compatible with current semiconductor manufacturing technology.


Kombucha water filters can resist clogging better than commercial options
Commercially available ultrafiltration membranes that purify water are expensive and get clogged easily by particles and microorganisms. Recently, living filtration membranes were reported as an alternative sieving material. Grown from kombucha cultures, the filters are dense, stacked sheets of bacterial cellulose. Now, researchers show that these living membranes are more resistant to clogging and biofouling, making them more efficient and less expensive to use than conventional ones.


The cellular response that protects pigs from COVID-19
Studies since the start of the pandemic have noted that pigs exposed to the coronavirus don't show clinical signs of disease nor do they transmit the virus to other animals. Scientists have uncovered important clues that shed light on why pigs don't get sick, and the discovery could lead to better treatments for COVID-19 in humans.


New simulations can improve avalanche forecasting
Computer simulations of snow cover can accurately forecast avalanche hazard, according to a new international study. Currently, avalanche forecasts in Canada are made by experienced professionals who rely on data from local weather stations and on-the-ground observations from ski and backcountry ski operators, avalanche control workers for transportation and industry, and volunteers who manually test the snowpack.


First clinical-grade transplant of gene-edited pig kidneys into brain-dead human
Researchers have announced the first peer-reviewed research outlining the successful transplant of genetically modified, clinical-grade pig kidneys into a brain-dead human individual, replacing the recipient's native kidneys. These positive results demonstrate how xenotransplantation could address the worldwide organ shortage crisis.


Uncovering the underlying patterns in contemporary evolution
Wild populations must continuously adapt to environmental changes or risk extinction. For more than fifty years, scientists have described instances of 'rapid evolution' in specific populations as their traits (phenotypes) change in response to varying stressors. For example, Spanish clover has developed a tolerance for copper from the mine tailings in which it grows, and the horn size of Alberta bighorn sheep has decreased due to trophy hunting. But until now it hasn't been possible to reach an


'Decoy' protein works against multiple SARS-CoV-2 variants, researchers report
A drug treatment that acts as a decoy against SARS-CoV-2 was highly effective at preventing death and lung damage in humanized animal models of severe COVID-19 disease. The study suggests that the drug has the potential to treat COVID-19 patients, including those who are infected with aggressive SARS-CoV-2 variants.


Black eyed peas could help eliminate need for fertilizer
Black eyed peas' ability to attract beneficial bacteria isn't diminished by modern farming practices, new research shows. Planting it in rotation with other crops could help growers avoid the need for costly, environmentally damaging fertilizers.


Babies can tell who has close relationships based on one clue: Saliva
Neuroscientists have identified a specific signal that young children and even babies can use to determine whether two people have a strong relationship and a mutual obligation to help each other: whether those two people kiss, share food, or have other interactions that involve sharing saliva.


Impossible material made possible inside a graphene sandwich
Atoms bind together by sharing electrons. The way this happens depends on the atom types but also on conditions such as temperature and pressure. In two-dimensional (2D) materials, such as graphene, atoms join along a plane to form structures just one atom thick, which leads to fascinating properties determined by quantum mechanics.


Bubbles of methane rising from seafloor in Puget Sound
The release of methane, a powerful greenhouse gas responsible for almost a quarter of global warming, is being studied around the world, from Arctic wetlands to livestock feedlots. A team has discovered a source much closer to home: 349 plumes of methane gas bubbling up from the seafloor in Puget Sound, which holds more water than any other U.S. estuary.


Researchers simulate behavior of living 'minimal cell' in three dimensions
Scientists report that they have built a living 'minimal cell' with a genome stripped down to its barest essentials -- and a computer model of the cell that mirrors its behavior. By refining and testing their model, the scientists say they are developing a system for predicting how changes to the genomes, living conditions or physical characteristics of live cells will alter how they function.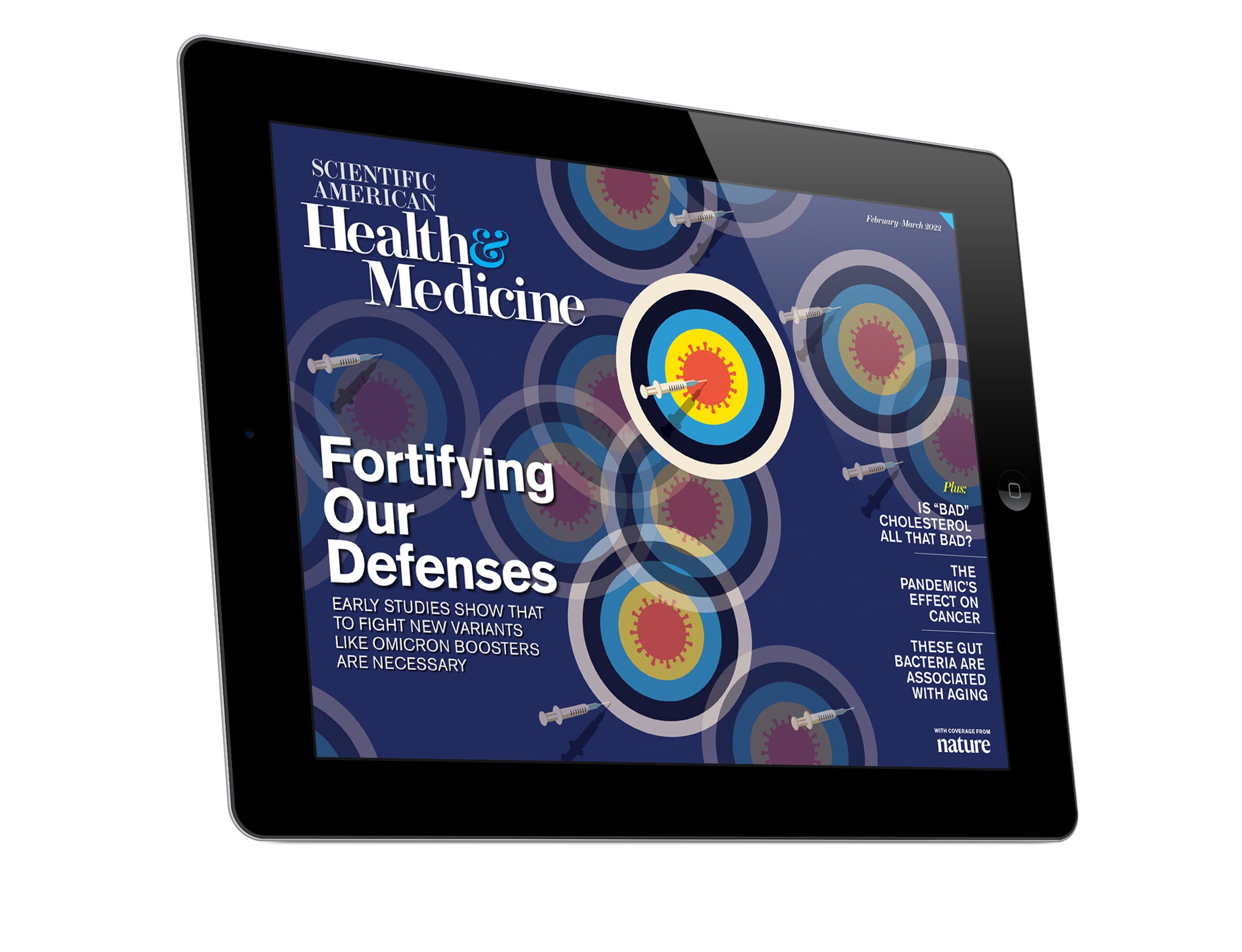 Early studies show that to fight new variants like Omicron boosters are necessary -- Read more on ScientificAmerican.com


Camels' noses inspire a new humidity sensor
Researchers describe a humidity sensor inspired by the structure and properties of camels' noses. In experiments, they found this device could reliably detect variations in humidity in settings that included industrial exhaust and the air surrounding human skin.


High protein diet may harm polar bears
A high protein diet appears linked to kidney disease and shortened lifespans for captive polar bears, a relationship similarly suspected in humans. A careful look at what zoos have fed polar bears revealed they mostly offered a diet intended for big cats, containing about 2-3 parts protein to 1-part fat, a reversal from what was observed in the wild.


How to Recover From a Sleepless Night
When you're struggling after a night of tossing and turning, the urge to chug coffee and nap is real. But experts advise that there are better ways to get yourself back on track.


Tracking the lifespan and myriad functions of mRNA
New studies shed light on how mRNAs are born and how they regulate production of proteins inside of our cells once they reach maturity. The findings have implications not only for achieving effective doses for new vaccines, but for helping determine the biological roots of many cancers and diseases.